Calligrapher Extraordinaire Kathryn Christenbury Talks Paper and Ink
We caught up with the amazing hand behind Fleur de Letters to get the scoop on her favorite calligraphy style, her advice for couples looking for the perfect wedding invite and what you can really expect to pay for a calligraphed envelope.
by Lauren Kay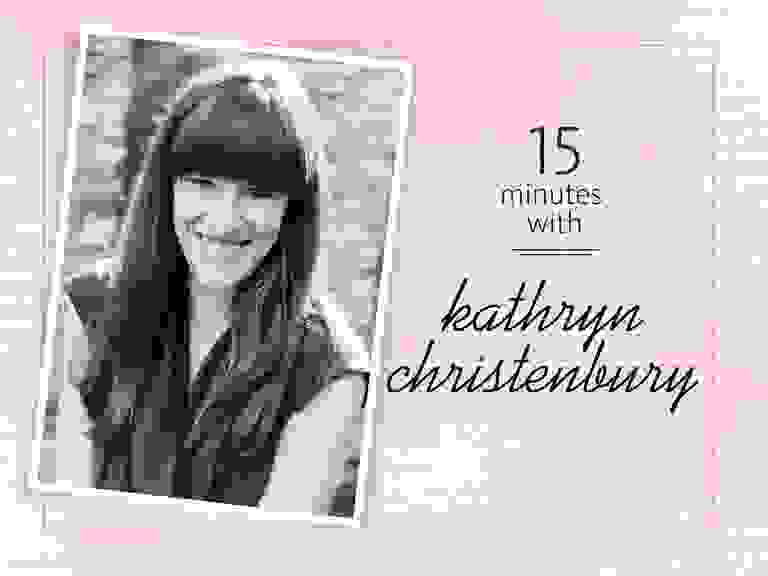 Kathryn Christenbury's hands are pure magic. She takes the notion of "good handwriting" to a whole new level with her twelve distinct calligraphy styles—they're all gorgeous—and her crazy attention to detail. She can help you envision an entire paper suite, address your wedding invite envelopes or make you some super-special day-of pieces. If you can't snag the Los Angeles-based artist for a custom project, be sure to check out her etsy shop which has gold-foil prints and greeting cards (she's also a pro at calligraphing wedding vows—hello perfect first anniversary present). We sat down with the calligrapher to get the skinny on all things wedding paper and the art of addressing envelopes.

How did you get your start hand lettering? Were you formally trained?
"I've had a lifelong passion for creating, and my degree is in the fine arts. I was studying graphic deign when my husband and I got engaged, so I was already learning a lot about typography and lettering when I started thinking of our own wedding invitations. While searching for inspiration, I fell in love with calligraphy and took a private lesson from a well-respected calligrapher in North Carolina so I could design our wedding suite. I devoured every book she recommended, then took every class I could find. Today I am a member of my local calligraphy guild in Los Angeles and still attend as many conferences, classes and workshops as I can fit into my schedule! I hope I never stop being a student, as there is always room to learn, improve and grow as an artist!"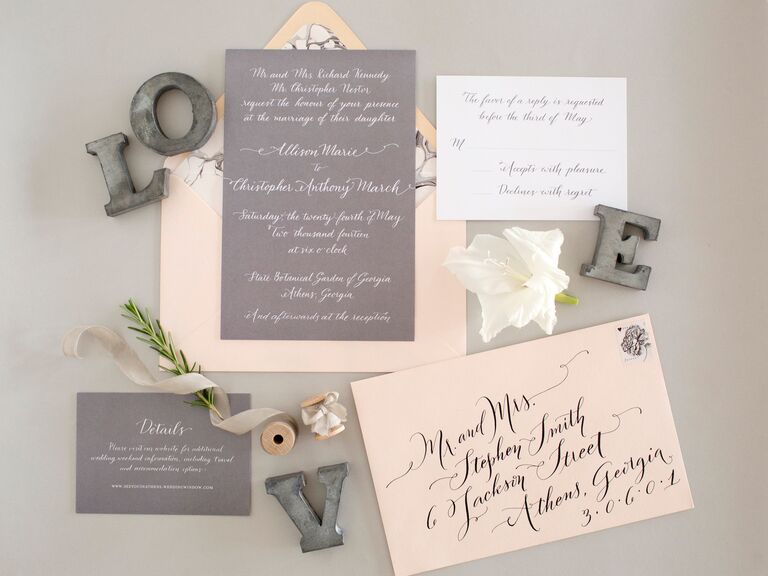 You design wedding paper and pen envelopes—have a favorite?
"Designing custom invitation suites is my favorite type of project right now, especially when I'm able to incorporate painting. I am a true paper lover, so picking out details like envelope liners and edge painting makes my heart dance."
How many "hands" or styles are in your current rotation, and do you have a favorite (or one that's most popular with the wedding crowd)?
"My "style sheet" offers twelve distinct styles, and I'm always playing with new lettering variations and tailoring styles for clients, so it's really much more than that. Recently I have been using a more curvy and modern style called Rosetta that has been a hit with brides—as well as a personal favorite of mine!"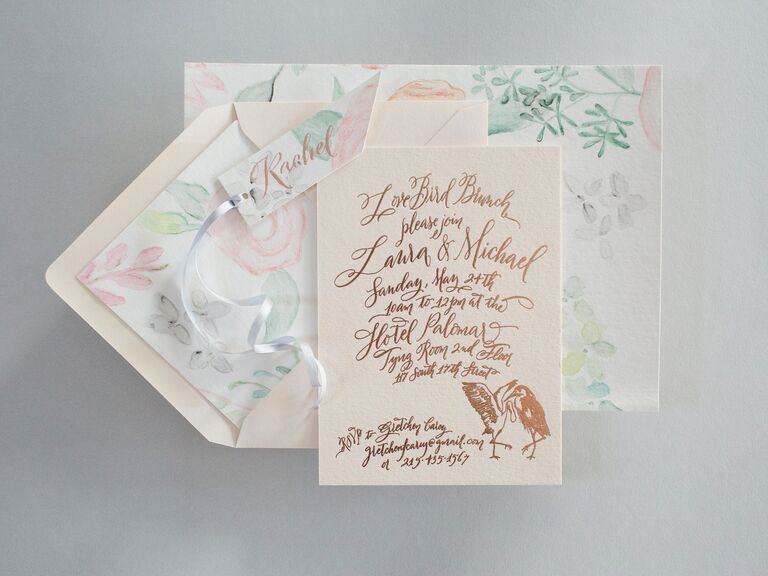 How have calligraphy styles changed for the better?
"Calligraphy used in wedding invitations today isn't as restricted to etiquette or formality as it has been in the past. Copperplate [the style of pointed-pen calligraphy most associated with wedding invitations] is traditionally very structured, but over the last few years the styles have loosened up a great deal. I think many of today's couples identify with the more "modern" and playful styles being used."
What's once piece of advice you'd give to couples who are just starting to think about their wedding invitations?
"Your wedding invitations are the first glimpse that your guests have of your wedding, and they truly sets the tone for what is to come. It's important to share as much as possible about the feel of your wedding with your designer so that he/she can create invitations that are in line with what you envision for your big day."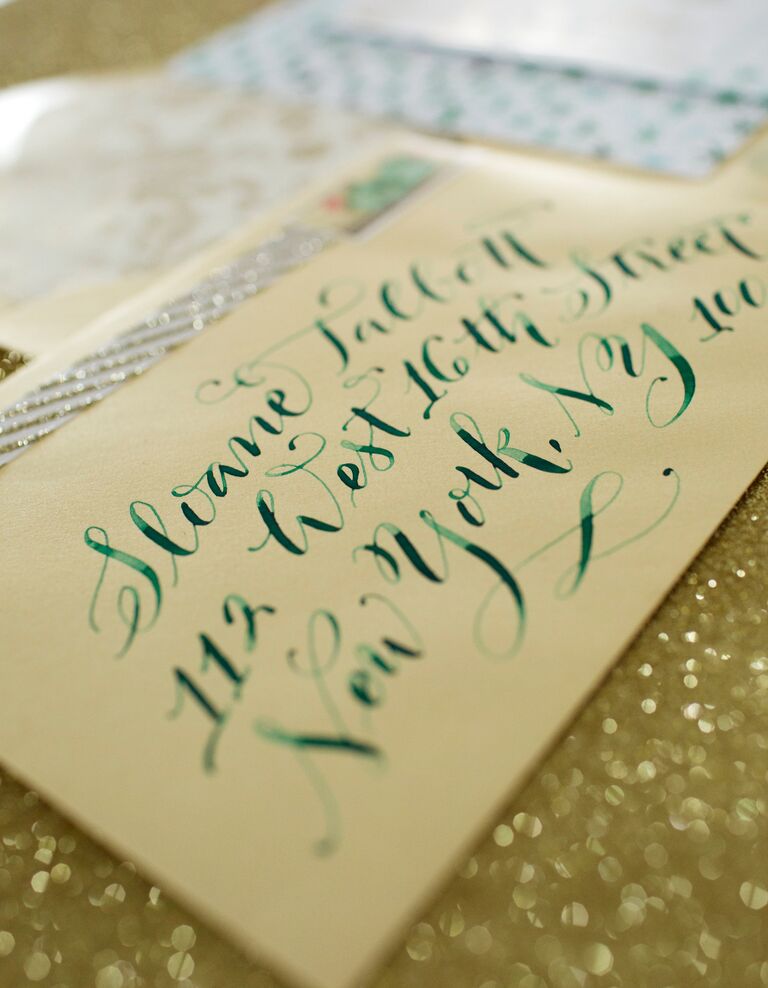 When should a couple start thinking about addressing their wedding invites? And when should they absolutely have a calligrapher booked to avoid paying rush fees?
"It's generally recommended that wedding invitations be mailed six to ten weeks before the wedding, but I recommend eight weeks as a target mail-out date for all my brides. The lead time a couple needs for working with a calligrapher really depends on the size of their guest list. That being said, the further in advance the better, as schedules fill up quickly. Most calligraphers request a two-week turnaround for every 100 envelopes in your order, so be sure to factor that into your time frame."
If someone can't afford hand lettering for their envelopes, what are some other ways to include it in their wedding design?
"Many calligraphers, myself included, offer a lower price point for couples who value keeping with the tradition of hand-addressing but can't afford dipped-pen calligraphy. For instance, I offer what's called a "monoline" hand, where I use a regular pen instead of an oblique penholder dipped in ink. It's a slightly different style that offers the option to work with an experienced calligrapher without breaking the bank."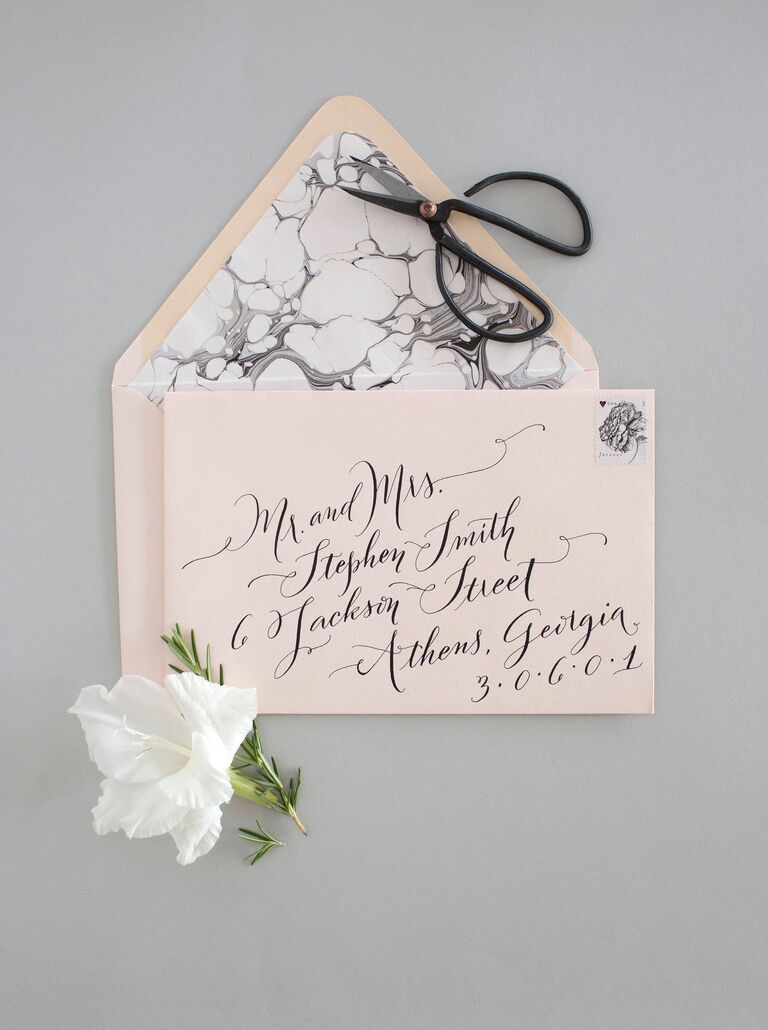 Okay, fess up. Does your hand ever get tired?
"YES, very often! I set a timer on my phone that reminds me to take breaks when I'm working through large envelope orders!"
Can you describe your process? Do you work with a light box? And how do you write in a straight line?
"My process varies depending on the specifics of the order on my desk. For envelope addressing, when it's a white or light-colored envelope, I do often work with a light box, which allows me to see guidelines through the envelope. If the envelopes are dark or lined, I use a tool called the Phantom Liner, which reflects my guidelines onto the envelope. For other projects, I am prone to sketching out the lettering in advance before using pen and ink, especially if there is no room for error."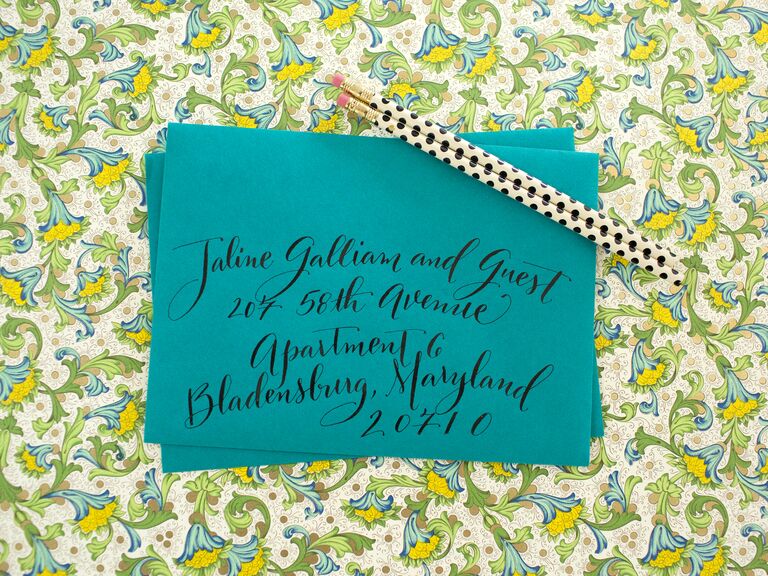 Any favorite ink-and-envelope combos?
"My favorite black ink is Sumi, and my favorite ink for color is a mixture of gouache, water and gum arabic. In terms of envelopes or paper, smooth surfaces are easier for your calligrapher to work with, so couples might encounter additional fees for rough or textured surfaces."
What's something most people wouldn't guess about calligraphers?
"Calligraphers must be very patient while concentrating during the hours required to complete wedding orders. We listen to a LOT of podcasts, audiobooks and Netflix while working! Also, calligraphy as a field is very welcoming. When I attend our annual convention for professional calligraphers, I'm always humbled and amazed by how willing the more experienced calligraphers are to help and teach newer calligraphers. I feel incredibly grateful to be part of a professional community that treats its colleagues more like friends than competitors. Additionally, I think most people would be surprised to know that some of the items essential to my tool kit include a hair dryer, Q-tips, Windex, toothpaste and matches!"
What's the best part of your job?
"I love working with a bride, from her save-the-date and invitation suite to day-of details like menus, place cards and programs. These projects mean the most to me because I'm able to form a relationship during the months of planning. We end up texting about all sorts of wedding details—they are like friends by the time of the wedding!"
If you weren't doing this, what would you be doing?
"Graphic design for a socially conscious start-up... or working as a designer for Anthropologie."
Any favorite lettering moments or stand out commissions?
"One of my favorite projects to date has been lettering on a baby piano that was a baby gift from one celebrity to another. Anytime I can challenge myself and creatively work "off the page," it's exciting. Brides are thinking outside the box these days, which keeps my job fun! Place cards can be written on glass bottles, leaves, terra cotta shapes, stones, fabrics and so much more. These are the details that add memorable personality to your table settings, so my advice to brides is don't feel limited to paper if you have the inspiration to get creative."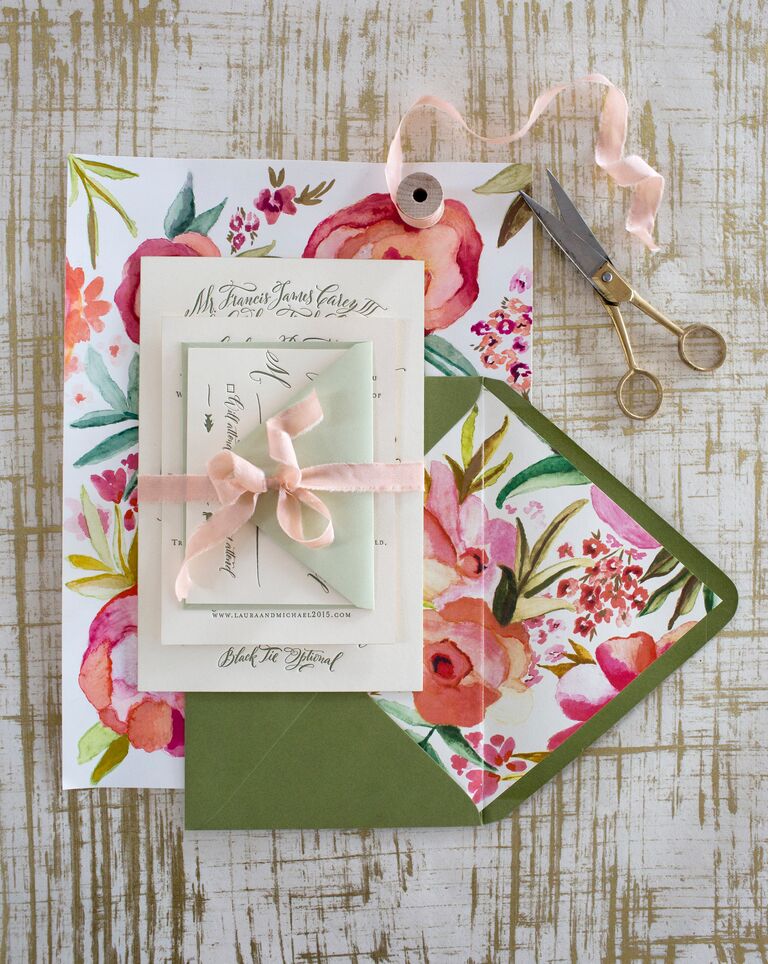 How did you decide on the name for your business?
"Naming my business was a greater challenge than I ever imagined, but I eventually I decided to use a spin on the fleur-de-lis symbol. Although the fleur-de-lis has various meanings and associations, the one that is most significant to me personally is that it's the emblem of Florence, the Italian city where I studied abroad in college. My time in Florence represents a season of great spiritual and artistic growth for me. I wouldn't be the person or the artist I am today if I hadn't had that semester abroad, so incorporating those memories into my business name reminds me of that rich time in my life."
And last, but not least, can you debunk the going rate for envelope addressing?
"I would say the average going rate is about $4 per envelope, but the price can range from $3 to $6-plus, depending on the experience level of the calligrapher. Addressing envelopes using traditional calligraphy tools and methods takes a great deal of time, so the pricing includes not only the actual writing but also setting up each unique project, proofing each address and making sure everything is perfect for you and your guests."