Here's Exactly How to Plan a Microwedding
We break it down for you, step-by-step.
Either you've decided you want a microwedding or you've decided to convert your nuptials to something smaller for reasons beyond your control. Before you launch into the topic of how to plan a microwedding, here's exactly how it's defined. As its name suggests, a microwedding is an event of up to 50 guests with invitations typically extended to immediate family and close friends only. Since the occasion is already intimate by nature, here's exactly how to plan a microwedding and enhance each attendee's experience, according to the experts.
Start With Your Vision
Narrowing down your wedding vision is an all-important first step to take in the planning process. Whether your dream wedding is indoors in an elaborate ballroom or outdoors under a clear tent and fresh snowy skies, you'll want to have a general idea of when and where your wedding will be held.
Along with determining a vision for the event, budgeting is another conversation to have with your partner and loved ones. After establishing the appropriate number and concept, you'll enter conversations with desired vendors equipped with this exact information to help streamline the rest of the process.
Talk to Your Vendors About Possibilities
From there, you'll have a list of potential vendors you'd like to task with your style execution: your first hires will include a wedding planner and/or the venue. As you learn how to plan a microwedding, the good news is there is an extensive list of potential venues that otherwise would've been restricted to larger guest list sizes.
"We work with a myriad of beautiful private venues with special gardens, nooks and porches that are generally off-limits to larger groups," explains Danielle Couick of Magnolia Bluebird, a planner and designer serving much of the Maryland and D.C. region. "Smaller numbers can often open you up to more special or intriguing venue possibilities."
Consider a Weekday Wedding
According to our internal data, weekday weddings will experience an uptick in 2021. If your dream wedding designer or photographer isn't available for a microwedding on a weekend date, that's OK. Many couples are now reserving their weddings for a Thursday or Sunday, allowing for plenty of prewedding events or postwedding downtime. It's a win-win across the board.
Be Thoughtful About Your Guest List
If you're starting from scratch, you have an opportunity to be very thoughtful about your guest list and who's made the most impact on you. Together, make considerations about those friends and family members who must be present on your wedding day. (There is a difference between "those who must attend" as opposed to "it would be nice to have them.")
"Think from your heart and with intention," notes Couick. "What we appreciate most about intimate weddings is the opportunity to strongly curate your guest list. You no longer have to invite your parents' business partners or kids. Plus, you won't have to spend 90 minutes during your reception time speaking with all your guests, some of whom you may not even know."
If you must trim your guest list, say, due to a pandemic, talk to your vendors first to confirm headcount and get started on the process. "Paring down a guest list may be welcome by some couples, where it may be endlessly frustrating for others," says Couick. However, by putting an emphasis on safety measures, most invited guests will understand.
Add a Virtual Portion If You'd Like
If you'd still like to extend the invitation to others, consider a virtual addition to your wedding or even mailers to help your friends, additional family members and colleagues feel included in your special day. In 2020, the challenge of how to throw a microwedding, especially if the original plan was a 300-person event, isn't resolved until a couple adds a live-stream to their wedding or sends mailers directly to loved ones.
Swap Your Ceremony Setup
With a microwedding, some couples find their original wedding vision is challenged due to unforeseen factors like cost or location. "Your ideal venue or vendors may feel 'cost-prohibitive' or possibly frivolous for a fewer number of guests," explains Couick.
The key is to be open-minded and solution-oriented during the planning process. The best vendors will offer up creative alternative seating options, a decadent display of decor to help offset the size of the wedding, and other design options to showcase a beautiful event. Most couples ultimately discover that a microwedding actually enhances their wedding vision.
Refine Individual Guest Experience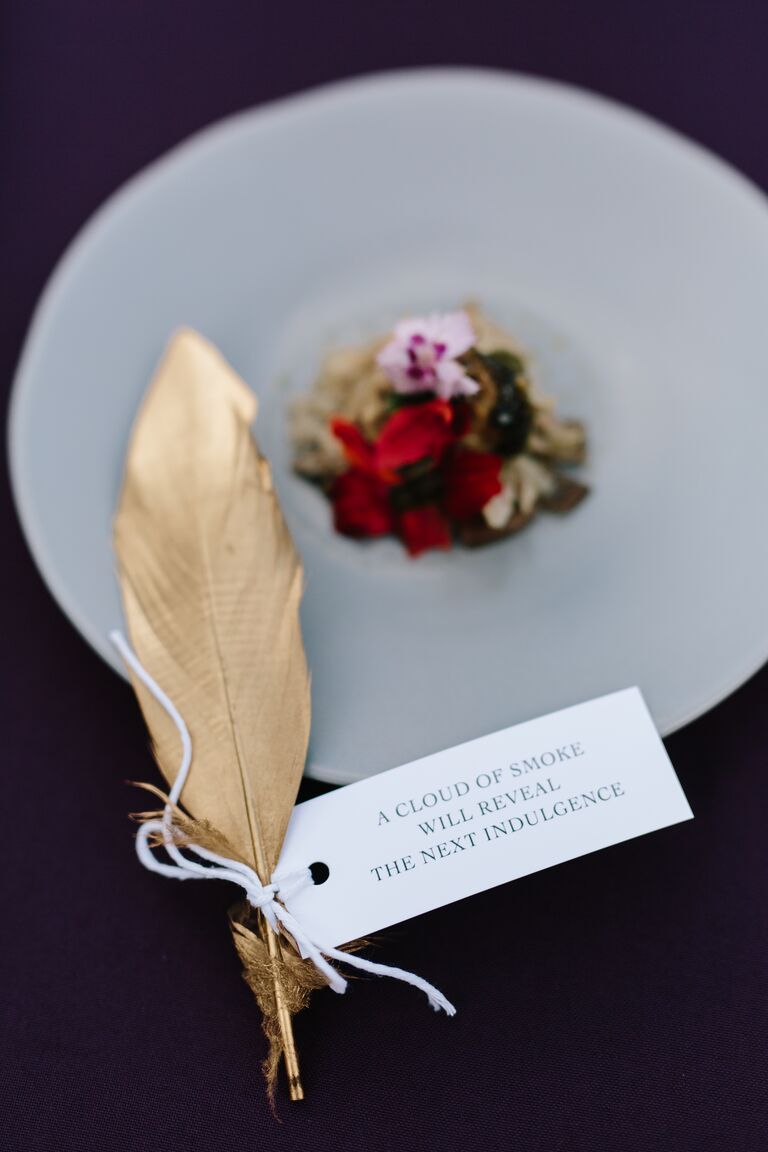 Smaller guest counts often allow couples to focus on each person present. "You can often elevate the details and the special and intentional moments since you are providing them on a smaller scale," says Melissa Lee, the creative director of Bespoke Only.
Take into consideration the wedding menu, cocktails, favors and other experiential offerings. With less of a headcount, your caterers perhaps will be able to tailor the dinner as a fine dining experience complete with wine pairings, palette cleansers and more. After all, you want your loved ones to walk away raving about the meal at your wedding.
Many guests know the best favors and experiences often come from microweddings. Some couples offer a live portrait artist or a haiku artist over, say, typical wedding entertainment options. Microweddings also create a cozy atmosphere that lends nicely to bistro-style performances (think: acoustic artists, dancers and comedians).
Finally, there's the aspect of time. "With a smaller guest list, the couple can really spend quality time with each guest," explains Lee. "The feel overall is much more intimate and consequently, the pace of the event is relaxed… Plus, the budget goes much further with a smaller head count."
Replace the Old With New Traditions
As microweddings often are more intimate in nature, it's a lovely occasion to introduce alternatives to typical traditions seen at bigger weddings. Examples include tiny toasts from more guests as opposed to elaborate speeches solely from the MOH or Best Man. Instead of a receiving line, you can also take more allotted time to chat with each guest at the reception and focus on being present and relaxed as opposed to rushed.
Throw an Intimate Experience
In total, make your wedding special and lean into the guest experience instead of fretting about it. "Embrace your intimate wedding as your reality," says Couick. "It's not a 'second best' to the big wedding you can't have." Instead, receive everything from the catering options to the entertainment as a gift each guest is delightfully waiting to unwrap.
Finally, a word of caution if you're pivoting your wedding to be a microwedding during COVID-19: "Be kind and realistic in what you are asking your guests, vendors and closest friends and family to do," Couick notes. "Requiring your entire wedding party to quarantine for two weeks after having to travel for your wedding may feel reasonable to you on your wedding day. However, would you really sacrifice a month for anyone to do that?" Be open to options suggested by your chosen vendors because they will create a vision with you, one that you will certainly embrace, even if it's not the original plan you had in mind. The basics for how to throw a microwedding are truly simple as long as you put your loved ones (and yourselves) at the forefront of the day.