30 Fabulous 14-Year Anniversary Gifts for Your Spouse or Favorite Couple
We've found traditional, modern and alternative gifts to honor the 14th marriage milestone.
Photos, clockwise: Kendra Scott, Ivory Ella, VintageDahliaCo, MYKA
We have included third party products to help you navigate and enjoy life's biggest moments. Purchases made through links on this page may earn us a commission.
Happy 14th wedding anniversary! If you or a couple you know are celebrating the fab 14, we're here to help you find a 14-year anniversary gift worthy of the occasion. Whether you want to incorporate the milestone's traditional and modern anniversary themes into your gift or pick something completely different, our round-up includes plenty of ideas to help get you started. From gorgeous jewelry and sentimental wall art to stylish homeware and fun puzzles, there's something on our list for everyone to enjoy. Read on to find out more about picking a thoughtful 14-year anniversary gift for him, her or them.
In this article:
Traditional 14-Year Anniversary Gifts
While the traditional 14-year anniversary is ivory, we've chosen elephant-inspired and off-white gifts instead to honor the theme in a more ethical way. Not only is the ivory trade illegal and unethical, but it's also known to have severe ecological and economic consequences. Ivory gifts originated from Hindu mythology and symbolize luck and protection, while elephants themselves are known to develop strong, intimate bonds with each other, much like a couple celebrating 14 happy years together. An ivory-inspired present is a great way to honor the sentiment without infringing on animal rights and provides an opportunity to get creative with your gifting. Check out our favorite ivory anniversary gift ideas below, including some products that support elephant conservation.
White Body Pillow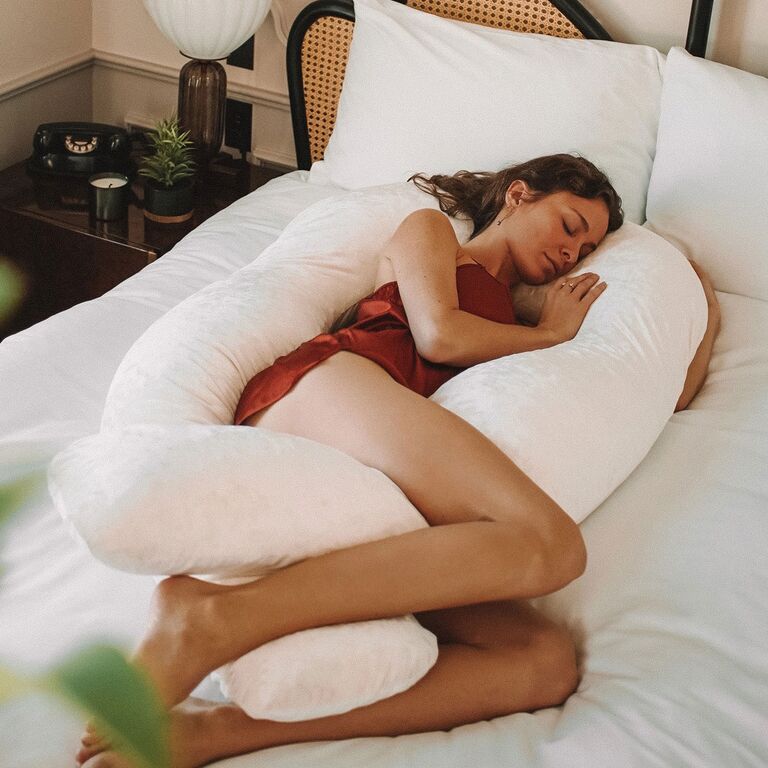 Give your partner the gift of a good night's sleep (and sweet dreams) with a full-body sleep pillow from Yana. It's filled with your choice of natural latex or cooling gel and boasts a removable, washable cover that's double-sided with organic cotton and bamboo velour. The best part? It can form to your partner's needs to help with muscle aches and pains while sleeping, watching TV or snuggling on the sofa. With a 14-year anniversary gift this thoughtful and practical, don't be surprised if your spouse wants to cuddle it (and you) all day long.
Ivory Cookware Set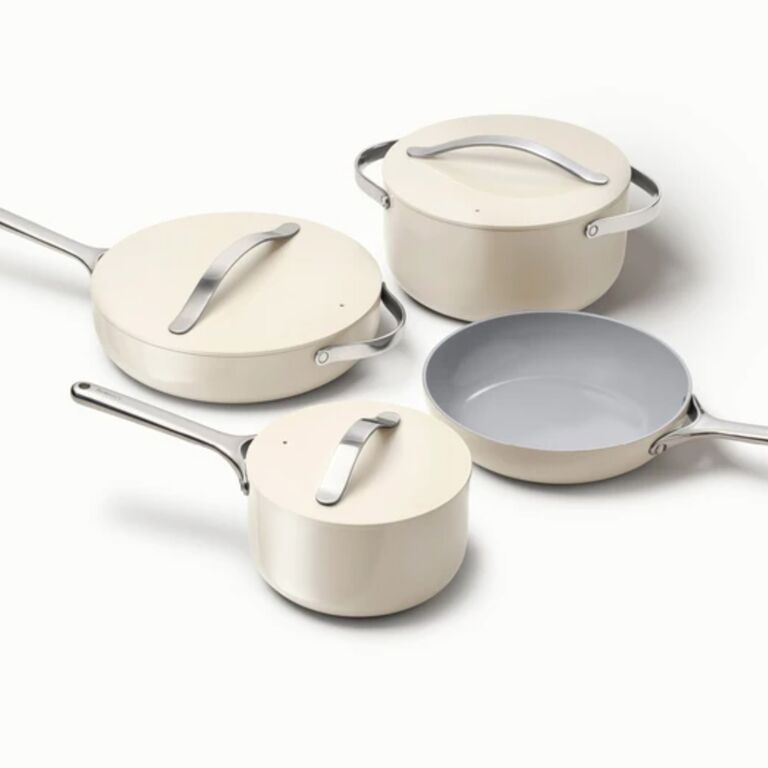 If your partner or favorite couple likes to cook up a storm in the kitchen, they'll appreciate some snazzy new cookware. This ceramic-coated set includes two saucepans, a frying pan and a Dutch oven, all made with non-toxic, non-stick materials for safer cooking. Even better, it also comes with a clever canvas lid holder for super-handy storage. The set is available in lots of colors, including on-theme cream and white.
White Travel Bag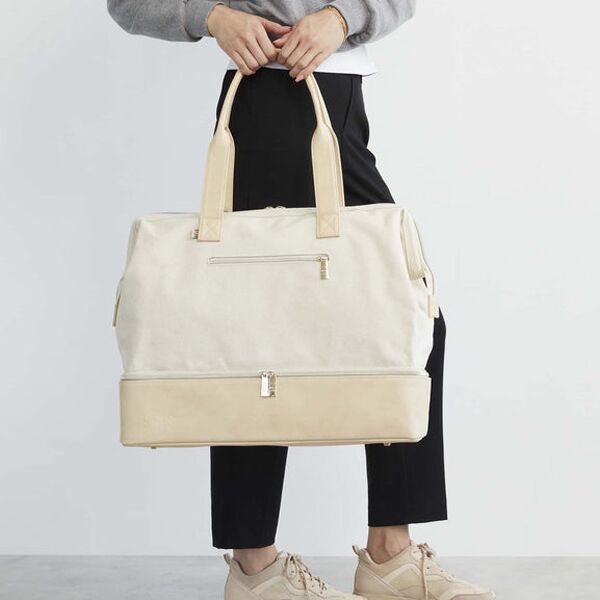 Whether your partner likes to travel for work, play or a combination of both, they'll appreciate this stylish tote. Aside from looking seriously cool, this roomy bag from BÉIS is cleverly designed to make packing much more efficient. It has three interior pockets, a padded tech sleeve and a separate shoe compartment to keep their favorite sneakers secure. For a really wow-worthy 14th anniversary gift, present this bag to your spouse and then whisk them away for a romantic weekend trip.
Elephant Marble Serving Board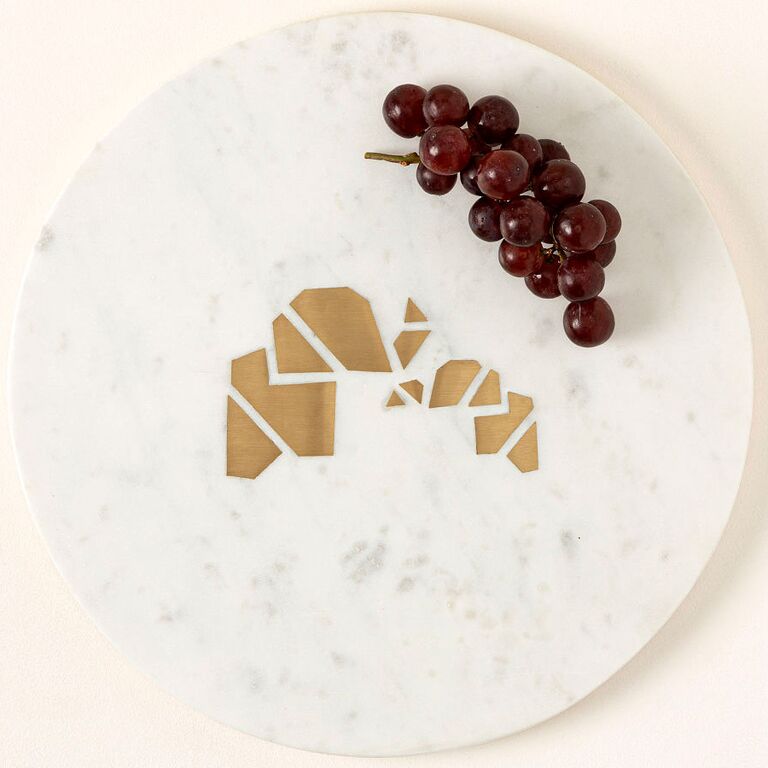 Treat your spouse or favorite duo to an ivory-inspired gift that's as pretty as it is practical. This handcrafted marble serving board is embellished with geometric brass elephants and is guaranteed to attract compliments once the snacks come out. Whether they use it for their favorite charcuterie bits or sweet and gooey treats, it'll make any occasion feel like a celebration.
Ivory Knit Throw Blanket
If you and your spouse love cozy nights spent binge-watching your favorite shows, this chunky knit throw will keep you both warm and snug. It's made from a combination of cotton and wool and is big enough to stretch across two people (no more fighting over who has more blankets!). Best of all, the ivory colorway is right on theme and easy to match with any decor scheme.
Elephant Anniversary Print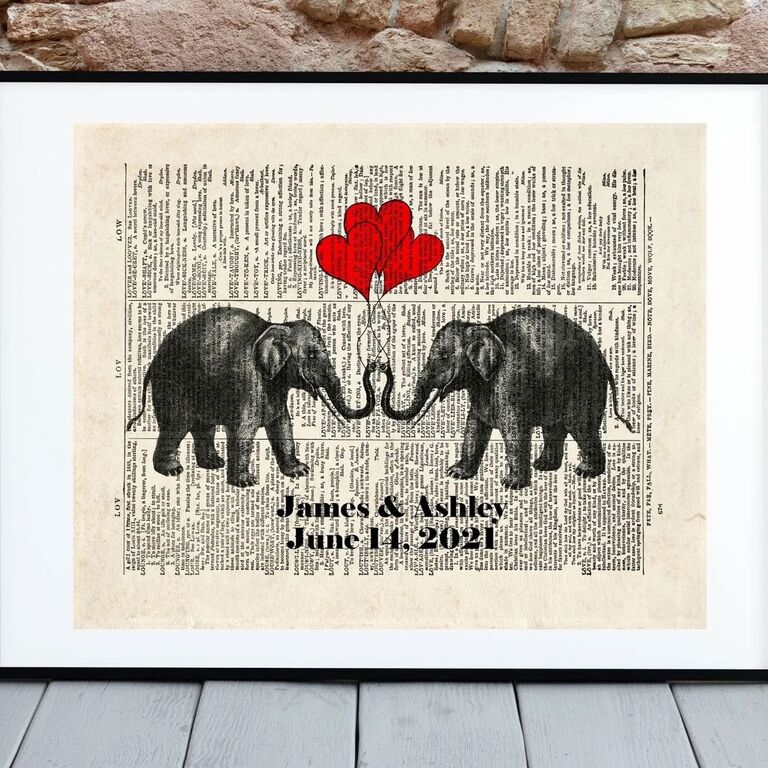 They say an elephant never forgets, so why not surprise your spouse with a sentimental piece of art they'll always remember? This quirky print is a reproduction of the "love" definition page from an 1892 Webster's Dictionary, with two elephants holding red heart balloons. You can have it personalized with your names and anniversary date to make it even more special. The print comes unframed, so don't forget to add in some extra time if you want to have it specially framed for the occasion.
Elephant T-Shirt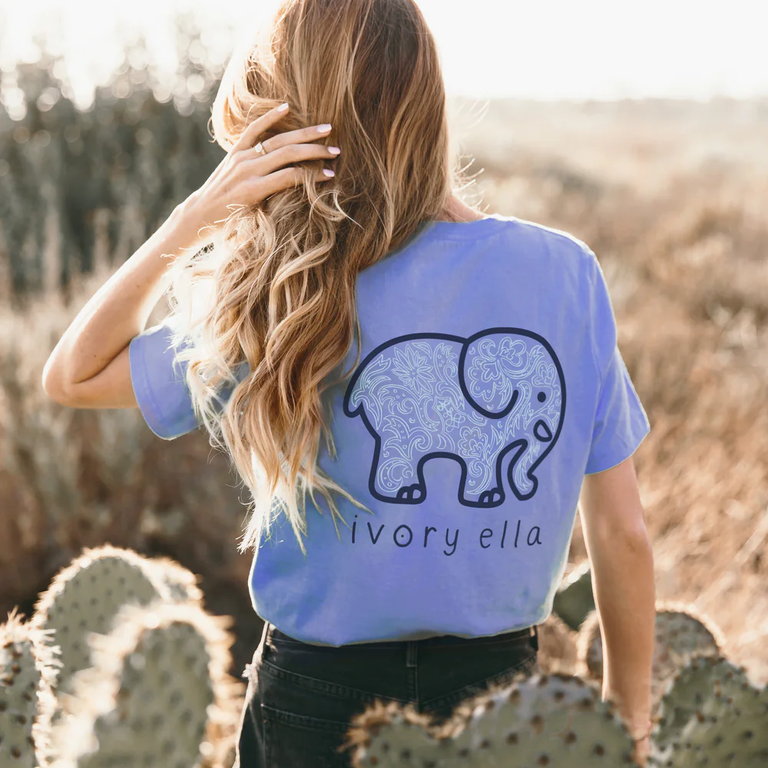 Finding an ivory-inspired gift that looks good and helps the environment may seem like a mammoth task, but it's entirely possible, thanks to Ivory Ella. Aside from designing really cool casualwear, this eco-conscious brand donates a portion of its annual profits to Save The Elephants, a wildlife conservation charity. Every time your spouse puts this cute elephant shirt on, they'll be reminded of its positive impact on animal welfare (and your thoughtfulness, of course!).
Ivory Canvas Song Art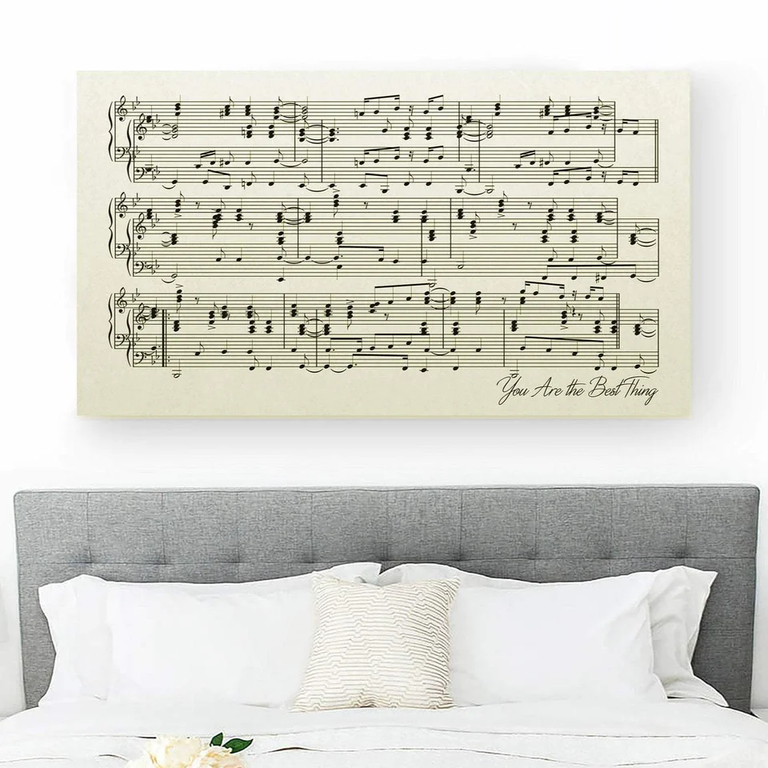 No matter how many years go by, you'll never forget your first dance as a married couple. Relive that special moment all over again with this beautiful music-inspired gift from Canvas Vows. It features sheet music from your wedding song printed on a large ivory canvas for a sentimental piece of art you'll treasure forever. With this meaningful 14th anniversary gift hanging on your wall, you may even be inspired to take to the kitchen (dance) floor to bust some moves.
Elephant Stud Earrings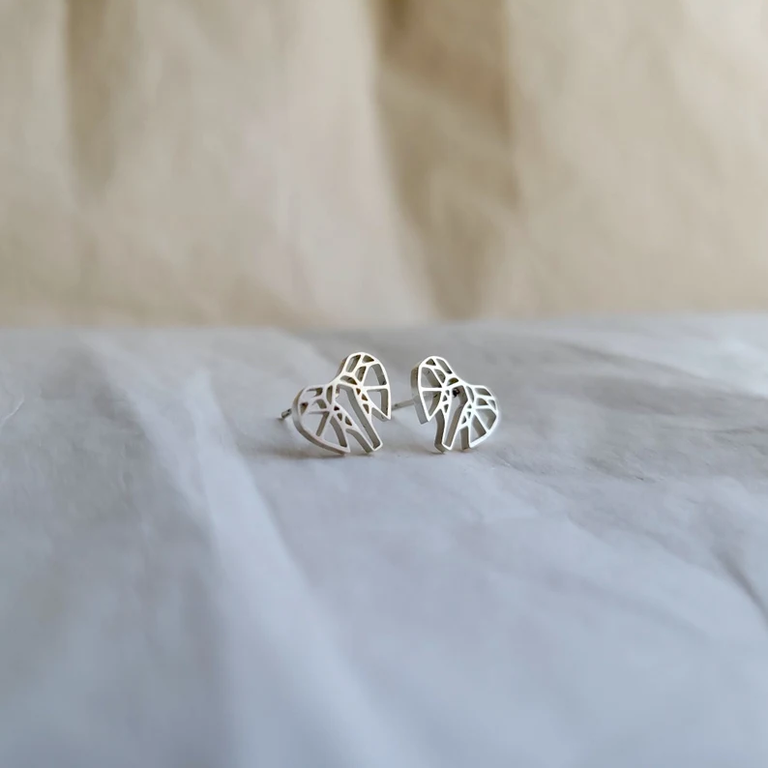 If your partner has an eye for unusual jewelry and offbeat accessories, they'll love these dainty geometric earrings. They're modeled off origami-shaped elephants and are guaranteed to add intrigue to any outfit. They're available in gold, rose gold and silver, and are small enough to be worn with other earrings for anyone with multiple piercings.
Elegant Elephant Sculptures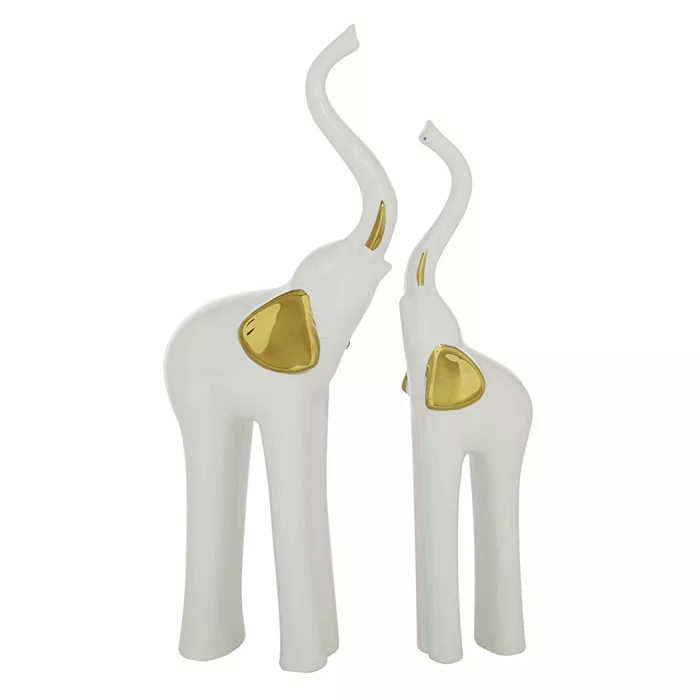 Shopping for the ivory anniversary is an opportunity to have fun and get creative with your gifting. These gorgeous animal-inspired sculptures are made from high-quality porcelain with a touch of gold and are guaranteed to impress your spouse or married friends. Whether they display them on their kitchen countertop or a shelf in their living area, they'll be glad to have these little elephants in the room.
Modern 14-Year Anniversary Gifts
If you'd prefer to avoid ivory anniversary gifts altogether, you can take inspiration from the modern 14-year anniversary theme of gold jewelry instead. This gilded gift represents unification, eternity and perfection, making it a fitting tribute to a loving couple in a long, happy marriage. Gold jewelry comes in many forms, from fashionable accessories to fine jewelry, so you're sure to find a gift that suits your spouse's style and personality. Whether you go for a statement piece or a more personalized gift, your partner will be reminded of the unique love you share.
Beaded Leather Bracelet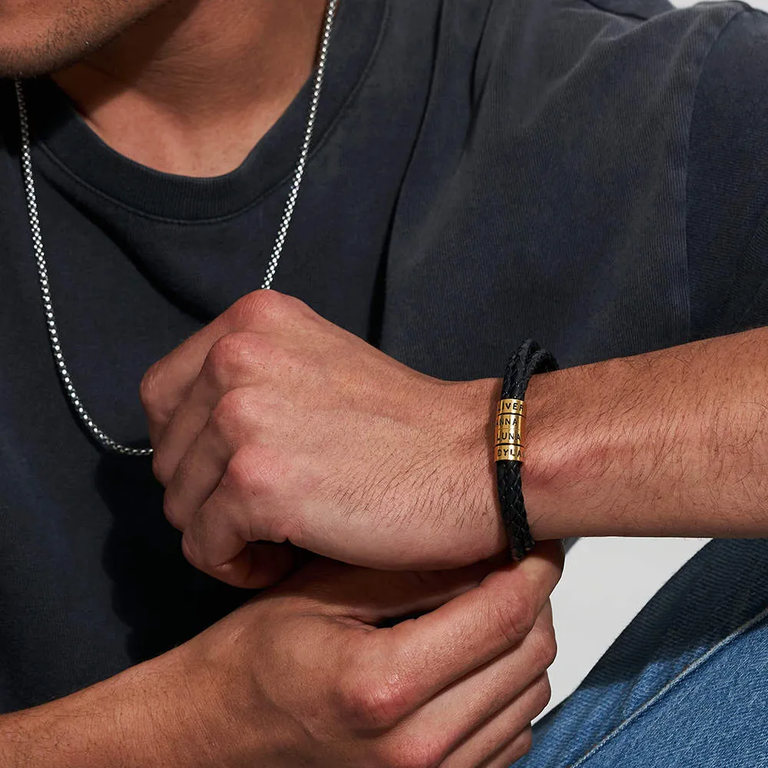 This braided leather bracelet is a subtle way to embrace the modern 14th anniversary theme, thanks to the addition of delicate gold-plated beads. To make it more personal for your spouse, you can have each bead engraved with your names, children's names or a secret message that only you two understand. It's a sweet and meaningful anniversary gift they'll want to wear daily to keep you close to them.
Gold Heart Earrings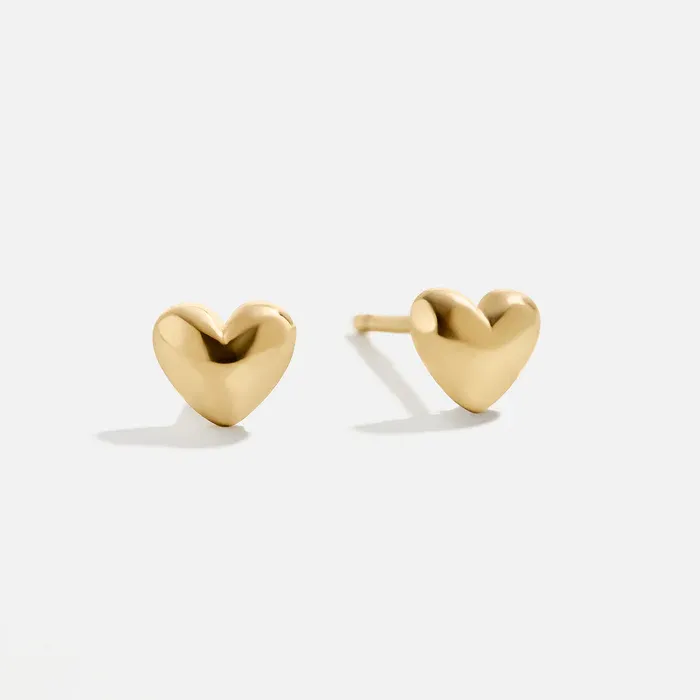 Gold fashion accessories are everywhere right now, and for a good reason—they brighten up almost every outfit and bring a touch of glamor to even the simplest of looks. These dainty stud earrings are shaped like hearts, making them a great gift for the love of your life. They're made from 18K gold-plated sterling silver and look amazing worn alone or stacked with a mix of hoops and studs.
Personalized Gold Necklace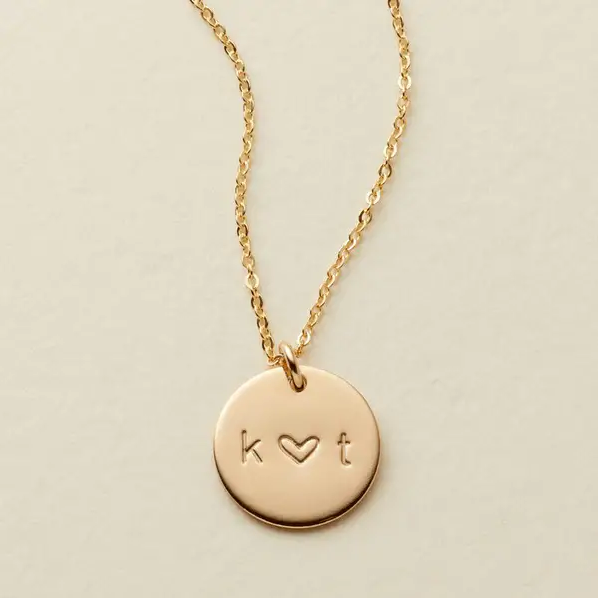 Remember when you and your spouse first started dating, and you'd spend hours writing their initials down next to yours? With this gorgeous gold pendant, you can relive those heady moments all over again. Have it engraved with your initials joined with a heart for a 14th anniversary gift that'll give your S.O. all the feels.
Solar-Powered Gold Watch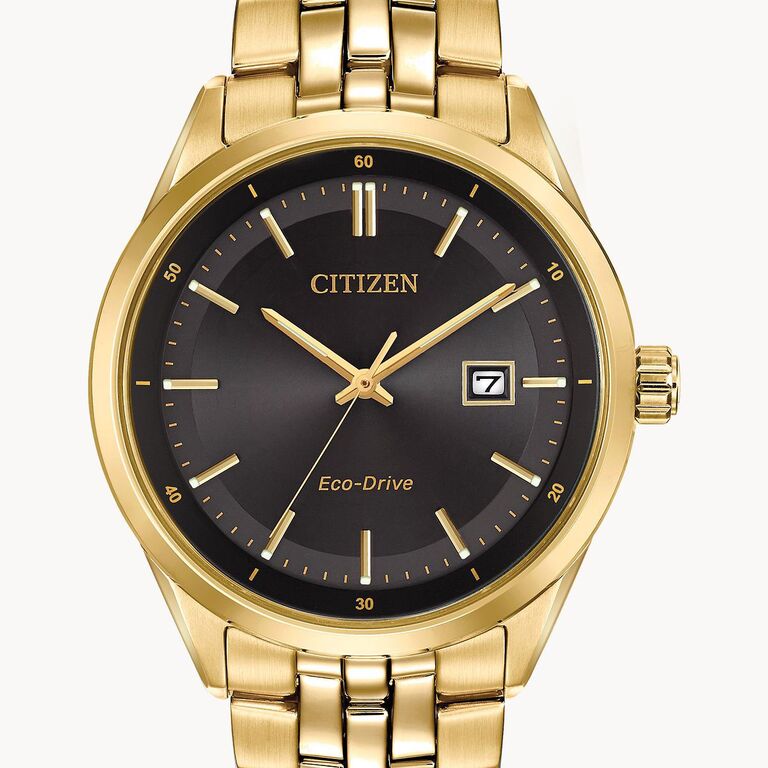 We couldn't write an anniversary gift guide without including a watch. Timepieces are a classic way to honor all the hours you've shared with your partner and all the wonderful years still left to come. This gold-toned stainless steel watch may look simple, but it has a very unique feature: it's solar-powered. The eco-technology ensures it never needs a battery and can be charged by any light source, whether on their windowsill or nightstand.
Teak and Gold Bangle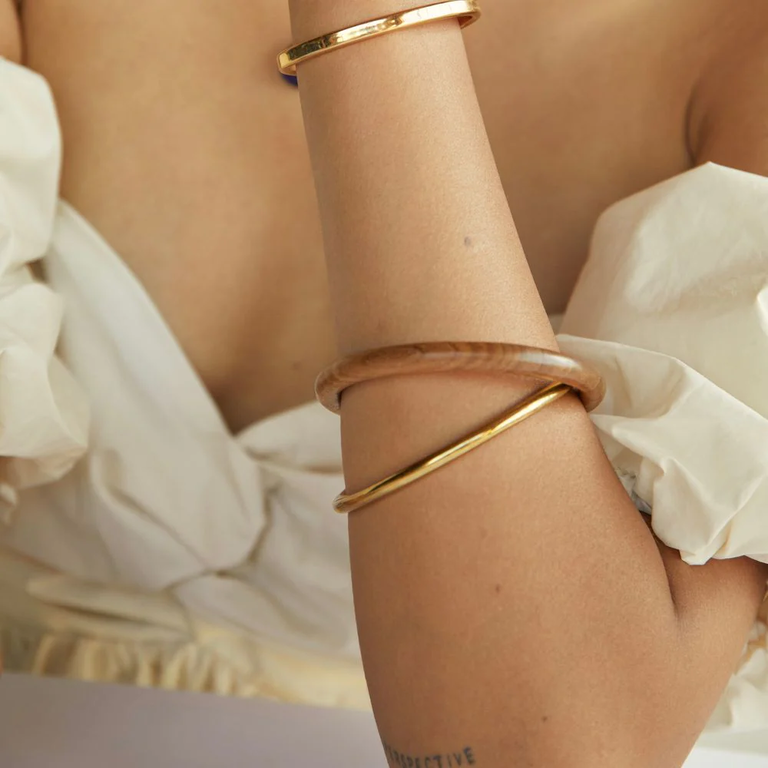 SOKO's teak and gold bangles are a popular gift for many reasons: they're handcrafted by artisans, made from responsibly sourced materials and are seriously chic to wear. This one features two interlocking bracelets made from 24K gold-plated brass and natural wood for a stunning combination that's both trendy and timeless. We bet your spouse will love this unique take on the modern anniversary theme and will want to wear it straight away.
Gold Box Chain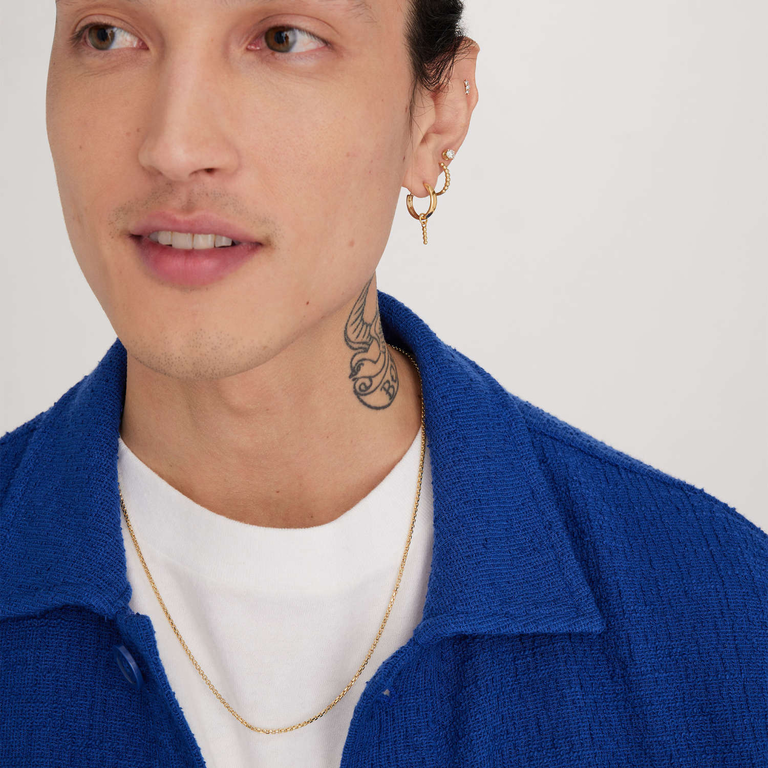 Even if your partner isn't that into jewelry, this simple gold chain will quickly become a staple for them. It's easy to add to any outfit (casual or formal) and won't overpower their overall look. Bonus: Because it's made of 14K yellow gold, it won't oxidize or discolor, so they can wear it for the next 14 years and counting.
Gold Herringbone Bracelet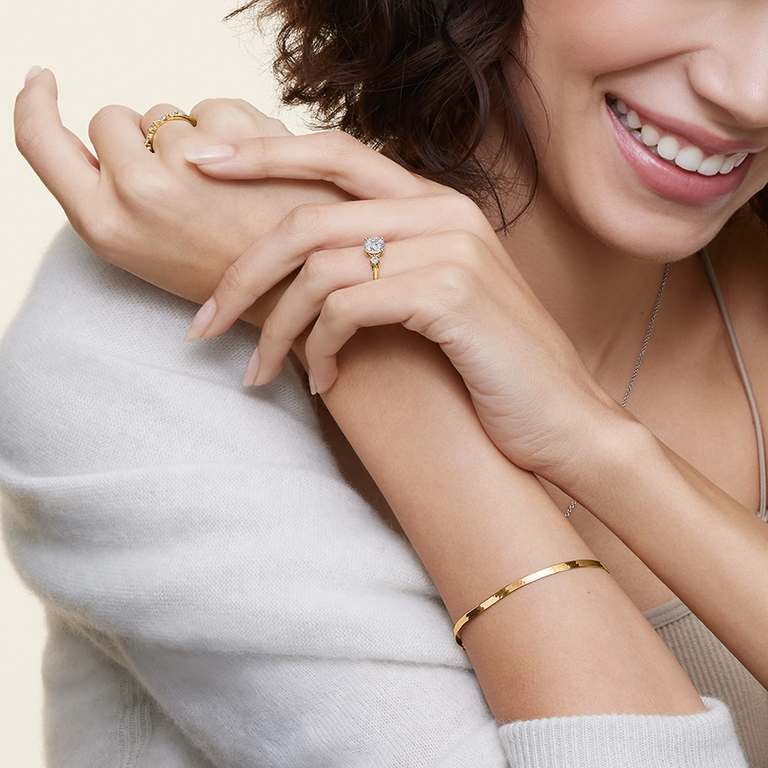 If your spouse likes their jewelry sleek and minimalist, keeping things simple is the best way to go. This stunning 14K gold bracelet is made from tiny flat herringbone links that sit smoothly on the wrist and can be worn on its own or stacked with other accessories. We bet your partner will be dazzled when you present this to them on the morning of your 14th wedding anniversary.
Men's Fashion Earring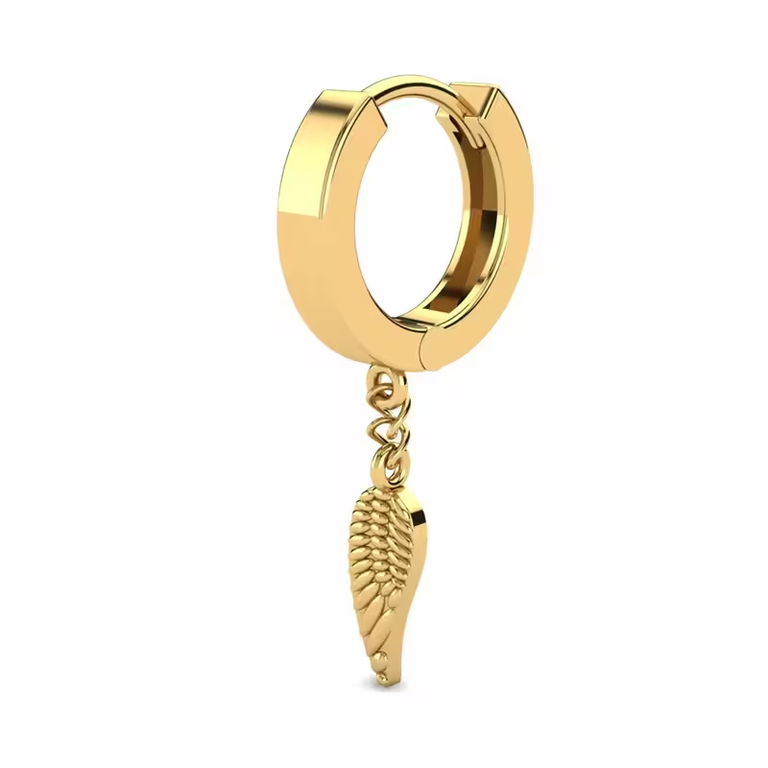 Men's earrings have soared in popularity recently and are an excellent way for your spouse to embrace fashionable accessories. This gold hoop earring features a dangling wing-shaped charm for a piece of ear candy they'll want to rock for their next big occasion (like celebrating your 14th anniversary!). There's also an option to upgrade to a pair for anyone who prefers a matching look.
Love Letter Necklace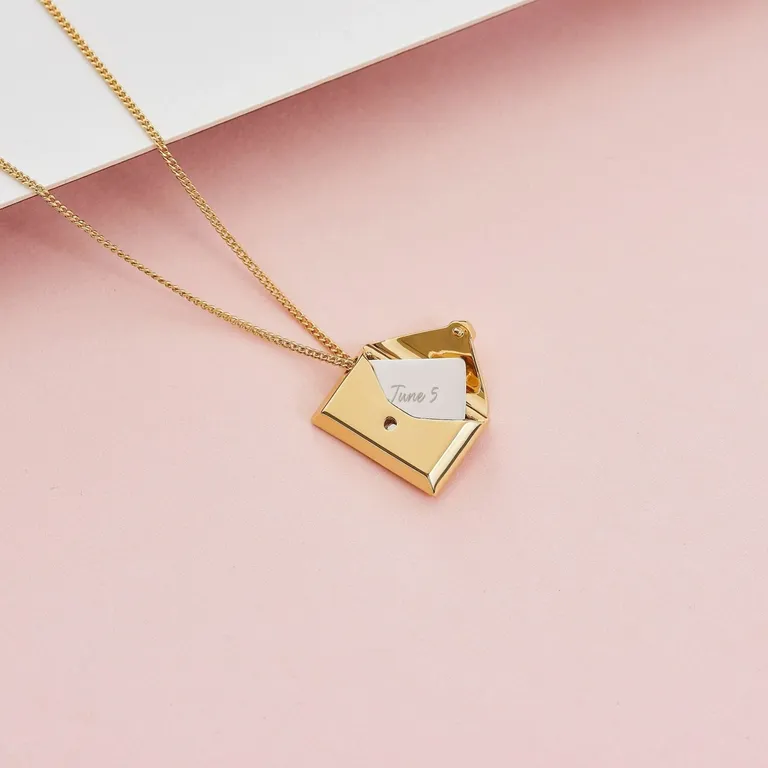 We can't think of anything sweeter than a handwritten love letter—except one thoughtfully penned and preserved in gold. This romantic locket comes with a pull-out letter (written by you!) placed inside a gold envelope. The letter can be customized with a thoughtful message and even includes an option for your actual handwriting. With a gift this whimsical and charming, prepare to be greeted with a few happy tears.
Gold Fashion Anklet
Anklets are back, thanks to a recent resurgence in '90s nostalgia. If you're looking for a piece of jewelry your spouse doesn't already own (or hasn't for a very long time), this delicate ankle chain is bound to impress. It's made from 18K gold vermeil with a dainty heart-shaped charm for a romantic touch. Whether they wear it with rolled-up jeans or their favorite beachy dress, it's guaranteed to add some unexpected sparkle to their wardrobe.
Unique 14-Year Anniversary Gifts
There's no need to worry if ivory gifts or gold jewelry aren't grabbing your attention—the 14-year anniversary has a few more meaningful symbols you can use to inspire your shopping. The 14th anniversary flower is the dahlia, a vibrant bloom representing beauty, love and commitment, and the milestone's color is ivory, echoing the traditional anniversary material. Last, but certainly not least, is the opal, the official gemstone of the 14-year anniversary. This iridescent multicolor stone is believed to promote passion and romance (and who doesn't want that in a loving relationship?). If you feel like swapping tradition for something else, we've also included some unique and creative 14th anniversary gifts that break the mold.
Diamond and Opal Necklace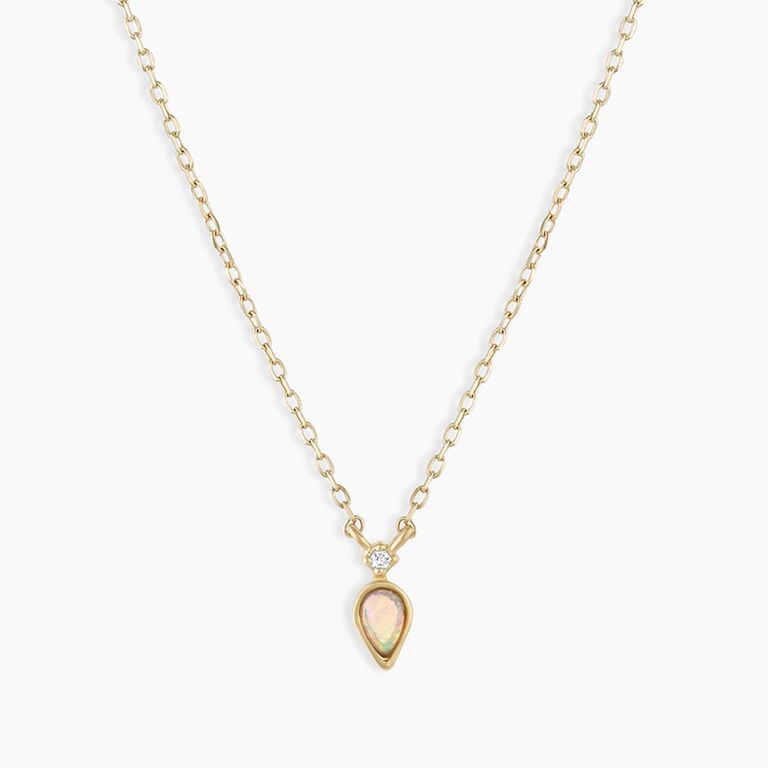 We love gifts that incorporate more than one anniversary theme, which is why this opal necklace is at the top of our list. It combines the 14th anniversary gemstone and the modern theme for a pretty pendant your spouse will want to show off. A small diamond and teardrop opal pendant hangs from a 14K gold chain for an understated look they can wear any day of the week.
Personalized Anniversary Pushpin Map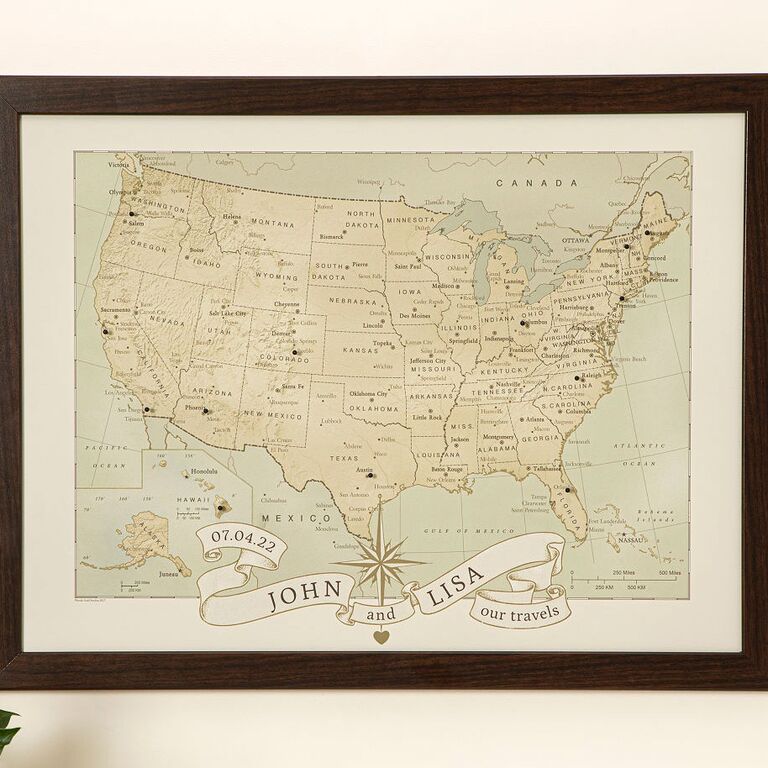 If you're shopping for avid travelers, this pushpin map of the US (or better yet, the world) will help them track all the places they've visited together. They can use the map to pin small photos from each location they've been to or to include the latest spots on their travel bucket list. Have it personalized with their names and wedding date for a meaningful 14th anniversary gift that'll rock their world.
Iridescent Wine Glasses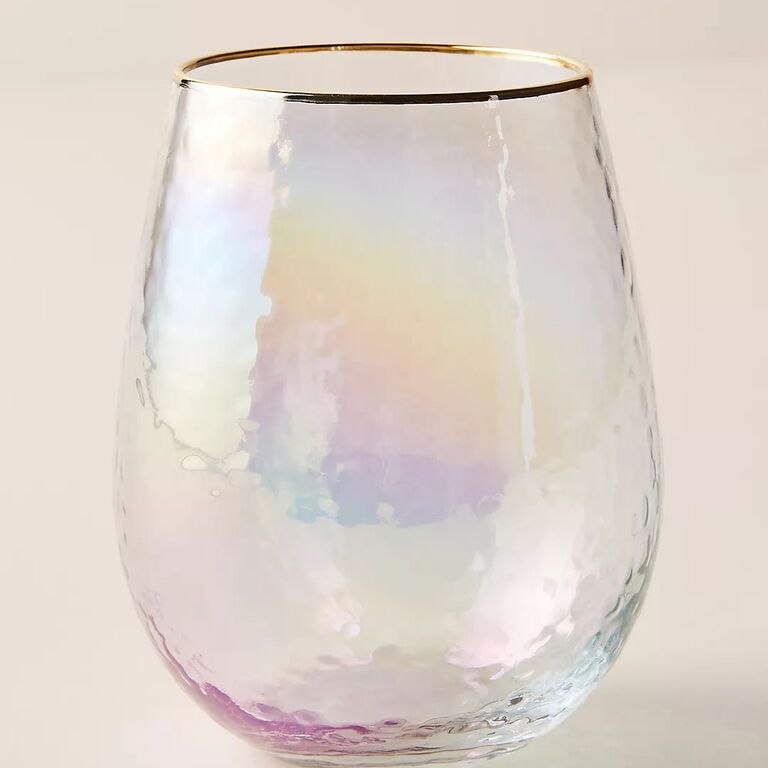 Want to raise a toast to 14 years of marital bliss? Make it a stylish event with these iridescent stemless wine glasses. They have textured glass to reflect light and a glittering gold rim that'll bring plenty of sparkle to the table. Pair them with a bottle of your favorite anniversary wine to get the celebrations off to a flying start.
Murder Mystery Jigsaw Puzzle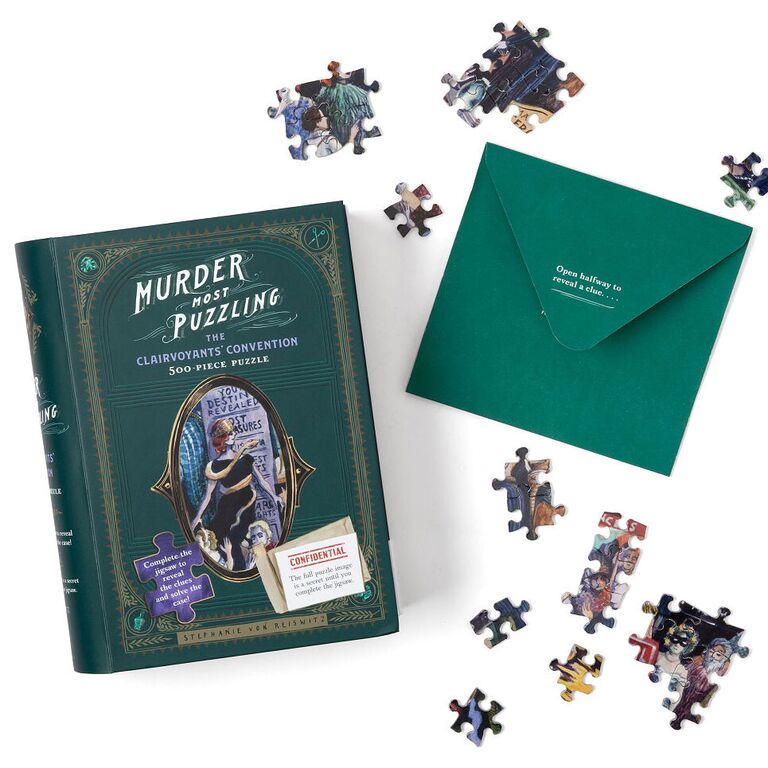 Puzzles make fun anniversary gifts, especially if you and your partner love to solve them together. Unlike ordinary pictorial jigsaws, this one is a murder mystery game that will have you spending hours uncovering clues and sniffing out suspects to complete this 500-piece puzzle. It's the perfect date night gift to give your beloved partner in crime.
Stripe Pajamas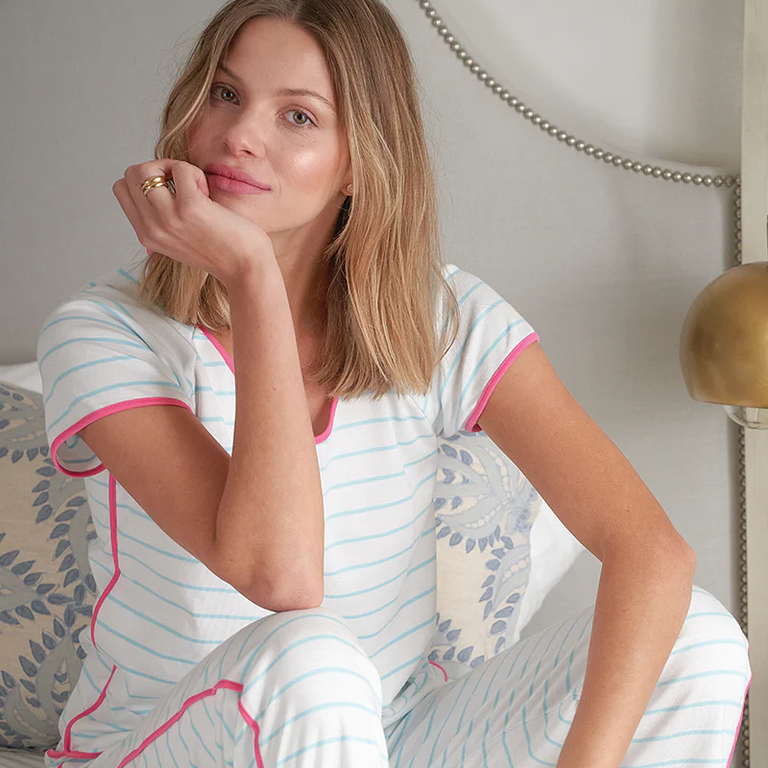 For the spouse who loves to spend their weekends napping or relaxing, a set of stylish sleepwear is a gift they're sure to appreciate. The striped short-sleeve scoop neck top and elasticated pants are made from 100% cotton for supreme comfort while sleeping and lounging. They come in a variety of designs, colors and lengths, so you're sure to find a combo your partner will love. (P.S.: These pajamas will shrink after the first wash, so it's a good idea to size up, especially if they like an oversized fit).
Adventure Challenge Notebook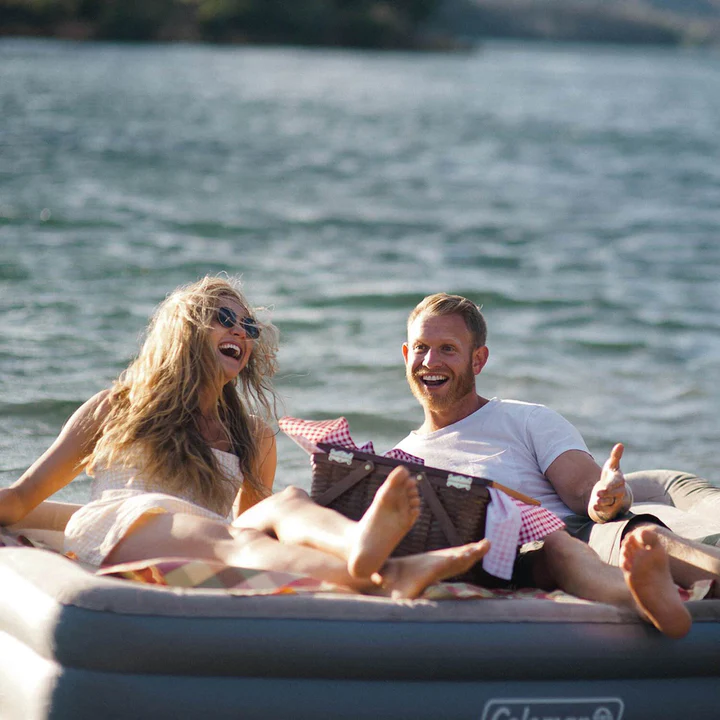 After 14 years of marriage, you and your partner have probably had your fair share of adventures. If you've run out of ideas to keep yourselves amused, turn to the Adventure Challenge to feel inspired. This notebook includes 50 fun scratch-off activities you can enjoy together (think: baking blindfolded or a romantic picnic by the ocean). It's a 14th anniversary gift that'll help you make precious memories you can cherish for years to come.
Personalized Golf Flask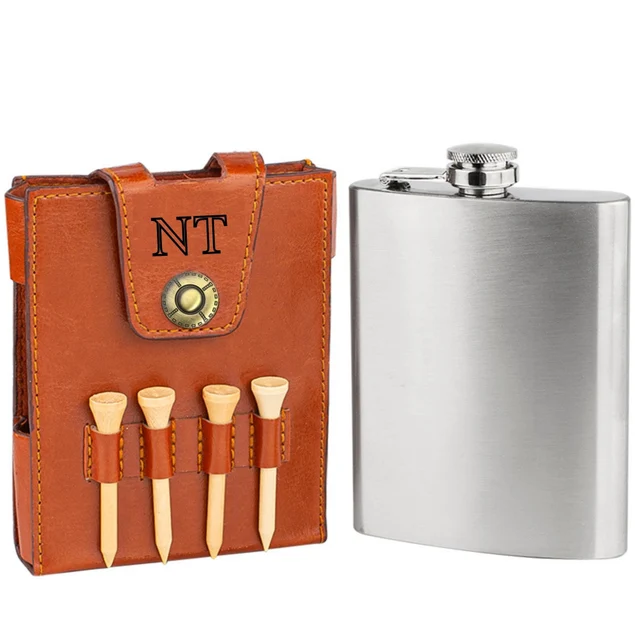 Whether you're married to a dedicated golf pro or an enthusiastic novice, this personalized gift will hit the spot. The stainless steel hip flask comes in a leather case and is packed full with all the essentials for a fun (and potentially boozy) round of golf, including a ball marker, divot repair tool and four tees. Have the case engraved with their initial for a 14-year anniversary gift that'll perfect their golf swing (and their swig!).
Wooden Book Valet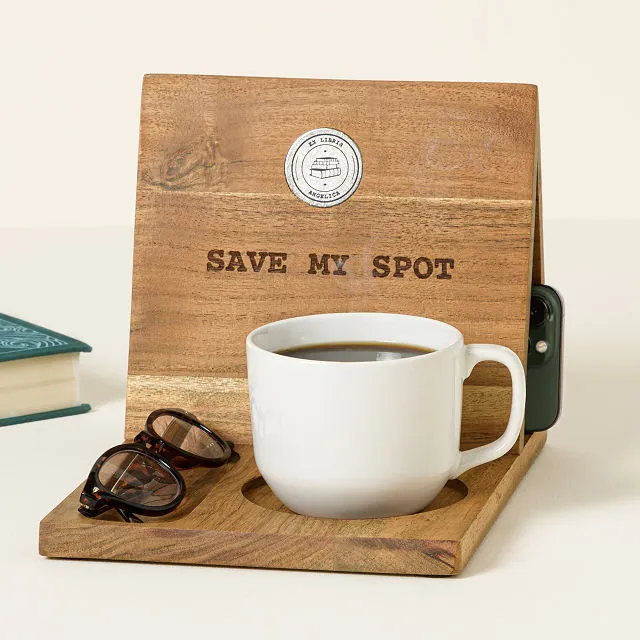 Shopping for a partner or couple who loves to read? This wooden book valet is a gift they may not expect but will certainly cherish. When they need to take a break from their favorite page-turner, they can simply place their book on the triangle to keep their spot. It even has a dedicated space for a cup of coffee, reading glasses (if they wear them) and a place to hold their phone.
Silk Pillowcase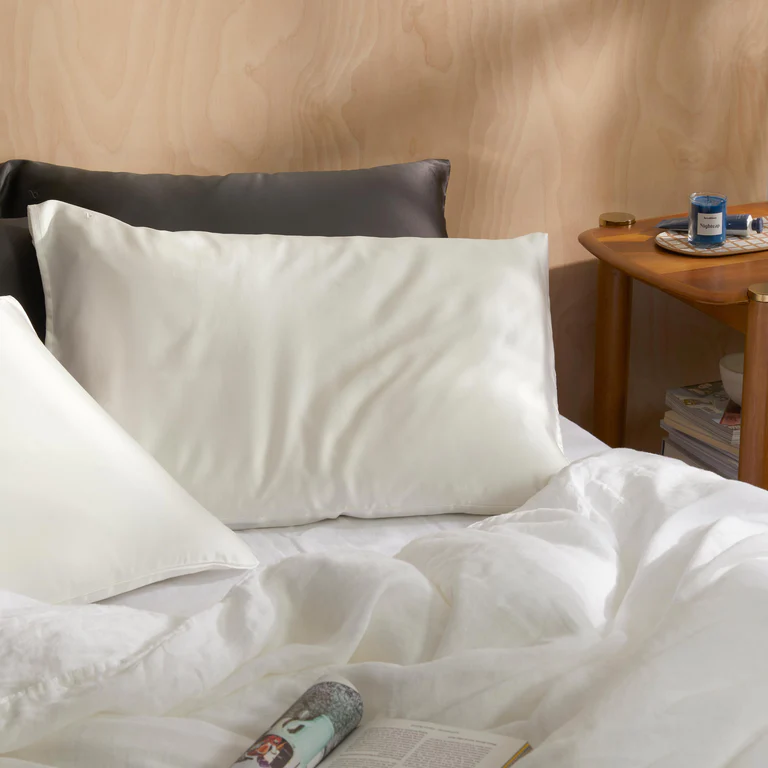 Upgrade your spouse's sleep to the stuff of dreams with a luxurious silk pillowcase from Brooklinen. The soft and silky fibers help protect hair and skin from friction damage, allowing your other half to wake up looking and feeling refreshed. Not only that, but this naturally cooling and breathable fabric is also machine washable, so there's no need to fuss on laundry day. Bonus: It comes in several neutral shades, including ivory, the 14-year anniversary color.
Retro Dahlia Mug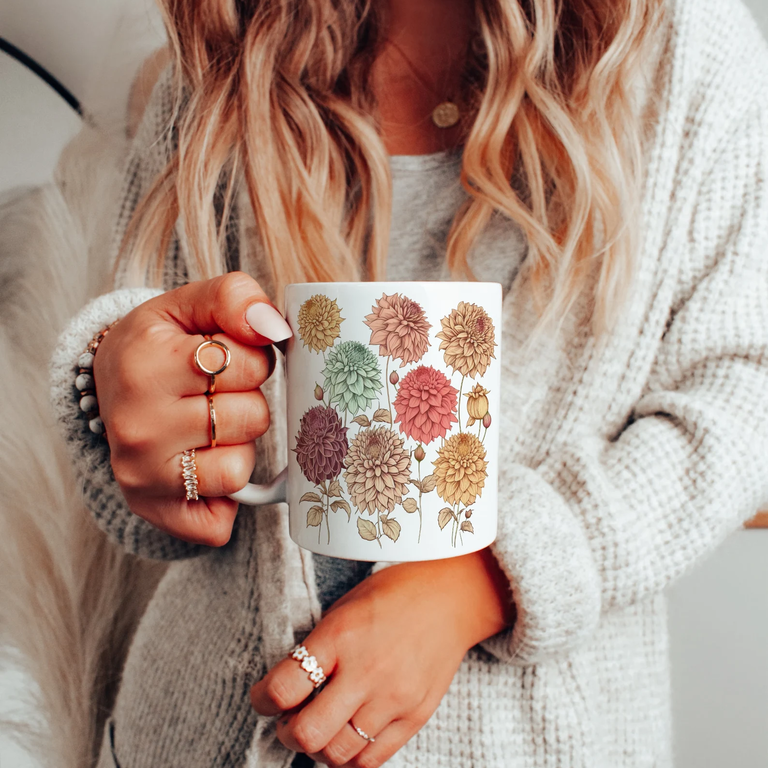 Looking for a small yet special present for your significant other? This pretty mug features retro-style illustrations of dahlias, the official flowers of the 14th anniversary. It's handmade from durable ceramic and is sure to bring a joyful element to their morning coffee ritual. If you want to make this gift more thoughtful, treat your spouse to their favorite cuppa in bed.