The Best 19-Year Anniversary Gifts to Honor Almost 2 Decades of Marriage
Celebrate19 wonderful years together in style with one of these thoughtful and sentimental gifts.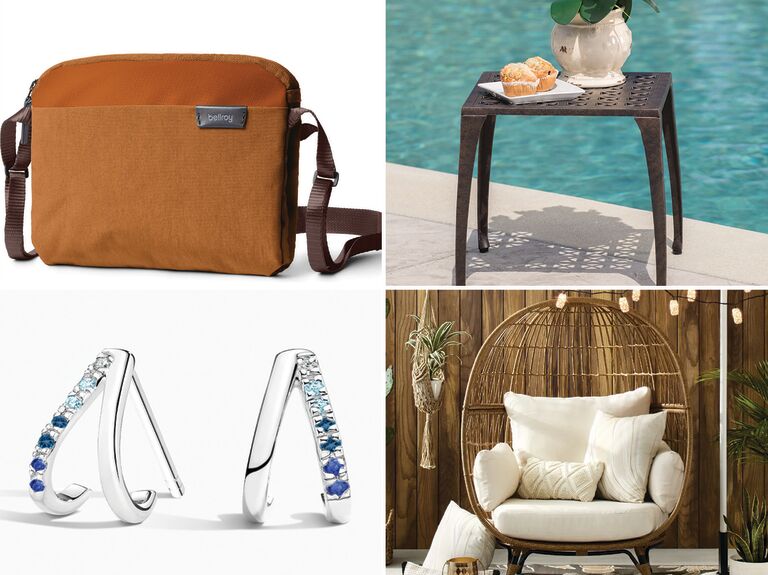 Photos, clockwise: Nordstrom, Walmart, Target, Briliant Earth
We have included third party products to help you navigate and enjoy life's biggest moments. Purchases made through links on this page may earn us a commission.
Wow! 19 years of marriage have flown by for you and your spouse, so why not kick off the celebrations with a really thoughtful 19-year anniversary gift? After nearly two decades of wedded bliss, it's completely normal if you're running a little short on great gift ideas. Whether you want to follow the traditional anniversary themes or get your partner something different, we're here to help you find a meaningful anniversary gift to commemorate your latest marriage milestone. Keep reading to find out more about the 19th wedding anniversary before shopping our list of favorite presents worthy of the occasion.
In this article:
Traditional 19-Year Anniversary Gifts
The traditional 19-year anniversary gift is made of bronze, a strong and durable material that symbolizes a rock solid marriage. This metal is actually a metal alloy made from a blend of copper and tin and represents two lives blending together into one shared path. If you're looking for a traditional gift for your husband or wife, we've found lots of thoughtful, on-theme options to show your spouse some love. From sentimental wall art and pretty jewelry to personalized plaques and trendy home accessories, there's something for everyone on our list.
Bronze Necklace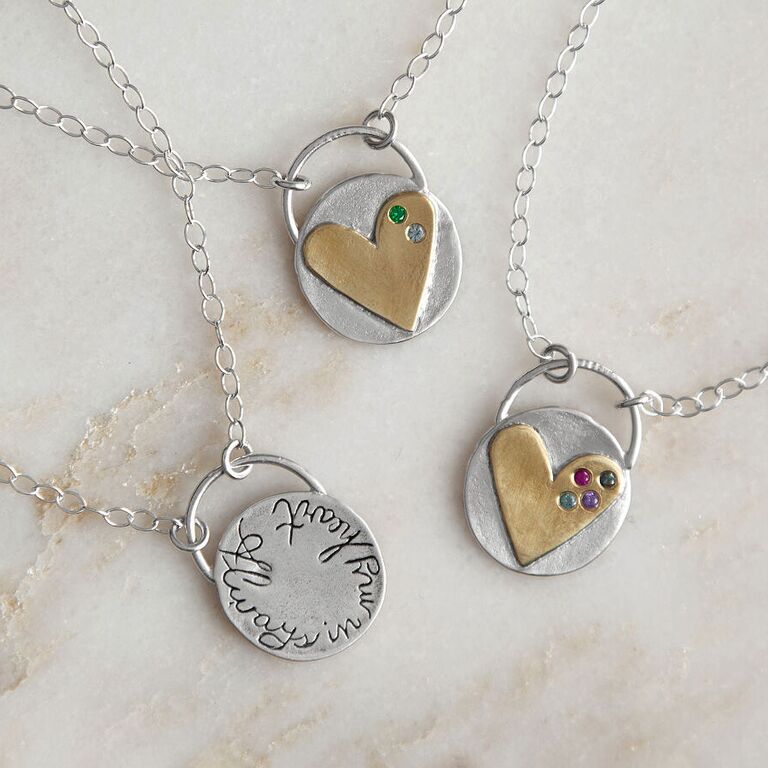 If you're looking for a romantic gift for your other half, this sweet necklace will give them all the feels. It's crafted from sterling silver and features a bronze heart engraved with the message "Always in my heart" on the back. You can add up to four semi-precious stones to represent their birth month or, better yet, the month you got married.
Bronze Serving Tray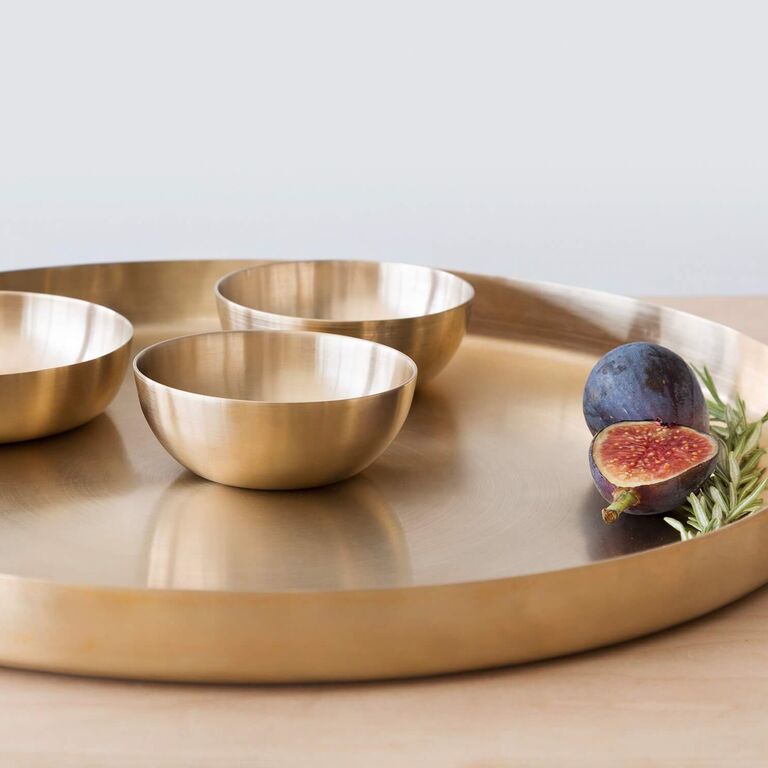 Shopping for someone who loves throwing dinner parties? A bronze serving tray will add a gilded touch to their next soiree. Handcrafted by artisans in India, this sleek server is ideal for passing appetizers, carrying cocktails or even as a base for a showstopping table centerpiece. Don't be surprised if they start planning an anniversary celebration so they can show it off right away.
Bronze Rim Crystal Tumblers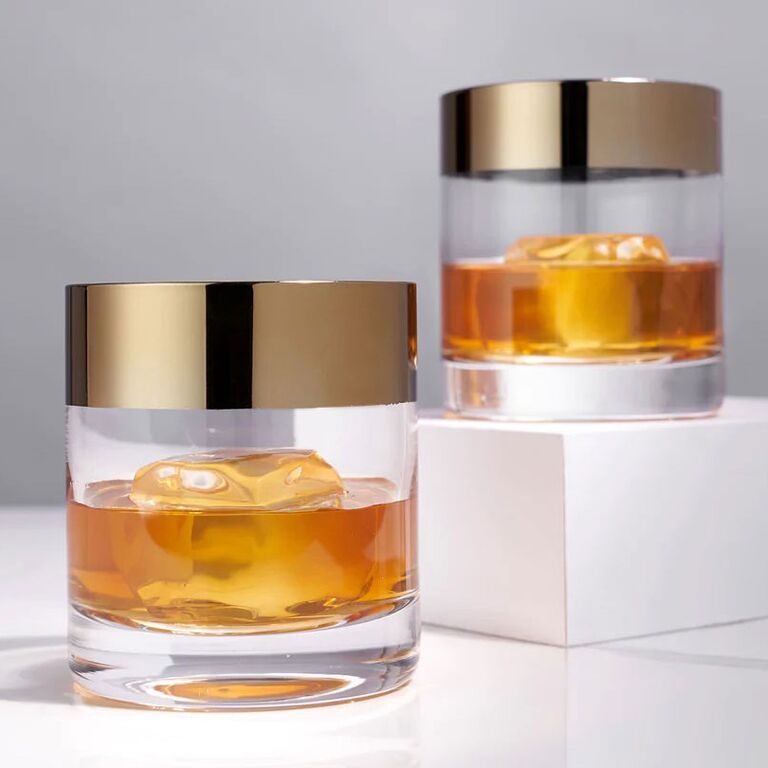 Toast to 19 happy years together with a nightcap sipped out of these Mid-century modern tumblers. The crystal glasses have a sleek bronze rim which will bring style and sophistication to your drink of choice. If you're really out to impress, team these glasses with your partner's favorite whiskey and let the celebrations begin.
Custom Map Key Chain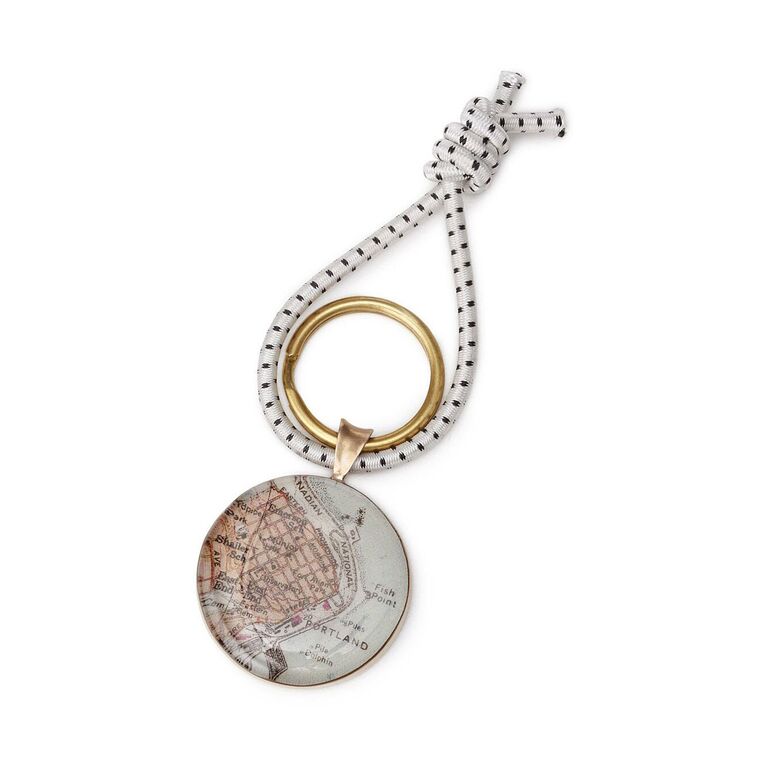 If your partner travels a lot for work, this personalized key chain will remind them of the happy home that awaits them upon their return. It displays a small map of your chosen location on a bronze plate that can be engraved on the back with a custom message. It's a thoughtful trinket they'll always cherish, whether they're away for a day in the office or a week-long conference.
Polished Cast Iron Skillet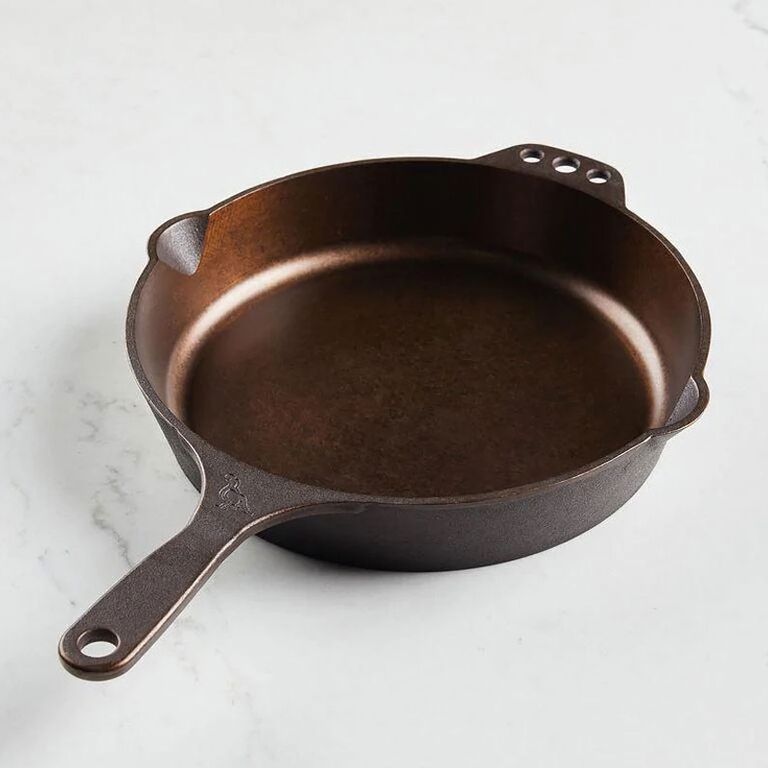 Whether you've married the world's best cook or just feel like updating your pans, this cast iron skillet is a practical gift for your 19th wedding anniversary. Made by Smithey Ironware Co., it features two pour spouts and a polished bronze-toned interior for easy cleaning. It also has a helper handle for two-handed lifting (it's actually pretty heavy) and can be engraved on the base with your spouse's initials for a more personal touch.
Lustered Velvet Quilt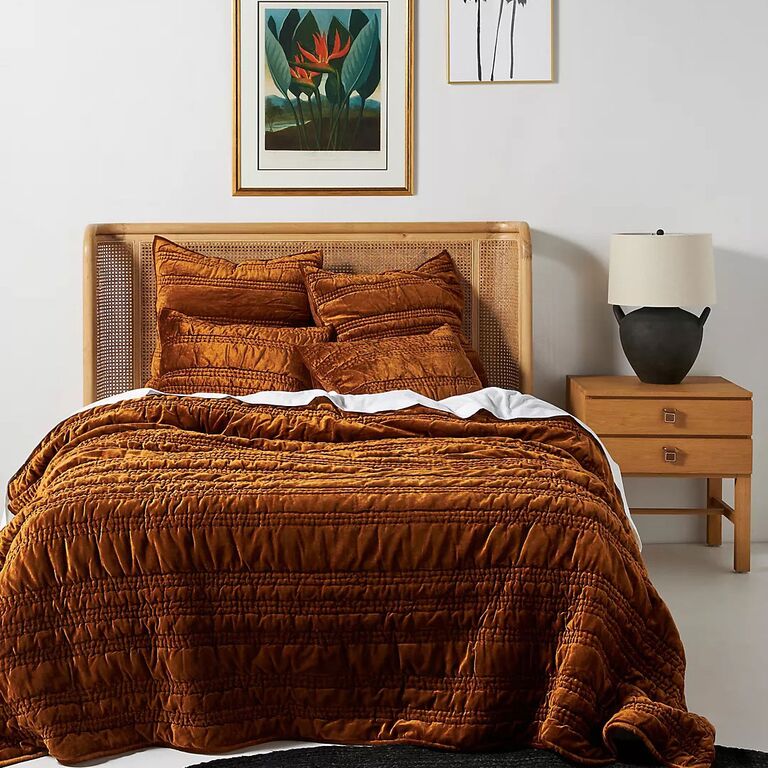 There are only two things you need for a great night's sleep: your cuddle buddy and an extra-soft bed cover. This luxurious quilt fulfills one of those needs, with an intricately stitched broze-colored velvet that will make your bedroom feel like a five-star hotel. It'll keep you and your spouse warm and cozy as you drift into a peaceful slumber. What's not to love?
Retro Aviator Sunglasses
If your spouse has a thing for fashionable accessories, they'll love these retro aviator sunglasses. The classic polarized teardrop lenses offer 100% UV protection from the sun's rays, while the gold and bronze titanium frames add a sophisticated finish to the overall design. We bet your partner will love them so much they'll want to play hookie from work so they can head straight to the beach.
Bronze Sound Wave Art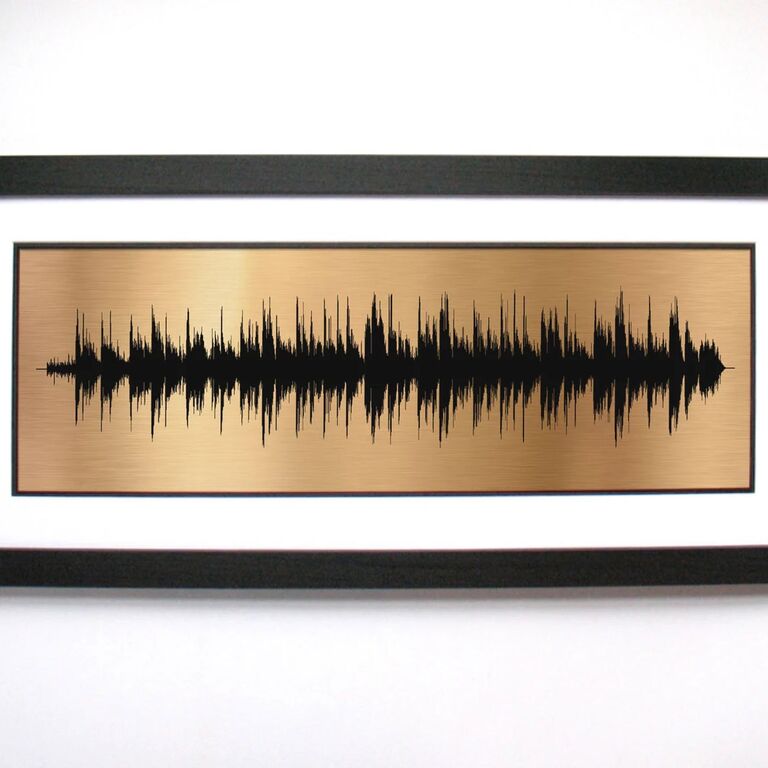 Whether you enjoyed a whimsical waltz or a joyful jive, your first dance is a precious memory that'll never fade. Honor this romantic moment in your lives with a piece of art modeled off the sound waves from your favorite tune. Not only does the bronze metal finish look really great, but it also ties this sentimental gift into the 19th anniversary traditional theme. Give this to your spouse and get ready to relive the magic with an impromptu dance around your living room floor.
Bronze-Plated Watch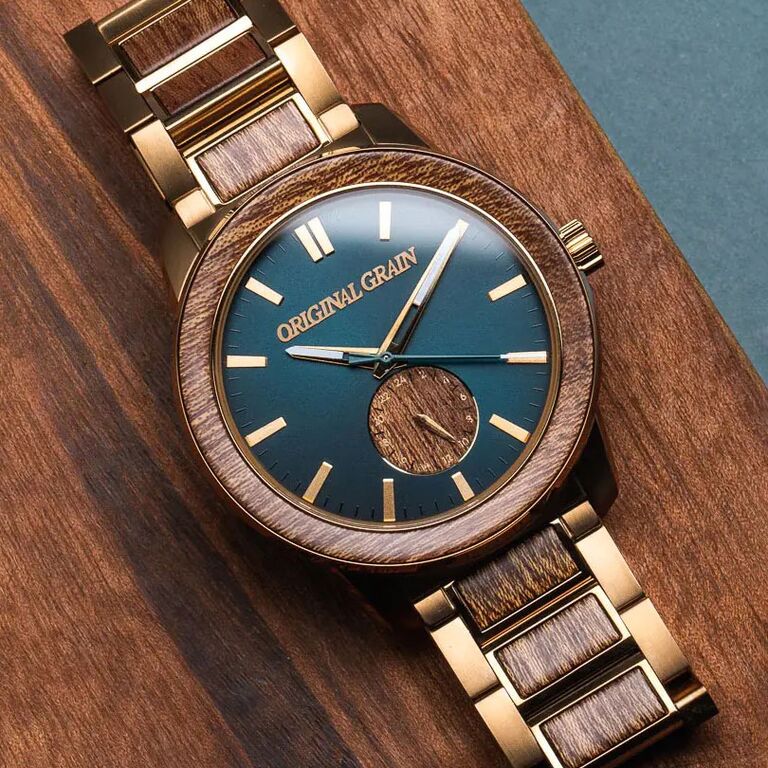 A quality watch is always a classic anniversary gift as it symbolizes all the precious time you have shared with your spouse. This standout version is made from recycled wooden whiskey barrels with bronze-plated stainless steel for a wow-worthy statement piece they'll want to wear forever. Add an engraving of their name or a sweet message to make this 19-year anniversary gift even more thoughtful.
Bronze-Finished Picture Frame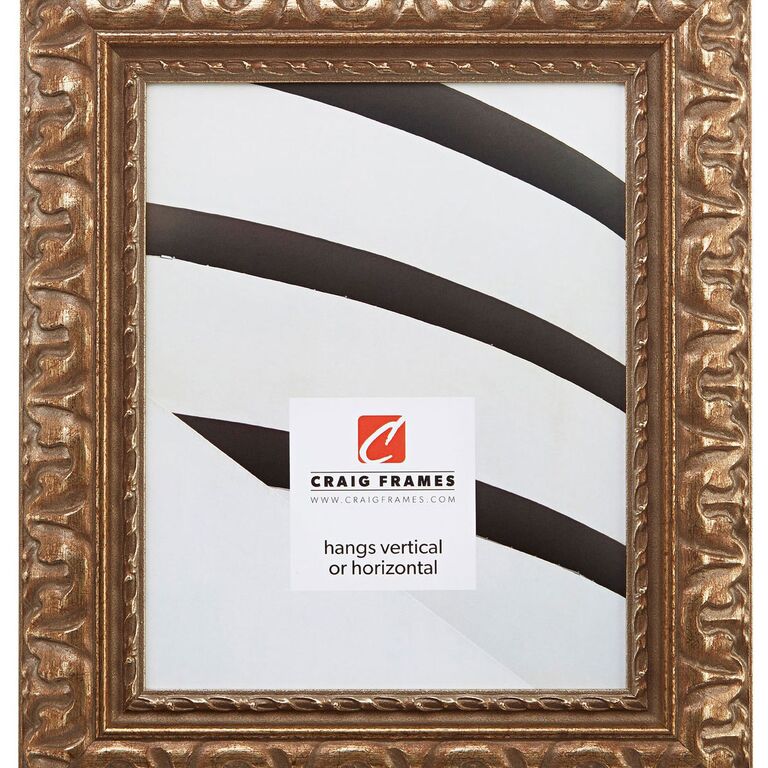 Photo albums can be fun to flip through, but some pictures deserve to be put on display. Choose a nostalgic image from your wedding day or honeymoon to fill this vintage-inspired frame. It's crafted from wood but has an ornate bronze and gold finish that'll make your favorite snapshot really shine. Feel free to swap out the photo every year to turn this simple gift into a sentimental ritual.
Bronze-Colored Compact Bag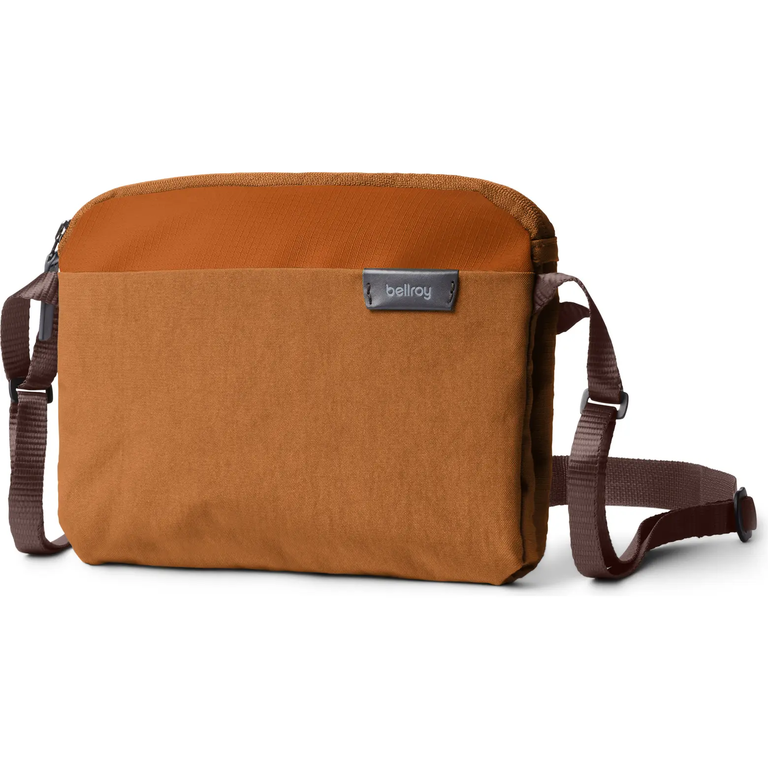 If your partner favors compact crossbody bags over roomy totes, you're in luck with this bronze-colored number. At first glance, it looks small and simple, but once they take a peek inside, they'll find lots of little pockets and details to keep everything organized. The bag is made from durable canvas with stylish leather accents and is ideal for traveling, shopping and running errands.
Personalized Bronze Cuff Links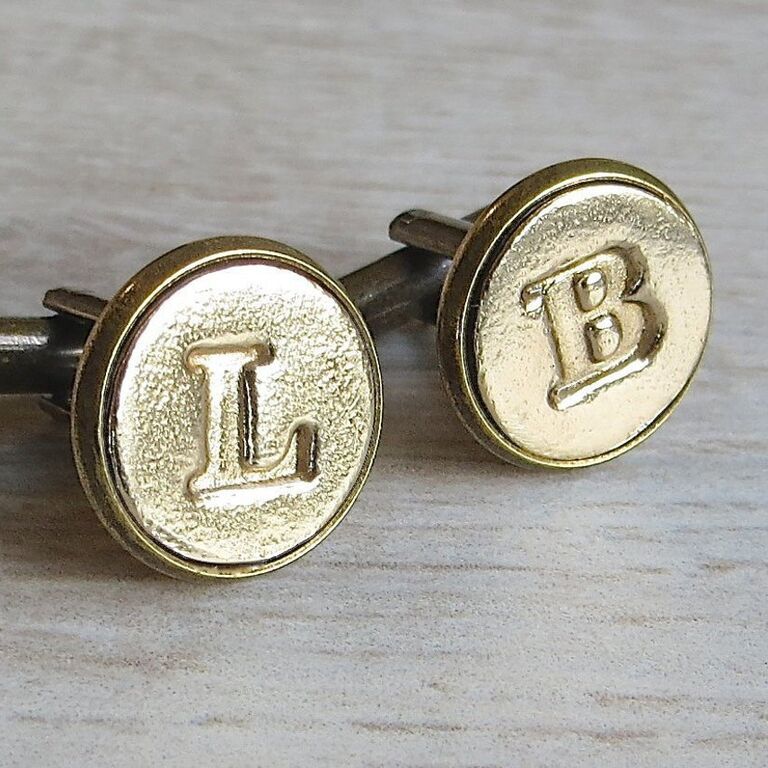 Give your partner's formalwear an elegant upgrade with a pair of personalized cuff links. This petite duo is made from solid bronze set in silver or copper-plated brass and is sure to make a statement the next time they go out. Have them stamped with your spouse's initials for a sleek accessory they'll be excited to wear for work or play.
Bronze Side Table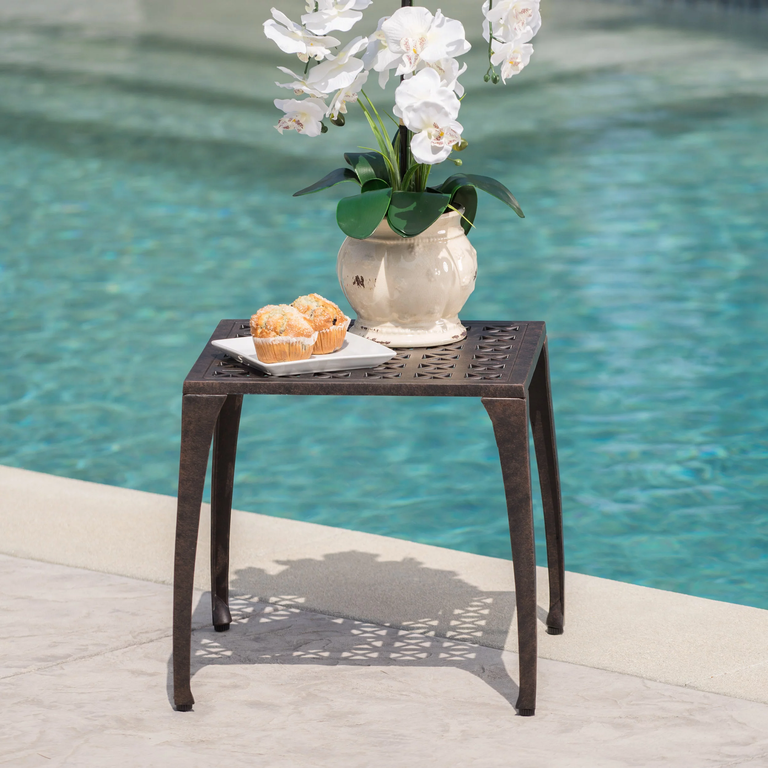 Chilling by the pool and lounging on the patio are some of our favorite ways to spend an afternoon, especially if cocktails are involved. This metallic side table is the perfect spot for your spouse to put their margarita while topping up on sunscreen or dipping their toes in the water. Made from cast aluminum with a bronze finish, it's sturdy yet lightweight enough to move around the backyard as required. We suggest giving this to your other half along with a refreshing spritz they can sip in the sun.
Personalized Bronze Plaque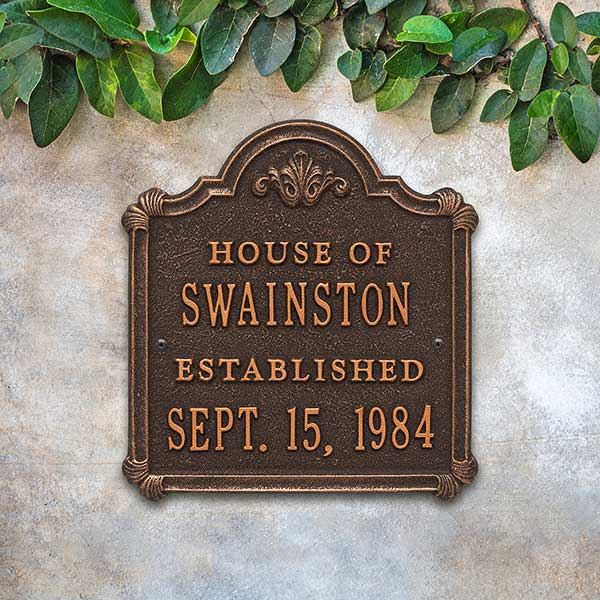 If you're taking the traditional route with your gifting, this personalized house plaque ticks all the right boxes. It's made from rust-free aluminum with a bronze finish and can be customized with you and your spouse's details for a special touch. The molded decorative border adds a sophisticated finish that'll elevate your outdoor wall or doorstep to the next level.
Bronze Floor Lamp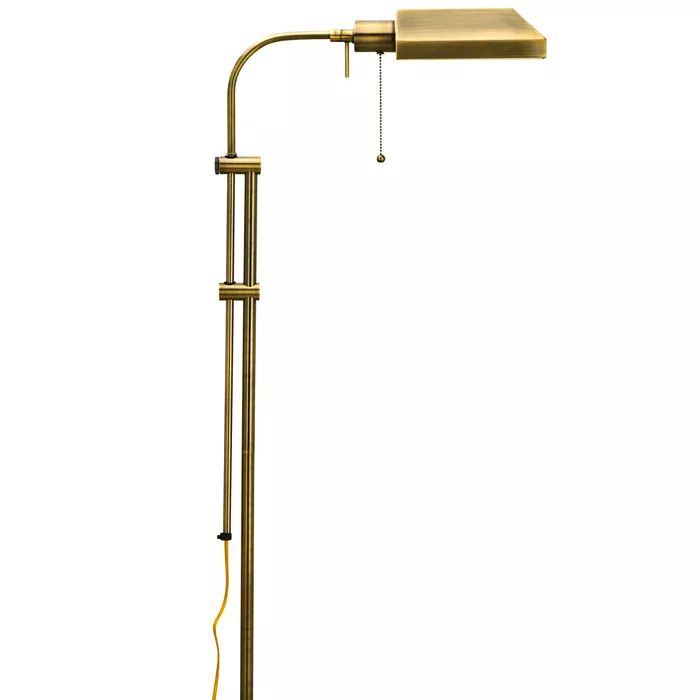 Looking for a bronze anniversary gift for the light of your life? This vintage-style floor lamp is sure to brighten up their smile and the home you share together. Its antiqued bronze base and shade are right on the theme, while the pull chain switch makes it look like a lighting fixture from another era. You can even adjust the lamp's height to alter the ambiance of your living area or hallway.
Unique 19-Year Anniversary Gifts
If a bronze-themed gift doesn't feel right for your spouse, there are a few other 19th anniversary symbols to consider, like the milestone's flower, color and gemstone. The official bloom for the 19-year anniversary is the chrysanthemum, a daisy-like blossom that represents happiness, longevity and well-being (three key components of a happy relationship). Unsurprisingly, the 19th anniversary color is bronze, which, like the traditional gifting material, symbolizes strength, stability and loyalty. Finally, if jewelry is on your gifting radar, you can take inspiration from the pretty aquamarine stone, which signifies healing and tranquility. Still not sold on a thematic gift? No worries—we've got you covered with a few alternative 19-year anniversary gifts to match your spouse's hobbies, interests or sense of style.
Chrysanthemum Necklace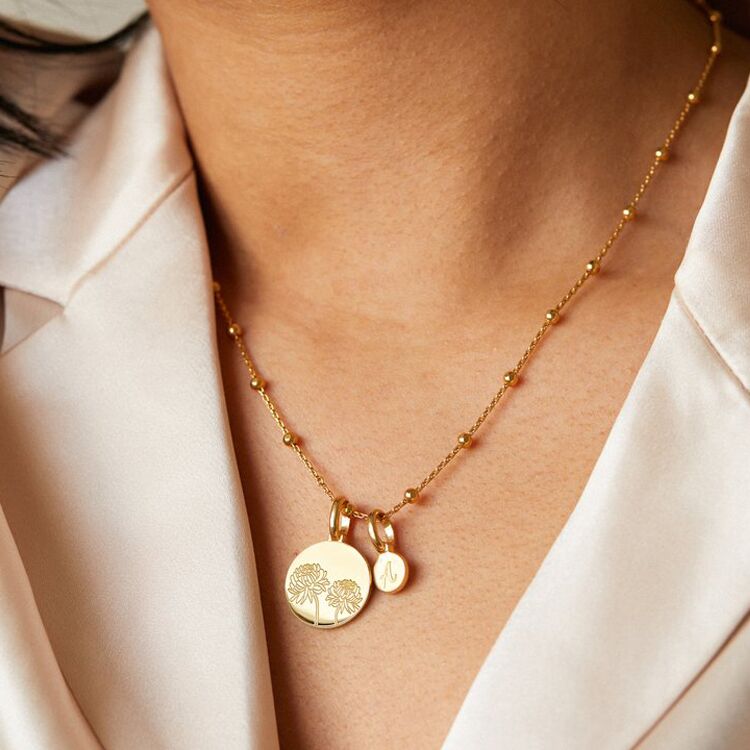 Take inspiration from the 19th anniversary flower with this pretty gold chrysanthemum necklace. It comes with a second charm for your spouse's initial, resulting in a personalized 19-year anniversary gift they can wear close to their heart. Whether they rock it daily or only put it on for special occasions (like a romantic anniversary dinner), they'll be reminded of the beautiful love you two share.
Personalized World Map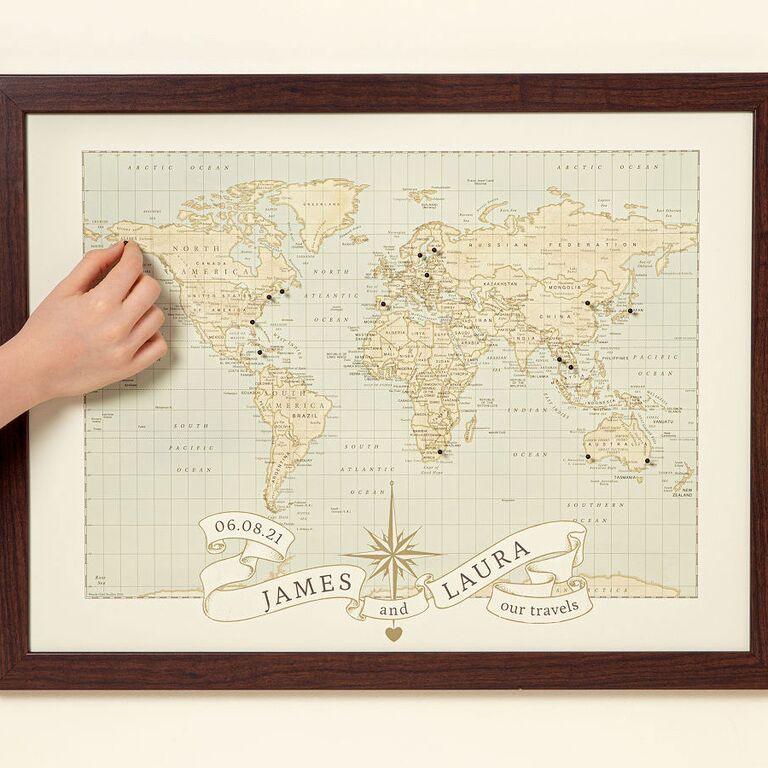 After 19 years of married life together, you and your spouse have probably had plenty of fun adventures. If you love traveling to a new place each year, this personalized world map will help you keep track of your favorite spots. It's printed with your names and anniversary date and comes with 100 push pins to mark where you've already been (and where you can't wait to go!). With a gift this thoughtful, your partner will have no doubt that they mean the world to you. Aww!
Smart Indoor Garden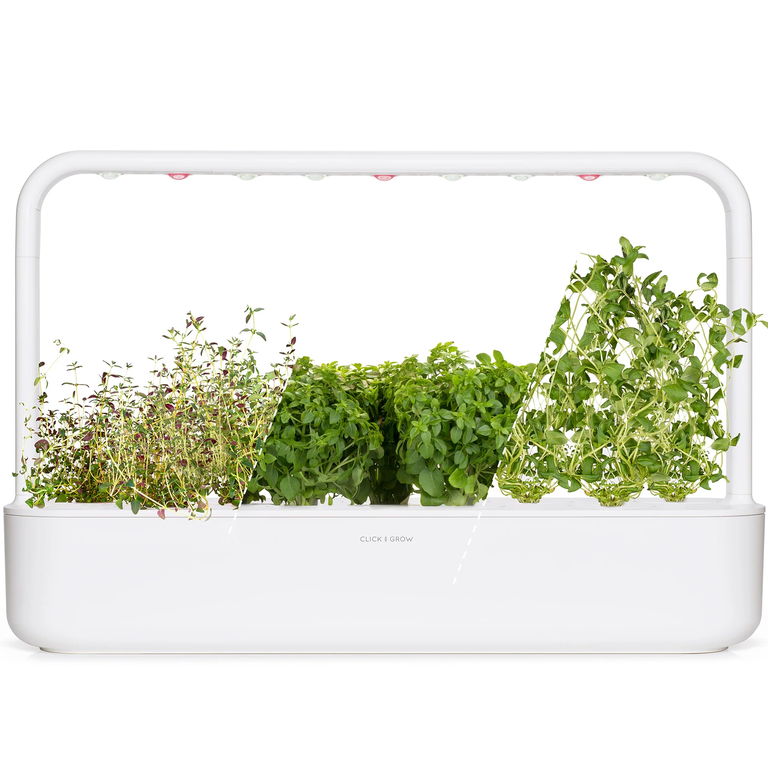 Now here's a gift for the 19th anniversary that any couple can put to good use: a portable garden that can be set up literally anywhere. This smart garden automatically waters, lights and provides oxygen to the plants, taking all the guesswork out of indoor gardening. This particular set includes a variety of Italian herbs, like thyme, basil and marjoram, making it the perfect choice for anyone who loves to use fresh garnishes in their cooking.
Personalized Chronicle Canvas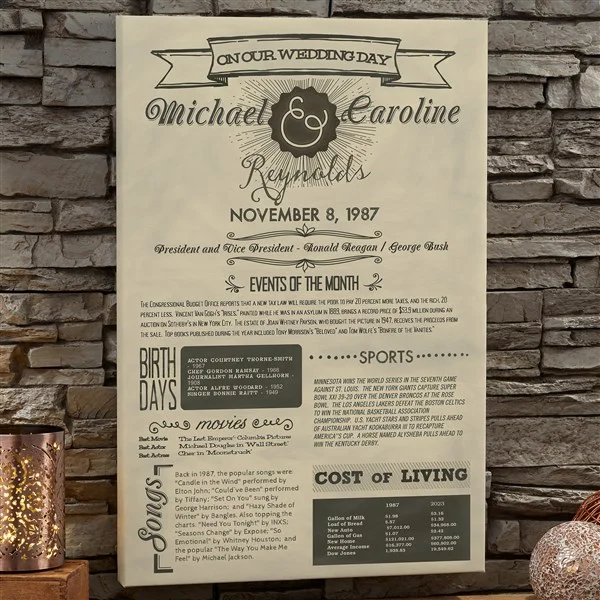 If your spouse has an interest in current affairs and trending news stories, they'll love this personalized anniversary gift. The printed canvas includes your names and wedding date, along with a chronicle of events from the day you got married. They'll have lots of fun reminiscing about who was president back then, reading old news headlines and rediscovering movies and songs that were popular. It's a thoughtful 19-year anniversary gift that's sure to be a conversation starter whenever guests come over.
Aquamarine Huggie Earrings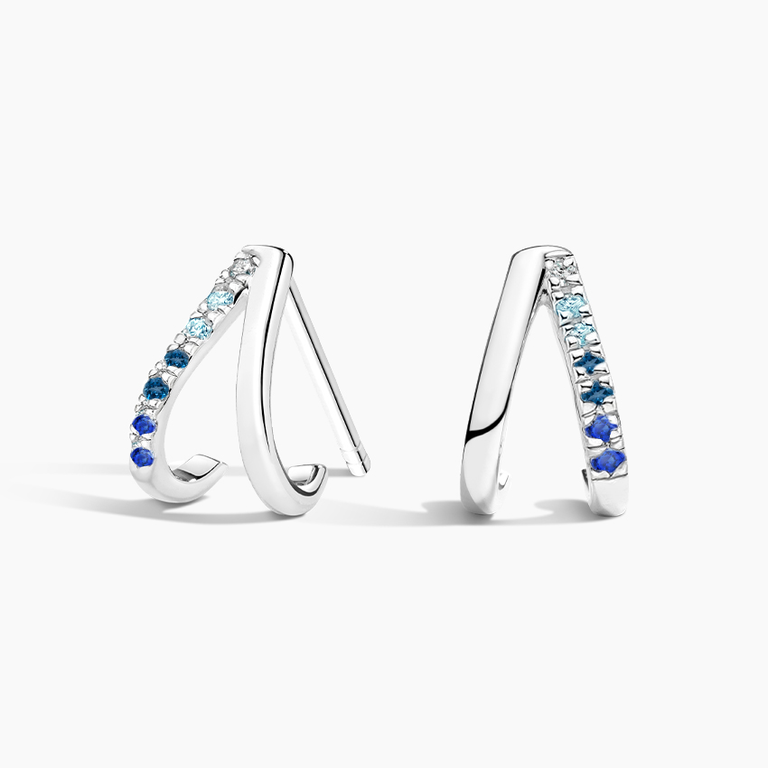 Huggie earrings are having a major moment right now, and it's easy to see why. They're seriously stylish and elegant but subtle enough to wear with almost any outfit. These pretty accessories from Brilliant Earth are made from sustainably sourced stones, including diamonds, sapphires, topazes and aquamarines, the official 19th anniversary gem. This pretty blue jewel is said to bring balance and calm to the wearer, which we're sure your other half will appreciate when they're getting dressed for the day.
Indoor S'mores Fire Pit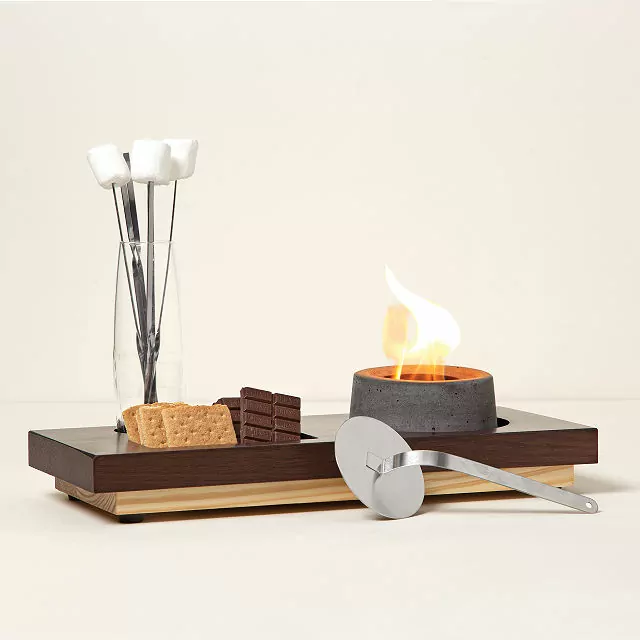 There's just something about a real fire that gets the romance flowing. Even if you don't have an actual fireplace, you and your spouse can still get that warm glow with this indoor fire pit. It includes a concrete vessel in a stylish wooden base, a glass with stainless steel s'more skewers and a snuffer to safely extinguish the flame once you're done. All you have to do is grab a few marshmallows, some chocolate and crackers to melt a delicious dessert (and maybe even your partner's heart).
Minimalist Wall Art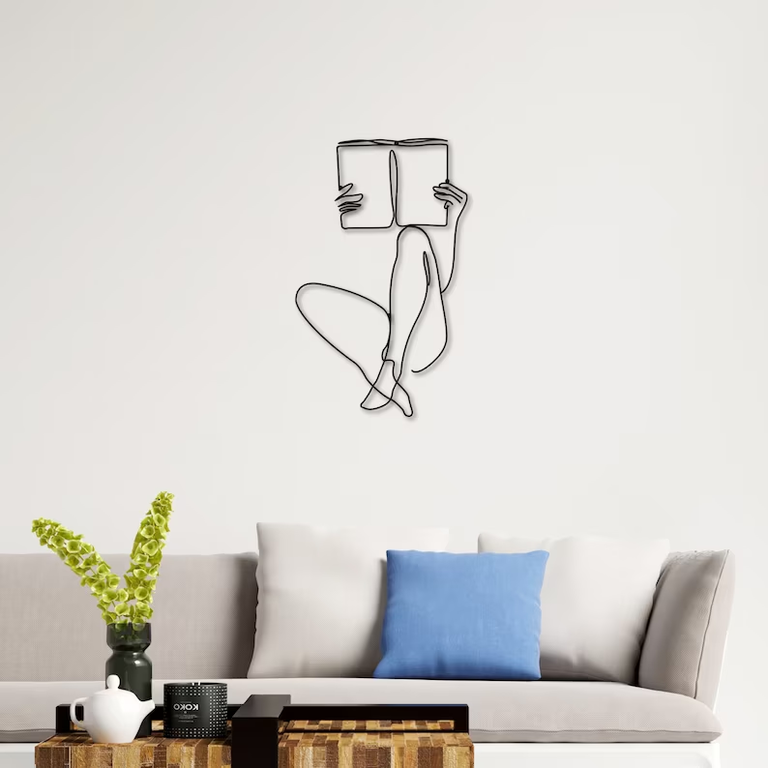 Surprise the avid reader in your life with a unique gift that isn't a new paperback. This linear wall art is handmade from metal and is shaped like a person reading a book. It's a modern, minimalist showpiece they'll appreciate, especially if they have a designated space to put it on display. You can choose from three different sizes (small, medium or large) to suit your spouse's favorite reading spot.
Camping Supplies Kit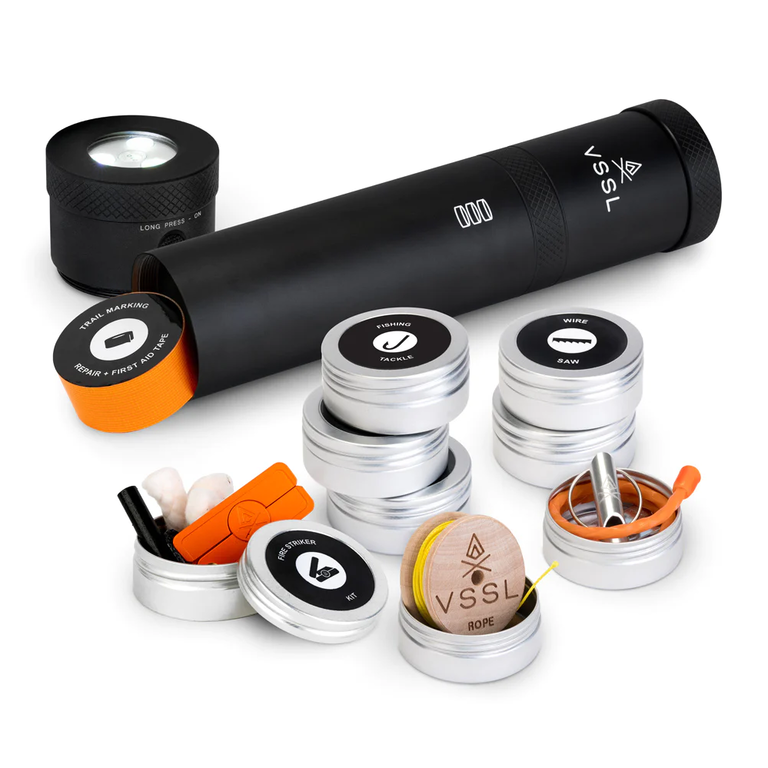 Ensure your next outdoor adventure runs smoothly with this handy kit of camping supplies. The hardwearing aluminum tube is filled with all the essentials for a fun (and safe!) trip, including a compass, a beeswax candle, an LED lantern and so much more. It even comes with fishing tackle, making it a great 19-year anniversary gift for anyone who loves angling out on the water. We bet your spouse will be hooked when they see it!
Recycled Yarn Socks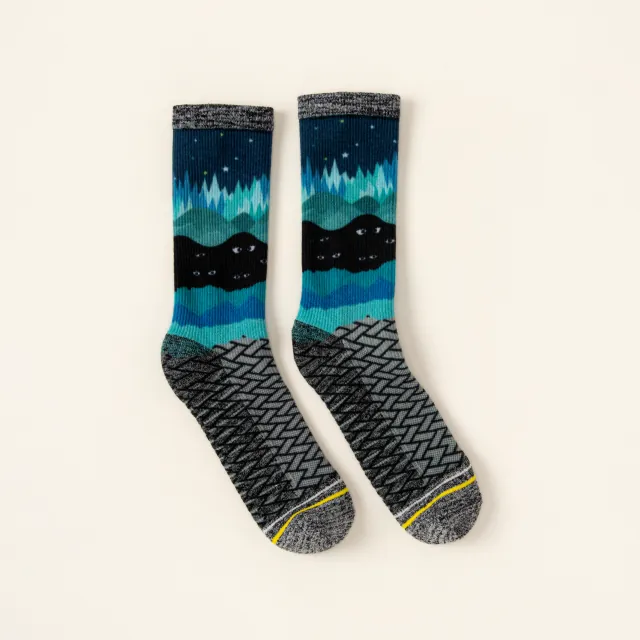 If your partner already has everything they need, you can still treat them to something small to celebrate your 19th wedding anniversary. These patterned socks are made from recycled plastic bottles mixed with melted coffee grounds (yes, really!) for a funky pair they'll be excited to wear. They're a great choice for anyone who loves coffee or appreciates sustainably made gifts.
Short Pajama Set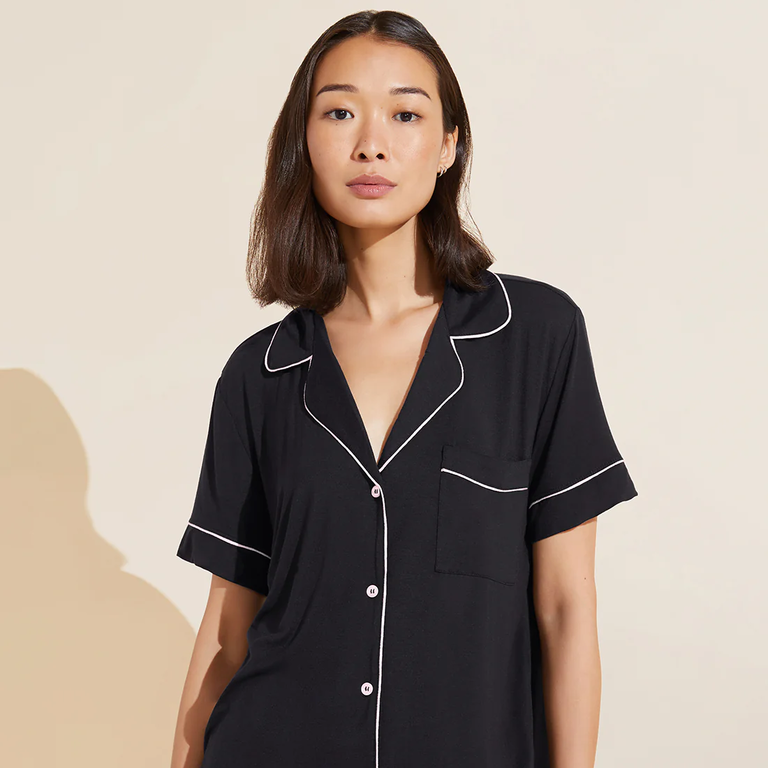 Upgrade your spouse's nightwear from baggy tees and old shorts to a pair of stylish (and super comfy) pajamas. This set includes a short-sleeved shirt and relaxed shorts made from eco-friendly modal fabric that regulates body temperature for a comfortable night's sleep. They come in various gorgeous colors, from classic black to vibrant yellow, all with a contrasting piping finish. Have them monogrammed to add a luxurious touch to this wearable 19th anniversary gift.
Patio Egg Chair
When life gets hectic, it's important to have somewhere to unwind from all the hustle and bustle, like your backyard or garden patio. Encourage your spouse to switch off from it all with this comfy egg-shaped chair. It's made from weather-resistant wicker and lined with thick cushions they can sink into after a long day at work. Choose from a range of cushion colors, including classic white, bright coral and charcoal grey. If you really want to spoil your partner on your 19th anniversary, get them to sit down while you make them a special cocktail in honor of the occasion.
Pasta Making Set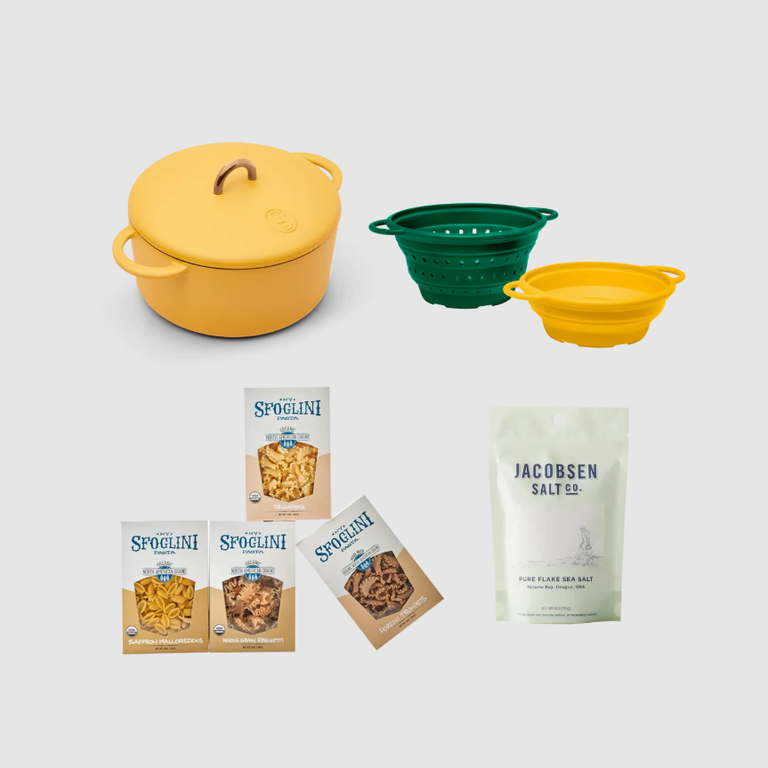 Whether you're married to a talented home chef or a passionate foodie, this pasta-making set is sure to go down well. It includes everything you need to cook a delicious dinner, including a cast iron Dutch oven, two silicone strainers, four sample boxes of pasta and flaky finishing salt. Best of all, the cookware comes in a variety of bright colors that you can mix and match to give your stovetop a fun update. Pair this thoughtful gift with a bottle of anniversary-worthy wine and invite your partner to join you for a romantic night in.
Four Across Lawn Game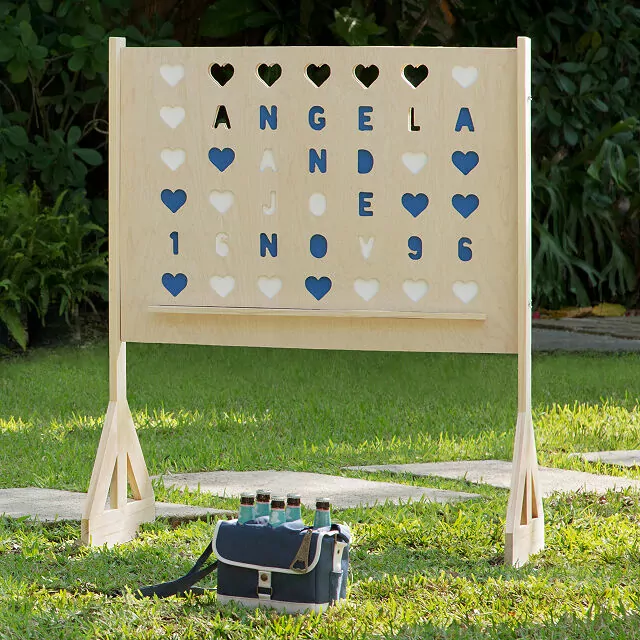 If your partner loves a good game of four across, why not take it to the next level with a giant outdoor version? This one is made from maple wood and can be customized with your names and anniversary date to compliment the heart-shaped slots. It's a fun 19-year anniversary gift that'll revive your backyard and spark a bit of friendly competition on those long summer evenings. Garden party, anyone?
Paint Set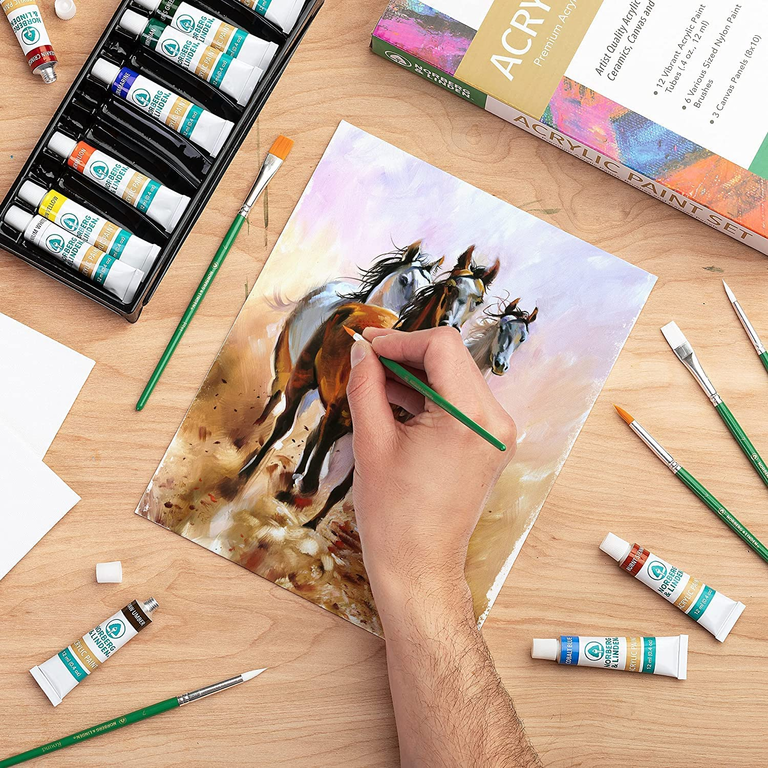 You don't always have to splash out to find a thoughtful anniversary gift for your significant other. Sometimes, just paying attention to their hobbies and interests is all the inspiration you need. Whether your spouse is a seasoned artist or an enthusiastic newbie, this paint kit has all the essentials to help them start their next masterpiece, including 12 acrylic paints, 6 paint brushes and 3 cotton canvas panels.
Bronze Canvas Sneakers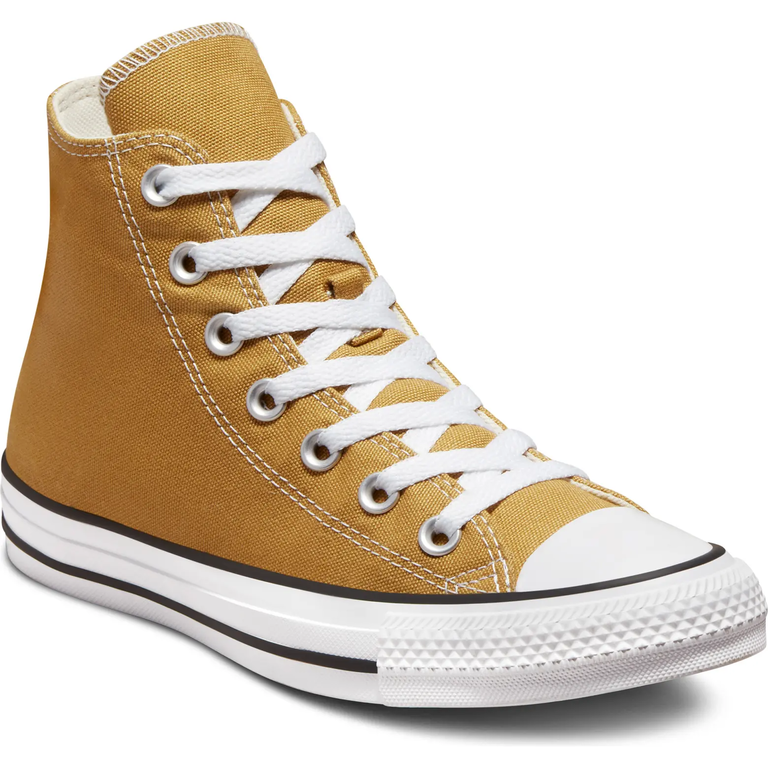 We couldn't complete an anniversary gift round-up without sneaking in a pair of cool shoes. If your spouse is in need of some new kicks, these retro high-top sneakers are sure to put a spring in their step. They come in a wide range of men's and women's sizes, as well as several fashionable shades, including bronze, the 19th anniversary color. Whether they rock them with rolled-up jeans or a flowy summer dress, they'll add a touch of old-school flair to their favorite outfits.