The Complete Guide to Planning a Destination Wedding in Ireland
Hint: The Emerald Isle awaits couples and guests alike.
The rolling green fields, dramatic bluffs of the rugged coasts, historic castles and quaint country inns all make Ireland a romantic destination. Destination weddings in Ireland require an added layer of research and planning, especially if you plan to legally marry in the country.
If you want more than an Ireland honeymoon and want to actually spend the most romantic day of your life—your wedding day—in the Emerald Isle, you're not alone. A multitude of couples flock to this island to say "I do." To help you decide if an Ireland destination wedding is right for you, both in terms of venue options and costs, as well as legal logistics, here's everything you need to know, plus some advice from wedding planning professionals.
Why Couples and Guests Love Ireland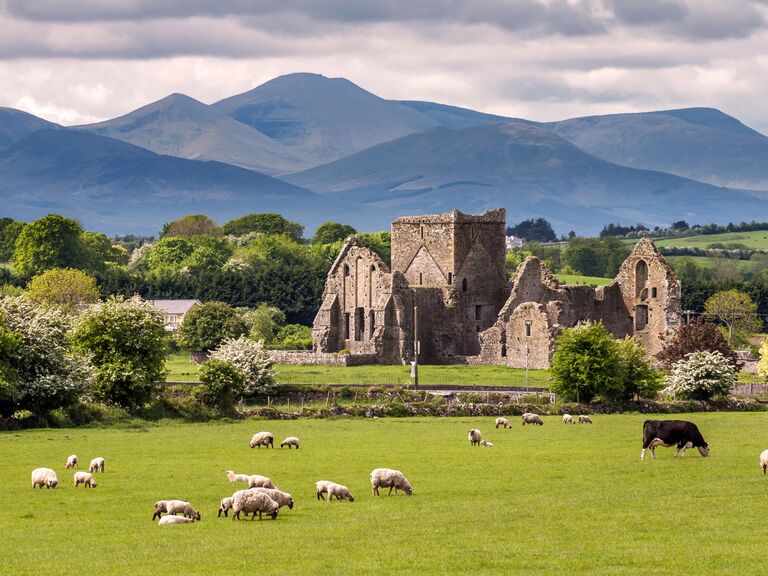 Lauryn Prattes', of Lauryn Prattes Events notes there are a plethora of reasons couples and guests love the country. "Ireland offers an absolutely beautiful backdrop for weddings, and with just a five-and-a-half-hour flight from the East Coast, it can be an easy destination for US travelers," she says. "Additionally, [there's] the beautiful countryside and beautiful chateaus."
Prattes recommends reserving a full weekend for your Ireland destination wedding, so you and your guests can thoroughly enjoy everything there is to do and see around some of the more remote venues. "Because many of the venues are a bit more remote in the countryside, we highly recommend a full wedding weekend for guests, providing multiple activities, as there may not be a lot to do nearby," she notes. "Some great activities for guests during the day could be a bus tour of the countryside with lunch, a day trip to the Cliffs of Moher—which is easier if you are on the West Coast side of Ireland [or in the] Shannon area—clay shooting, golfing or indulging in afternoon tea."
The Best Places to Get Married in Ireland
So where's the perfect location on the Emerald Isle to tie the knot? Here are three favorite options for your big day.
Dublin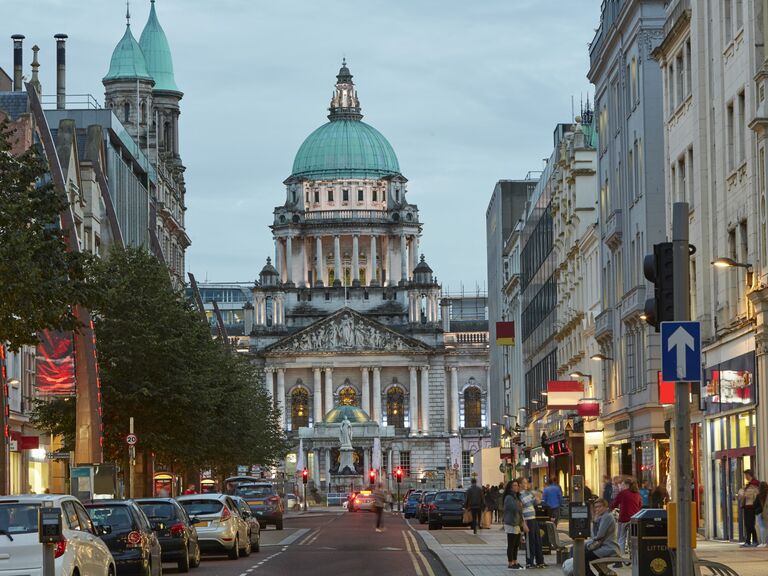 The easiest city to host your Irish destination wedding, in terms of travel, is Dublin. The city provides the easiest access to most of the country, as well as various venue styles and modern amenities. ("Although other areas of Europe have ample local rentals and vendor options, Ireland's wedding industry is a bit smaller and less modern than US standards," says Prattes.) You'll want to keep that in mind if you look further afield than Dublin, especially to some of the more remote and less equipped areas of the island.
There are loads of museums, hotels and outdoor spaces around Dublin where you could choose to hold your wedding. You'll also find a variety of elegant country estate and manor house-style wedding venues less than a half-hour drive from Dublin, such as the five-star Carton House, Finnstown Castle and Summerhill House.
Galway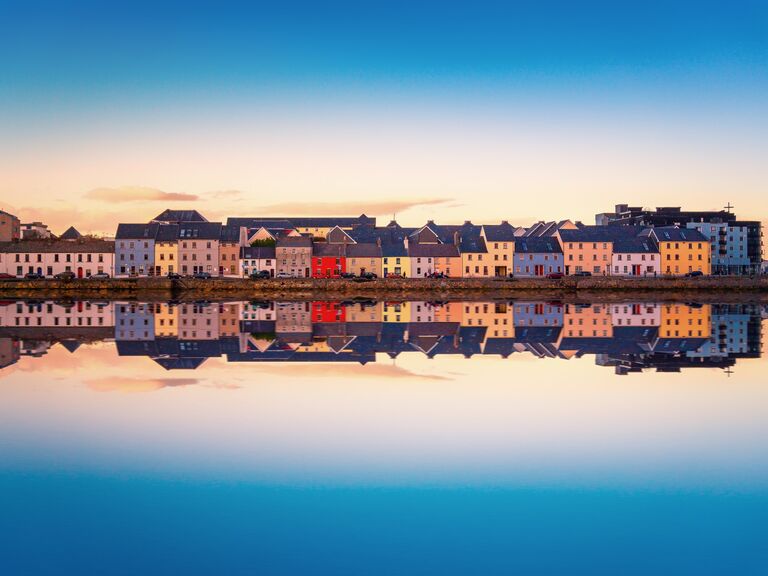 Home to one of the most luxurious properties in Europe, Galway is the locale for couples who want to splurge and treat their wedding guests to the most decadent of experiences. The city is home to Ashford Castle, a five-star unique property that was the former home of the Guinness family.
Find your kind of venue
From barns to ballrooms, discover reception venues that feel like you.
Shannon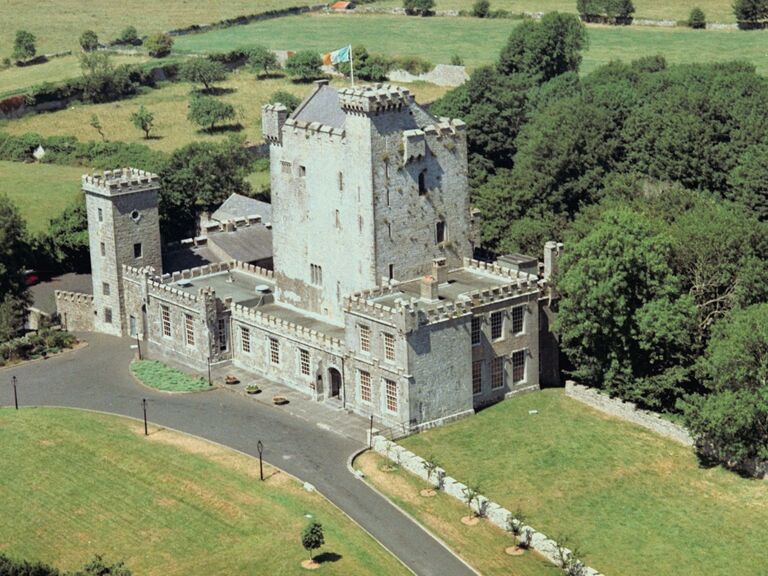 On the opposite side of the island is Shannon. This locale may make more sense for your destination wedding if you'd like to be a little further removed from the hubbub of Dublin, but you still want to fly directly into your destination and would like to take advantage of some of those urban amenities. Just a short drive from the Shannon airport, the Irish countryside and a wealth of Irish castles can play host to your fairytale dream wedding. Knappogue Castle is one such option, with its state rooms and formal gardens, ideal for an intimate wedding.
Dingle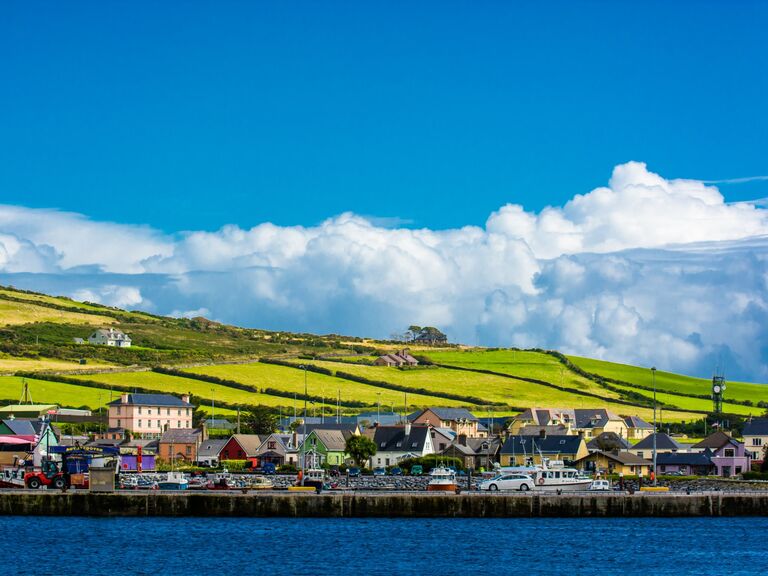 For more of a rugged, coastal feel, with lots of small-town charm, couples may consider Dingle in southwest Ireland. The town was also the site of filming for Star Wars: Episode VIII. In Dingle, your wedding venue options range from ocean-facing settings nestled on cliffs to gorgeous castle ruins. Dingle also offers wedding-specific venues like Ballintaggart House.
Ireland Wedding Legal Requirements
According to Prattes, "Currently, the main requirements to keep in mind are any travel requirements due to COVID in terms of testing, quarantine, etcetera. These can change frequently, so staying up to date and providing guests with up-to-date information via your website is important."
As for wedding-specific requirements, she notes, "Legally getting married overseas can require several additional steps. All of our destination clients have opted to have a legal civil ceremony in the US, and the international [wedding] is more ceremonial than legal."
Legal Weddings vs. Symbolic Weddings
It makes sense Prattes's clients choose to have a legal civil ceremony in the US before having a symbolic wedding in Ireland, because, as she alludes, having a legal wedding in Ireland can be a hassle. There are a lot of requirements you might not really feel up to meeting. Sometimes, it's just easier to get your legalities in order (which, usually, for most couples, just means applying for a wedding license in their state and then showing up at the courthouse for a civil ceremony) first, and then use your time abroad to focus on celebrating, rather than ticking a bunch of legal boxes.
If, though, you do want to explore the possibility of holding a legal Irish wedding ceremony, here's what you'll need.
Required Legal Documents
Required legal documents include:
Valid passports or national ID cards
Original birth certificates
Declaration of intent for the ceremony
Record of the date and location for the wedding
Names and dates of birth for both witnesses that will be present
A Marriage Registration Form (provided by a Registrar)
An apostille stamp for all of the above (which is basically an additional authentication of a document before use in another country, as the U.S. Department of State explains)
Divorce papers or a death certificate related to a prior marriage, if necessary
Religious wedding ceremonies will require additional documents.
Legal Marriage Timeline
Three months ahead of the wedding, you must give written notification of your intention to marry to the appropriate Registrar for the district in which the wedding will take place. Then, two to three weeks after submitting that notification, you must book an appointment with that Registrar to "serve notice" (you may be able to do this over the phone, depending on the district you register with; your wedding planner can assist with this).
Acquiring your Irish marriage license requires living in Ireland for 15 days and then waiting seven days between obtaining the license and getting married.
Legal Marriage Cost
Irish legal wedding fees include a standard fee of €200 for heterosexual couples; same-sex couples currently in a civil partnership may pay a reduced fee of €150. Your marriage certificate will cost an additional €20. If you have a religious service, you may also need to pay a minister fee.
Ireland Wedding Planning Tips
Decided on whether you should go with a legal ceremony or a symbolic wedding while in Ireland? Here are a few extra tips as you begin planning the other aspects of your destination wedding.
How to Get There
If you're traveling from the United States, it's easiest, most convenient and most affordable to fly straight into Dublin (though if you're holding your wedding in Shannon, you might want to put in the extra effort and pay the extra cost to fly directly there).
If you stay in Dublin, you'll find getting around via rideshare services like Uber is incredibly easy. If you travel outside of Dublin, though, you may want to rent a vehicle for convenience.
Ireland Weather
Ireland's weather is mild most of the year, but if you don't care for the cold, you'll want to steer clear of the country during the winter months. Tourist crowds increase travel rates in mid-summer, though, so if you want to both enjoy mild temperatures and save some cash for the other aspects of your wedding, you may want to set a wedding date for spring or fall.
Regardless of the month of your special day, though, Prattes says to prepare for a drizzle or two (especially if you want an outdoor wedding). "Although most clients want to take advantage of the beautiful views and outdoor landscape, keep in mind that Ireland is known to be a rainy country," she says. "Although we [have] had many beautiful days when we were there, having a rain contingency plan here is a must!"
Choosing Your Venue and Vendors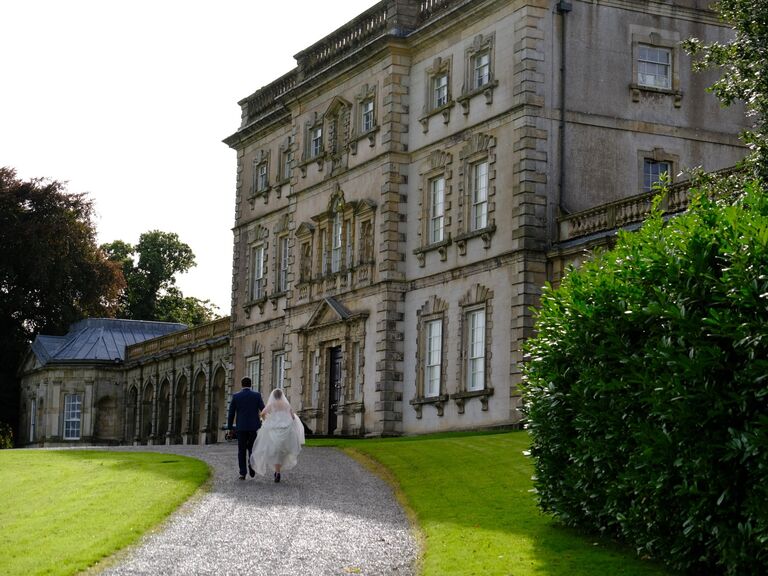 In terms of picking your venue and vendors, Prattes says she's had excellent experiences with wedding vendors across Ireland, but there are a few caveats to keep in mind. "Communication can be a bit slow, between the time change and 'island time.' Ireland is actually an island after all!" she says. Referring back to her comment on Ireland's relatively smaller wedding industry, she also notes she's occasionally needed to bring in rentals from England or the US, for very specific and high-design event needs. Overall, though, the hospitality in Ireland is, as she says, "incredible."
To start browsing your options for your Ireland vendors and venue, check out The Knot Marketplace.
Budgeting Tips
As you begin building your dream vendor wishlist, it's important to keep cost in mind. "Currency conversion can be a challenge here," says Prattes. "Not only do you need to think of your budget in terms of dollars and euros, but vendors in Northern Ireland use the pound. We have had to work with three different currencies, which can make it a bit tricky to know exactly where the budget stands down to the US dollar."
She adds, "With any destination wedding in general, keep a contingency budget for unexpected costs. Travel, rental cars and luggage fees can all add up. In addition, venues may have individual requirements or fees that aren't always in the contract, that can pop up closer to the wedding date."