The Weirdest Off-Registry Wedding Gifts Couples Received
From smoke alarms to lingerie, these gifts were definitely, er, surprising.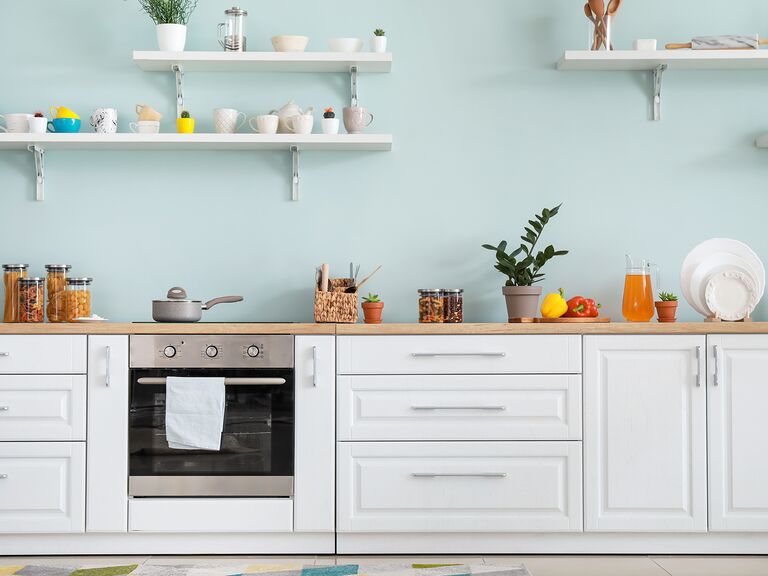 Pixel-Shot/Shutterstock.com
It's hard to know what to give a couple during the exciting wedding stage. Especially with so many couples already living together, it can be impossible to know what they actually need. Plus, it feels there are many occasions for gifts (the engagement celebration, shower, and the actual wedding, just to name a few!) so there's ample opportunity to double up with others. That's why the wedding registry can be more of a gift for loved ones than it is for the couple: it lays out everything for guests to take any guesswork out of gifting.
But just like there are some people who are against gift cards, there's also some who tend to give off-registry wedding gifts because they think it feels "personal" or they have a "better" idea of what the newlyweds might like. When these loved ones go rogue and ditch the wedding registry for their own present ideas, it can either end in one of two ways: an incredibly thoughtful surprise or a truly bizarre present.
Check out some of the weirdest off-registry wedding gifts these 14 newlyweds were gifted that that left them speechless (in both good and bad ways!).
Safety First
"Before our wedding, my mom's very paranoid friend got us a fire extinguisher and smoke alarms. This was before we had a house or even lived together… and they definitely weren't what we were hoping for!" —Kristen B.
Better for the Bedroom
"The weirdest off-registry wedding gift that someone gave me was probably white lingerie… I had to open it in front of everyone which was super embarrassing!" —Kuri
Childhood Memories
"When my best friend and I were little, we used to make mud pies and sandcastles. When we were done, we would always save a little bit of mud or sand in a paper cup with our name and date on it. So when I got married she gave me a vase filled with sand that had a note taped to it that said, "Sarah's Sand" from the beach where were married and the date. It was the weirdest/ best gift from a friend who has known me my whole life." —Sarah R.
Offensive Kitchen Accessories
"We got these bizarre, racist-feeling salt and pepper shakers. We gave them away." —Whitney V.
A Registry Dupe
"We had a family friend give us a toaster (that we suspect was from a store that they owned) as an off-registry wedding gift. We didn't like it and I later found out that they somehow got the toaster we did register for removed from our other registries so that we wouldn't get another one (a.k.a. one of the ones we actually wanted!)." —Wendy
50 Shades Meets the Kitchen
"The weirdest off-registry wedding gift was a cookbook called the 50 Shades of Chicken (yes, that 50 shades). I was a bit nervous at first since I opened it in front of everyone at my shower, but it turned out to be a really nice gift! I had mentioned to my friend how I get bored with plain baked chicken and wanted to be more adventurous with cooking. She marked the recipes she'd tried before and enjoyed, plus the descriptions of the food are very entertaining to read!" —Rachel M.
A Salty and Loaded Gift
"As new homeowners, my husband and I received salt as a wedding gift. It's an Italian tradition that you put a pinch of salt in each threshold of each door in your new home. This is supposed to bring good luck. The other weird gift that we got was a Bible...Lol. I have an uber-religious aunt that knows that my husband and I are not religious and tend to be more spiritual. Needless to say, we donated that bible to Goodwill." —Rahel M.
Wine Fails
"Although we weren't big wine drinkers, we received 12 dozen(!) wine glasses. Many weren't returnable so that was kind of a fail. Some were re-gifted, some went to Goodwill, and some to a garage sale." —John A.
A New Take on Vintage
"This didn't happen to me but to my godmother's daughter. The weirdest off-registry gift she received came from a long-time neighbor who dropped off a gift bag with four dinner plates wrapped indelicately with shipping paper. Not only were the plates not from the registry — they were clearly from the neighbor's home — but they were dirty! Not dusty dirty, which would have been vintage chic, but dried on food scraps dirty. So weird!" —Emilie D.
A Mystery Surprise
"Someone gave us a 'mystery box' with a mystery storyline inside that my husband and I went through to solve- it was really fun! My friend said he wanted to give us something unique/ something nobody else gave us and he certainly delivered." —Elizabeth P.
His and Hers
"The weirdest off-registry wedding gift we received was matching shirts and we actually loved them! We especially enjoyed wearing them on our honeymoon." —Eliska H.
Disney Magic
"The weirdest off-registry wedding gift we received was a pair of bride/groom Disney mugs… when I'm not a Disney fan. When we saw them, we were pretty confused and our initial reaction was 'But why?' I did end up regifting them to a friend who got engaged a few years later who was Disney obsessed." —Serena
An Unexpected Adventure
"We got a hot air balloon adventure as a wedding gift instead of something from our registry. We actually really loved it!" —Jennifer H.
Handmade With Love
"We got a surprise abstract painting. Although it was handmade and thoughtful, it didn't match the theme of our home." —Jarrod J.