The Guide to Planning an Enviable Honeymoon in Japan
Journey to neon lights, cherry blossoms and Shinto shrines.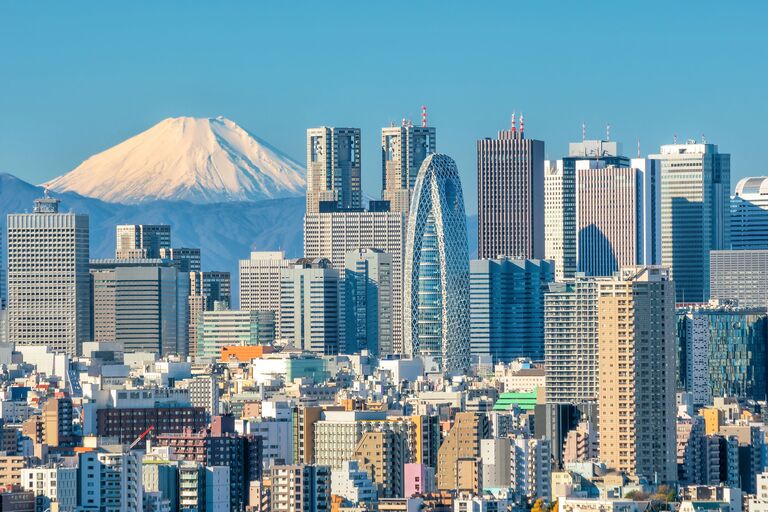 Shutterstock
We have included third party products to help you navigate and enjoy life's biggest moments. Purchases made through links on this page may earn us a commission.
From ancient temples and rugged beaches to splendid and modern culinary experiences, a honeymoon in Japan offers just about everything. Japan is known as the "Land of the Rising Sun," reputable for its efficiency, spectacular dining options and world-class sunrises. You know you're marrying a fellow adventurer when the country is the agreed-upon honeymoon destination. Japan offers the ultimate thrill, a chance to get out of your comfort zone, and the opportunity to immerse yourself in a new and foreign land. The range of activities won't be short either: ancient temples, neon-lit alleyways, Zen bamboo forests and the famous Mount Fuji all await.
A far-flung spot from the US, many couples consider this region of the world a "bucket list" destination. However, it's easily accessible through multiple airline providers, and once on the ground, through JR (Japan Rail) Pass. Here are the basics to know if you're considering a Japan honeymoon.
Is Japan Good for a Honeymoon?
For US couples, this far-flung honeymoon destination is easily accessible through multiple airline providers, running non-stop from the West Coast to Tokyo in 11-to-12 hours, and the East Coast to Tokyo in 14-to-15 hours. And all you need is the JR (Japan Rail) Pass to get from city to city. Ready for the honeymoon to end all honeymoons? Here's how to make your Japanese adventure one for the books.
Pros of a Japan Honeymoon
Japan is very well connected by train, and exploring on the JR pass is the most practical and economical way to do it. The pass provides unlimited access to all trains (Shinkansen, national and local) plus JR buses, ferry, and select airport transfers for seven, 14, or 21 days. Japan has some of the lowest crime rates in the world—many who lose valuables find that they're promptly returned in their entirety.
Cons of a Japan Honeymoon
English is not widely spoken in Japan, not even in Tokyo. Though this can be a challenge, many public areas have free Wi-Fi for when you need Google assistance. Japan also experiences over 1,500 earthquakes per year. But don't worry, most of these are so mild you won't even feel a thing, and the country's infrastructure is built to withstand them.
The Best Times of Year to Go on a Japan Honeymoon for Good Weather
The cherry blossom trees bloom all over Japan around the same time every year—give or take a few days, so March and April are among the most expensive times to visit. If you don't mind dishing out, expect to be treated to a pink paradise of hanami (flower viewing) celebrations. Fall in November is a cheaper yet popular option when mild temperatures and romantic golden hues warm spectacular landscapes. June to August are considered tsunami season, with torrential downpours frequent and humidity lingering in the air. As with any destination, explore the local weather by month first.
Things to Do During a Japan Honeymoon
Get Lost on the Streets of Tokyo
We all remember Scarlett Johansson and Bill Murray wandering the neon-lit streets of Tokyo, albeit unenthusiastically. Relive the famed movie with a few days of Tokyo madness. Start with the Shibuya crossing, the world's busiest pedestrian intersection (tip: the glass Starbucks on Tsutaya bookstore is the best place to watch it from), grab some conveyor-belt sushi from Genki, and karaoke the night away at one of the many sky-high karaoke chains, such as Big Echo.
Bathe at Hakone's Traditional Onsens
Whilst westerners visit spas for R&R, in the east it's all about the onsen (traditional hot springs). These communal baths are filled with natural volcanic spring water, known for their healing mineral content. Hakone, an hour southwest of Tokyo, is most famous for its high concentration and varying kinds of onsens, including those designed especially for families, couples and customers with tattoos. Whatever one you choose, be sure to read up on local onsen etiquette before entering.
Find Your Zen in Kyoto
The ancient city is the ideal spot to slow things down at a pace, and if it weren't so pretty, disconnect completely (but we understand everything is 'gram gold here). You'll want to head to Arashiyama Bamboo Grove at the crack of dawn to avoid crowds. The forest is 16 square kilometers deep in lush bamboo stalks, offering a cool respite from the summer heat. Get some steps in with a stroll through Fushimi Inari Shrine, a 1,300-year-old monument consisting of 10,000 red torii gates. Finally, the cream of the crop? Kinkakuji, Kyoto's famed golden temple, where the top two floors are completely covered in gold leaf. Viator offers a variety of excursions to see Kyoto's treasures. Remember to refrain from tipping—gratuity is considered rude in Japan.
Capture the Beauty of Mount Fuji
Japan's tallest mountain is so huge it can be seen from multiple locations across Japan. Hire a Flytographer to navigate you to the best viewpoints from the city, or bring your own funky Urban Outfitters camera to Lake Kawaguchiko and capture the snow-capped mountain's reflections in the water. Need more direction? Airbnb experiences offer hiking in the Mount Fuji area with an English-speaking guide.
Let Loose at Universal Studios in Osaka
Universal Studios Japan was the first of its kind to open in Asia, and the perfect excuse to let your hair down and be silly amidst the historic sites of West Japan. The Japanese take 'kawaii' (cute) that extra mile, and seeing the seas of minions is in itself worth the ticket price. Situated in the Osaka Bay area, the theme park includes The Wizarding World of Harry Potter, Super Nintendo World and Minion Park.
The Best Hotels and Resorts in Japan for a Honeymoon
For a harmonious melody of easts meets west, base yourselves at the Ritz-Carlton Osaka, a hotel that infuses its corners with 18th-century British style and subtle Japanese details. Five-star dining options include Michelin-starred French restaurant La Baie, and renowned Japanese restaurant, Hanagatami.
Set in the scenic Higashiyama district of temples, the Four Seasons features an 800-year-old pond garden that's covered with cherry blossom in spring and red foliage in fall. Of course, every room has floor-to-ceiling windows to view the natural spectacle.
This razor-chic designer hotel is situated in Tokyo's Otemachi Tower, outfitted with ryokan-style rooms, a sleek black bar, and a spa that's one of the largest in town—all a sublime contrast from the madness outside.
Heading to Hokkaido to do absolutely nothing? Check in to Zaborin, a luxury ryokan (traditional inn) with 15 secluded villas. Each has private onsens (both indoor and outdoor) and the capability to host multi-course omakase meal experiences.
What to Pack for a Japan Honeymoon
Pack comfortable footwear, as you'll be doing a lot of exploring on foot. Higher-end dining establishments strictly require smart or formal attire. Most onsens and some beaches require tattoos to be covered up, so prepare clothing and swimwear accordingly.