The Complete Guide to a Japan Honeymoon
From Mount Fuji to cherry blossoms, there's much to experience in this country in Eastern Asia.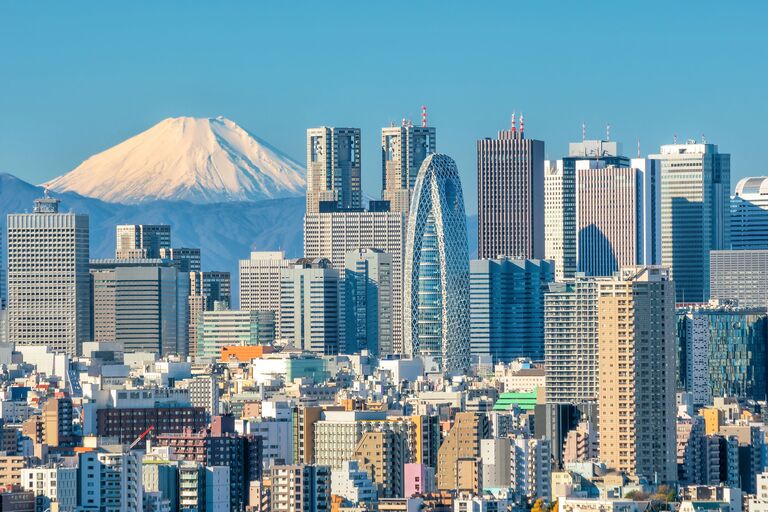 Shutterstock
From ancient temples and rugged beaches to splendid and modern culinary experiences, a honeymoon in Japan offers just about everything. Japan is known as the "Land of the Rising Sun," reputable for its efficiency, clean cities, spectacular dining options and world-class sunrises. A far-flung honeymoon destination from the US, couples consider this part of the world a "bucket list" destination. However, it's easily accessible through multiple airline providers, and once on the ground, through JR (Japan Rail) Pass. Japan's biggest destination (Tokyo; population: 13.9 million) is about an 11-to-12-hour nonstop flight from the West Coast, while the East Coast honeymooners will experience, at minimum, a 17-hour direct flight. Here are the basics to know if you're considering a Japan honeymoon.
Is Japan Good for a Honeymoon?
Pros of a Japan Honeymoon
Japan offers variety for couples who appreciate culture, nature and adventure. Whether you're the type to seek nightly Japanese cuisine--a divine Omakase menu or a creamy and simple omurice--or you've dreamt of taking in the coastal beauty of the country and alluring bamboo forests inland, one thing's certain about Japan: honeymooners will have much. todo and see.
Cons of a Japan Honeymoon
The trip is far from the US and will require a long-haul flight or multiple layovers. In addition, Japan isn't inclined to catering to English-speaking tourists, making it challenging for some to navigate a new country.
The Best Times of Year to Go on a Japan Honeymoon for Good Weather
The busiest season is traditionally spring when Japan and Tokyo's beloved cherry blossoms, well, blossom. However, couples will want to note it's also the priciest time to visit between hotel costs and airfare. Fall and winter are less expensive with November being an idyllic time for newlyweds to experience the foliage and crisp fall. The tsunami season in the summer comes with torrential downpours and extreme humidity.
What to Pack for a Japan Honeymoon
Outerwear and layers are contingent upon the month you decide to visit. Since you'll want to explore, couples are encouraged to pack sneakers and comfortable footwear. Those who want Michelin-rated dining experiences should pack nicer clothes. Japan is a country of business professionals, so business casual attire is a safe option.