The Tokyo Honeymoon Guide for an Unforgettable Escape
There's a sensory overload of new things to see, do and taste together.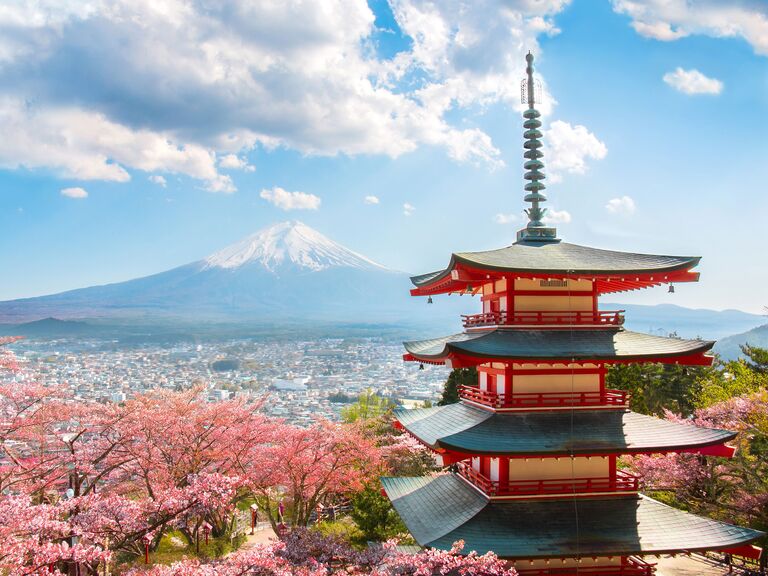 Shutterstock
We have included third party products to help you navigate and enjoy life's biggest moments. Purchases made through links on this page may earn us a commission.
Tokyo is one of the few big cities on earth that offer a fully immersive experience. A place layered neck-deep with skyscrapers, temples, supermalls, izakayas, onsens, karaoke bars and every imaginable thing between, a Tokyo honeymoon ignites the senses and home blissfully feels far away. For first-timers, expect an instant culture shock (in a good way). While repeat visitors are left desiring more.
Japan is known as the "Land of the Rising Sun," an ultimate honeymoon escape for couples who want food, culture and splendid sunrises. You may be tempted to explore the length and breadth of the country via JR (Japan Rail) Pass, or you may choose to keep things solely in the capital, an 11-hour nonstop flight from the West Coast. Tokyo will more than suffice even the most ambitious of itineraries. Regardless of the route, come with an openness to savor something new every day, place trust in the kindness of strangers, and be aware that you could both be leaving a piece of your hearts behind.
Is Tokyo Good for a Honeymoon?
Pros of a Tokyo Honeymoon
It's a well-known fact that Tokyo has one of the world's lowest crime rates, meaning you can visit its myriad of attractions with little to no fear of theft or personal safety. The public transit system is fast, clean, and efficient. Any issues are met with support from locals who seem, universally, to want to help when asked. In fact, you may be overwhelmed with the lengths some will go to assist strangers. And yes, your faith in humanity will be restored.
Cons of a Tokyo Honeymoon
Though a major international tourist destination for decades, English is not widely spoken. Some may find this challenging, but with free Wi-Fi all over the city including most train stations, it's nothing Google Maps and Translate won't be able to handle. Flights can also be hefty and long, especially from the East Coast of the US. Couples will want to prepare accordingly.
The Best Times of Year to Go on a Tokyo Honeymoon for Good Weather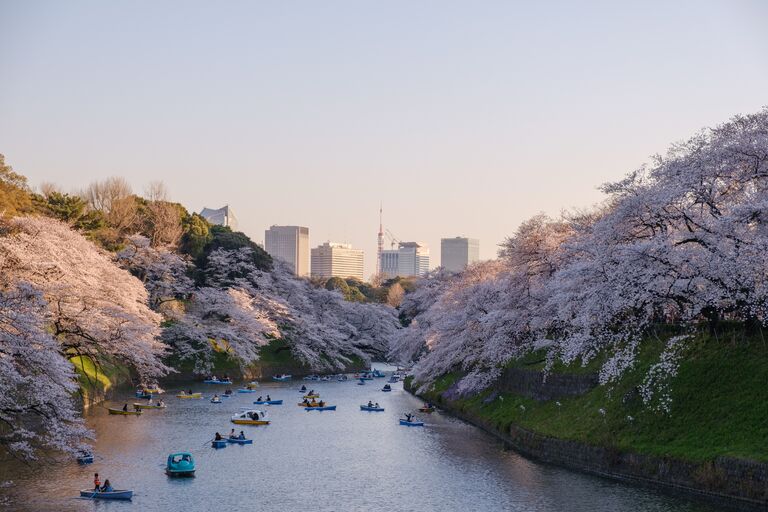 The busiest season is traditionally spring when Tokyo's famous cherry blossom trees bloom; transforming the city into a pink paradise of hanami (flower viewing) celebrations and decor. It's also the most expensive time to visit. Fall and winter are more accessible options—come in November for amiable temperatures and romantic golden hues from the urban park's foliage. Avoid June to August—the city is excruciatingly humid, making exploration on foot unbearable.
Things to Do During a Tokyo Honeymoon
Have a Date in a Themed Cafe, Restaurant or Bar
Tokyoites take themes to the extreme, and what you'll uncover here is unlike anything you'll find back home. The staples are cat cafés and maid cafés, of which you'll find the bulk in Akihabara, the city's electronic and anime mecca. The Robot Restaurant is like being in a movie (tip: the food here isn't great, so skip their dinner package and stick to drinks during the show). For something extra unique, Shinjuku's 8bit café is a throwback to a world of Nintendo, while Harajuku's HARRY Hedgehog Café is a prickly cuteness overload.
Bathe in a Traditional Onsen
Getting naked and sitting in a bath with strangers may not appeal in the West, but over East it's a whole other experience. Onsens in Japan are communal baths filled with natural volcanic spring water, known for healing mineral content. In Tokyo, they are everywhere—from side street onsen and sento (where regular hot water is infused with minerals afterward) to hot spring resorts. Before entering, read up on onsen etiquette, such as showering, covering tattoos, and leaving swimwear in the lockers.
Take a Picnic in Shinjuku Goyen
No matter what time of year you visit (and especially during cherry blossom season), this city center park is always lush and impeccably manicured. Dating back to the Edo Period (1603-1867), Shinjuku Goyen is dotted with cherry trees, maple trees, seasonal blooms, tea houses and ponds, all with a towering skyscraper backdrop. Do as the locals do and bring your own picnic from a nearby convenience (konbini) store. Family Mart, 7-Eleven and Lawson all sell fresh onigiri, cakes, and hot meals, and they're a lot better than you think.
See How Tuna Is Auctioned
If you're a pair of early birds with an appetite for seafood, head down to Toyosu Market. The largest wholesale fish market in the world replaced the historic Tsukiji fish market in 2018, and auctions take place daily at around 5 a.m., local time. The new location has a viewing platform and if you can read Japanese, there's an application process to witness the spectacle at ground level. Arrive too late? Don't worry. There are markets, restaurants, tours, events and lots of other things to see.
Take in the Magnificent Mount Fuji
While we don't recommend hiking Mount Fuji (unless your ideal honeymoon features altitude sickness and your avid adventurers), we do recommend taking in its wonders from a distance. Japan's tallest mountain is so big it can be viewed from all corners of the city. On clear days, you can catch it from observation decks such as the Tokyo Skytree, or the summit of Mount Takao, a popular local hiking area. Our top spot for photos is Lake Kawaguchiko, which catches reflections of Fuji from the lake. Remember to bring a tripod.
The Best Hotels and Resorts in Tokyo for a Honeymoon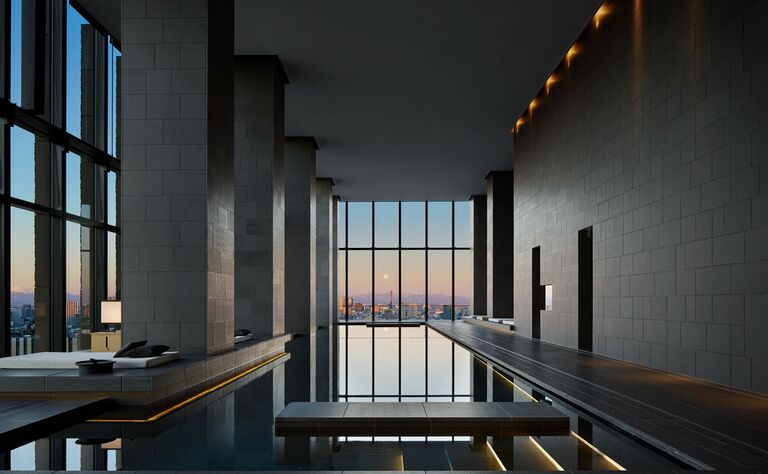 Chic, minimalist, and tech-forward, Aman Tokyo has all the ingredients for a moment of Zen amidst the chaos outside. Situated in the Otemachi Tower, the hotel is outfitted with ryokan-style rooms, and the spa is one of the largest in the city.
For observatory views, look no further than Ritz-Carlton Tokyo. The hotel begins on the 45th floor of the Midtown Tower and boasts floor-to-ceiling windows throughout the property for ample gazing of Tokyo's skyline, right up to Mount Fuji on clear days.
This Shinjuku icon is best known as the Lost in Translation hotel—it's where the Bill Murray classic was shot. Rooms are late-nineties luxe, and the social spaces remain the westside's hottest ticket, including the 52nd-floor jazz bar.
What to Pack for a Tokyo Honeymoon
Tokyo experiences all four seasons, so outerwear will depend on the month of visit. You'll spend a lot of time on foot, whether walking to temples, shopping, or simply getting lost (it'll definitely happen), so bring comfortable shoes. Dress up for nicer restaurants and hotels. Most establishments only accept cash, so select cards with low or no international ATM withdrawal fees.