Everything You Need to Know About Getting Married in Kentucky
Look to The Knot for local details about getting married in Kentucky, from choosing your wedding venue to getting your marriage license.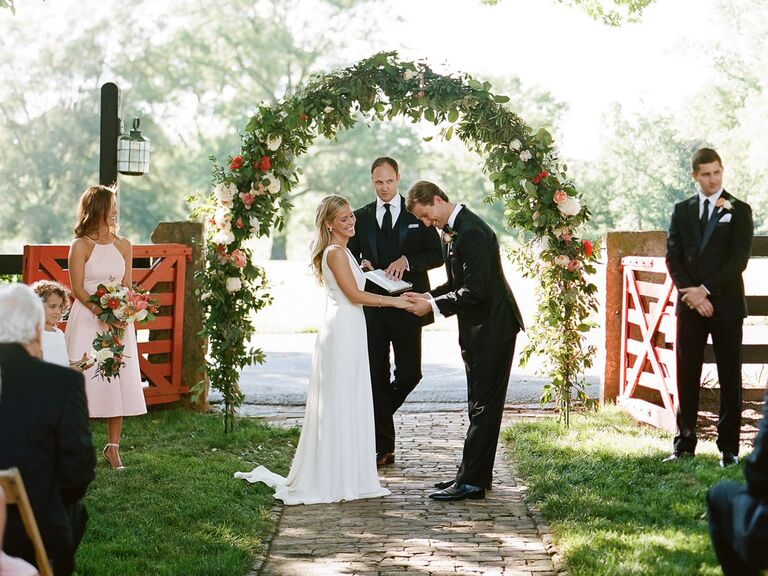 Whitney Neal Photo

Ultimate Guide to Getting Married in Kentucky
"United we stand, divided we fall"—Kentucky's state motto also functions as an inspiring tip for a lasting marriage. Couples seeking to tie the knot in a Southern venue should consider this diverse state. Featuring the nation's longest cave system, gorgeous man-made lakes and multiple venues for horse racing, Kentucky is a true Southern gem.
Weddings in Kentucky radiate the state's Southern charm. Barn weddings in Kentucky let couples add to this Southern appeal with a rustic venue, but couples who prefer modern locales will also find what they need as they search through Louisville wedding venues. It doesn't matter if you have lived in Kentucky all your life or if you are a newcomer: You're sure to find everything you need for your ideal wedding day. Our comprehensive guide tells you everything you need to know about throwing Kentucky weddings, from finding the top wedding pros to securing a Kentucky marriage license. Follow your wedding checklist to make sure everything is done on time.
Top Wedding Trends in Kentucky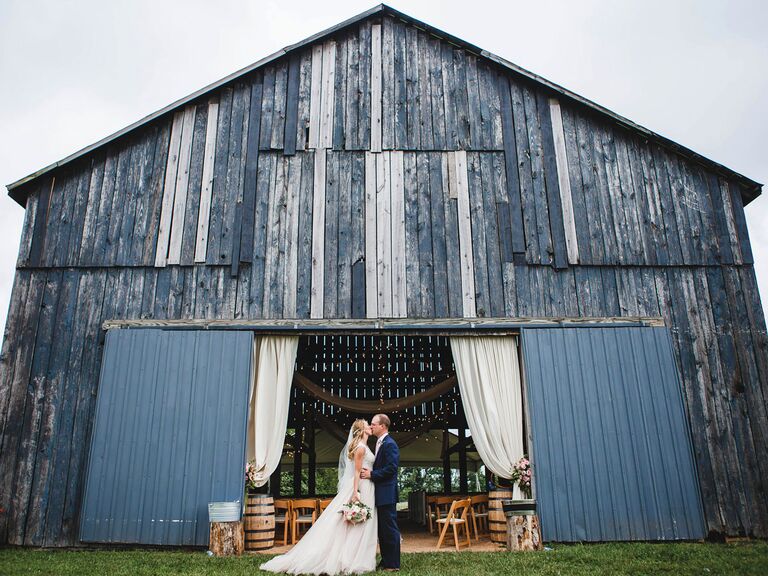 Weddings in Kentucky take advantage of the state's diverse offerings. Grand mansions, charming barns and lush vineyards are just a few of the enchanting wedding venues in Kentucky. Whether you prefer a casual ceremony or a formal, extravagant affair, there is a special locale that suits your preferences.
Couples in Kentucky prefer a variety of ambience levels for their weddings. According to The Knot's 2015 Real Wedding Study, the amount of couples who opt for black tie weddings is 16 percent. Conversely, the exact same percentage of couples decide to throw casual weddings. About 67 percent of couples fall between these extremes, and host semi-formal events.
As you plan your Kentucky wedding, decide which traditions you want to incorporate into your special day. Many couples decide to include music that is synonymous with their state. Kentucky is known for its love of Appalachian folk music; certain regions have a passion for bluegrass tunes. Insert some classic folk or bluegrass songs into your wedding reception's playlist and watch your dance floor come to life.
Kentucky Marriage Rates and Wedding Costs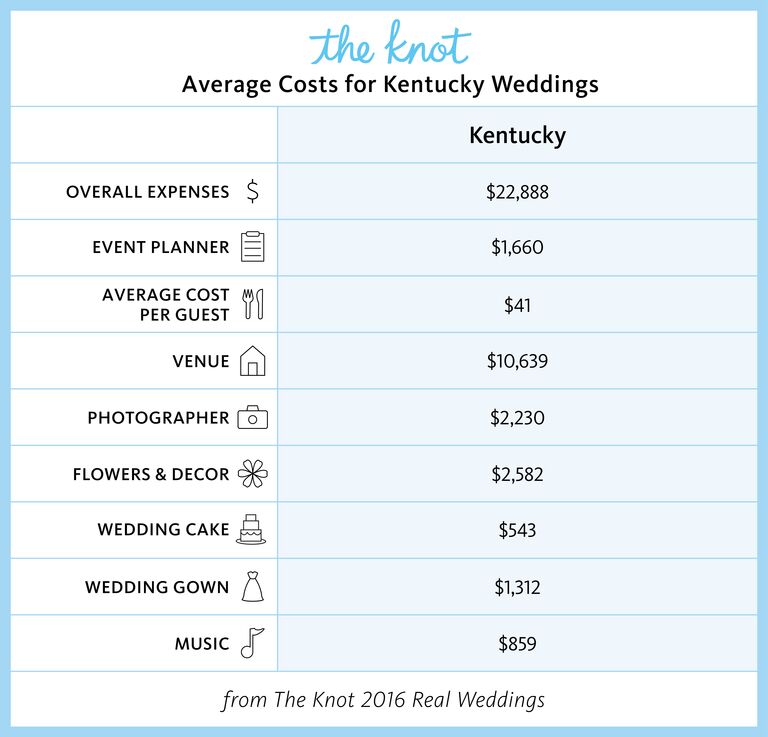 Planning a wedding can be a lot of fun, but affording it is another story entirely. No matter which type of wedding venue you choose or what type of theme fits your personalities, make sure you've created a budget and that you're sticking with it. The Knot Budgeter can help keep you on track! But before you take that important step, here's a little background info on how many couples are tying the knot in Kentucky, plus what you can expect to pay for common wedding costs in Kentucky, as reported by The Knot 2015 Real Weddings Study.
Kentucky Marriage Stats
When it comes to marriage rates, Kentucky is slightly above average at 6.9 out of 1,000 people. The marriage rate for the U.S. as a whole is 6.9 per 1,000 people. On average, Kentucky couples spend $19,878 on their weddings (excluding the honeymoon and engagement ring). This is significantly less than the nation's average of $26,770.
Getting a sense of what you'll pay for your wedding day expenses will make it easier to budget and negotiate with vendors. See the chart above to find average costs for some of the more common wedding categories.
Top Cities in Kentucky to Tie the Knot
From the rural towns around Black Mountain to larger cities like Louisville and Lexington, there are a variety of wedding venues in Kentucky. Select a spot that displays natural beauty, or pick a city with stunning architectural details. Some of the top cities for Kentucky weddings are:
Make It Legal
While we hope that planning your wedding feels like it's filled with fun events like cake tastings and finding the perfect DJ or band, there are some strings attached to tying the knot in the Wolverine State. Understanding the ins and outs of not only getting your Kentucky marriage license, but also taking care of details like permits and changing your name(s), is equally important in the weeks and months leading up to saying "I do."
Getting a Kentucky Marriage License: The Basics
Though Kentucky marriage licenses are issued at the county level, you can go to any county clerk's office to get your marriage license. This document is then valid in any county located in the state of Kentucky. Your marriage license is valid for 30 days from the date it was issued.
When you apply for your license, bring the following items:
Your partner: Both members of the couple are required to be present
Identification (driver's license, state ID or passport)
Marriage license fee ($35.50 as of 2016)
Kentucky has no waiting period, and no blood tests are required to obtain a marriage license in Kentucky. Cash, check and certain major credit cards are accepted for payment. After your Kentucky wedding ceremony, return the license via mail or in person to the county clerk's office.
Once you have your Kentucky marriage license, you need someone to officiate the marriage. The following individuals solemnize marriages in Kentucky:
Ordained clergy
Justices of the Court of Justice
Judges of the Court of Justice
Retired justices and judges
County judges
Fiscal court commissioners
You do not have to be a resident of Kentucky in order to officiate Kentucky weddings. Also, every marriage requires two witnesses; this is in addition to the couple and wedding officiant.
Permits and Other Important Legal Requirements for Kentucky Wedding Venues
Don't let legal woes or permit issues ruin your wedding day. When you book your wedding venue in Kentucky, confirm with the site coordinator any special event permits that you need to secure. In many cases, the venue manager takes care of applying for permits, such as those required to serve alcohol.
If outdoor wedding venues in Kentucky appeal to you, the wide variety of Kentucky parks offer picturesque sites for ceremonies and receptions. Park venues typically require permits, so check with the park systems in your area at least 30 days before your wedding date to see about the specific requirements. Also, take note of noise ordinances in the city where your venue is located. You don't want to have to end your reception prematurely due to an unexpected noise restriction.
How to Change Your Name in Kentucky
If you decide to change your name after the wedding, the process in Kentucky is pretty straightforward. Check out HitchSwitch professional name change service or follow our simple guide to changing your name, noting that the State of Kentucky requires that you follow the procedures spelled out below:
First, go to the clerk's office to request a certified copy of your marriage license. (A certified copy has a raised seal.) Next, fill out an application for a new Social Security card. You can do this in person at your local Social Security office, or you may get the application from the Social Security Administration website. After mailing in your application, it takes about 10 days to get your new card. Finally, visit the DMV to get a new driver's license that reflects your name change. Bring documentation for your name change, such as your marriage certificate, old driver's license and new social security card.
Now that you have a new name, it is time to make sure that all of your personal and financial details reflect your name. Items that require your updated information include:
Bank accounts
Investment accounts
Retirement plans
Pension plans
Medical records
Utility bills
Credit cards
Loans
Real estate records
Professional groups
Student organizations
Legal documents
Voter registration card
It's All About Timing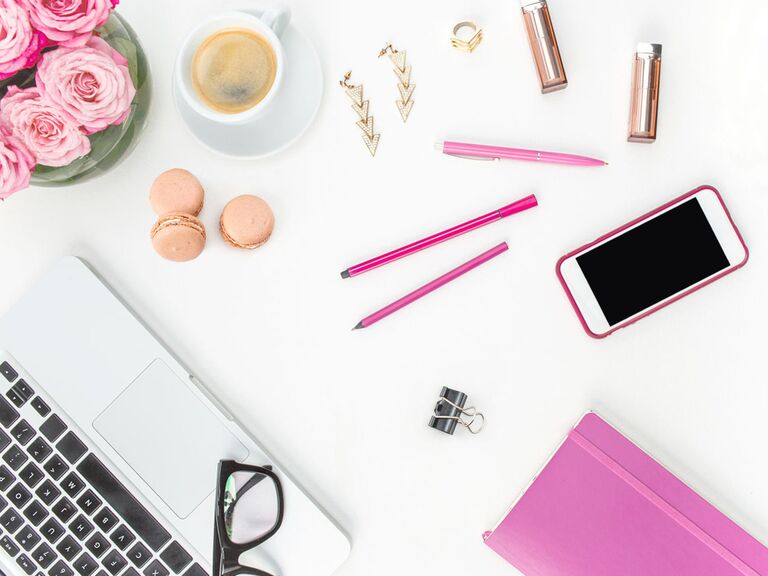 Nationwide, fall is the most sought-after time for couples to hold their weddings. Everyone appreciates the cool, comfortable temperatures and the colorful backdrop of the changing leaves. In Kentucky, the seasons are on par with each other when it comes to popularity, with the exception of winter. Only 8 percent of couples in Kentucky hold their weddings during the winter months. Spring brings warmer temperatures, and about 24 percent of couples have their nuptials during this season. During the warm, balmy days of summer, weddings abound—33 percent of couples celebrate their nuptials this time of year. This figure only rises slightly when fall hits, as 35 percent of couples opt for the pleasant autumn months to wed.
The Four Seasons in Kentucky
It's easy to see why winter is the least popular time in Kentucky for weddings. On average, the temperature is a frigid 33.2 degrees Fahrenheit in January. It only takes a bit of snow to cause unsafe road conditions that could cause problems for guests traveling to your celebration.
When the spring season arrives, it brings pleasant temperatures. April has an average temperature of 55.9 degrees, eliminating the threat of frigid, wintry weather. Though rain showers are common, overall the spring months are a terrific time to book an outdoor wedding venue in Kentucky.
During the summer, the weather can be downright hot. Make sure you and your guests do not become uncomfortable and overheated during an outdoor summer wedding by investing in a few rental canopies. The canopies are also handy if an evening rain shower appears.
As fall rolls in, the humidity associated with summer is no longer a threat. Temperatures are generally pleasant, though you may find November a tad chilly with an average temperature of 50.4 degrees. You can still host an outside wedding by finding a rental company with portable heaters designed for outside use.
Kentucky Wedding Dates to Avoid
Depending on where you get married in Kentucky, there are some important dates you may want to avoid in order to make sure that your wedding guests are comfortable and can easily find a place to stay. Ask your wedding planner or venue for tips about how to avoid major traffic times or local events that might make your wedding weekend more difficult for guests and more costly for you.
If you're on a tight budget, try to avoid common national holidays and busy weekends that tend to inflate the cost of everything! (We cover these dates for 2016-18 in our comprehensive guide). Additionally, here are some nationally-recognized festivals and events you may want to note for 2017
Hillbilly Days, Pikeville (Mid April)
The Kentucky Derby, Louisville (May)
International Bar-B-Q Festival, Owensboro (Mid-May)
Kentucky Renaissance Fair, Eminence (Beginning of June to mid July)
Blues, Brews & BBQ Festival, Louisville (Mid July)
Kentucky State Fair, Louisville (Mid-August)
Kentucky Bluegrass & Bourbon Experience, Louisville (early September)
Kentucky Bourbon Festival (Mid September in Bardstown)
Great Guest Experiences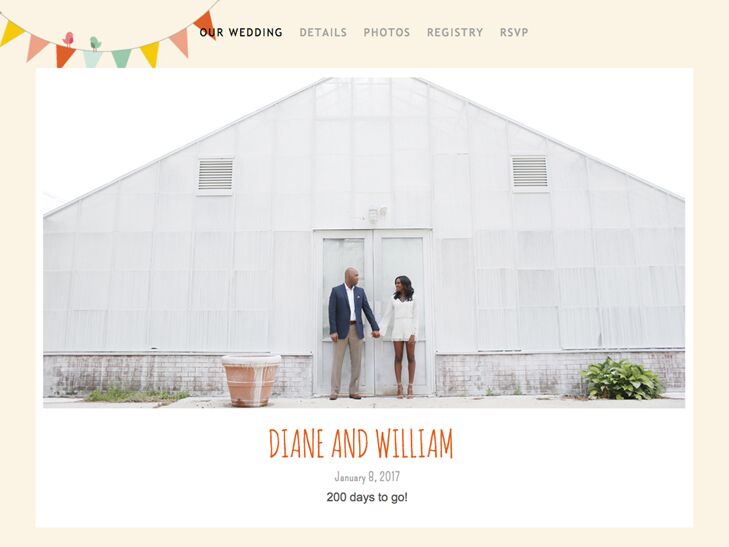 Helping your guests feel comfortable and welcome is one of the key ingredients to wedding success. With such a wide variety of unique wedding venues in Kentucky—from rustic barns to upscale ballrooms—there are so many places for a celebration that is a true reflection of your couple style while also making it fun for your friends and family. No matter where you choose to get married, giving your guests a great experience starts with you creating your very own wedding website. It's a great way to keep everyone connected and informed.
Finding Your Way: Kentucky Travel Info
Before your guests make amazing Kentucky memories, they have to get to the Bluegrass state. There are five primary airports:
Cincinnati/Northern Kentucky International Airport
Blue Grass Airport
Louisville International Airport
Owensboro-Daviess County Regional Airport
Barkley Regional Airport
Flying lets your guests maximize their time in Kentucky. If they are concerned about the cost, encourage them to shop around and consider different airports to obtain the best deals.
If flying isn't a viable transportation option or if it doesn't quite get your guests to their final destination, Amtrak operates several routes throughout the state of Kentucky.
An extensive highway system makes it simple to navigate through Kentucky. Greyhound also provides bus service to many of Kentucky's major cities.
Around Town: What to Do and See in Kentucky
Kentucky is home to diverse sources of entertainment. From natural sites to manmade wonders, your guests are sure to find an outing that holds their interest.
Check out some of Kentucky's top tourist attractions:
Louisville Mega Cavern
Keeneland (Lexington)
Churchill Downs (Louisville)
Mammoth Cave National Park (central Kentucky)
National Corvette Museum (Bowling Green)
Conrad's Castle (Louisville)
Cumberland Gap National Historical Park (Middlesboro)
Newport Aquarium
Go Local: Foods and Flavors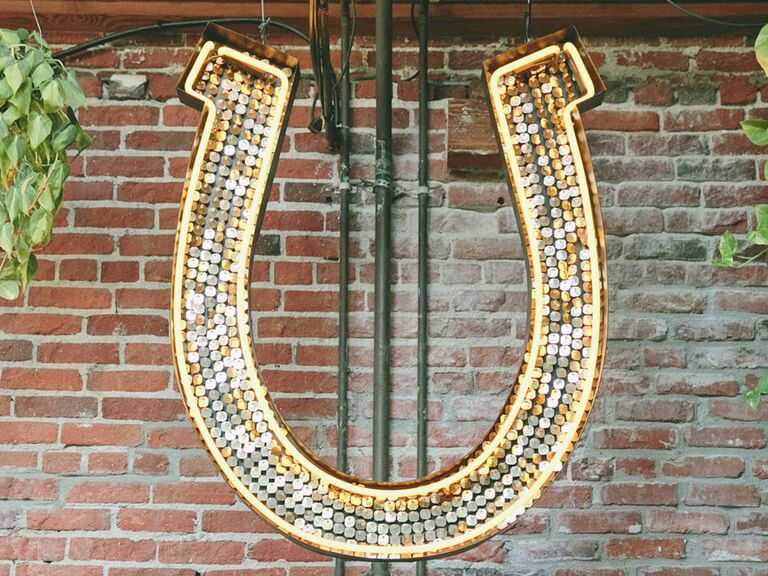 Kentucky is famous for so many mouthwatering dishes that you can smell the state before you see it. It is home to an extensive menu of traditional Southern dishes. This Southern comfort food is often fried, a bit greasy and chock full of flavor. Add some of these amazing dishes to your wedding menu so that your guests get a complete Kentucky experience. Send your guests home with a Kentucky-inspired favor that reminds them of their time in the Bluegrass State.
Kentucky Flavors: Unique Regional Foods for Your Wedding
The number of delicious options is so high that it's hard to decide what Kentucky dishes to serve at your wedding. Fried catfish, hush puppies, country fried steak, greens, pinto beans and cornbread are just a few possibilities. Kentucky is known for its distinct style of fried chicken— don't let your guests go home without giving it a try. In addition to its juicy chicken, Kentucky is also home to a regional type of barbeque, with mutton as the base.
No wedding is complete without regional desserts. Derby pie, a close cousin to pecan pie, combines creamy chocolate chips with crunchy walnuts. Blackberry cobbler is another great addition, especially when blackberries are in season.
If you are serving spirits at your wedding, no bar is complete without Kentucky's famous bourbon whiskey. Well-known favorites like Jim Beam and Bulleit are always a hit, but there are a number of local craft distilleries to choose from as well.
Do Your Guests a Favor: Kentucky-Inspired Take-Home Treats
After sampling the bold flavors of Kentucky, your guests may dread returning home to their standard food fare. Check out The Knot Shop for wedding favor ideas, and gift them with a Kentucky-inspired treat that keeps their palates happy.
Slices of chess pie are a terrific edible favor. This simple pie blends eggs, butter, sugar, brown sugar, vanilla and pie crust. For a tasty variation, choose lemon or vinegar chess pie.
A CD mix with Kentucky's famous bluegrass tunes offers your guests a bit of local sound as they make the journey back home.
Even if your guests aren't fans of the Kentucky Wildcats, they can still appreciate your enthusiasm for your home team. A favor that features the team's logo, such as a piece of glassware or golf ball, sends guests home with Wildcat pride.
Mint juleps, the traditional beverage of the Kentucky Derby, make great signature cocktails. Serve them in traditional silver julep cups that you can send home with guests at the end of the night.
Kentucky City Guides
From the mountainous regions to the contemporary downtown areas, there are a slew of beautiful wedding venues in Kentucky. Check out two hot cities for weddings in the state of Kentucky. Once you have your spot, use The Knot's ultimate wedding vendor marketplace to find experienced wedding professionals.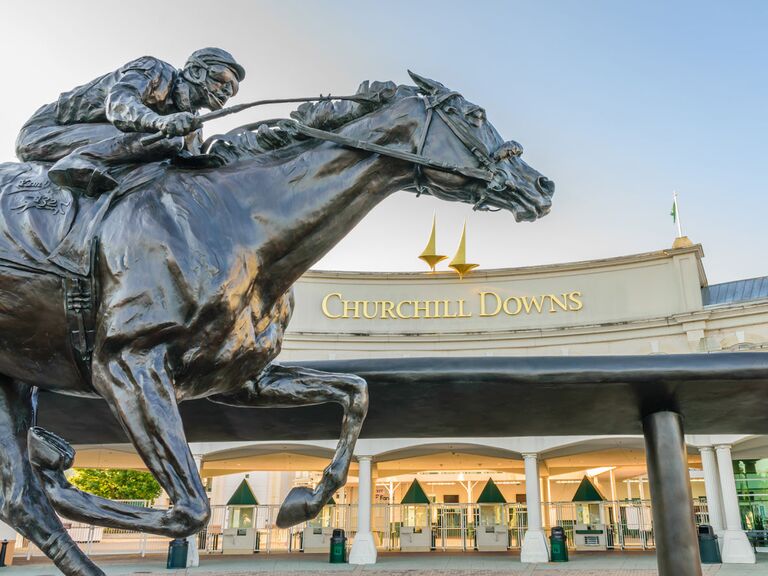 Louisville has the distinction of being the largest city in Kentucky and the 30th most populated city in the U.S. King XVI of France founded the city in 1778, making it one of the oldest cities in its region. This historic city is home to the world famous Kentucky Derby. The downtown region contains a charming mix of old and new architectural styles.
A lovely combination of rolling hills and flat land compose the city. When looking for Louisville wedding venues, decide what type of scenery you want in your wedding photos. There is a great chance that Louisville can make your visions a reality.
For local Louisville vendors, check out: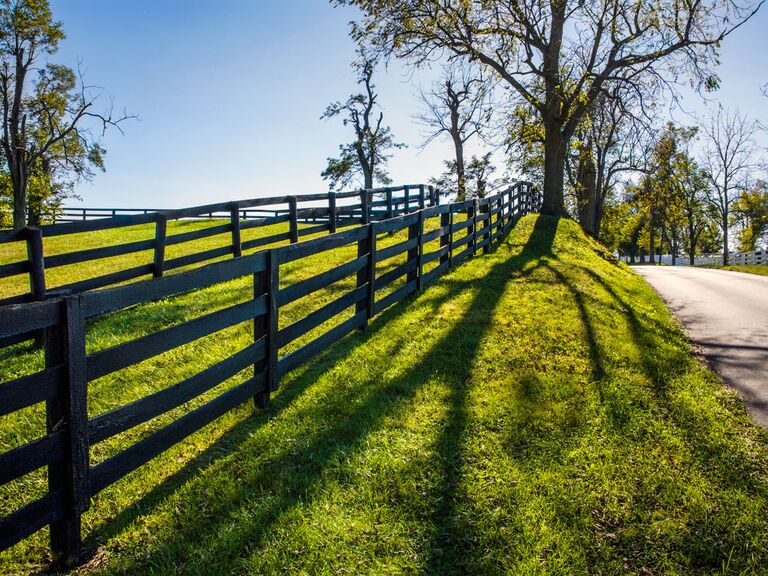 Lexington is at the center of Kentucky's Bluegrass Region, and is the second largest city in the state. Kentucky's passion for horseracing extends to this city, as it is the home of Keeneland, The Red Mile and the Kentucky Horse Park. The racing industry is a significant part of Lexington's economy.
Gentle plateaus give Lexington a feeling of serene natural beauty. As you pass through the city, numerous pastures that house race-winning horses greet you. One of these horse farms is a terrific site for a barn wedding in Kentucky. The cityscape has well-maintained buildings that add to the city's natural beauty. Several Lexington wedding venues are nestled in the heart of the city, including some with a contemporary atmosphere.
For local Lexington vendors, check out:
Check out more Kentucky wedding inspiration here.
Don't forget to download The Knot Wedding Planner app—it's a must-have for on-the-go planning.
Download for iOS: Wedding Planner App by The Knot
Download for Android: The Knot Wedding Planner