A Guide for Writing a Letter to Your Mom on Your Wedding Day
How to say thanks to your biggest hype gal, confidant and superhero.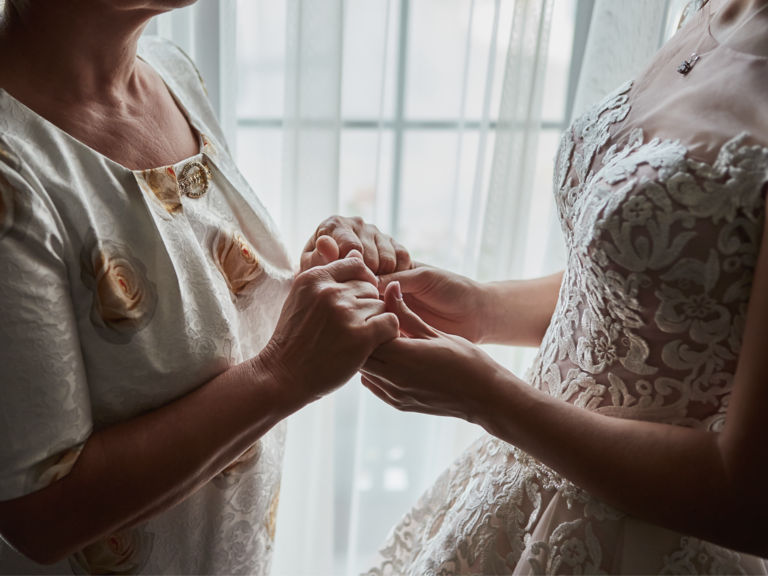 Photo: BONDART PHOTOGRAPHY /Shutterstock
Writing a thank-you note is never easy, but it's especially tough when you're thanking someone as important as your mom—on your wedding day, no less. That's where we come in, to help you compose a super-meaningful letter to your mom to open on your wedding day. (Because let's be honest, if she knew you were stressing about what to write in her letter, she'd tell you to put a pin in it, buy her a coffee when you see her next and then call it a day.)
But really, moms are our biggest cheerleaders and the ones who've been by our sides through thick and thin. So, on a day when you're sure to be feeling a whole range—rollercoaster, really—of emotions, know that mom is right there with you. She certainly doesn't need, nor expect you to press pause on such a pivotal occasion to shout her out, but we can promise you she'll appreciate the thoughtfulness that's inherent to a thank-you letter to your mother on your wedding day, because she's caught up in a whirlwind of emotions herself!
Maybe she's wondering if she's done enough to prepare you for the journey ahead; maybe she's nervous this next step will rock her world more than she thought it would; or maybe she's just caught up in a flurry of nostalgia, missing the days when you were little. Whatever the case may be, your letter can provide her with a sense of reassurance and validation that everything is going to be okay—and also show her how much you appreciate her support. A thank-you letter to your mom on your wedding day is a way to remind her that you'll always be connected and that this milestone is not the end, but rather a new beginning for you and your MVP.
In this article:
Wedding Day Letter to Mom Template
Every mom is unique and has her own way of being, which is why you'll want your wedding letter to mom to match her vibe, your vibe and, most importantly, the vibe of the relationship you've built over the years. Whether your mom is sentimental, funny, practical or all of the above, it's essential to capture her personality in your thank-you note to make it truly special. After all, mom is a huge part of your wedding day (MOB and MOG responsibilities are not for the faint of heart) and your "to my mother on my wedding day" card—coupled with a fitting thank-you present—is a chance to honor her and celebrate your beautiful bond. Feel free to move sections around or remove anything that doesn't sound like you in our letter-writing formula below. These are just some pointers on what to write in a card to your mom on your wedding day that we've passed around the office when our colleagues, friends and family members were getting married—10/10 moms approve!
1. A Hello That Hooks
To be honest, the opening sets the tone for the whole letter, so it's important to find just the right words to immediately draw mama in and make her excited to dive into all that comes after. Start with a warm, heartfelt greeting that reflects your unique relationship with your mom. Use words that resonate with her, ones that make her feel seen, loved and valued, maybe even throw in an inside joke or a special nickname that only the two of you understand. So if an empowering message like, "My sweet, fierce and beautiful mother, today is the day I marry the love of my life, but before I do that, I want to take a moment to celebrate the incredible woman who raised me," sounds about right, then take it! If sweet and simple is more your style, then try, "Hey Mom, my wedding day wouldn't be complete without expressing just how much you mean to me…" on for size. Or, if you need some humor to get the ball rolling on your big day, then get her laughing with a lowkey Swiftie reference like, "Look who's getting married and making their mommy all emotional and proud. It's me, hi, I'm the problem, it's me!"
2. A List of All Her Bests (Wedding Edition)
Your nuptials are about you and your beloved, but it's also a wonderful thing when your day is likely also infused with touches of your closest family and friends—mom, most definitely! Let her know how much her expertise and helping hand has meant to you. Express your gratitude for the countless hours, the attention to detail and the pride she's poured into making your wedding day an unforgettable celebration of love in your thank-you card for your mom on your wedding day. If your mom planned your wedding shower, you might already have some practice prattling on about how absolutely genius your special gal really is.
3. What She Has That Makes You the Luckiest [Bride or Groom] in the World
Moms in general are amazing people, but when you're writing a heartfelt letter to yours on your wedding day, you'll want to make it clear that they've won the Best Mom Ever award, bar none. Think back to the moments when your mom's presence shone brightly in your life. Maybe it was the time she navigated a difficult family dynamic with grace and tact, or the way she always knew exactly what to say to make you feel better during a tough time. Perhaps, it was her incredible work ethic and determination that inspired you to be your best self, or the fact that she always put her family first, no matter what. Whatever it is that makes your mom so special to you, take a moment to reflect on it and spotlight her signature sparkle in your message.
4. Lessons in Life and Love
You're taking the plunge, making it official, saying "I do" to forever with your person, which is a pretty big deal. So as you sit down to write a letter to mom on your wedding day, mention the invaluable advice you've gleaned from her on the keys to a successful marriage, then make sure she knows it—especially if it isn't the boilerplate "never go to bed angry" bulletins. Maybe she's the one who taught you the power of compromise or maybe she's the shoulder you've always leaned on when things got tough. Or perhaps it was her unconditional love that showed you the true meaning of a committed and loving partnership. Whatever it may be, this is the moment to let her know just how grateful you are and how her presence in your life—along with her lessons on love, teamwork and being teammates with a partner—has made all the difference in your outlook.
5. A Signoff That Sticks
Here's arguably the most important part of the letter: telling her how much you love her—if it wasn't completely obvious in the earlier odes—before signing your name. Feel free to keep it short and sweet, especially if verbose doesn't even come close to the sentiments you've scribed so far. Spoiler alert: Parents don't get tired of hearing "I love you," in fact, they're always ready for more of it.
Oh, and throwing in a cute cameo note of appreciation from her future son or daughter-in-law will tug at her heartstrings, too: "From the bottom of our hearts, thank you for everything you've done to support us. Your love and guidance will forever be etched in our hearts as we embark on this beautiful journey." Don't forget the tissues, either.
Wedding Day Letter to Mom Example
Below, you'll find a sample letter to mom on your wedding day, so you can see how our guidance all gels together. After you're done writing/typing, pick up a few wedding gifts for your parents and either deliver them during your rehearsal dinner when you're giving wedding party gifts or on the morning of your wedding, accompanied by your ever-special note to mom.
To the Greatest Mom in the World,
Seriously, where do I even begin? Today, as I stand on the brink of a new chapter in my life, I can't help feeling overwhelmed with gratitude for everything you have done for me. From the moment I entered this world, you have been my guiding light, my pillar of strength and my biggest fan. And now, as I embark on this journey of love and partnership, I want to take a moment to thank you from the bottom of my heart.
Mom, you have been there for me through it all. From scraped knees and "Teletubbies" to broken hearts and Hogwarts, you have provided comfort, wisdom and unwavering support whenever I needed it, and even when I told you to take a step back. You've taught me how to be kind, compassionate and resilient. Your love has shaped me into the person I am today and, for that, I am eternally grateful.
You've been an absolute rockstar throughout this entire wedding planning process. From the countless hours spent finding the perfect venue (seriously, how did you manage to help us find such a gem?) to the expert guidance on selecting the most mouthwatering menu options, you have truly gone above and beyond. I'm in awe of what you created for our engagement party, what you envisioned for our wedding shower and what you dreamed up with our florist for our wedding day. Baby's breath, ranunculus, dahlias and garden roses are the perfect combo—you were right, of course.
Your attention to detail, your problem-solving skills and your ability to navigate any wedding-related challenge have been nothing short of extraordinary. Your support and dedication have allowed us to focus on the joy of getting married, knowing that every little detail was in the hands of the best wedding superhero we could ask for—that's you, by the way! I promise you that no matter where life takes me, no matter how busy or hectic things become, I will always make time for you. I vow to be present, to cherish our moments together and to be there for you just as you have been there for me. Not even kidding you, mom, these pledges were easier to write down than my own wedding vows.
In closing, let me tell you a little secret: I love you until time runs out and even beyond that. Your love knows no bounds and neither does mine. You are not just my mother; you are my role model and my best friend. Thank you for everything you have done and continue to do for me.
With all the love my heart can hold,
[Your Name]