When to Give Gifts to Your Wedding Party, Family and Each Other
Here's everyone who should receive a gift and when to give them.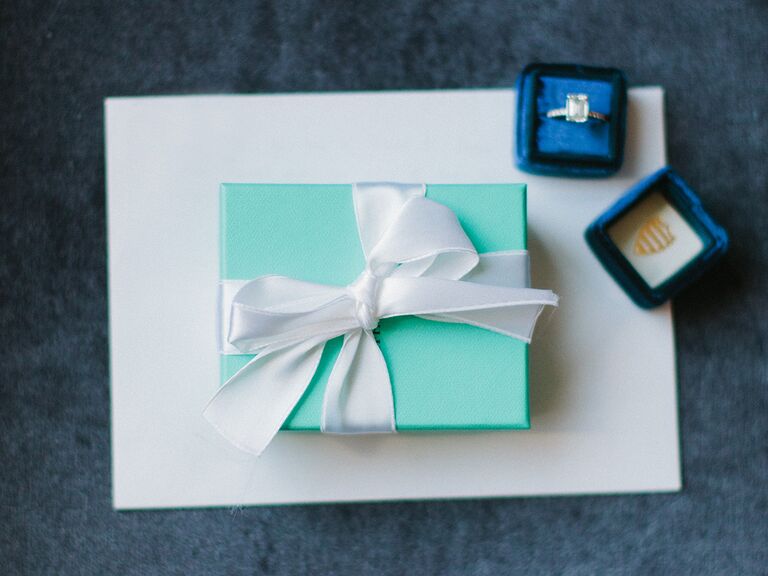 Tim Tab Studios
Giving thoughtful gifts to your wedding party and important loved ones, like your parents, is the best way to thank them for being key players in your wedding—and in life. But when do you actually hand them out? While there are no strict rules when it comes to the timing of gift giving, here's a breakdown of when most couples traditionally choose to present each person with something special.
Spouse
Many couples like to exchange gifts on their wedding day. If you're doing a first look, you might take this quiet, intimate moment together to share gifts. If the first time you'll see one another is at the ceremony, ask someone in your wedding party to facilitate the gift swap. But if you prefer to exchange gifts the night before your "I dos," that works too. Whenever you decide to do it, talk with your soon-to-be spouse in advance so you're both prepared.
Parents
Take a moment before the wedding—it could be a special meal a few days before, at the rehearsal dinner (often after your toast thanking them) or on the morning of your wedding—to share some private time with your parents and give them their gifts. You could each give your own parents a gift, or you might give one present from both of you to each set of parents.
Find parent gift inspiration here.
Wedding Party
You can present gifts to your wedding party at the rehearsal dinner or the day of your wedding, either at brunch or lunch, or while getting ready together. You could also have a separate meal, like a fun bridal brunch or dinner, a few days before the wedding and do it then. If you're already exchanging gifts with your almost-spouse and parents in the hours leading up to your ceremony and feel overwhelmed, the rehearsal dinner is a good idea.
When you decide to give your bridesmaid and groomsmen gifts might also depend on what you give them. If it's something you want them to wear during the wedding day—like jewelry, getting-ready robes, cuff links or customized sneakers to slip into at the party—present them while you're getting ready. That way no one risks losing it or forgetting it in their hotel room. If it's not something they're meant to wear or have at the wedding—a gift card, beauty products, picture frame or wine paraphernalia—hand it out at the rehearsal dinner so they don't need to worry about keeping track of it throughout the busy wedding day.
Find bridesmaid gift inspiration here.
Young Attendants
It's common to give your flower girl and ring bearer gifts at the rehearsal dinner, but again, this might depend on how old they are and what you have for them. It's always fun for your little attendants to have something to do at long events like the rehearsal dinner and reception, so games, toys, crafts, books and other gifts of this nature will keep them busy and happy throughout. But if you're gifting them with cute getting-ready or reception swag, like a bag, jewelry or flower-girl- or ring-bearer-themed T-shirt, hand them out the day of the wedding for convenience.
Other Important People
There are probably other important individuals who aren't in your immediate family or wedding party whom you want to thank and honor with a sweet token. This could include your grandparents, officiant or any loved ones doing readings, ushering or playing music at the ceremony. These special people can receive gifts at the rehearsal dinner or the morning of your wedding.
Search wedding gifts and favors for all your loved ones on The Knot Shop.
Check out seven gift ideas both bridesmaids and groomsmen will love, here