22 Great Gifts to Give Your Parents on the Wedding Day (or Shortly After)
It's time to thank your biggest supporters.
Photo: Etsy; Design: Tiana Crispino for The Knot
We have included third party products to help you navigate and enjoy life's biggest moments. Purchases made through links on this page may earn us a commission.
Just as it's customary to give your wedding attendants thank-you gifts, we encourage couples to take the time to find something equally meaningful for their biggest fans: their parents. After all, your parents have been there for you since day one, offering wisdom, guidance and support along the way. To that end, there's no right or wrong way to say: "thank you for everything." A practical present is just as special as a sentimental one when it's given with love. To help you narrow down your choices, we've rounded up the best wedding gifts for parents guaranteed to make them smile.
Read more:
1. Custom-Etched Wine Bottle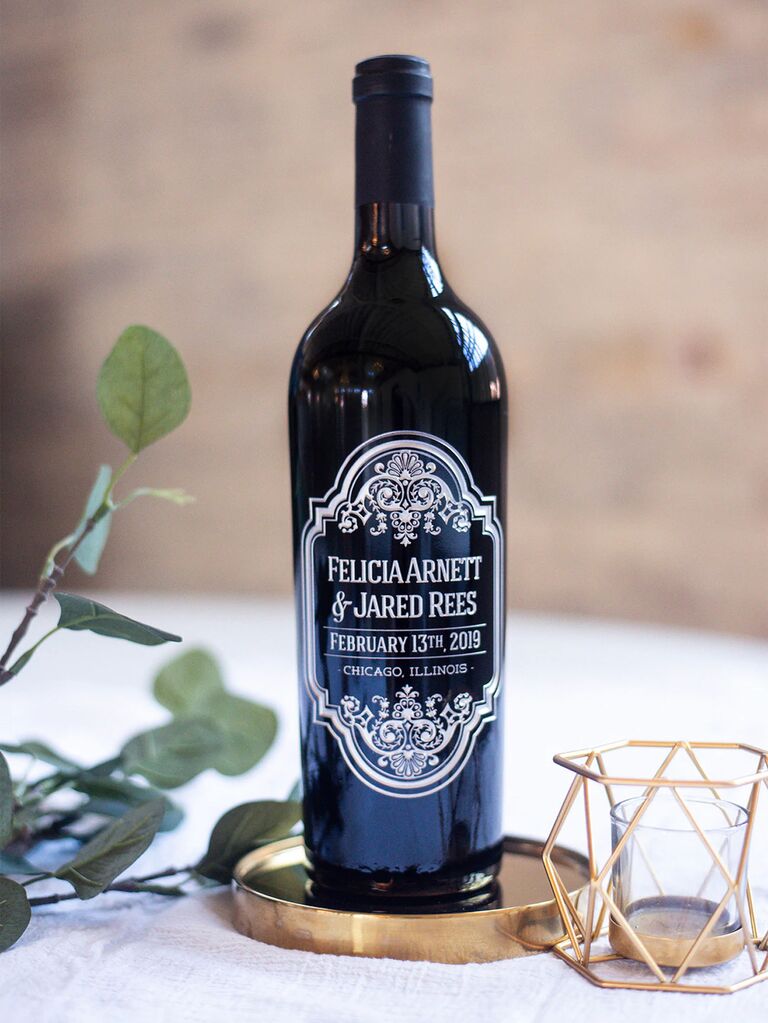 Here's a toast-worthy gift idea for your parents on the wedding day. This personalized wine bottle—filled with California cabernet sauvignon—honors your nuptials in a creative way. Customize the bottle with your wedding details, including you and your partner's names, the event date and location. Your parents will receive a thoughtfully etched and hand-painted keepsake to help them remember one of the most important moments in their child's life.
2. Sentimental Art Print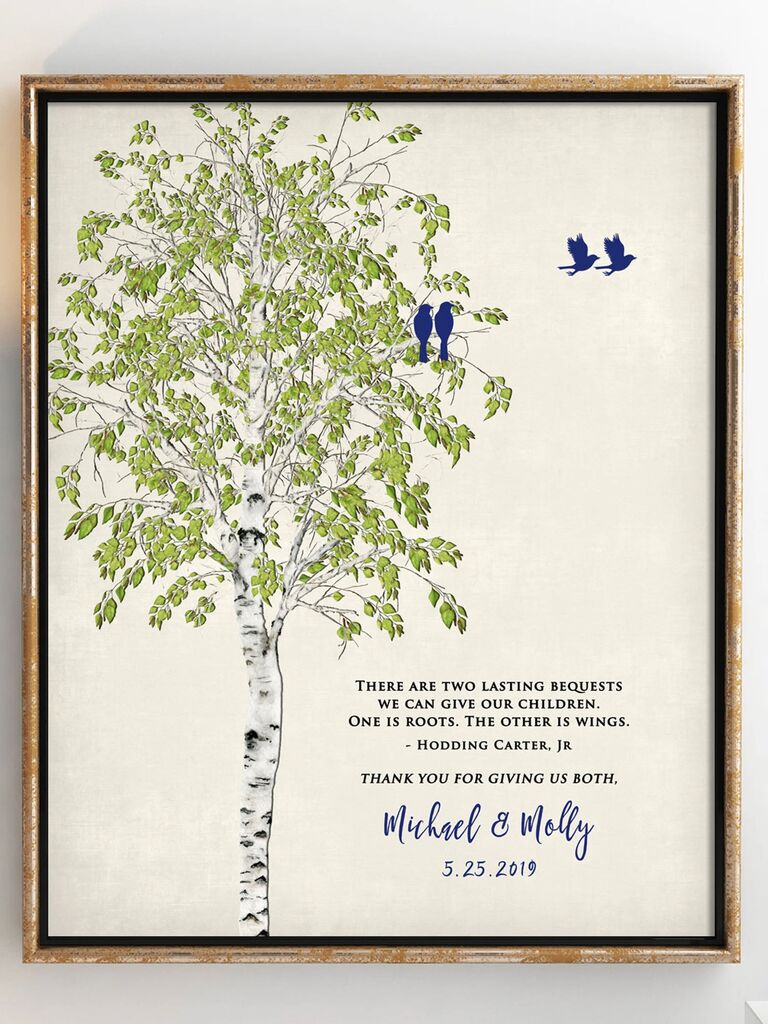 For a meaningful parent wedding gift that'll get them teary-eyed, this customized tree print captures the moment you and your new spouse officially fled the nest. The print comes with a sweet saying: "There are two lasting bequests we can give our children. One is roots. The other is wings. Thank you for giving us both." It's a lovely present to give at the rehearsal dinner or on the day of the wedding.
3. Flower Subscription Box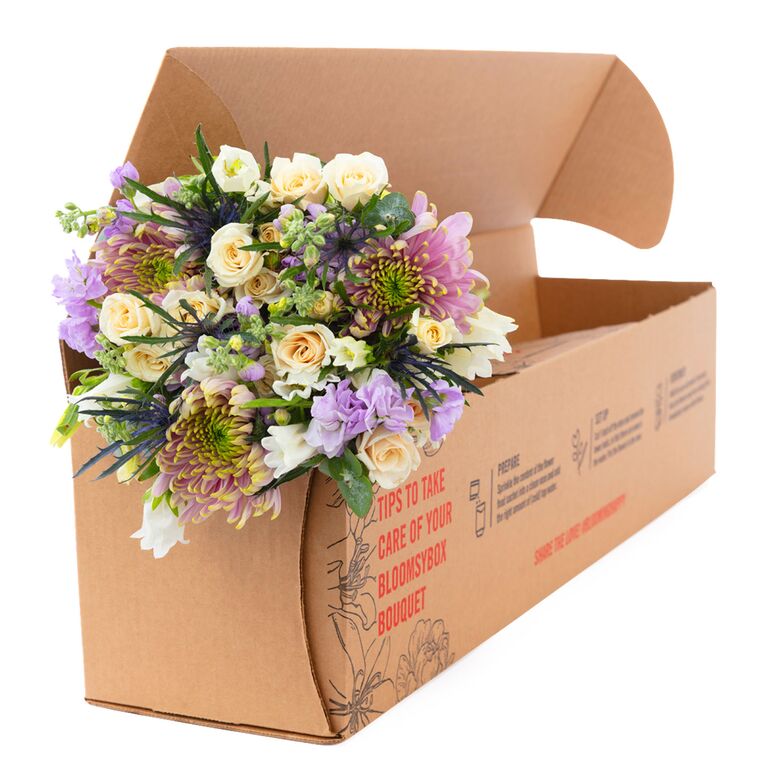 Another great way to say "thank you" to your parents? A beautiful arrangement of flowers. An even better option? Gifting them flowers on a regular basis! Sign them up for BloomsyBox's weekly, biweekly or monthly deliveries. Each time, they'll receive a sustainably sourced bouquet straight to their door. Just choose your stem count, then BloomsyBox will take care of the rest!
4. Heart-Shaped Bamboo Plant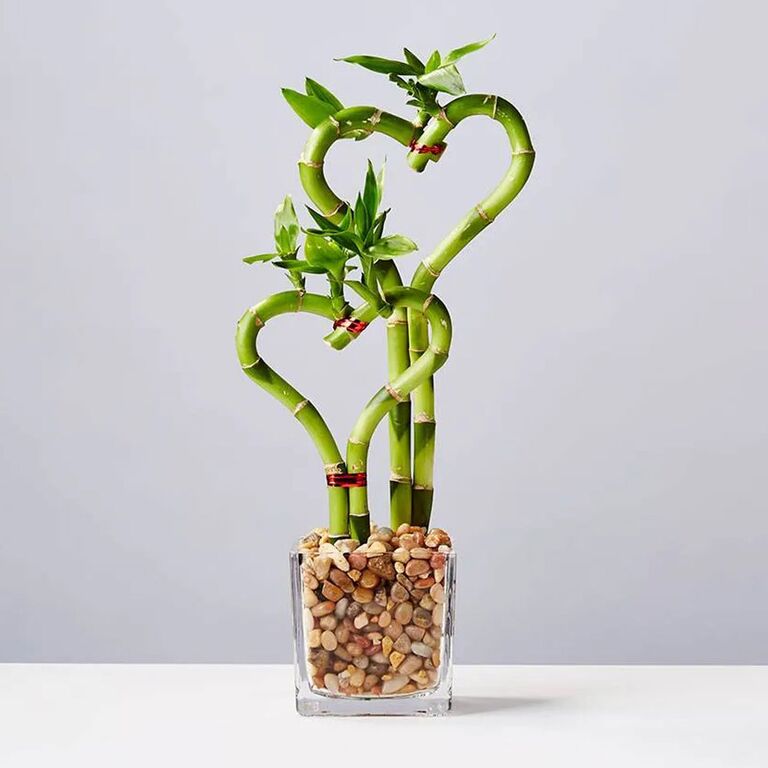 Plants more their style over flowers? Present them with this heart-shaped bamboo to convey your gratitude and add to their houseplant collection. This thoughtful wedding gift to your parents is considered a traditional symbol of luck and good fortune—a worthy sentiment to impart to your ever-generous 'rents.
5. Parent Dance Song Print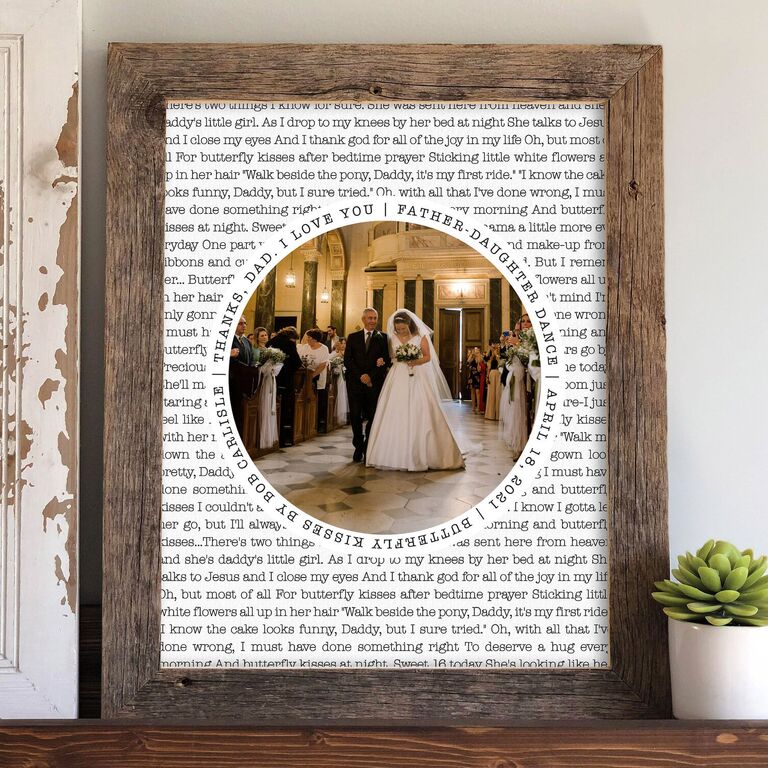 If you're planning dedicated parent dances, turn those moments into treasured keepsakes. This Etsy artist makes custom prints out of parent-child dance song lyrics and family photos. First, choose your preferred size and frame, then submit the details. The end result is a heartfelt parents wedding gift that'll pull on their heartstrings.
6. Cozy Bathrobes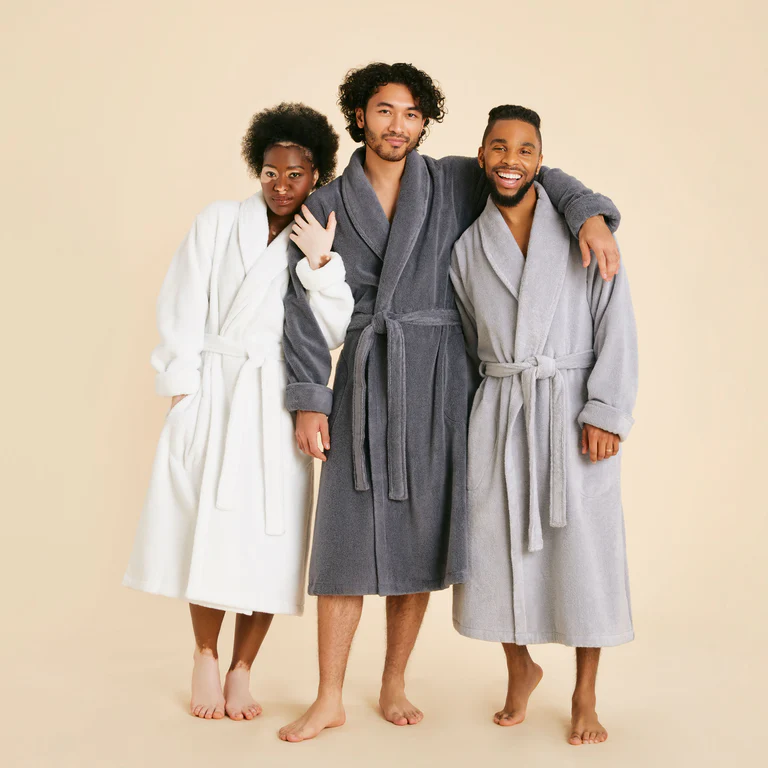 For gifts they can use while getting ready the morning of the wedding, you can't go wrong with cozy cotton bathrobes. Brooklinen's robes are the definition of luxury: They're made with long-staple Turkish cotton, creating an ultra-soft and absorbent material. They come in myriad colors, too, so it's great for any parent or set of parents.
7. Personalized Wedding Photo Album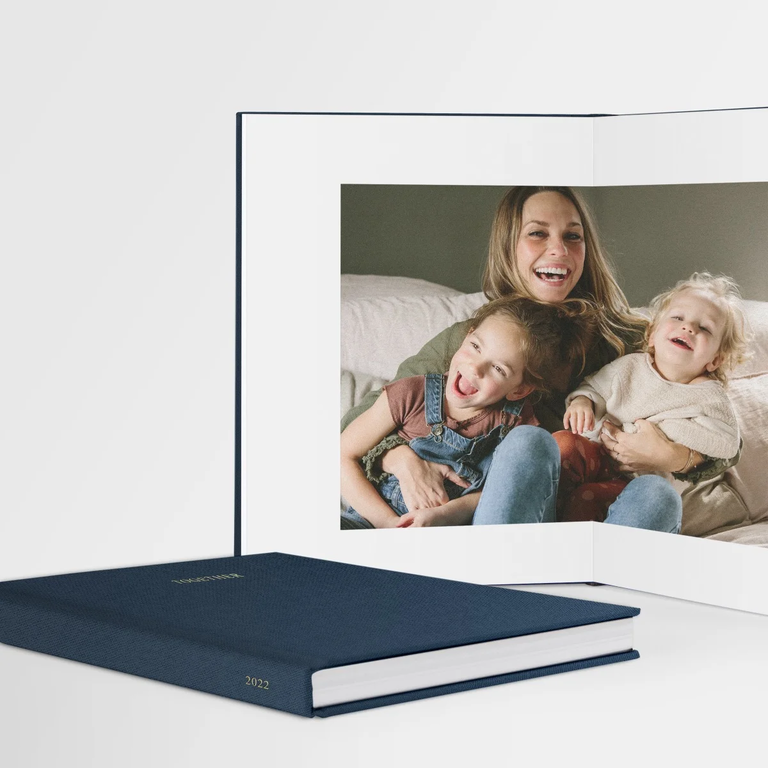 After your wedding photos are ready, invite your parents over to check them out. Take mental notes of the ones they love most, then create a customized photo album just for them to keep. While this gift can't be presented on the wedding day itself, it'll be worth the wait—it's a sentimental wedding gift idea your parents will treasure forever.
8. Sentimental Framed Photo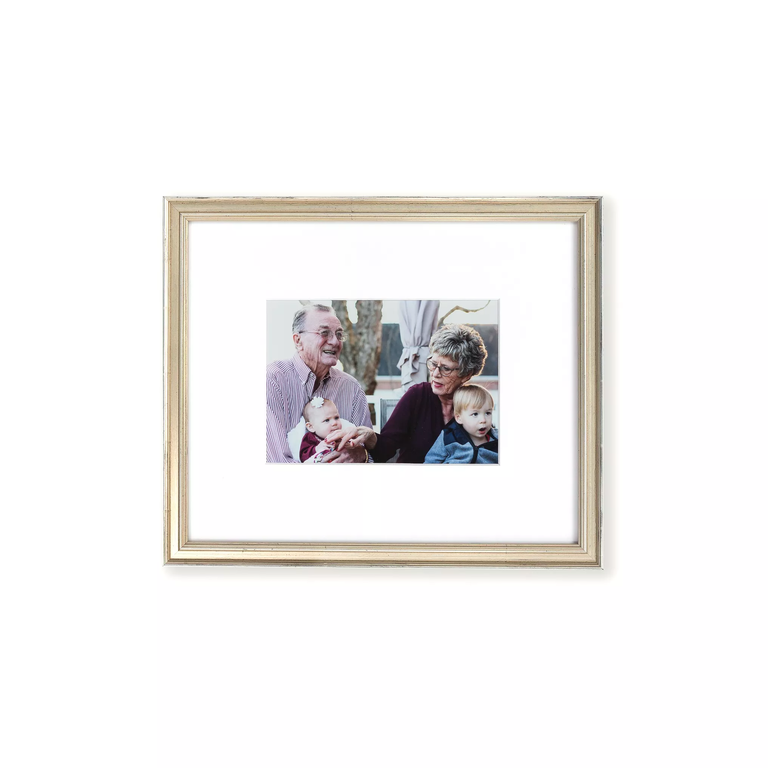 Dig up a cherished childhood photo of you with your parents or wait until your wedding images are ready and pick out your favorites—such as a snap of you and a parent getting ready the morning of your wedding. Have each image professionally framed in a finish that matches their home decor, then include a heartfelt, handwritten card to accompany the gift. It's a classic wedding thank-you gift idea for the parents of a bride, groom or marrying partner.
9. Custom Parent-Child Illustration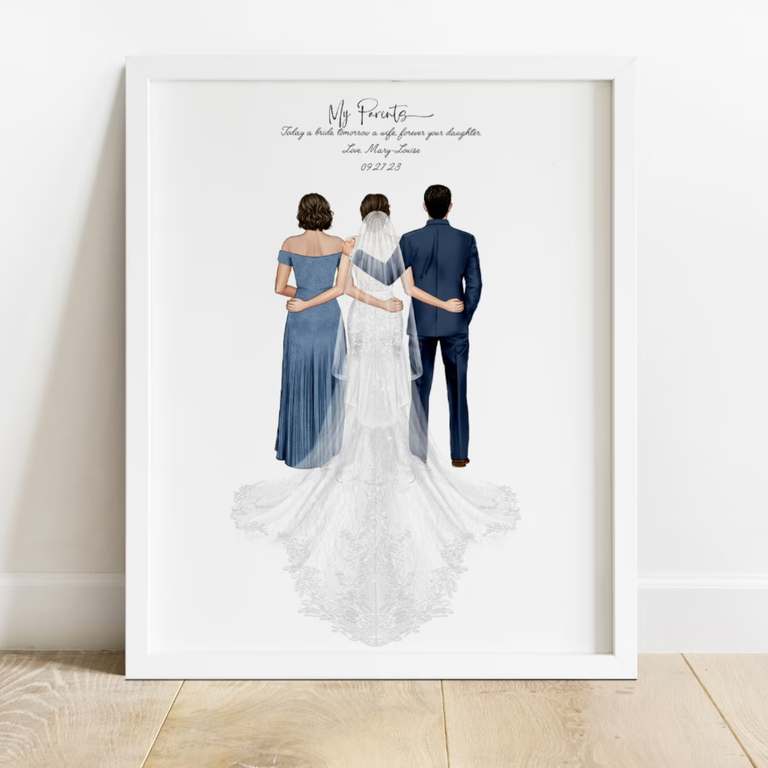 A custom illustration of you with your parents is sure to bring all the feels. First, select the paper type and your form of personalization (you can choose from some premade templates or request a completely custom family portrait). Then, write a sentimental quote or message (up to 1024 characters long) to be printed above the artwork.
10. Italian Cooking Class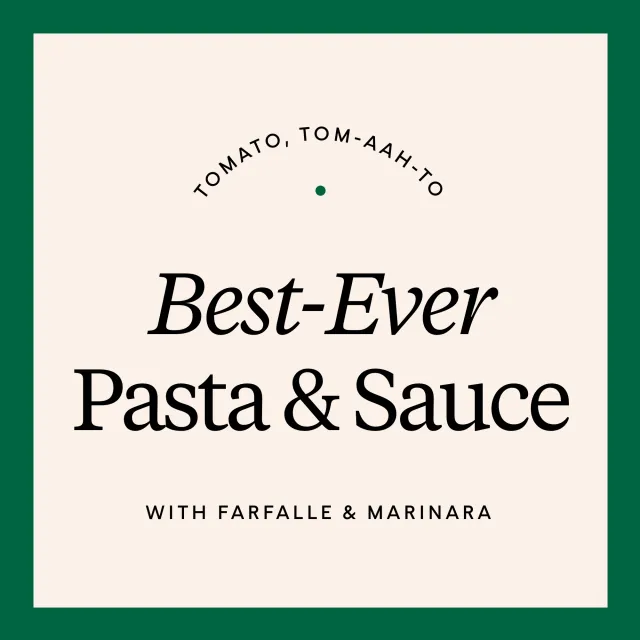 Gift them a romantic cooking class where they'll make a classic Italian dish: homemade farfalle with marinara sauce. After all, they're going to need time to relax after your wedding festivities and cooking is a wonderful way to do so. Ahead of the 90-minute class, your parents will be sent an email with all of the preparation details required for the tasty dish. What a fun parent wedding gift!
11. Hand-Painted Ceramic Plate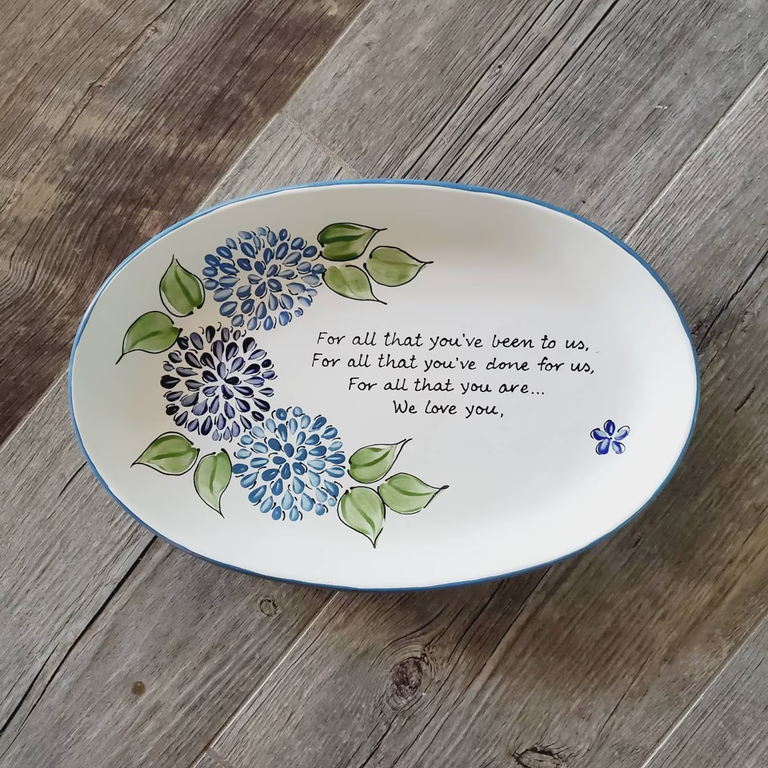 How sweet is this ceramic platter? It's painted by hand by an artist in coastal Massachusetts with lovely blue blooms and a sentimental saying. There's no doubt your parents will be continuously reminded of how special they are to you every time they take a peek at this gift.
12. Wine Subscription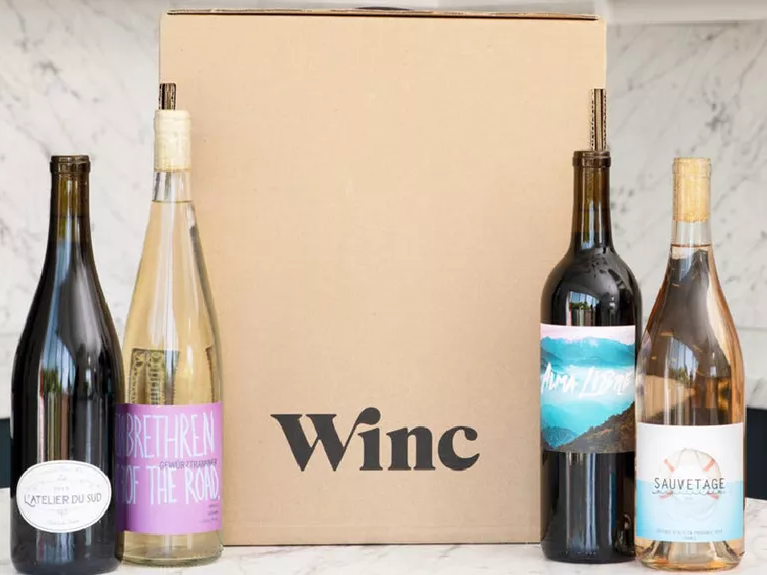 After months of helping you pull off the wedding of your dreams, your parents need to unwind, too. The next best thing to a wine tour in Italy or Napa is a wine subscription! This service will deliver personalized bottles from regions around the world directly to their doorstep for one or more months. It's a practical and thoughtful thank-you gift for your parents.
13. Custom Passport Holders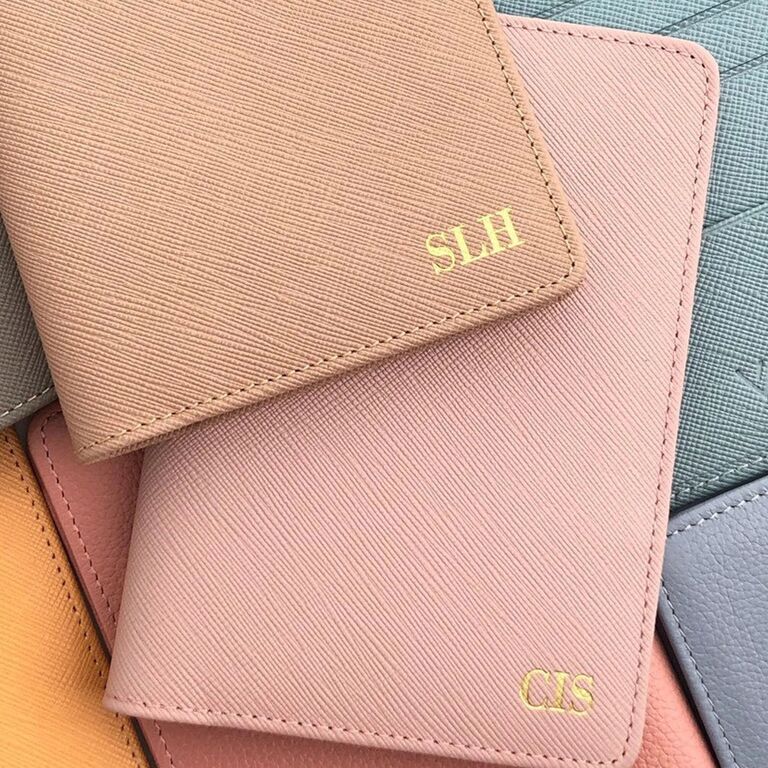 If they're making the trip to your destination wedding, here's an exceptionally thoughtful parent wedding gift idea to aid in their journey. First, choose your colors, then select from gold or silver fonts for the custom monograms. It's the kind of gift they'll use again and again postwedding.
14. Bagel Brunch in a Box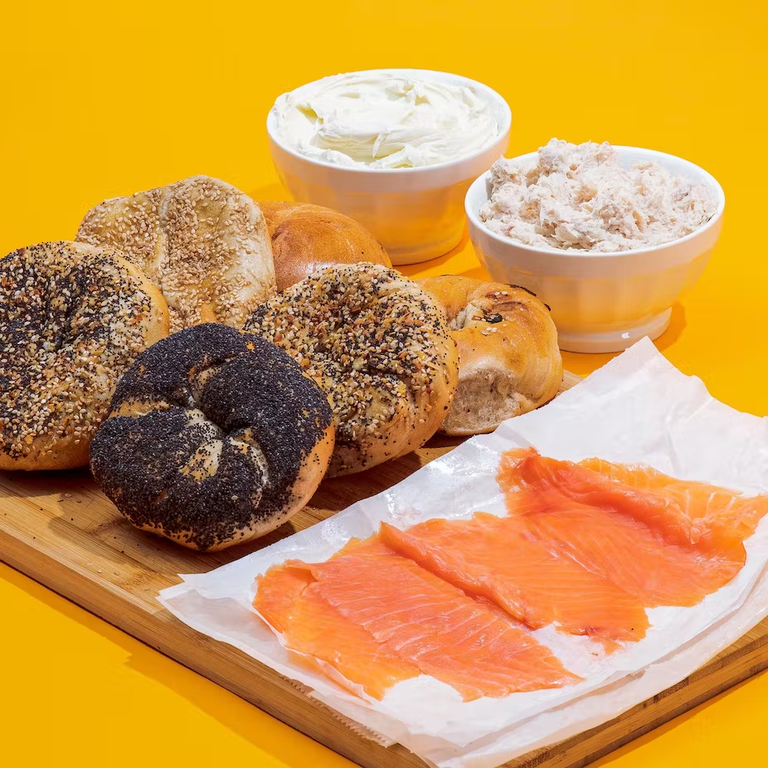 Send your parents this scrumptious bagel brunch in a box a couple of days after the wedding. They helped you plan your big day, the least you can do is take planning breakfast for the next few days off their plate (or rather, put it on their plate). This kit from iconic New York bagel spot Essa Bagel includes six bagels and lox, with the option to add a few flavored cream cheeses and smoked fish salad.
15. Family Photo Calendar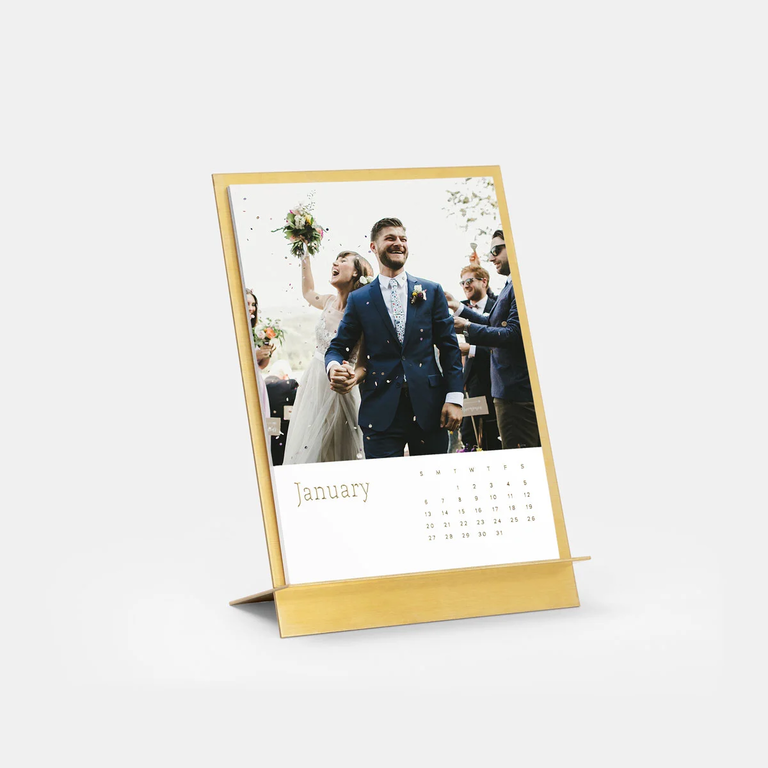 Gather your 12 favorite images from your wedding events and present them to your parents in the form of a chic calendar. The thick photo pages are propped up on a mini brass easel and you can refill your order the next year with different photo memories. Choose from six different font options, then start customizing the calendar!
16. Artisanal Olive Oil Set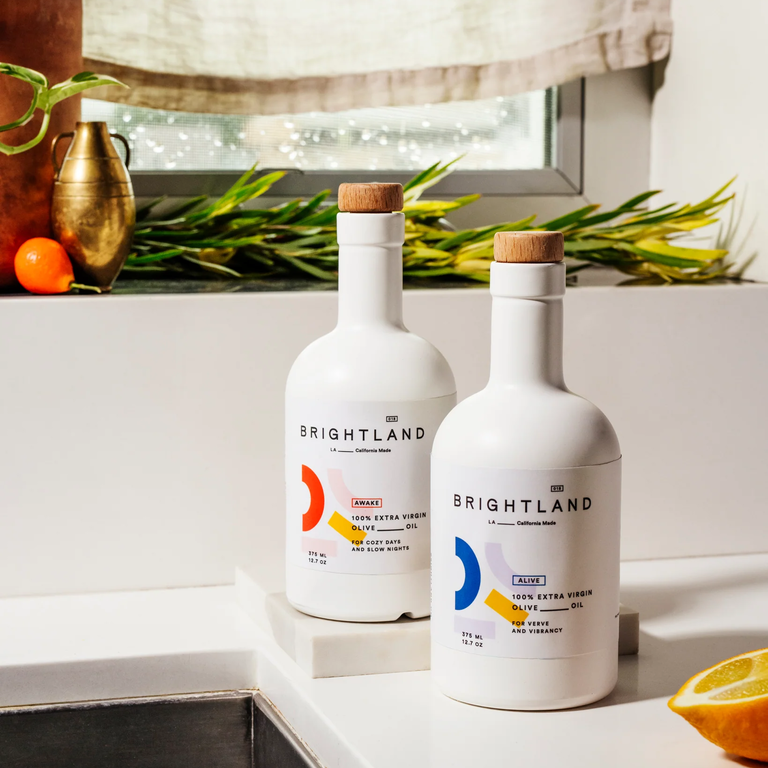 These viral bottles of olive oil live up to the hype. This set of two includes two of Brightland's most popular flavors—one of which is perfect for cooking and the other for finishing. It's the perfect balance of practical and thoughtful.
17. Luxury Candle
This stunning candle will look so lovely on your parents' coffee table or nightstand. It has a vanilla-tobacco fragrance that'll appeal to anyone and everyone as well as two wicks for maximum scent distribution. Plus, it's housed in a gorgeous mercury-glass vessel with an antique-like faceted lid.
18. Cozy Throw Blanket
This cable-knit throw would look right at home in just about any living room. The cloud-like material is soft, fluffy and super oversized—so your parents won't have any issues snuggling with this home decor staple. Best of all, your parents will think of the momentous day every time they reach for it.
19. Coffee Subscription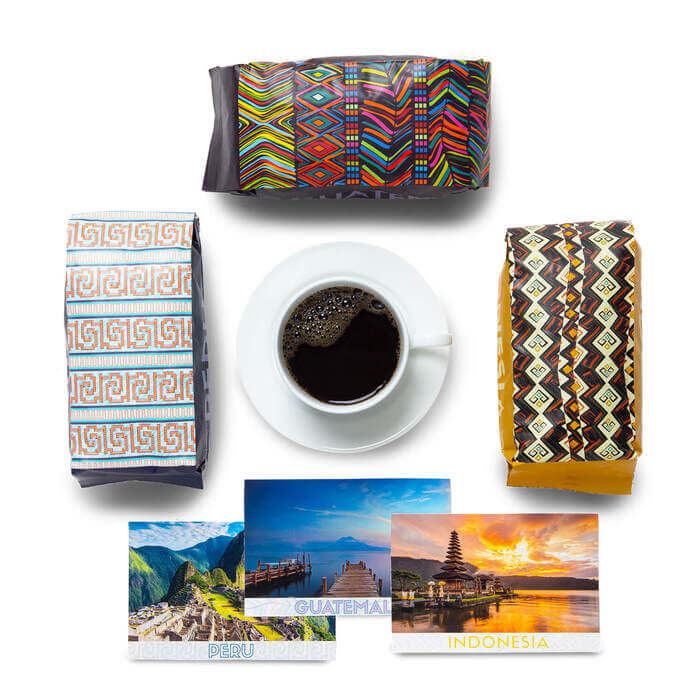 If your parents reach for a cup of joe on the regular, then they'll appreciate this super-convenient and practical wedding thank-you gift. They'll receive an assortment of premium coffee from all over the world, in addition to postcards from each country, brew tips and flavor notes. We have a good feeling they'll be renewing this gift after trying it out.
20. Embroidered Handkerchief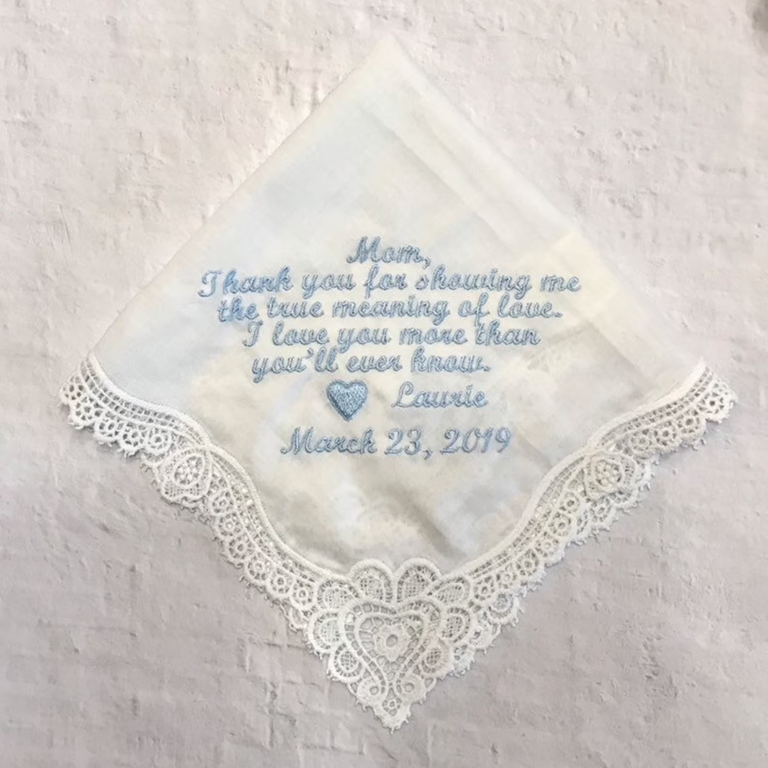 If you're planning on giving your parents special tokens ahead of the wedding ceremony, opt for these sweet custom-embroidered handkerchiefs to wipe away their happy tears. You can write your own message thanking them and telling them how much they mean to you. Choose from a range of lace edge designs.
21. Fancy Jam Sampler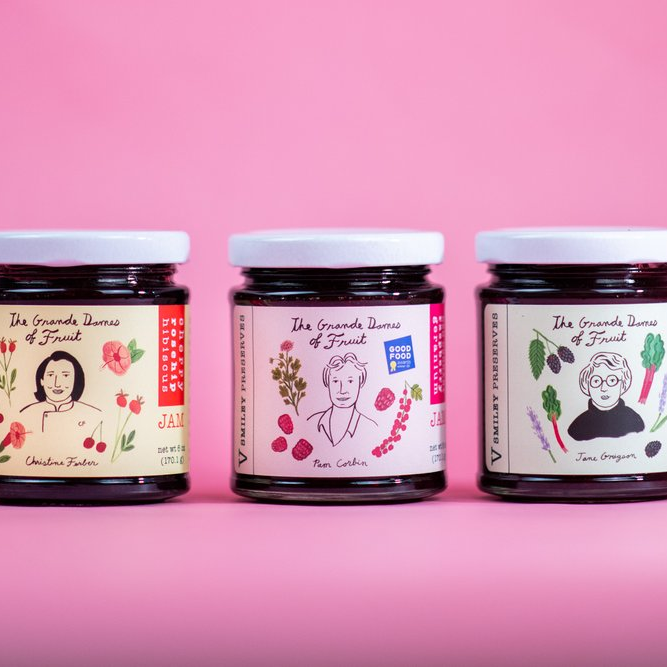 How prettily packaged are these three jams? They're made by V Smiley Preserves, a small-batch maker out of Vermont that only uses the finest fruits, honey and herbs to craft their blends. This pack of three includes Raspberry Redcurrant Geranium jam, Cherry Rosehip Hibiscus jam and Lavender Blackberry Rhubarb jam.
22. Celebrity "Thank You" Video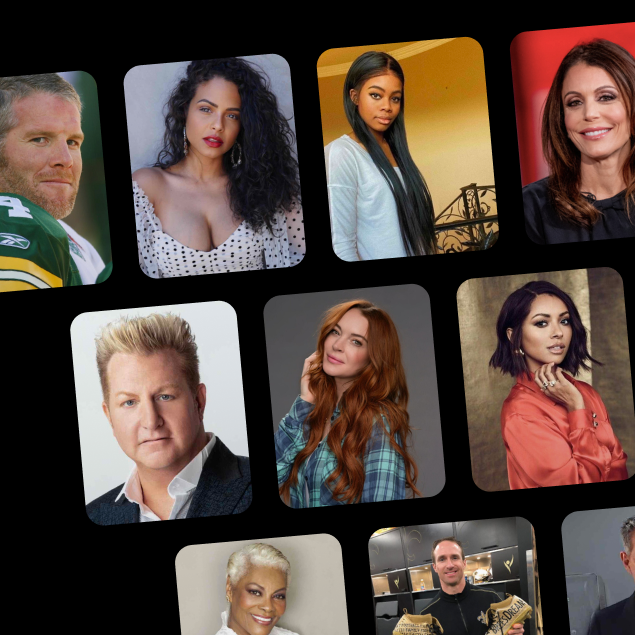 Not sure how to say thank you? Have their favorite celebrity do it for you! Cameo lets you book personalized shout-outs from famous musicians, reality TV stars, professional athletes and more. Your parents will be so stunned, you'll have to film their reaction to this priceless wedding thank-you gift for parents.