The Knot's Guide to Made-to-Measure Suits
Looking to buy a made-to-measure suit or just trying to figure out what a made-to-measure suit even is? Look no further–here's everything you need to know.
We have included third party products to help you navigate and enjoy life's biggest moments. Purchases made through links on this page may earn us a commission.
Wedding photos last a lifetime. The last thing you want is to look at those photos 20 years down the road and wish you'd worn a better-fitting suit. Trust me. A great way to make sure you're looking your best when you walk down the aisle is to look into made-to-measure suiting, one of the most popular forms of custom suiting in the world today. Custom is a weighted word in the world of suiting, with a ton of room for interpretation. To some, custom suiting is simply anything that's been tailored to their silhouette, whether it's off-the-rack or totally bespoke. While a good off-the-rack suit can be made great with a few alterations, the true custom suit is one that's made to measure, a style of suiting that's been made popular over the last decade by accessible brands like Indochino and Suitsupply. It's the style of suiting I swear by, so much so that I wrote about it for The Knot Magazine. You can check out the feature online, or head to your local newsstand and buy a physical copy.
In this article:
What Are Made to Measure Suits?
Made to measure suits (M2M from here on out) are suits that, as the name suggests, are made to your exact measurements. You can go to a fitting in person (many popular M2M brands have brick and mortar showrooms across the country) or take your measurements at home and plug them into your brand of choice's online service. From there you'll build your suit out down to the last detail, selecting your fabric, interior lining, lapel length, everything you could possibly imagine. You can specify that you need functional sleeve buttons or slanted jacket pockets. It's truly yours to build the way you'd want to wear it. From there the brand will have the suit made and tailored to the specified measurements and often deliver it right to your door. Need adjustments? Fear not - most M2M brands offer free alterations after your suit has been madein case anything's been lost in translation.
Why Made-to-Measure is Worth It
These days M2M suiting is more accessible than it's ever been, largely thanks to brands that have cut out middleman suppliers and manufacturers. As a result, the cost of a M2M suit is as affordable as ever. Many brands can get you a fully customized suit for around $500, which is roughly the price of many quality off-the-rack suits today. The result is an affordable, high-quality garment that's made to fit you perfectly–exactly the sort of suit that's going to look absolutely stunning when you wear it to a wedding. You certainly won't look back on those photos wishing you'd worn something different.
What is the Difference Between M2M, Bespoke, and Custom?
I'll try to keep this brief: custom suiting is something of a blanket term but often refers to anything from bespoke suiting to off-the-rack garments that have been altered by a tailor. The difference between bespoke and M2M is a little bit more subtle. A bespoke suit is hand-crafted, often by a single expert tailor or cutter who's been trained in the art for years and years, and made completely from scratch. M2M is incredibly high quality but doesn't feature the same level of individual craftsmanship. It also uses pre-existing patterns to create suits.
Where to Buy Made-to-Measure Suits
The internet has made M2M suiting easier to come by than ever. There are tons of exciting brands working in the space, from industry giants to exciting new upstarts. Here are the best places to buy M2M suiting these days.
Indochino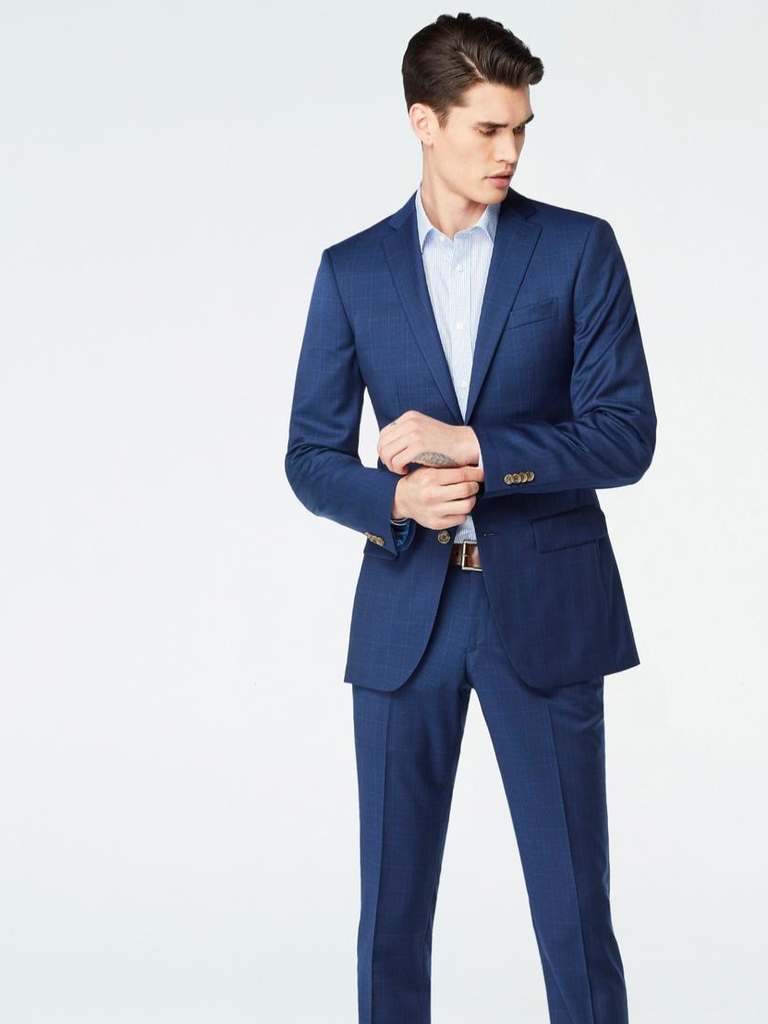 How to Buy: Online or In Person
Why You'll Love Them: Indochino can largely be credited with making M2M suiting accessible and popular with a new generation. Their services are available both on their website and in showrooms across the country, with the brand offering endless combinations of fabric and suiting styles. They are the perfect retailer for anyone buying their first suit or their hundredth. And in terms of bang for your buck, they're still the brand to beat.
Cost Estimate: $500
Suitsupply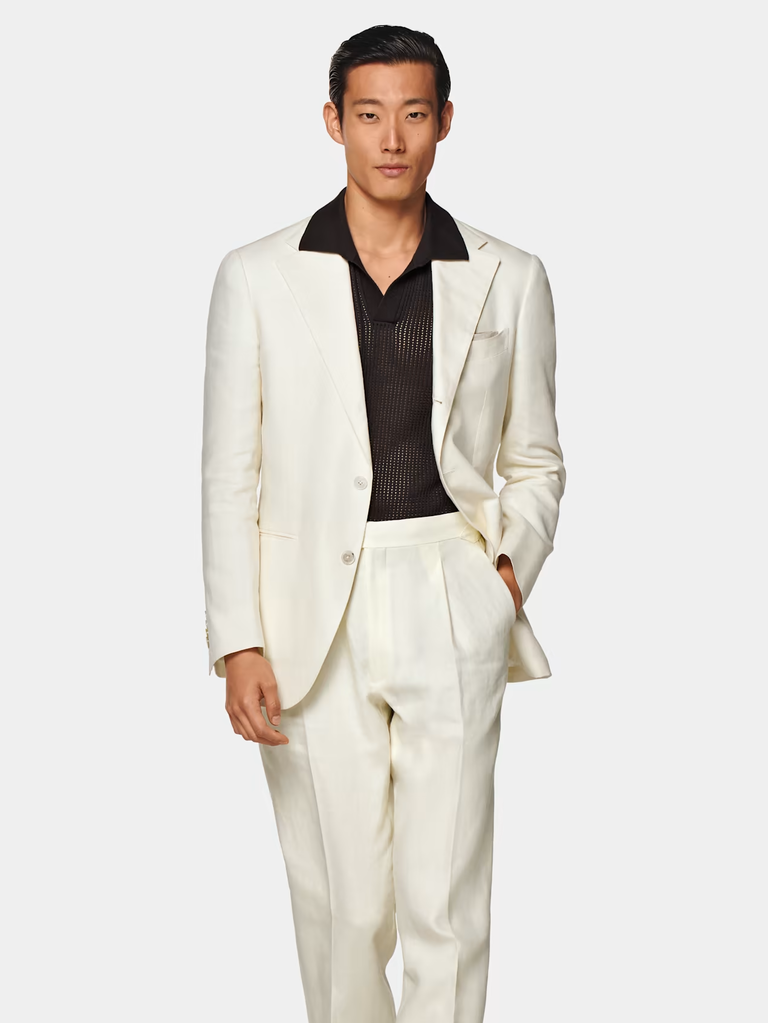 How to Buy: Online or In Person
Why You'll Love Them: Suitsupply is a European brand that has brought an elevated but attainable kind of M2M suiting to the masses. They've blown up in the States, with showrooms scattered across the country (though their online service is equally excellent). Where Suitsupply excels is in their pre-existing offerings in addition to their totally customizable M2M services. You can build a suit from scratch, or you can have one of their current designs made to your specifications.
Cost Estimate: $900
Proper Cloth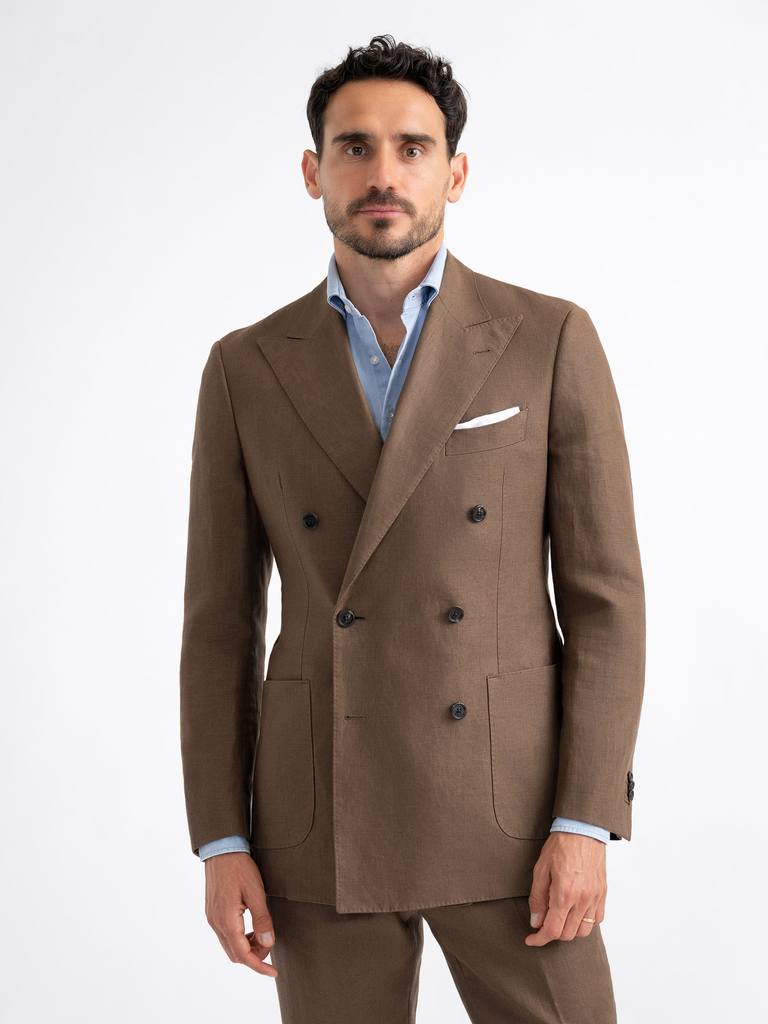 How To Buy: Online
Why You'll Love Them: Proper Cloth is a brand that prioritizes quality over quantity. Their M2M suiting is available in a tight curation of classic suiting silhouettes rather than a build it yourself service. You'll select the suit that catches your eye and then make subtle adjustments in the details (button count, rear vents, etc.) to your liking. You can buy the suit in an off-the-rack size or add your custom measurements. It's a pared-down M2M service but an excellent one that guarantees a suit you'll never want to take off.
Cost Estimate: $800
Kashiyama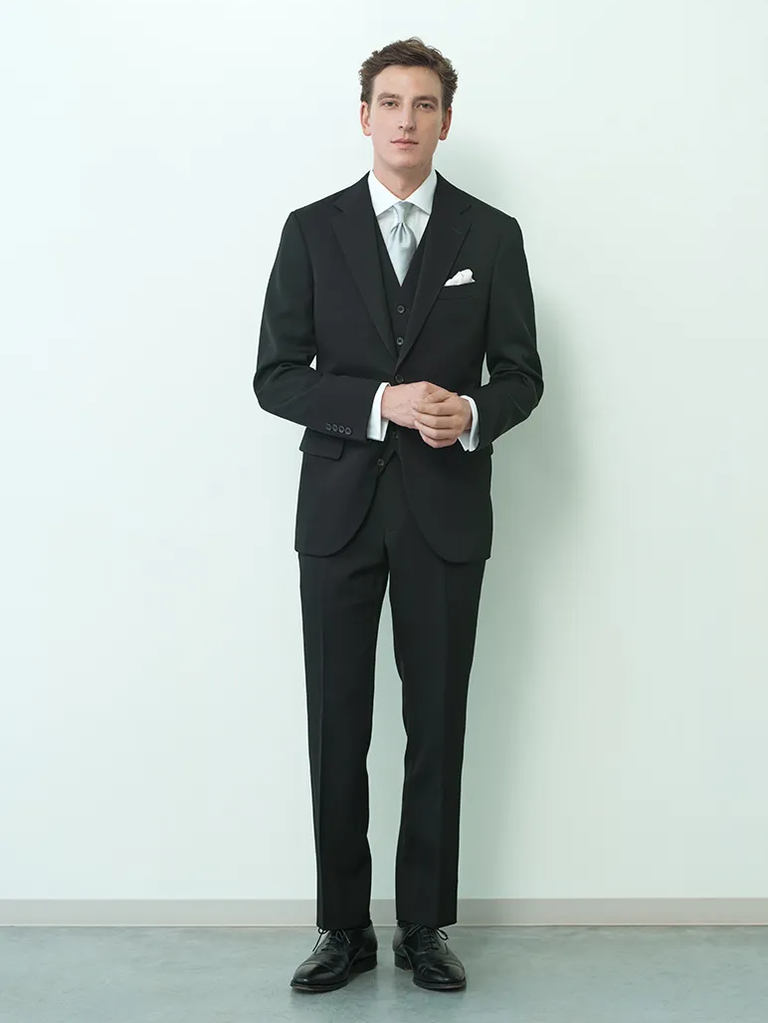 How to Buy: In Person
Why You'll Love Them: A newer name in the M2M suiting world, Kashiyama comes to us from Japan. Their suits are incredibly high quality and are available in cuts that tend to skew a bit more fashion-forward than some of their peers in the space. Speaking from my personal experience with the brand, they nailed my request for thick 1970s-esque lapels. This attention to detail can largely be attributed to their in-person services. Currently the brand doesn't have substantial online offerings, with their business largely being operated through a few retail locations and touring trunk shows. To see for yourself, book a fitting at one of their showrooms or see if their trunk show is coming through your city any time soon.
Cost Estimate: $600
Alton Lane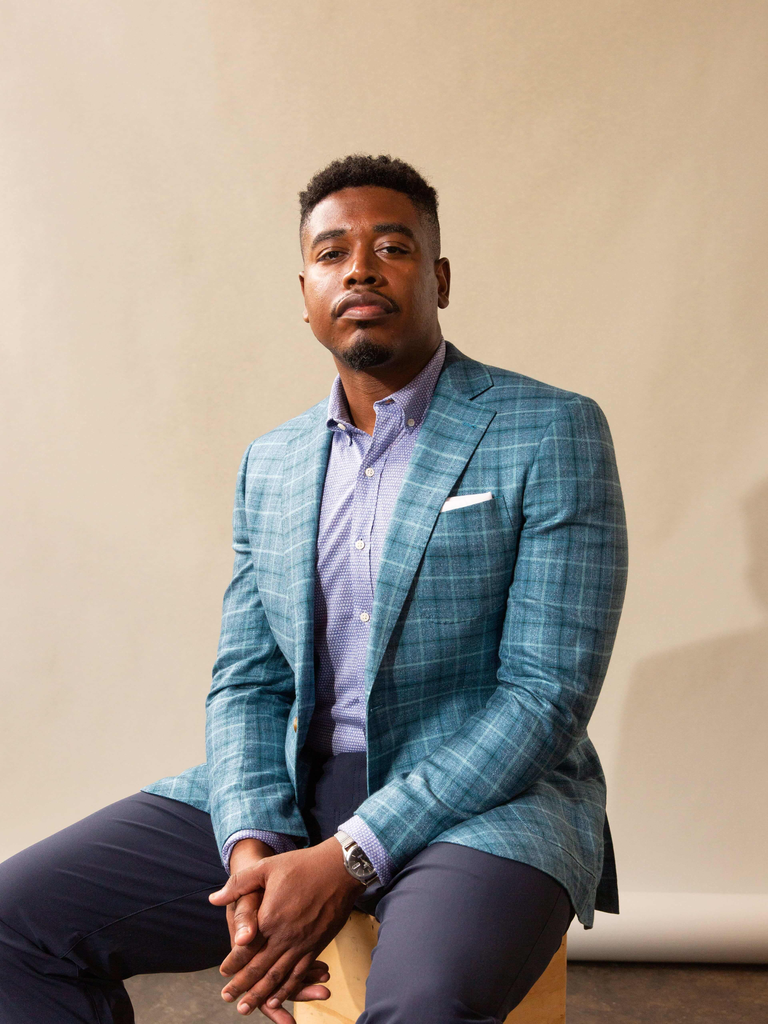 How to Buy: Online or In Person
Why You'll Love Them: Alton Lane brings a hip, modern energy to M2M suiting. They're the suit of choice for the best-dressed guy you work with, the one whose suits always have just a little bit more pizazz than everyone else's. The brand sources quality fabrics from high-end mills and uses them to create simple, classic, American suiting that you can customize to your liking.You'll start by hitting up one of their showrooms across the country or using their website's online services to build your suit. Given the quality and simplicity of the brand's offerings, Alton Lane is perfect for anyone who maybe doesn't need a suit for every day of the week and instead just needs a wedding suit that then becomes their go-to suit any time they need one. You know what they say: Buy well, buy once.
Cost Estimate: $1000
Hockerty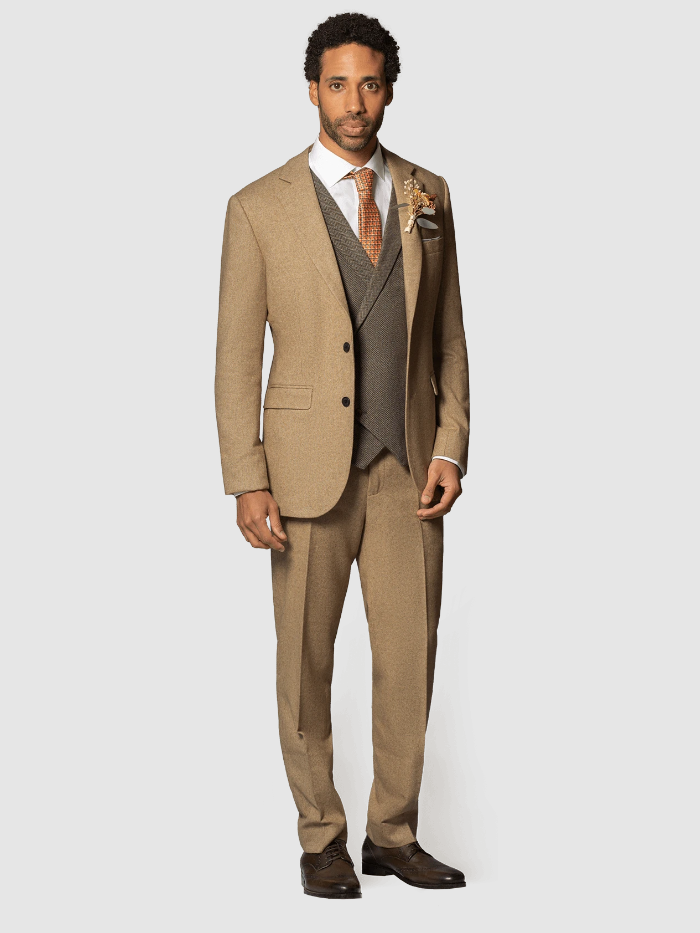 How to Buy: Online
Why You'll Love Them: For an affordable price, Hockerty brings a British sartorial swagger to M2M suiting. Their custom options are vast, with countless fabric and suit cut combinations available. The brand is at their bestt when channeling old-school English elegance–think tweeds, three-piece suits, Prince of Wales check patterns, and thick, sturdy lapels. Hockerty's suits look like they cost twice as much as they do–your loved ones are going to think you're walking down the aisle in a Saville Row original when in actuality you'll have paid less for your suit than you would a plane ticket to the UK.
Cost Estimate: $500
How Much Is a Made-to-Measure Suit?
M2M suits are available in an array of price points. The most accessible brands in the space tend to come in at around $500 for a standard M2M suit.
Made-to-Measure Suit Cost
The more elaborate the build of your suit is, the more expensive it tends to be (a double-breasted suit with full canvasing may be a bit more expensive than an unstructured single-breasted one). While standard suits may come in around $500, other M2M services offer higher-end fabrics and more in-depth craftsmanship, which can increase costs to $1000. I wouldn't personally recommend paying more than $1500 for a M2M suit–once you get to that price range, you're better off buying bespoke.
Made-to-Measure Blazer Cost
Many of the same brands that offer M2M suiting also provide M2M suit separates. A M2M blazer may come in around $300-400.
How Long Does a Made-to-Measure Suit Take?
On average, a M2M suit will take 3-5 weeks to be made. This depends on how busy the brand is with orders at the time you place yours and also whether or not the suit needs alterations after it's been delivered.
When Should I Order My Made-To-Order Suit Before a Wedding?
You should order your M2M suit at least two months before you need it, even if the brand says that they'll have it ready before then. Why the extra month? For peace of mind. A five-week window offers little margin for error, be it on the side of production or delivery or alterations. Two months as a bare minimum guarantees plenty of time for your suit to be made, delivered, and altered if needed.