5 Easy Ways to Make Money After Your Wedding
From selling your dress to investing your cash, here's how to recoup some of those wedding expenses.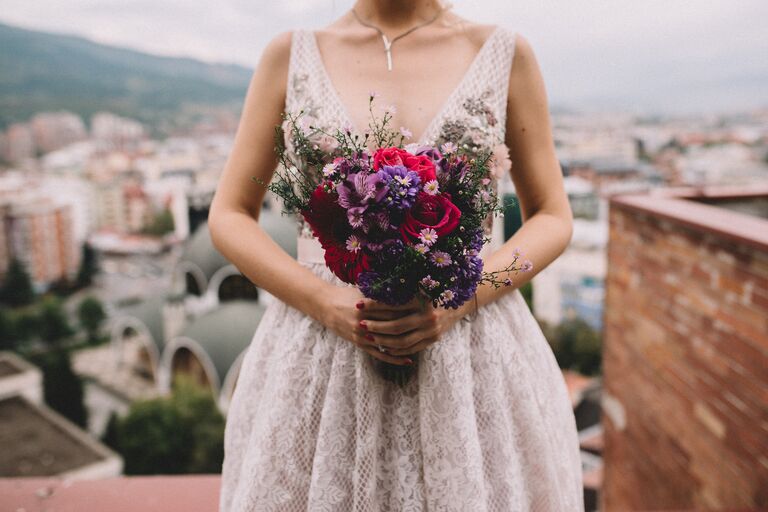 iStock
We have included third party products to help you navigate and enjoy life's biggest moments. Purchases made through links on this page may earn us a commission.
After spending months honing your vision for wedding décor, painstakingly taking on some DIY projects, and finding the perfect jewelry and accessories to match your wedding gown, you may not be in a rush to part with them after you say "I do." But if you're short on space or just don't have much of a sentimental attachment to these items, selling them to other to-be-weds can help you recover some of the funds you shelled out in the first place. Sites like Nearly Newlywed, wedding-specific resellers and social media marketplaces are all great resources for selling everything from your wedding dress to your wedding décor. Read on for ideas of how to get a little money back after your wedding, and the best place to sell each item.
1. Sell Your Dress
Your dress may be one of the biggest purchases you'll make for your wedding, but it's also the one you can get the biggest return on. So if you do decide to sell your wedding dress, you may as well try to get the most bang for your buck. Online marketplaces like Nearly Newlywed will often charge a smaller fee for gently-used gowns than consignment stores or thrift shops (think: 25 percent compared to closer to 50 percent). Plus, setting up your listing is quick and easy: Simply submit the measurements, a brief description and upload photos, and Nearly Newlywed will handle the rest, including corresponding with interested buyers and providing a shipping label to mail it out.
2. Rent Your Flowers to Another Wedding
This involves advanced planning, but when you use a Bloomerent-affiliated florist, you can rent your centerpieces and floral arrangements to a couple marrying the following day for 10 percent off your total bill—at no extra cost or work to you. On the flip side, if you're okay with being the second event, you can expect to save 40 to 60 percent off the full price. Your florist will refresh the flowers so you won't even notice they've already been used, and you can even add additional flowers or a pop of color to put your own spin on the arrangements.
3. Sell Your Décor
Keep those burlap signs, chalkboards, fake candles, centerpieces and the like in good condition. Craigslist, eBay, Tradesy, Bridal Garage Sales and Facebook Marketplace are the leading sites for selling items you don't mind parting with. (You can also look on Facebook for bridal swap groups or pages that are specifically set up for buying and selling used wedding-related items.) Definitely take the time to read the fine print, as each of these marketplaces varies in terms of fees and payment methods. Pro tip: Make sure your wedding venue knows which items you want to keep so they don't get accidentally tossed in the trash when they break down the room at the end of the event.
4. Sell Your Jewelry
It's no secret that bridal jewelry and accessories tend to cost more than similar items without that bridal designation—but the good news is there's an in-demand secondary market for these gently used pieces. Nearly Newlywed allows you to sell used wedding jewelry as well as gowns, but Wedding Recycle and Poshmark are also good resources for selling those sparkly headpieces, belts and other accessories you likely won't wear again.
5. Invest your gift money
If you were lucky enough to receive generous cash gifts from friends and family at your wedding, don't just deposit it in your checking account. Once you've paid off those wedding and honeymoon bills (and any other extra debt), it's a smart idea to invest in your future together. Consider using your newfound cash flow to fund (or start) a retirement account or emergency fund, or open an interest-bearing account to start saving for a down payment on a home.