See Marchesa Notte Wedding Dresses From Bridal Fashion Week
Here's the designer's latest collection to hit the bridal runways.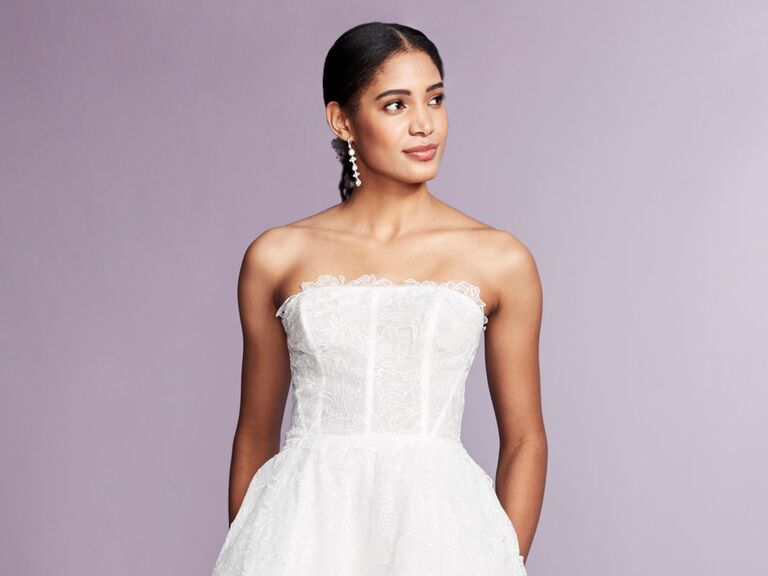 Marchesa Notte is the ideal choice for a feminine, fashion-forward bride. Striking the perfect balance between delicate and modern, it's no surprise Marchesa Notte wedding dresses are the first choice for so many fashionable brides looking for a lightweight gown with dreamy, romantic details. Often adorned in delicate lace and intricate beadwork, Marchesa Notte Bridal's enchanting look offers a whimsical feel, fit for the modern-day bride.
See every dress from Marchesa Notte's 2022 collection below.
Marchesa Notte's 2022 Wedding Dresses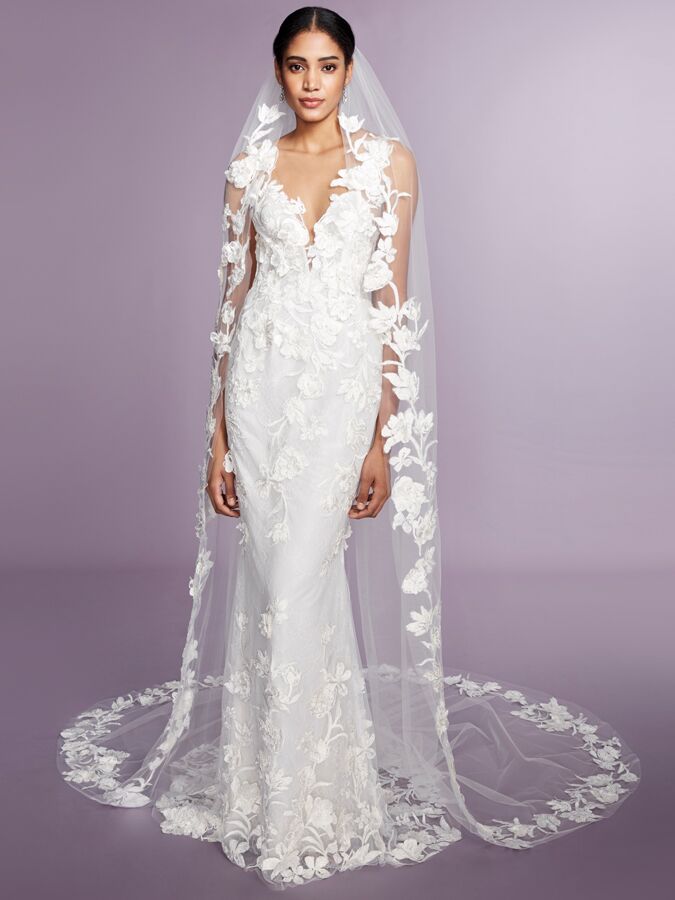 "Ariel" Gown and Veil; sleeveless fit-to-flare wedding dress with plunging neckline, embroidered 3D floral appliqués and chantilly lace.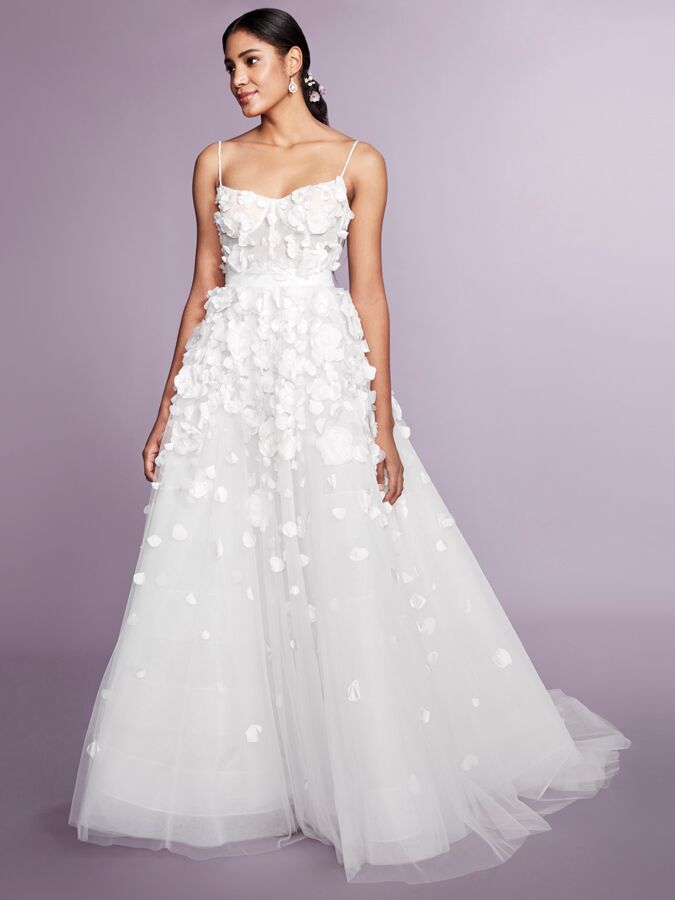 "Sylvia" Gown; soft sleeveless ball gown adorned with organza and satin 3D florals.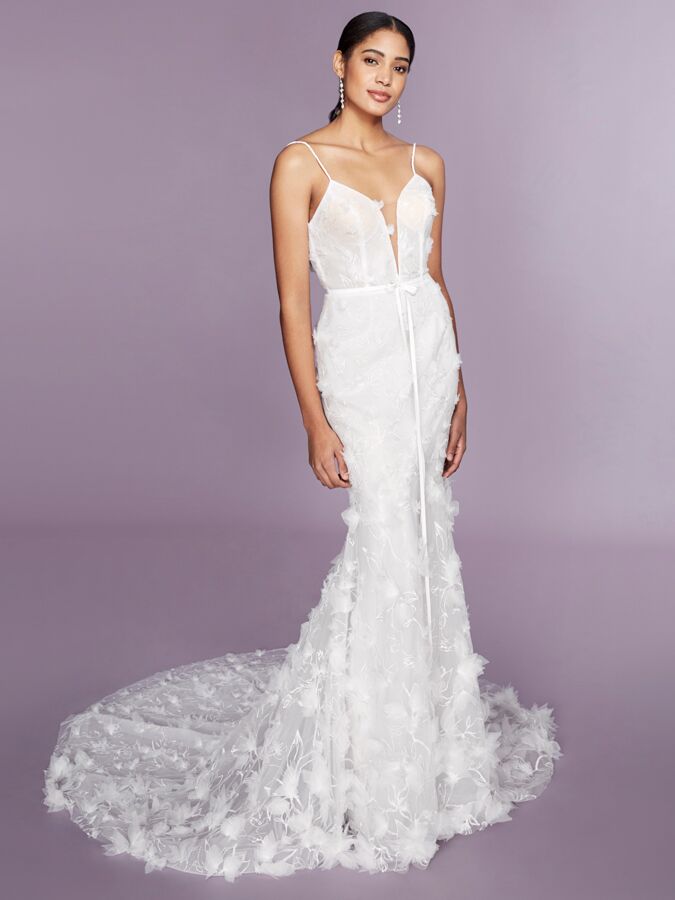 "Sierra" Gown; sleeveless fit-to-flare wedding dress with a plunging V-neck, 3D organza petals and delicate embroidery.
"Callie" Gown; A-line wedding dress with a strapless beaded bodice and draped soft tulle skirt.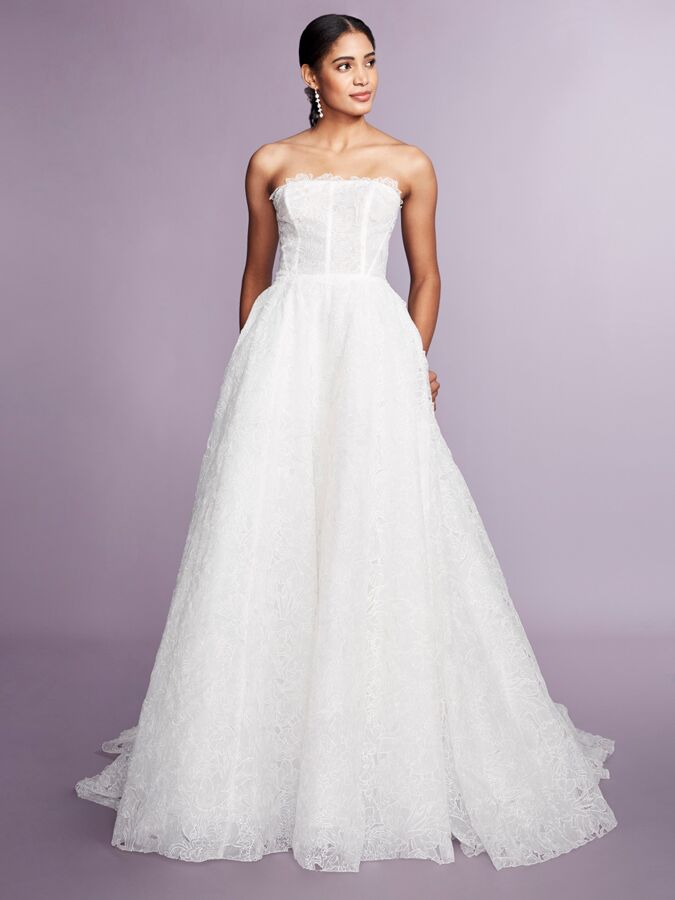 "Valerie" Gown; strapless ball gown with ivory laser cut embroidered organza and scallop trimmed neckline.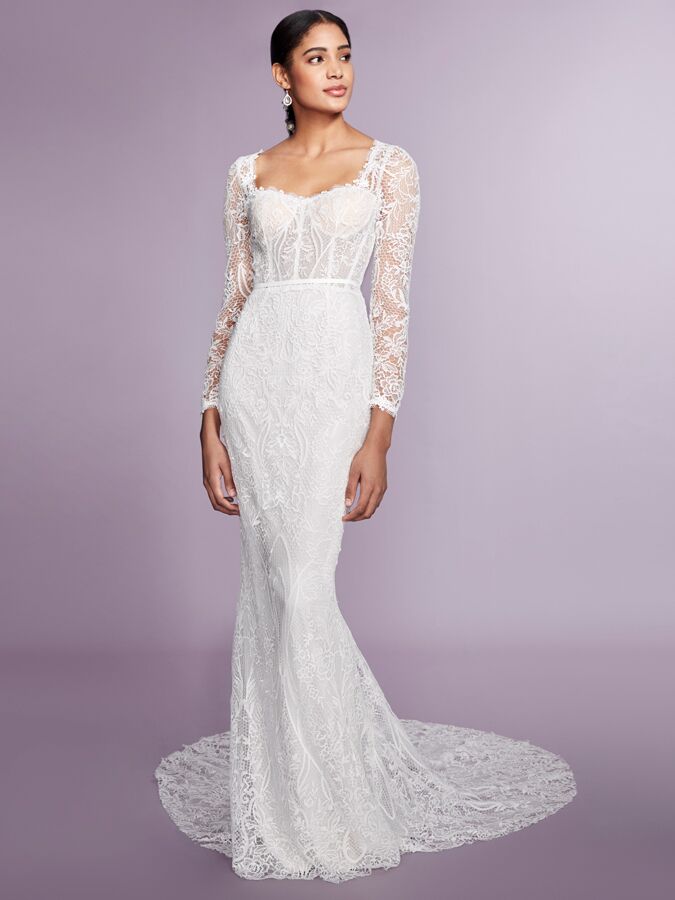 "Kennedy" Gown; long sleeve lace fit-to-flare dress with sweetheart neckline and scallop trim.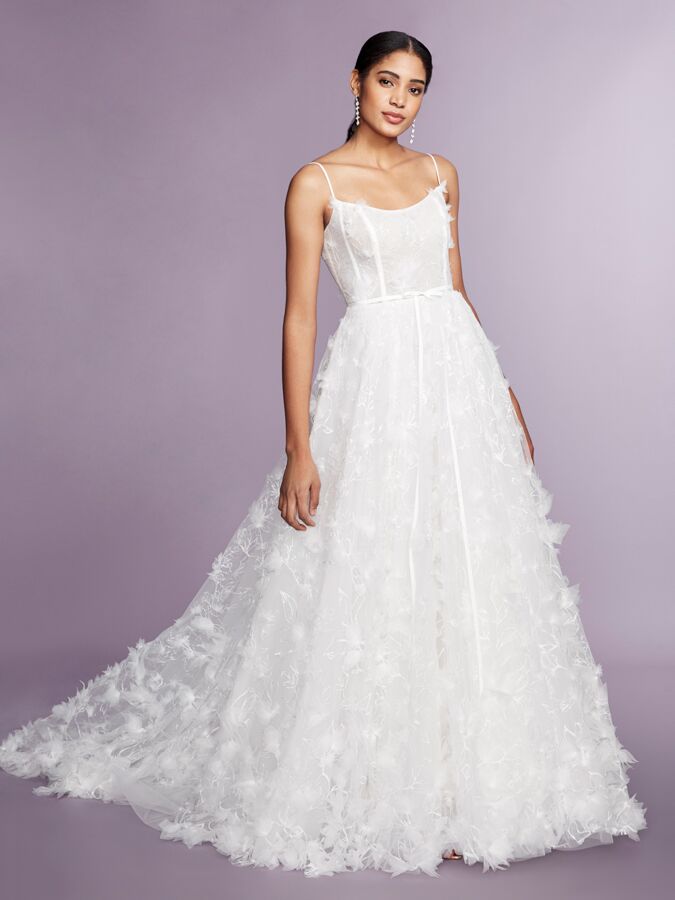 "Penny" Gown; delicate thread embroidery and 3D organza petals adorn this sleeveless ball gown with scooped neckline.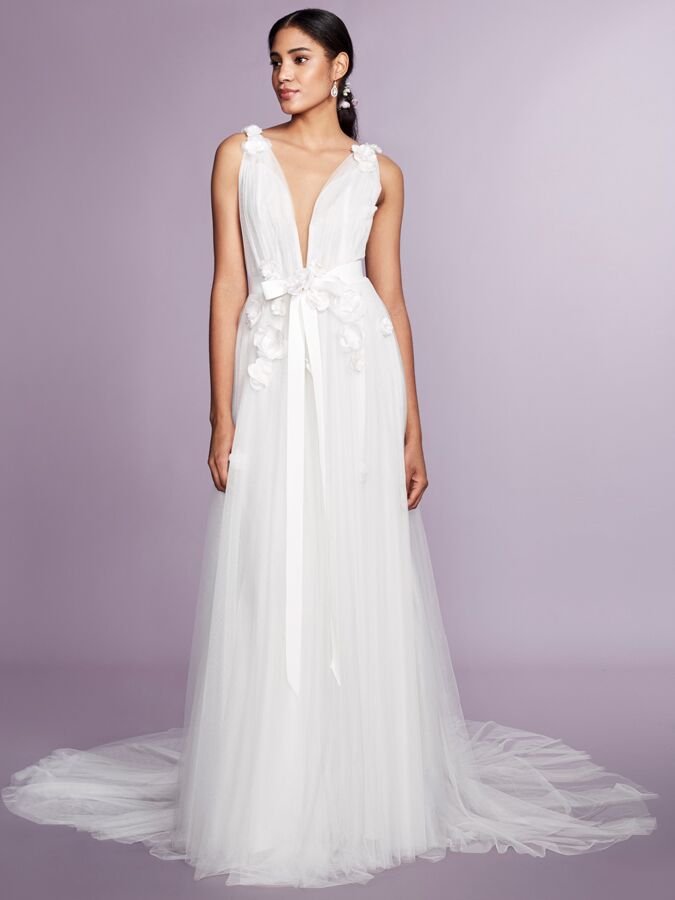 "Samara" Gown; sleeveless tulle A-line wedding dress with plunging V-neck and scattered 3D floral appliqués.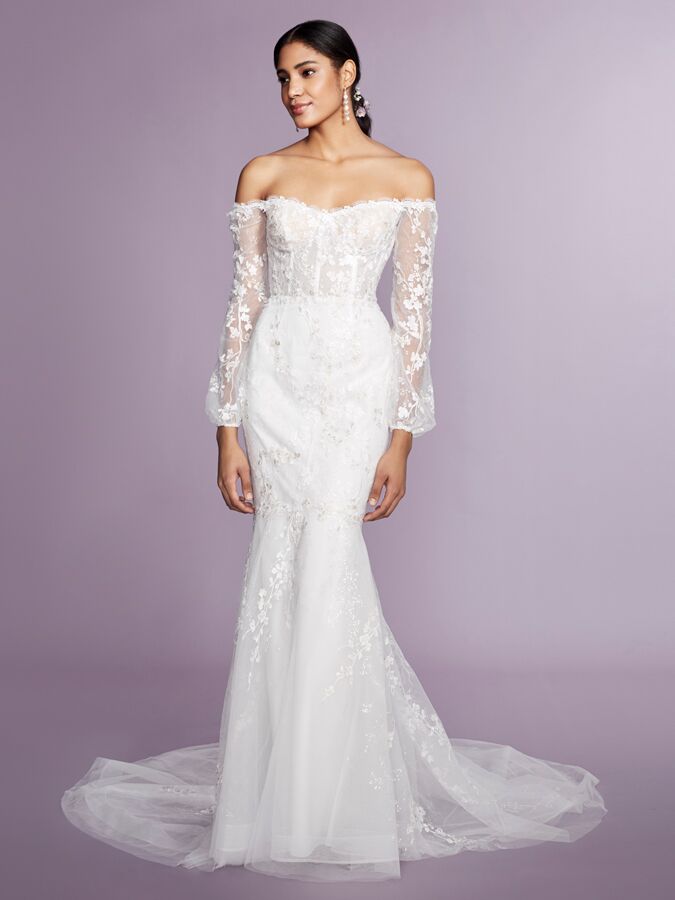 "Rylie" Gown; fit-to-flare dress with off-shoulder long sleeves, scallop-trimmed sweetheart neckline and floral embroidery.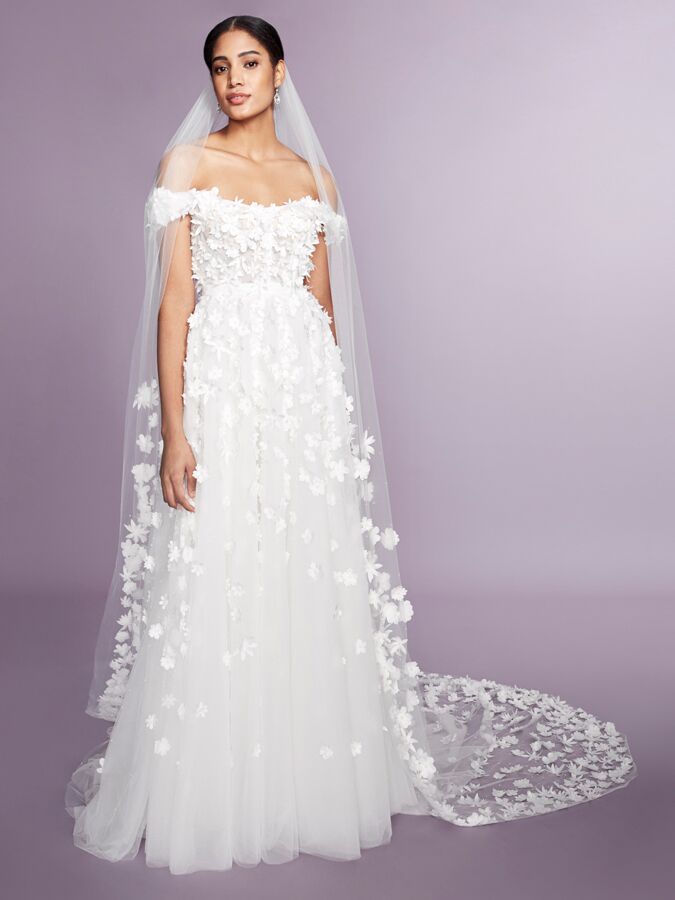 "Nia" Gown; ivory A-line wedding dress with the option of off-shoulder or cap sleeves and 3D floral appliqués cascading down the skirt over a layer of chantilly lace.
Designer Georgina Chapman's Signature Style
Marchesa Notte wedding gowns are intended to be keepsakes and heirlooms for generations to come. With that goal in mind, Chapman's designs channel a classic femininity that resonates with many brides. Often described as pretty and feminine, Marchesa Notte Bridal is really much more; he romantic brand aesthetic consistently draws inspiration from floral design, leading to designs that boast ethereal tulle and lace elements with fresh and contemporary details like 3D floral appliques.
A Brief History of Wedding Dress Designers Georgina Chapman and Karen Craig
At 17-years-old, Georgina Chapman met Karen Craig at Chelsea College of Art and Design during a foundational course the two took together. Chapman and Craig eventually went on to study fashion at different universities (Chapman studied costume design and Craig focused on print and embroidery) but in 2004 they reunited to combine their creative forces and open Marchesa and eventually also Marchesa Notte.
Their initial inclination was toward creating a loungewear brand. It was only after being invited to a Louis Vuitton party that they found themselves designing the perfect evening wear dresses for the occasion. The gowns that resulted turned heads, and were particularly interesting to model Isabella Blow, who took the designers under her wing and connected them to people in the fashion industry who could help further their brand. This, coupled with a sponsorship from Swarovski crystal and the advice of Jimmy Choo co-founder Tara Mellon to focus on red carpet styling, proved to be exactly what the brand needed to jumpstart its success in the fashion world.
The two continued to work together on Marchesa until earlier this year when Craig left Marchesa to pursue other projects. "Marchesa will always be the realization of a dream. Over the last 16 years, it has been the most incredible and fulfilling professional journey. I am excited to now begin exploring additional creative opportunities and to push my potential as a designer in new directions," Craig said in a statement.
Other Marchesa Labels
The overarching Marchesa brand houses both Marchesa and Marchesa Notte. Both lines offer ready-to-ear and bridal collections. Marchesa Notte is often thought of as the "little sister" to Marchesa, showcasing the same iconic silhouettes Marchesa is known for, with a few fresher and more modern details that add a bit of flare and fun, giving Marchesa Notte a slight distinction beyond just a more attainable price point.
Marchesa Notte Collection History
The Marchesa brand (named after the Italian socialite and once-wealthiest woman in Italy, Marchesa Luisa Casati) was quickly embraced by the Hollywood crowd. So much so that Neiman Marcus approached Chapman and Craig, offering to put Marchesa in stores and suggesting the two launch a diffusion line that Neiman's would stock, which later became Marchesa Notte. Marchesa Notte offers both bridal and ready-to-wear styles that offer the same intricately embellished feminine options the signature line does. Neiman Marcus still stocks Marchesa Notte, alongside many prominent upscale department stores like Saks Fifth Avenue and Bergdorf Goodman.
The Marchesa Notte Spring 2022 wedding dress collection stays true to the brands longstanding romantic and feminine identity, featuring A-line skirt silhouettes and floral lace details.
Fun Facts about Georgina Chapman
Unbeknownst to many, Chapman is actually extremely shy, preferring to shift the attention off of herself and onto others with her elaborate and eye-catching designs. Given her introverted nature and Marchesa's iconic ultra feminine reputation, it also comes as a surprise to many that Chapman's favorite designers are John Galliano and Alexander McQueen, typically revered for their edgy looks and larger-than-life personalities.
Previous Marchesa Notte Wedding Dress Collections
Marchesa Notte's Fall 2021 Wedding Dresses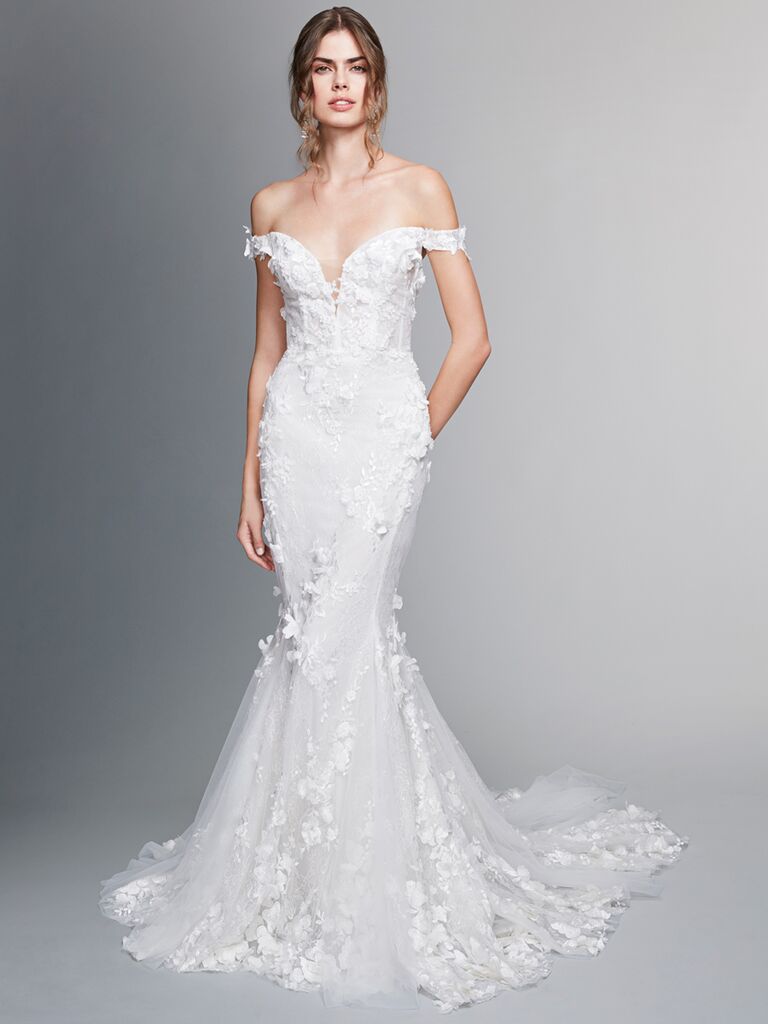 Sweetheart corset off-the-shoulder fit and flare gown with embroidery and three-dimensional floral appliques.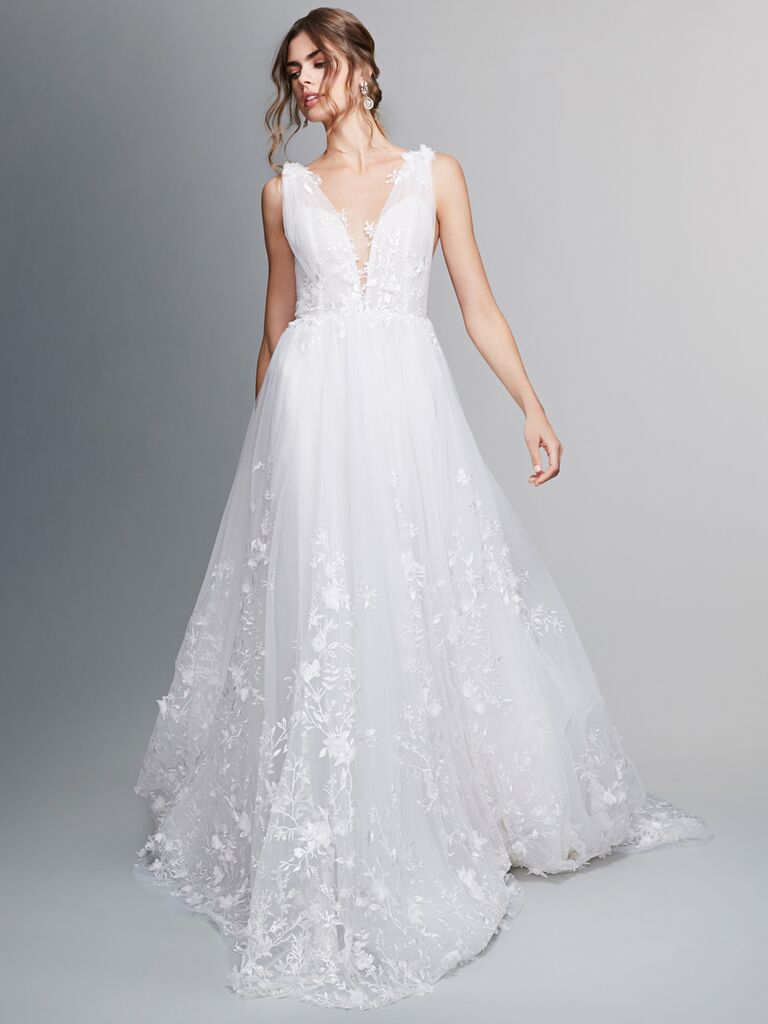 Tulle A-line gown with plunging corset bodice and cascading floral appliques.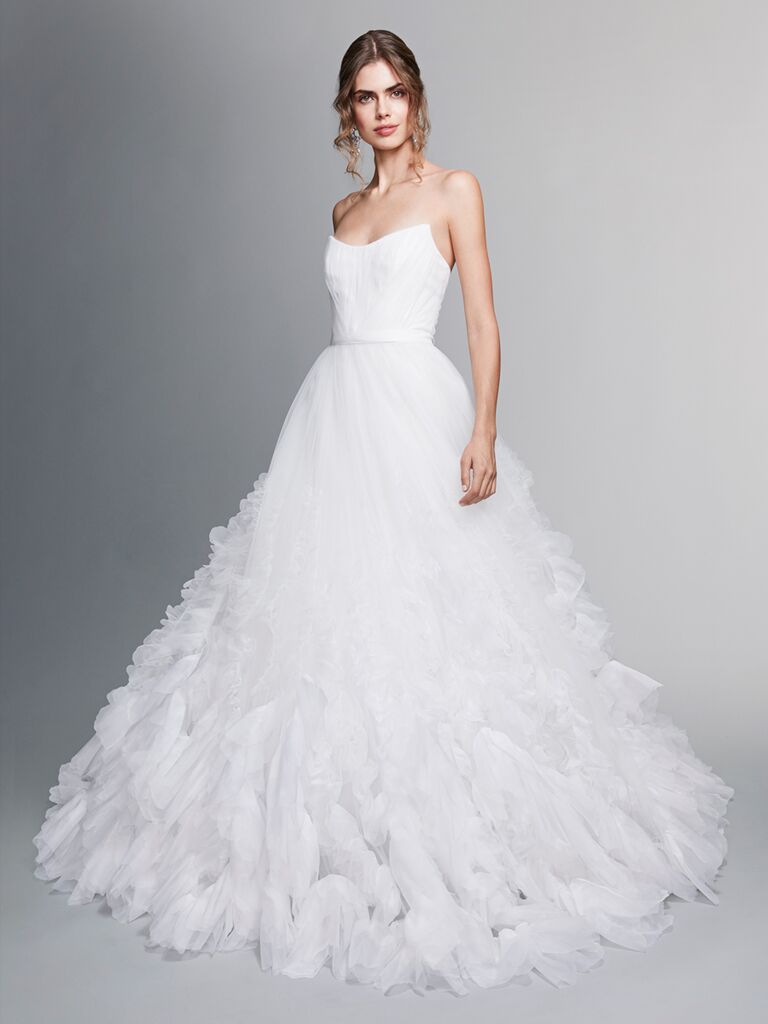 Strapless scoop neckline ball gown with draped tulle bodice and full tulle ruffle skirt.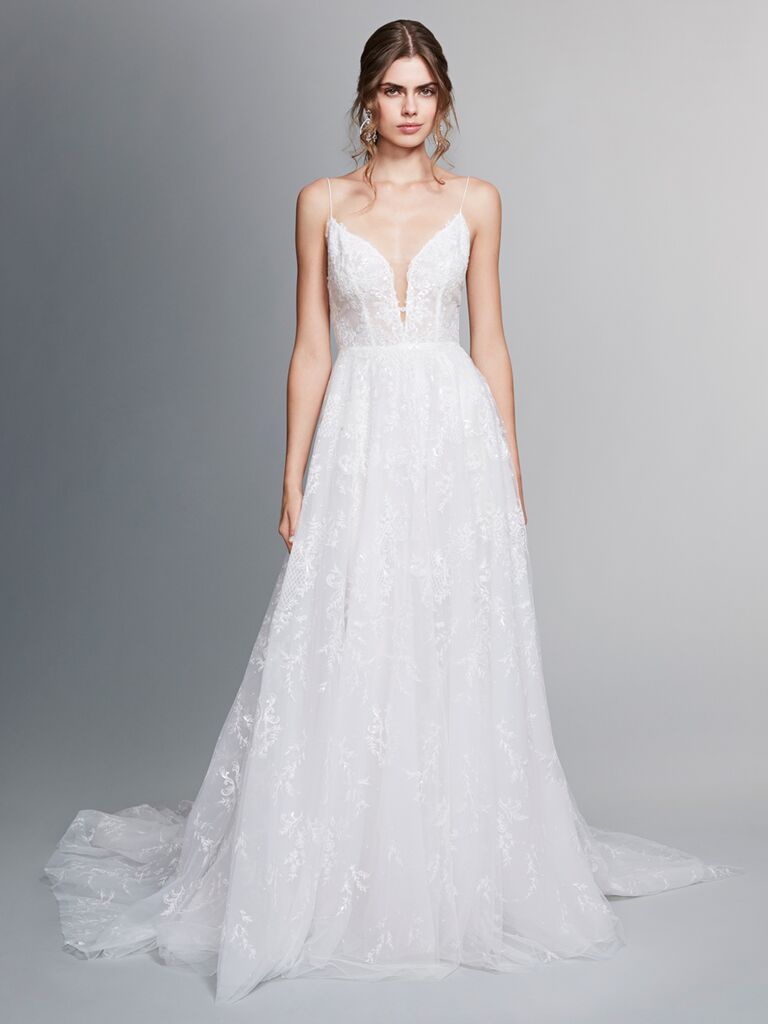 Frosted lace sheath dress with plunging corset bodice and lingerie straps.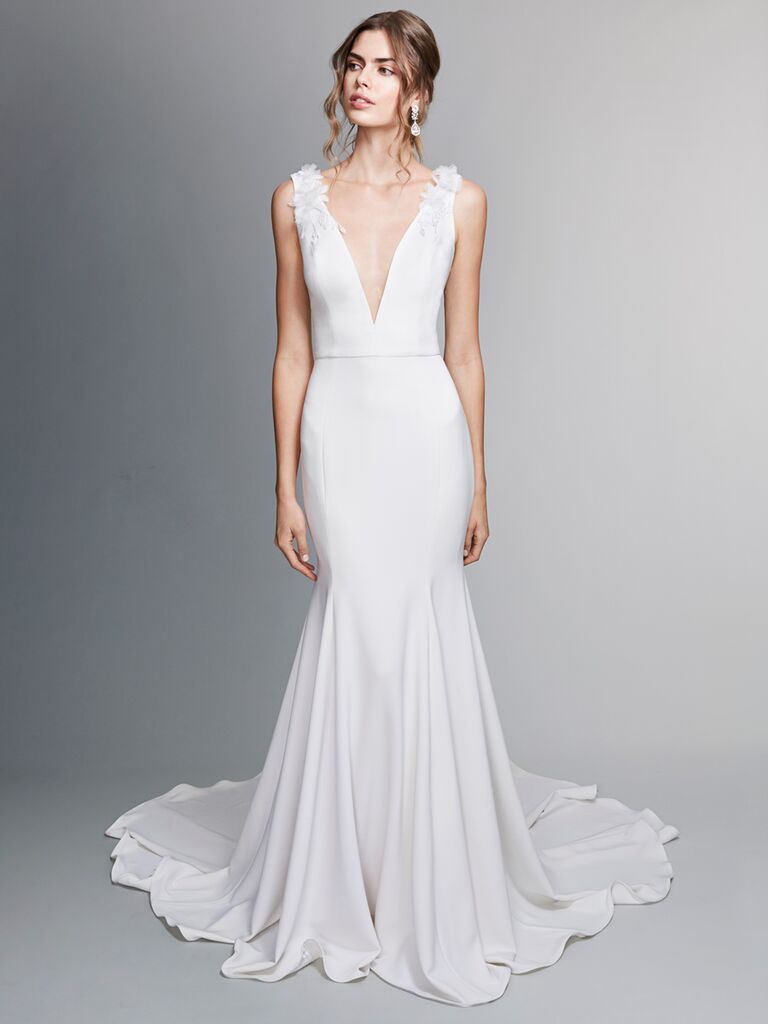 Sleek trumpet gown with plunging neckline and three dimensional floral appliques at the shoulders.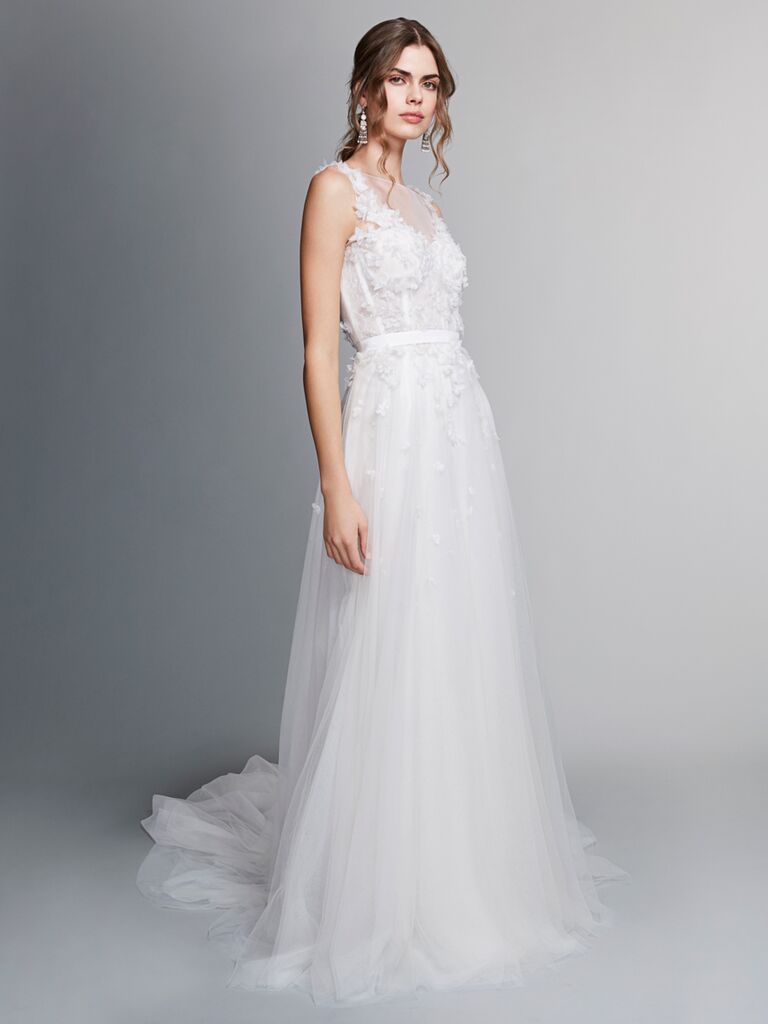 Floral applique tulle sheath dress with illusion neck corset bodice and ribbon belt.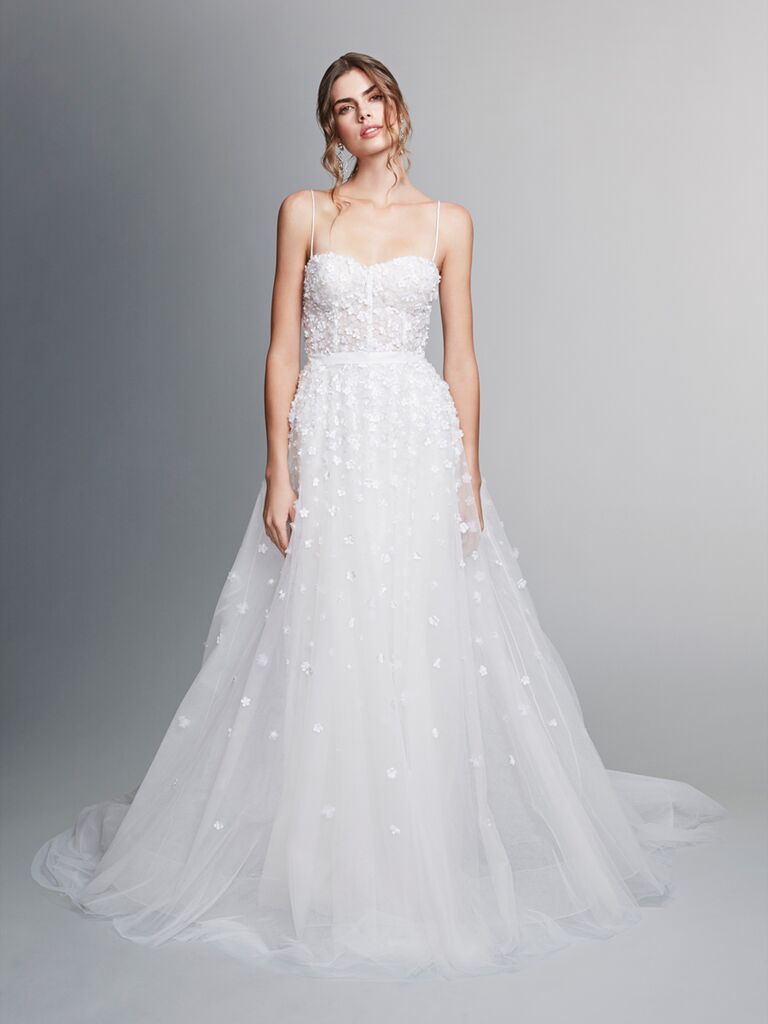 Floral embroidered tulle A-line gown with sweetheart corset bodice and lingerie straps.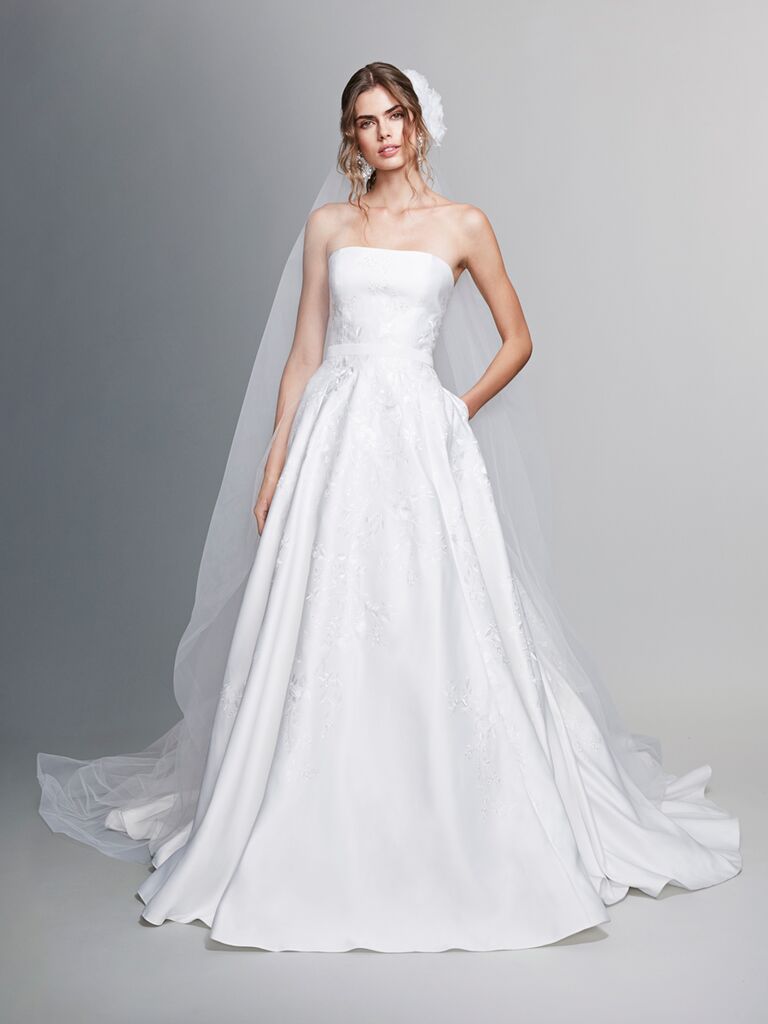 Strapless straight neckline A-line gown with floral embroidery, ribbon belt and pockets.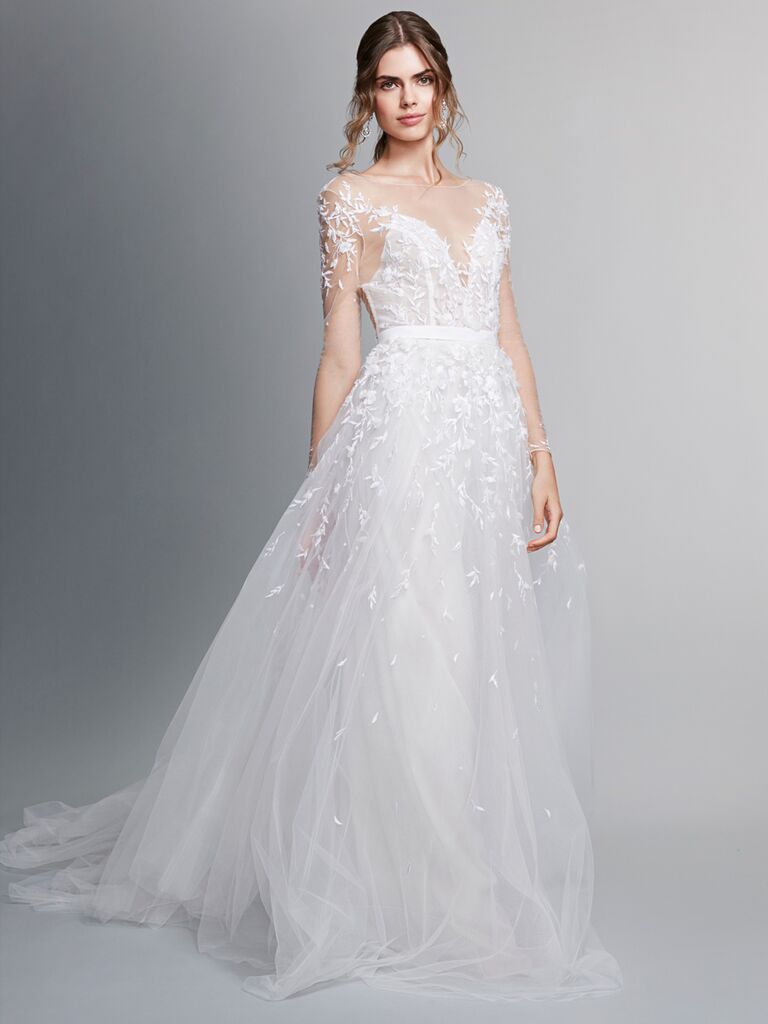 Tulle A-line gown with illusion plunging neckline and long sleeves, leaf appliques and ribbon belt.
Sleek scoop neckline trumpet gown with floral embroidery stretching from hem to thigh.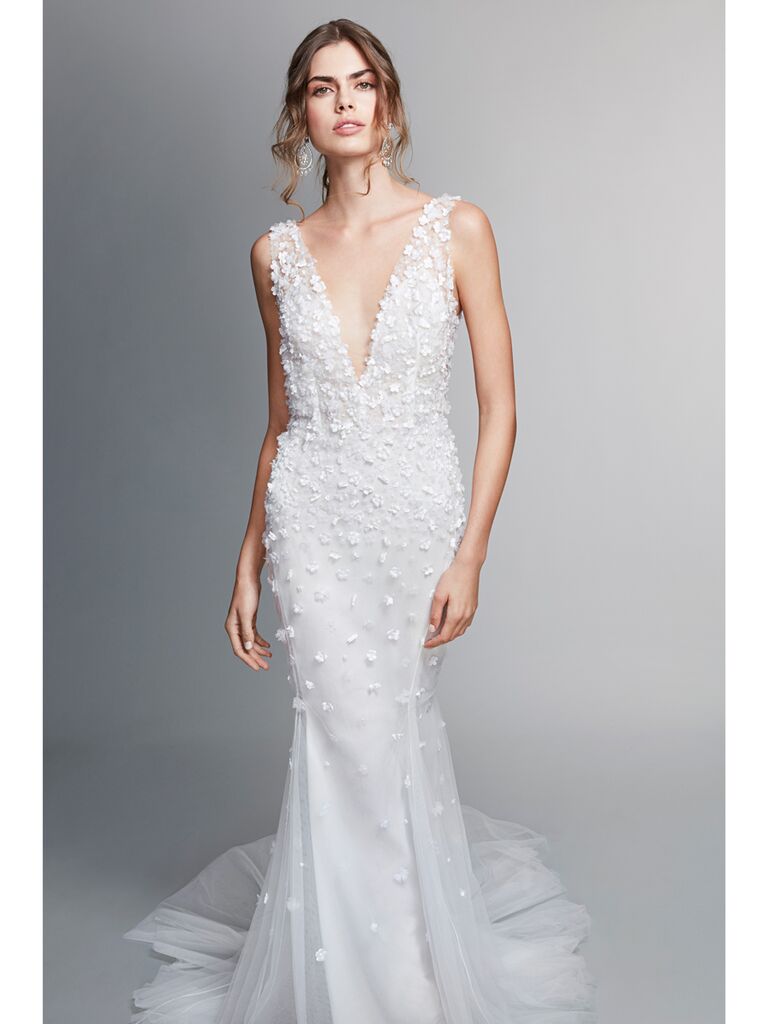 Tulle trumpet gown with plunging neckline and cascading dainty floral appliques.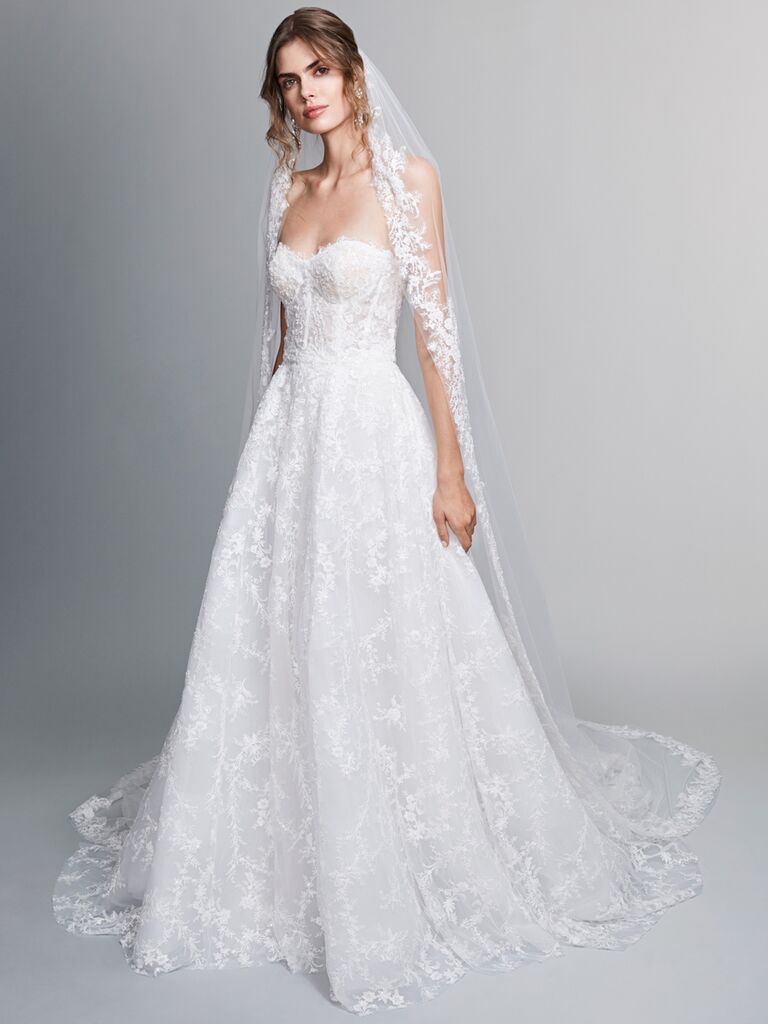 Strapless lace ball gown with structured sweetheart neckline corset.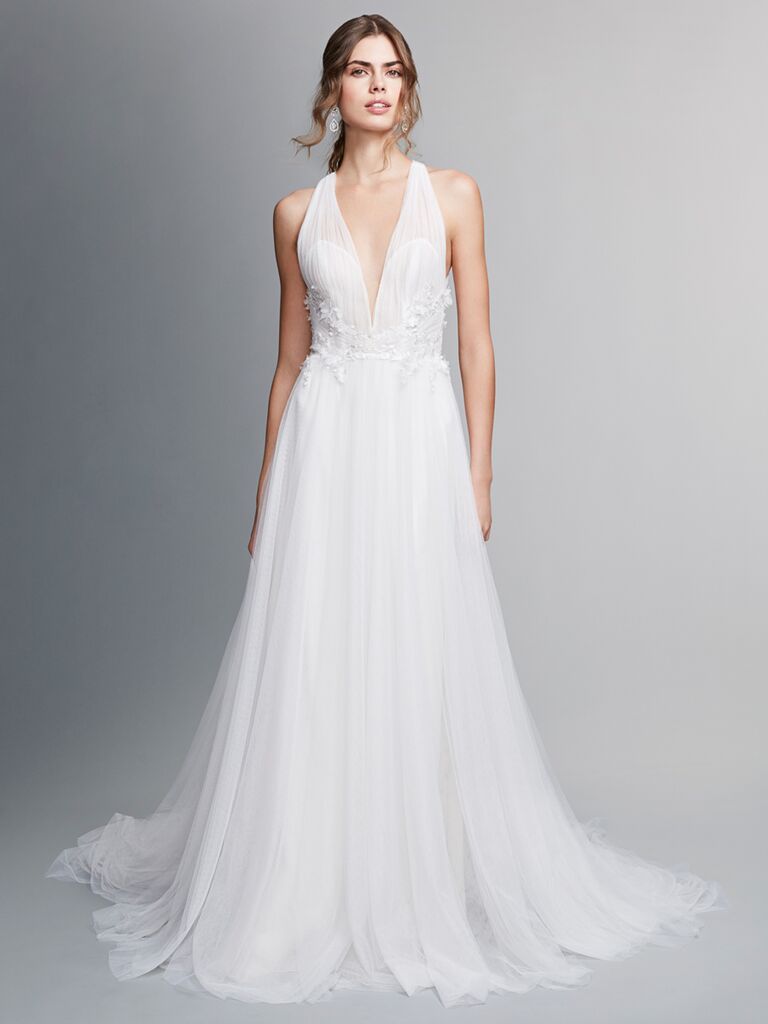 Draped tulle sheath dress with floral appliques at the waist and plunging neckline.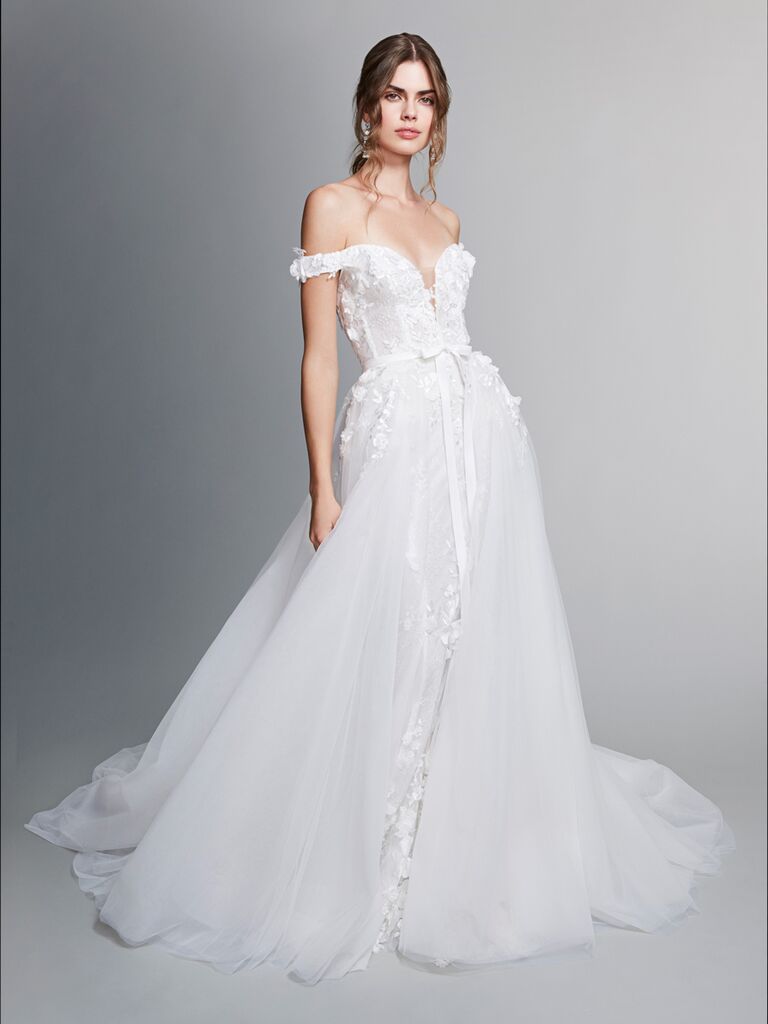 Lace applique off-the-shoulder trumpet gown with plunging sweetheart corset bodice, voluminous half skirt and bow ribbon belt.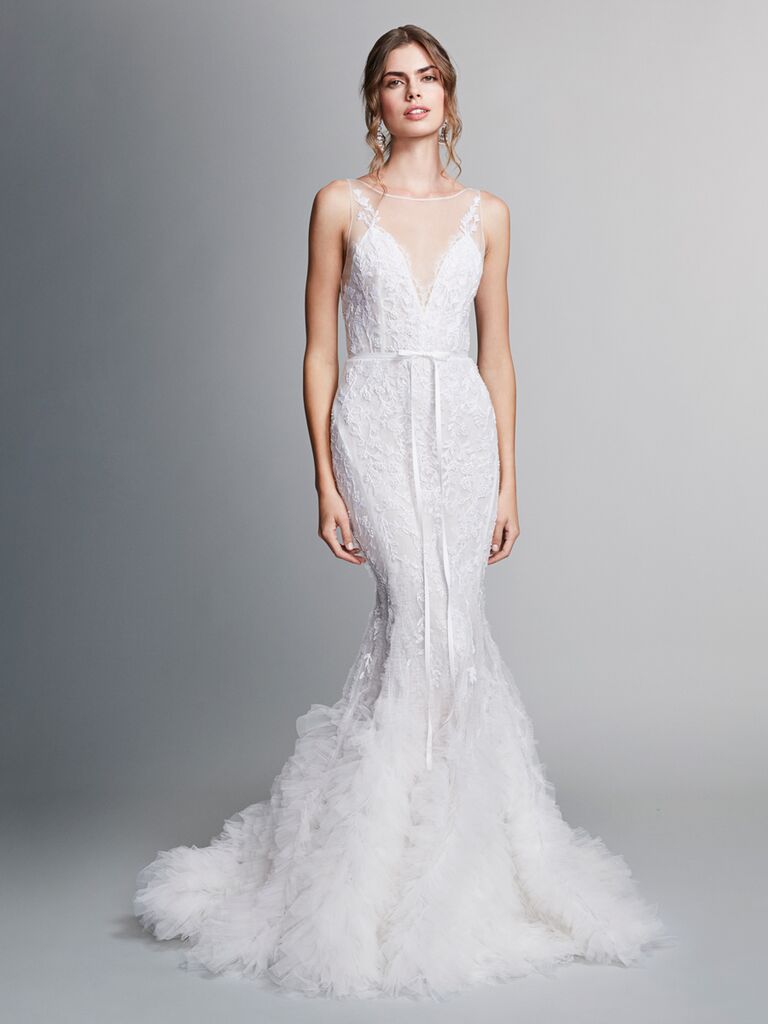 Lace mermaid gown with plunging illusion neckline, ruffle tulle skirt and thin ribbon belt.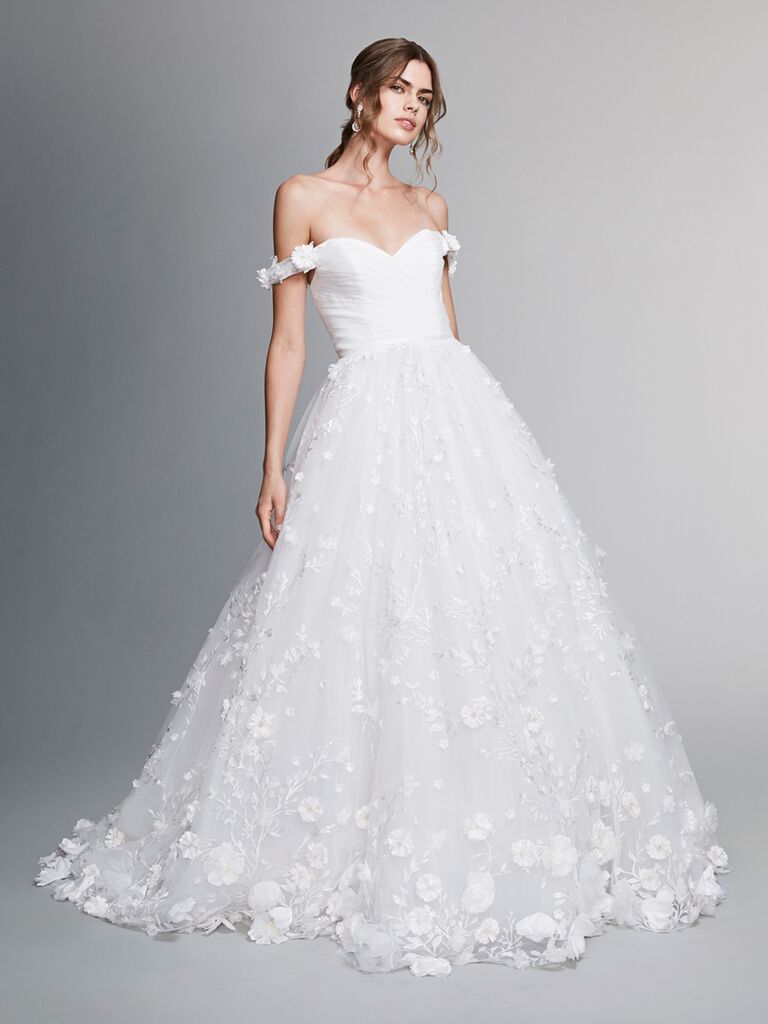 Off-the-shoulder sweetheart ball gown with draped bodice and three dimensional floral applique skirt.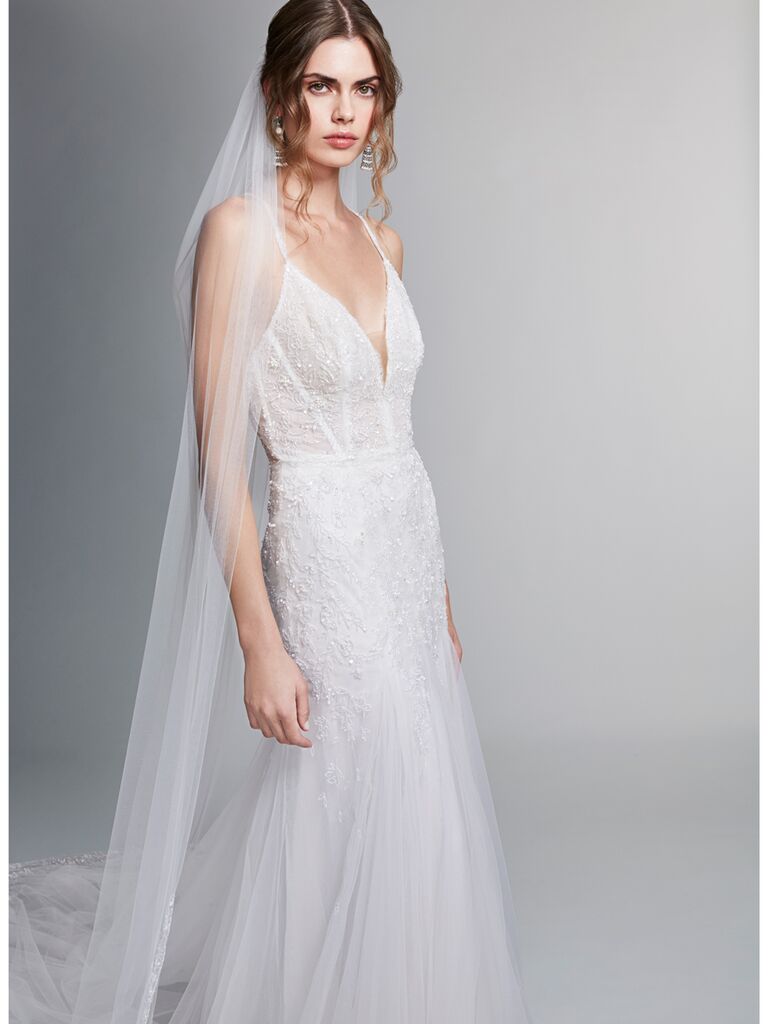 Shimmer trumpet gown with sheer corset bodice and tulle paneled skirt.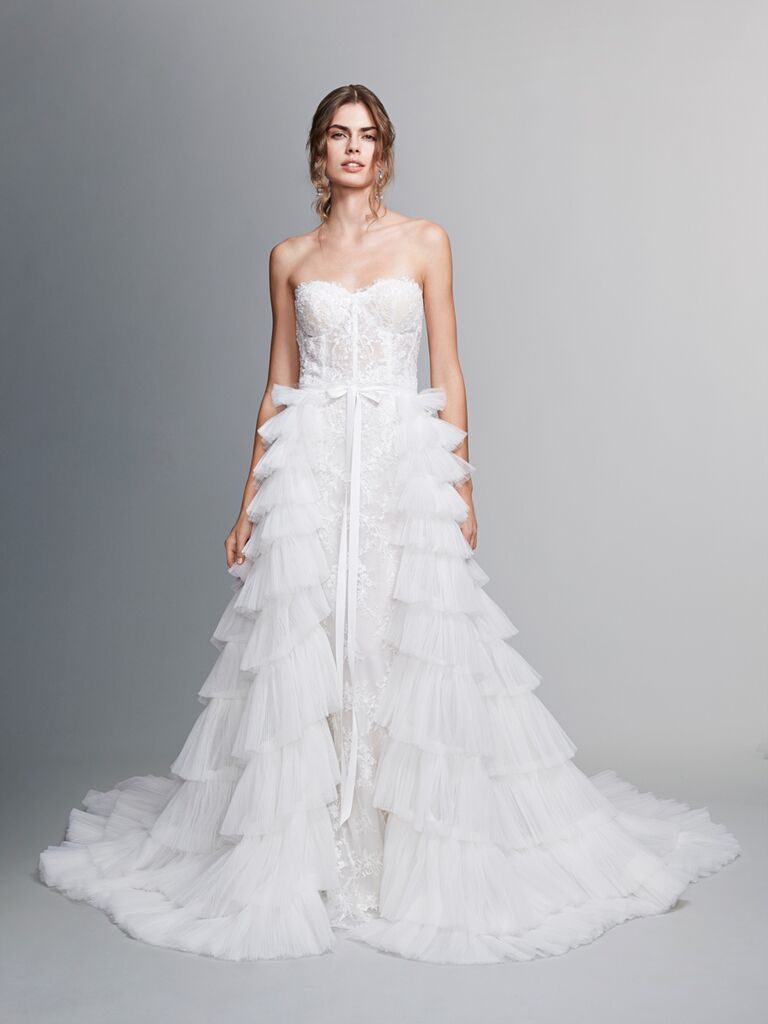 Strapless lace sweetheart corset gown with ribbon-tie tiered tulle ruffle overskirt.