Monograms 101: How to Monogram
Learn everything you need to know about monogramming initials including monogram letter order, etiquette and wedding monogram ideas. Get started now!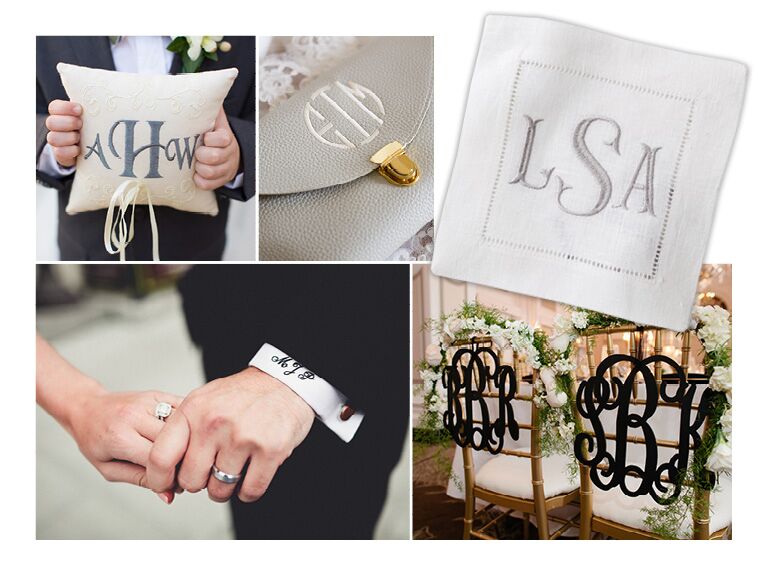 There's perhaps no better way to personalize your once-in-a-lifetime event than using monograms as part of your special day. We just love seeing monogram initials on all things wedding related. Some of our favorite customized items include paper goods, wedding favors and bridal party gifts, centerpieces and cake toppers, guest books and state-of-the-art reception decor. Did you know that you can even project your monogram onto the dance floor?
With all of these possibilities, it is easy to put a stamp onto your event –– quite literally –– and make it something truly worth remembering. To get started, you can explore the different styles and types of monogram initials, along with the best ways to use monograms to enhance traditional gifts and other wedding items. Remember that while this is an awesome way to show everyone just how unique your love is, you might want to be careful not to go overboard. After all, just because you can add your initials to everything doesn't mean you always should.
As you'll gather below, before you can order any monogrammed items, you and your partner probably have some decisions to make about future last names. The good news is that there are no right or wrong solutions when it comes to who keeps, changes, or hyphenates their name. In today's modern world, you have more choices than ever about what you'd like to be called after marriage. Once you've figured out your new initials, selecting your monogram initials order will be a breeze.
A personalized gift is extra-special—it was made just for you, after all. There are dozens of ways to leave a mark, from wedding dates to meaningful quotes, but a classic monogram wins as the most popular way to personalize a wedding gift. Before you set out adding initials to towels and beer steins alike, it's important to know the "rules." Most personalized items can't be returned, so it's essential you order the initials properly or risk committing a monogramming faux paus—the horror!
1. Personal Monograms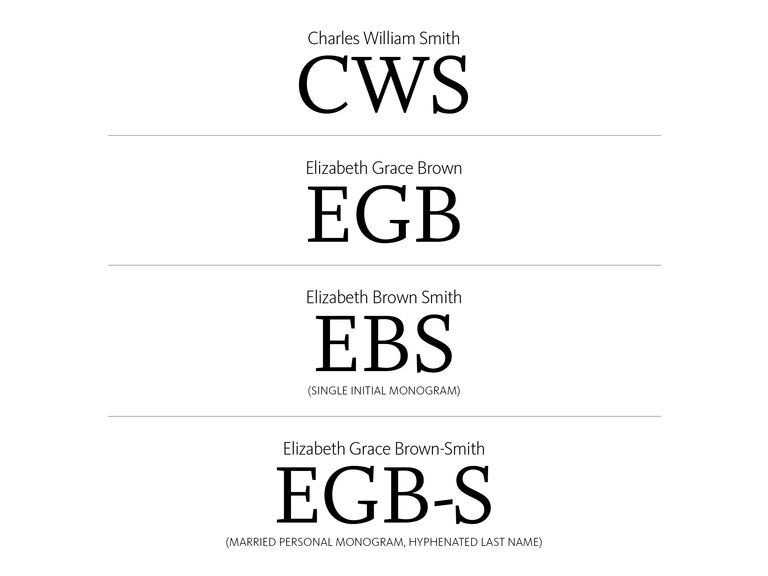 A personal monogram consists of three initials (first, middle and last names). If someone doesn't have a middle name, they often use a dual initial monogram or opt to use their last name initial only.
A man's initials usually don't change—the exception is if he and his spouse use a hyphenated last name after they're married. A woman's initials, however, are more likely to change once she's tied the knot. Traditionally, women shift their maiden or given last name to the middle name slot (dropping their given middle name) and take their husband's last name in place of their own. As a result, their personal monogram changes by two letters.
But tradition isn't the only way. Some couples are using both last names (with a hyphen) and some women are keeping their maiden names professionally but not socially. Needless to say, monograms can be a bit more complicated. Decide on what works best for you as an individual and as a couple—in other words, there's no right or wrong way.
2. Couple Monograms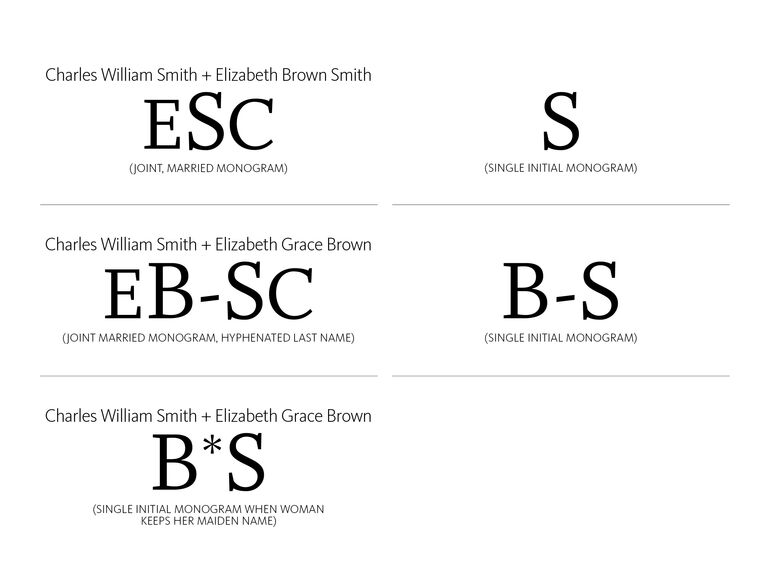 Many couples choose to monogram items using both of their initials. This is especially popular for barware, stationery or linens.
If the bride takes the groom's last name, joint monograms are pretty straightforward. In most cases, the woman's first name initial comes first, followed by the shared last name initial, and finally the man's first initial. Elizabeth Brown Smith and Charles William Smith would use ESC as their joint monogram, with the center initial being slightly larger than the other two.
If the bride and groom decide to share a hyphenated last name, a hyphen is also used in the monogram. Elizabeth Grace Brown and Charles William Smith would be the Brown-Smith family and use E B-S C as their joint monogram. If the bride decides to keep her given name, the couple's monogram would be dual initials only; the two last name initials are separated by a dot, a diamond or some other design element. This distinguishes the monogram from a hyphenated last name monogram. For example, Elizabeth Grace Brown and Charles William Smith would use B*S as their joint monogram.
Per tradition, a joint or married monogram should only be used after the couple is official. In other words, don't use a shared monogram on your wedding programs, but feel free to include it on your dinner menus (assuming the meal is served post "I do").
3. Types of Monograms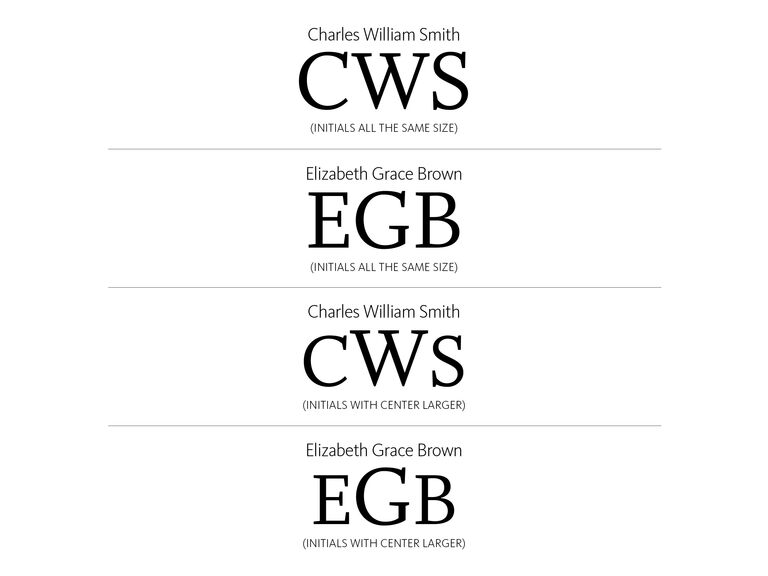 Most monograms can be divided into two main categories: monograms where letters are all the same size and monograms where the center initial is larger.
If all the letters are the same size (also known as block), initials are ordered like your name: first, middle and last.
If the monogram features a larger center initial, the ordering is always first name, last name, and middle name. So Elizabeth's monogram would be ESB and Charles's monogram would be CSW. This style monogram is often used for personalizing women's items—most men prefer the more straightforward block style. But the larger center initial style is almost always used for joint or couple monograms.
4. Custom Monograms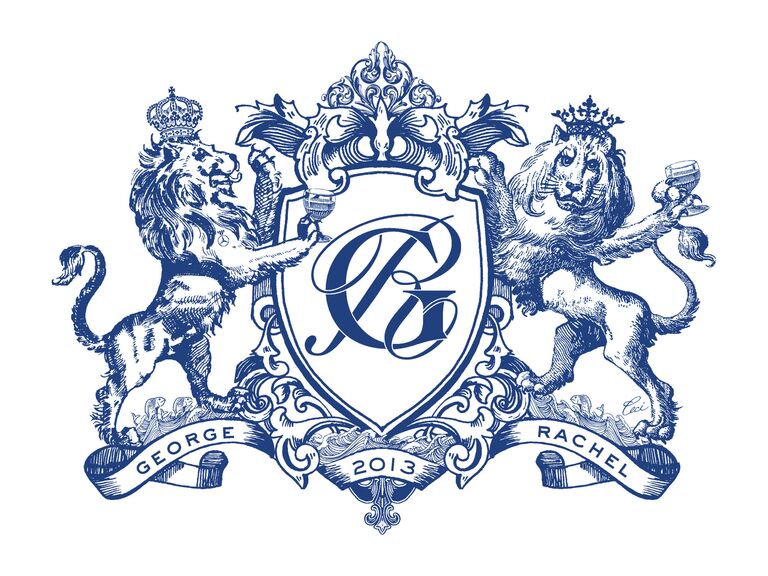 Simple monograms have made way for more elaborate designs—hand-lettering and illustration can breathe life into any set of letters. Custom monograms are usually drawn by a letterer or illustrator and often include linking characters with scrolls or other designs. Some modern monograms even feature small pictures or graphics of things that represent the person or couple. These works of art look more like family crests than snippets of the alphabet.
5. What to Monogram
You can add your initials to just about anything, from robes and jewelry to doormats. But that doesn't mean you should add them to everything. A little personalization can go a long way. Take your dining room table for example: You could monogram your wine glasses, your wedding china, your flatware and your linens—but would you want all of those initials competing for attention with your Thanksgiving turkey? Opt for one or two personalized items, like napkins, which can be easily swapped, or silver flatware (heirloom pieces are always a good bet). Keep this in mind when you're registering for gifts—strive for small touches of personalization throughout your home.
6. How to Add a Monogram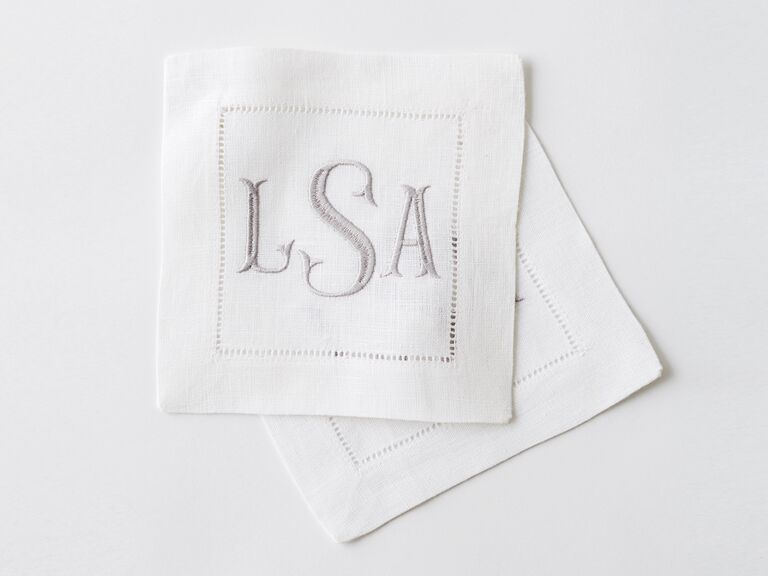 If you're registering for a gift you'd like monogrammed, be sure to include the preferred initials on your wish list so guests aren't left wondering which way to order the letters. Here are a few tips for the most commonly monogramed items.
Stationery
If you're purchasing paper for a man or a woman, it's best to use their personal monogram. If your hope is that the couple will use the paper for joint correspondence, opt for their shared monogram. A single last/married name initial, hyphenated initials or double last name initials (when the wife keeps her maiden name) are used.
Linens
Many couples prefer the single last name initial for towels, napkins or other linens. Towels are generally marked at the center of one end, so the monogram is visible when it's hanging on a rack. If you're monogramming sheets and pillowcases, again a single initial is generally preferred. Only the top sheet is monogrammed, and done so that when the sheet is folded down, the letter can be read by someone standing at the foot of the bed. Pillowcases are usually monogrammed in the center, close to the hem. Tablecloths are monogrammed at the center of each long side. If the cloth is a square, it's monogrammed at one corner; circle tablecloths generally have a centered monogram close to the hem. Napkins are marked diagonally at one corner.
Flatware
The type of monogram used is often determined by the shape and size of the flatware handle. The last initial is used most often, as it takes up the least amount of space. In some cases a couple will stack their initials in an inverted triangle shape with the woman and man's first initials on top, and their last initial below.
China
A few china patterns can be monogrammed. Most often these are plain plates or plates with a simple banded design that lends itself to a monogram. In most cases, especially for wedding china, a joint monogram or single last name initial is used. Oftentimes an accent plate or charger is monogrammed instead of every piece of china.
7. Monogrammed Wedding Gifts
If you want something monogrammed, let your guests know. Most items with personalization available (like beer steins or bath towels) can be added to your registry with your chosen initials. Including your monogram on an item before putting it on your wish list will clue guests in to your desire for personalized glasses, and it will take the guesswork out of the order of initials.
If you're a guest giving a gift that's not on a couple's registry, it's best to check with them before adding initials to the item. The bride may be keeping her name or perhaps they're opting for a hyphenated last name. Once something has been personalized, it generally can't be returned. Our vote? Play it extra-safe and include a note with the present, promising to personalize it postwedding if the couple would like. Depending on where the gift is purchased, some stores can add a "monogramming credit" for you along with the gift receipt.