35 Newlywed Gifts for Their First Holiday After the Wedding
We know they just got everything on their registry, so we got creative.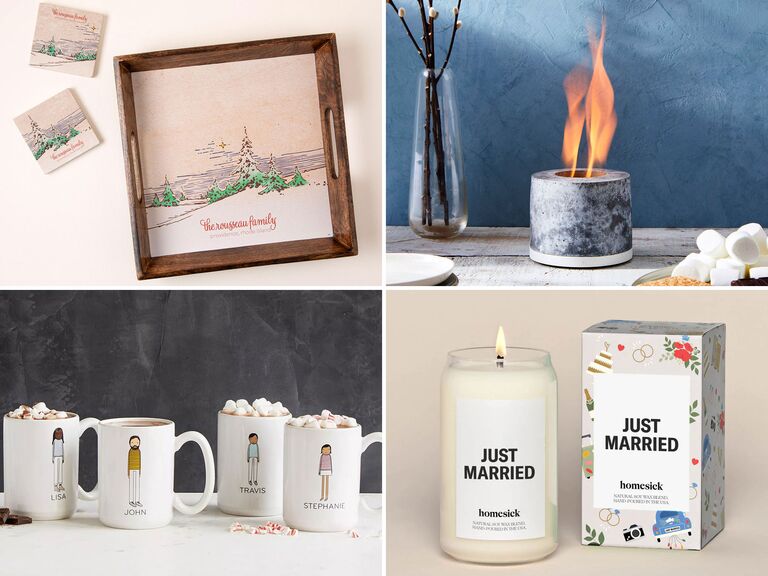 We have included third party products to help you navigate and enjoy life's biggest moments. Purchases made through links on this page may earn us a commission.
Got a just-married duo on your shopping list? Whether you're looking for a holiday gift, housewarming present or first anniversary gift for the newly married couple, we're here to help. Choosing a gift for newlyweds can be tricky for a few different reasons. For starters, they likely just got everything they need from their wedding registry, so you'll need to think outside the box a little. You've also got the task of impressing not one—but two—of your favorite people. Lucky for you, we love a challenge (especially when it comes to buying presents). We've got lots of amazing gifts for newlyweds below that they'll both appreciate, including ideas for Hanukkah, Christmas and beyond.
What to Get the Newlyweds Who Have Everything
Before you dive right into the shopping, we have a few helpful tips to inspire your search. Although their wedding registry might not seem like the most obvious place to look for a housewarming or holiday gift, it's actually a super-useful resource. If you have access to their wish list, check to see if any of their asks went unpurchased. Even if everything on the registry was snapped up, it'll shed some light on the couple's style and interests.
Another option is to choose a gift for the newlyweds that's really unique. "When shopping for newlyweds or the couple that has everything, my go-to wedding gift is always something personalized," says Dayna Isom Johnson, Etsy's resident trend expert. "It offers the couple a thoughtful and unforgettable gift that stands out from the typical registry item or something they simply don't need," she explains. Some of Johnson's favorite newlywed gifts on Etsy include custom portraits, personalized cutting boards and custom doormats—and we've included a few options below.
Of course, something that feels personal doesn't necessarily have to be personalized. For example, a present inspired by how the couple met or something they enjoy doing together is equally thoughtful. Remember, they're fresh into marriage and likely still glowing about their new status as spouses. Take full advantage of this special time in their lives with a gift that really honors their union.
The Best Gifts for Newly Married Couples
Ready to get started? We've listed the top gift ideas for newly married couples below, including all the best holiday gifts for newlyweds of 2023. We're talking personalized homeware, surprising subscriptions for couples, all the cool gadgets that weren't on their registry and so much more.
1. A Book Full of Date Ideas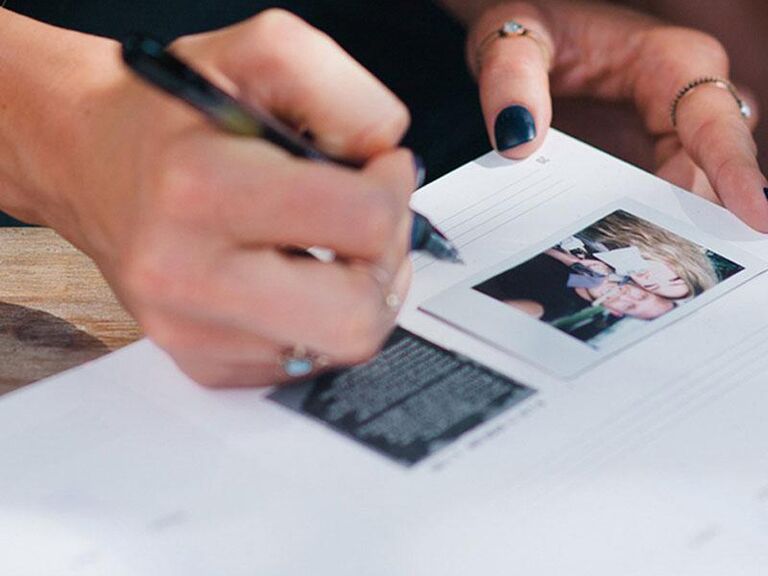 The Adventure Challenge contains 50 creative scratch-off ideas to inspire the couple's next date. Afterward, there's space to jot down notes and add a photo, transforming the book into a diary of their adventures. Gift it to the newlyweds as a reminder to keep up regular date nights even though they're not just "dating" anymore. Bonus: Get 10% off sitewide with the code THEKNOT10.
2. Personalized Holiday Serveware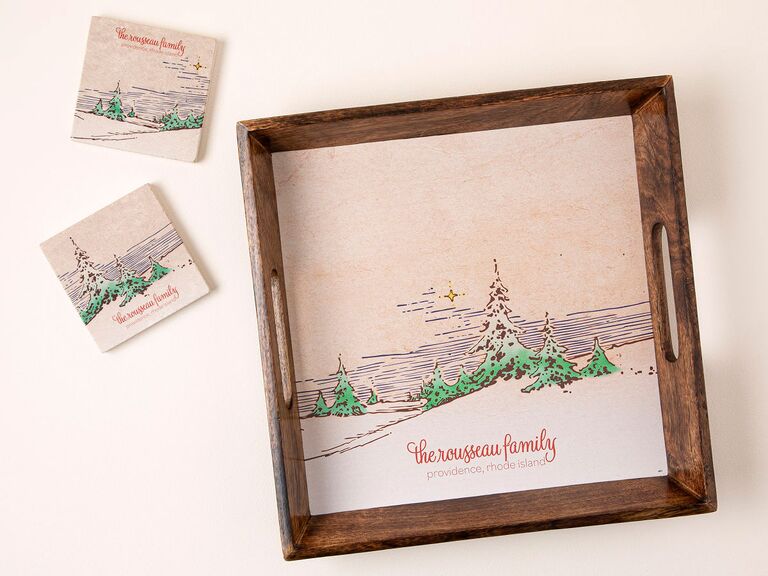 This Christmas gift for the newly married couple will hold a special place in their hearts. The set includes two coasters and a serving tray depicting a snowy holiday scene. Not only that, but it's also personalized with their new family name (if they're sharing one, of course) and their hometown. They'll take it out every year for winter staples from hot chocolate to hot toddies.
3. A Helpful Planter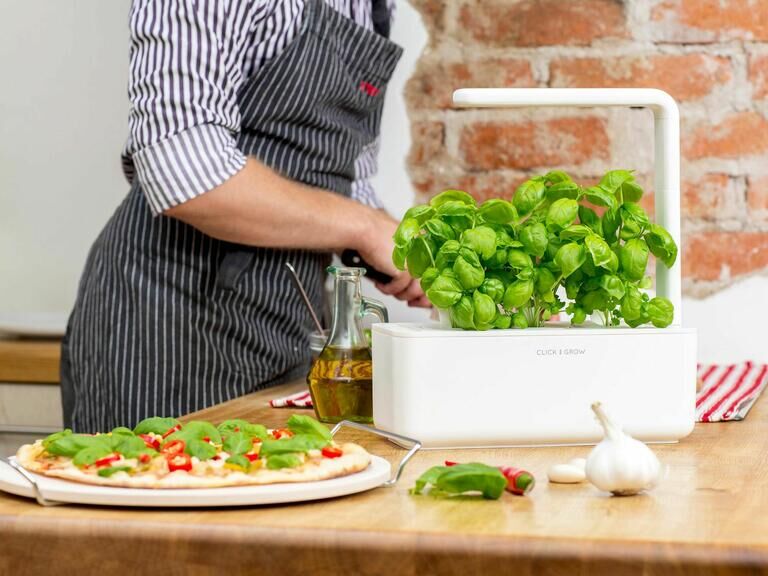 If they love fresh herbs and veggies but don't have the yard space to grow them, they'll appreciate this smart indoor garden. Everything the couple's plants might need—from water to light—is taken care of by the system. It even comes with a complimentary set of basil plant pods to get them started. It's an excellent gift for any newly married couple who loves to cook together.
4. A Festive Tea Towel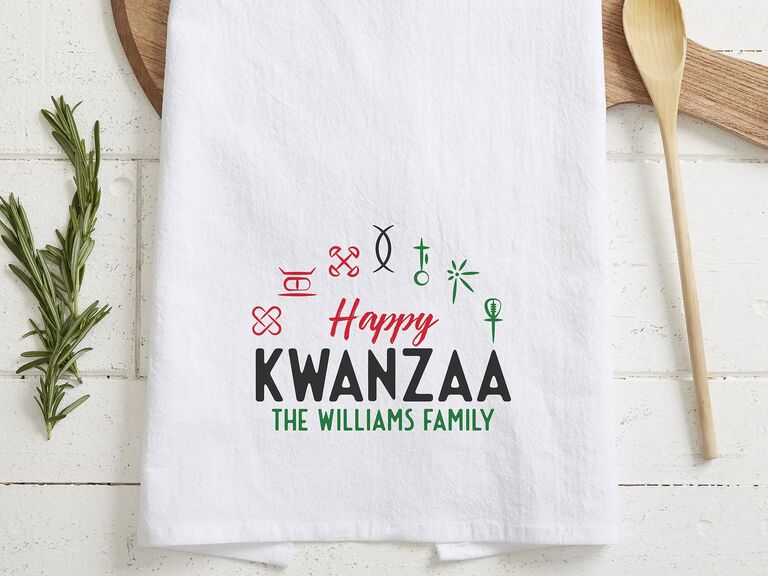 Looking for gift ideas for newlyweds who celebrate Kwanzaa? Try this cute, personalized tea towel that reads "Happy Kwanzaa" above their first names or family name. The seven symbols of the holiday add further meaning and decoration to this sweet present.
5. A Portable Fire Pit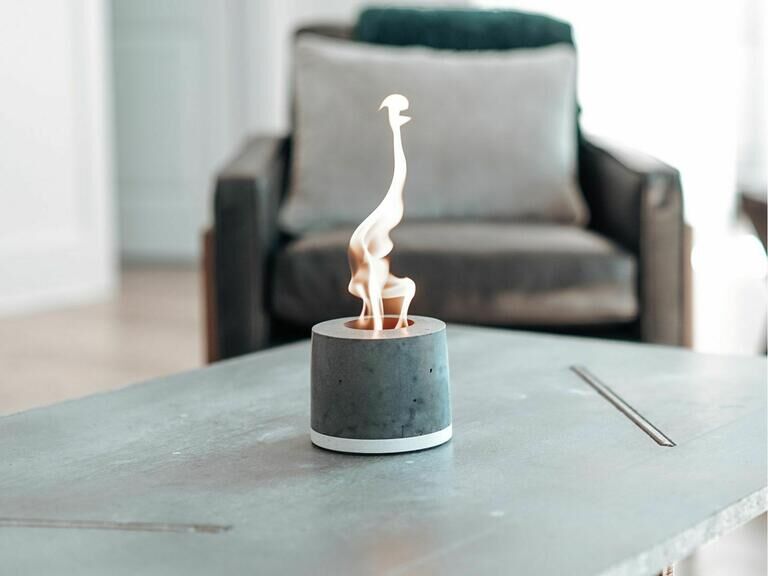 They won't realize how awesome this gift is until they try it. Then, they'll wonder how they ever lived without it. The portable fire pit sets a romantic mood indoors or out. It's soot-, smoke- and hassle-free for the ideal ambiance, and all they need to start it up is some rubbing alcohol. They can even use it to roast s'mores!
6. A Journal for Tracking Milestones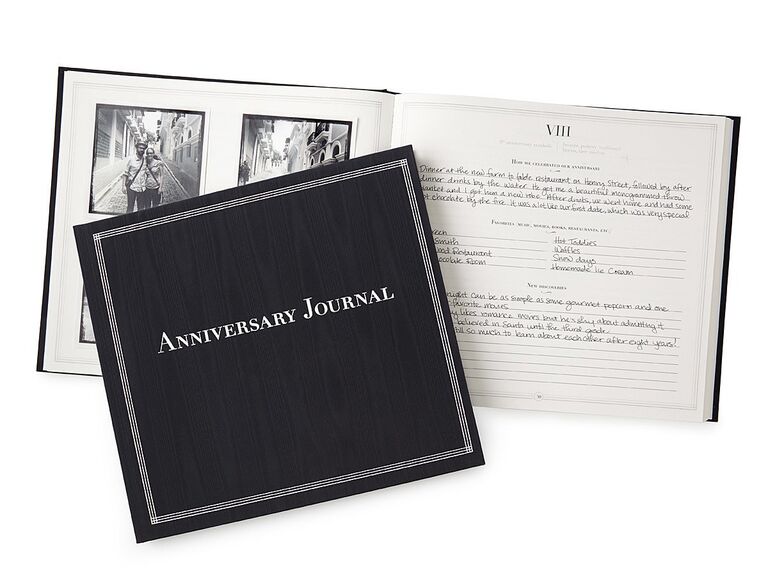 Give the newlyweds a head start on celebrating their next special occasion with this beautiful anniversary journal. There's space to document every single marriage milestone, from the first right up to the 60th. Take it a step further by opting for the personalized version, which features their names and wedding date on the cover.
7. Bluetooth Speakers That Are Also Lamps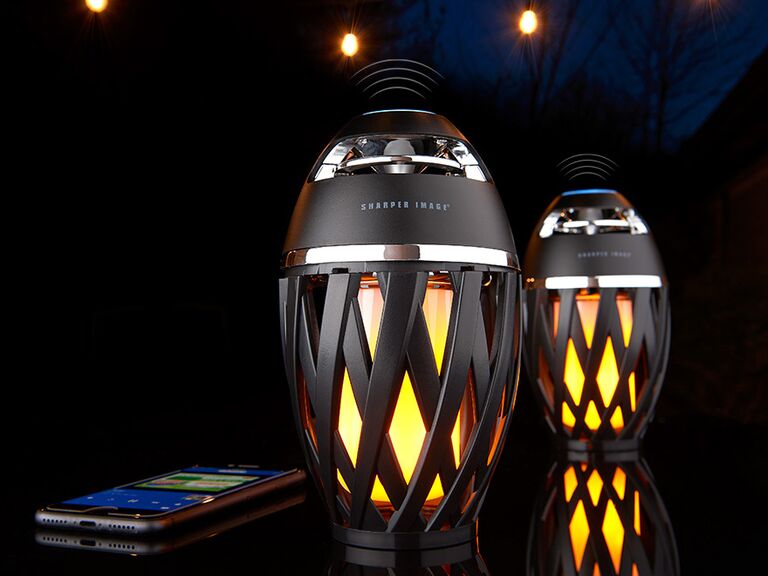 These unique torches have a warm, flickering LED light that mimics the ambient effects of a real flame. But that's not even the best part—they double as wireless Bluetooth speakers that can be used both indoors and outdoors. This versatile present isn't just the perfect gift for newlyweds who love to entertain guests, it's also great for romantic date nights in their backyard.
8. An Adorable Doormat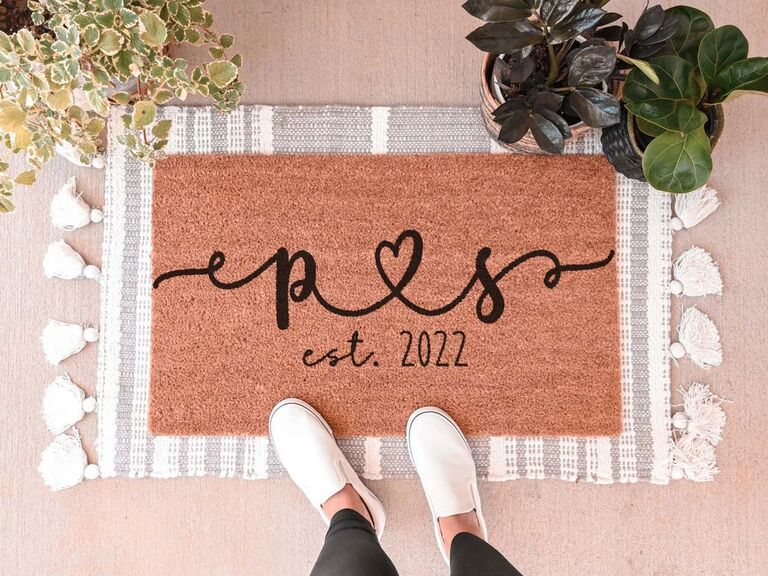 Home is where the heart is, so they say. This practical gift for the newlyweds will show their love to anyone who comes a-knocking. It's a sweet doormat personalized with their initials connected by a heart. If you want, you can also include an est. date commemorating the year they tied the knot.
9. The Trendy Appliance They Wish They Registered For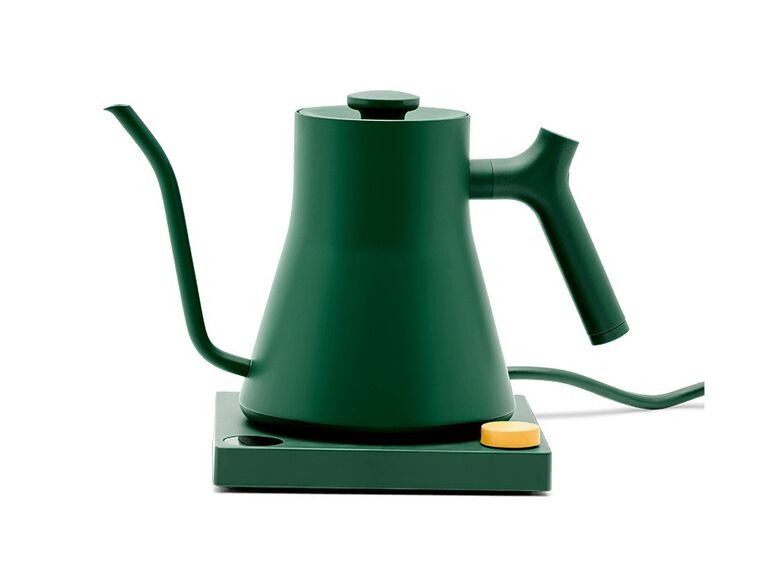 While the newlyweds might have a kettle already, we promise they don't have one like this. The stunning creation is the brainchild of trendy cookware company Great Jones and the coffee experts at Fellow. The one-of-a-kind appliance has all the splurge-worthy features of Fellow's original electric kettle, complemented by Great Jones' signature broccoli and mustard hues. It has a temperature control system, 60-minute hold mode and built-in stopwatch. The cleverly designed spout (created with pour-over coffee in mind) is the icing on the cake.
10. A Super-Chic Menorah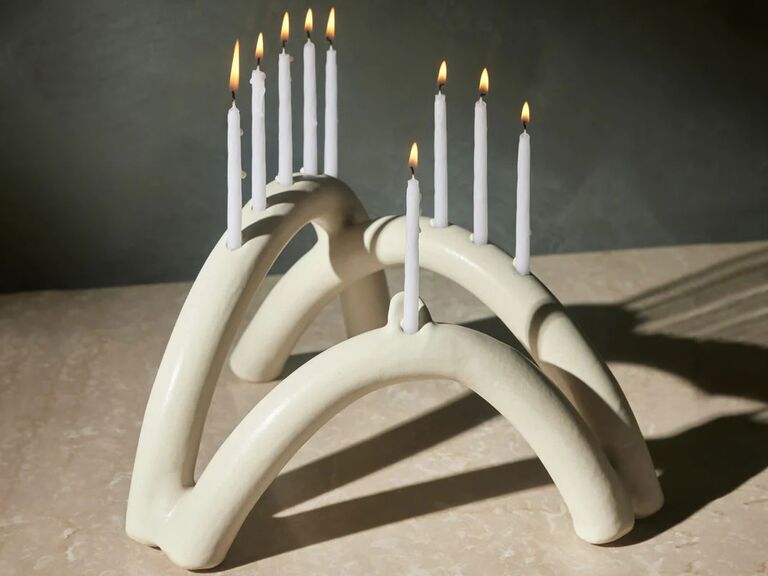 Now that they're spending the holidays as spouses, they're probably looking for festive decor to help them celebrate together as a family. This stunning sculptural menorah is a luxe gift for the newlyweds to use this (or next) Hanukkah. It's a surefire way to impress friends and family visiting during winter.
11. A Commemorative Ornament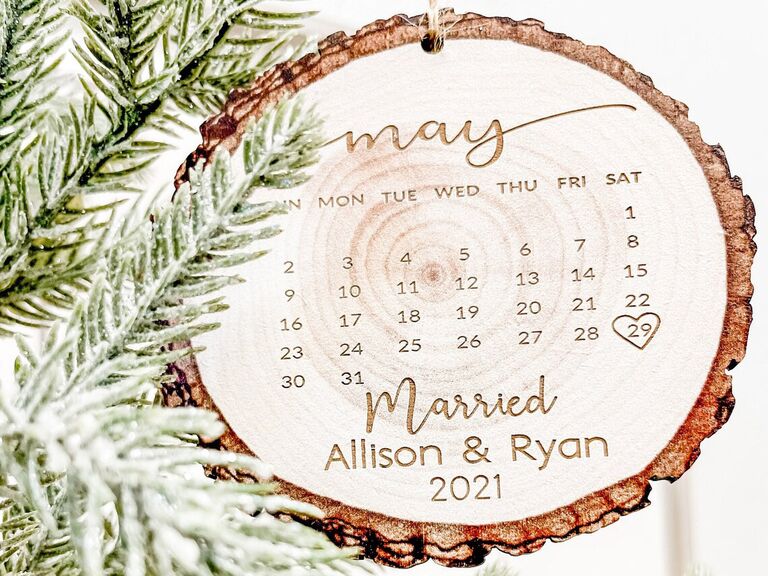 Looking for a gift to mark the newlyweds' first holiday season together? This unique couples Christmas ornament celebrates their wedding date with an engraving of the calendar month. An adorable heart marks the day they said "I do," above the word "married," their names and the year. It's a sweet testament to their special day, and since it's not overly holiday-themed, they can keep it on display all year round.
12. An Upgrade to Backyard Barbecues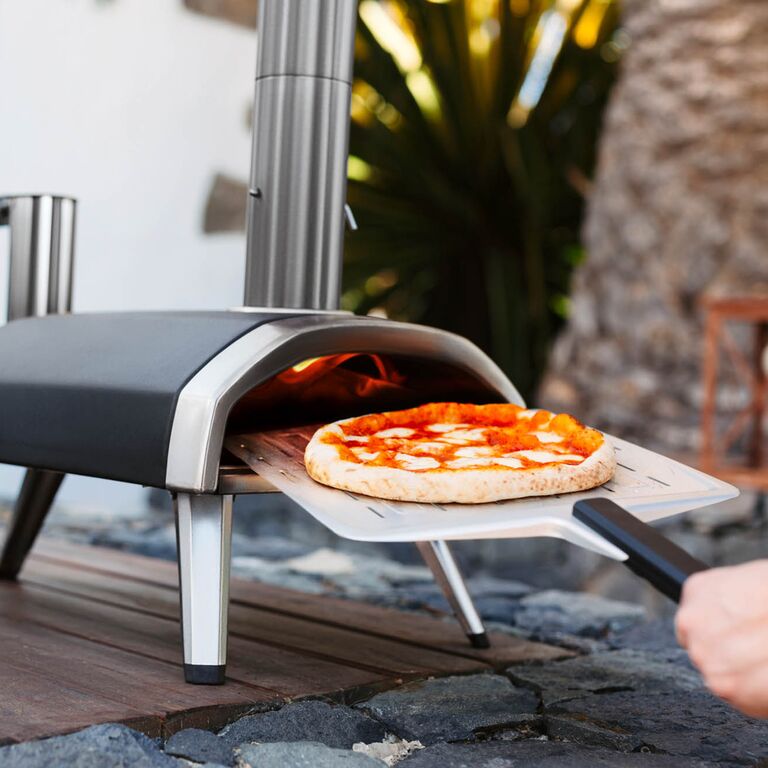 Here's an epic gift for the newlyweds who love spending time outdoors. Hosting get-togethers in their backyard just got a whole lot more fun thanks to this cool wood-fired pizza oven. It's cleverly designed to be relatively lightweight (i.e. totally portable) and delivers delicious stone-baked pizza in just 60 seconds. You heard it here first: Outdoor pizza parties are the new backyard barbecue.
13. A Matching Underwear Subscription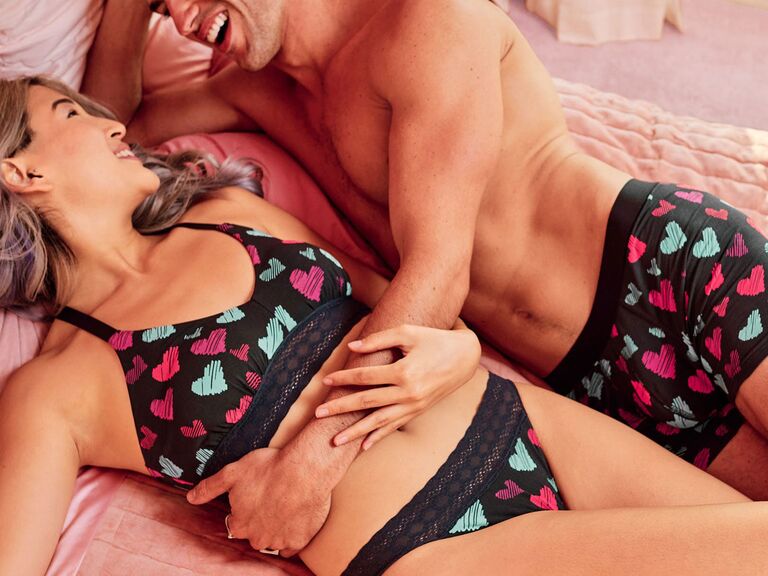 There's something surprisingly romantic about twinning with your other half, especially when it's an item no one else can see. That's why we think a matching underwear subscription is an excellent gift idea for your newly married friends. Just be aware that you do need to know a few—er—intimate details (think: their preferred cut and size) before you get started. It's a funny gift for the newlyweds who have a sense of humor (or just love to coordinate!).
14. A Pillow That'll Help Them Relive Their College Days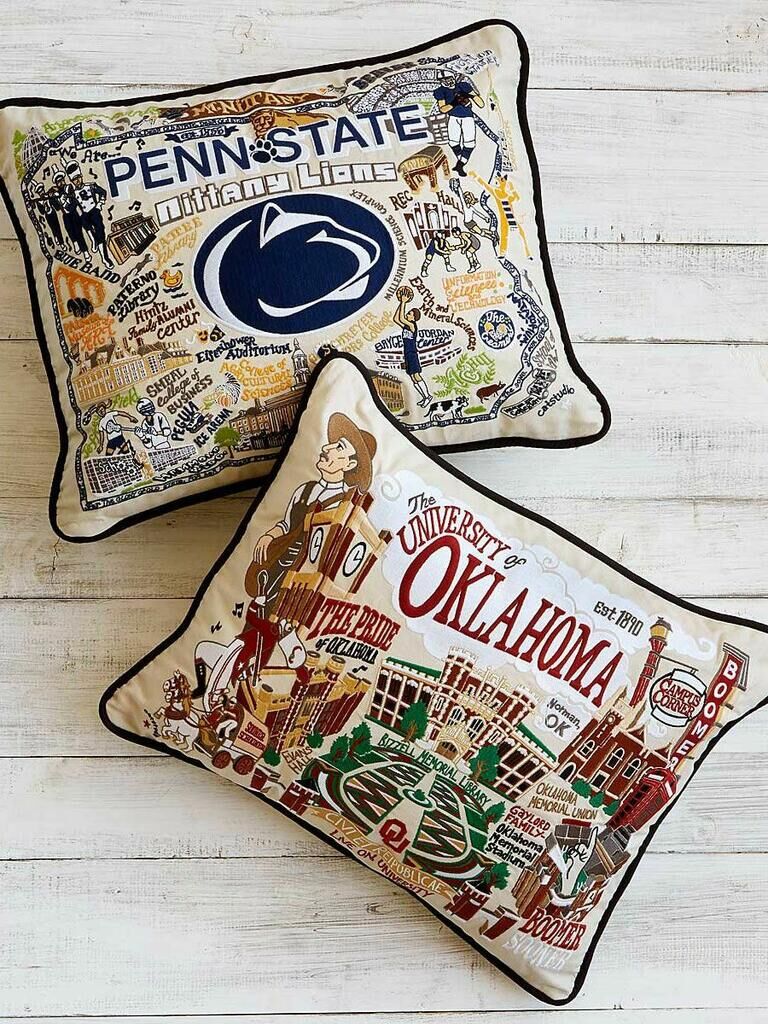 A gift for the newlyweds that nods to how they met pays quite a tribute to their love story. If they met in college, one of these cool pillows will bring back sweet memories. The maker embroiders each playful decor piece with thematic collegiate motifs. Just choose their school and add it to your cart.
15. A Cuddly, Custom Throw Blanket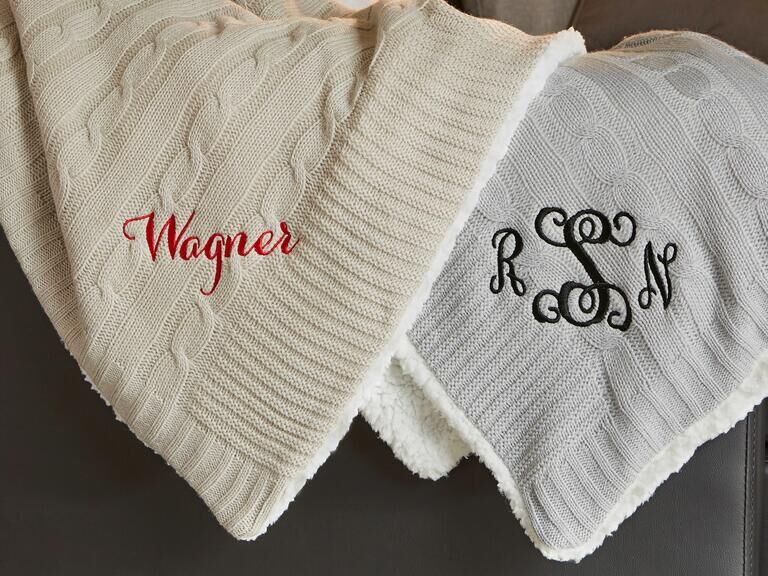 Help them keep warm the rest of the winter with this cute gift idea. The super-soft throw blanket (made from cable knit and sherpa) can be personalized with their initials or names in elegant embroidery. It's one of the best Christmas gifts for newlyweds who live somewhere that gets chilly in the winter.
16. Cute Mugs for Cozy Nights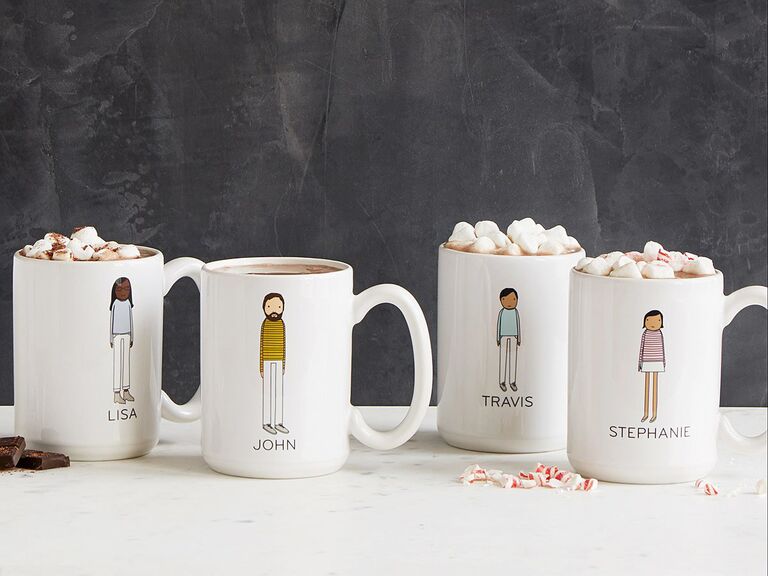 Set the happy couple up for cozy nights together with these super-sweet mugs illustrated in their likeness. If you're shopping for the holidays, they're perfect for hot chocolates with loads of whipped cream (or homemade eggnog to really get them into the seasonal spirit). How's that for a cute first-newlywed-Christmas gift?
17. A Portrait Honoring Their Wedding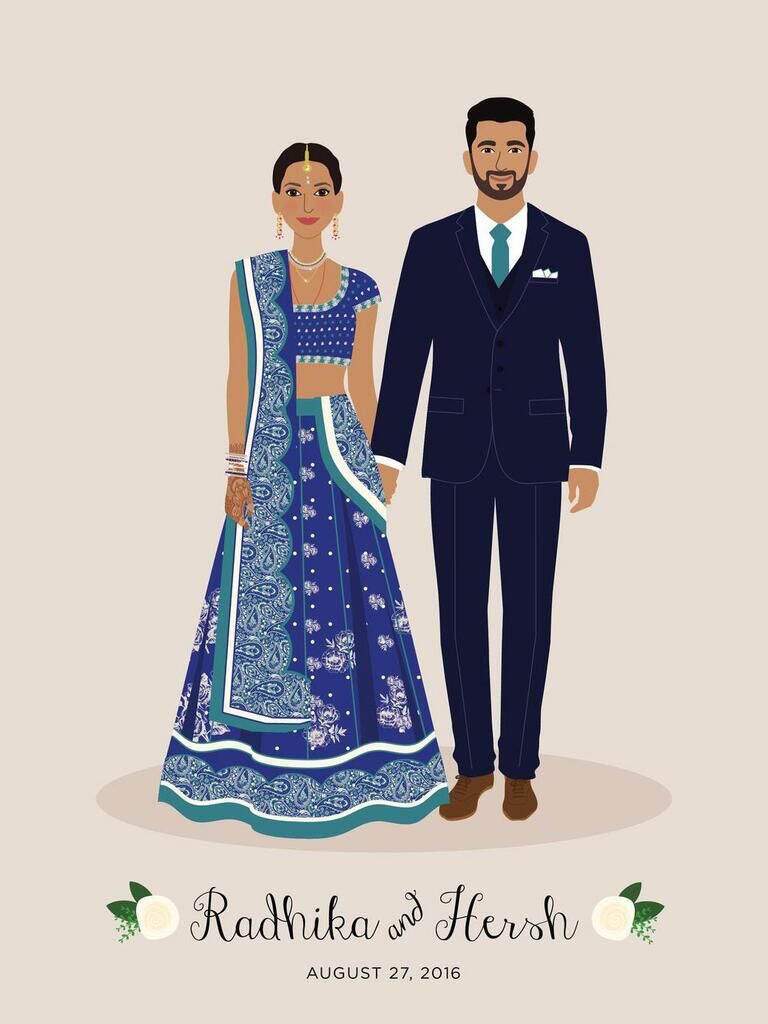 Turn one of their beautiful photos from the big day into a stunning piece of artwork by commissioning a portrait of the lovebirds. This artist works from a photo of the couple to create something unique, then adds their names and wedding date to the masterpiece. They can also add a pet if you want to take your gift a step further—now that's got to be one of the best gift ideas for newly married couples.
18. A Date Night in a Box
In the busy time after their nuptials, make sure the couple is still able to take time for themselves. A couple's subscription to DateBox Club gives them all the supplies they need for an easy date night at home each month. It's a good gift for any newlywed couple—even the ones who have everything.
19. Mesmerizing Map Art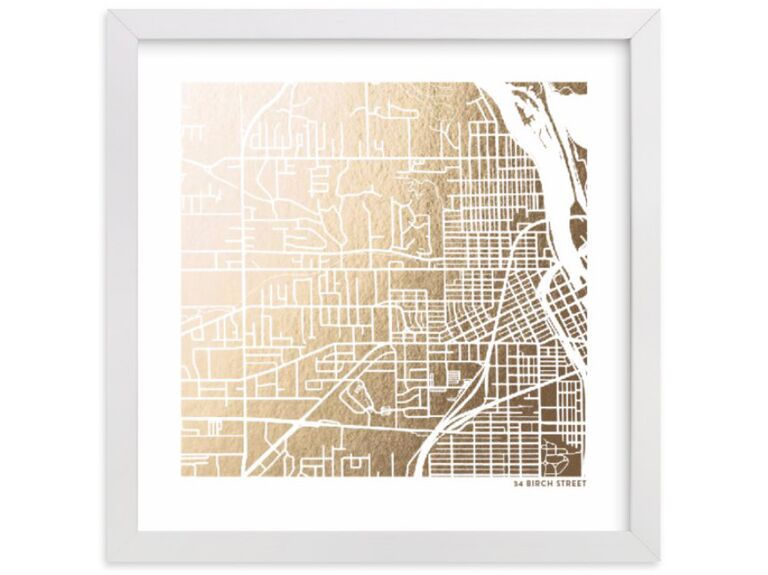 When it comes to newlywed gift ideas, personalized presents are always well received. Imagine the couple's delight when they unwrap a beautiful piece of art showcasing their favorite city or place. This foil map masterpiece can be purchased with a classic or contemporary frame so it's ready to put on display. Consider the question of "what to gift the newlyweds?" answered.
20. A Cheese Board With Their Monogram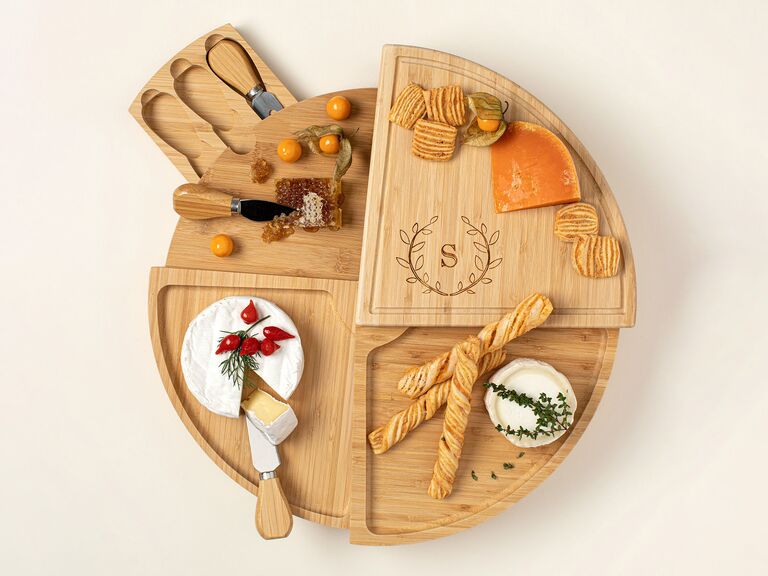 A unique gift for the newly married couple that's personal and practical? Sign us up! This custom cheese board transforms from a single wedge into a tiered serving wheel for all of their favorite cheese and charcuterie. There's also a hidden drawer with a stainless steel cheese fork and two handy knives, and you can have it engraved with the couple's monogram. The bamboo board is so beautifully designed that it almost doubles as decor when not in use.
21. Trendy Cocktail Glasses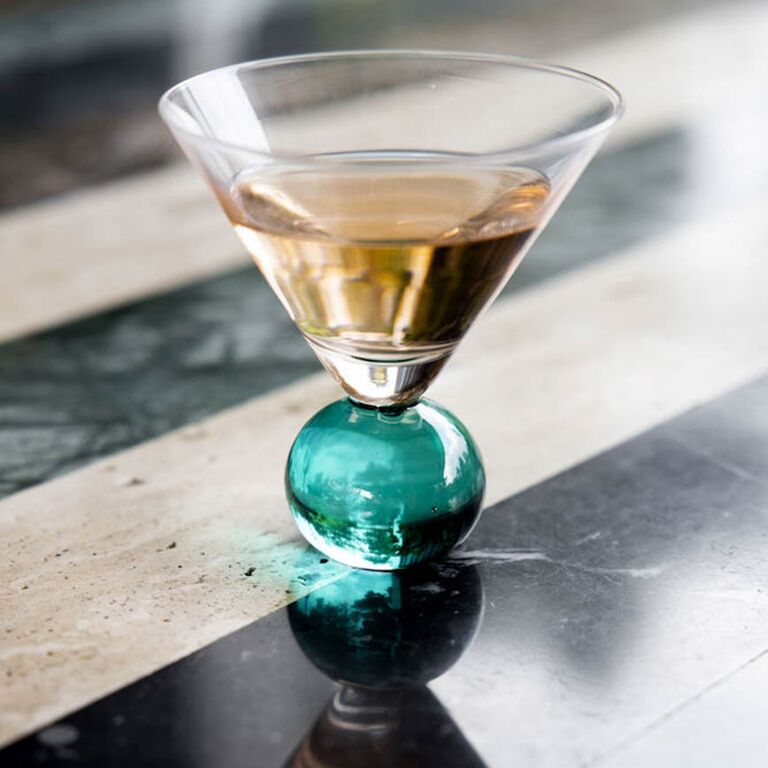 While they probably used their wedding wish list to stock up on the essentials, your recently married friends may not have thought about specialty glassware like cocktail glasses. This set of four undeniably unique drinking vessels will add a pop of color to their tablescape on special occasions (or whenever they're feeling extra fancy). Psst, if you're looking for holiday gifts for newlyweds, there's something especially festive about the teal and red hues.
22. A Way to Show Off All Their Favorite Photos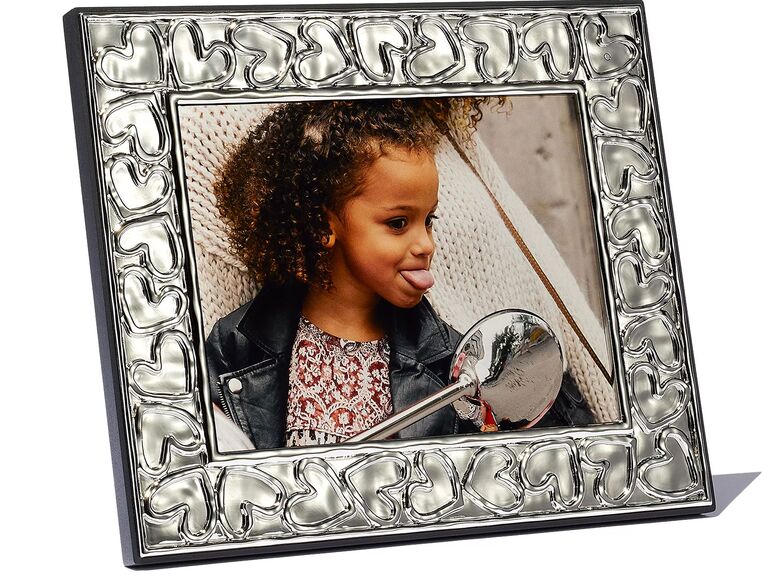 Digital picture frames let you display a ton of photos without cluttering your space, but good old-fashioned picture frames can be so much prettier. What if we told you that Aura and Michael Aram teamed up to give you the best of both worlds? This stunning limited-edition photo frame comes with Aura's high-res display and unlimited photo storage and Michael Aram's signature heart-motif metal frame. It's not just a great gift for newlyweds—any couple on your shopping list would adore this beautiful piece of decor.
23. Something for the Pet Parents
If you're shopping for a couple with a cat (or cats—the more the meow-ier!), we've found something really impressive. Great gifts for newlyweds build on the items they already got for their wedding. While they've probably decked out their kitchen with a beautiful stand mixer, super-powerful blender or touchscreen toaster already, they might not have thought to ask for pet-friendly items. The Litter Robot is the ultimate gift for a just-married couple with a cat. It's exactly what it sounds like: a self-cleaning litter box.
24. A Celebratory Candle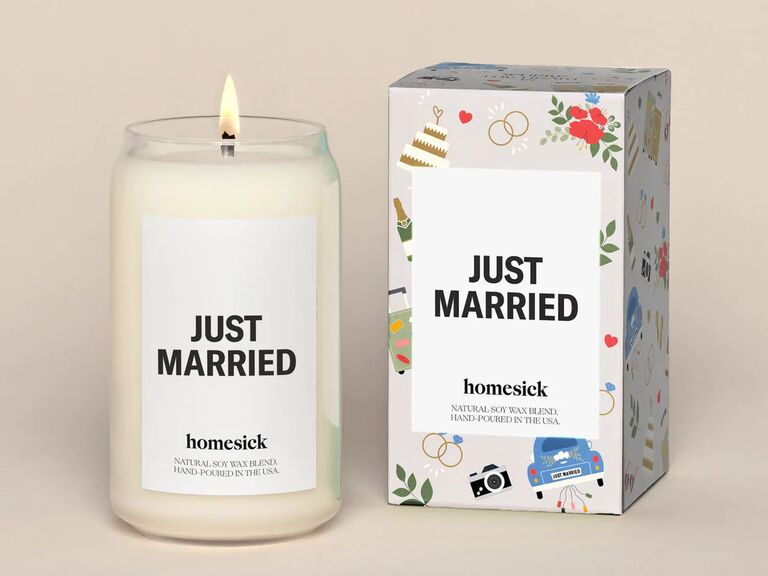 Okay, but who doesn't appreciate a beautifully scented candle? Especially when it comes in cute packaging celebrating their "just married" status. Make it an even more thoughtful gift for the newlyweds by having the jar printed with a personal message congratulating them again, wishing them happy holidays or another sweet sentiment. Psst, if you didn't already know, Homesick also has candles inspired by states across the US. If they moved away after the wedding, a candle representing their homestate is an equally thoughtful present.
25. A Pretty, Personalized Address Stamp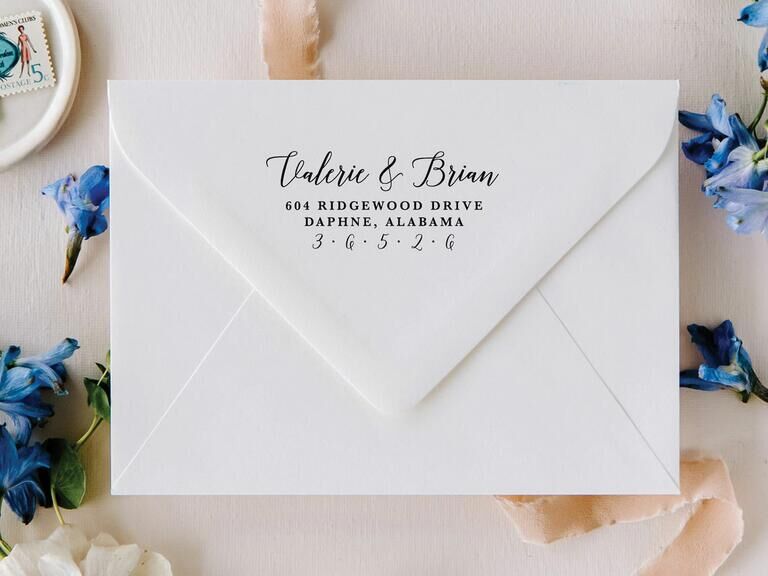 Now that they're officially married, they deserve some official-looking stationery. This kit lets them stamp their outgoing mail with a custom, calligraphed return address label. It's especially practical if they still have to send thank-you cards. Talk about a useful gift for a newly married couple!
26. A Funny (But Practical) Blanket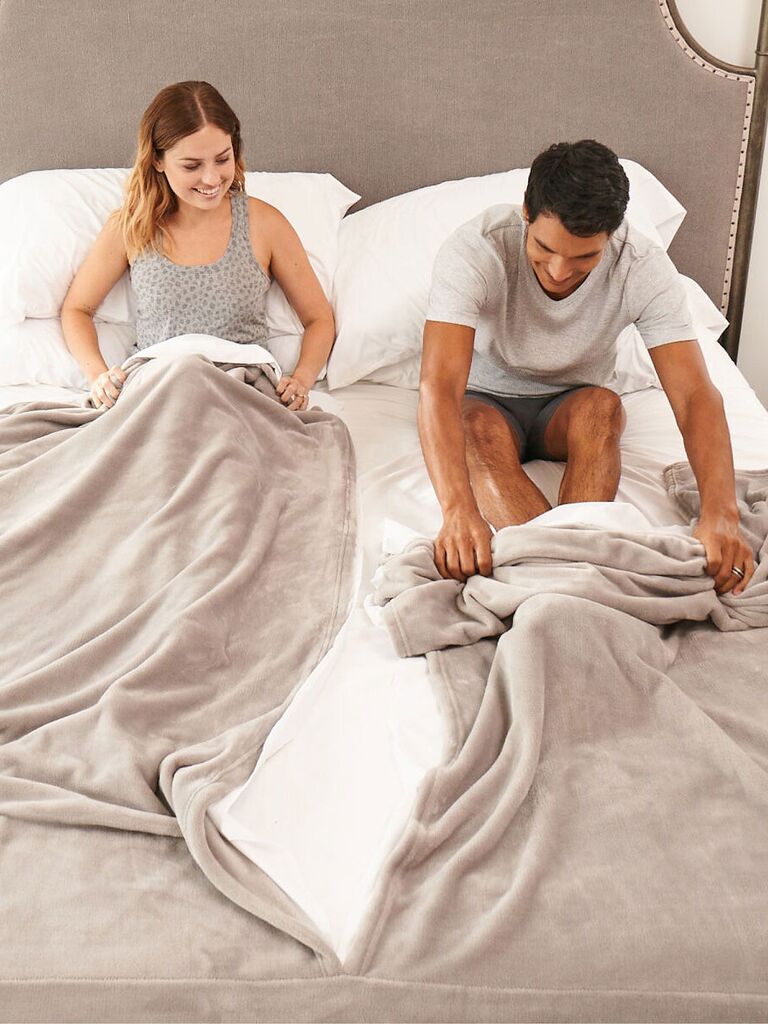 Some of the best gifts for newlyweds come with a hint of humor. If they're always up for a laugh, they'll be delighted with this hilariously practical blanket that's split down the middle and attached at the bottom. The result? No matter how much each person pulls on their side of the blanket, the other won't feel a thing. Commence stress-free slumbers for the foreseeable.
27. The Perfect Charcuterie Spread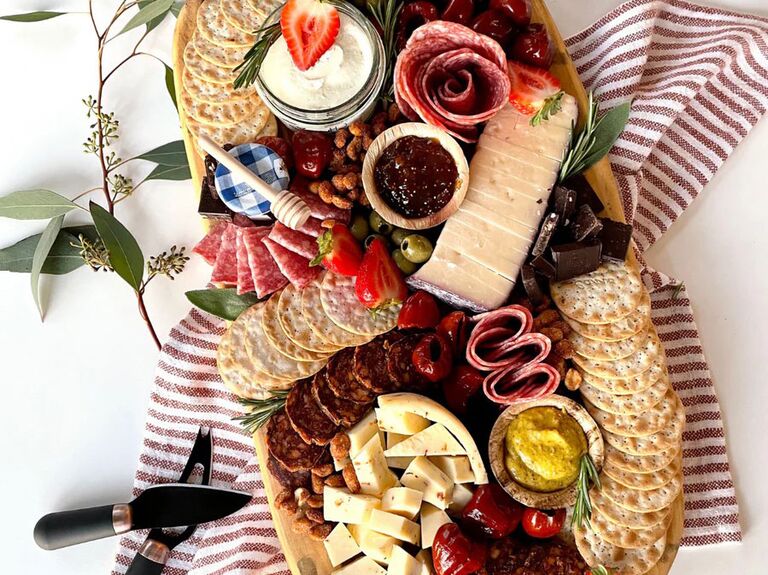 What's a good gift for the newlyweds who consider themselves serious foodies? Food, of course! But you'll have to get something extra-special (read: extra-tasty) if you really want to impress them. Enter: This delicious charcuterie package from Platterful. The standard set comes with enough cheese, meat, crackers, spreadables and accompaniments for two or you can upgrade your gift by going large or signing them up for a subscription. We see a romantic (and delicious) date night in the couple's future.
28. A Gorgeous, Sentimental Magnet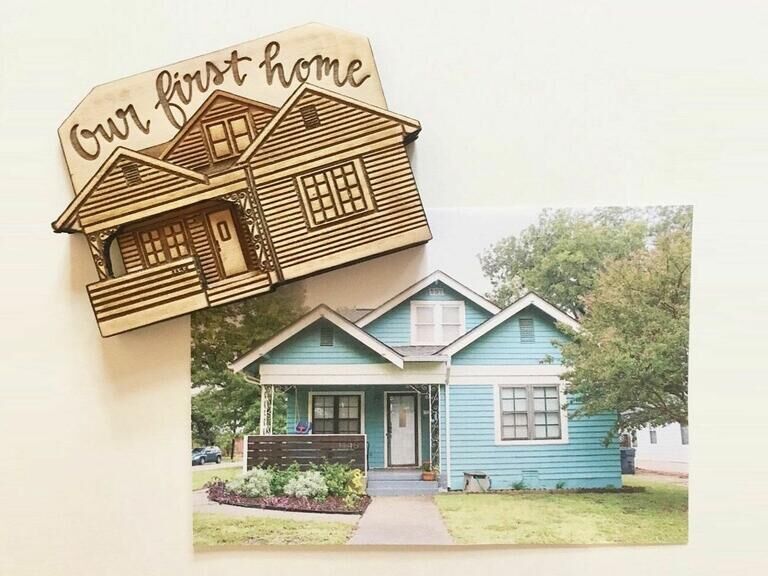 Yes, these are a little pricier than your usual fridge magnets, but they're a whole lot more special too (and the craftsmanship is unbeatable). The Etsy seller designs the newlyweds a mini wooden replica of their home, which is a tear-jerkingly sweet gift for any newly married couple who recently moved in together. They'll cherish it for years to come.
29. A Cool Way to Spend Date Night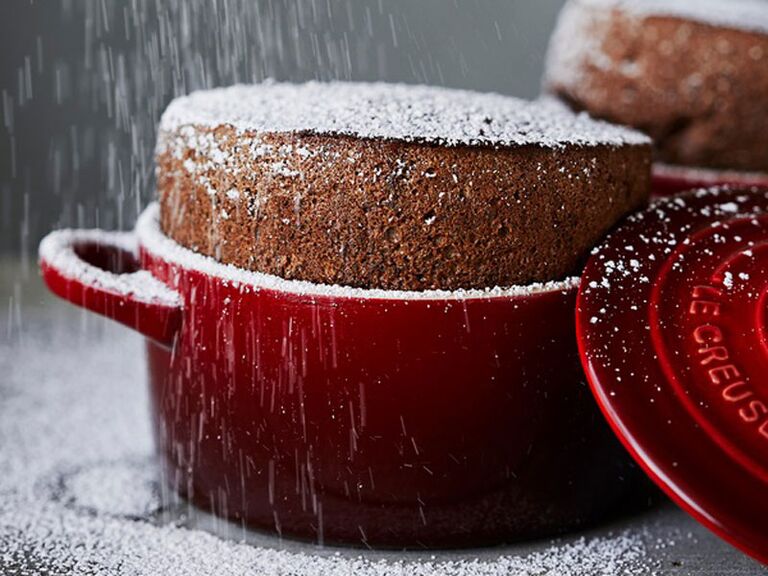 If they're always up for trying something new, consider getting an experiential gift for the newlywed couple. Sur la Table's online cooking classes are a fun and productive way to spend time together (not to mention the delicious end result). Sign the lovebirds up for a seasonal cooking or baking lesson they can do from the comfort of their own kitchen. It's a small gift for the newlyweds that'll seriously upgrade their next date.
30. A Portrait of Their Furry Friend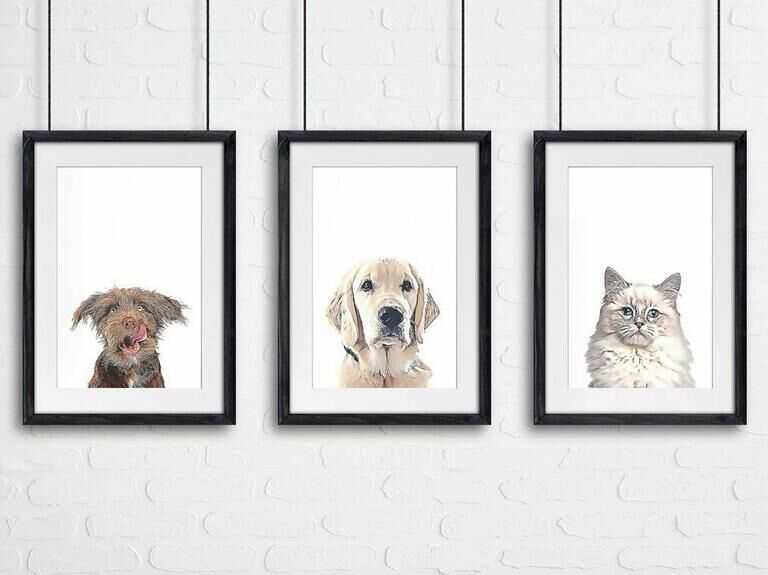 Still wondering what to get the newlyweds who have everything? If their life revolves around their furry (or scaly, or feathery) friend, this is the newlywed present for them. Commission a precious art print of their pet and they're guaranteed to gush over it.
31. The Only Pot They'll Use From Now On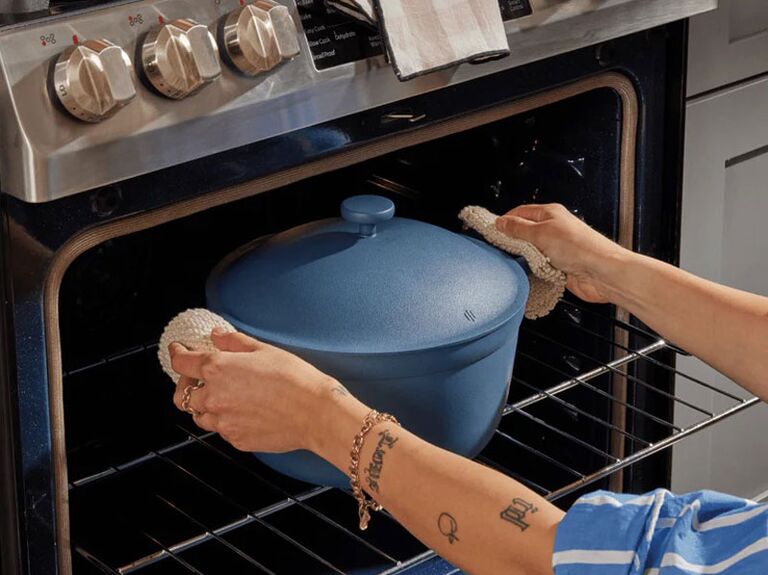 From Christmas gift ideas for the newlyweds to presents in honor of a new home, you really can't go wrong with essentials like cookware. Just make sure you're not duplicating anything from their registry, since they likely included a few pots and pans. One pot they'll appreciate no matter what cookware they already own? Our Place's Perfect Pot, designed to do the work of an entire set of pots in one. This unbelievably convenient tool is big sister to the famous Always Pan and can be used to bake, roast, boil, steam, braise, drain and more. Plus, it comes in a host of modern matte colorways.
32. A Nifty Picture Frame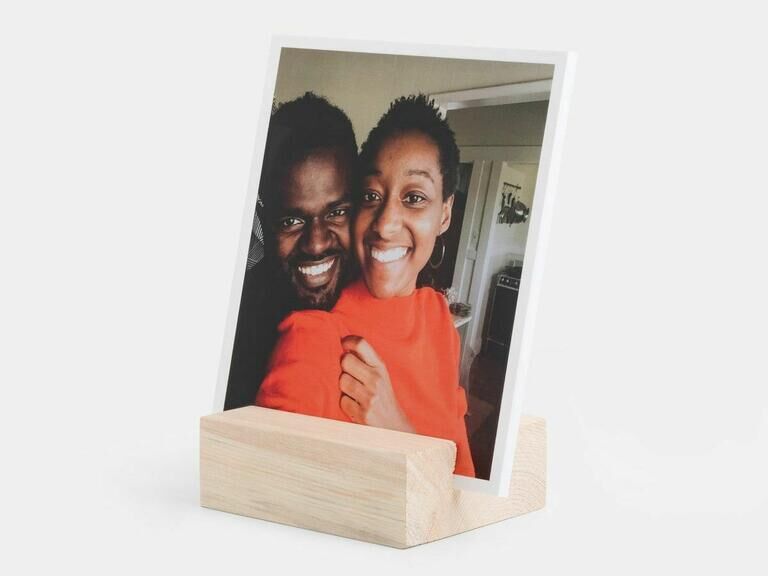 Photo gifts are always a lovely gesture, whether you're shopping for a belated wedding gift for the newlyweds, holiday gift ideas or a thoughtful housewarming present. This minimalistic wood block can hold up to 12 photos, so the couple can rotate what's on display. Just choose a dozen of your favorite snapshots of the pair (including a sweet candid from their special day) and you're good to go.
33. A Fun, Wall-Mounted Bottle Opener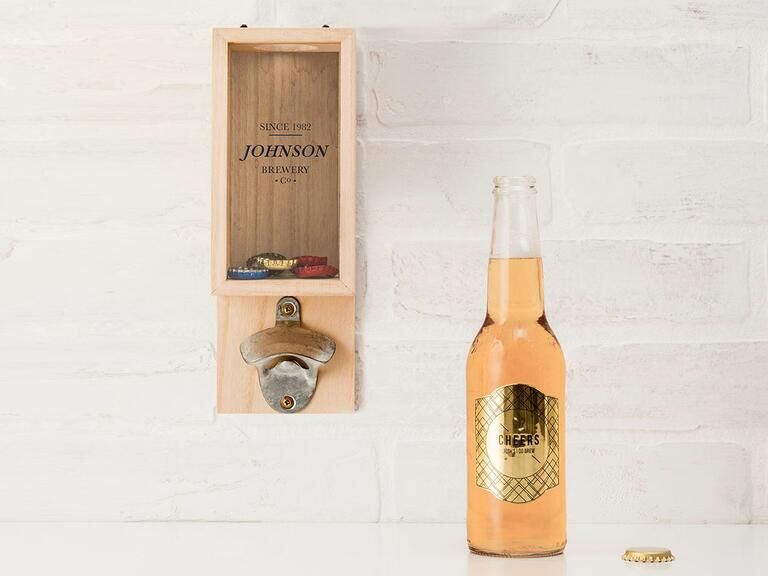 If they registered for bar essentials, they'll love this add-on gift. The personalized bottle opener mounts to the wall and has a clear storage case to show off the caps of all the craft brews they've been drinking. Have it personalized with the year and their family name above the words "Brewery Co." It's a unique gift for newlyweds who like to chill out with a few brewskis.
34. Luggage for Romantic Getaways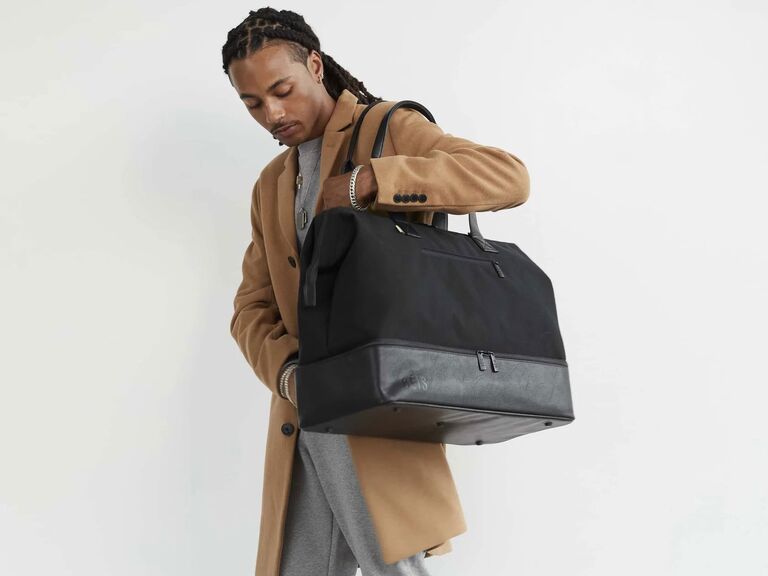 What's the best gift for a newlywed couple who loves to travel (or has yet to go on honeymoon)? Luggage, of course! This modern weekender is an excellent companion for short overnight stays and weekend breaks or as a vacation carry-on. The clever design makes packing (and unpacking) a breeze. It has a special compartment at the bottom for stowing shoes, toiletries and other bulky travel essentials like grooming and styling tools. What's more, this stylish bag is designed for carrying effortlessly through the airport thanks to the exterior sleeve that slots over a luggage handle. Pick up one for each of the lovebirds so they're always ready for a spontaneous trip.
35. Coasters for Their Morning Coffee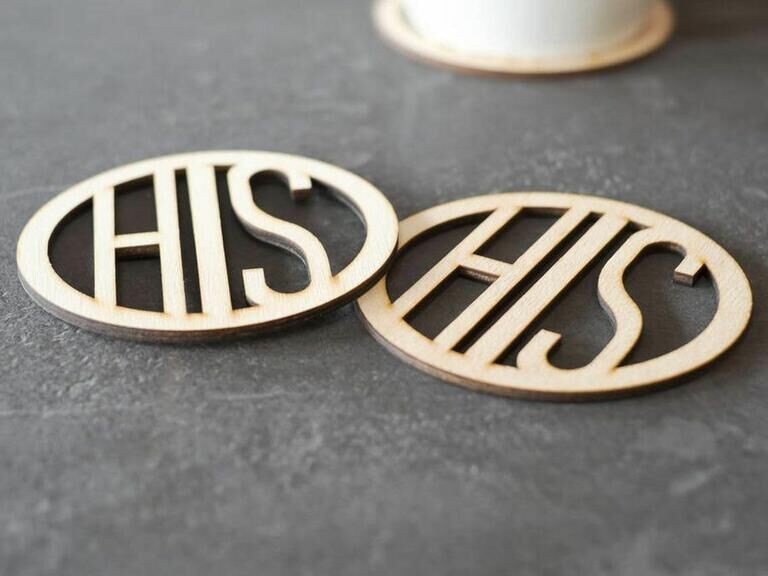 When it comes to things to get the newlyweds, think about what might have been missing or forgotten from their registry. In our opinion, there's no such thing as having too many coasters. These wooden "his" and "his" ones are the perfect resting place for morning coffee mugs. (Psst, the Etsy seller also offers "his" and "hers" and "hers" and "hers" options.)