31 Unique Holiday Gifts for the Newly Married Couple
We know they just got everything on their registry, so we got creative. Shop our favorite out-of-the-box gift ideas for newlyweds who seemingly have it all.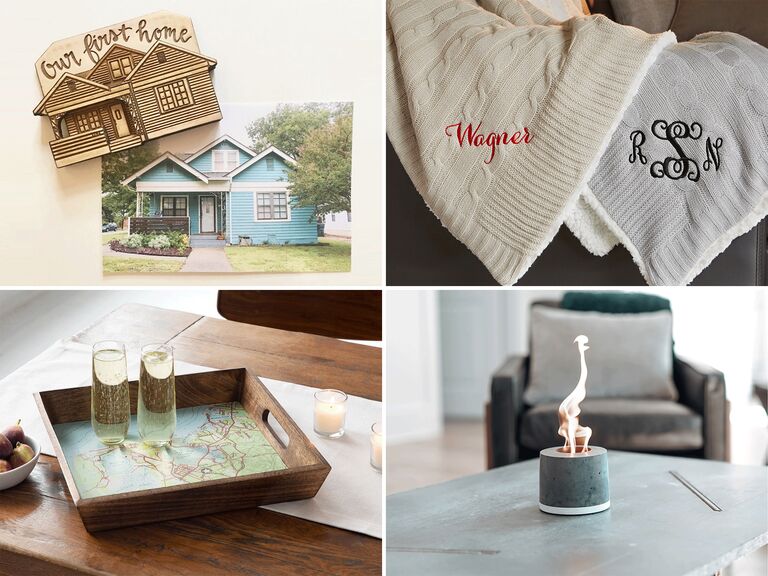 We have included third party products to help you navigate and enjoy life's biggest moments. Purchases made through links on this page may earn us a commission.
Newlyweds are notoriously hard to shop for around the holidays, especially if they just received a plethora of presents for their wedding. The trick to choosing gifts for a newly married couple? There are actually two. 
First, we recommend a little sleuthing when it comes to buying gifts for newlyweds. Do you remember what they registered for (or can you ask around)? Check to see if you still have access to their wish list, then determine what they've gotten already and if any of their asks went unpurchased. Their registry will also shed some light on their style and interests if you're feeling stuck. 
Your second option is to get them something wonderfully personalized. What do you know about their relationship? Customize a present based off their unique bond. After all, they're fresh into marriage and likely still glowing about their new status as spouses. Take full advantage of this special time in their lives with a gift that really honors their union.
Still stumped? No problem. We did the work for you. Here, find the best holiday gifts for newlyweds of 2020. We've rounded up a whole range of fresh, delightful and out-of-the-box gift ideas for married couples.
1. A Helpful Planter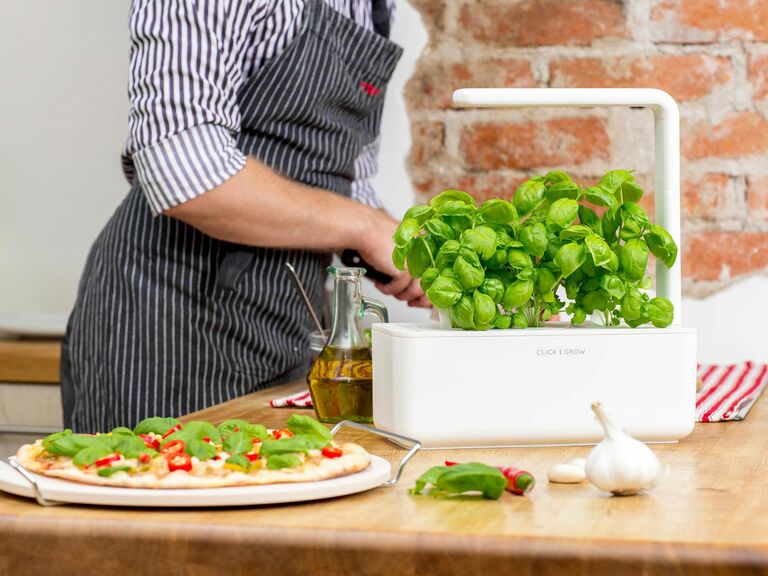 If they love fresh herbs and veggies but don't have the yard space for them, the newlyweds will appreciate this smart indoor garden. Everything their plants might need—from water to light—is taken care of by the system. It even comes with a complimentary set of basil plant pods to get them started.

Click & Grow The Smart Garden 3, $100, ClickandGrow.com
2. A Portable Fireplace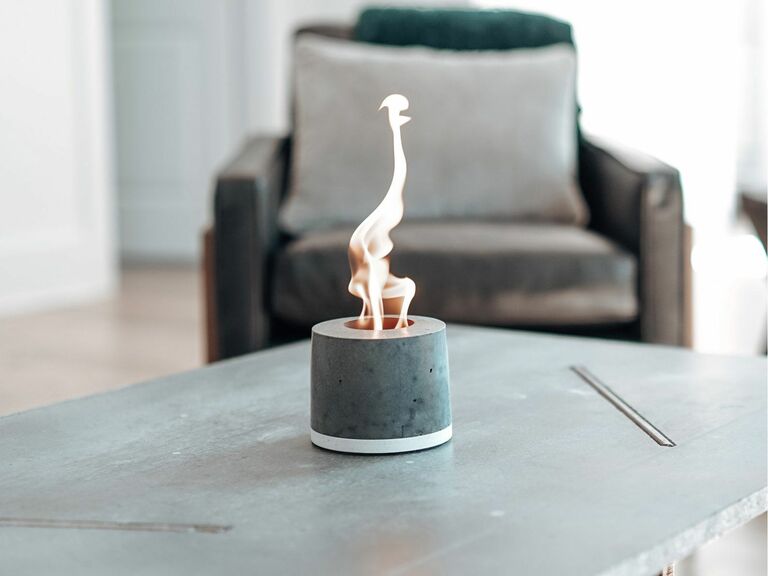 They won't realize how awesome this gift is until they try it. Then, they'll wonder how they ever lived without it. The portable fire pit sets a romantic mood indoors or out. It's soot-, smoke- and hassle-free for the ideal ambiance, and all they need to start it up is some rubbing alcohol. They can even use it to roast s'mores!

FLIKR Fire rubbing alcohol tabletop fire pit, $95, TheGrommet.com 
3. A Meaningful Serving Tray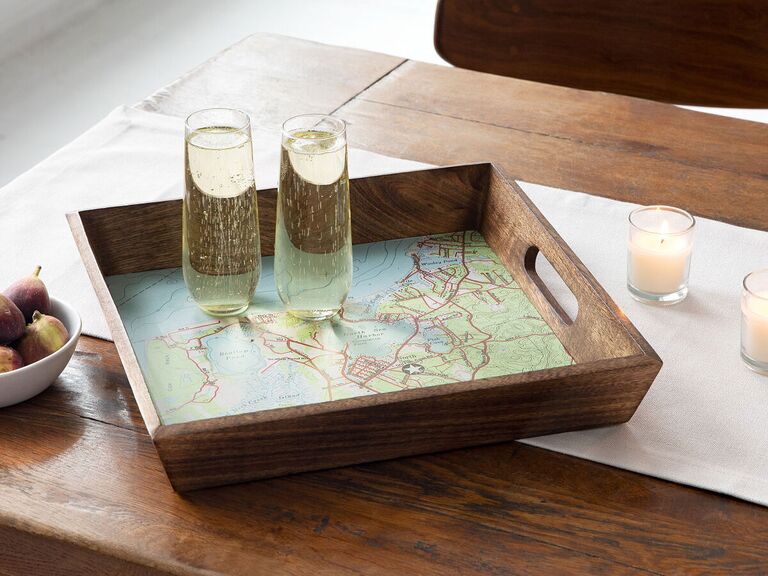 This holiday gift for the married couple will hold a special place in their hearts. The design features a map of one of their favorite locations, be it their wedding destination, where they met or their neighborhood.
Uncommon Goods custom map serving tray, from $65, UncommonGoods.com
4. A HomeSoap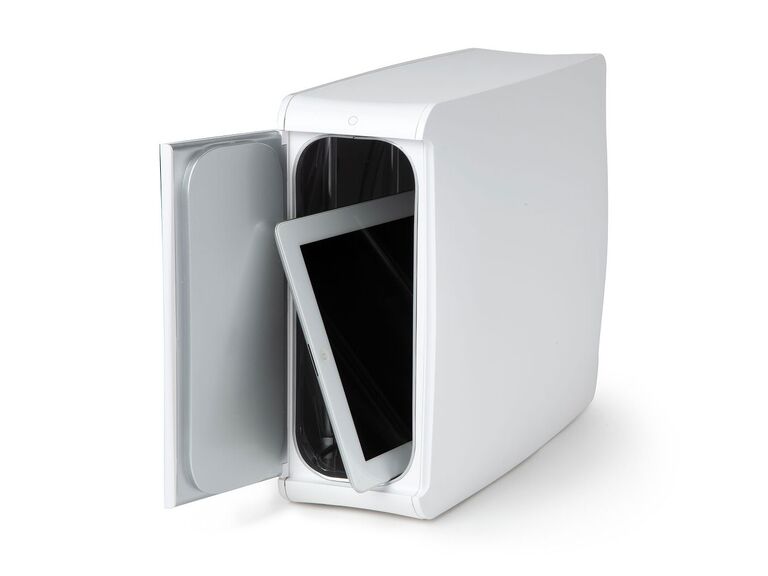 This is the practical gift for newlyweds that they never knew they needed. The HomeSoap is a high-tech box that disinfects whatever's inside it. The device uses UV light to zap away germs on their phones or even their remote. 

HomeSoap household sanitizer, $200, UncommonGoods.com
5. A Bluetooth Speaker That's Also a Lamp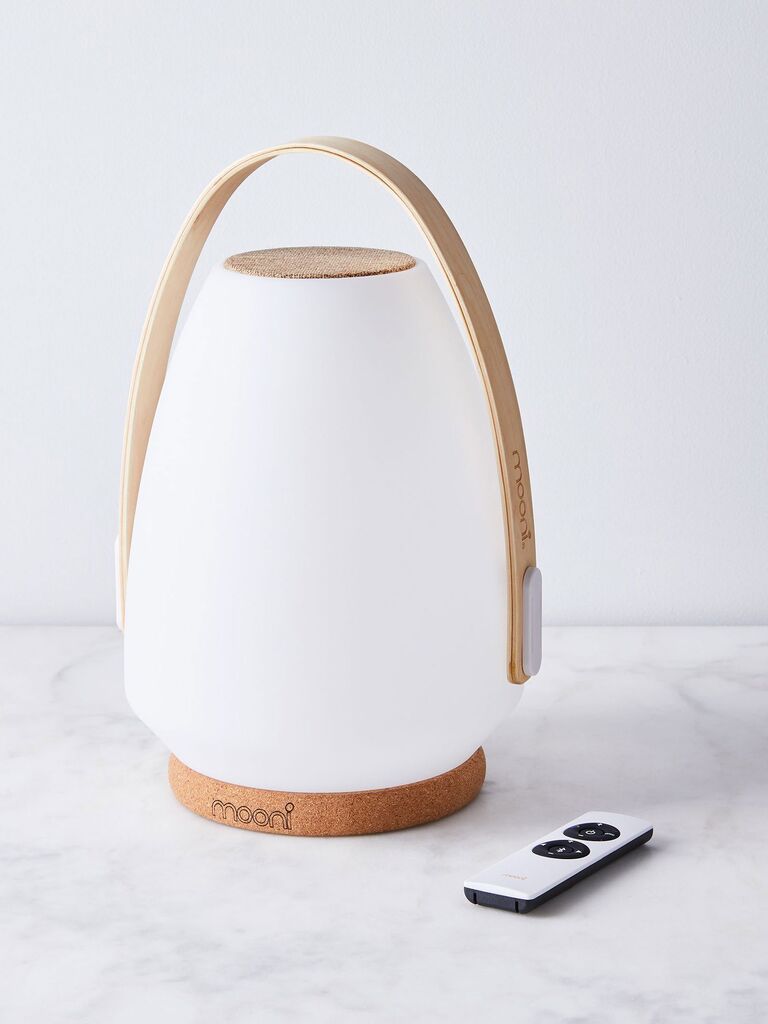 Talk about the perfect gift for a romantic date night in. This awesome Bluetooth speaker lights up and changes colors, so they can really kick back in style.

Mooni Andale speaker lantern, from $99, Food52.com
6. A Cuddly, Custom Throw Blanket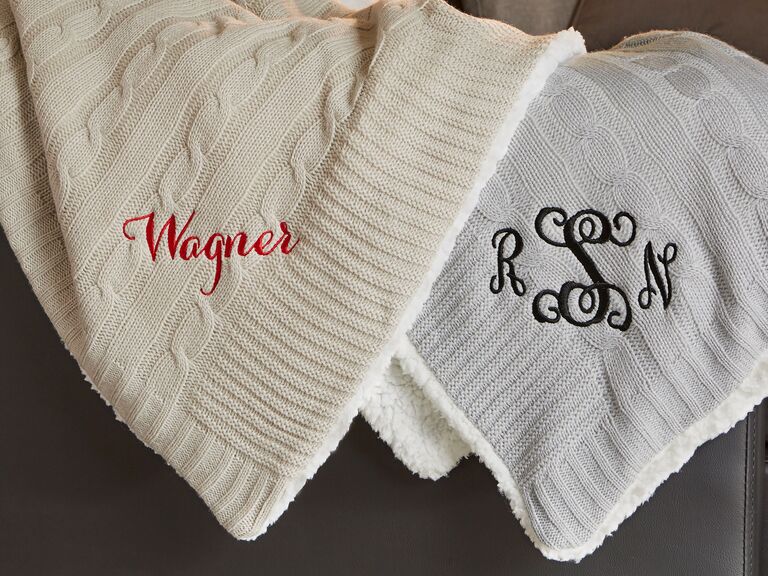 Help them keep warm the rest of the winter with this cute gift for married couples. The super-soft throw blanket (made from cable knit and sherpa) can be personalized with their initials or names. 
Personalization Mall classic cable knit personalized throw blanket, $80, PersonalizationMall.com  
7. The Trendy Appliance They Wish They Registered For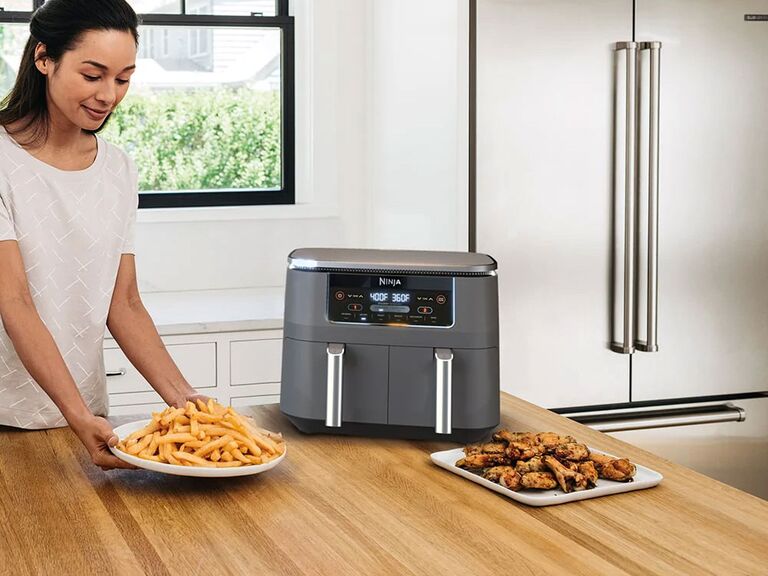 Move over stand mixers—air fryers are all the rage lately when it comes to kitchen appliances. This genius device makes delicious fried food using less oil than traditional frying methods. That also means they can avoid the mess (and pain) of hot oil splashing everywhere. 
Ninja Foodi 6-in-1 8-qt. 2-basket air fryer with DualZone technology, $180, NinjaKitchen.com 
8. A Fancy Way to Make Guacamole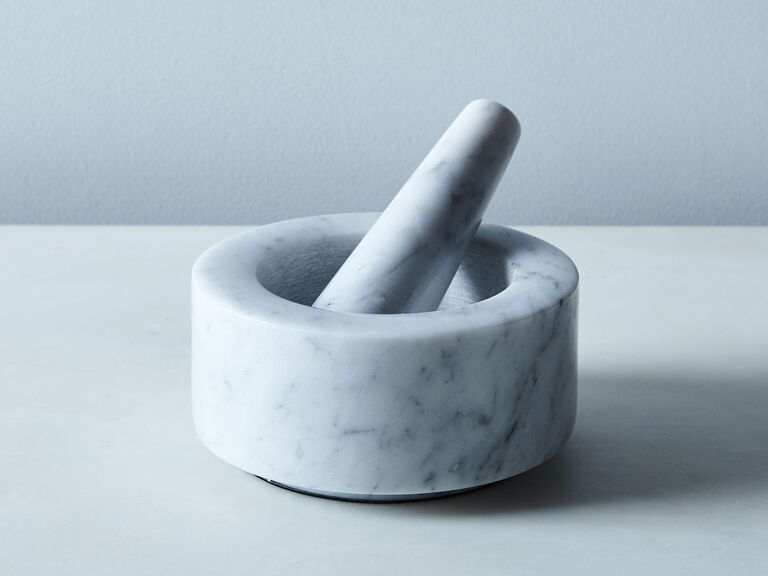 This marble mortar and pestle is easy on the eyes, and it's also really useful. Gift it to the newlyweds who crush it in the kitchen—it makes everything from guac to nut butter.
Magnus Design natural stone mortar & pestle, from $90, Food52.com
9. A Nifty Picture Frame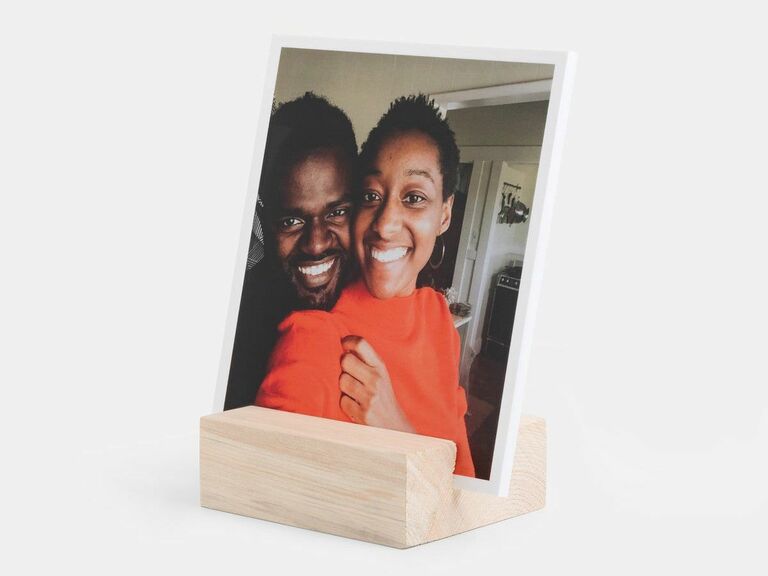 This stylish wooden photo block is such a good gift for newlyweds. It can hold up to 12 photos, so the couple can rotate what's on display. Choose a dozen of your favorite photos of the pair, including a sweet candid from their wedding. 

Artifact Uprising wood block & prints, $20, ArtifactUprising.com 
10. A Festive Candle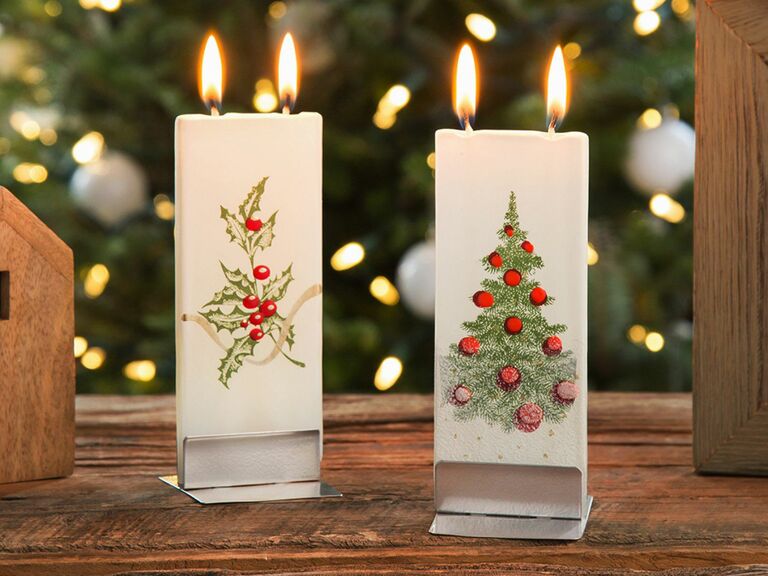 These minimalist flat candles are undeniably eye-catching, which sets them apart from the many, many other candles the newly married couple is likely to receive in their lifetime. They're hand-painted and they evaporate rather than drip, so they burn without leaving a mess.

Flatyz handmade holiday flat candle, $13, TheGrommet.com
11. A Genius Way to Make Decisions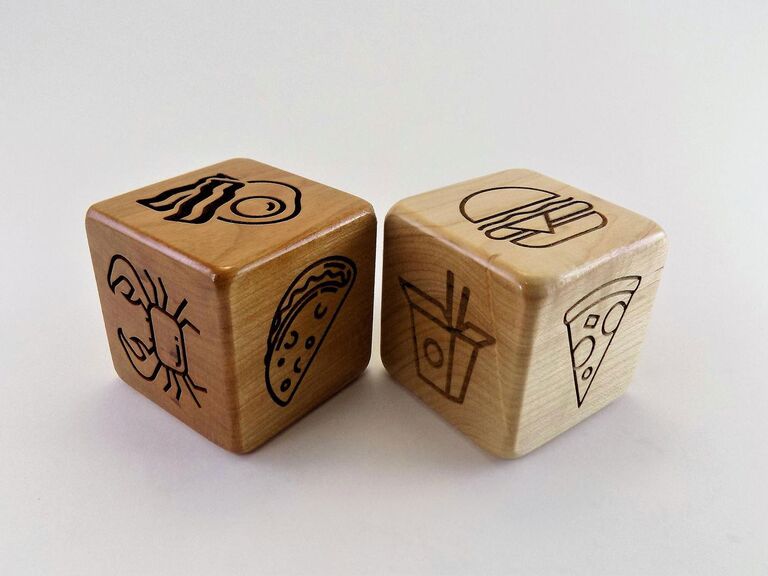 When they don't know what to eat, they can pull out this funny gift. All they have to do is roll the dice and dinner is decided. 

Mindset CO DieCider food decider dice, $13, Etsy.com
12. A Way to Watch All Their Favorite Shows Together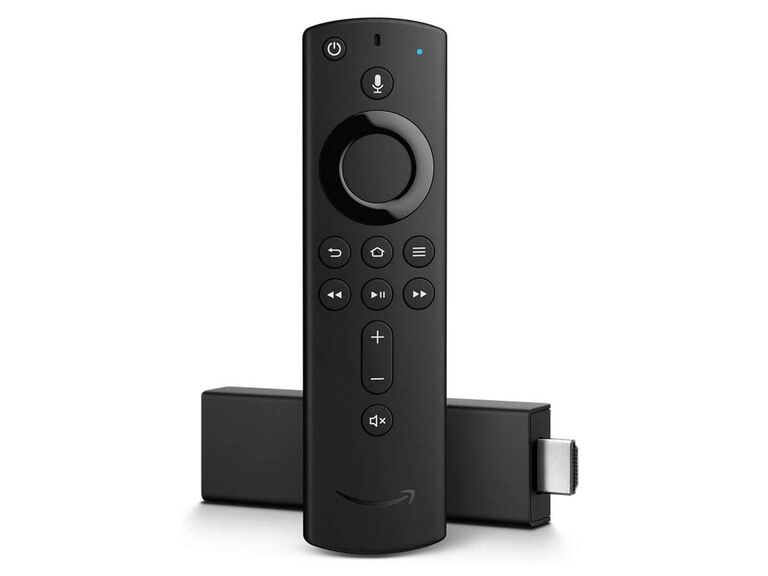 Say hello to the ultimate gadget for show and movie streamers. This device lets them access all their subscription services—from Netflix to Hulu—from their TV at once. Really, you're giving them the gift of convenience—and lots and lots of snuggly nights at home. 

Amazon Fire TV Stick 4K streaming device with Alexa voice remote, $50, Amazon.com
13. DIY Wine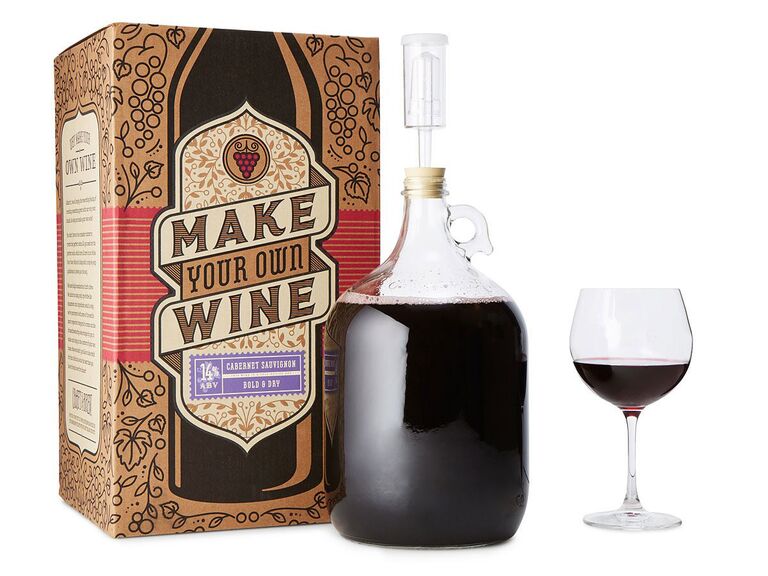 Here's something fun to occupy their time while they're stuck at home this winter. The kit comes with everything they need to take a stab at making their own Cab. 

Uncommon Goods Cabernet Sauvignon wine making kit, $60, UncommonGoods.com
14. Holiday Greetings from a Celebrity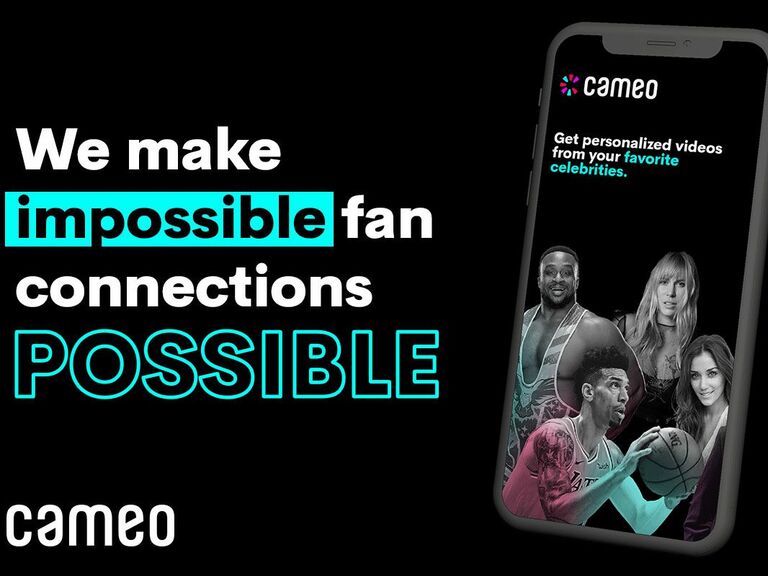 Give the newlyweds a holiday gift they won't be expecting: a personalized message from a celebrity. Cameo has so many great options, from musicians to athletes to reality TV stars. Could this gift be more creative?

Cameo personalized message from celebrity, price varies, Cameo.com
15. A Photo Calendar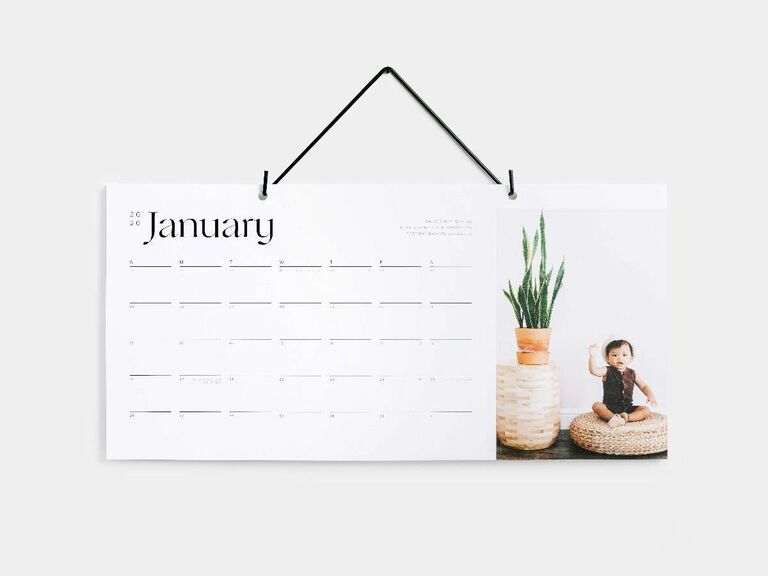 Celebrate their bright future together with a custom photo calendar for 2021. It'll give the just-married couple 365 days worth of happiness. 

Artifact Uprising modern wall calendar, $39, ArtifactUprising.com 
16. A Date Night in a Box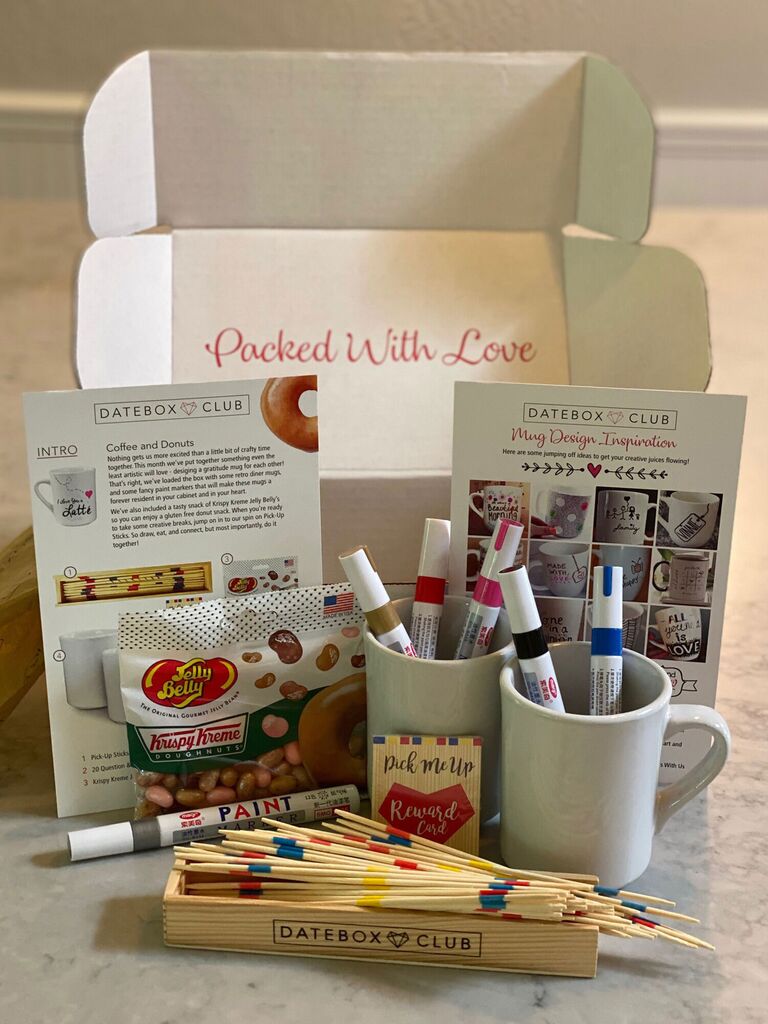 In the busy time after their wedding, make sure the newlyweds are still able to take time for themselves. A couple's subscription to DateBox Club gives them all the supplies they need for an easy date night at home each month.

DateBox Club monthly date night subscription box, from $33 per month, DateBoxClub.com
17. A Pretty and Personalized Address Stamp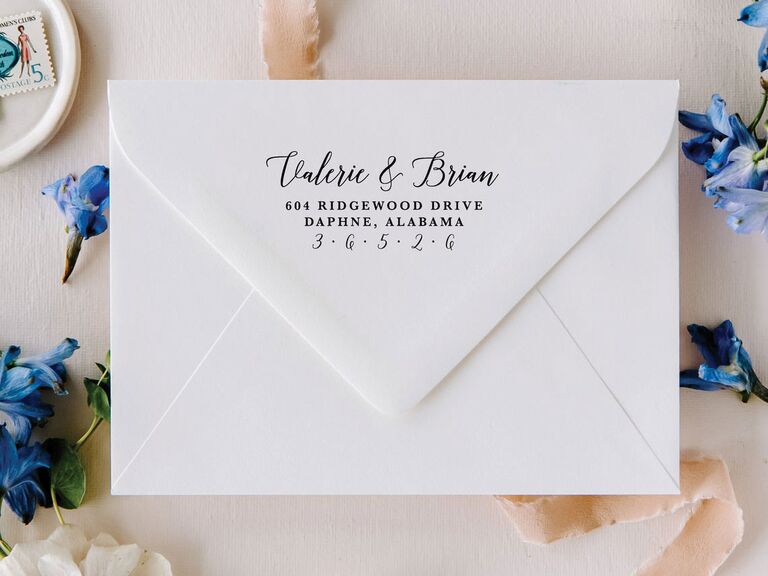 Now that they're officially married, they deserve some official-looking stationery. This kit lets them stamp their outgoing mail with a custom, calligraphed return address label. It's especially useful if they still have to send wedding thank-you cards.
Betty Lu Paperie calligraphy address stamp gift for newlyweds, from $34, Etsy.com 
18. A Funny (But Serious) Doormat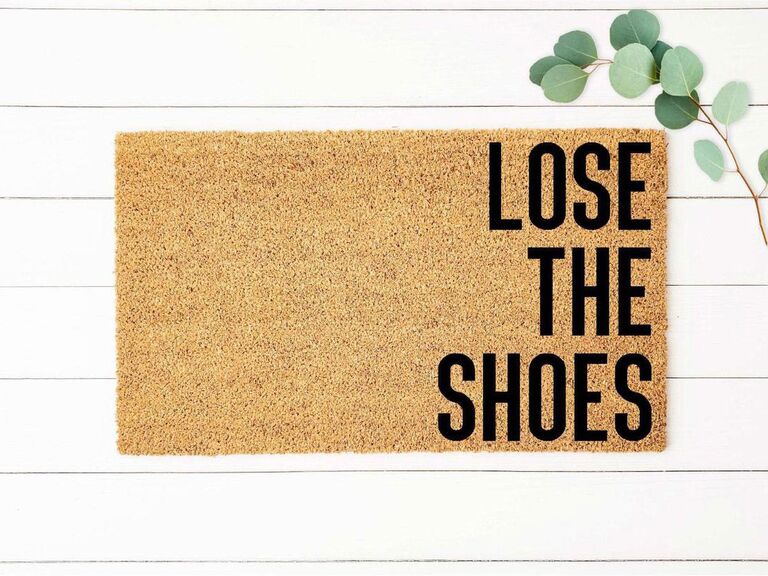 Their home, their rules. This cheeky "lose the shoes" doormat is the perfect gift for the married couple keen on keeping their abode spotless. It shows you know them well—and that you respect their wish for clean floors. 
Hamlin Row Shop Lose the Shoes funny doormat, from $28, Etsy.com 
19. A Tipple Delivery Service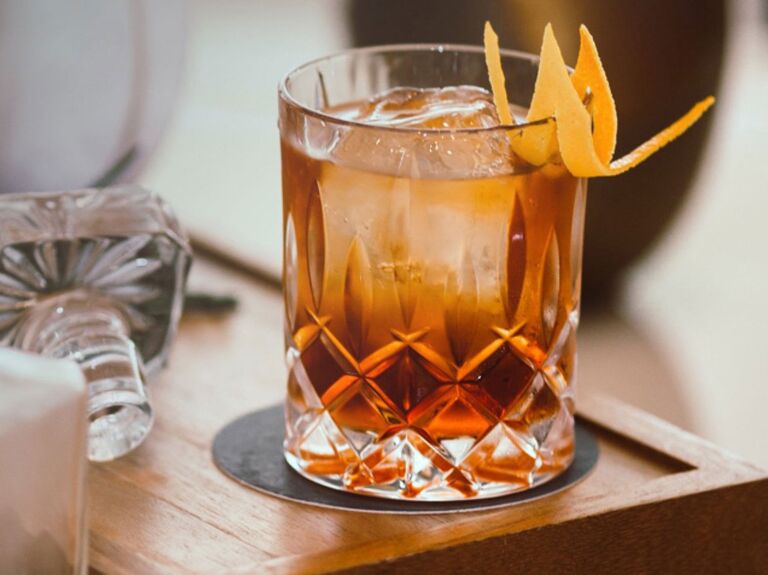 If they appreciate a quality drink, they'll appreciate this thoughtful gift idea for married couples. Treat them to this service and they'll receive a full-size bottle of their favorite type of liquor each month. They'll love it for at-home date nights and for cultivating their palates.
Mash&Grape Mashbox Club spirits subscription service, from $44 per month, MashandGrape.com 
20. A Fun, Wall-Mounted Bottle Opener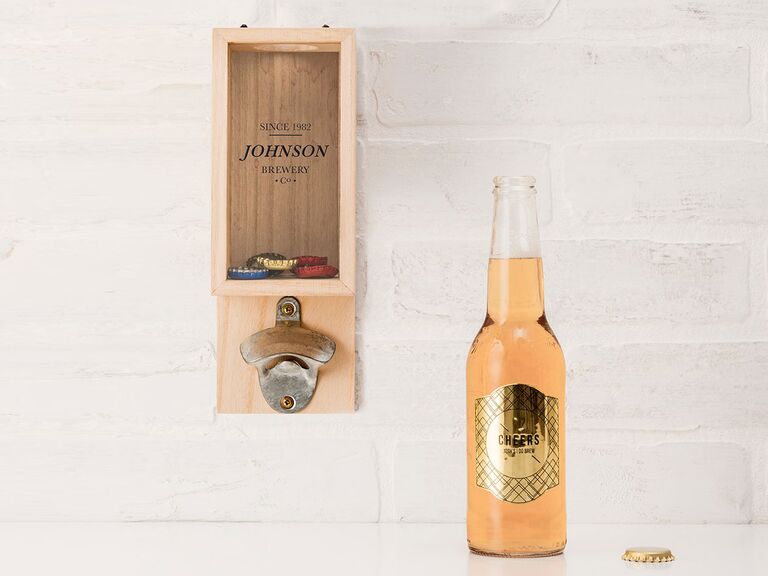 If they registered for bar essentials, they'll love this add-on gift. The personalized bottle opener mounts to the wall and has a clear storage case to show off the caps of all the craft brews they've been drinking. 
The Knot Shop personalized wall mounted bottle opener & bottle cap holder in Brewery Co, $25, TheKnotShop.com
21. Cute Mugs for Cozy Nights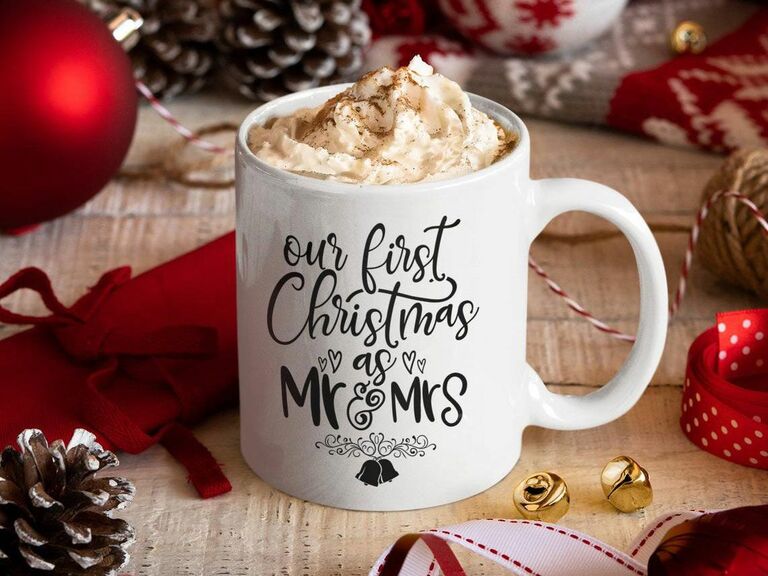 Set the happy couple up for cozy nights together with these super-sweet mugs. They're perfect for hot chocolates with loads of whipped cream, or homemade eggnog to really get them into the holiday spirit. How's that for a cute first-Christmas-married gift?

Gather Around US Our First Christmas as Mr and Mrs mugs, $20 each, Etsy.com 
22. Quirky Dish Towels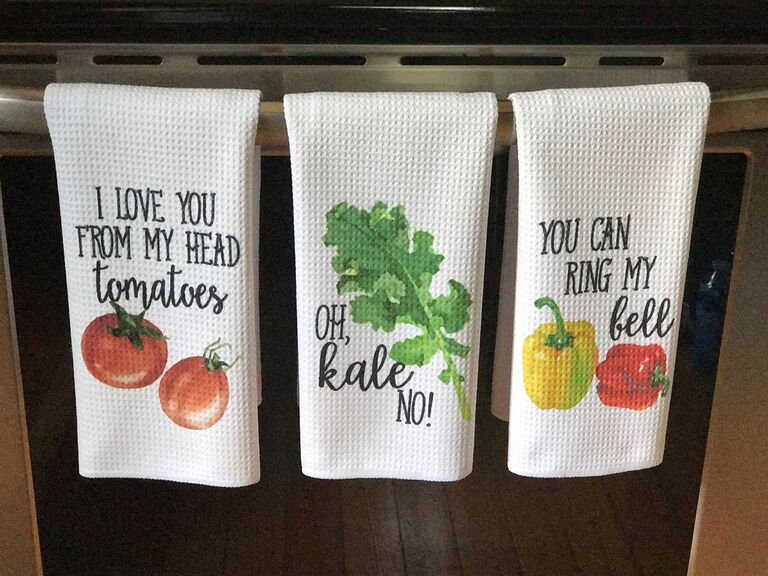 These tea towels make a cute addition to time spent together in the kitchen. They can hang them by the stove to brighten up the room, or to make doing the dishes a lot more enjoyable.
Do Take It Personally funny vegetable dish towels, from $12 each, Etsy.com 
23. A Custom Gift Box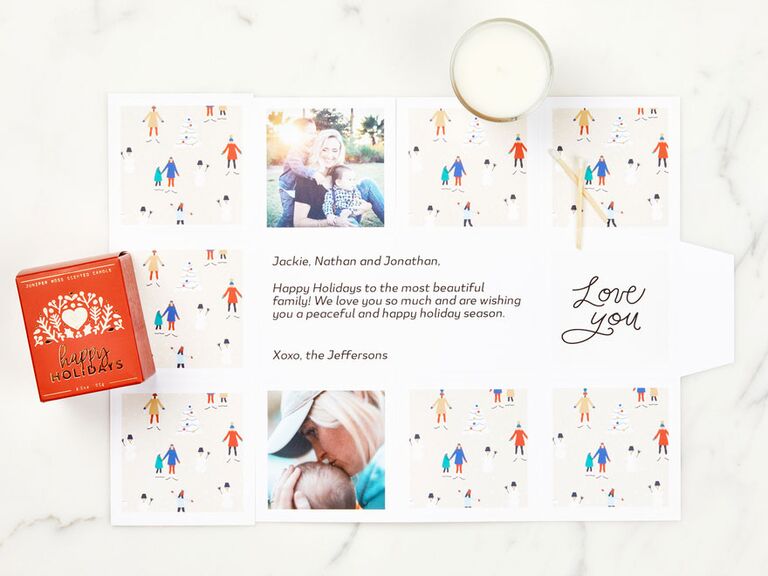 It doesn't get more thoughtful than a personalized gift for newlyweds. Greetabl gives you the chance to totally customize your gift, from choosing your favorite holiday packaging to decorating it with photos. There's also space for writing warm wishes on the inside of the box. This candle's festive juniper and moss scent is the seasonal finishing touch.
Greetabl Happy Holidays candle in personalized packaging, $21, Greetabl.com
24. Personalized Wall Art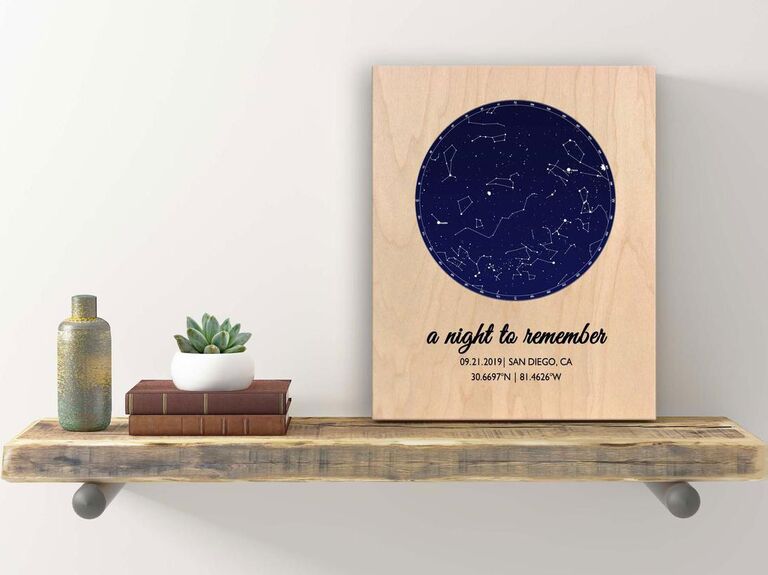 What about something for the couple who recently moved into a new home together? Help them decorate with this unique holiday gift idea for newlyweds: a map of the stars from a special night. The wooden art comes ready to hang or stand, and doesn't need to be framed.
Branch and Root custom star map personalized newlywed gift for couple, from $35, Etsy.com 
25. A Super-Chic Menorah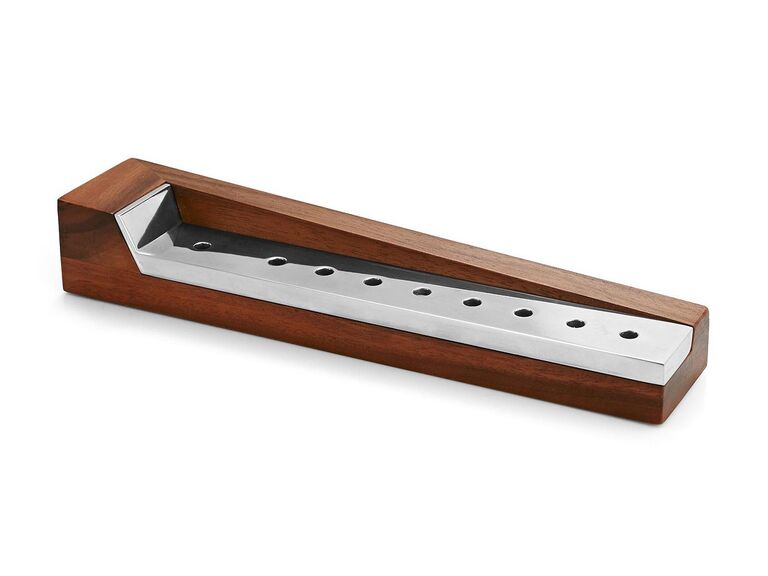 Now that they're spending the holidays as spouses, they're probably looking for festive decor to help them celebrate together as a family. This stunning menorah is a luxe gift for the newlyweds to use this (or next) Hanukkah. 

Nambé Geo menorah, $150, Macys.com 

26. Unique Kitchenware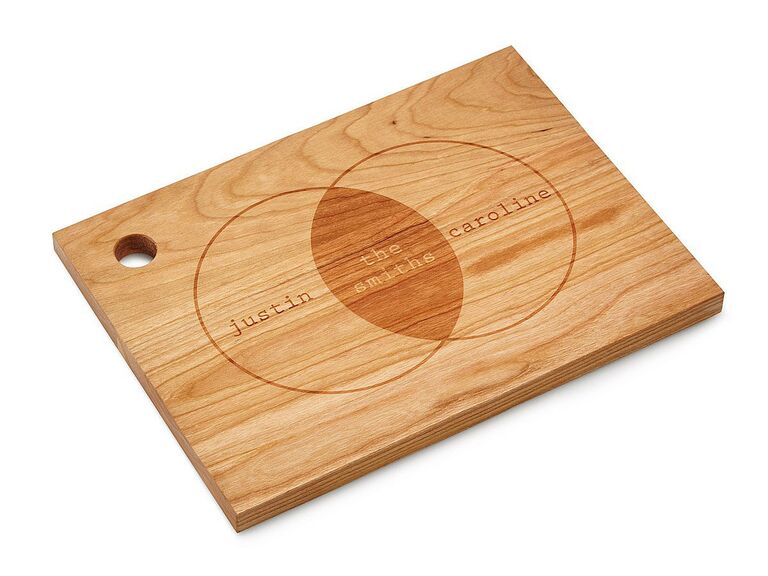 A holiday gift for newlyweds that's unique and personal? Sign us up! This custom cutting board doubles as decor when it's not in use. 

Steve Gerber personalized Venn diagram cutting board, $54, UncommonGoods.com
27. Cool Coasters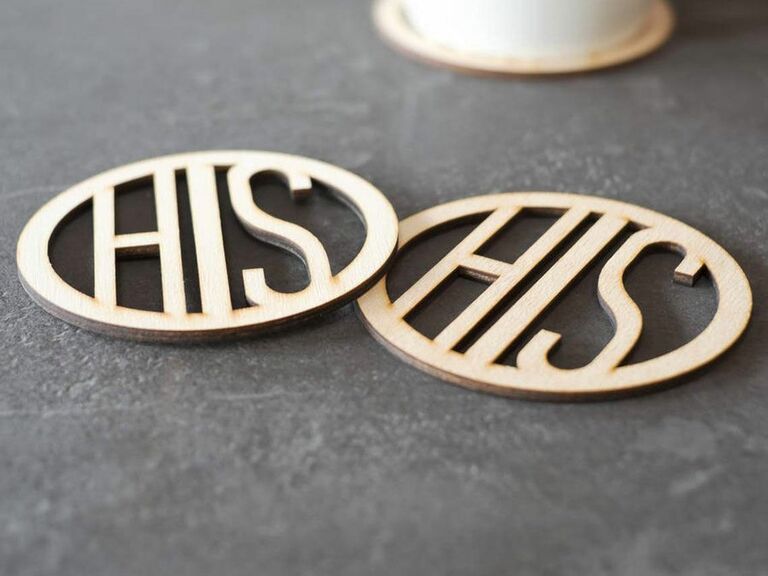 In our opinion, married couples can never have too many coasters. These matching wooden ones are the perfect resting place for morning coffee mugs. 

Clouds and Currents His and His wooden coasters, $12, Etsy.com  
28. Pillows That'll Help Them Relive Their College Days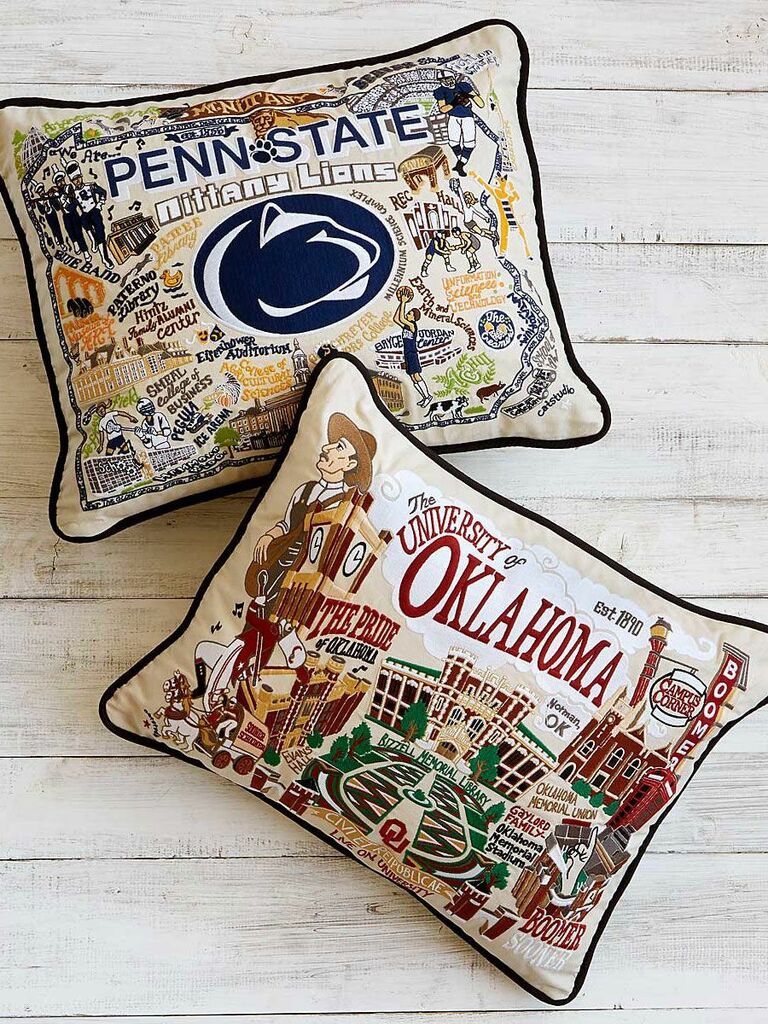 A gift for the newlyweds that nods to how they met pays quite a tribute to their love story. If they met in college, one of these cool pillows will bring back sweet memories. The seller embroiders each playful decor piece with thematic collegiate motifs. Just choose their school and add it to your cart.

Carmel & Terrell Swan embroidered college pillows, from $192, UncommonGoods.com
29. A Portrait Honoring Their Wedding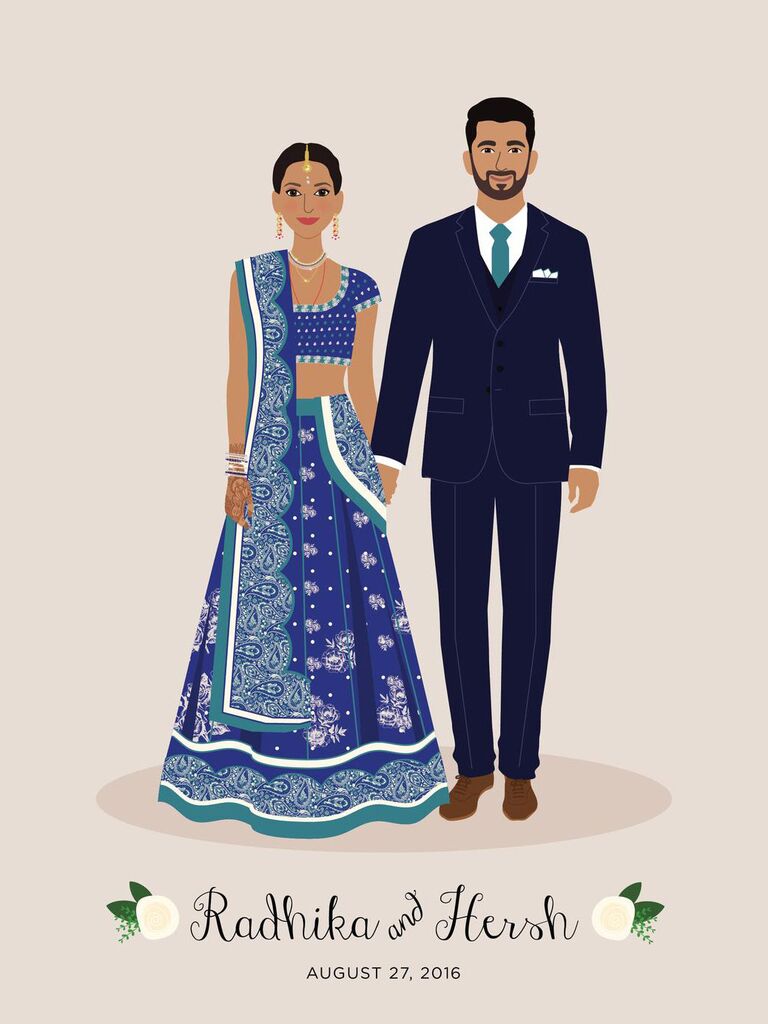 Turn one of their beautiful wedding photos into a stunning piece of artwork by commissioning a portrait of the newlyweds. This artist works from a photo of the couple to create something unique, then adds their names and wedding date to the masterpiece. They can also add a pet if you want to take your gift a step further. Now that's got to be one of the best gift ideas for newlyweds.
Henry James Paper Goods newlywed portrait, $115, Etsy.com  
30. A Portrait of Their Pet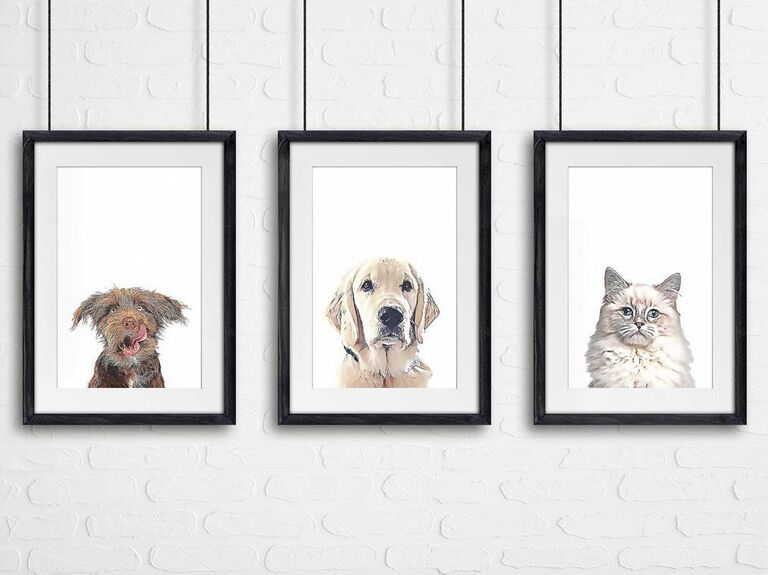 If their life revolves around their furry (or scaly, or feathery!) friend, this is the newlywed gift for them. Commission a precious art print of their pet and they're guaranteed to gush over it. 

Just Artin' Around custom pet portrait, from $45, Etsy.com
31. A Gorgeous, Sentimental Magnet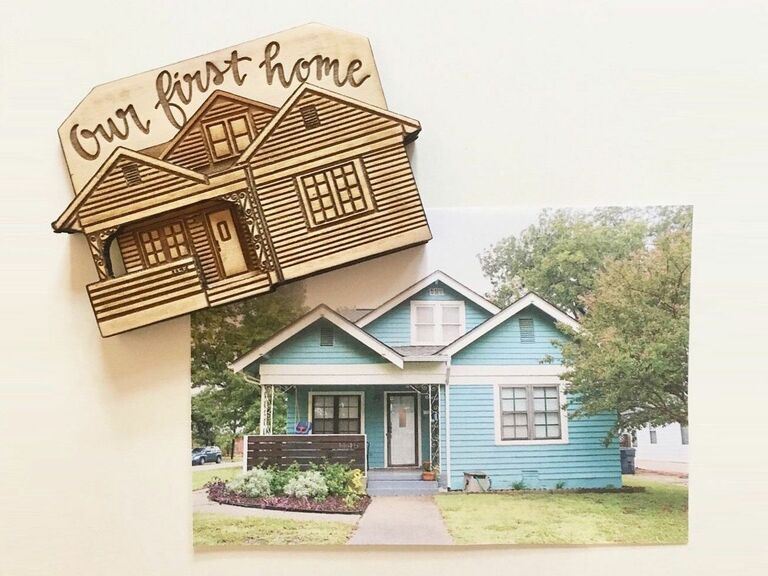 Yes, these magnets are pricey, but the craftsmanship is unbeatable. The seller designs the newlyweds a mini wooden replica of their home, which is a tear-jerkingly sweet Christmas gift for the married couple who recently moved in together. 

Rooted and Built Design custom home magnet, from $75, Etsy.com