18 Elegant Couples Stationery Sets That Send Love From Both of You
Sending mail is about to get a lot more fun.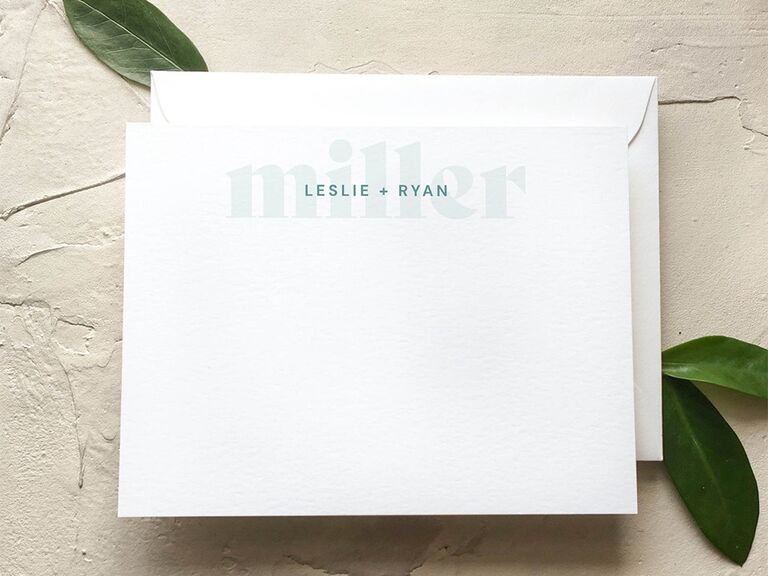 We have included third party products to help you navigate and enjoy life's biggest moments. Purchases made through links on this page may earn us a commission.
If you've ever seen that episode of Friends where Ross and Mona discuss sending out holiday cards as a couple (Spoiler alert, Mona is ready to go all-in on the from-us-both send, but Ross doesn't think they're "there yet"), it's probably made you wonder whether couples stationery is the next big step for you, too. We're here to tell you that partnership-minting writing materials are a great idea if your relationship is hitting major milestones (you just moved in together, you just got engaged, etc.). Not only can custom note cards make you two feel more official, but they can also make your letter recipients feel like they're getting greetings from their favorite pair, not just one person.
Whether you need thank-you notes or change of address alerts, there is a wonderful range of stationery available to shop online right now. We've rounded up some of our favorites, from missives with monograms to correspondence with color and texture, all of which transition your correspondents from me to we for any modern couple.
Paper Source Ampersand Letterpress Stationery

The centuries-old printing technique of letterpress will never disappoint, especially alongside modern, of-the-moment text. The artful ampersand in this design is playful and casual connecting your lowercase names. Since it's placed on the bottom right of the card, you don't even need to include a signature.

Cerulean Press Personalized Letterpress Couple's Stationery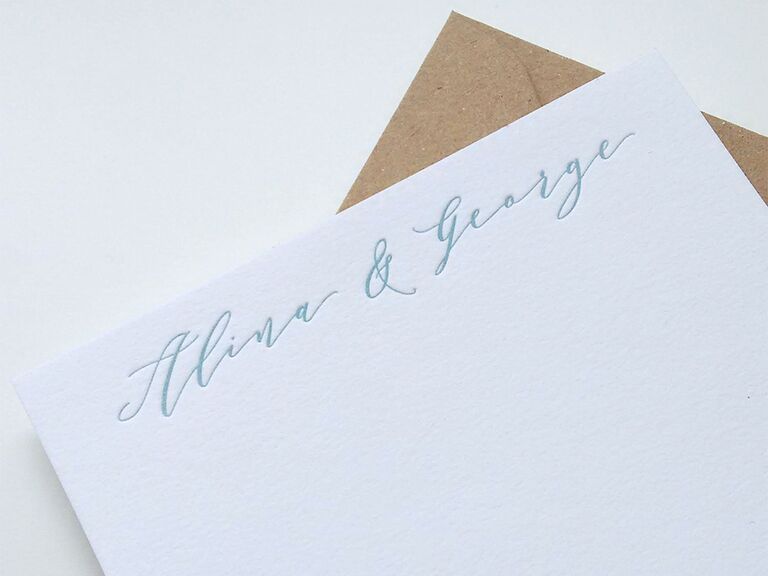 Each set of these custom letterpress note cards is printed with a gorgeous modern calligraphy font and coupled with brown kraft 100% recycled paper envelopes. Beautiful, high-quality gift boxes are available for orders of 25 and 50 cards, and they can be wrapped with a vellum belly band and decorated with a wax seal. It makes for a fantastic first anniversary gift if you're on the hunt for something special for your partner or want to surprise your favorite newlyweds.

Papier Hoste by Laura Jackson Peace Poppies Notecard Set

The oversized poppy motif is trending hard these days, so it makes sense that it would find its way onto stationery. The towering green stems, artful coral petals and pop of bright yellow in their centers conjure a color combination that pairs impressively well with the gray lowercase lettering of your names.
Ann Gardner Modern Couple Personalized Stationery

Modern couples stationery can feel both elevated and casual. No need to go with a monogram if it's not to your taste; this clean design features your first names in jewel-toned hues and sharp, stylish typeface. Whatever style you choose comes in a darling keepsake box embossed with the words "This is the start of something beautiful."

Rifle Paper Co.Pastel Petals Stationery

If you've just set a date for your big day, you may want to invest in some couples stationery to send out over the course of your engagement. A pretty pastel floral look can last from your engagement party to your bridal shower and lets your loved ones know that your thanks and thoughtful tidings are coming from two now.

Papier Ampersand Notecard Set

Classic stationery with both of your names up top isn't necessarily something you'd put on your wedding registry, but if you get it as a gift, you'll be so glad to have it. These luxe-feel white cards epitomize modernity, as does the avante-garde Gothic typography—and just look at all the space you have to write.

Kim Dietrich Elam Love Connection Personalized Stationery

This minimal yet romantic option connects your names with chic calligraphy and a sweet little heart stamped above. You can choose from two sizes of flat note cards and also have the option to add a colored or patterned back or a collection of photos for an additional cost.

Silhouette Blue Jewel Design Couples Stationery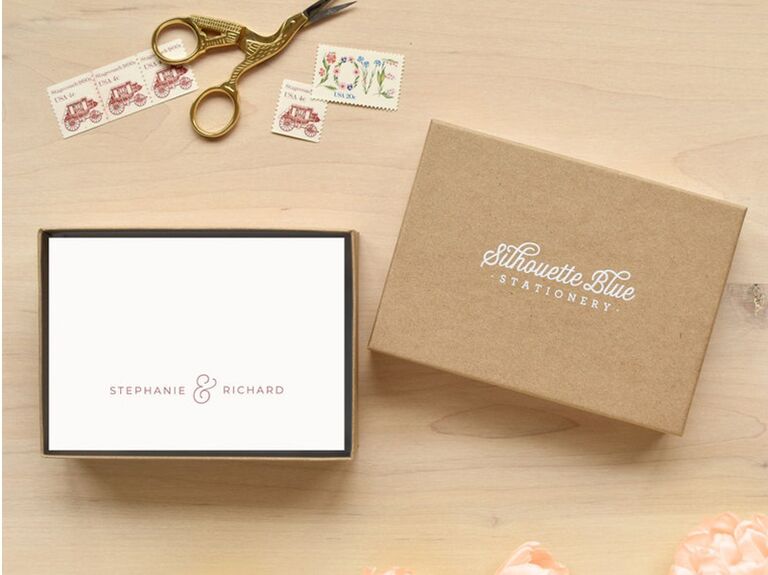 Want to win at engagement party gifting? Get the couple a set of personalized stationery complete with a kraft keepsake box. Choose white for a modern look or cream for a classic, traditional take. If you happen to know their wedding colors, you can even choose an ink color to match. They'll have plenty of occasions to use them, from thank yous to just-because notes to their wedding party.

Paper Source Initials Stationery

This crisp folded note design feels fresh and contemporary. The lowercase monogram on superfine, soft-touch white paper is a great match for a form and function-obsessed couple. Because the color palette is neutral yet punchy, it can be used any time you want to stay in touch.

Joy Creative Shop Couples Custom Stationery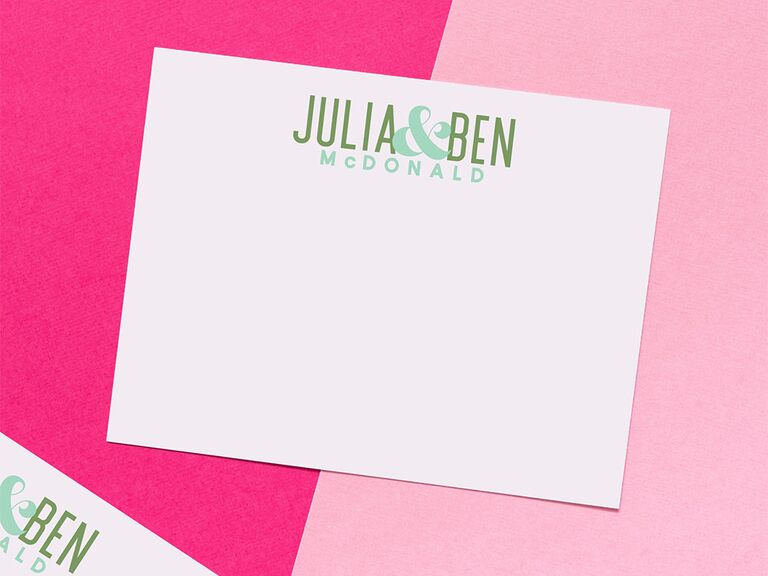 Embellished or ornamental stationery certainly has its place, but a bright and playful aesthetic like this one can be used for your everyday needs. You have an extensive choice of colors for the ink and envelopes, not to mention the option to add return address printing in two style variations (block or script).

Papier Matthew Williamson Peacock Garden Notecard Set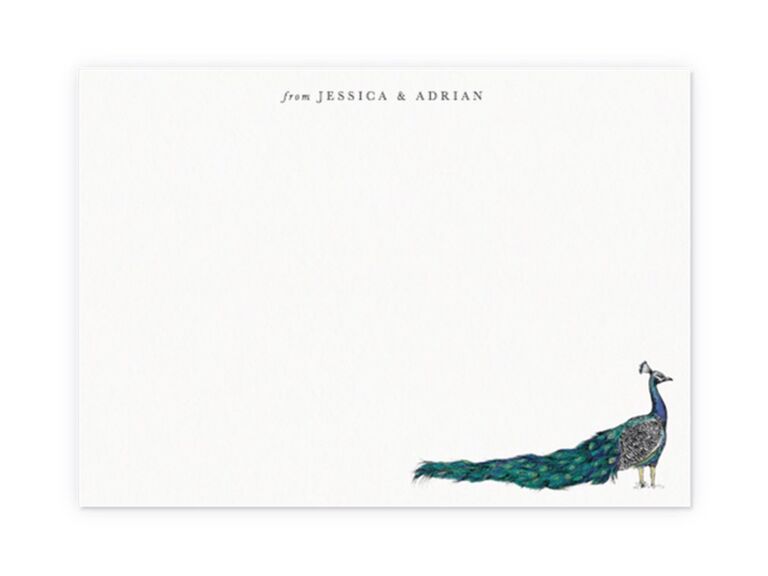 Subtlety is striking, but so is a little bit of peacocking. You can upgrade your free white envelopes for ones lined with bold stripes and scallops for an extra touch of the extravagant.

Ava Paperie Elegant Monogram Minimal Personalized Stationery Note Card

This modern couple monogram in charcoal black and white is simple and elegant, and when you're looking for something that can last a long time, that's what you want. The balance between the monogram up top and your signature on the bottom adds a simple harmony as well.

Petite Poppy Designs Bold and Simple Notecards

Perfect for wedding thank-you cards and beyond, the notecards feature a bold and modern font with your first names and shared last name. The cards are printed on thick signature paper with a luxurious cotton feel and light texture, giving it an overall clean and refined look.

Papier Wildflower Monogram Foiled Notecards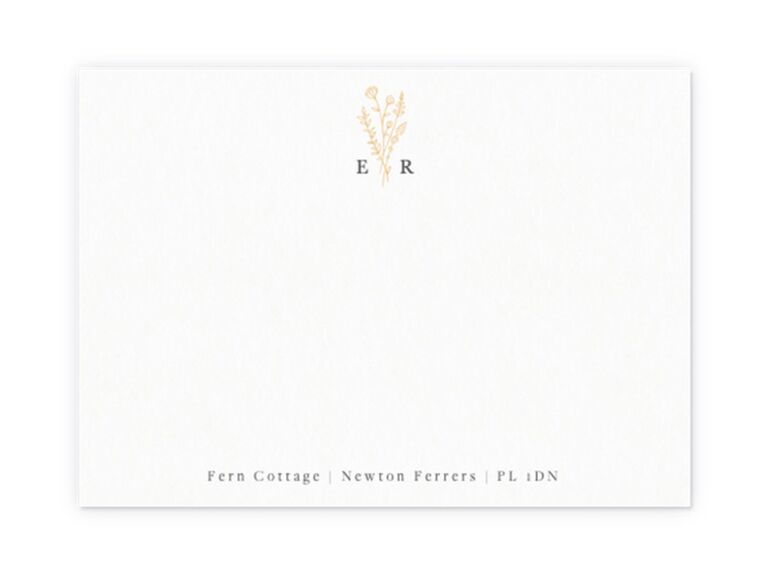 Wildflowers are known for their whimsy, so if you fancy yourself a little wild and carefree, this is for you. You can keep the delicate flowers in the same ink color used in the rest of the design or opt to fill it in with gold or rose gold foil for a touch of glamour.

Jojostudios Personalized Stationery for Couple With Heart Envelopes

Choosing thank-you cards that align with the rest of your wedding stationery is a wonderful way to close out your "I do" aesthetic, but going with something minimalist is fun and fashionable too. The placement of "thank you" across from your names is chic and balanced, leaving room for your personal sentiments in-between.

Papier Fine Flowers Notecard Set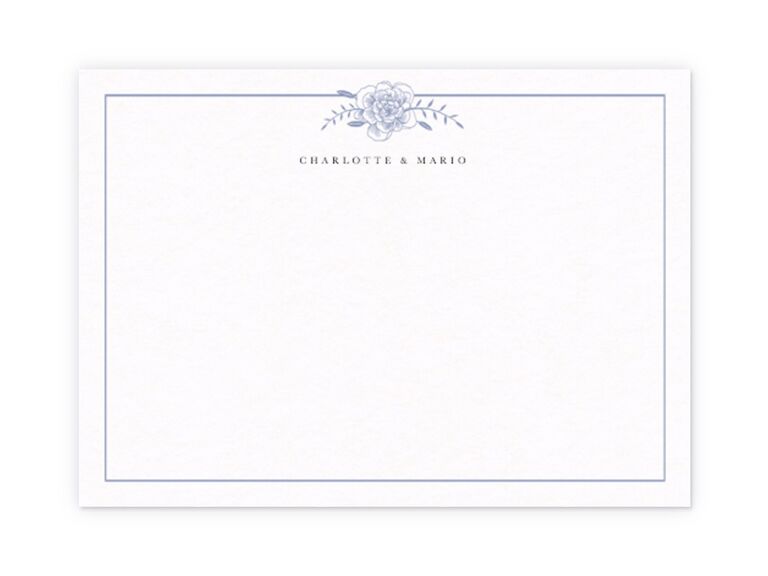 Something blue is always stylish, so this dusty cornflower color combination is a great pick for your forever stationery. We love the fine-point frame and the sweet hand-drawn flower floating above your names.

Pangga Designs Modern Black Gray Script Slanted Hello From Couple Note Card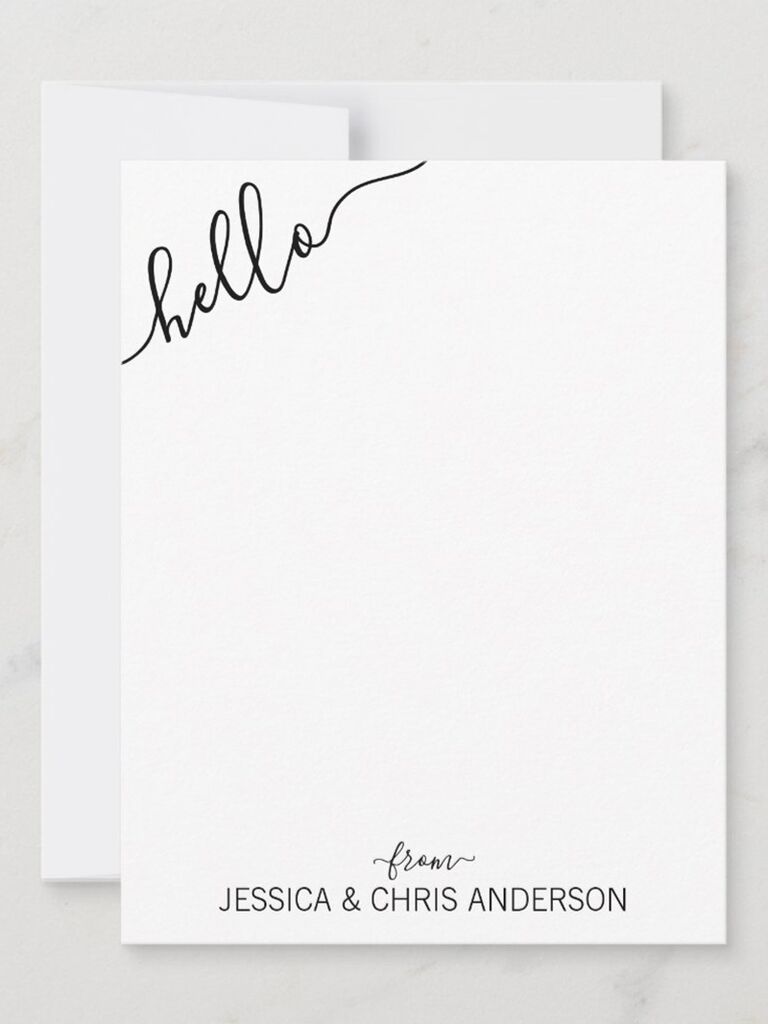 Do many people write letters just to say "hello" these days? No, not really, but that doesn't mean we shouldn't try! With this template, you can easily customize the color of the text with to show two names or a family name. Pets and kids can easily be added onto later orders of the stationery if your family grows.

Claudia Owen Personalized Floral Stationery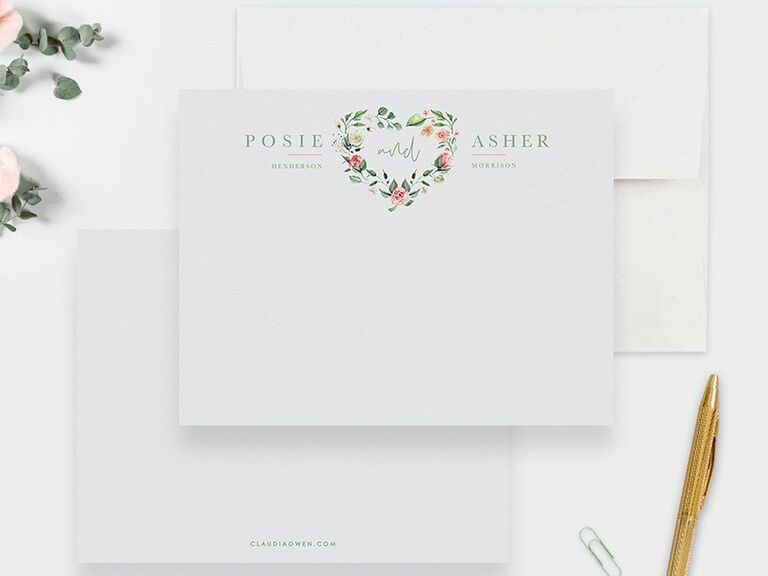 This is the type of stationery set that can hint at your future wedding invitations—that delicate floral wreath has spring or summer nuptials written all over it, right? Printed on heavyweight white matte card stock, the material is sturdy and solid. And because the detailing is printed on both sides, you can confidently write onto the reverse side and still feel like it's one complete and cohesive message, not just run-on rambles.