20 Personalized Couples Stationery Sets That Send Love From Both of You
Sending mail is about to get a lot more fun.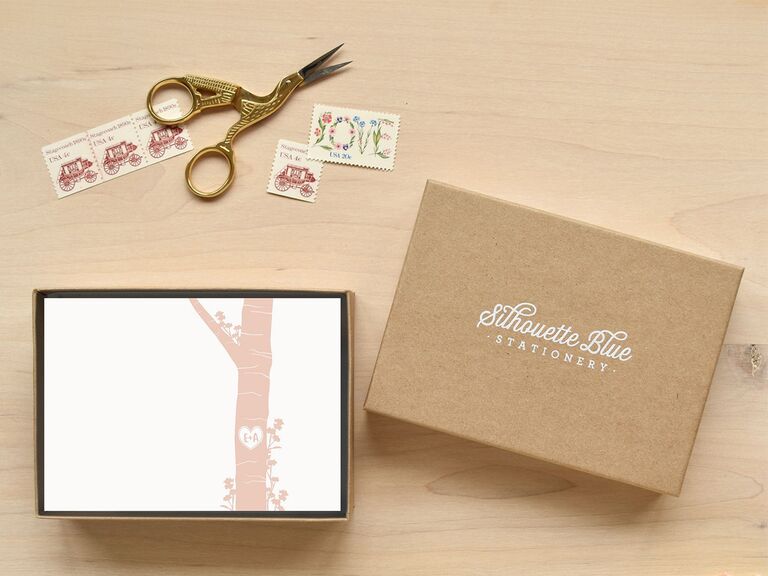 Photo: Silhouette Blue / Etsy
We have included third party products to help you navigate and enjoy life's biggest moments. Purchases made through links on this page may earn us a commission.
It's a tale as old as time: meet, fall in love, buy couples stationery together and live happily ever after. That's right, personalized stationery for couples is a fairytale-worthy relationship milestone. Whether you're shopping for newlywed stationery for your wedding thank-you notes or are in the habit of sending snail mail together to show friends and family some love, these custom cards will elegantly get the job done. Not only can personalized couples stationery make you two feel more official, but it can also make your letter recipients feel like they're getting greetings from their favorite pair, not just one person. That's why we've rounded up some of our favorite couples stationery cards for you to shop online. From missives with monograms, to bold colored paper, to even textured sets, all of these picks will transition your correspondents from me to we.
1. Elegant Monogram Couples Stationery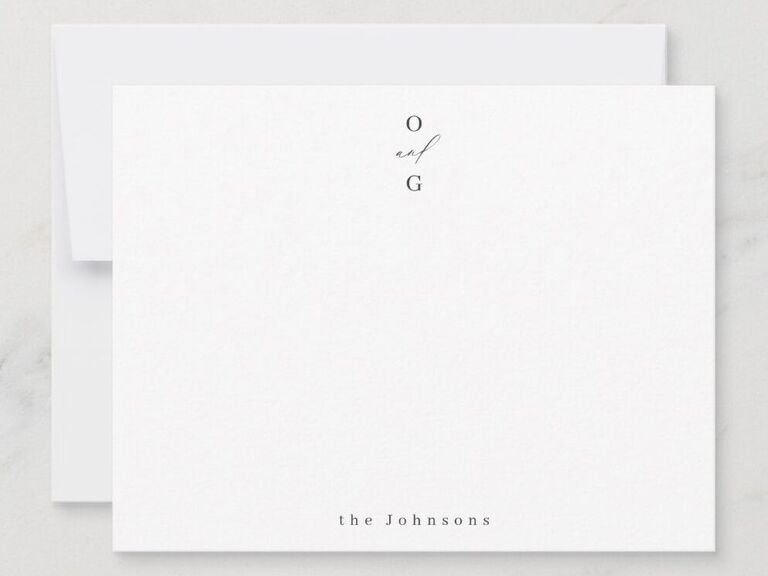 This modern couples monogram stationery in charcoal black and white is a simple option that'll never go out of style. The balance between the initials up top and your shared last name on the bottom adds a simple harmony. It can have squared or rounded corners and comes in six paper options.
2. Simple Ampersand Couples Stationery
Whether you're not married yet or chose not to share a last name, there are plenty of personalized stationery sets for couples that only feature first names—like these minimalist white cards with modern, all-caps typography. And with a simple design at the top, you'll have lots of space to write your message.
3. Black and Gold Folded Couples Stationery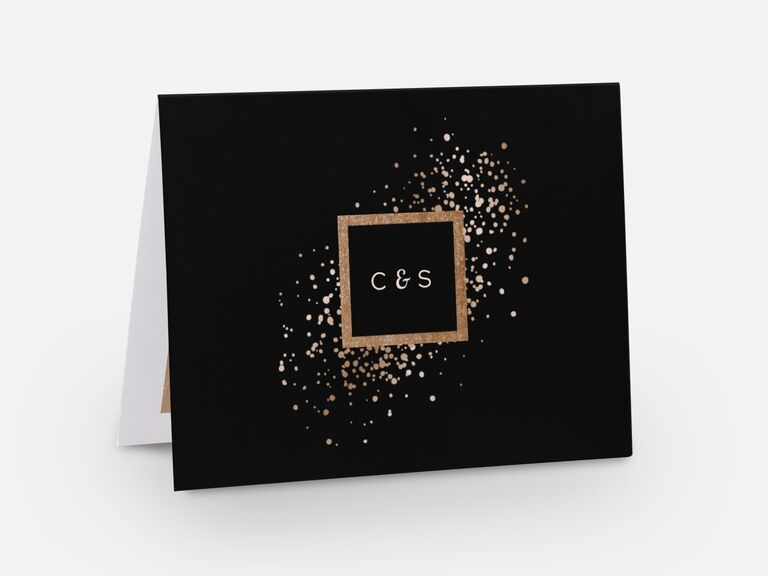 This couple's thank-you card set is quite Gatsby-esque. The black cover is embellished with gold flakes around your initials. The inside has a matching gold border with your names on the bottom edge—so you don't really need to sign it at the end of your note.
4. Poppy Couples Stationery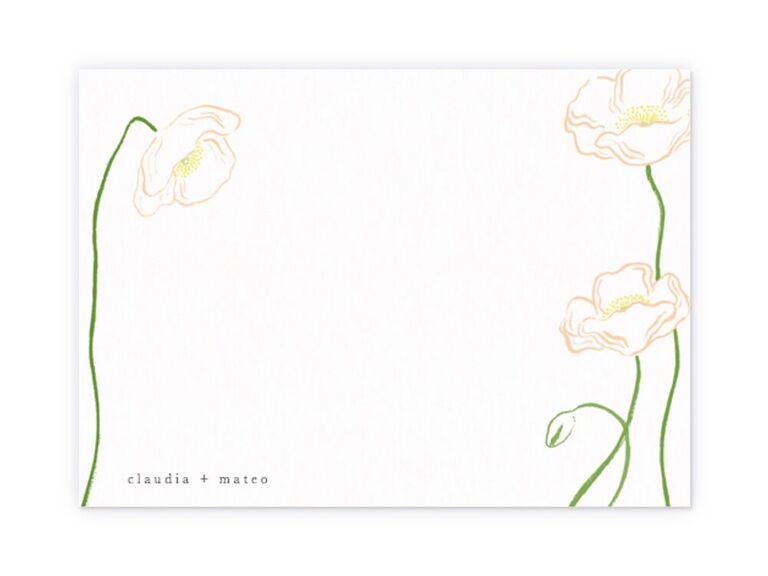 As a symbol of remembrance, it's fitting that these keepsake-worthy note cards feature oversized poppies. The towering green stems, artful coral petals and pops of bright yellow in their centers conjure a welcome color combination. They pair well with the gray lowercase lettering of your names in the left corner.
5. Striped Letterpress Couples Stationery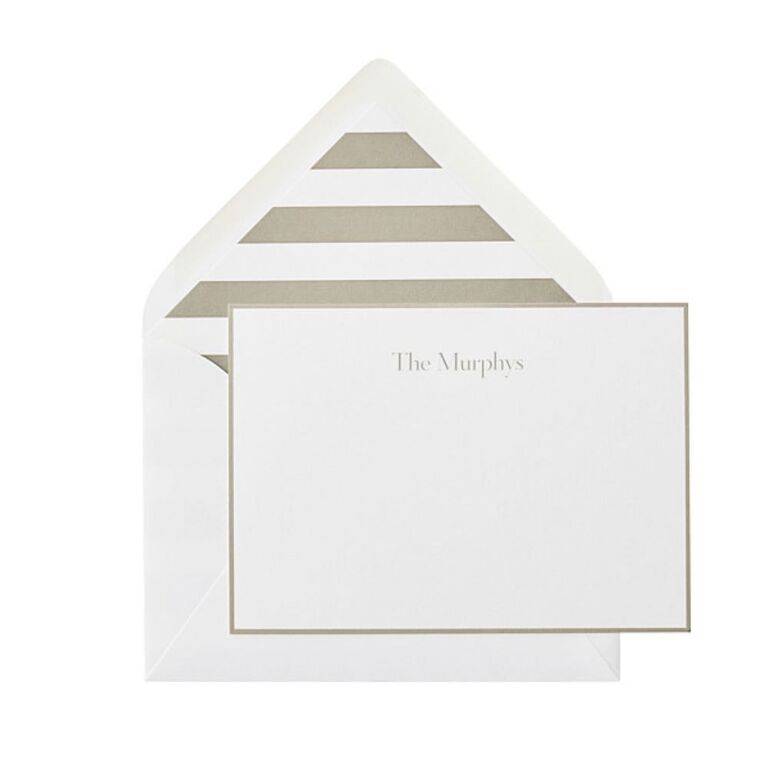 Mark & Graham is known for their monogrammed goods, so it makes sense they have luxe couples note cards. This stationery set is hand-bordered with a letterpress monogram or name centered at the top and comes with matching striped envelopes. Choose between four colors: tangerine, lime, light taupe and red.
6. Flower Stamped Couples Stationery
Something blue is always stylish, so this dusty cornflower color combination is a great pick for your forever stationery. We love the fine-point frame and the sweet hand-drawn flower floating above your names. So classic.
7. Carved Tree Couples Stationery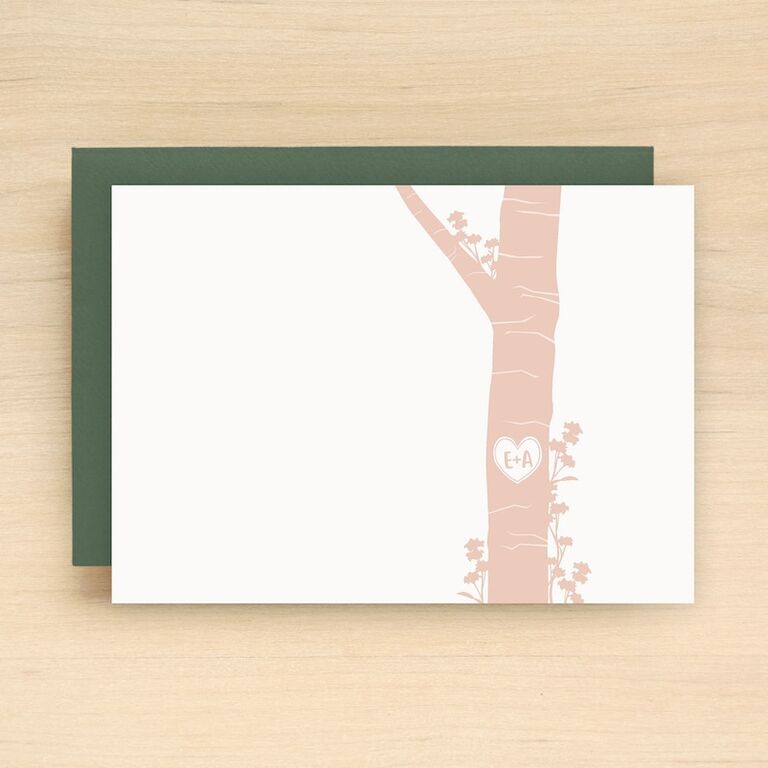 Obsessed is an understatement for the way we feel about these personalized note cards for couples. Printed with a tree motif that's "carved" with a heart and your initials, it's equally romantic and playful. Best of all, you can choose between 25 tree colors and 30 envelope colors.
8. Monogrammed Wildflower Couples Stationery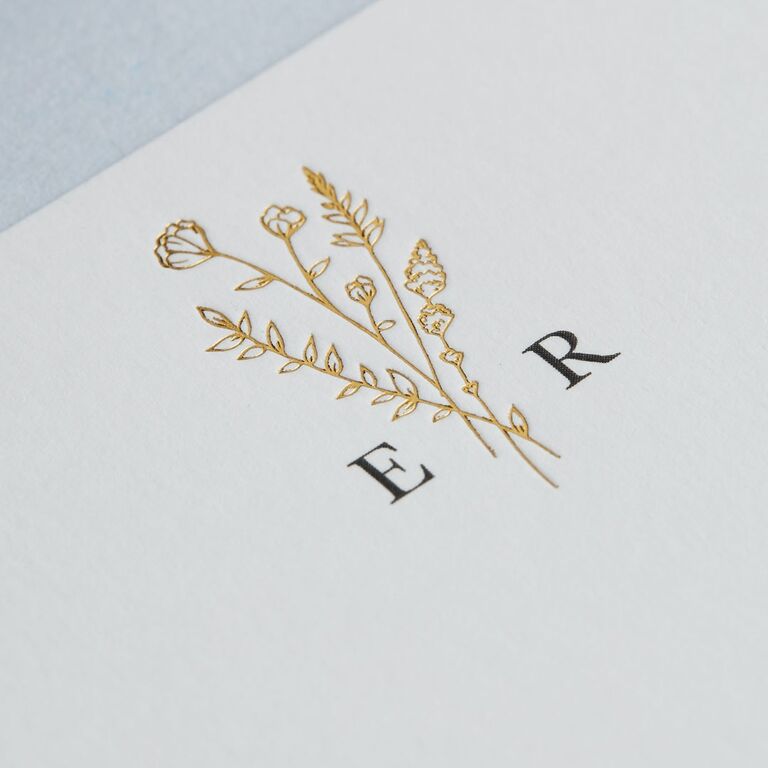 Wildflowers are known for their whimsy, so if you fancy yourself a little wild and carefree, this set is for you. You can keep the delicate flowers in the same ink color used in the rest of the design or opt to fill them in with gold or rose gold foil for a touch of glamor. The first initial of each of your names bookends the delicate design.
9. Ampersand Colorful Couple's Stationery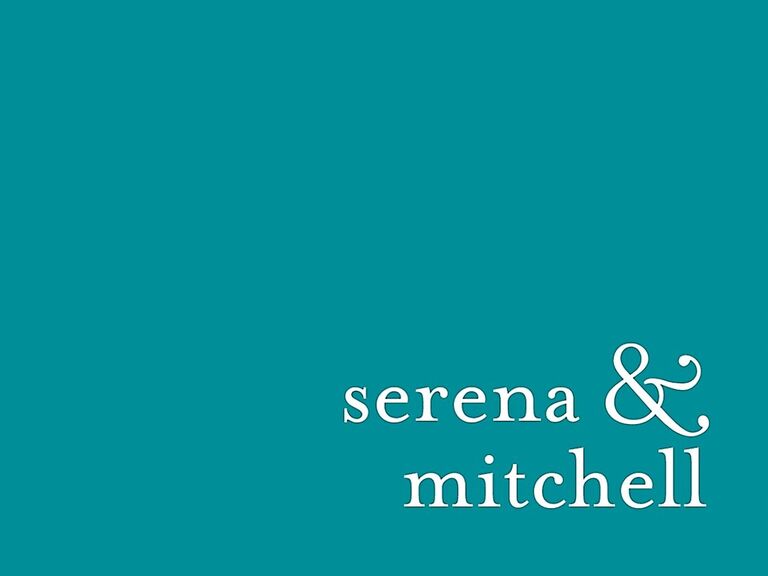 If white stationery—despite additional designs—isn't your thing, that's okay! There's plenty of colorful couple's stationery to shop too. This background can be nearly any color on the color wheel—perhaps it could match your wedding theme if you're writing thank-you notes. You can also play with the ampersand's hue, though your names must stay white.
10. Bamboo Patterned Couples Stationery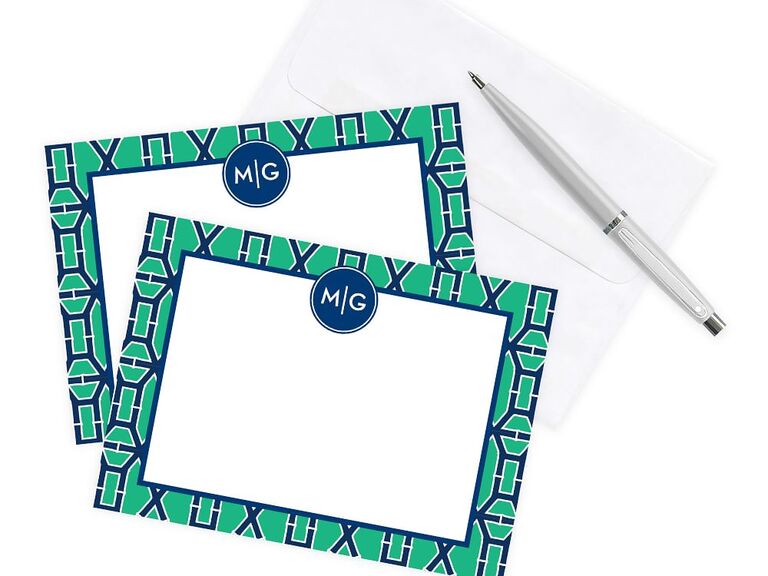 Designed by independent artists, this colorful stationery set has a geometric bamboo-patterned border that can come in 12 bright colors—though the Kelly green is our favorite. There are a few design options for the monogram that'll feature your first initials. It comes with plain white envelopes.
11. Elegant Embossed Couples Stationery
It doesn't get more classically elegant than this couples stationery set. Each note card has an embossed double border, which frames your embossed joint monogram or name. You can also have the envelopes embossed with your return address and add a colorful liner. So fancy!
12. Mr. and Mrs. Couples Stationery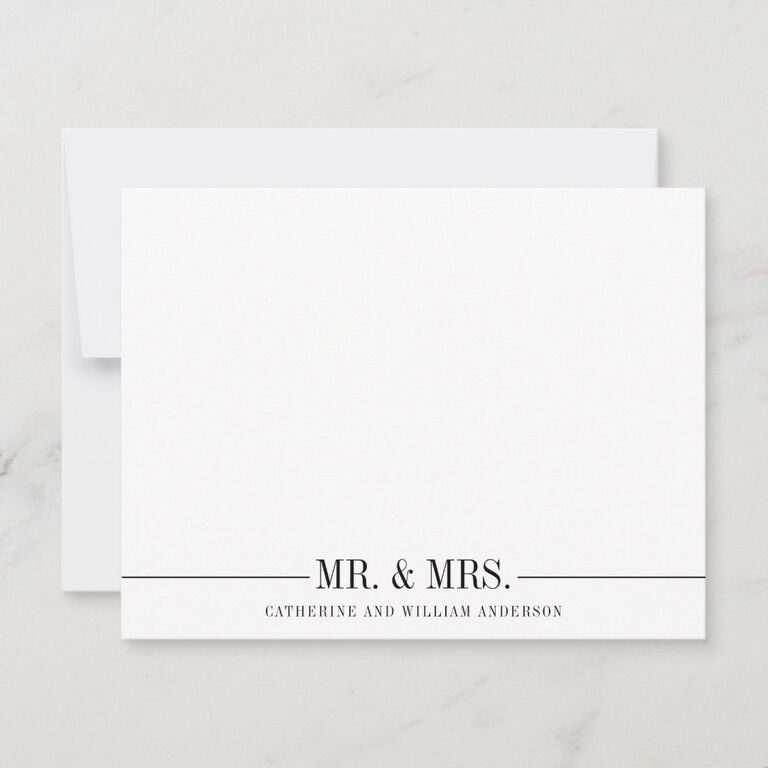 This stationery for engaged or recently married couples will celebrate your new marital status. Your prefixes (Mr. and Mrs., Mr. and Mr. or Mrs. and Mrs.) are printed boldly on their own line with your full names underneath. The black and white color scheme with a typewriter font is elegant and timeless, perfect for thank-you notes after a formal shower or wedding.
13. Modern Pastel Couples Stationery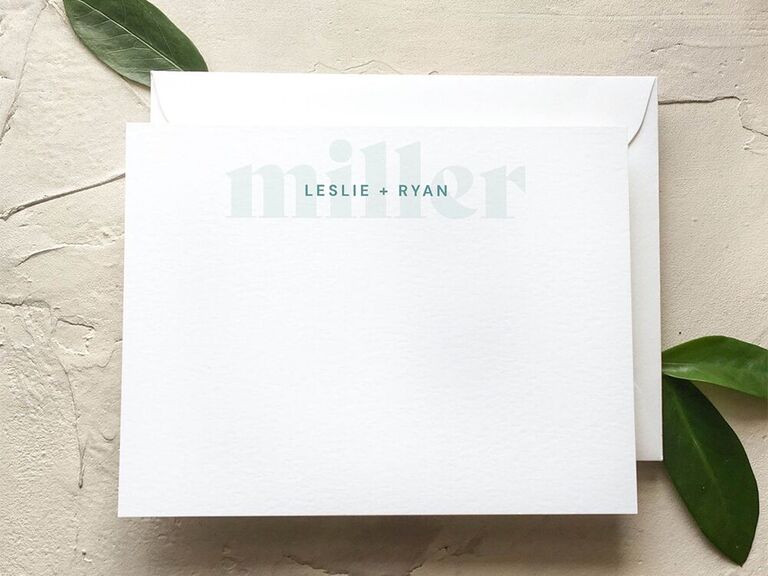 These notecards feature a bold and modern font with your first names over your shared last name. The cards are printed on thick signature paper with a luxurious cotton feel and light texture, giving them an overall clean and refined look. The modern design will be good for thank-you notes and beyond.
14. Foiled Monogram Couples Stationery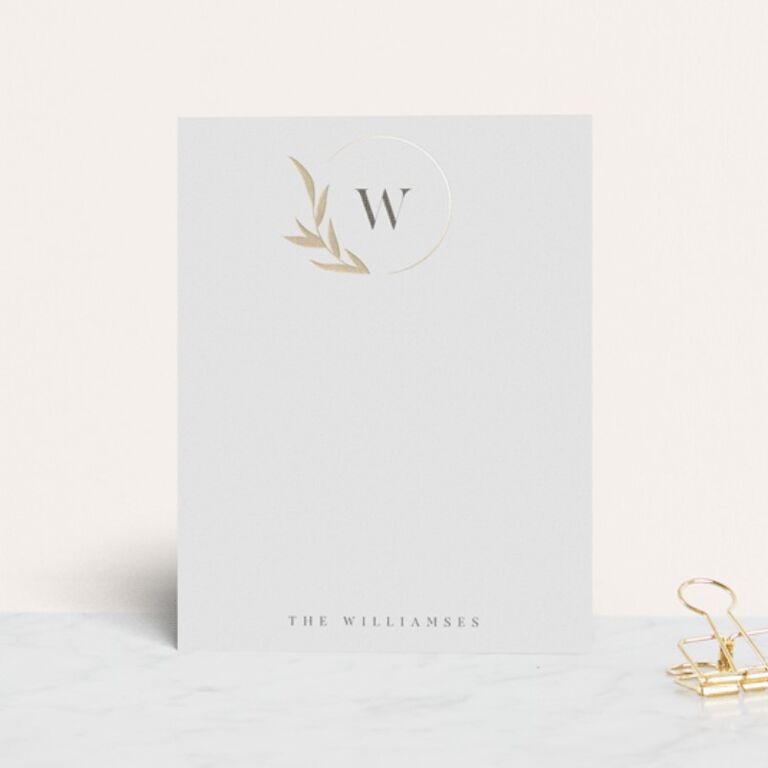 We love any stationery that has a bit of a shimmer to it. Choose between nine(!) foil colors to fill the leafy round monogram and your last name at the bottom. The back of this vertical note card can have matching stripes or be a solid color. The set comes with white envelopes, but for an extra cost, you can get colorful ones.
15. Tropical Monogram Couples Stationery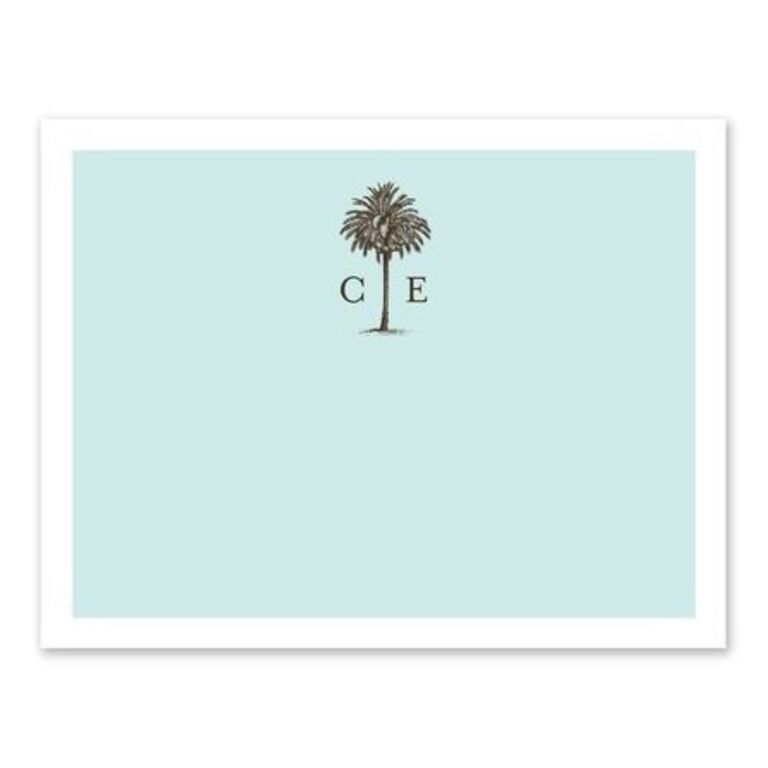 We're beachy keen on this couple's monogram stationery. The teal-blue background is perfectly reminiscent of clear ocean waters—perhaps as seen at your destination wedding—and it has a sturdy palm tree sketched at the top. Each of your first initials flank the sides.
16. Single-Letter Monogram Couples Stationery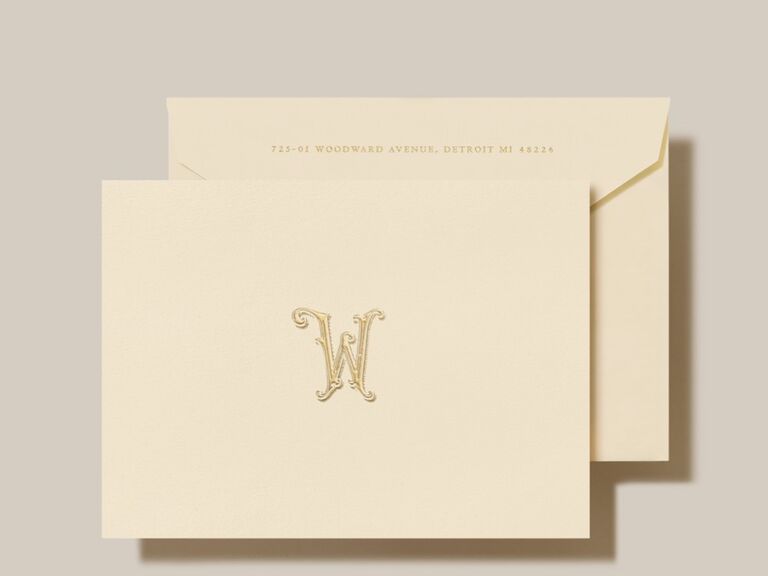 If you're ecstatic to share a last name, make your joint monogram the star of your couple's stationery. This elegant stationery engraves the single letter in shiny gold at the center of the folding card. There's plenty of space inside for your handwritten note. You can have the included envelopes engraved with your return address for ease and elegance.
17. Photo Couples Stationery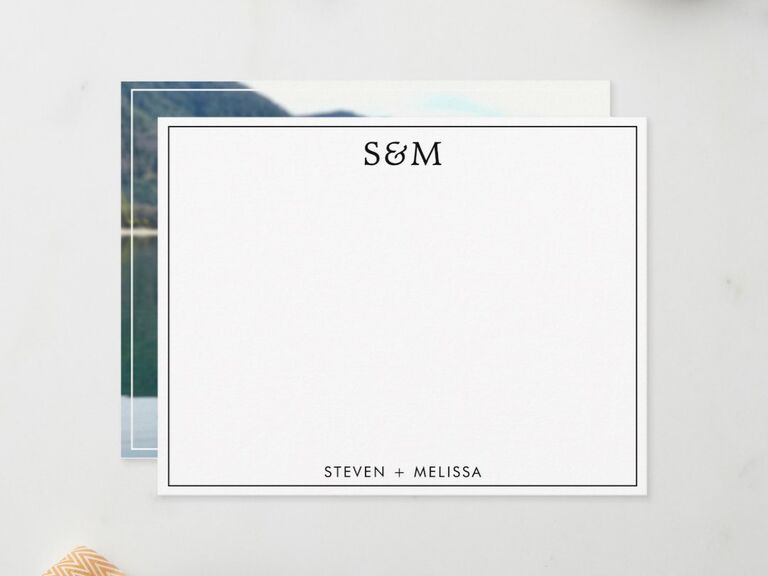 Psst, there's no couples stationery etiquette rule that says you can't add a photo to your custom note cards. This personalized stationery is like your very own postcard to send to friends and family. Between the photo on the front and your monogram and names on the back (with space to write a note still), the receivers will definitely know who's sending them some sweet snail mail.
18. Floral Thank-You Note Couples Stationery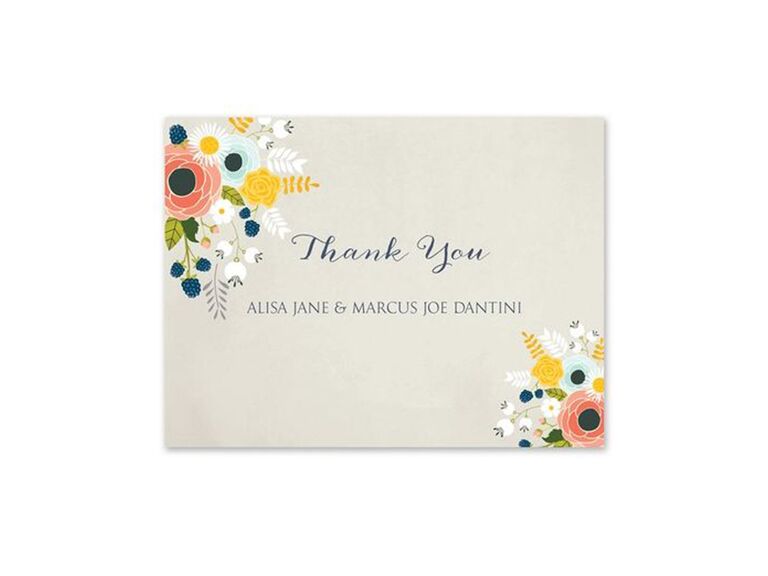 If your sole intention in buying couples stationery is to use it for thank-you notes, have the stationery exclaim the sentiment for you. This colorful cardstock shows off playful florals at the corners with "thank you" and your full names in the center. You can add a handwritten message on the inside of the folded card.
19. Rainbow Hearts Couples Stationery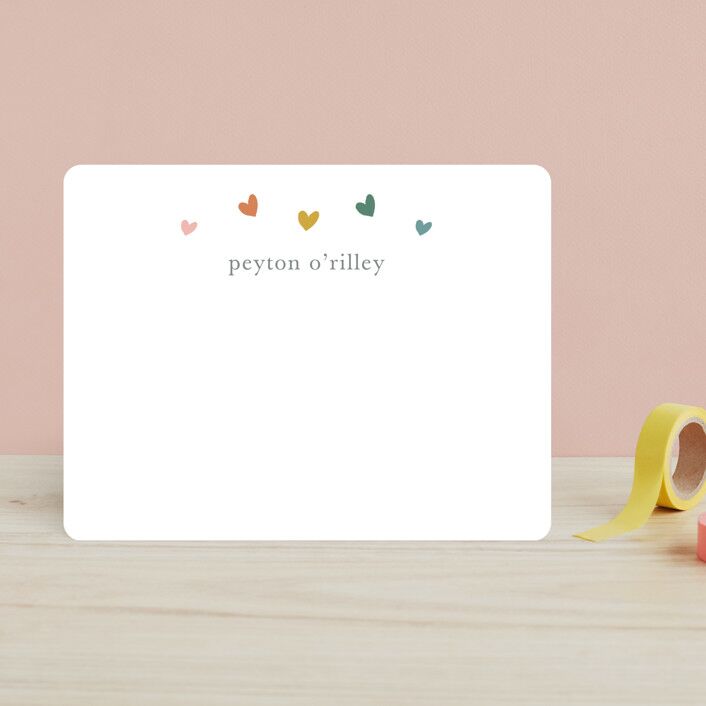 This stationery set is oh-so-cute! Don't worry that there's only one name in the picture, it's customizable, so you can add two or just use your last name if you share one. The front has cheery rainbow hearts and the back can have rainbow stripes. We definitely recommend splurging for colorful envelopes, so your correspondents really feel the joy when they open their cards.
20. Holiday-Inspired Couples Stationery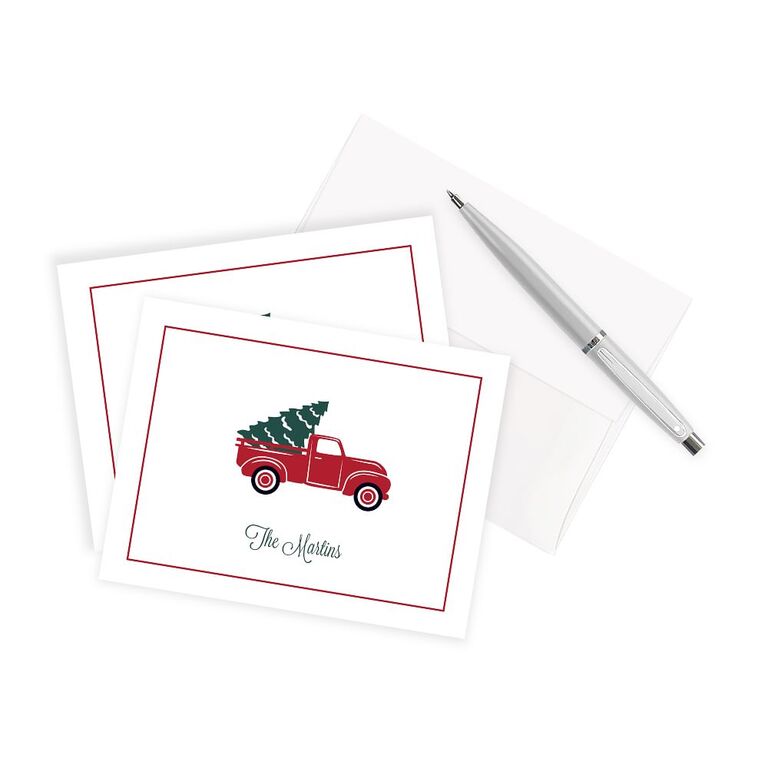 If you're planning to send holiday cards in celebration of your first year as a wedded duo, this charming married couples stationery set is just the paper choice. The front is illustrated with a bright red truck carrying an evergreen tree. Underneath is your shared last name in an elegant script.