Our List of The Most Memorable (And Romantic) Places to Propose in Nashville
Make Music City the backdrop for your big moment.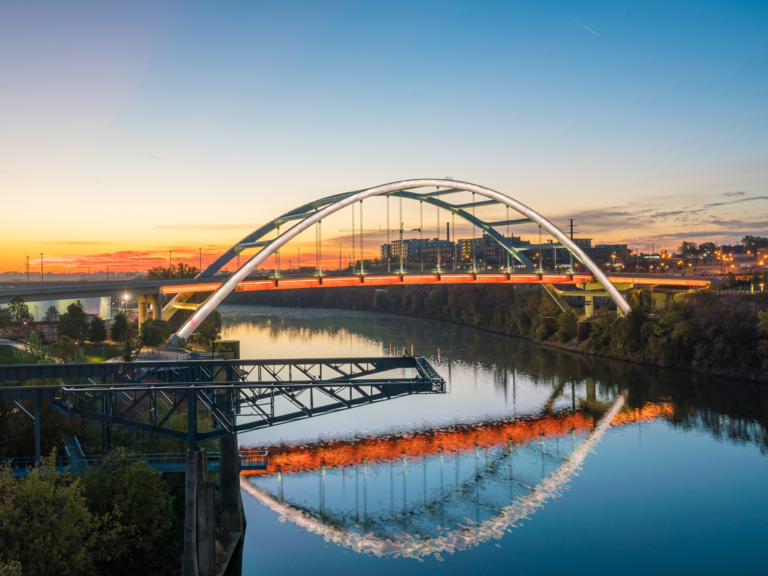 Photo: f11photo / Shutterstock
Nashville isn't just Music City. This historic town has stunning views, romantic spots and unique monuments that make it perfect for popping the question. That's why we've rounded up this list of places to propose in Nashville—just wait until you see these epic sites. Whether you're a local or it's your first time visiting, this proposal will be one you and your S.O. talk about for years to come. Let's take a look at some of the best places to propose in Nashville and how you can plan this big moment so it goes perfectly.
In this story:
How to Decide Where to Propose In Nashville
Nashville is full of historic sites and notable spots, so finding the right place to propose is key. Is there somewhere that holds a lot of meaning for you and your S.O.? Or perhaps an area that you've both always wanted to visit? Either way, it's time to grab your proposal planning checklist to really make this special day unforgettable. Ashley Benham of Ashley Benham Photography in Memphis has experience with proposal photography just down the road in Nashville. The Tennessee wedding expert, who boasts more than eight years of experience, suggests you "Check to see if any of these venues have photography fees by going on their websites or contacting them directly. Some of the more popular tourist attractions might not cost anything to photograph during your proposal!"
The Best Time of the Year to Propose in Nashville
Since Nashville is in the South, those summer months can be a bit toasty. But this also can work to your advantage if you're looking for milder weather during fall and winter. And Nashville in spring is a beautiful time to visit, with all the greenery and foliage coming out to bloom. Simply put, the best time of year to propose in this city is just about any time, but an indoor proposal during summer and the middle of winter might be best. When in doubt, consult with a proposal planner or proposal photographer. Pro tip: You can find great options for both on The Knot Vendor Marketplace. Our proposal photography expert, Ashley Benham, says: "Nothing beats a Nashville spring. Just make sure you're planning around the best time of day for lighting and foot traffic."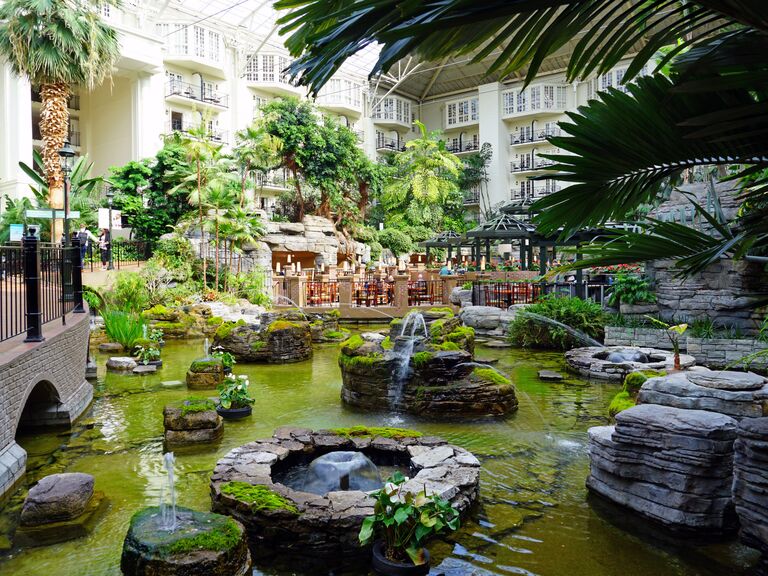 The Best Places to Propose in Nashville
These Nashville spots are not just noteworthy, but they also make a picture-perfect backdrop for your proposal photos. You're guaranteed to have a memorable day at these sites. (And another way to totally nail your your big moment is by hiring a proposal planner to help you out around the Nashville area and narrow down your proposal details.)
The Parthenon
If you can't make it all the way to Greece, then this replica will make you feel like you've stepped foot in ancient Athens. The Parthenon in Nashville is right in Centennial Park, making it the perfect place for a romantic proposal.
Gaylord Opryland Resort
This sprawling resort is as beautiful indoors as it is outdoors, with its stunning atriums and indoor gardens. There's no shortage of areas you can pop the question at Gaylond Opryland Resort, including a private proposal in your hotel room at this resort. Plus, you're just steps away from the Grand Ole Opry.
Cumberland River
Go downtown by the Cumberland River for spectacular views of Nashville. You can even take a riverboat tour, complete with a dinner cruise, for your special moment if you want to elevate the experience.
Country Music Hall of Fame
If your S.O. is a big fan of country greats like Dolly Parton, Johnny Cash or Patsy Cline, then the Country Music Hall of Fame will give them a chance to be surrounded by icons for one unforgettable proposal. Surprise them during a tour or ask them to marry you in the lush greenery in front of the building.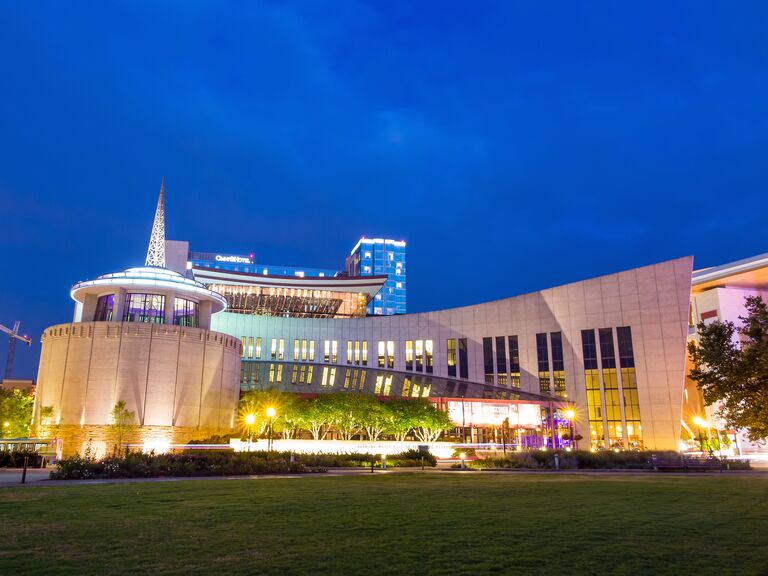 Romantic Places to Propose in Nashville
Sometimes, the most romantic way to propose is by finding a scenic spot full of romance. These gorgeous places around Nashville will set the scene perfectly while you get down on one knee.
Belle Meade Winery
This historic spot doesn't just have beautiful grounds, but it also offers a top-notch winery, too. Belle Meade Winery is Nashville's oldest winery, and you can book a wide range of experiences like a wine and food tasting or even a bourbon tasting.
The Hermitage Hotel
The Hermitage Hotel has hosted many notable names over the years, and its five-star luxury will have you living like royalty. Pop the question over dinner or in any space in this illustrious hotel for a moment you two will cherish for years to come.
Cheekwood Estate and Gardens
This estate and its historic gardens give you 55 acres of gorgeous greenery, contemporary sculptures and a lovely museum. You can walk the trails or unique gardens for a more private moment to get down on one knee at Cheekwood Estate and Gardens.
Scenic Spots for a Nashville Rooftop Proposal
Pop the question with a beautiful view of Nashville. Nothing beats a night out with the perfect scene of the city skyline and your future spouse. Plus, planning your proposal is a great way to help you prepare for wedding planning, but these romantic rooftops could also become your future wedding venue.
Hutton Hotel
Not far from Music Row is this boutique hotel that offers you a beautiful rooftop view for your proposal. You can even stop by Hutton Hotel's on-site restaurant for a celebratory dinner and drinks after your big moment.
City Winery
City Winery in downtown Nashville offers urban luxury and gorgeous views. You can see the city skyline from this venue and stop by Broadway after to keep the good vibes going.
The Bridge Building
Choose from a wide range of views when you plan your proposal at The Bridge Building. You can get a stunning look at the riverfront and city skyline or pop the question at their rooftop observatory for a one-of-a-kind experience.
21c Museum Hotel Nashville
21c Museum Hotel Nashville has it all: an art museum, boutique hotel and award-winning restaurant. Ask your love to marry you on their rooftop, then enjoy a night of art, fine dining and swanky accommodations.
Best Restaurants to Propose at in Nashville
Make your proposal memorable by including it with a delicious meal. It's important to really know how to pop the question at a restaurant and fully surprise your significant other during this moment.
Mere Bulles
This manor boasts an impressive menu of gourmet foods, and Mere Bulles makes a beautiful backdrop for your big moment. Make it an evening you both won't forget with this restaurant's delicious food and wine.
Giovanni Ristorante
Consider by many to be Nashville's best Italian restaurant, Giovanni Ristorante can even offer you a private space to pop the question. Enjoy delectable Italian dishes with a luxurious flair before your proposal.
Union Station Hotel
The Union Station Hotel may be a renowned hotel, but its dining is also notable in its own right. Choose from brunch or dinner to have one memorable (and tasty) proposal.
The Standard
This restaurant was originally an 1800s home but has since been turned into an upscale steakhouse with a focus on Southern fare. Celebrate your proposal at The Standard's bar after your unforgettable dinner.