Artsy, Outdoorsy Couples Will Love a New Mexico Honeymoon
Celebrate your marriage amidst beautiful hiking trails and art galleries in the Land of Enchantment.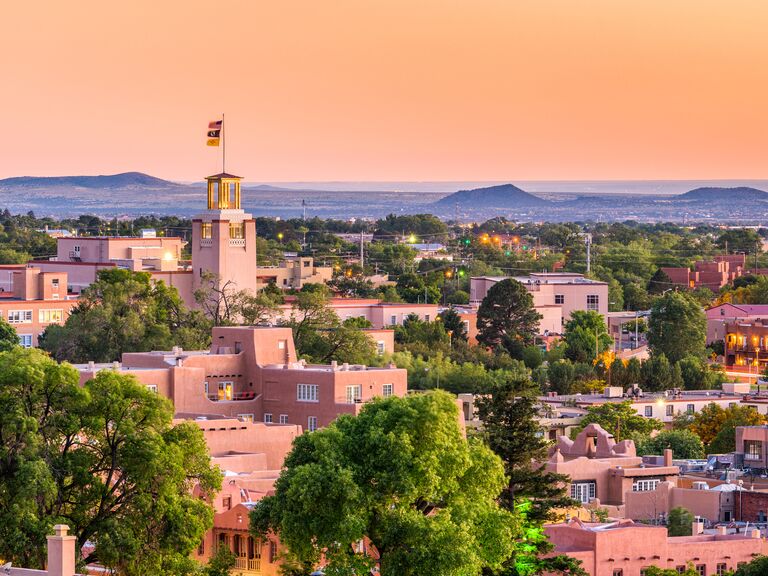 Sean Pavone / Shutterstock,Location: Santa Fe, New Mexico
New Mexico is known as the Land of Enchantment, and its gorgeous nature and vibrant cities more than live up to that name. Whether you want to spend your days skiing or wandering around art galleries, this southwestern state is a wonderful honeymoon spot.
For a New Mexico honeymoon you won't forget, head there during October to watch hot-air balloons fill up the sky during the legendary International Balloon Fiesta. New Mexico is also home to the Four Corners Monument, which is the only place in the country where four states perfectly intersect at one corner. Grab your camera, because this state will have some gorgeous places to snap photos.
Is New Mexico Good for a Honeymoon?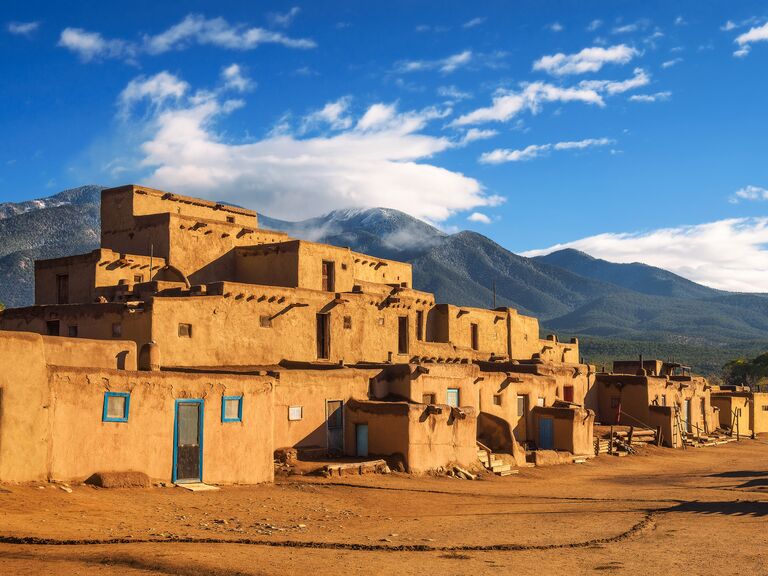 For those living on the West Coast, New Mexico is just a hop, skip and jump away from home. Even if you're stationed in the northern or eastern parts of the US, flight times will rarely exceed five hours. Nonstop flights from New York to Albuquerque are about four hours long, while flights from Seattle are a little less than three hours.
Pros of a New Mexico Honeymoon
New Mexico is brimming with art and architecture, and it has some of the most interesting historical sites in the country. With its bright, sunny and dry weather, you won't have to worry about your trip getting rained out.
Cons of a New Mexico Honeymoon
Santa Fe is the highest capital city in the US, sitting at 7,000 feet above sea level. Albuquerque isn't too far behind at 5,000 feet. Keep this in mind when you take on any outdoor activities, because the altitude might make you feel tired or sick. The area is also very dry and hot, so staying hydrated is important. Prepare for the beating sun and dry heat waves.
The Best Times of Year to Go on a New Mexico Honeymoon for Good Weather
Depending on whether you're hoping to soak up the sun or head to the slopes, you may want to visit New Mexico at different times of year. Visit during the fall when the temperature will be comfortable and the state welcomes its festival season. If you're planning on skiing, book a ticket for the winter months. If you're not bothered by the heat, you can snag some good deals during the summer and spring months since it's off-season.
Places to Visit in New Mexico for a Honeymoon
New Mexico is home to bright, colorful cities and beautiful nature. Whether you're interested in spending time in a metropolis or exploring the mountains, you can create the perfect honeymoon experience in New Mexico.
Santa Fe
This artistic city is a must-see if you're heading to New Mexico. With its Spanish-influenced architecture, gothic cathedrals and extensive selection of art galleries, Santa Fe is perfect for anyone even mildly interested in art.
Find your kind of venue
From barns to ballrooms, discover reception venues that feel like you.
Take a walk down Canyon Road to peruse more than 80 art galleries, spend a quiet afternoon in the Georgia O'Keeffe Museum or explore the historic Santa Fe Plaza. Later, grab tickets for the Santa Fe Opera House or wander through the Railyard Arts District. Take some time to visit the Santa Fe Farmers Market if you're all about food, and don't forget to visit the unique interactive art installation Meow Wolf after. If you visit during the winter, Santa Fe is also home to wonderful skiing.
Albuquerque
Head to the center of this historic city to explore Old Town, the area where Albuquerque was founded in 1706. The beauty of this city comes from its mixture of Spanish and Native American influences, so you can find spicy, chili pepper-adorned dishes intermingled with traditional Native American artwork.
This lively metropolitan area has a lot to offer, including wonderful museums and interesting cultural centers. Take the Sandia Peak Tramway to get a once-in-a-lifetime view of the mountains. If you head over during the first week of October, be sure to see the legendary International Balloon Fiesta. If you're not there to see the hot-air balloons fill the skyline, don't worry. You can hop on a hot-air balloon tour year-round.
Taos
If you'd rather spend your time enjoying nature and taking a walk through history, head to the city of Taos, where you'll get your fill of both. Spend the day marveling at the historic Taos Pueblo World Heritage Site, or take a walking tour through the historic district.
If you're a fan of hiking or biking, explore the many hiking trails in Carson National Forest or the Rio Grande del Norte National Monument. And don't forget to head over to the Rio Grande Gorge Bridge, where you can snag a pic of yourself crossing the iconic river. See the gorgeous architecture of the San Francisco de Assisi Church, or spend some time exploring the many historic houses and museums. Taos is also home to world-class skiing at Taos Ski Valley.
Best Hotels and Resorts in New Mexico for a Honeymoon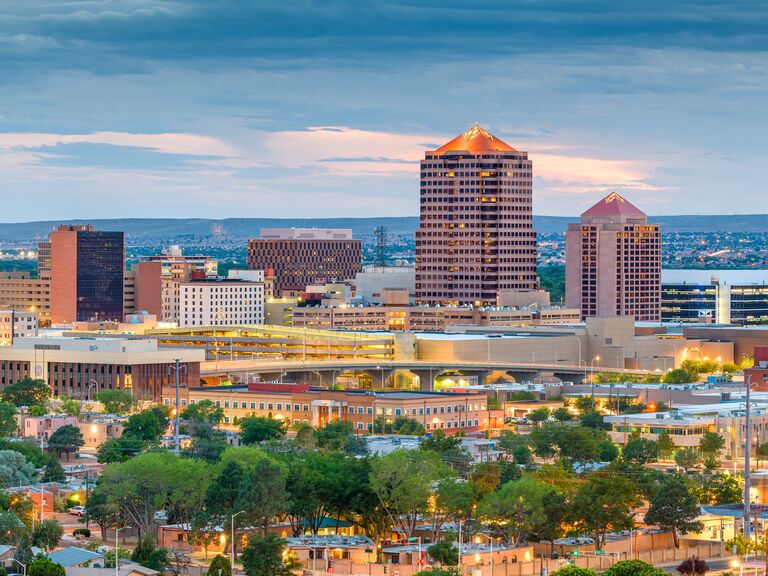 This resort and spa located in Taos is a must-visit for anyone interested in a relaxing vacation. Located deep in the mountains, El Monte Sagrado has an award-winning spa complete with an eco-friendly healing retreat, as well as a wellness center featuring hydrotherapy tubs and a saltwater pool.
Head to La Posada de Santa Fe, a member of the Historic Hotels of America, to experience the finer things in life and spend your romantic getaway being pampered with spa treatments. This spot is composed of 157 restored casitas, and features historic decor and art.
This Four Seasons outpost based in the Sangre de Cristo foothills is the perfect romantic getaway for newlyweds. You can hike, relax by the pool, eat delicious regional cuisine and luxuriate in the private spa's hot tub. Grab a second-story casita with a private balcony for the perfect view of the starry night sky, or relax in a suite with a panoramic mountain view and cozy fireplace patio.
If you're looking for a woodsy, romantic getaway, look no further. At Whispering Pine, couples can spend their nights cuddling in cozy cabins or lodge rooms. The best part? You can bring your fur babies along for the trip since this spot is pet-friendly.
This globally acclaimed resort in Santa Fe is the perfect place for those who want a physical and spiritual recharge. Spend your days relaxing at the award-winning spa and thermal pools. Or, sign up for one of the hotel's complimentary activities, like guided high-desert hiking or hatchet throwing. Animal lovers can pay a visit to the Puppy Patch, where they can cuddle up with adoptable rescue pups.
What to Pack for a New Mexico Honeymoon
New Mexico has a hot and dry climate, so you can most likely leave your umbrella at home. Be sure to pack plenty of sunscreen and a hat, as well as a refillable water bottle to prevent dehydration. If you're planning on skiing, pack accordingly. Although most of the state is very warm, it can get chilly in the mountains and during the winter months.