See Nouvelle Amsale Wedding Dresses From Bridal Fashion Week
Here's the designer's latest collection revealed at Bridal Fashion Week.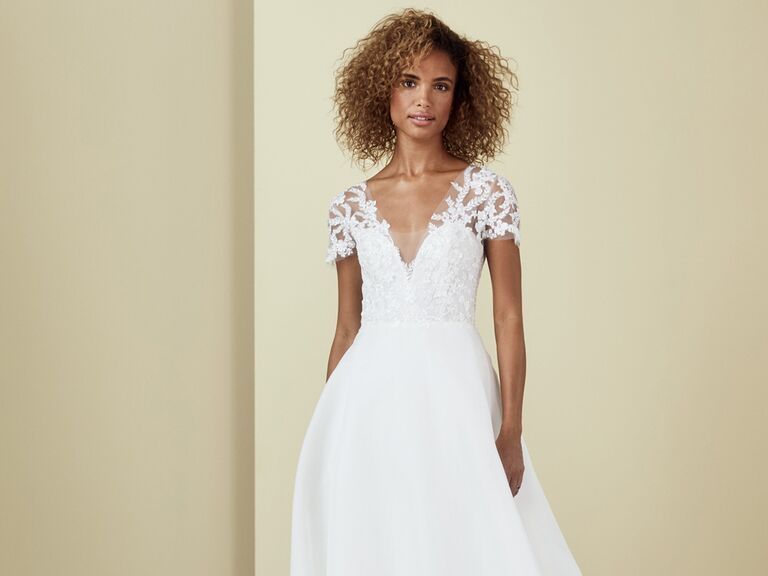 The modern wedding dress is almost impossible to define. Described by many different characteristics, it's a truly subjective concept, but one thing is for certain: Most people consider wedding dress designer Amsale Aberra to be its inventor. A simple, unadorned white dress may be considered more traditional these days, but the '90's saw an unexpected shift in bridal fashion from over-the-top details to a more streamlined look, spearheaded by what was described as Amsale's "wildy modern design" by a New York Times writer in 1997.
Nouvelle Amsale's Fall 2021 Wedding Dresses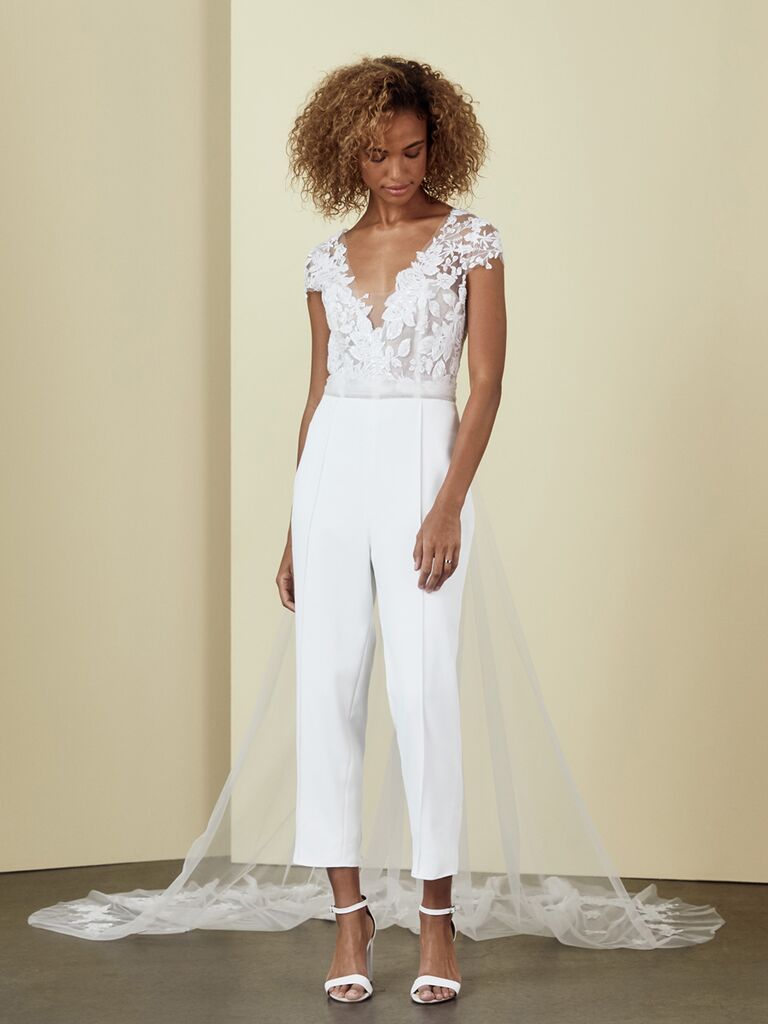 "Eddie" tailored jumpsuit with sheer floral lace bodice and attached tulle train.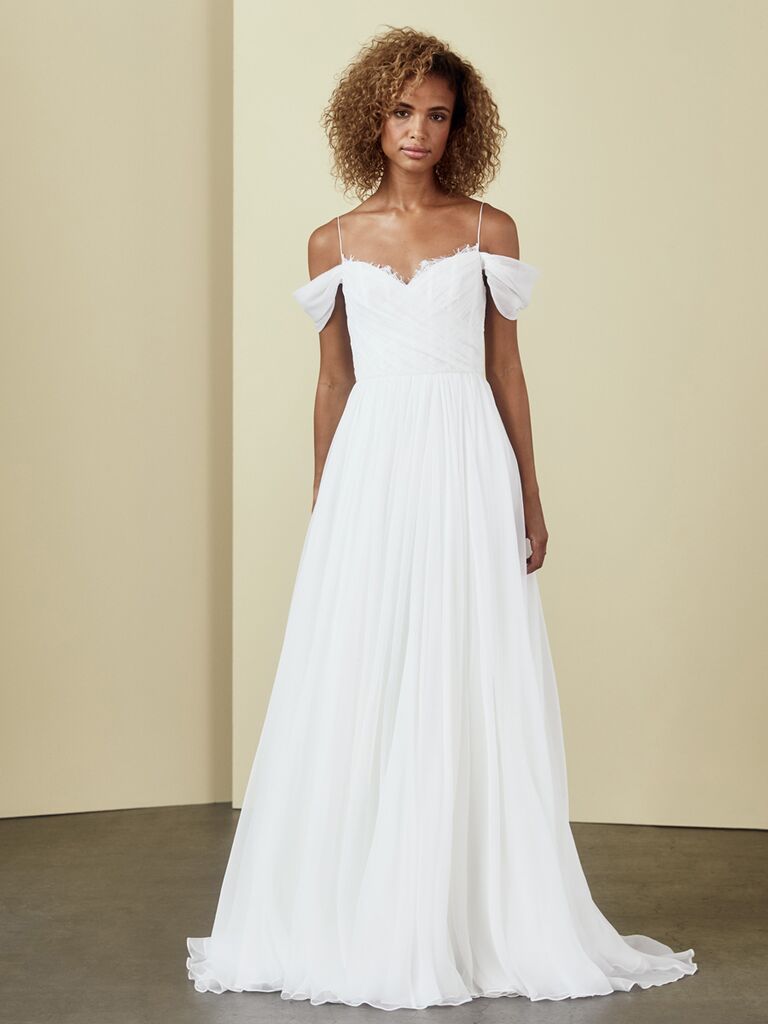 "Julia" ruched lace edge sweetheart neck A-line gown with spaghetti and off-the-shoulder straps.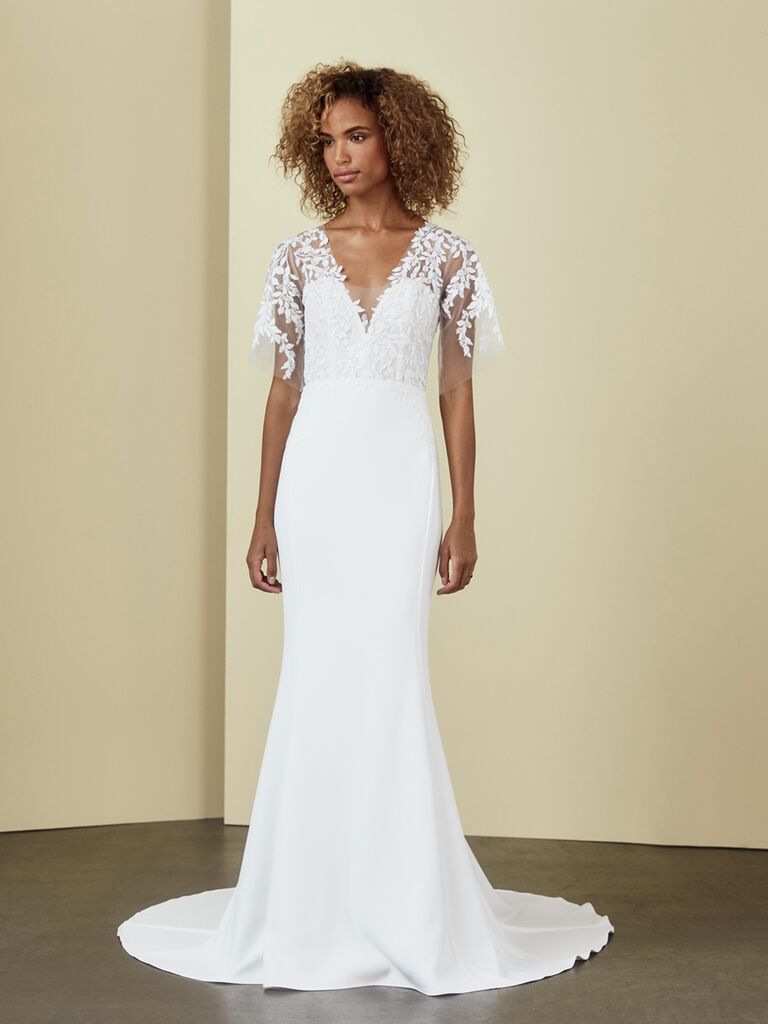 "Paloma" crepe trumpet gown with leaf sweetheart illusion neckline and flutter sleeves.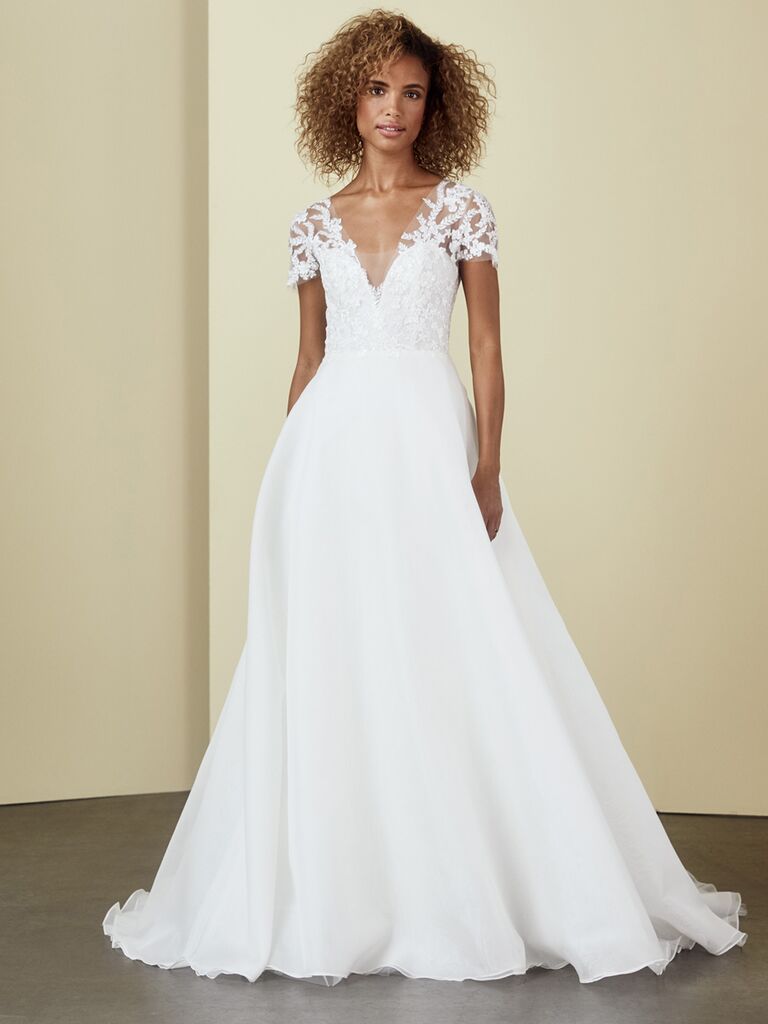 "Samira" ball gown with embroidered illusion cap sleeve bodice and full crepe skirt.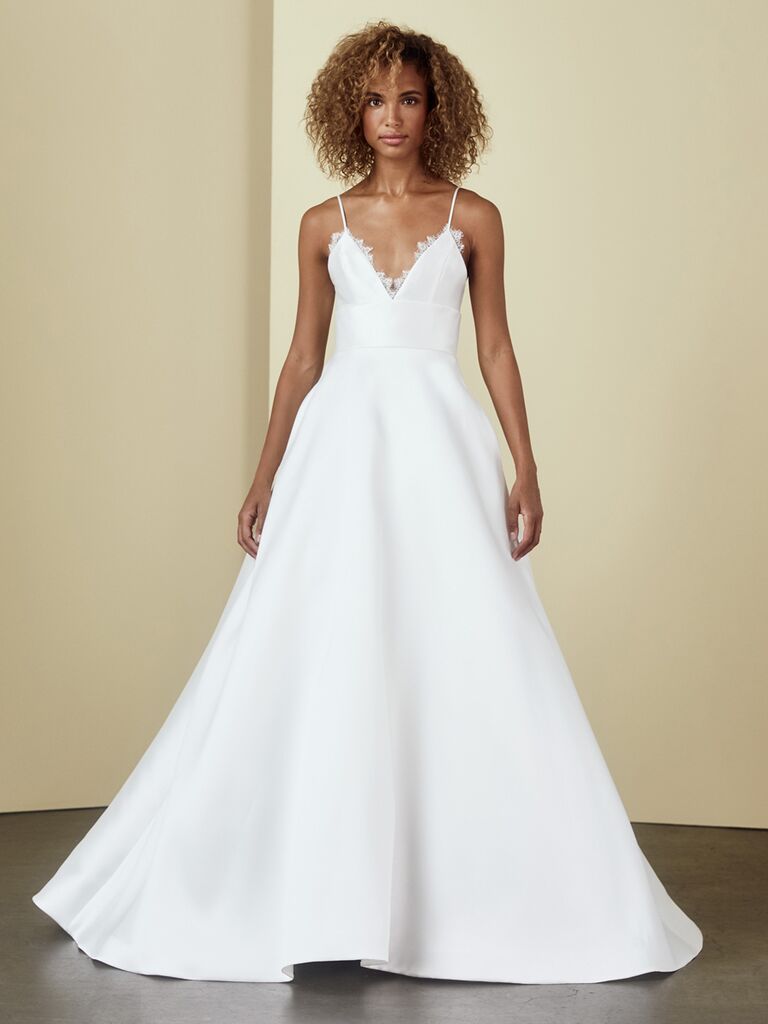 "Smith" lace trimmed V-neck ball gown with lingerie straps and cummerbund waist.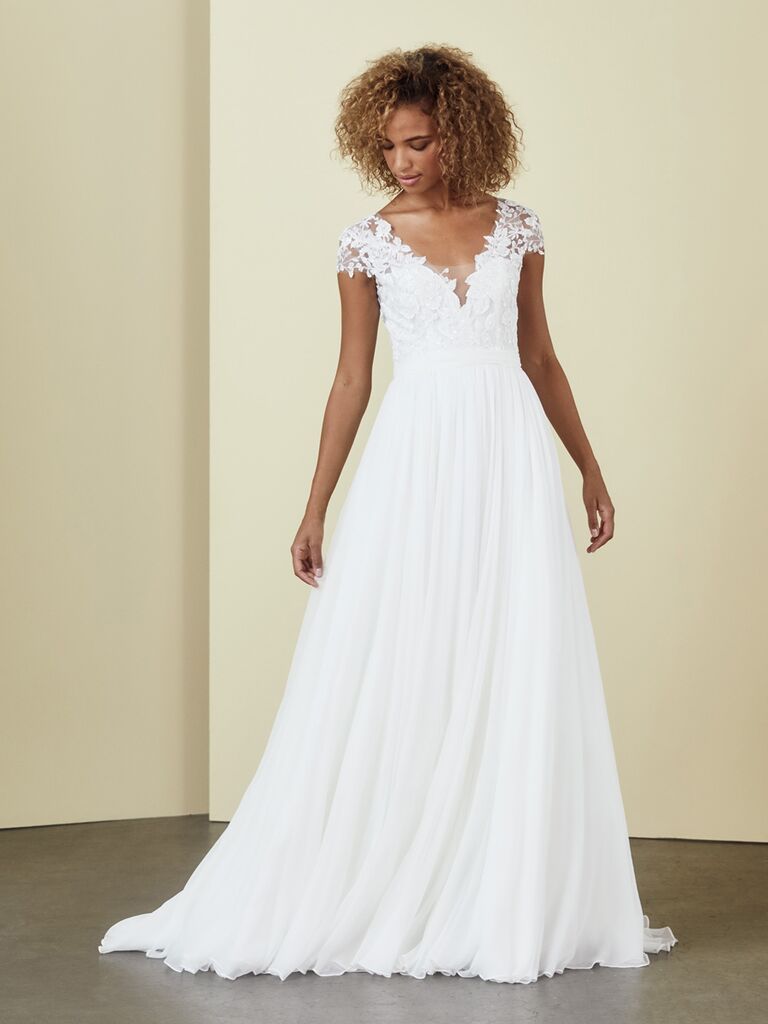 "Tia" sheath dress with floral applique bodice, illusion sweetheart neckline and illusion cap sleeves.
Nouvelle Amsale Signature Style
Timeless and contemporary, an Amsale wedding gown is the perfect choice for the chic, modern day bride. Understated elegance, an unwavering attention to detail and intentional drama (appearing in various forms) define Amsale's signature styles. Aberra's design process began with determining the silhouette of the dress, noting that this allows for an intentional focus to come to light and prevents the need for extra bells and whistles.
"I believe that true style knows no place or time—more than an aesthetic, style is a way of living." Aberra said on Amsale.com
A Brief History of Wedding Dress Designer Amsale
Amsale Aberra was born and raised in Ethiopia's capital city of Addis Ababa. She attended Green Mountain College in Vermont, where she pursued a degree in commercial art. Political turmoil in her home country prevented her from returning home and Aberra remained in the United States.
Aberra was a bride herself in the '80s and, on her own quest for the perfect white dress, found herself disappointed by the lack of variety in the market. The seemingly only option out there? Overly-embellished pieces that felt drastically different than her vision for sleek simplicity. And so, in a state of pure bridal determination, she decided to design her own effortless wedding gown with sheer full sleeves, a sleek silhouette and tasteful lace appliqués. Her turn as a designer wasn't a first for Aberra, though—in fact, she paid her way through college by designing, sewing, and selling clothing in the early '80s. What started as a means to financial freedom (and the dress of her dreams) eventually became her calling. Years later, Aberra enrolled in New York's Fashion Institute of Technology and began working toward an Associate's Degree in Fashion Design. Following graduation, Aberra worked under designer Harve Benard before opening up her own custom boutique inside her New York City apartment. In 1997, Amsale became one of the few bridal designers to open a Flagship store on Madison Avenue.
In April of 2018, Amsale Aberra died of uterine cancer at the age of 64. Following her passing, her successor Margo Lafontaine, previously the studio director at Vera Wang, rose up to lead creative at the Amsale labels.
Other Amsale Labels and Nouvelle Amsale Collection History
In an effort to provide timeless elegance to all wedding party members, Aberra launched several labels until the Amsale name, including Amsale Blue Label, Amsale Bridesmaids, The Little White Dress and, perhaps most notably, Nouvelle Amsale, which provides brides with the same luxe look they've come to expect from an Amsale dress at a lower price point. Amsale also acquired the Kenneth Pool label as a space to design more elaborate luxury formal wear (think: big ball gowns and intricate beadwork) and later acquired Christos, a 30-year-old label focused on effortless, romantic gowns (think: french lace and silk organza).
The Nouvelle Amsale Fall 2020 collection stayed true to the brand's aesthetic with full skirt, lace details and tailored silhouettes.
Famous Amsale Brides
You've likely seen an Amsale wedding dress at some point in time. Amsale gowns have appeared on A-List celebrities like Halle Berry, Ariana Grande, Julia Roberts, Salma Hayek, and Heidi Klum to name just a few. Aside from red carpet mavens, Amsale's designs can frequently be spotted in a variety of different films and television shows like ABC's Grey's Anatomy, and films like 27 Dresses, The Hangover, and When in Rome.
Fun Facts about Nouvelle Amsale
Amsale Aberra started off presenting at New York Bridal Fashion Week from her apartment, turning her living room into a runway.
Previous Nouvelle Amsale Wedding Dress Collections
Nouvelle Amsale's Spring 2021 Wedding Dresses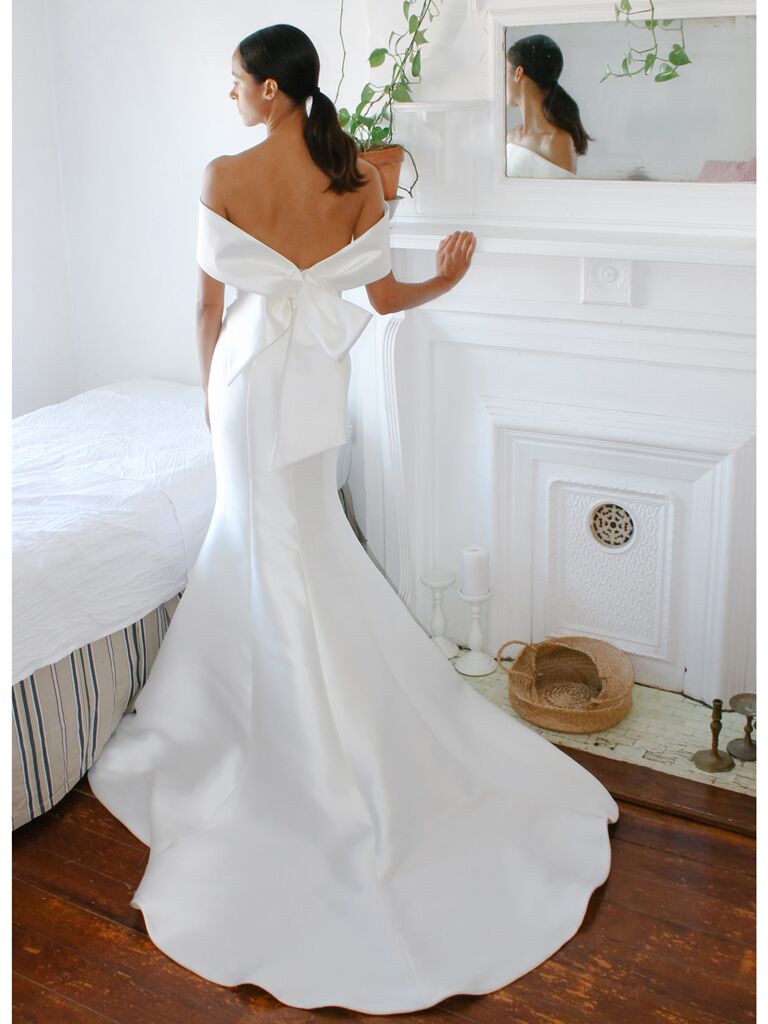 "Landon" off-the-shoulder fit-to-flare gown with bow detail.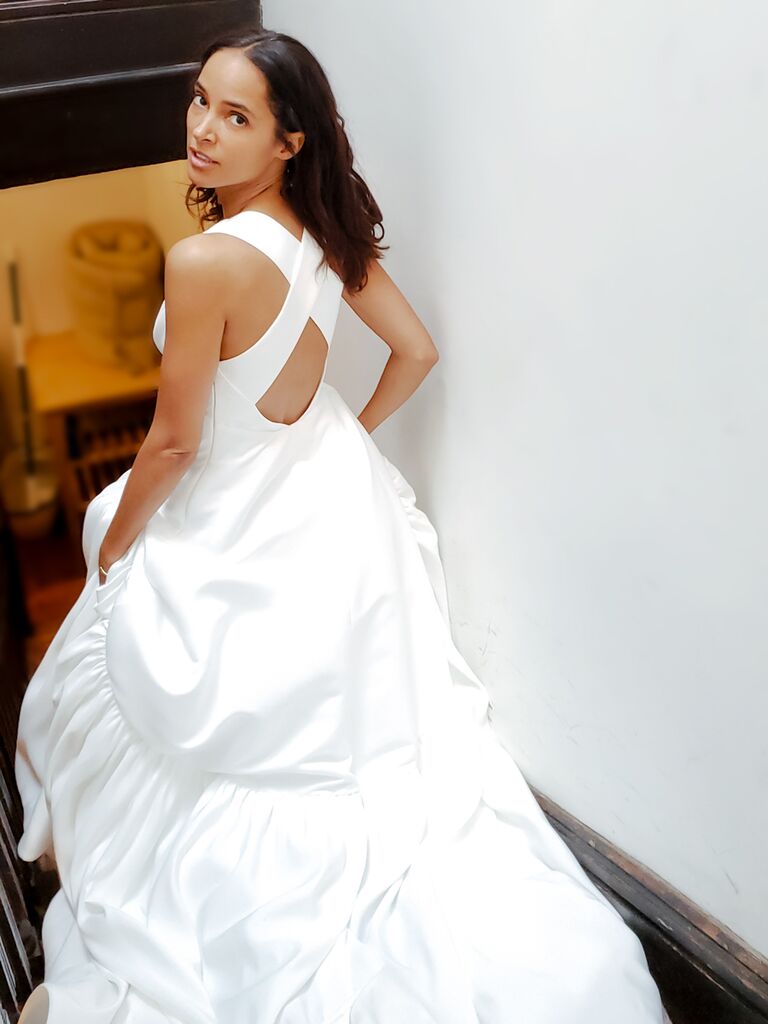 "Sadie" ballgown with racerback detail and ruffle hem.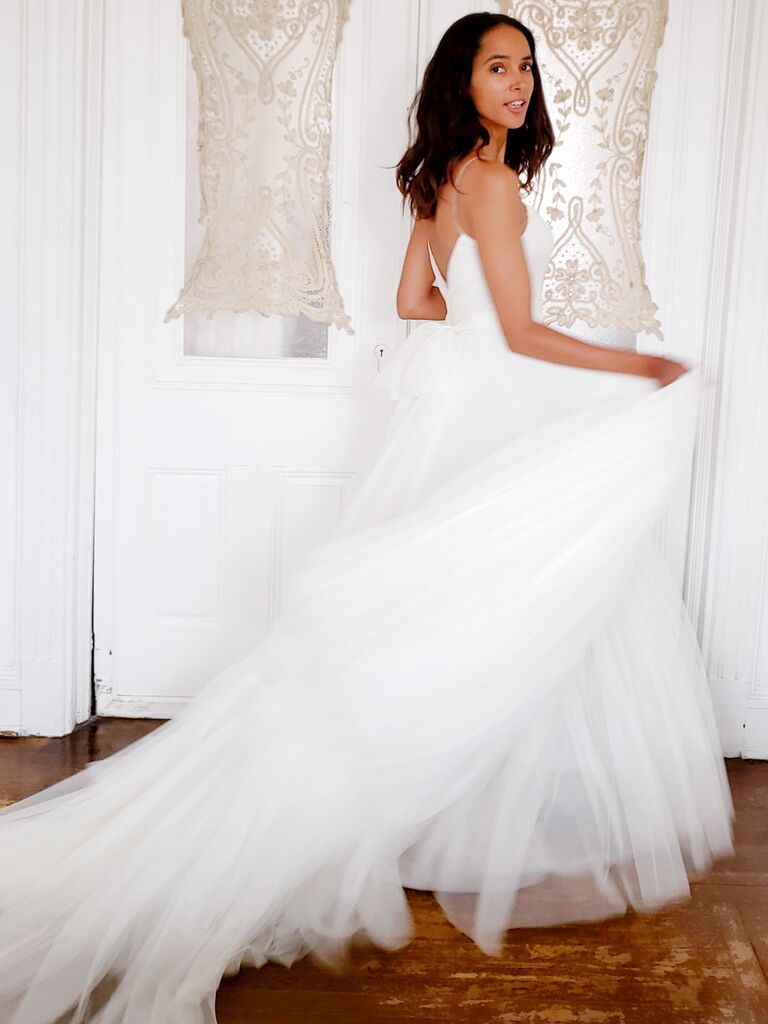 "Hope" soft tulle ballgown with draped bodice.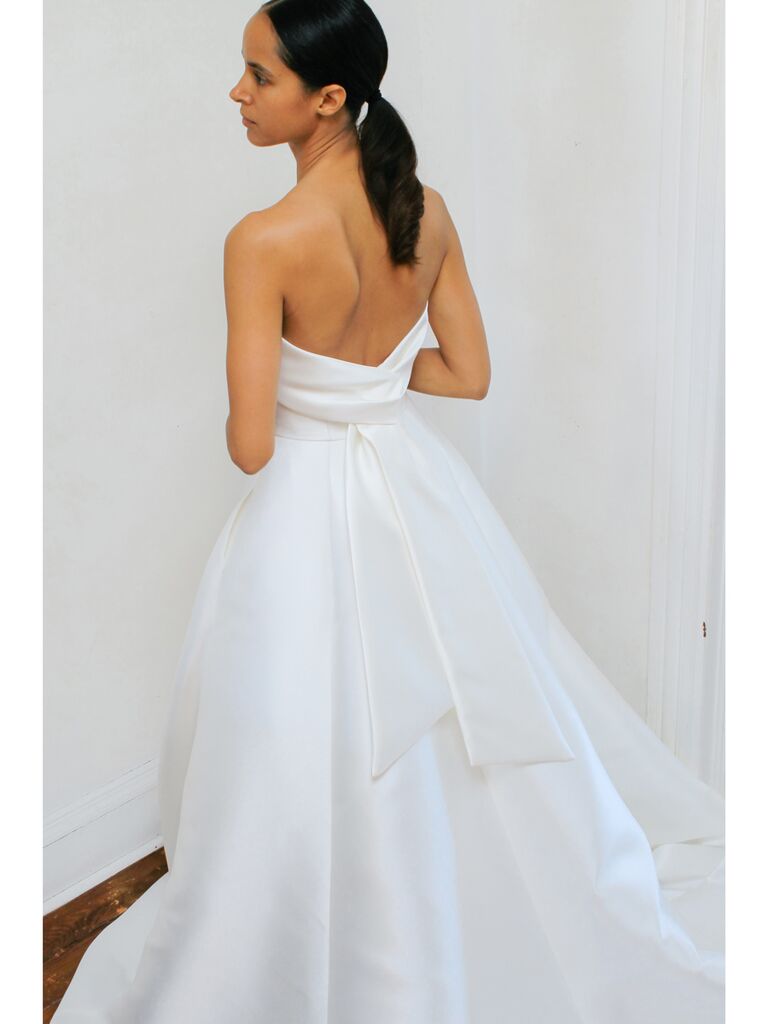 "Rainey" strapless Mikado A-line ballgown with bow detail and pockets.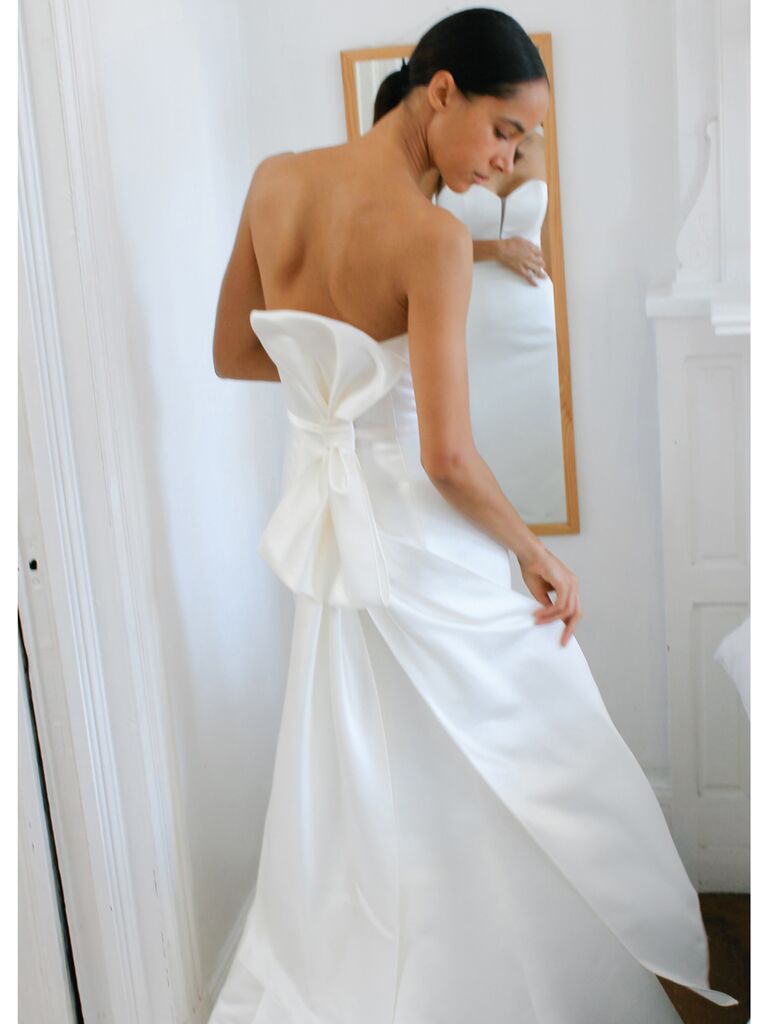 "Tiernan" Duchess satin fit and flare strapless gown with bow detail.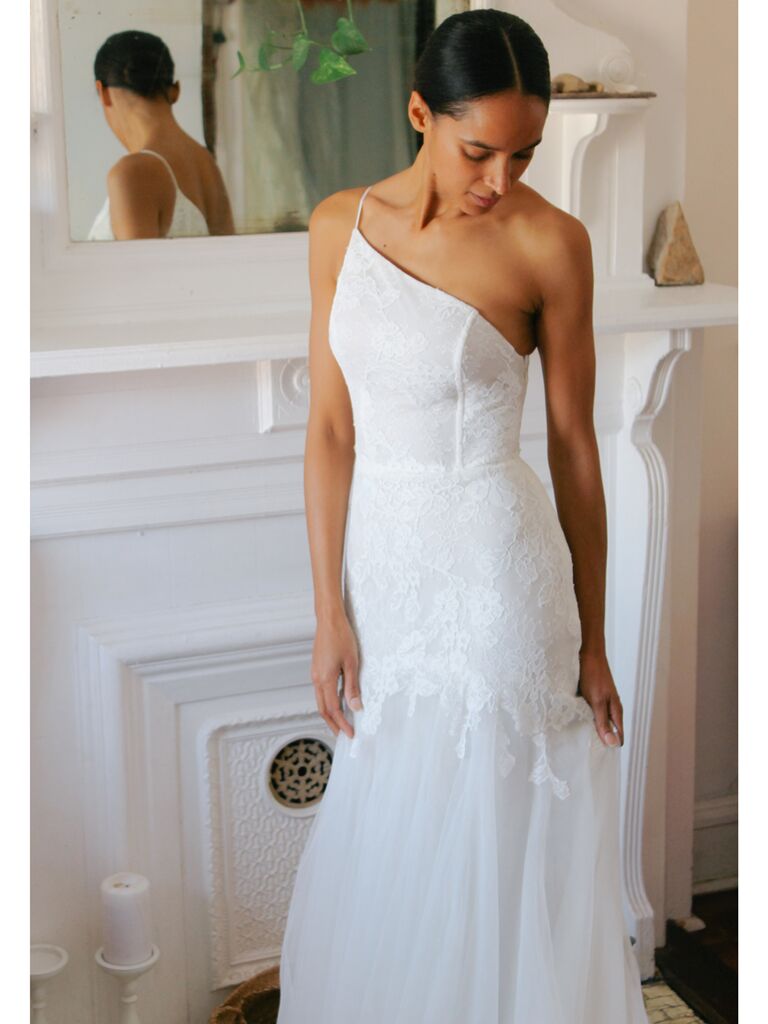 "Isla" Chantilly lace and soft tulle one-shoulder gown.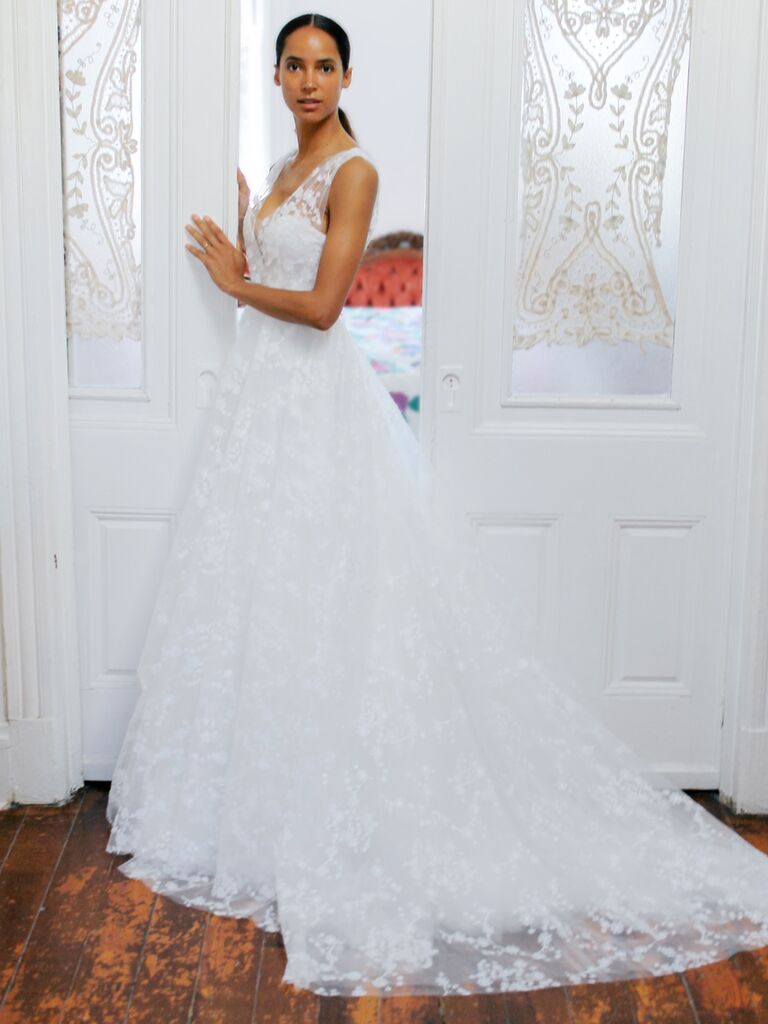 "Elliot" floral tulle V-neck ballgown.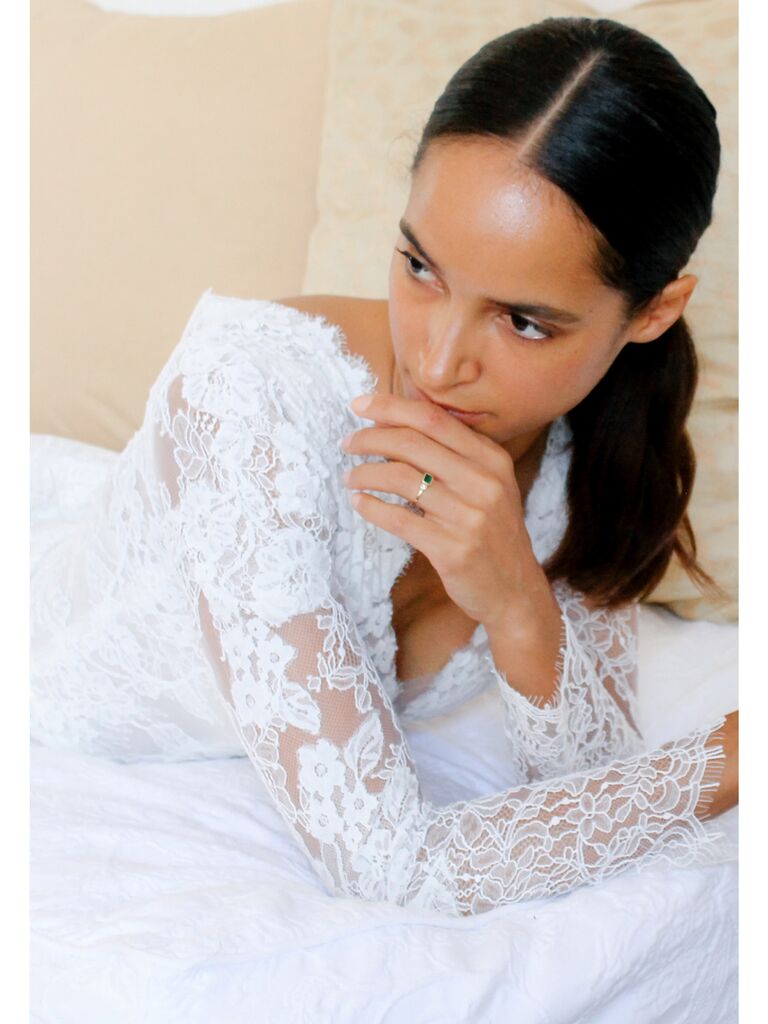 "Ola" fit to flare gown with Chantilly lace sleeves.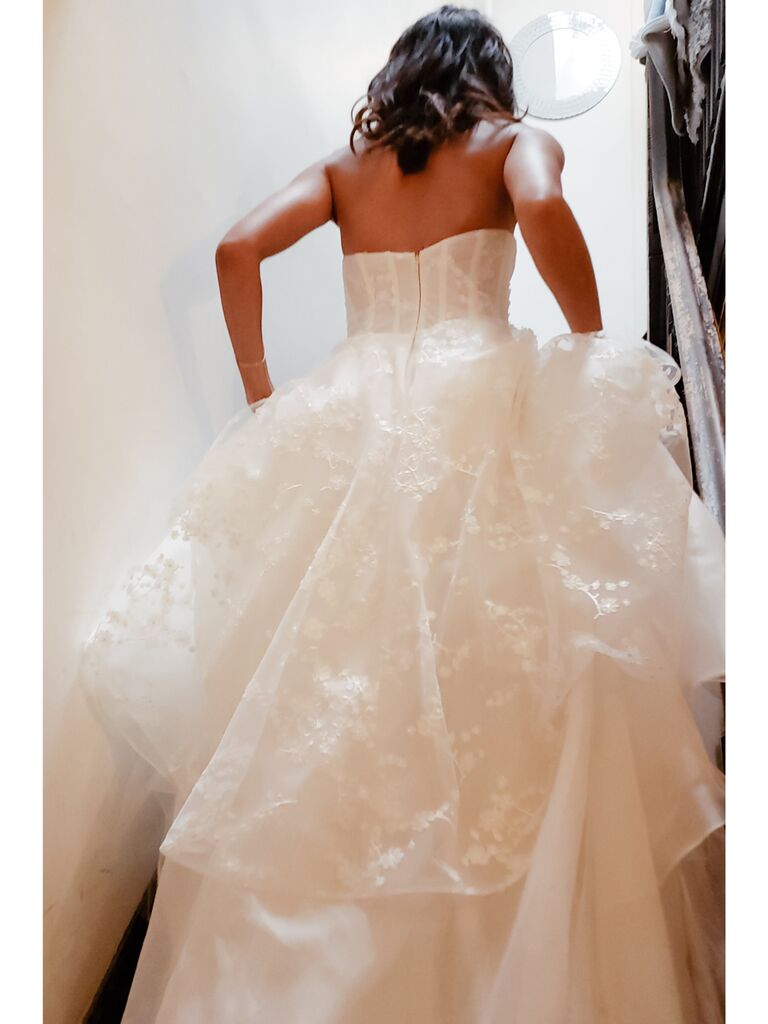 "Jemila" blossom tulle strapless ballgown.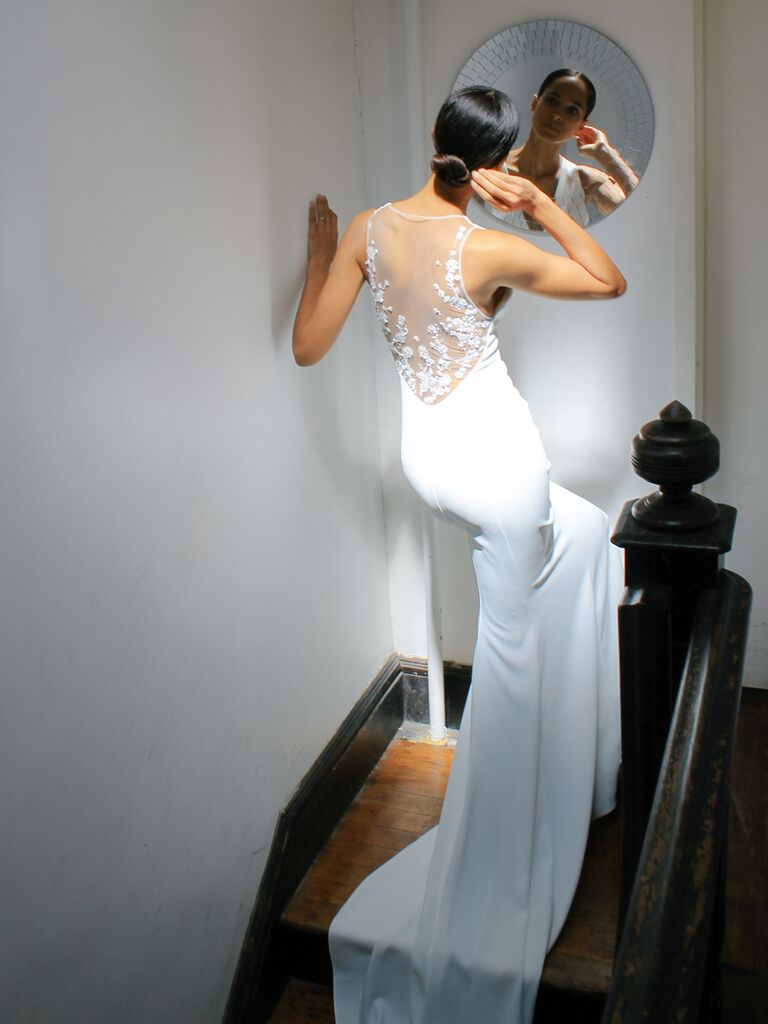 "Donna" stretch-crepe gown with floral illusion back detail.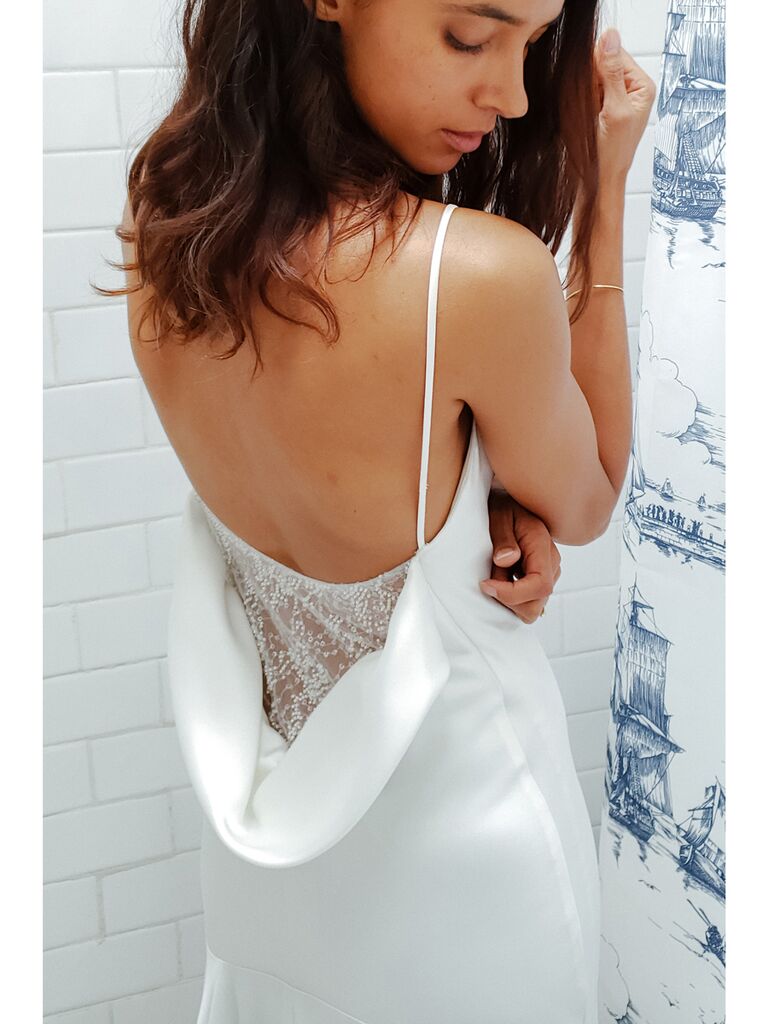 "Gavin" bias-cut gown with embroidered cowl back detail.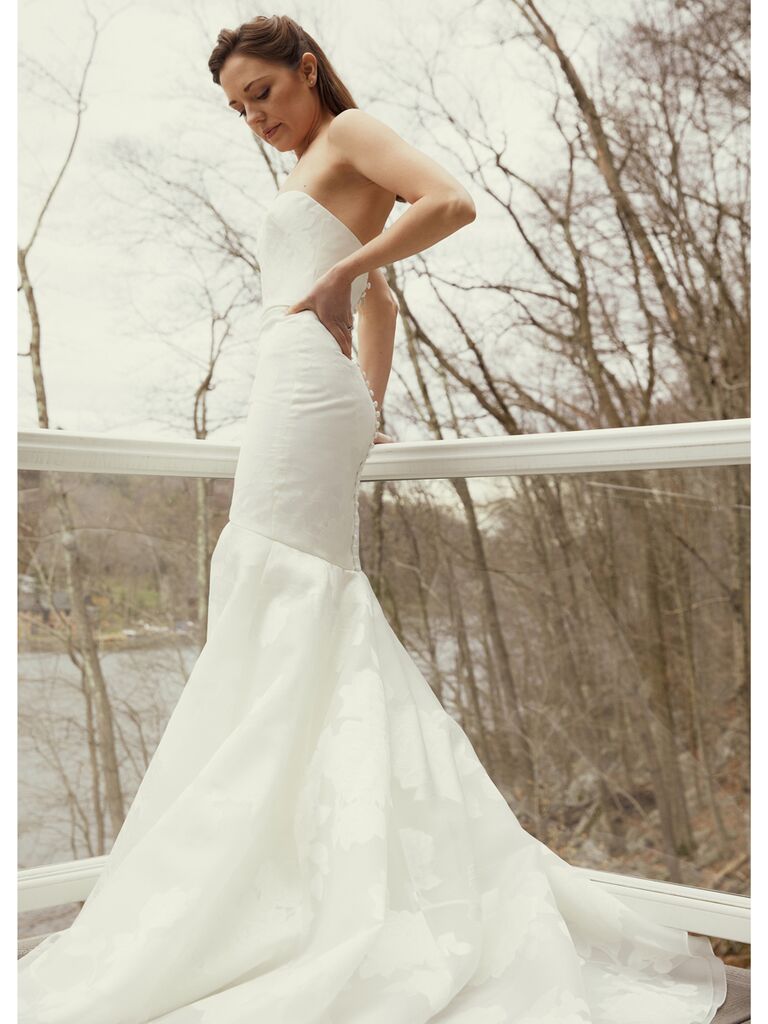 "Carlotta" strapless mermaid gown.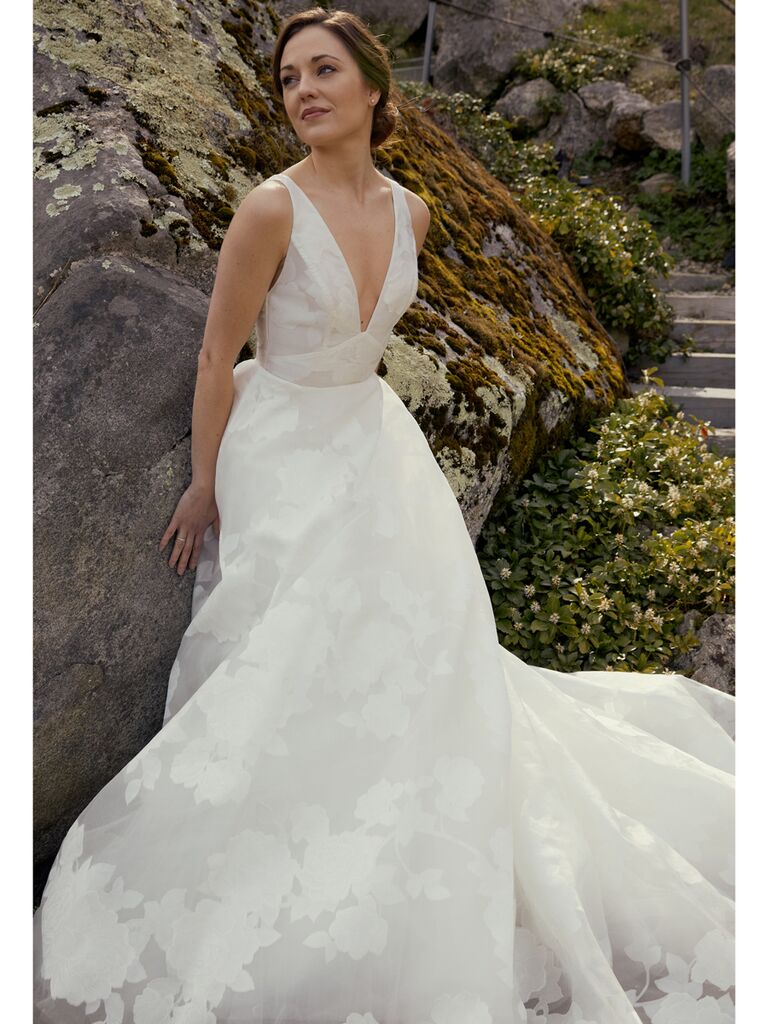 "Wren" A-line gown with plunging V-neckline.
Nouvelle Amsale's Fall 2020 Wedding Dresses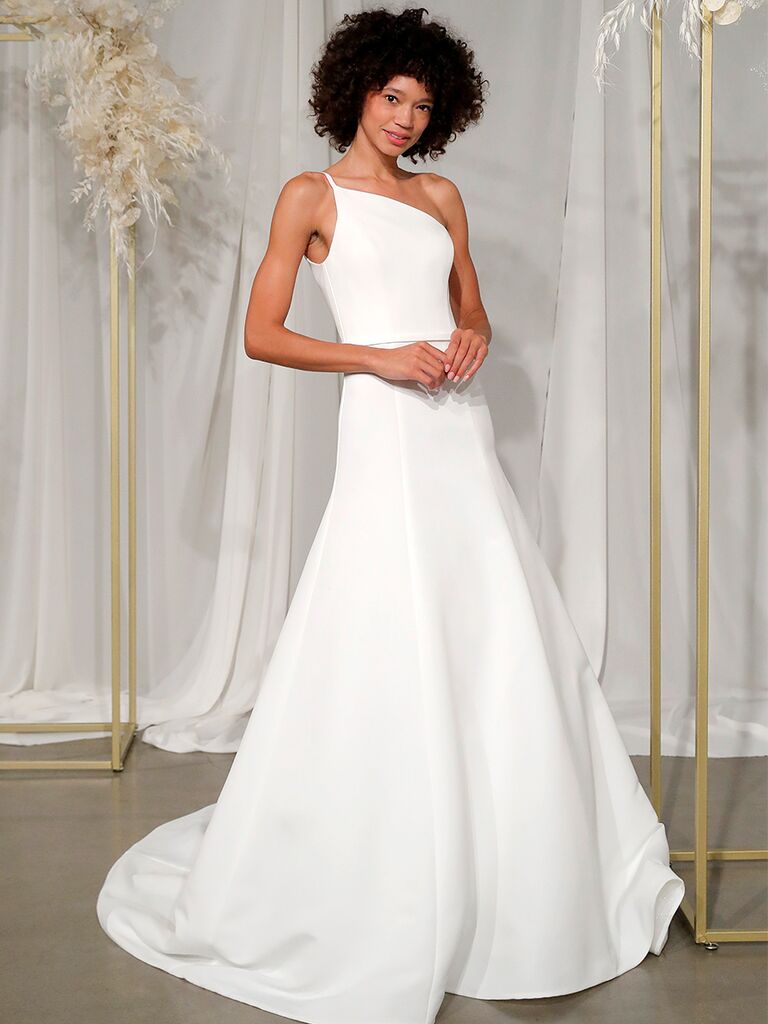 The "Brandon": A faille one-shoulder, modified, A-line gown.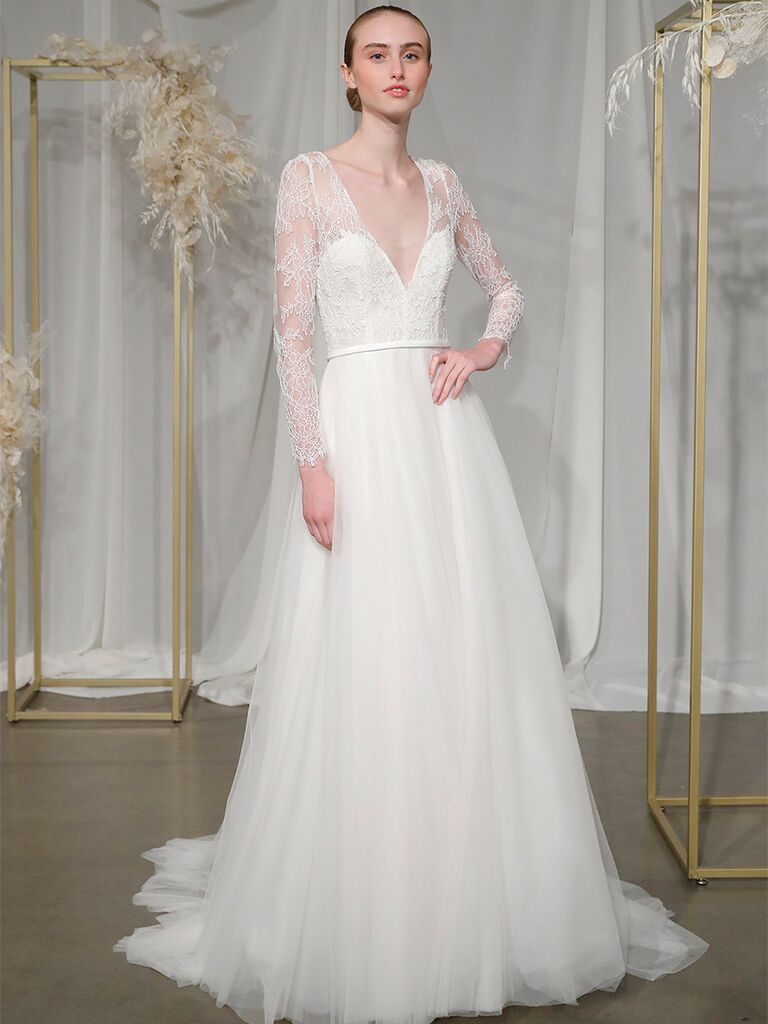 The "Emily": A soft tulle ballgown with primrose Chantilly lace, featuring long sleeves and hand-appliqued corded lace on the bodice.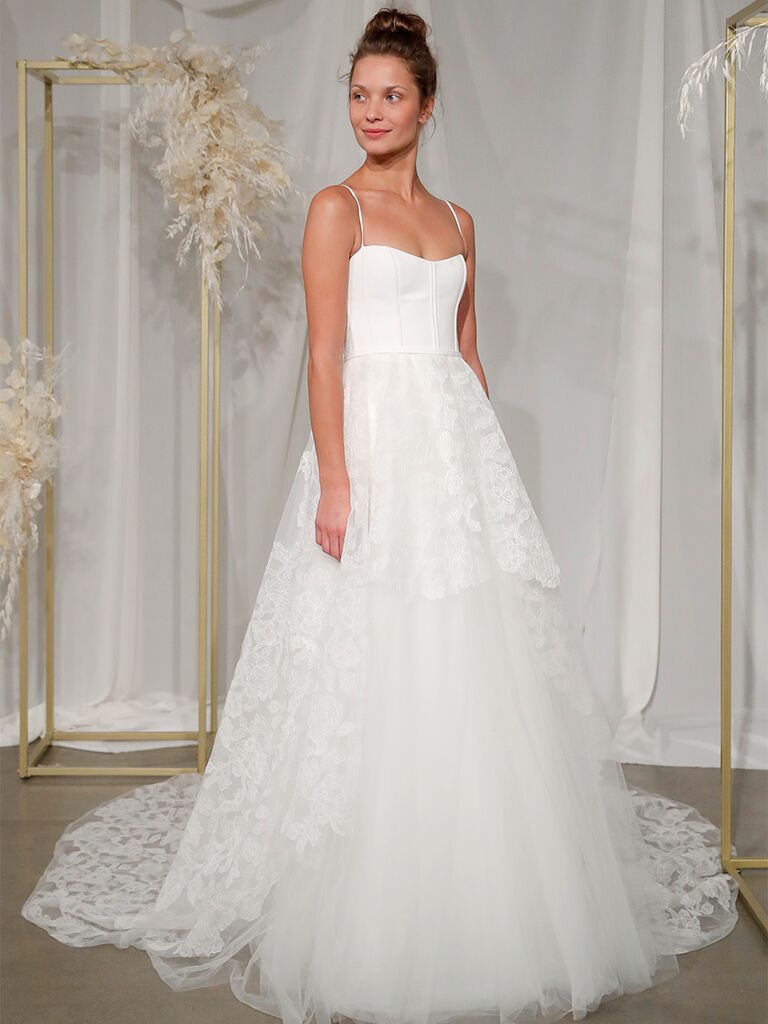 The "Ferren": A tulle ballgown with a faille boned bodice, sheer organza back and a rose lace border.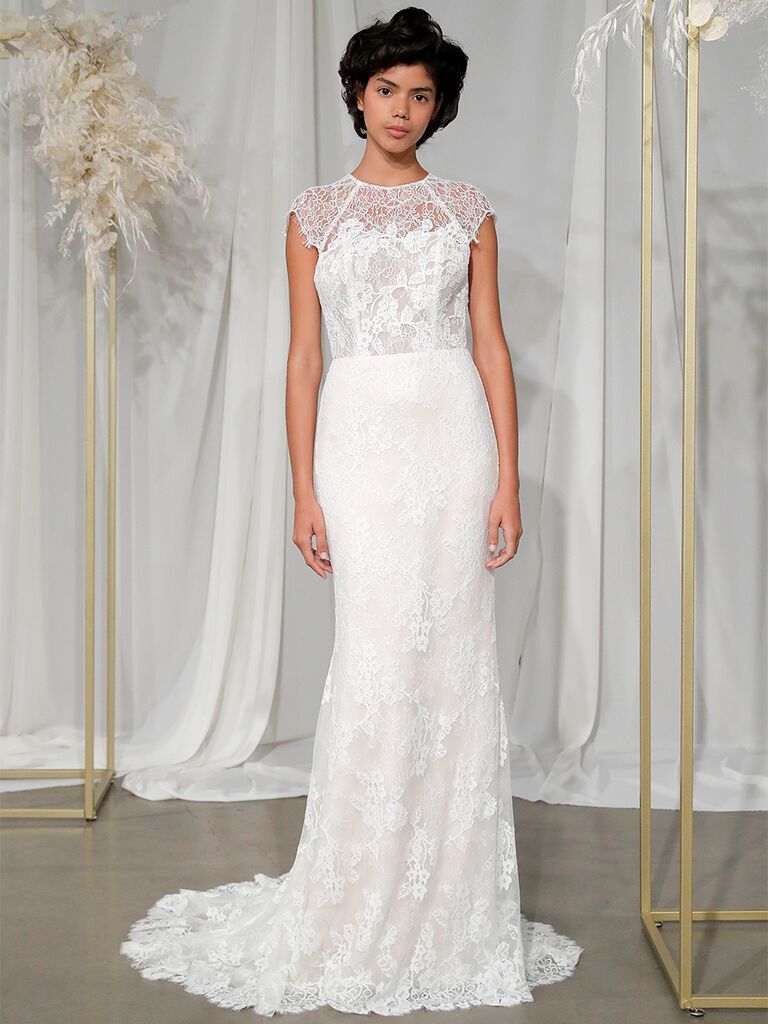 The "Jean": A fit-and-flare gown comprised of double-layered Chantilly lace. Back is comprised of sheer lace.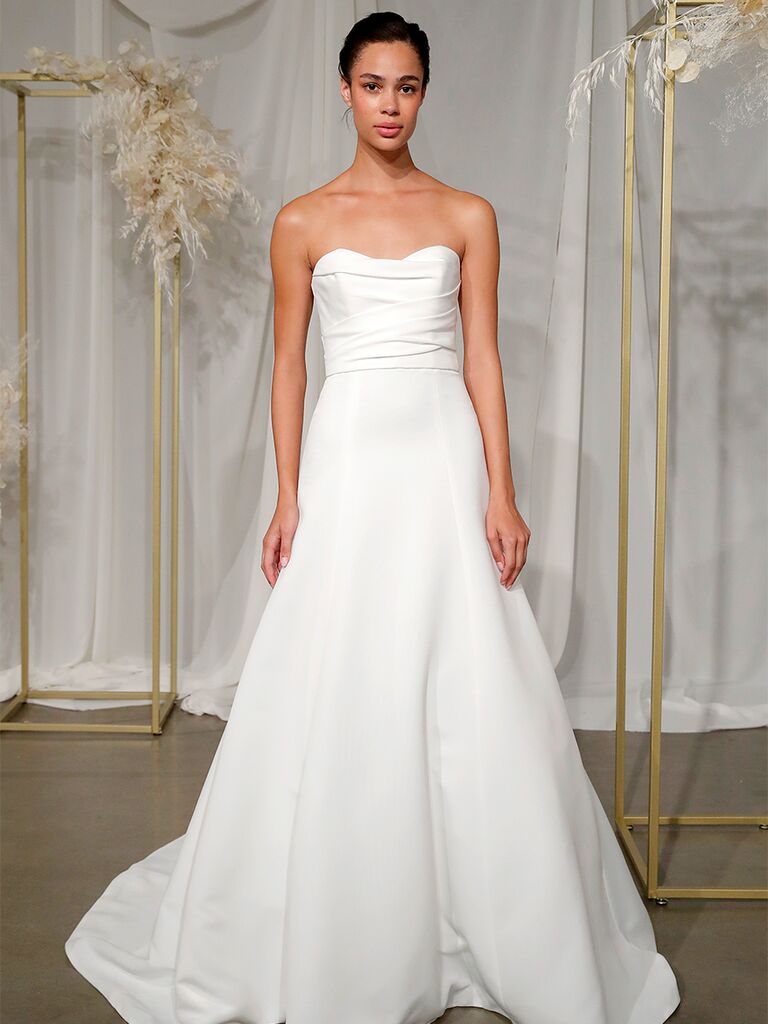 The "Kirsten": A strapless, A-line ballgown featuring a sweetheart neckline and an oversized bow against an extended train.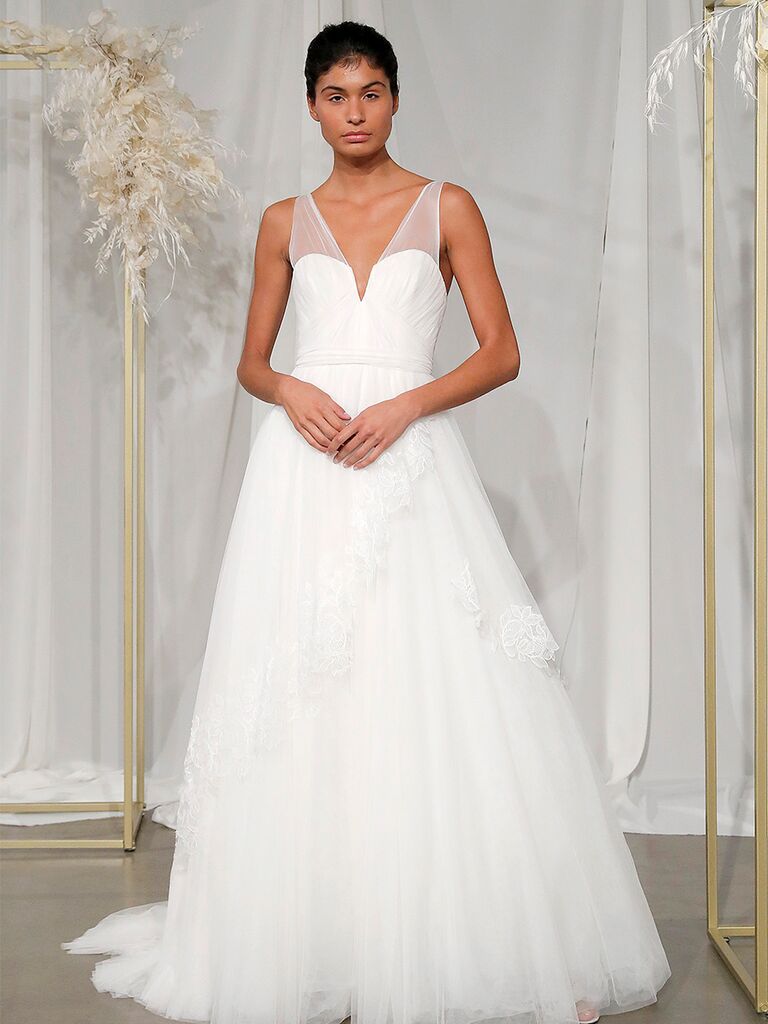 The "Luisa": A soft tulle ballgown with a draped notched bodice. Piece features an ivy lace trim that cascades asymmetrically around the skirt.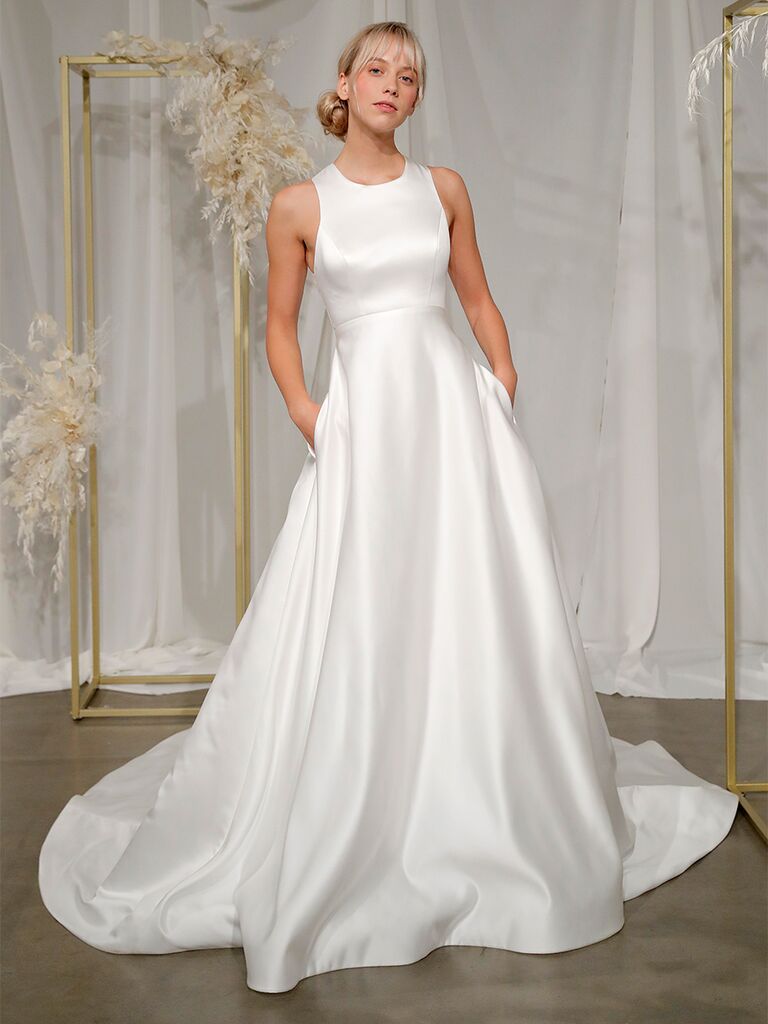 The "Maggie": A satin, high-neck, A-line ballgown featuring criss-cross back straps and covered buttons.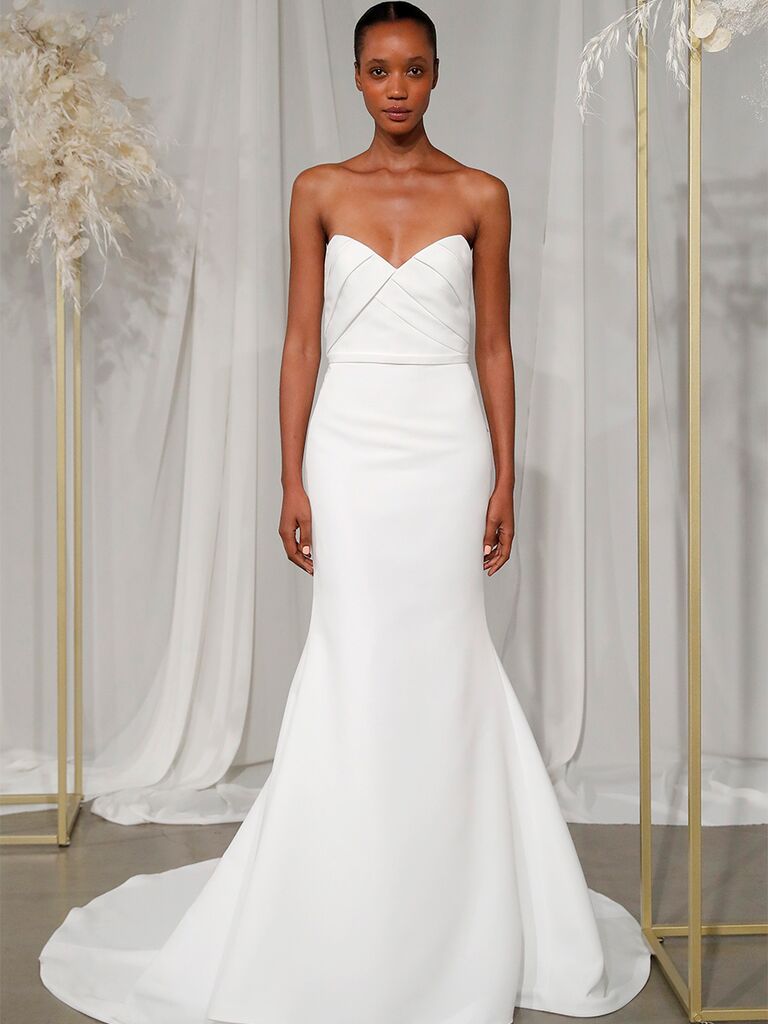 The "Marjorie": A fit-and-flare gown featuring a strapless, asymmetrical, draped, sweetheart bodice.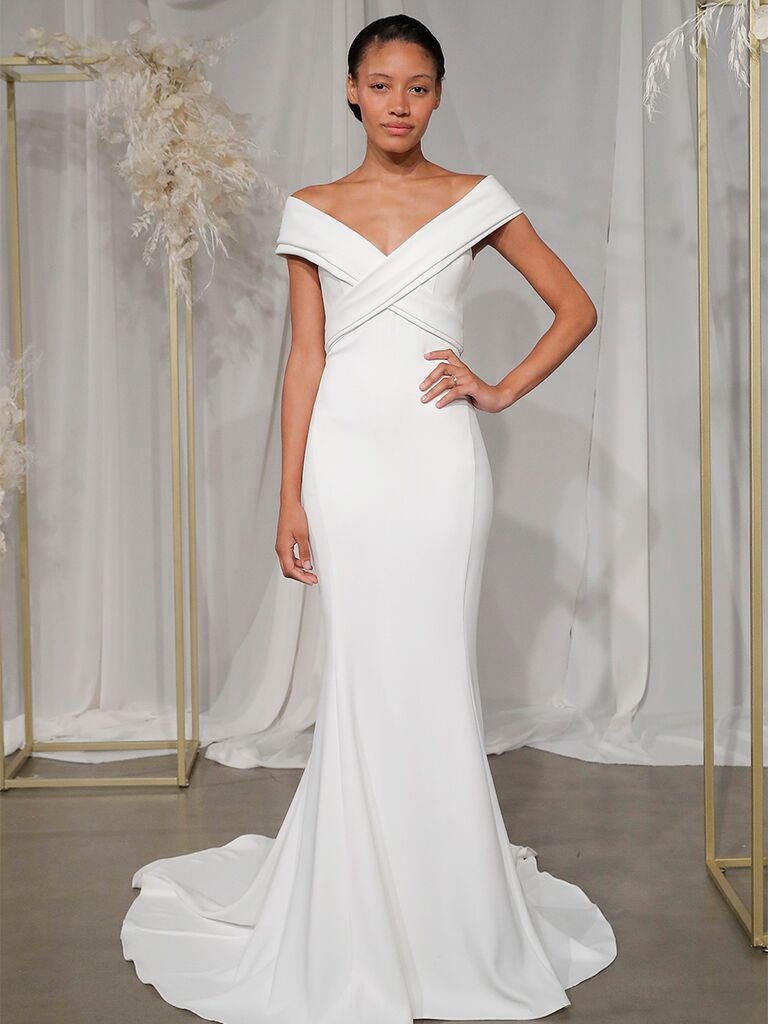 The "Shiri": Stretch crepe, off-the-shoulder, fit-and-flare gown with criss-cross straps.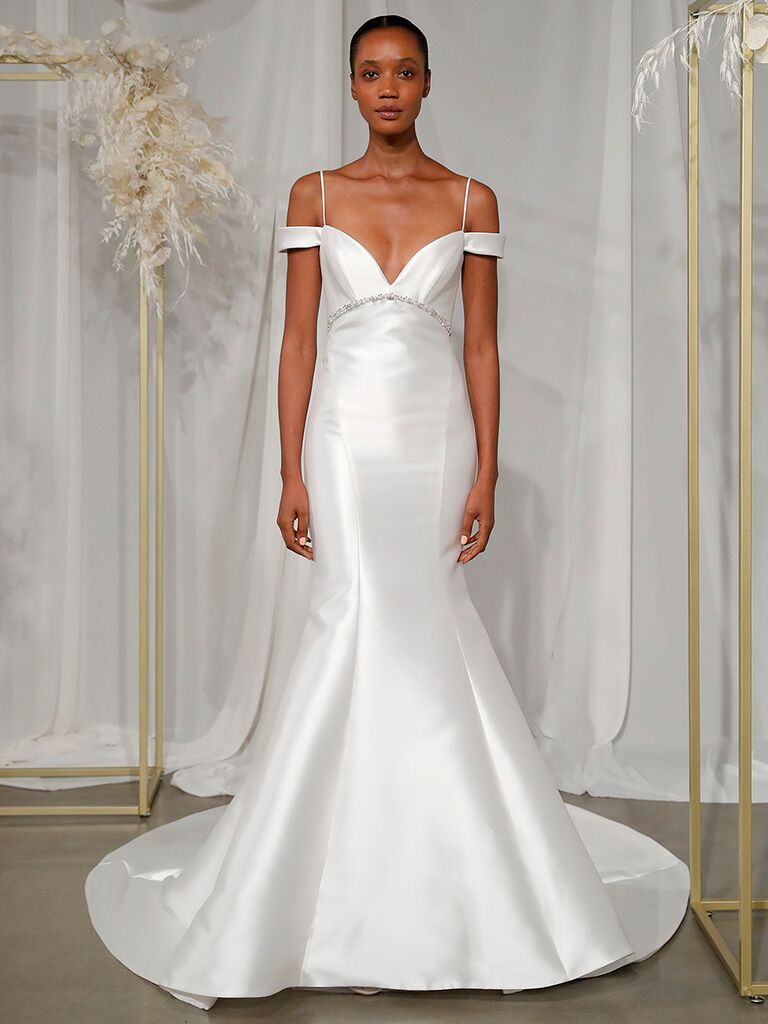 The "Val": Off-the-shoulder, fit-and-flare gown with a plunging V-neck and a jeweled belt. Covered buttons to train.