How to Personalize Your Wedding Reception Music
You'll have your playlist on repeat long after your wedding.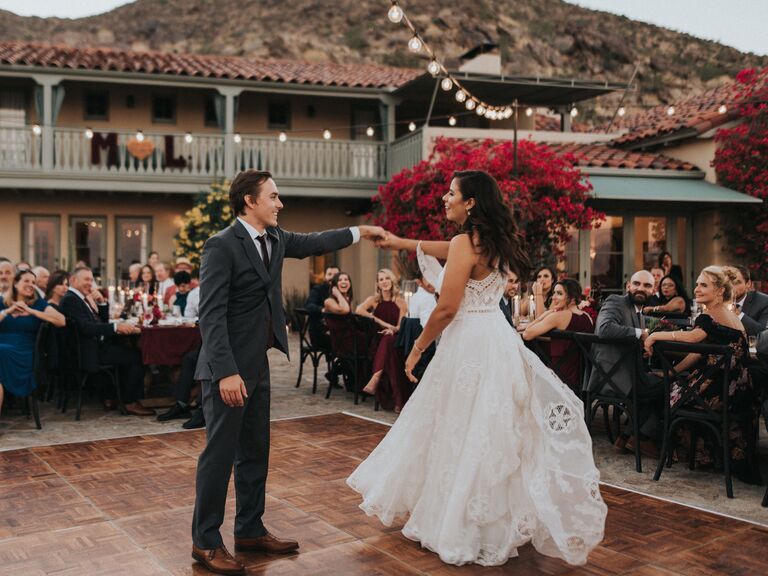 Jonnie + Garrett Wedding Photography
Once your wedding ceremony is over, it's time to celebrate—at the reception, that is. While there are a number of ways to personalize your party (tequila shot escort cards included) one concrete way to set the tone of the evening is through your wedding reception music.
Whether you decide to hire a DJ or live band (or both), the entertainment will keep the party going from your first newlywed entrance to the moment your beloved guests see you off. And while they will do most of the work by selecting all the songs for the evening, you and your spouse should guide them by providing a collection of music you definitely want to hear.
If you're stuck figuring out good music for the party, you're in luck. Below, we've compiled a list of tips to make your wedding reception music personal to you and your spouse and entertaining for your guests. That way, you—and your guests—will have the same playlist on repeat for years to come.
Select Music Meaningful to You and Your Spouse
Personalizing your wedding reception music begins with choosing songs that bear special meaning to you and your partner. More than anything, your guests will love to hear songs that illustrate your relationship.
Brendan Jay Sullivan, celebrity DJ and author, encourages his wedding clients to thoughtfully include songs that are reminiscent of a time and place. "I always ask how they met," he says of his couples. "Then I have them work on a collaborative playlist of 'Songs That Were Popular When We Met.' This is great because if they met in college, then all their college buddies will be there. They'll all remember dancing to those tunes during Senior Week."
Not only will these personalized tunes fuel the nostalgia, your guests will love hearing these songs too as a throwback memory.
Incorporate DJs' Most Requested Wedding Songs
If you need inspiration, consult the experts. DJs and bands know exactly what songs get crowds excited and they also know which tunes to avoid if you don't want the dance floor to thin out.
Consult this list of DJ's most requested wedding songs to discover tunes you might not have initially thought to include on your playlist. No matter your taste in music, you might opt to include favorites like Neil Diamond's "Sweet Caroline" or Whitney Houston's "I Wanna Dance With Somebody" (like Meghan Markle did at her wedding).
While you want your music selections to reflect you and your spouse, your guests will appreciate hearing those comforting, classic songs that are known to get (and keep) the party going.
Expect the Unexpected
Your never know what surprises your friends and family will have planned for you and your spouse during your reception. Maybe your Aunt Jane is a professional singer who's planning to serenade you during the cake-cutting or perhaps your bridal party secretly hired a performer to surprise you during cocktail hour. Sometimes, wedding parties will even prepare a dance or a medley to make your night all the more memorable and interesting.
No matter how meticulously you've planned your reception timeline, be open to sweet surprises from your loved ones. After all, how much more personalized can your wedding reception music get than a custom song mash-up performed by your maid of honor?
Create Your Own Music "Rules"
If there's one thing to remember about your reception, it's that there are no rules to follow. While weddings often follow tradition, that doesn't mean you have to do what you think you should do—and that includes choosing your reception music.
If you don't like the "The Chicken Dance," don't feel like you have to play it just because it's one of the most popular traditional wedding songs. If you want your friends and family dancing all night, Sullivan has found that the popularity of a song isn't the most important factor. "The biggest myth is that you have to 'know' a song to dance to it," he says. "Dancing, like love, is universal." Instead, play songs that you and your partner genuinely love. This will be apparent to your guests, and they'll enjoy your music if they see it makes you happy.
Include Your Favorite Singers
Did you know that you can have Jennifer Lopez perform at your wedding? That's right—if you can't get enough of Jenny from the Block, the Grammy-award winner will serenade you and your guests… for at least $1 million, that is.
Incorporating your favorite musicians is a perfect way to personalize your wedding reception music. But if you can't quite afford J. Lo's fee, you're not totally out of luck. Impersonators are a fun way to bring the energy of your favorite performer to your wedding reception (without a million dollar price tag). So if you've always dreamed of having Beyoncé sing "Single Ladies" during your bouquet toss, perhaps find an impersonator or cover artist who can help bring your dream to life.
If impersonators aren't your style, you can still bring the excitement. If you're going to have a live band, ask them to cover your favorite song. Or, if you're loving an artist you came across on YouTube, reach out to them about the possibility of having them perform at your ceremony.
Having good music at your wedding reception is all about getting creative. By finding unique ways to make your soundtrack unique to you, your guests will enjoy experiencing a personal touch.
Ask for Suggestions From Your Guests
To truly personalize your wedding reception music, get your guests involved. Your guest list is unique to your wedding, and those who'll be attending likely have a few songs they'd love to hear during the reception. To give your playlist a twist, take song requests from your friends and family.
If you're open to incorporating their suggestions, use your wedding website to gather their opinions. Include a link to a Google Form that asks your guests to submit song requests they'd like to hear. Not only will this get them excited for your reception, it'll take some of the planning out of your hands. Plus, it's a creative use of your wedding website that your guests will enjoy.
Consult the Music Charts
To get even more inspiration for your playlist, consult the music charts in the weeks leading up to your wedding. Sullivan advises his clients to include a few current hits to engage their guests.
"I always tell my wedding clients, 'Keep it classic, but keep it current.' You need to play one current hit song that will fill the dance floor," he tells us. "In 2016 that was Justin Bieber's 'Sorry.' Now it's 'Old Town Road.' Those will eventually both be classics. But to remind your partner and your guests of that great wedding you had… have a song that's enjoying its moment."
Then, in the years to come after your wedding, you and your guests will be reminded of your big day when you hear a hit song that was played at your reception.
Make Your Playlist Shareable
Once you create your wedding reception music playlist, there's a chance your guests will want to listen to some songs on repeat (or steal a few of your ideas for their own wedding). Instead of answering their questions individually, you can instantly share your playlist through Spotify.
Whether you have a DJ or live band at your wedding, you can still compile your song list on the app. Once it's complete, tap the three dots next to the playlist title and a curated image with a customized Spotify code will appear. Print this out before your wedding and place it on the tables (or put it in your wedding welcome bag). Your guests can use the camera in the search bar of their Spotify app to scan the image and instantly access your wedding playlist. They'll be jamming out to your curated music for years to come. (Oh, and if you feel stuck, The Knot has playlist inspiration for all your wedding-related events too.)
Give Your Music a Test Run Before the Big Day
Once you've compiled the perfect reception playlist, be sure to listen to the songs at least once before your wedding day. Doing so will ensure that you actually do want to hear all the songs you've included on the list. It's also the perfect time for you to flag any changes you want to make to your DJ or performer, such as the exclusion of curse words or a mash-up of numerous songs.