Creative Wedding Website Ideas You'll Actually Want to Use
You'll want to steal one (or two) of these ideas.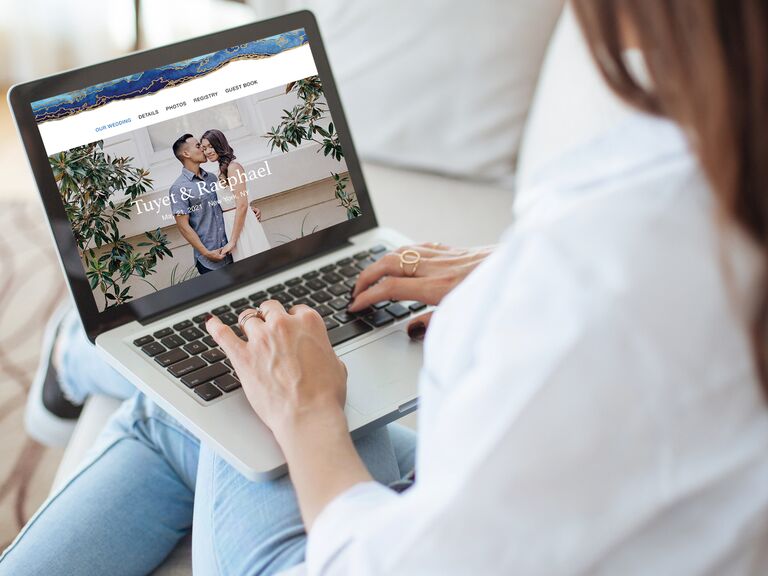 Congrats—you're engaged! While you might be ready to go all in on venue scouting or compiling your registry, there's one very important part of the wedding planning process that shouldn't be overlooked: creating your wedding website.
Your wedding website is the digital hub for all the important details regarding your wedding. It's where you can share engagement photos, wedding logistics, guest accommodations and your registry. The Knot offers plenty of wedding website examples and templates for you to customize your very own wedding website—but that doesn't mean you can't get creative with the design. Wedding websites should be personal, informative and fun for your guests to click through. So, keep reading to discover the most creative wedding website ideas that you can use on your own site with The Knot.
Link a Photo Sharing App
While you're busy soaking up your wedding weekend, your friends and family will be taking pictures and videos from the start of the rehearsal dinner until they see you off at the end of the reception. You'll receive a personal link for your event, which can be added to your wedding website with a request for guests to participate. (You can also invite them to use your link directly from the app, which will also send reminders on the day of.) By using a photo sharing app, all of the pictures your guests take can be compiled into one digital location in real time and you don't have to miss out on the bouquet toss Boomerang that Aunt Leslie is bound to capture.
Create a Social Wall
If you create a wedding hashtag, you'll want to encourage your guests to use it when they share snapshots of your day on social media. To be sure that you don't miss out on all of their posts, create a social wall and share the link on your wedding website. A social wall aggregates every single post that uses a specific hashtag—so when your roommate from college shares an Instagram post from your reception photo booth with your hashtag, it'll show up in realtime on the social wall feed. Encourage your guests to check the link throughout the day. Or, if you feel so inspired, display your social wall on a screen during your wedding reception.
Additionally, if you choose to create a custom Snapchat geofilter for your big day, be sure to let your guests know in advance so they can take advantage of your design.
Share Your "Registory"
It's no secret that your wedding website is the perfect place to share your registry. But, take it a step further by also sharing the story behind your registry, or as we like to call it: your "registory." Take this chance to tell your guests why you've chosen to register for certain things. If you've opted to register for a Honeymoon Fund, tell your friends and family why your trip to Italy is so meaningful to you. Or, if you'd like to ask for cash for a Newlywed Fund, explain how you'll put it to use (be it a new house or cooking lessons for the two of you).
You can also link your registry to a charity. If you choose to do so, The Knot will donate a portion of proceeds from registry purchases to that organization (at no cost to you or your guests). If there's a charity that's important to you, tell your guests why you've chosen to give back. Giving context to your registry will not only inform your guests, but it will make them excited to purchase gifts for you.
Have Your Guests Create a Virtual Advice Column
One of the best wedding website ideas is to get your guests involved. When creating your website, activate your virtual guest book so your friends and family can leave a message, along with their best words of matrimonial advice.
Customize Your URL
Did you know that you can customize your own wedding website URL with The Knot? Instead of sending out a generic link to your guests, personalize it with your names, your joint couple name or your wedding hashtag. (A tip: the more you personalize your URL, the more your guests will love it.)
Have Your Wedding Party Create Their Bios
While many couples use their wedding website to introduce wedding party members, you can take an even more creative route by having the bridesmaids and groomsmen build their own bios. When making their biographies, ask them to share their favorite memory with you or have them share fun facts about themselves in a questionnaire style format. Have them pay tribute to your love story and let their personalities shine through. After all: What is their favorite memory of you and your future partner?
Be Inventive With Your Love Story
Your wedding website is the perfect spot for you to share your full love story. No matter how well your guests may know you, they'll love reading about where you met, when you began dating, the proposal story, and more. And you can take this opportunity to get creative with how you tell the story.
If you're technologically savvy (or you know someone who is), create a video of you and your spouse-to-be. Whether it's an interactive relationship timeline or a fun format that's interview-style, your friends and family will love seeing your relationship come to life through the screen.
If you're more the artistic type or you're willing to hire a graphic designer, illustrate a timeline of your relationship to upload as an image to your site. Your guests will love seeing an original creation that tells your unique love story.
Build a Guest Weekend Experience With Your Recommendations
Many couples use their wedding websites to recommend local activities and accommodations for guests to check out, especially if they're traveling from far away or planning to spend the weekend. If your wedding is in your hometown (or a town that's special to you and your partner) use this section to create a scavenger hunt for your friends and family.
Instead of suggesting any local restaurant, encourage them to check out the spot where you had your first date, or suggest that they visit your favorite local coffee shop or date night spot. That way, if guests have down time over the weekend or in between your ceremony and reception, they can go to local places that are special to you.
Get to Know Your Guests
Build excitement around your wedding by including your guests in the planning process. If you're willing to take song requests, create a Google Form that encourages guests to submit their favorite tunes to get people on the dance floor. Or, if you want to play the infamous Shoe Game during your reception, give it a refreshing twist by asking your questions in a Google Form and having your guests submit their answers. Then, have the MC tally up the results to share when you play the game with your spouse during the reception.
Get Inspired by Pop Culture
When it comes to the actual design of your wedding website, some of the most creative wedding website ideas can come from pop culture. For example, if you and your partner love Friends, title your wedding website "The One Where We Get Married." Or, if your favorite rom-com is When Harry Met Sally, replace the title with your names and have your engagement photoshoot photographer take a photo that resembles the movie poster to use on the landing page of your site.
No matter what you and your future spouse love, whether it's a movie franchise, a sports team, or a book series, find a way to incorporate it into your site to make it unique and personalized.
Build an Interactive Timeline for Your Wedding Day
Your guests will want to know what to expect on the wedding day, so be sure to keep them informed by sharing a timeline of events. To really get creative, create an actual timeline graphic with all the important times and locations they'll need to know: ceremony start time, cocktail hour, and reception location and time are all important logistics you should include. Whether you're comfortable with photoshop or you're a cut-and-paste pro, making a visual wedding day timeline is a creative wedding website idea that will keep your guests in the loop of the day's itinerary.