Maid of Honor Writes and Sings a Song Mash-Up for Sister's Wedding
Oh, and she may or may not do the rap from TLC's "Waterfalls" at minute 7:25.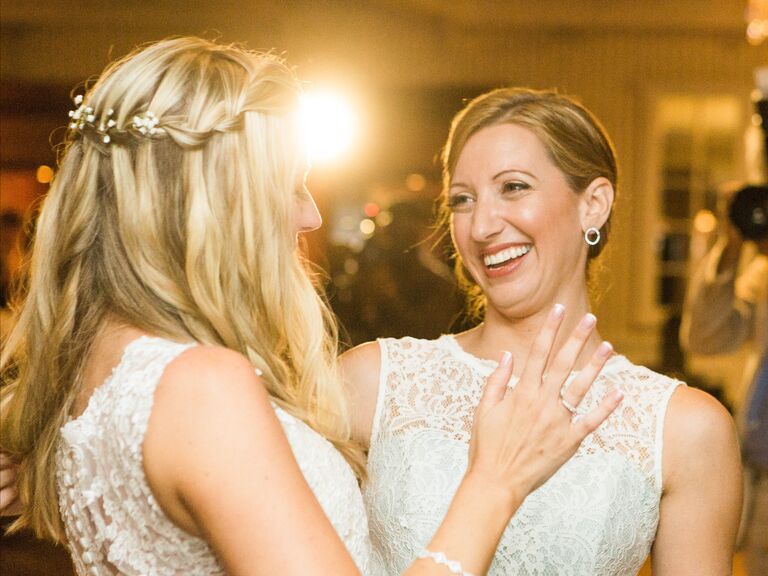 VERDI PHOTOGRAPHY
You know what they say: If you've got it, flaunt it. And flaunt it Shanna Siegmund did as maid of honor at her sister Laura's recent wedding. Instead of your run-of-the-mill wedding speech, Shanna performed a mash-up of their favorite songs—from Broadway hits to Carly Simon's "You're So Vain"—complete with original, personalized lyrics and a killer duet with another bridesmaid.
No stranger to the spotlight, Shanna lives in New York City and regularly performs in regional and community theater. Plus, she and Laura have practically been singing and dancing together since day one. "My sister, who basically followed me everywhere for most of her early life, also got into musical theater when she was young because of my interest in it," Shanna says. "So we've always shared a fun musical background." So, naturally, when Laura got engaged, Shanna knew she had to prep something truly unforgettable for a maid of honor speech.
Luckily for Shanna, Laura and her fiancé had a nice, long engagement—long enough for Shanna to get her routine in tip-top shape. "I started jotting down ideas in April, then narrowed my choices and began writing lyrics I knew I wanted to incorporate," Shanna tells The Knot. "Most of the songs I chose to include were no-brainers based on specific jokes or events. But I also wanted to make sure they weren't too obscure so other people would understand."
To put it plainly, Shanna brought the house down. "My favorite part and the hardest part was definitely the rap segment [from TLC's "Waterfalls"]. I knew from the start I wanted to include it, but it was a beast to write. Memorizing it kept me up at night the last few weeks," Shanna says. And trust us, it was worth it. (Watch her absolutely nail it at minute 7:25.)
But the sweetest feeling came not from her flawlessly executed rap sequence, but her sister's astonished, touched reaction. "She ran up to me crying, hugged me and said, 'You have to be kidding me right now—who does that?!' It made all the work on this song worth it," Shanna says.
It'll come as no surprise that Shanna's advice for maids of honor struggling to craft that perfect toast is to make sure it's really personal and, ultimately, fun—and having a background in musical theater always helps, of course.
Watch the full maid of honor mash-up speech here for some crazy-awesome toasting inspo:
Here's the full list of songs included in the toast:
"Carrying the Banner" from Newsies
"Stay" by Lisa Loeb
"Castle On a Cloud" from Les Miserables
"We Make a Beautiful Pair" from Shenandoah
"Roadhouse Blues" by The Doors
"Waterfalls" by TLC
"You're So Vain" by Carly Simon
"Wonderful Tonight" by Eric Clapton
Photos by Verdi Photography