Hawaiian Wedding Customs and Traditions You Didn't Know About
Add a touch of aloha culture to your nuptials.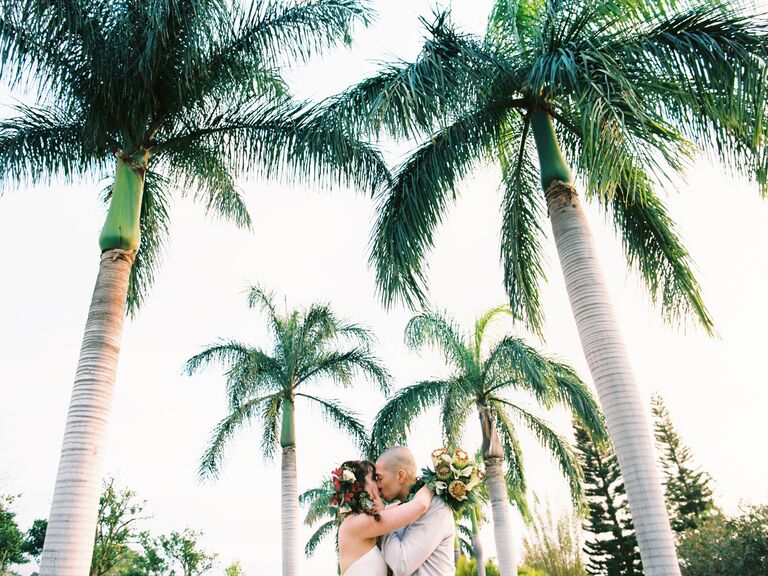 WENDY LAUREL
If you're getting married in the Hawaiian Islands, you are undoubtedly enamored not only with each other, but also with the beauty and the culture of the destination. If you're hoping to incorporate Hawaiian wedding traditions into your nuptials, we consulted Hawaiian planning professionals about all the traditions and customs. Read on to see 10 Hawaiiain wedding traditions and customs you can incorporate into your nuptials.
Blowing of The Pū
The blowing of the conch shell horn, also known as the Pū, is an ancient Hawaiian custom that was used in the past to announce the arrival of canoes, the entrance of ali'i (Hawaiian nobles), and to communicate between neighboring villages, says Mina Brightman, CEO of Cherished in Hawaii. "It's an ancient Hawaiian fanfare meant to call to attention to the significance of whatever is happening," she says. "Today, the Pū is used to call for a gathering, to bless a home and to announce a marriage."
Many ministers choose to blow the Pū at the very start of the ceremony as a way to bring guests into a mindspace of reflection. However, others choose to blow it as the couple shares their first married kiss.
Oli Aloha
The Hawaiian ceremony traditionally starts with a chant called the "Oli Aloha." According to Reverend Mark Kunrow, a Hawaiian reverend (and a winner of The Knot Best of Weddings), an oli is a chant meant to elevate and prepare a space or peoples for blessing or to be welcomed in. This oli offers a word of greeting to guests and to the couple, Wagner says. "In part, it says, 'There was a seeking of a loved one, now she is found. You two are now to become one," Wagner says. It ends with "Aloha" and "E komo mai," which means welcome.
Lei Exchange
Leis, or flower garlands, are a symbol of love, respect and Aloha spirit. Sandra Wagner, owner of A Maui Wedding Day, says it's common for the ceremony to involve the couple exchanging leis as a symbol of their love. "The beautifully crafted lei, with its hand-picked flowers and twine, carefully bonded together with love is a reflection of your love and Aloha for one another," she says. "As you exchange these leis, you will begin to weave your lei in life together with love." The couple usually presents their leis to one another with a smile and kiss upon each other's cheek.
Grooms usually wear a garland of manly green maile leaves (sometimes with small white flowers, called pikake, woven in). In a traditional Hawaiian wedding ceremony, the local minister, often called a kahuna pule or kahu (Hawaiian holy man), would bind the couple's hands together with a maile lei (more on that later). Brides often wear several strands of pink and white pikake, which can be entwined with orchids or rosebuds. The bride might also wear a headpiece of haku flowers and greenery. Some couples present their mothers with lei, while at smaller weddings, sometimes couples gift each guest one.
Hawaiiain Ring Blessing
The Hawaiian ring blessing typically only takes place at beach weddings, as it requires water. For this tradition, Wagner explains that both of the rings are placed in a Hawaiian wood bowl. The bride then holds the bowl while the groom holds a conch shell filled with ocean water. The minister blesses the rings by dipping a leaf in the salt water from the conch shell and sprinkling it over the rings.
Pili ā nai kealoha
According Kunrow, "pili ā nai kealoha" translates to "love that binds." For this tradition, the officiant ties the hands of the couple with a maile lei while chanting an accompanying oli. The maile lei used is made with dark green vines that are twisted together. Brightman says that sometimes decorated with pikake or white orchid. "The maile lei is quite possibly one of the oldest leis and is therefore steeped in tradition and cultural significance," she says. "It is known as the lei of royalty, and symbolizes enduring devotion, desire for peace, and respect." She adds that this tradition can be considered a Hawaiian equivalent to the sand ceremony or candle ceremony.
He alo ā he alo
Kunrow tells The Knot that this translates to "face to face." "This oli marks the end of the ceremony and is a prayer for the couple to share aloha in their marriage and to honor the breath of life that is given to us," Brightman explains. Per Junrow, "Alo" means "person" and "Ha" means "breath."
Hawaiian Language
Whether you are a born-and-bred Hawaiian twosome, or if this is your first time visiting the Aloha state, you might want to know some of the most romantic words from the language. Add a few of these Hawaiian words into your invitations or favors; and if you are really brave, practice a few to use in your toast.
To cherish, love, or express affection: ho'oheno
Celebration: ho'olaule'a
Friend: hoa aloha
Man: kāne
Woman: wahine
Joy: hau'oli
Kiss: honi
Sweetheart: ipo
Darling: hiwahiwa
Music
Hawaiian music is so romantic, which makes it perfect for a wedding. The slack key guitar and ukelele are the regional instruments that make the music of the islands famous. You can hire local musicians, and you can also hire professional hula dancers to interpret the songs. The "Hawaiian Wedding Song," made famous by Elvis in the film Blue Hawaii is usually played during the ceremony or the first dance..
Dress
At a traditional Hawaiian wedding, brides wear a long, white dress that is flowy. It moves in the Pacific breeze, and has its own unique elegance. The haku lei, that ring of fragrant Hawaiian flowers, is worn around the head.
Grooms can wear white, too, in the form of a shirt (on the flowy side, of course) and slacks. They can also wear a brightly colored sash around his waist, and the green maile lei around their neck.
Due to the Asian cultural influence in the Hawaiian Islands, kimonos can also be worn at weddings. However, we believe you should wear whatever you want to your wedding—it's your day, after all.
Feast
Food is an excellent (not to mention delicious) way to incorporate Hawaiian culture and tradition into your wedding day. Poi, a paste made from pounded taro root, is a delicious local dish your guests can enjoy. If you're serving meat, consider Laulau, a method of preparing meats, including fish and chicken, by wrapping them in ti leaves. Poke is diced raw fish flavored with vegetables and seaweed, and kulolo is coconut pudding with brown sugar and taro flavorings.
Considering the proximity to the ocean, it's not surprising the fresh fish and excellent produce of the islands take center stage, graced by a multi-ethnic mélange of flavors. Asian and Indo-Pacific influences like Thai, Japanese, and Polynesian have made Hawaiian cuisine a fascinating adventure. Ahi, or tuna, is seared and crusted in sesame, while other seafood is cooked in a Hawaiian bouillabaisse (fresh fruit sauces made from guava, papaya, pineapple, and lychee add flavor). As you put together your wedding menu, be sure to take advantage of your setting by highlighting these fresh seafoods, fruits, and veggies. If a luau is your thing, don't skip the kalua pig—it's a staple.