The Top 20 Sex Toys For Couples, Hands-Down
We did the legwork for you and your love—such a sacrifice, we know.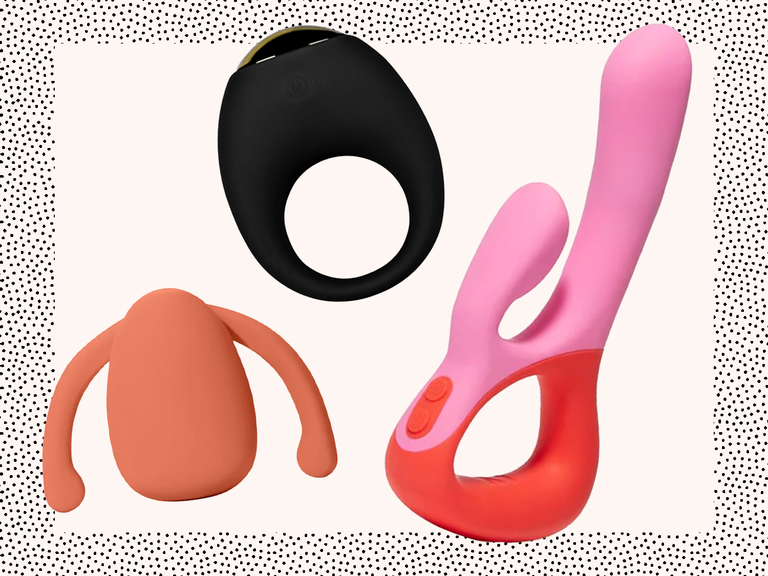 Photos: Courtesy of Maude, Dame, Bellesa and Unbound Babes,Design by Tiana Crispino
We have included third party products to help you navigate and enjoy life's biggest moments. Purchases made through links on this page may earn us a commission.
If you've been saving sex toys for solo sessions only, you and your partner are missing out: Sex toys for couples can heighten intimacy, increase pleasure, and add something new to a sexual routine that's become, well, routine.
From specially designed toys that can be worn during penetrative sex to vibrators for foreplay or simultaneous pleasure to options made with the LGBTQIA+ community specifically in mind, the options are nearly endless when it comes to sex toys for couples. So, where do you start? Well, right here, OFC.
We did the legwork for you and your love (such a sacrifice, we know) and curated a list of the hands-down best sex toys for couples. With an array of designs and functions, one of these pleasure-elevating buys is bound to become your and your partner's newest must-have.
Scroll on to see the 20 best sex toys for couples, including some expert recommendations from big names in the biz: Katy Zvolerin, Sex Educator and Director of Public Relations at Adam & Eve, and Michelle Shnaidman, CEO and Founder of Bellesa.
In this article:
Types of Sex Toys that Are Good for Couples
"Almost any sex toy can work for couples depending on individual needs, body parts and preferences," notes Shnaidman. "That said, there are certain toys that are designed specifically with couples in mind."
A primary category of couples sex toys, according to Shnaidman, are wearable toys. Examples of these can include vibrators designed to be worn inside the vagina during sex and vibrating cock rings that can help with maintaining erections and aid in clitoral stimulation.
"The first step is identifying what you want from your sex toys," Shnaidman explains. "The goal of a sex toy is to enhance the sexual experience! Look for a toy that provides stimulation that you know you enjoy on your own that you'd like to bring into your sex life."
Zvolerin confirms that communication is everything when it comes to incorporating and choosing sex toys to use together. "It's important that couples discuss their comfort levels with sex toys before embarking on a shopping spree. Communication is key when it comes to all things sex, whether it's a shopping budget, the size or shape of a toy or how wild a couple plans to be."
"Quality is important with sex toys, too," Zvolerin adds. "Look for materials such as silicone, glass or USB-rechargeable items over more trendy, disposable toys."
Best Sex Toys for Couples, According to Experts
Best Sex Toy for Couples Overall: Eva by Dame
The Dame's infamous Eva vibrator is a couples toy designed to be worn during partnered (or solo) sex. The soft and flexible wings can be nestled within the labia for a secure and comfortable fit while its body provides clitorial stimulation. The three vibration intensities and several patterns pack plenty of punch, and its discreet size is also a plus.
Standout Feature: The hands-free, wearable design that allows this toy to be worn during partnered sex without being a distraction.
Notable Review: "This baby has about 90% success rate of reaching climax together. No other toy we own comes close to that. Love it and don't want sex without it."
Best Splurge Sex Toy For Couples: LELO Tiani Duo
You and your partner deserve to treat yourselves and this baby is worth the higher price tag. New to LELO's collection of elevated sex toys, the Tiani Duo is a dual vibrator whose two motors work together to deliver pleasure to both partners simultaneously. Featuring 10 powerful vibration settings, it's waterproof for bath and shower fun and the premium body-safe silicone feels soft and warm to the touch.
Standout Feature: The wireless remote features an intuitive SenseMotion technology that allows you to adjust the vibrations with just light hand movement.
Best Budget Sex Toy For Couples: Couples Vibrator with Dual Penis Ring
Proof you don't need to spend a lot to get a lot, this couples vibrator clocks in at under $25–but still boasts 10 vibration frequencies that can be controlled with a handy remote control. Pleasantly quiet, it can be fit onto one's penis via the cock rings, while the dual arms can provide clitorial and G-spot stimulation.
Standout Feature: The three-in-one design that combines a clitorial vibrator, cock ring and G-spot stimulator.
Notable Review: "This vibrator makes playtime more fun [whether] you're on your own or with your person. The different speeds/vibrations can prolong or intensify that moment for both of you! Highly recommend!"
Best Wearble Sex Toy For Couples: Luvli Ditto 2
This expert recommendation comes courtesy of Shnaidman. "If we're looking for something wearable for a vulva-owner that can be enjoyed hands-free, the Luvli Ditto 2 is a fantastic choice," she says. "Designed to be worn inside the vagina during sex, the Luvli Ditto 2 adds both clitoral and internal vibration to the mix."
Standout Feature: The whopping 11 vibration settings will certainly please those who prefer options and variety.
Notable Review: "Not only did I love this toy, but my boyfriend loved feeling the vibrations from inside me also! Might think he's enjoying it more then me! Highly recommend!"
Best Clitoral-Stimulating Sex Toy for Couples: Demi Wand
Another top-tier sex toy with Shnaidman's expert stamp of approval, this best-selling wand is incredibly innovative (so it's a solid option for beginners), works for all body types and its small size keeps it from getting in the way of partnered sex. "The Demi Wand is a favorite amongst the Bellesa community," says Shnaidman. "This petite wand is designed for all bodies, [and] while it's small enough to not get in the way with a partner, the Demi Wand certainly packs a punch."
Standout Feature: The ultra-quiet motor is nearly silent, making this a great option for those who need to be discreet.
Notable Review: "OH. MY. GOD. This is the better than advertised. The flexibility of the wand handle is a god send, the settings are not at all repetitive and they hit just right. I was BLOWN away by this product. I've already told my friends about it."
Best G-Spot Stimulating Sex Toy for Couples: Clutch Rabbit Vibrator
This rabbit vibrator delivers thrustings and vibrations to the G-spot via its internal arm that has five intensity settings and five pattern settings. Combine that with the flexible external arm's seven intensity settings and five pattern settings, and you have over 120 possible vibration combinations to choose from! We also love the ergonomic triangular handle that's designed with couples in mind (which has also been found to be useful by those with disabilities).
Standout Feature: How could we not shout-out those bright and cheery colorways?
Notable Review: "Honestly, best I've ever felt. And the fact that it's disability friendly really sold it for me!"
Best Penis-Stimulating Sex Toy for Couples: Halo by Bellesa
The Halo by Bellesa takes the cake in this category, according to Shnaidman: "For someone with a penis, the Halo Vibrating Cock Ring is a perfect choice," she says. "Halo works to constrict blood flow of the penis making for longer and stronger erections, while also providing their partner with clitoral vibration."
Standout Feature: The fact that it can pull double duty as clitorial vibrator for solo play.
Notable Review: "The Halo by Bellesa gave me the ability to last twice as long as usual, leaving both me and my girlfriend short of words and breath by the end! I highly recommend getting this fun toy to anybody wanting to explore beyond their regular bedroom routine."
Best Anal-Stimulating Sex Toy for Couples: LELO Hugo
Those who enjoy (or are curious about) prostate or anal play should look to LELO's Hugo prostate vibrator. Made for both coupled and solo sex, it's designed with a motor in both the tip and base of the insertable shaft for maximum sensation, and its medium size is suitable for many body types and levels of experience.
Standout Feature: The Hugu comes with a wireless remote control that you or your partner can use to control the device.
Notable Review: "This was my first vibrating prostate toy, and I absolutely love it. My wife had so much fun controlling it the first time I used it, and I can confirm that it's fun as a solo toy, too."
Best Sex Toy for Couples for Mutual Penetration: The JoyStick Rechargable Wand
While there is no true one-size-fits-all double-ended vibrator or dildo, this one certainly comes close. Its impressive 14" bendable design provides extended reach for mutual penetration between partners and in a variety of positions. Both ends of the toy are equipped with their own motor, each of which provides seven vibration modes, including multiple speeds and pulsating patterns.
Standout Feature: The toy's extra-long design that provides a world of possibilities.
Notable Review: "We LOVE this toy. Being able to share a dildo is incredibly hot and intimate. It's able to fit so many positions and it's good for either slow, lazy sex or more energetic nights."
Best Massager Sex Toy for Couples: Drop by Maude
For those who love versatility, consider this external massager. It totes all the power of a traditional wand vibrator without the bulky, limiting size. Crafted from 100% FDA-grade silicone, the Drop is ultra-discreet with a modern and ergonomic design that can be used on anyone and just about anywhere on the body. Non-intimidating and straight-forward, it's a great choice for beginners—and comes in handy for just regular old massages, too!
Standout Feature: The Drop's unique, versatile shape is worthy of highlight.
Notable Review: "This product is so easy to hold and the shape is easy to move around your body. Its powerful little motor can take you to new levels in satisfaction [and] it's the only device that has provided me with intense pleasure…within five minutes."
Best Fingering Sex Toy for Couples: The Warm-Up
Whether used to get in the mood or as the main event, Dame's The Warm-Up bundle is a solid choice. Included is the brand's finger vibrator, dubbed The Fin. Ideal for both solo or partnered use, it's designed to be slipped right on a finger to deliver extra pleasure wherever it's needed. Also included is a massage oil candle: Once it begins to melt, the moisturizing oil can be gently poured on your partner for a warm and sensual massage.
Standout Feature: The romantic addition of the massage candle adds a special element to this bundled option.
Notable Review: for The Fin—"I love that this is unobtrusive and so easy to hold and makes it easy for my husband to 'steer' it during intercourse. It's also sexy because it feels like an extension of your fingers instead of an inanimate object."
Best Rabbit Sex Toy for Couples: We-Vibe x Lovehoney Nova 2
If you or your partner prefer the feeling of tandem G-spot and clitorial vibrations, add this rabbit vibrator to cart. Its external arm will pleasure the clitoris as you thrust, and the bulbed end pays mind to the G-spot. It can also be controlled in two different ways: through buttons on the toy itself, and through its compatible app that allows a partner to take control of it virtually.
Standout Feature: The posable internal arm lets you mold the device to your body and hit all the right spots.
Notable Review: "Amazing! I can't believe how strong I orgasm with this! Worth every cent [and] the best purchase I've ever made! It has me curling my toes and gripping my headboard."
Best Traditional Strap-On Sex Toy for Couples: StartHer Kit Harness & Strap-On Dildo
Since strap-ons can sometimes be intimidating for beginners, a straight-forward starter pack like this baby is the way to go. It comes with a flat-base silky soft dildo and an adjustable O-ring harness for a secure fit. And with both the dildo and harness available in a variety of sizes (up to 5X, in the harness's case). We also love that this retailer focuses on providing high-quality toys specifically for the LGBTQIA+ community (although strap-ons can of course be used in heterosexual relationships, too).
Standout Feature: The dildo's sizes are compared with fingers to take some of the guesswork out of choosing the perfect one for you and your partner.
Notable Review: "Really, really enjoyed this and can't imagine going without it after trying it recently! Ordered a small to start out but we'll be getting the next size up as well!"
Best Strapless Strap-On Sex Toy for Couples: Eve's Vibrating Strapless Strap-On
Strapless strap-ons are great for eliminating some of the prepwork that strap-on sex usually requires, and many also love them for alleviating gender dysphoria during sex. In lieu of finicky straps, this strap-on is held inside one's vagina via the bulbuous end, while they penetrate their partner with the longer one. Each end is equipped with motors to provide both partners with maximum pleasure.
Standout Feature: The bulbous end features raised ribs that press against the clitoris to provide the wearer with additional stimulation as they thrust.
Notable Review: "The strap systems always make me feel awkward. This had me feeling sexy and the internal vibes are so much better than a bullet [vibrator] like other strapless ones have. It is slightly hard and my partner wishes it would be a bit softer, [but it] held in me well."
Best Accomdating Sex Toy for Couples: Ohnut Depth-Limiting Rings
This sexual wellness product allows couples who may experience uncomfortable penetration to explore new positions and enjoy a more comfortable sexual routine. These stretchy, silicone-free and latex-free rings can be slipped around the penis or dildo to customize how deeply one is penetrated. Each set comes with four stackable rings, plus a cloth pouch for storage and travel.
Standout Feature: The body-safe, hypoallergenic material that retains heat and feels like skin.
Notable Review: "As a sex therapist, I am all about helping clients have more enjoyable sex. The Ohnut is a key part of the equation for people experiencing pain with penetration. What an amazing invention!"
Best BDSM Sex Toy for Couples: Sex and Mischief Bed Restraint Kit
The ideal BDSM sex toy is one that works for all levels of experience and play—and that's the perfect way to describe this bed restraint kit, available on Bellesa. It comes with two long straps (measuring in at 4 x 60" to be specific), with each end boasting an adjustable and comfortable Velco cuff. And set-up couldn't be easier: Just slip the straps beneath your mattress to hold them in place, Velco the cuffs in place and then you and your partner are ready to play.
Standout Feature: The user-friendly, intuitive nature of this strap system makes it suitable for all levels of BDSM experience.
Notable Review: "Bought this to use with my partner, and I love how customizable it is! It's very easy to adjust in the heat of the moment without badly interrupting your intimate times."
Best Scissoring Sex Toy for Couples: RockHer Vibrator
While not every partnered pair of vagina-owners enjoys this particular sex act, some do! And if you're a member of that club, consider the RockHer vibrator. It's designed not to get in the way of your bodies when you're being intimate. The vibrating bulbous end can be inserted into the vagina, while the the ring gently holds open and frames the labia for more accessible clitoris stimulation. The 10 vibration options can be controlled through the included remote control.
Standout Feature: The unique function of (and thought behind) this particular couples sex toy makes it worthy of the spotlight.
Notable Review: "It's been a game changer. The vibrator itself is made of high-quality silicone and is very easy and ergonomic to insert. The strength of the vibration really surprised me and this is coming from someone who almost exclusively uses high power wands as vibrators. I highly recommend considering buying one for each of you as it made a big difference in our experience."
Best Furniture Sex Toy for Couples: Liberator Wedge
You don't necessarily need electronics to elevate your sexual experience. This sex pillow will go a long way in helping you explore new positions, as well as prolonging sessions, reducing discomfort and aiding those who may need additional support.
Standout Feature: The high-density inner foam core manages to be both soft and incredibly supportive.
Notable Review: "This thing is fantastic. We've used it for both foreplay and intercourse, and it really keeps its shape and puts one at the perfect angle for a variety of positions. It's also compact and stores super well."
Best Waterproof Sex Toy for Couples: Lovense Lush 3 Bluetooth Bullet Vibrator
While plenty of sex toys are waterproof or water-resistant nowadays (including several on this list), when looking for a couples sex toy for tub or shower play, keep versatility at top of mind. This wearable vibrator is fully waterproof and can deliver ultra-quiet vibrations that can be controlled via smartphone app remotely. While the curved bulb is great for hitting the G-spot, it can be used anywhere externally—the options are limitless. This one also scored Zvolerin's coveted stamp of approval!
Standout Feature: The impressive runtime (up to four and a half hours on a single charge) will keep you going until your fingers prune.
Notable Review: "This product was the best one me and my partner used. It is very fun and enjoyable and really intensified our experience in the bedroom."
Best Long-Distance Sex Toy for Couples: We-Vibe Chorus
Couples in long-distance relationships who want to remain intimate with one another may want to consider long-distance sex toys. These nifty gadgets can be controlled from anywhere via a compatible app, so you can still play with your partner wherever they may be. Our favorite in this category is the We-Vibe Chorus. With an adjustable fit, it can worn during partnered sex to pleasure both partners simultaneously. And thanks to the We-Vibe app, its vibrations can be controlled from anywhere, so long-distance loves can get in on the action. Want to see more long-distance sex toys? Browse our favorites here.
Standout Feature: The seamlessly compatible app that allows remote partners to change up the vibrational speeds and patterns.
Notable Review: "Wow is the best description. Amazing female orgasms with this beautiful little device. Takes a little bit of practice to get the fit right and to work the app well, but from the first few uses it has been great. Still experimenting using during intercourse, but it fits okay. Pricy—but couldn't recommend it more highly."
FAQs About Couples Sex Toys
Why Introduce Sex Toys in the Bedroom?
There are lots of reasons why couples choose to enhance their sex lives with adult toys, and different couples will benefit in different ways. Dr. Laura Berman, a sex and relationship therapist and host of The Language of Love podcast, thinks of these toys more as "sex aids," which act as a helper to complement and enhance your sex life.
According to Dr. Berman, taking this step can help deepen the passion and excitement you share with your partner. This is an advantage of using sex toys that most couples can enjoy, but it's certainly not the only pro.
Your sex life shouldn't have to take a back seat because of changes to your body or abilities. If you and your partner both want to maintain physical intimacy in your relationship, there are lots of things that can help. "In many cases, sex aids can be invaluable when it comes to issues like illness, aging and more, so it's less about a toy and more about a tool that couples can use to strengthen their intimacy," Berman explains.
Additionally, sex toys can help create a balance in the bedroom and ensure that both partners are feeling safe and satisfied. "For LGBTQIA+ couples, sex aids can play an important role in deepening pleasure as well as combating dysphoria and making the bedroom a more equitable and enjoyable place," according to Berman.
Additionally, she shares that it often takes longer for women to become aroused and reach orgasm, especially in heterosexual relationships. "Sex aids can help us overcome that gender gap and ensure both partners enjoy themselves."
How to Talk to Your Partner About Sex Toys
When broaching the subject of using sex toys with your partner, it's helpful to begin with a little reassurance. "If you want to introduce a sex aid to your bedroom, talk to your partner about why you want to try them, while still ensuring their feelings aren't wounded," says Berman.
She suggests letting your S.O. know that you love being intimate with them and want to spend more time having fun together in the bedroom before asking their thoughts on looking at a sex store or website for something that will help make things even more exciting. Dr. Berman then suggests spending your next date night cuddled up on the couch with a glass of wine perusing sex toy websites.
How to Clean Sex Toys
After each use, sex toys should always be cleaned. In a pinch, giving them a wash in warm, soapy water should be just fine. (Just be sure to pay attention to the cleaning instructions of your specific toy, as it may not be waterproof or the manufacturer recommends another method.)
However, to best clean your arsenal, the sex toy experts at Adam & Eve recommend using a cleanser specifically made for sex toys. Sex toy cleansers come in many formulas including wipes, sprays and liquid soaps, and often include antibacterial agents and other ingredients to more thoroughly wash away bacteria and better clean hard-to-reach curves, corners and materials.
Contributions by Naoimh O'Hare