20 Top-Rated Sex Toys for Couples That'll Spice Up Your Love Life
Don't believe us? Try them for yourself.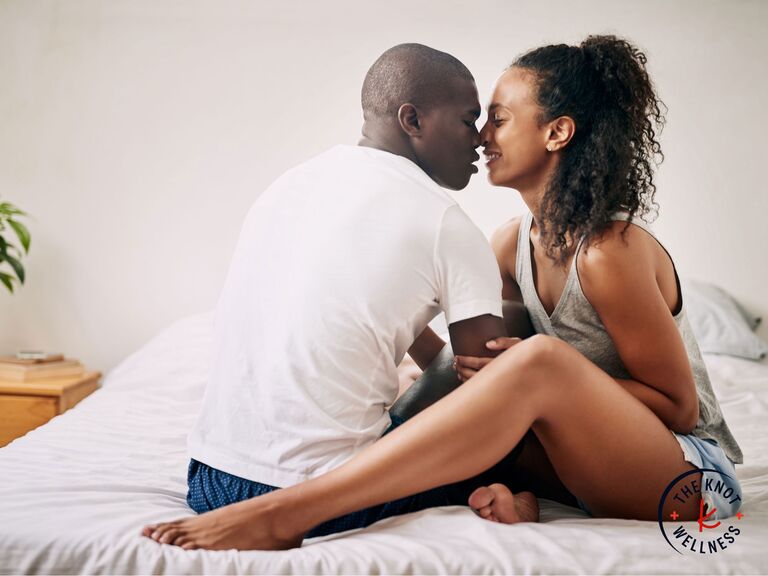 Adene Sanchez / Getty Images
We have included third party products to help you navigate and enjoy life's biggest moments. Purchases made through links on this page may earn us a commission.
Want to add even more excitement when getting intimate with your other half? Nowadays, many couples choose to introduce sex toys into the bedroom, and there are lots of different sex toys for couples that are fun and easy to use. Of course, fun and games aren't everything—adult toys can also be an incredibly valuable addition to your relationship to make sex more equitable and accessible for both you and your partner. We're sharing more about the advantages of using sex toys below with expert advice from Dr. Laura Berman, a sex and relationship therapist and host of The Language of Love podcast. Plus, find out how to talk to your partner about using them and the absolute best couples sex toys to try.
In this article:
Why Introduce Sex Toys in the Bedroom?
There are lots of reasons why couples choose to enhance their sex lives with adult toys, and different couples will benefit in different ways. Dr. Berman thinks of these toys more as "sex aids," which act as a helper to complement and enhance your sex life. According to the relationship therapist, taking this step can help deepen the passion and excitement you share with your partner. This is an advantage of using sex toys that most couples can enjoy, but it's certainly not the only pro.
"In many cases, sex aids can be invaluable when it comes to issues like illness, aging and more, so it's less about a toy and more about a tool that couples can use to strengthen their intimacy," says Berman. Your sex life shouldn't have to take a back seat because of changes to your body or abilities. If you and your partner both want to maintain physical intimacy in your relationship, there are lots of things that can help. "These aids go so much further than just the traditional hot pink vibrator. There are all sorts of accessories from furniture to lubricants that can help make sex more accessible and enjoyable for all people," she continues.
Additionally, sex toys can help create a balance in the bedroom and ensure that both partners are feeling safe and satisfied. "For LGBTQ+ couples, sex aids can play an important role in deepening pleasure as well as combating dysphoria and making the bedroom a more equitable and enjoyable place," says Berman. Additionally, she shares that it often takes longer for women to become aroused and reach orgasm, especially in traditional heterosexual relationships. "Sex aids can help us overcome that gender gap and ensure both partners enjoy themselves."
How to Talk to Your Partner About Sex Toys
When broaching the subject of using sex toys with your partner, it's helpful to begin with a little reassurance. "If you want to introduce a sex aid to your bedroom, talk to your partner about why you want to try them, while still ensuring their feelings aren't wounded," says Berman. She suggests letting your S.O. know that you love being intimate with them and want to spend more time having fun together in the bedroom before asking their thoughts on looking at a sex store or website for something that will help make things even more exciting. Dr. Berman then suggests spending your next date night cuddled up on the couch with a glass of wine perusing sex toy websites.
The Best Sex Toys for Couples
Ready to start shopping? "From penis rings to G-spot stimulators to prostate toys to sex pillows or swings, there are so many great products available," says Berman. "And with discreet online ordering, you can feel comfortable shopping from the comfort of your home." Another great pro to shopping online? Through most websites, you can browse sex aids geared to your specific sexual orientation or gender identity, shares Berman, which makes finding the right option for your relationship that much easier.
We-Vibe Date Night Set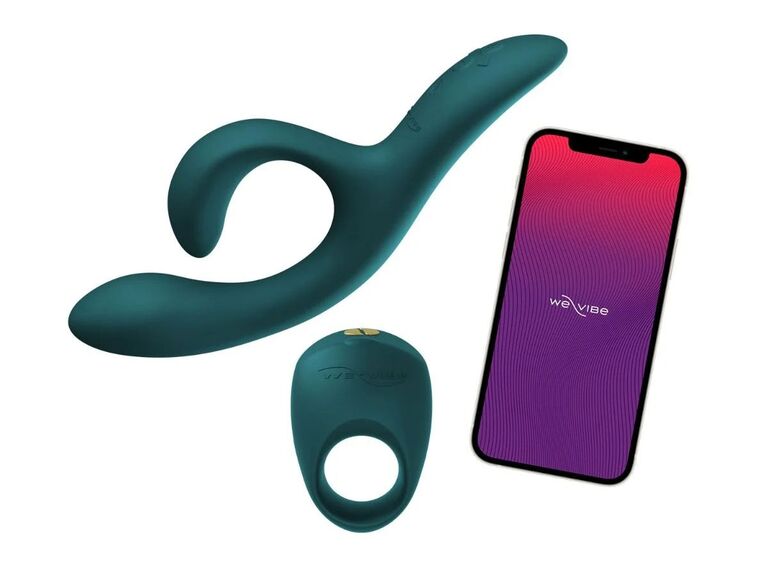 We-Vibe has a wide selection of vibrating couples toys, many of which can be controlled with an app on your phone. Spice up your next date night with this fun set that includes a rabbit vibrator and vibrating penis ring. The dual-stimulation vibrator targets the G-spot and clitoris at the same time and has an adjustable fit for optimal comfort and pleasure. Both toys are waterproof, so your fun doesn't have to be confined to the bedroom. Plus, you can control them from anywhere using the We-Connect app, making them suitable sex toys for long-distance couples.
Tracey Cox Supersex Anal Beginner's Kit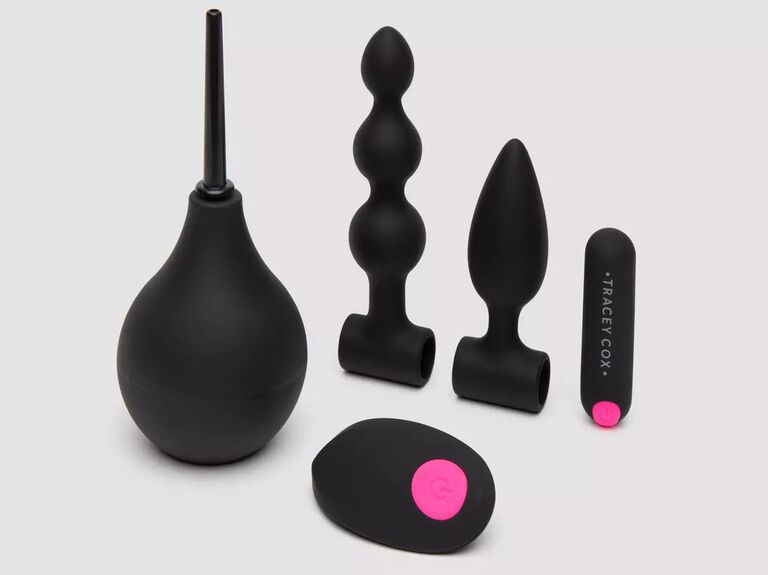 Want to try something new together? This beginner's kit of anal sex toys for couples is designed to help ease one or both of you into anal play. The set includes four pieces: a butt plug, anal beads, rechargeable bullet vibrator and douche. The plug and beads both have tapered tips for easy insertion. Meanwhile, the bullet vibe has three sensational speeds and seven patterns.
LELO HUGO Prostate Massager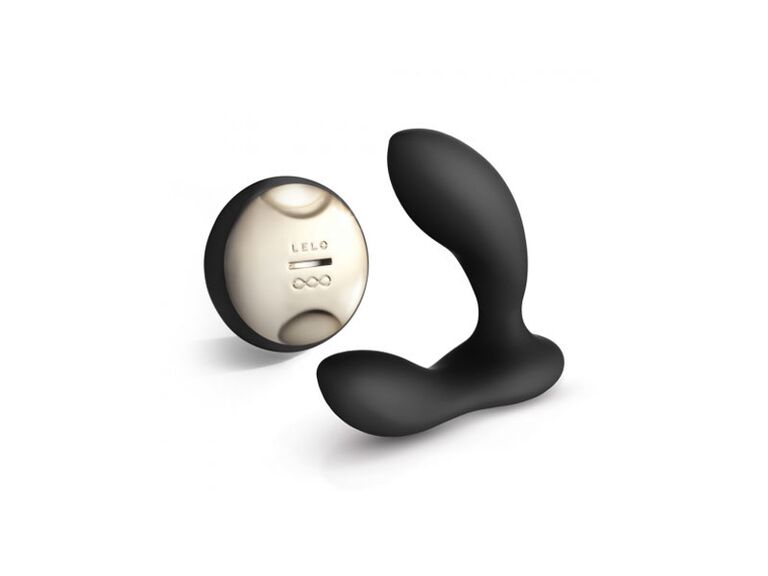 Guys, we've found the perfect vibrating toy for you. This remote-control prostate massager will be a thrilling addition to sex with your partner. Powerful motors at the base and tip ensure that the pleasure is twice as nice, helping you or your S.O. achieve a more intense climax.
Unbound Babes Orion Restraint Set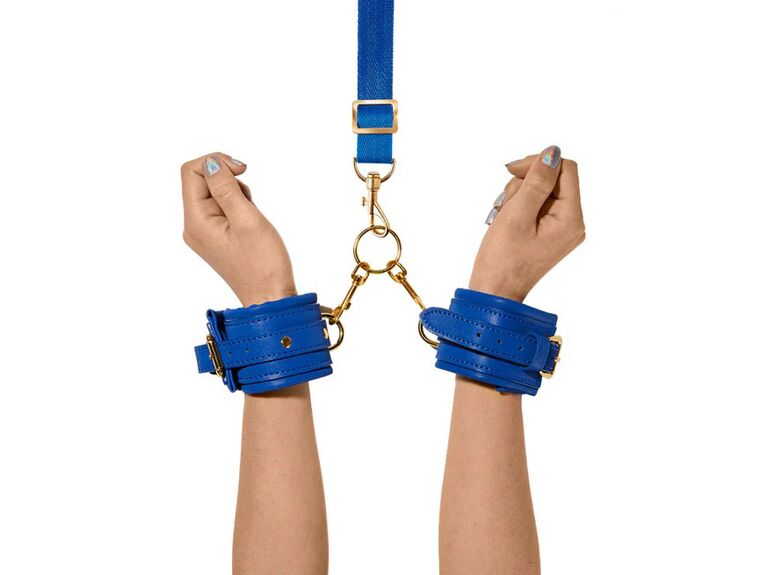 Some of the most fun sex toys for couples don't require batteries, charging or any kind of preparation. Add the thrill of power play to your next night together with this over-the-door restraint set. The cuffs are adjustable and comfortable on the wrists thanks to the wide, lined design. Who knew BDSM accessories could look so chic?
We-Vibe Chorus Couples Vibrator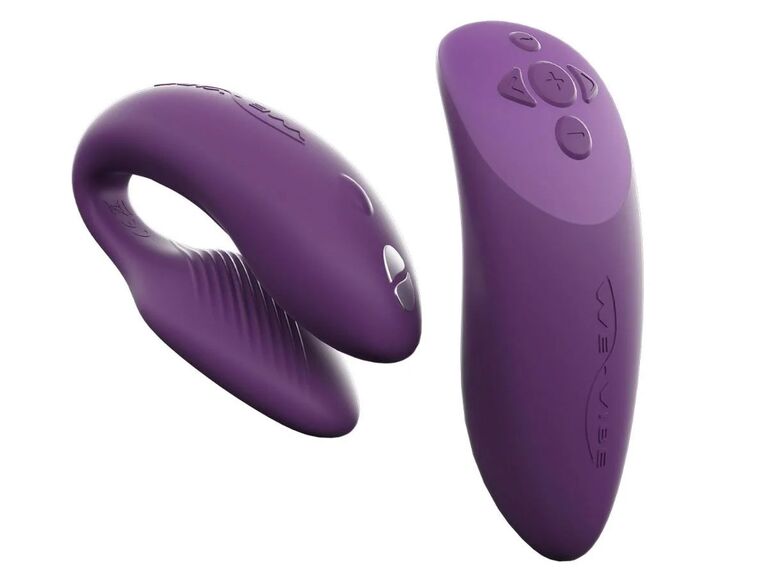 This app-enabled couples vibrator can be worn during sex to give both partners increased pleasure. It's meant to be worn inside the vagina, stimulating the clitoris and G-spot as well as a partner's penis. A touch sensor means that your movements control the vibrations, and you can use the We-Connect app to choose from three different modes. It's easily one of the best couples vibrators on the market.
Dame Pillo Sex Pillow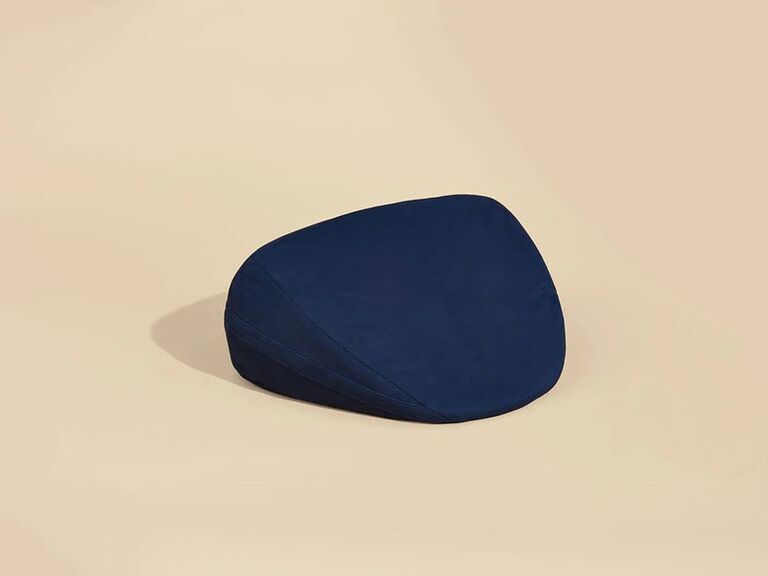 While not strictly a toy, this practical sex pillow can bring amazing new opportunities to your bedroom. The pillow offers support at every angle, allowing you to experiment with new positions or enhance the pleasure of your tried-and-true favorites. The subtle design blends right in with your other furnishings, so you don't have to worry about stowing it away in a closet.
Lovehoney Magic Bullet 10-Function Bullet Vibrator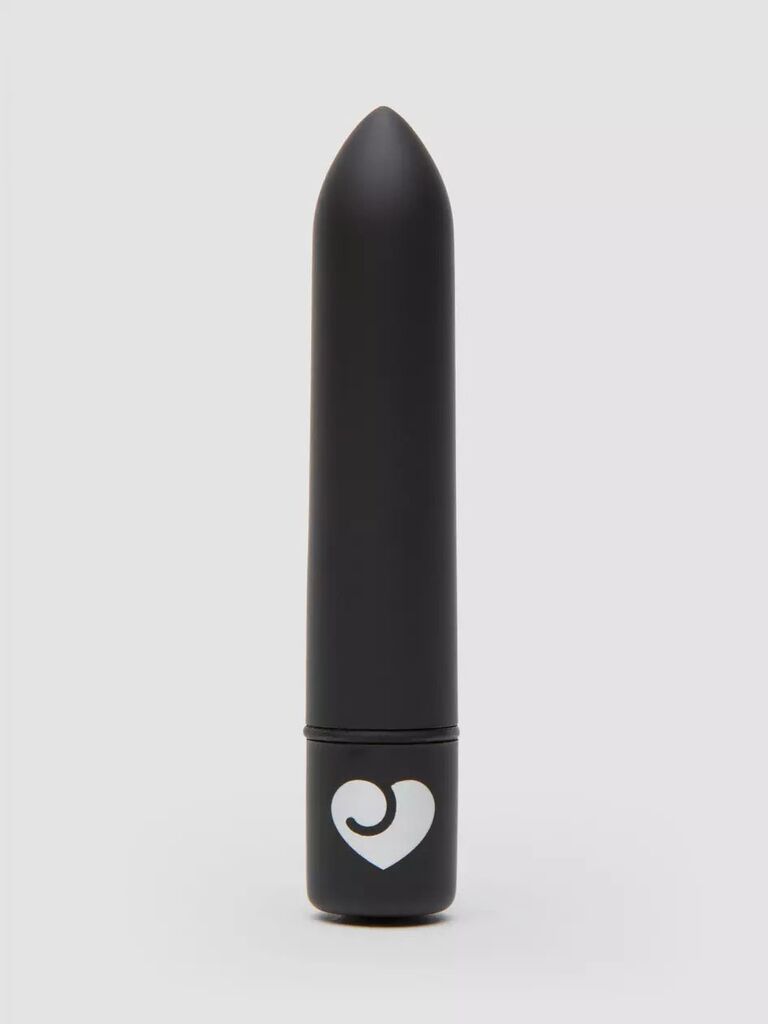 Lovehoney has some of the best couples sex toys at lots of different price points. If you're just beginning your adult toy journey, a bullet vibrator is a versatile and easy-to-use accessory. This one is affordable, boasts 10 functions and has a tapered tip for precise external stimulation. (Psst, you can easily stow this small toy in your luggage for romantic weekend breaks.)
Crystal Jellies 18-inch Double Dong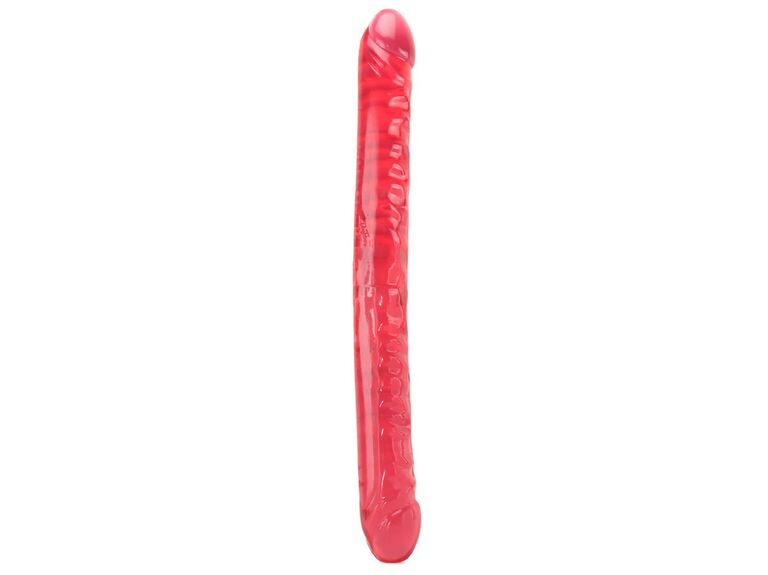 A double-ended dildo is a suitable sex toy for lesbian couples who want to enjoy simultaneous penetration. This phthalate-free PVC option is delightfully flexible, allowing you to try different positions and sexual acts.
MysteryVibe Tenuto Flexible Wearable Vibrator
This award-winning sex toy for straight couples is worn during sex, sending stimulating vibrations from the penis to the perineum and pleasuring the clitoris and vulva at the same time. It simultaneously helps both partners reach climax, while also helping the male partner get and stay erect. The unique wearable is a great choice for couples struggling with performance anxiety.
Tantus Super Soft Cock Ring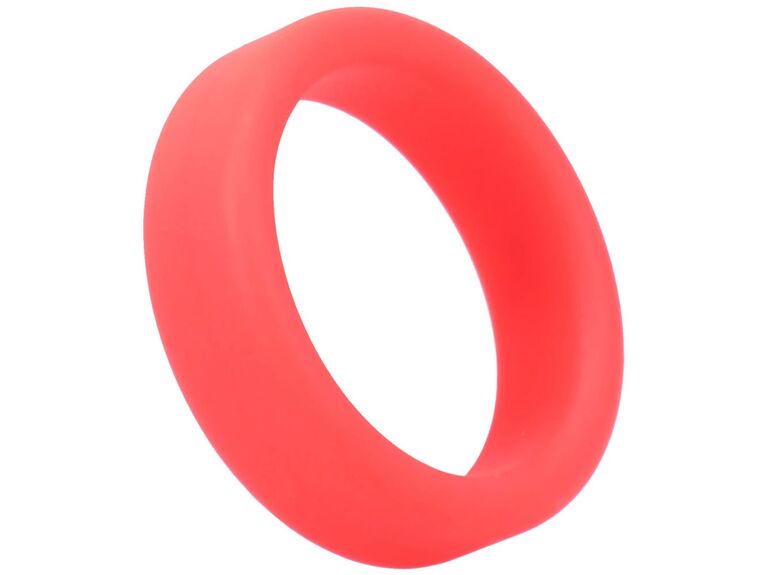 Sometimes simplicity is key, especially if this is your first time using sex toys together. Swap out powerful vibrating penis rings for this comfortable silicone option instead. When worn correctly, it holds the testicles down to slow ejaculation. The result? A climax lasting up to 45 seconds. The flexible silicone material should stretch to fit with ease and is a great beginner sex toy for couples.
Dame The Night In Set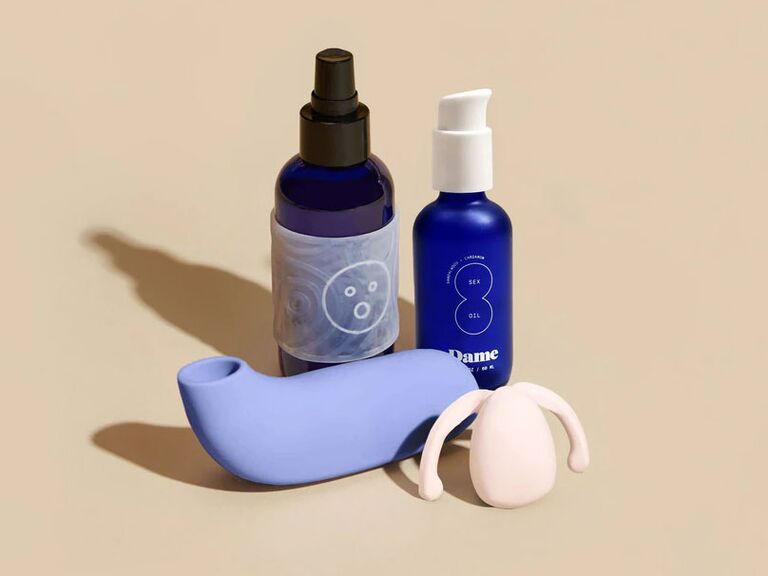 Here's another sex toy kit for couples that's perfect for your next romp around the bedroom. The set includes two of Dame's most popular toys: a hands-free couples vibrator and a stimulating air suction device. And that's not all, you'll also score the sexual wellness brand's sensuous massage oil and organic aloe-based lube. Both toys are made from medical-grade silicone that's waterproof and safe to use.
Lovelife by OhMiBod Lovelife Rev Finger Massager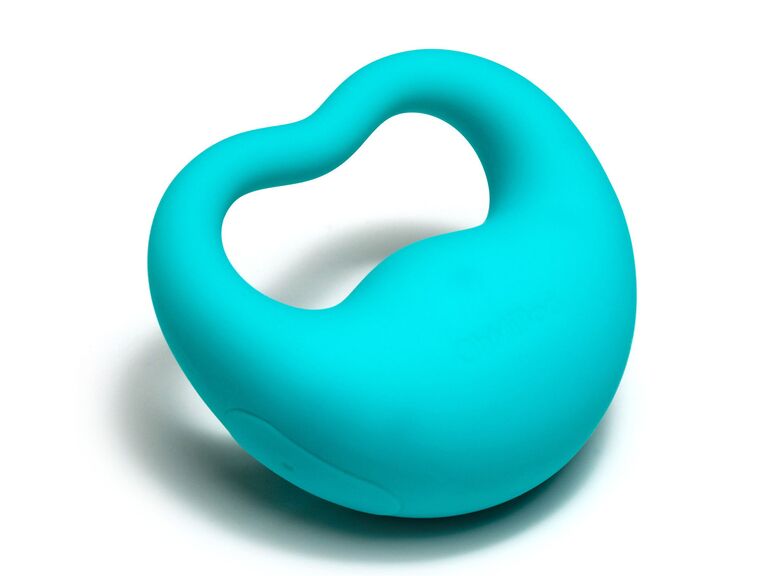 This vibrating toy has a streamlined ergonomic design that's easy to grip and is operated by a single large button. It was created with accessibility in mind and can easily be used for play with a partner or flying solo. The body-safe silicone toy has five preset modes delivering pleasure with every pulse.
OhMiBod Club Vibe 3.0H Panty Vibrator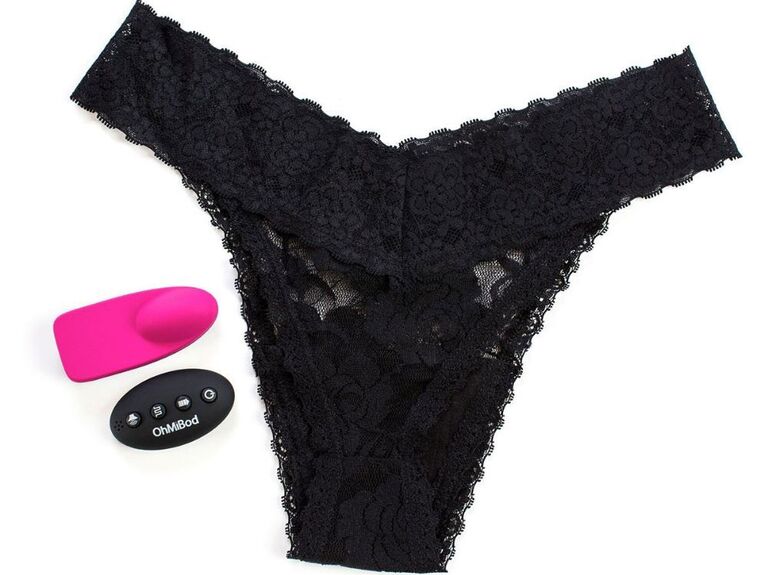 Looking for something a little more out there? This panty vibrator makes for an interesting sex toy for couples who want to get frisky on the go. The vibrator fits discreetly inside the included lacy thong. From there, the power is in the hands of whoever has the remote control. But that's not the only cool thing about this unusual toy: It has a setting that adjusts the vibrations based on music around you.
Fun Factory Manta Black Rechargeable Vibrating Male Stroker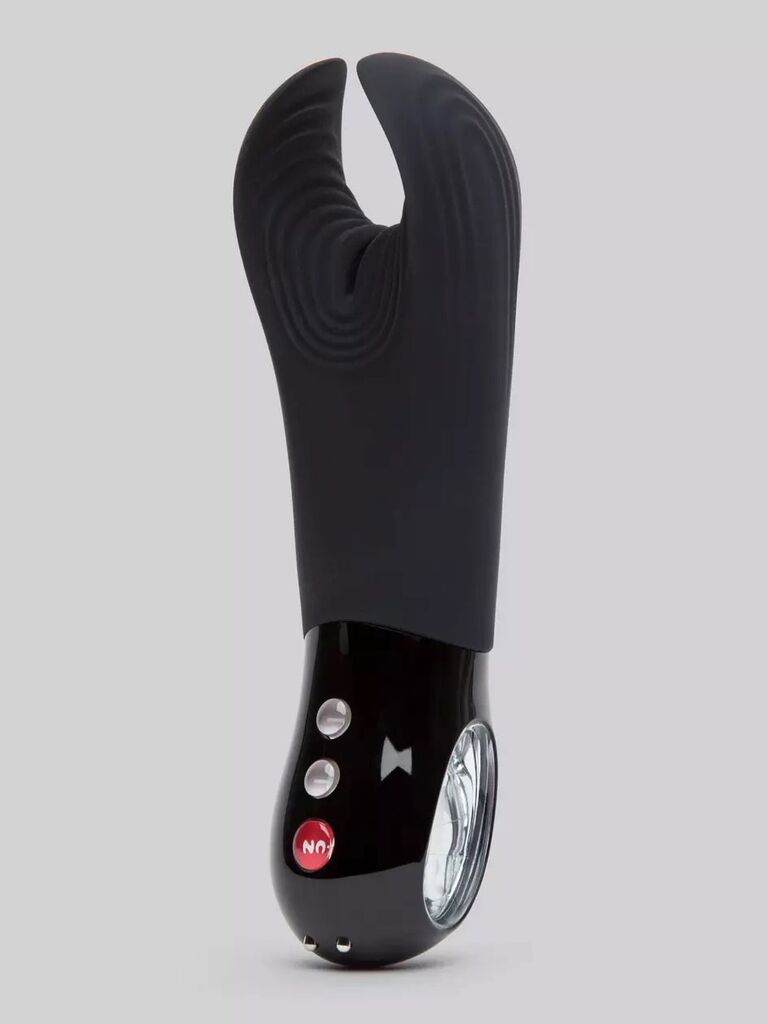 There are lots of sex toys for men that can used as a couple, from handheld vibrators for foreplay to wearables that are great during intercourse. This vibrating male stroker is a useful tool for both. The toy's sleek design allows it to fit between bodies, giving pleasure to both partners. It's also a great enhancement for oral sex when placed at the base of the penis. (Oh, and it's waterproof too, so feel free to hit the shower together.)
Sweet Vibes Charmed Wand Massager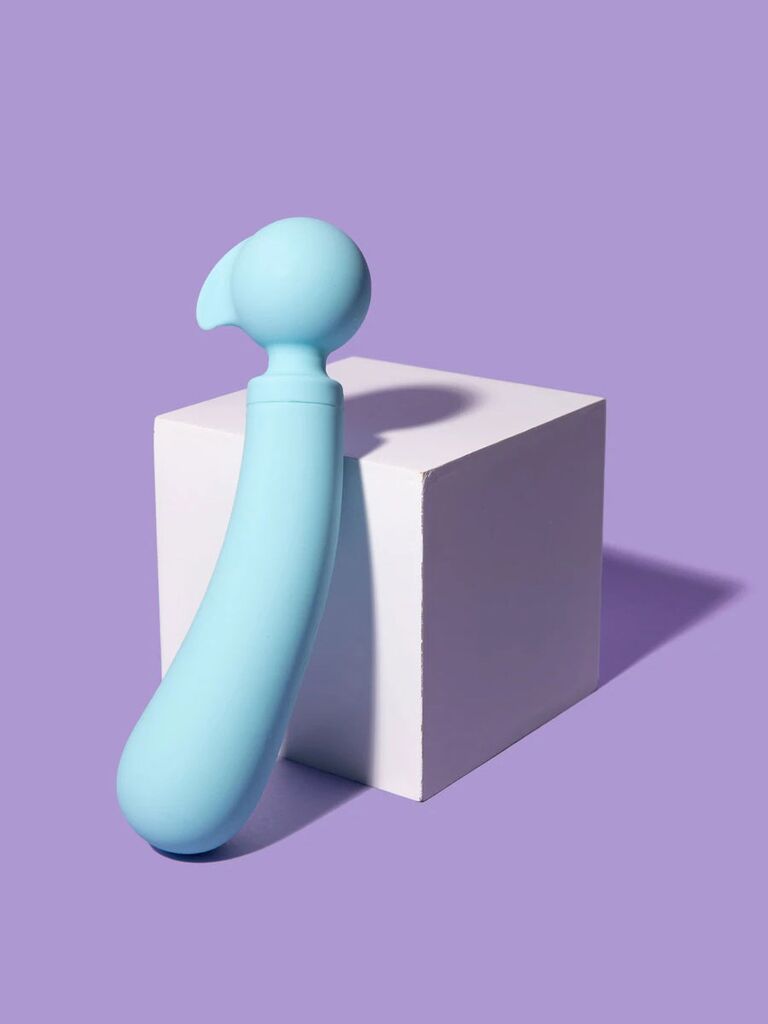 A wand vibrator is one of the top sex toys for couples looking for something versatile, easy to use and unintimidating. This ergonomically designed option is made from soft, medical-grade silicone, has a variety of intensity levels and is rechargeable. The head features a stimulating curved fin on one side and smooth, spherical surface on the other.
FleshJack Quickshot: Vantage Masturbation Sleeve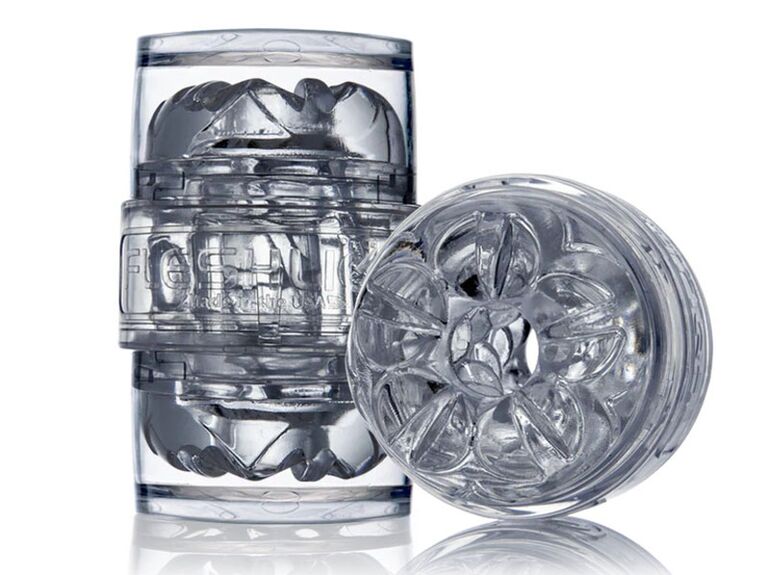 Many of the toys on this list can be used by all couples, but when it comes to sex toys specifically for gay couples, this is one of the highest rated. The masturbation sleeve is open-ended on both sides, allowing for insertion by two partners . It's also a great tool for foreplay that can complement oral sex and masturbation.
Ouch! Beginner's Handcuffs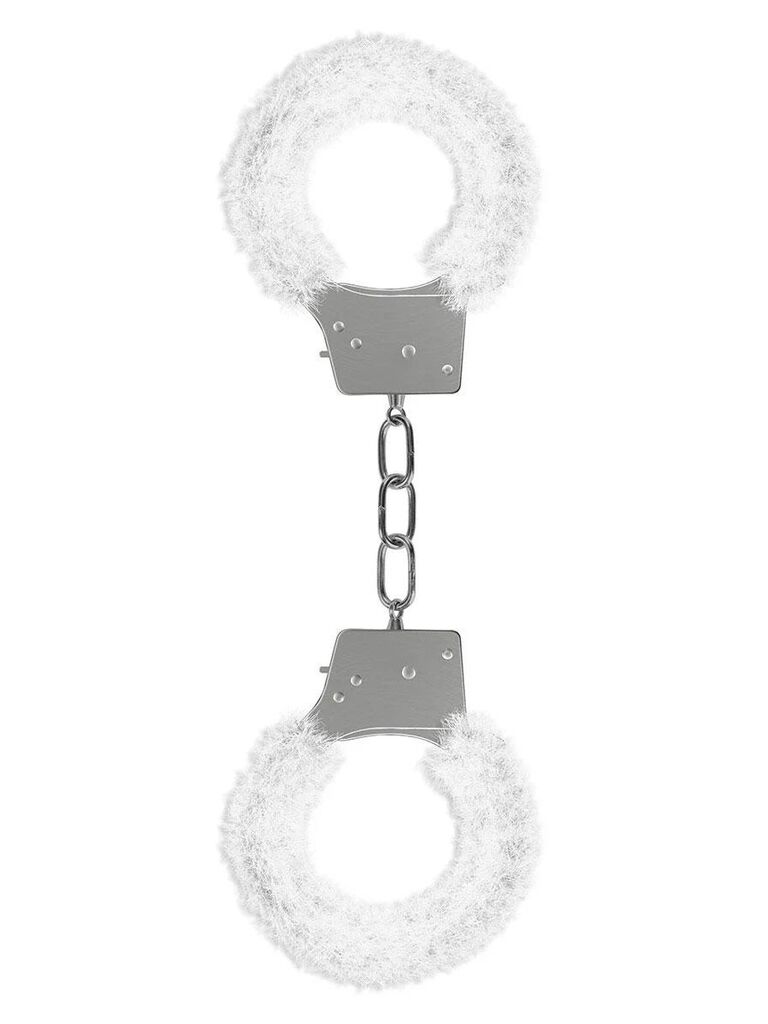 Handcuffs will always be a good sex toy for couples, whether you're experimenting with accessories in the bedroom for the first time or you're BDSM pros. This fuzzy white pair feels playful but will still add some serious heat to your sexcapades.
Womanizer Premium 2 Clitoral Air Stimulator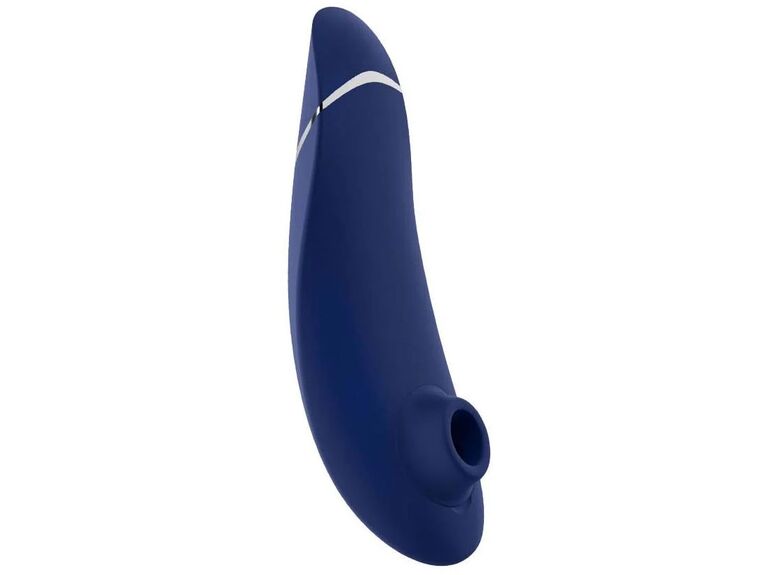 An air stimulator is a must-have sex toy for clitorial stimulation. Womanizer's Premium 2 is an upgraded version of the brand's original Premium toy. It features even more intensity levels and an improved Autopilot mode which, when active, alternates the intensity automatically. This thrilling foreplay toy also has Smart Silence technology, making it perfect for couples who want or need to be discreet.
Desire Luxury Rechargeable Male Vibrator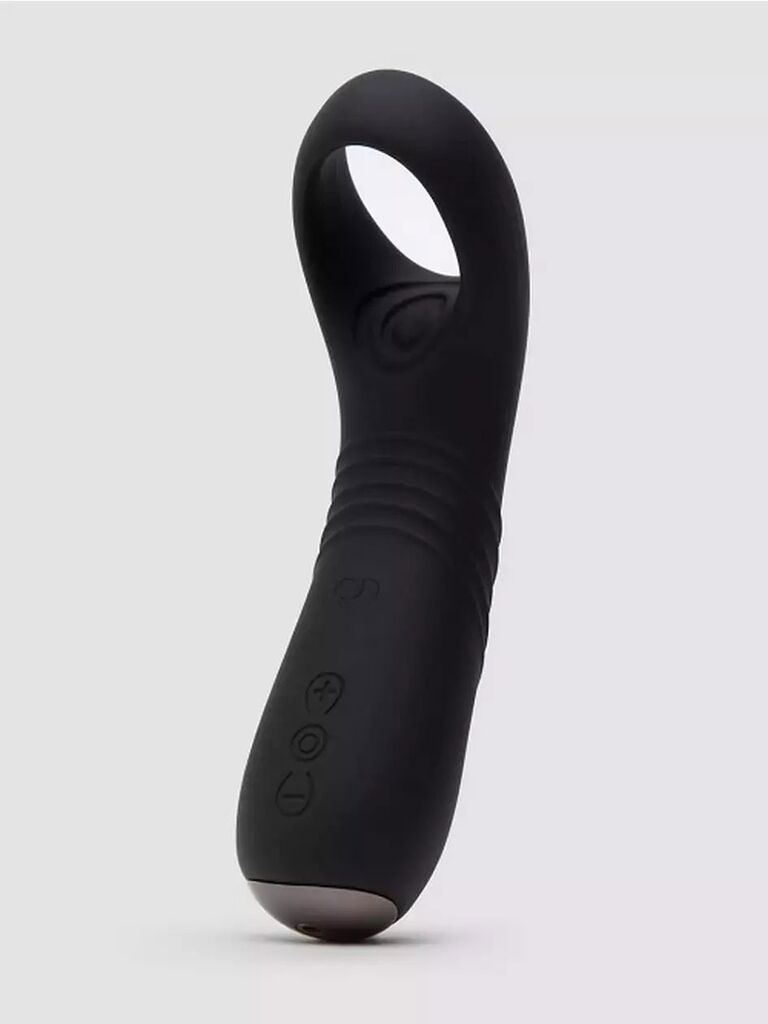 This black silicone stroker loops around the penis so your partner can move it sensually up and down using the easy-to-grip ribbed handle. Use the buttons on the handle to alternate the pattern and increase the intensity.
Strap U Double Take Vibrating Dildo & Harness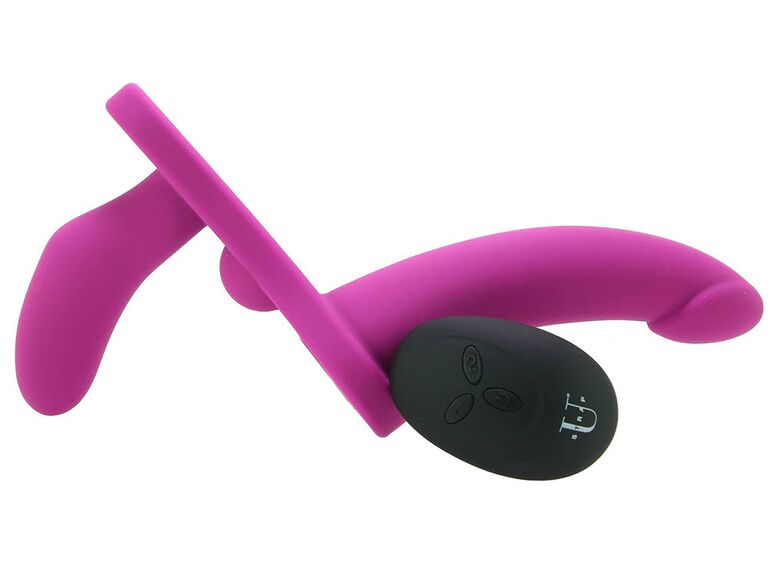 A strap-on with pleasure on either end is sure to be a hit with any couple seeking a sexual thrill. The silicone strap-on system has two vibrating penetrators—a longer one for the receiving partner and a shorter one for the giving partner. The device also comes with a harness so you can try out the seven pulsating modes right away.