Everything You Need to Know About Getting Married in Rhode Island
Look to The Knot for local details about getting married in Rhode Island, from choosing your wedding venue to getting your marriage license.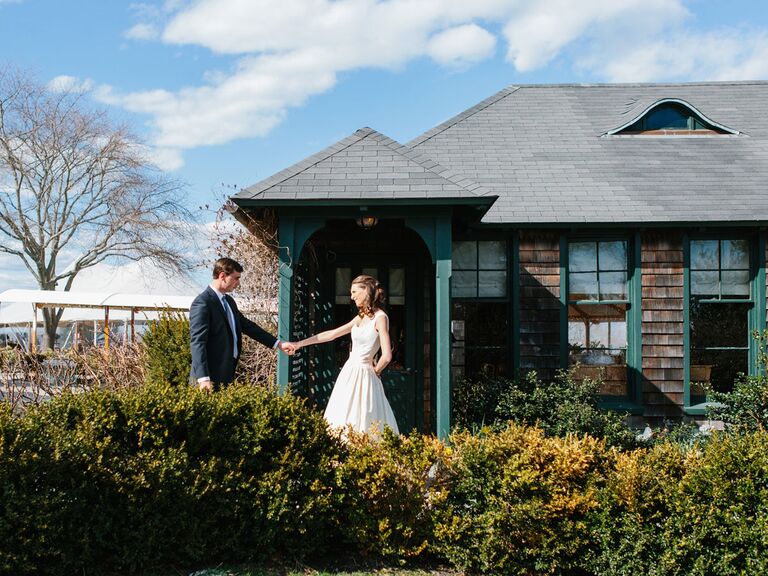 Erin McGinn Photography
Ultimate Guide to Getting Married in Rhode Island
Most people might know that Rhode Island is the smallest state in the entire country, but when it comes to getting married, it offers some pretty big and bold options. With 40 miles of coastline, it's pretty easy to understand why locals call it the "Ocean State." It's also easy to understand why Rhode Island wedding venues on the water are some of the most sought-after locations imaginable, blending traditional East Coast heritage with an adventurous, seafaring spirit and collegiate vibe. Restaurants, inns, yacht clubs, marinas and sprawling estates sit along the coast, offering cool ocean breezes and gorgeous waterfront views.
History also plays a role in your choice of Rhode Island wedding venues. After all, its origins date all the way back to 1636. The city of Newport is especially popular for its Rhode Island mansion wedding options. Gracious homes that once served as the summer retreats of the rich and famous in the late 1800s are scattered throughout, many of which are available for events. For something more unique, you may consider Fort Adams. The "Largest Coastal Fortress in America" dates back to 1799 and has what locals consider the best views of the water in the entire state.
If you're looking for something upscale, you'll find it in this tony state as well. Country clubs, grand hotels and large banquet halls are all among some of the most popular Rhode Island wedding venues. Whether you prefer opulence or simple surroundings, our guide to weddings in Rhode Island will help you find everything you need for your wedding day, from planning your budget to deciding what Rhode Island-themed treats to serve at your reception. Follow along with your wedding checklist to make sure everything is done on time.
Top Wedding Trends in Rhode Island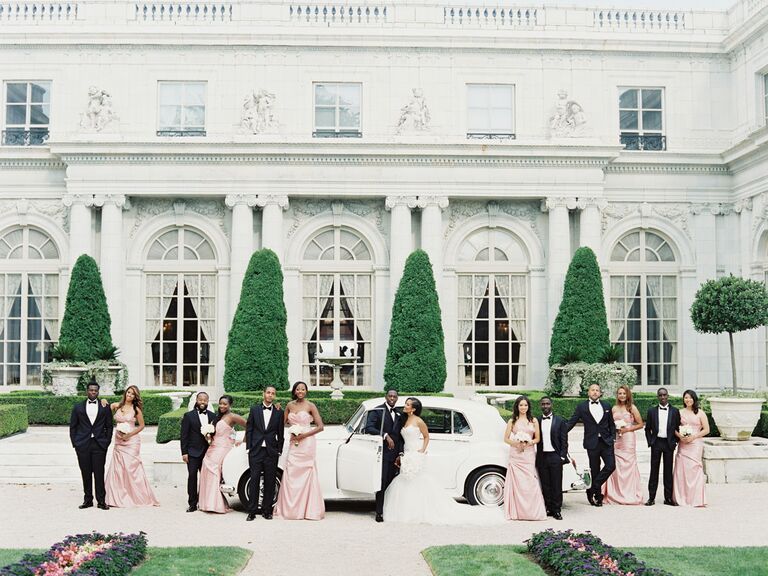 Beach weddings in Rhode Island are highly desirable events, but you might be surprised to learn that 52 percent of couples celebrate their nuptials indoors compared to the 47 percent who opt for an outdoor location, according to The Knot 2015 Real Weddings Study. For receptions, that number is even greater. Sixty-four percent of couples choose indoor venues in Rhode Island, while only 15 percent hold their receptions outside.
When it comes to wedding style, a whopping 73 percent of couples prefer a semiformal affair here, which is higher than the numbers in most other states. Twenty-one percent choose black tie themes, while just 6 percent of couples want to keep things loose and casual.
Regardless of where you get married or the style of wedding you choose, there are some ways to incorporate local trends into your ceremony and reception. With so many Rhode Island wedding venues on the water happening throughout the year, coastal themes are prevalent. Incorporating red, white and blue into your decor celebrates the state's nautical atmosphere, along with its place in American history as the first colony to renounce the British crown.
Because coastal Rhode Island was a playground for the wealthy during the late 1800s and early 1900s, wedding gowns and accessories from the Gilded Age are popular, especially for Newport weddings. You may also want to incorporate violets into your wedding day, as it's the state flower. Make them a part of your bouquet or even your hairstyle, or allow the blue and purple hues of the flowers to inspire everything from your bridesmaid dresses to your wedding invitations.
Rhode Island Marriage Rates and Wedding Costs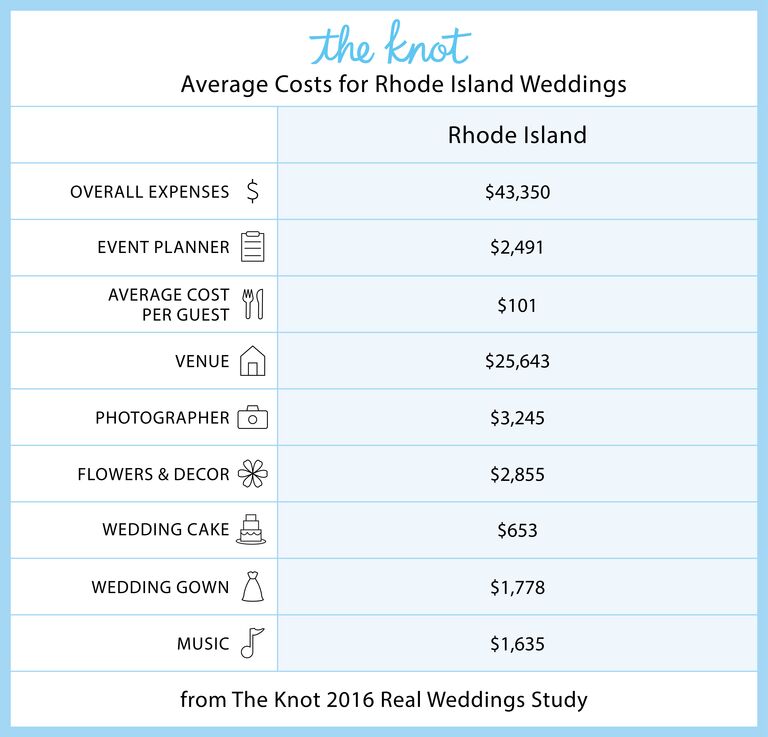 Weddings in Rhode Island can be as expensive or inexpensive as you choose, but it's important to set a budget before tying the knot. You never want to be in a position where you can't afford to host guests at that awe-inspiring Rhode Island mansion wedding because you spent too much on your Rhode Island wedding photography. A great place to start is The Knot Budgeter tool. You can also compare and contrast your budget with others in Rhode Island by taking a look at the following findings from The Knot 2015 Real Wedding Study.

Rhode Island Marriage Stats
At 6.7 per 1,000 people, the marriage rate in Rhode Island is actually slightly lower than the average for the entire United States, but there are still many couples tying the knot in the Ocean State. Rhode Island marriages, on average, involve a budget of $50,266, and this number does not include the price of the honeymoon.
Budget Breakdown: Average Costs for Rhode Island Weddings
Getting a sense of what you'll pay for your wedding day expenses will make it easier to budget and negotiate with vendors. Above you'll find average costs for some of the more common wedding categories.
Top Cities in Rhode Island to Tie the Knot
Rhode Island is home to just 39 cities and towns, and each one is just as beautiful as the next. But there are three larger cities that have become some of the state's most popular wedding destinations:
Make It Legal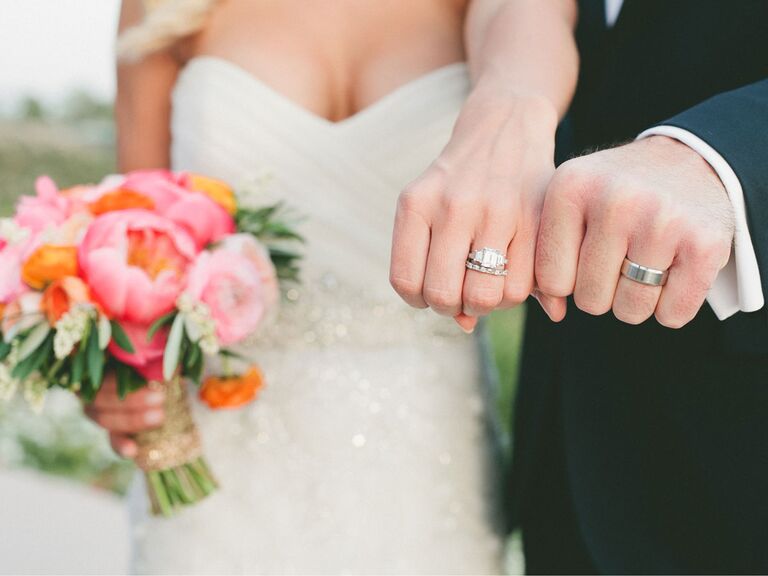 After setting a budget, you also need to figure out what it takes to make Rhode Island marriages official. From where to go to obtain your license to how to change your name after the ceremony, each state has its own laws and procedures. Filling out paperwork and visiting a local government office may not seem like the most exciting part of wedding planning, but making sure you stay on top of it means you can head off to your honeymoon without any worries.
Getting a Rhode Island Marriage License: The Basics
Compared to some other states, it's a little easier to obtain your marriage license in Rhode Island. You must be 16 years or older, you must apply in person at the local town or city clerk's office and you must be married by an officiant with two witnesses present who are 18 years or older. Here are some other things you need to know about Rhode Island marriages:
Both parties must be present to sign the application.
You need to bring some form of identification, but the type varies by city or town. Contact the clerk's office in the city or town where you plan to apply for more details.
Residents must apply for their marriage license in the town where at least one half of the couple lives, but the wedding can take place anywhere in the state.
Non-residents must apply in the city or town where the wedding will take place.
If you've been married before, you need a final decree of divorce or death certificate for your former spouse.
Marriage licenses cost about $25 and applications are valid for three months as of 2016.
When choosing someone to officiate weddings in Rhode Island, the state has a specific list of people you can choose from:
Any ordained clergy member or elder
Supreme court, superior court, family court, workers' compensation court, district court or traffic tribunal judges
Current and former clerks of the supreme court or any clerk or general chief clerk of a superior court, family court, district court or traffic tribunal
Special or general magistrates of the superior court, family court, traffic tribunal or district court
Administrators of the workers' compensation court and every former justice or judge and former administrator of these courts
Secretary of the senate
Elected clerks of the general assembly
Multiple federal judges
Current and former probate judges
Various municipalities within the state may have alternative options
Permits and Other Important Legal Requirements for Wedding Venues in Rhode Island
In addition to your marriage license, you may also need to obtain special use permits, depending on your choice of Rhode Island wedding venues and town or city where they're located. It's wise to ask your wedding planner or check with your local government. A great example is the town of Middleton. Any event with more than 250 people may require a special event permit, whether you're on public or private property.
If you're thinking of saying your vows at one of the state's gorgeous parks, you'll likely need to procure permits to use the space too, whether it's indoors or out. At Goddard Memorial State Park, for example, you'll have to make reservations with the Goddard Permit Office to use the performing arts center for your ceremony or reception. Some locations require reservations up to a year in advance.
How to Change Your Name in Rhode Island
Whether or not you or your partner decide to change your last names is entirely up to you. Fortunately, making your name change legal in Rhode Island is a fairly easy process. The steps include:
Filling out a Change of Name form available on the Rhode Island Secretary of State website
Paying a fee and having the paper notarized
Filing the form with the probate court clerk in the county where you live
Once the court grants the name change, you'll then need to have your name changed with the Social Security Administration and the Rhode Island DMV. You'll also need to change your name on other important documents, such as insurance policies, bank accounts and employer records. Save time by using The Knot HitchSwitch service.
It's All About Timing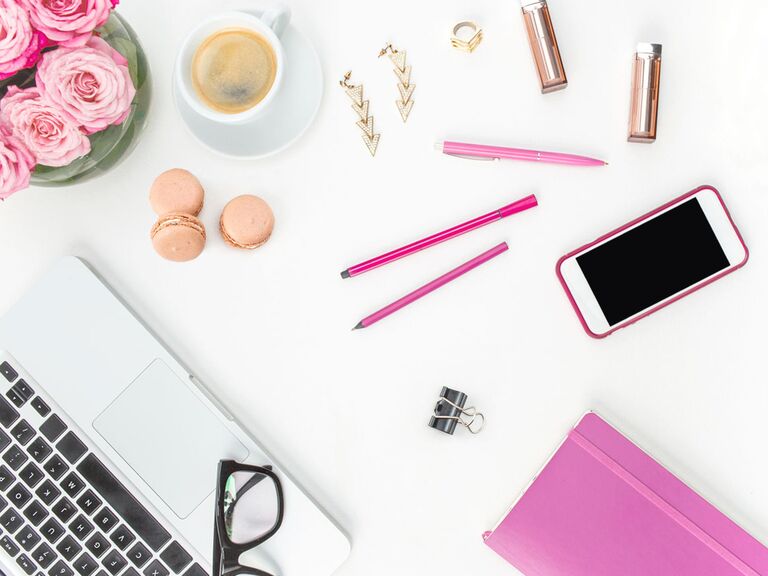 If your wedding will take place at one of the popular outdoor venues in Rhode Island or you're concerned about inclement weather disrupting your ceremony and reception, think carefully about which season you choose for your wedding day. According to the The Knot 2015 Real Weddings Study, 42 percent of all Rhode Island marriages take place in summer. Autumn is the second-most popular season with 36 percent, and 16 percent of weddings in Rhode Island take place in the spring. Just 6 percent take place during the colder winter months.
The Four Seasons in Rhode Island
While Rhode Island summers can be a little rainy, they're also moderately warm. In July 2015, Newport's temperatures stayed mostly in the mid-70s to mid-80s range with cool nights in the 50s and 60s. Alternatively, temperatures in January 2016 fell as low as 26 degrees. Early spring tends to be cooler, with temperatures warming up to the mid 60s and low 70s in April May, and fall temperatures starting to dip back down into the 60s and 50s during the day around mid-October.
All that sounds well and good for spring, summer and fall weddings temperature-wise, but take a moment to think about precipitation if you're planning a springtime fete. Although summer is the state's rainiest season, it has fewer days per month of rain than spring. In April, May and early June, Rhode Island sees 10 inches of rain on average spread out over about 12 days per month. Although the rain levels top out at around 11 inches per month in July, that usually occurs over 8 days. It's a little easier to plan for sunnier weather in summer, but you can consider offering guests some handy parasols if you have your heart set on a spring bash.
Rhode Island Wedding Dates to Avoid
What's going on in Rhode Island on the date or week you choose can also affect your wedding. Festivals and seasonal activities can cause traffic problems, leave you without any hotel rooms near your venue for out-of-town guests and even affect your ability to book certain Rhode Island wedding venues. If you have concerns about your date, your wedding planner can help you make the appropriate changes. But if you aren't working with a wedding planner, take a look at some of the state's more popular events ( and these dates) and think about working around them:
Newport Winter Festival (mid-February)
Rhode Island International Film Festival in Providence (August)
Newport Jazz Festival (early August)
Newport International Boat Show (mid September)
Newport Oktoberfest (early October)
Great Guest Experiences
The key to enjoying a memorable wedding day is ensuring your guests are happy, comfortable and having a great time. Years from now, those will be the things you remember about your wedding day. The first step to take is registering for a free wedding website where you can add registries, RSVP options and instructions on how to get to your engagement and ceremony venues in Rhode Island.
Finding Your Way: Rhode Island Travel Info
Rhode Island may only be 37 miles wide and 48 miles long, but guests—especially those from other states—still need to know how to get around without getting lost. Knowing the major roads and interstates can go a long way.
I-95 runs up and down the East Coast and right through Rhode Island, connecting it with Massachusetts and Connecticut
I-295 forms a half circle around the western and northern portions of Providence
I-195 connects Providence to Cape Cod
Ferries offer transportation to destinations such as Martha's Vineyard, New London, and Montauk. The closest major airports to Rhode Island are Boston Logan International and Bradley International Airport in Hartford, Connecticut.
Around Town: What to Do and See in Rhode Island
No matter which of the many Rhode Island wedding venues you choose, you'll find that is just a quick drive from some of the state's top attractions. Providing your guests with tickets, maps and a detailed list of things to do in the area can also help add to the enjoyment they experience when attending your wedding. Some favorite local attractions include scenic routes, parks, historic buildings, zoos and museums:
Colt State Park, Bristol
Mohegan Bluffs, New Shoreham
Beavertail Lighthouse and Park, Jamestown
Providence Performing Arts Center
Martha's Vineyard Fast Ferry, North Kingstown
Roger Williams Park Zoo, Providence
National Museum of American Illustration, Newport
Fort Adams State Park, Newport
International Tennis Hall of Fame and Museum, Newport
Go Local: Food and Favors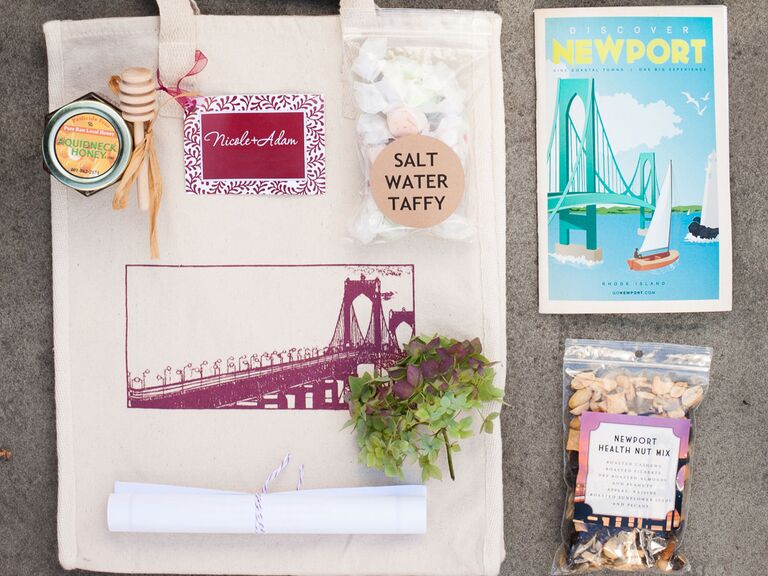 Residents of and visitors to the Ocean State enjoy incorporating local flavors into their wedding day, especially the reception. It's the ideal time to show off your love for all things Rhode Island, and you can do that by incorporating the local cuisine and giving away favors that show off the area's maritime culture. Check out The Knot Shop for other personalized favors.
Rhode Island Flavors: Unique Regional Foods for Your Wedding
Any Rhode island beach wedding that takes place during the warmer summer months must have frozen lemonade, a favorite local treat. Or you may choose to serve the official state drink, coffee milk. The state fruit is the Rhode Island greening apple, which makes an excellent apple pie, and these fruits typically ripen during the early fall.
If you're tying the knot at one of Rhode Island's wedding venues on the water, consider incorporating fresh seafood into your menu. With the clam, or quahog, as the star of the local cuisine, you'll find no shortage of caterers serving up dishes like clam cakes, clam chowder, clams casino and steamed clams. Whatever you choose, pair it with a few tasty Johnnycakes. These fried cornmeal flatbreads taste great with a drizzle of local maple syrup.
Do Your Guests a Favor: Rhode Island-Inspired Take Home Treats
Send your guests home with a few fun items that represent the state. Rhode Island wedding favor ideas might include:
Doughnuts or a gift card to Dunkin' Donuts. The state is home to more doughnut joints per capita than any other state.
Vintage postcards from Rhode Island coastal towns
A football representing the first NFL game played in the state in 1929
Anything related to boats, such as rope knot bracelets
Chocolates shaped like clams
Photo frames adorned with seashells
Adventurers' compass favors from TheKnotShop.com
Rhode Island City Guides
Whether you choose to get married on a beach, in a beautiful mansion, or somewhere inland and tucked away along the countryside, Rhode Island wedding venues offer something for everyone. Just don't forget to use The Knot vendor marketplace to help locate everything from reception venues to Rhode Island wedding photographers.
Newport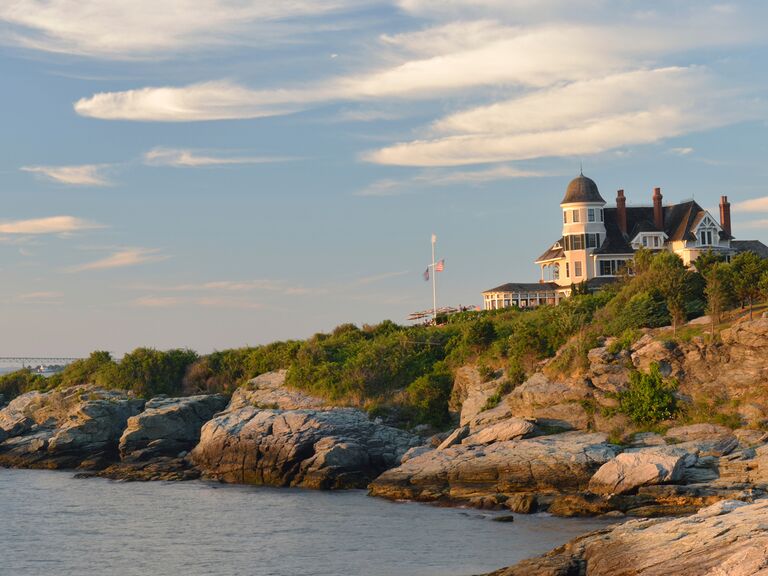 There are few places along the East Coast that are more beautiful than Newport, Rhode Island. Considered a summer resort for wealthy New England residents, the city—which sits on Aquidneck Island (the official Rhode Island—once served as the summer vacation spot for presidents like John F. Kennedy and Dwight D. Eisenhower. Newport weddings often take place on the grounds of one of the city's famed Gilded Age mansions or colonial homes.
To find local Newport wedding experts, check out:
Providence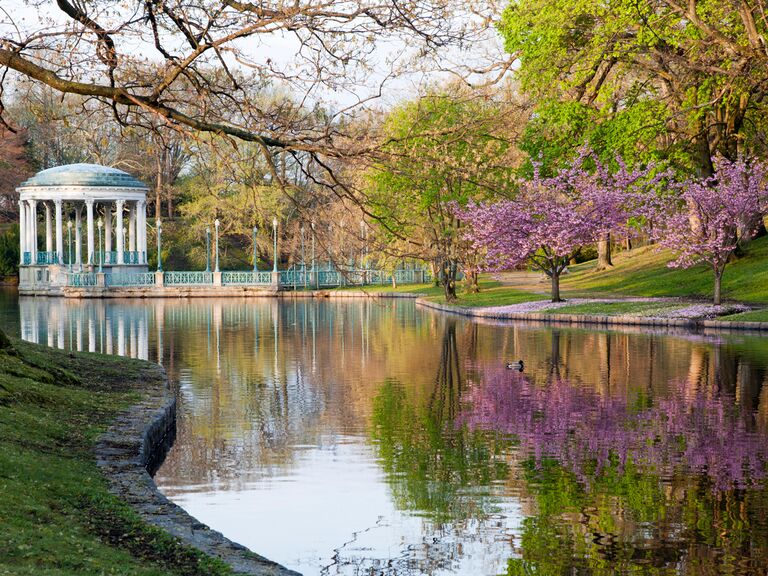 From the downtown skyline to the historic buildings that date as far back as the 1600s, there are dozens of options when it comes to your wedding photo shoots in Providence—Rhode Island's capital city. Founded in 1636, it just happens to be one of the oldest cities in the nation. Providence is also a popular spot for theater and the arts. Sought-after wedding venues here include hotels, historic churches, restaurants, museums and even the Roger Williams Park Zoo.
Check out these local Providence vendors:
Warwick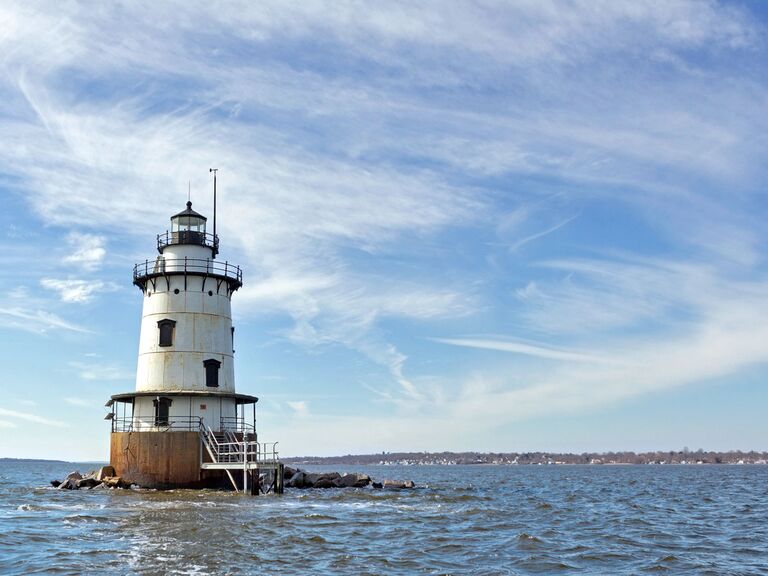 Rhode Island's second-largest city, Warwick, sits along the Greenwich Bay in the easternmost section of the state. It dates back to 1642 and played a major role in American history as the site of the Gaspee Affair, an event that contributed to the start of the American Revolution. The coastal city's storied history and traditional charm may also play a role when you're choosing from the many Warwick, Rhode Island wedding venues dotted throughout this area. Your options include hotels, country clubs and banquet halls, along with restaurants and sprawling estates.
To find your Warwick wedding pros, start here:
Check out more Rhode Island wedding inspiration here.
Don't forget to download The Knot Wedding Planner app—it's a must-have for on-the-go planning.
Download for iOS: Wedding Planner App by The Knot

Download for Android: The Knot Wedding Planner