The Complete Guide to a Roman Honeymoon
When in Rome… honeymoon!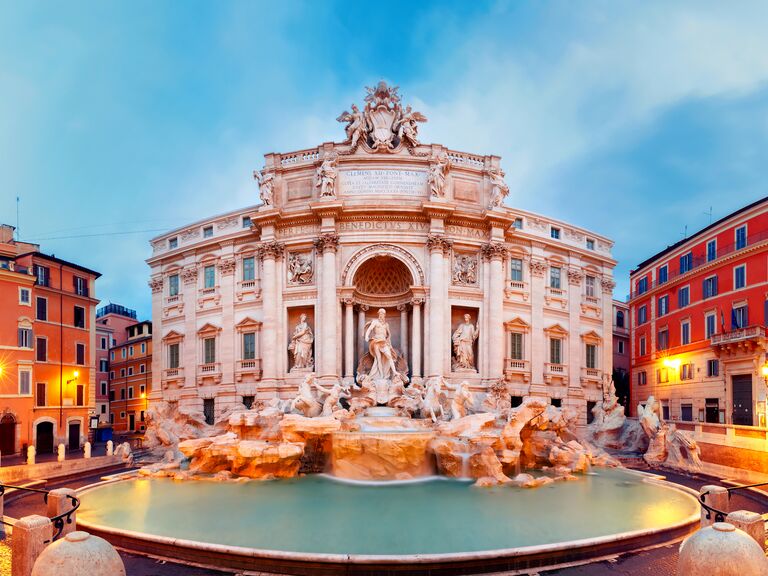 Kavalenkava/Shutterstock
We have included third party products to help you navigate and enjoy life's biggest moments. Purchases made through links on this page may earn us a commission.
Rome honeymoons are ideal for culture-and-food-adoring newlyweds. With its wealth of artistic masterpieces and 28 centuries of rich history, Italy's capital city is undoubtedly one of the top tourism destinations in the world. It's also incredibly romantic. Couples who want to marvel at the Vatican, stroll down charming cobblestone streets in Trastevere, and indulge on pasta, pizza, gelato and wine should head to this storied metropolis for a memorable honeymoon.
Is Rome Good for a Honeymoon?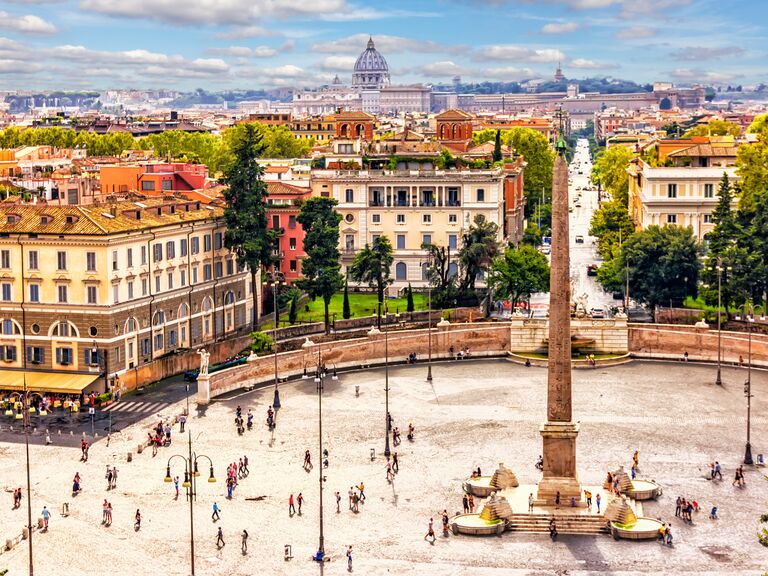 With its iconic architecture, fountains, and terraces, Rome will make honeymooners feel like actors on the set of an Old Hollywood movie. Couples can spend days sightseeing at ancient ruins and world-class museums. Evenings involve a multi-course Italian meal, followed by a romantic stroll. The city is also nearby beaches and has a well-oiled transportation and train hub to access the rest of Italy.
Pros of a Rome Honeymoon
Rome offers an endless menu of activities and sights to see. Thanks to its beautiful, historical buildings and acclaimed cuisine, it provides pleasure—both visual and gastronomic—in spades.
Fortunately, the City of Seven Hills is extremely accessible. Couples can fly direct into Rome–Fiumicino International Airport from New York, Newark, Boston, Philadelphia, Washington DC, Chicago, Charlotte, Atlanta, Dallas, Miami, and Los Angeles, says Ruchi Harnal of Harnal Travel. They can also take a high-speed train from other European cities to Roma Termini (the train station). After several days in Rome, newlyweds might want to add on time in Naples and the Amalfi Coast, Florence and Tuscany, Venice, or other parts of Europe.
Cons of a Rome Honeymoon
Since Rome is a major metropolis, it's pricey and crowded. Plus, travelers should be wary of pickpockets, says Harnal. Don't accept flowers or other items from strangers. If you keep the roses, toys or holy pictures offered to you, you'll have to fork up cash or meet the demands of street swindlers.
The Best Times of Year to Go on a Rome Honeymoon
Reco Trip Designers Matteo Della Grazia and Daniela Mencarelli both suggest visiting the Eternal City in May or late September and October. This way, couples avoid summer's intense heat and crowds, but can still be comfortable living La Dolce Vita outdoors. Summers in Rome are very hot under the Mediterranean sun, causing many locals to flock to beachfront resorts. Plus, many of the buildings lack air conditioning, so couples will want to check with their hotels for corresponding amenities.
Places to Visit in Rome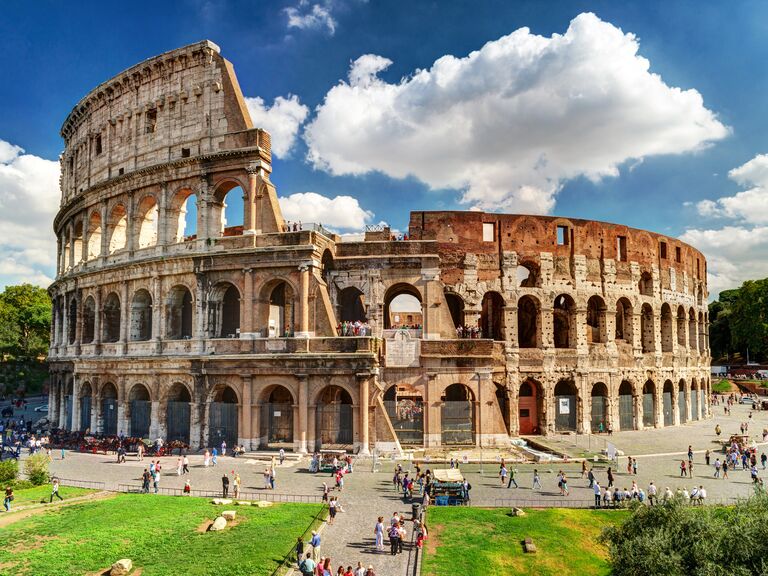 Vatican City
The smallest country in the world is a country-within-a-city. Vatican City is a must-visit even if you're not religious, says Harnal. Art and architecture enthusiasts will appreciate the abundance of masterpieces, displayed throughout the 54 galleries making up the Vatican Museums. Don't miss Michelangelo's frescoes in the Sistine Chapel.
The Colosseum and The Forum
One of the Seven Wonders of the World, the Colosseum is an ancient amphitheater built in 70 AD. Four stories tall, it was the site of gladiatorial combat. Visit during the day and then return at night to see the landmark structure illuminated. After your daytime tour of the Colosseum, walk to the Roman Forum. Now a collection of ancient ruins, this area once comprised the city center. To understand its history, Harnal suggests couples book a guided tour.
St. Peter's Basilica
Couples will get their exercise in at this landmark after noshing on pizza and wine. Visitors will climb 551 steps to ascend the dome of this famed cathedral for panoramic views of the city. To avoid crowds during the summer, come early in the morning.
Piazza del Popolo
One of the most iconic sites in Rome, this vast public square is home to an ancient Egyptian obelisk, neoclassical buildings, churches and fountains. The surrounding gardens of the Piazza del Popolo is a lovely spot for people-watching and lounging on a picnic blanket (weather permitting).
The Trevi Fountain
Rome features more than 2000 fountains, says Harnal, but the most famous fountain of all is a Baroque masterpiece known as the Trevi Fountain. While there, visitors will toss a coin over their shoulder to receive luck. The hours between 7 to 10 am local time are best to avoid throngs of tourists.
Spanish Steps
Completed in 1725, the famed Piazza Di Spagna was memorialized in the movies, Roman Holiday (from 1953) and The Talented Mr. Ripley (from 1999). The beautiful tourist destination is a stone's throw away from luxury boutiques like Bulgari, Cartier and Louis Vuitton. Just be aware that, as of August 2019, sitting on the steps can result in a 400€ fine.
The Pantheon
Nearly 19 centuries old, this landmark is the largest unsupported concrete dome in the world, says Harnal. Each May, on the Christian feast of Pentecost, thousands of rose petals are released from its oculus. The Pantheon is located close to world-class cafes too, for the espresso-adoring pair.
Trastevere District
Stroll through this charming former working-class district located west of the Tiber River. With its ocher palaces and trendy restaurants, bars and shops, the area is simultaneously historic and cutting-edge. Plus, it's reputable for delicious gelato.
Villa Borghese Gardens
Hold hands and meander through these gardens near the Spanish Steps and Piazza del Popolo. Originally developed by a cardinal in 1606, the public park was redesigned in the nineteenth century.
Campo De Fiori
A short walk away from Piazza Navona (another historical landmark where chariot races were hosted), Campo De Fiori comes with its own fascinating background. Now a food market that offers everything from truffle oil to fresh pasta and cured hams, there's a darker side to Campo De Fiori to discover for history enthusiasts. For foodies, a stop at the 500-year-old Forno di Campo de' Fiori for takeaway pizza is a must.
Excursions Outside Rome
To balance hectic city days, honeymooners should consider day trips to serene, local towns. Harnal recommends Orvieto, a hilltop town with breathtaking views and well-preserved Gothic and medieval buildings. She also suggests Tivoli, a town that's home to two UNESCO World Heritage Sites, Hadrian's Villa and Villa d'Este. Both towns are about an hour from the city center.
Things to Do During a Rome Honeymoon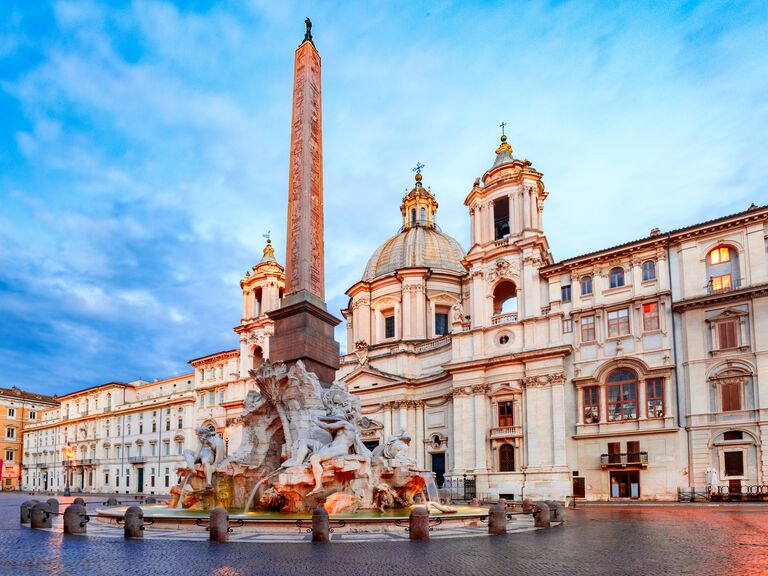 See the City at Sunset
In the early evening, enjoy dinner al fresco and head to Gianicolo (on Janiculum Hill), Orange Gardens on Aventine Hill, or Pincio (at Villa Borghese) for dramatic views of the city at sunset. Swoon over the colors of the sky and the peacefulness that permeates the entire city.
Take a Cooking Class
Bring a piece of Rome back home with you after the honeymoon. Learn how to make classic Roman dishes, such as cacio e pepe (pasta with pecorino cheese and pepper), carbonara (pasta with pecorino, guanciale, and egg), and fried artichokes.
Dine Everywhere
For casual fare during the day, feast on pizza al taglio (rectangular pizza, sold in slices by weight) and sip espresso at cafes. Come evening, try one of the city's 53 Michelin star restaurants. The amount of consumption will be balanced by the extensive amount of walking most couples do during a Rome honeymoon.
Take In Famed Art and Architecture
Rome is particularly known for its masterpieces from the Renaissance, Baroque and Neoclassical eras. Works by Michelangelo, Bernini, Caravaggio, and other Old Masters are speckled throughout the city. For instance, the public square, Piazza Navona, is home to Baroque buildings and the famed Fontana dei Quattro Fiumi by Bernini.
The Best Hotels in Rome for a Honeymoon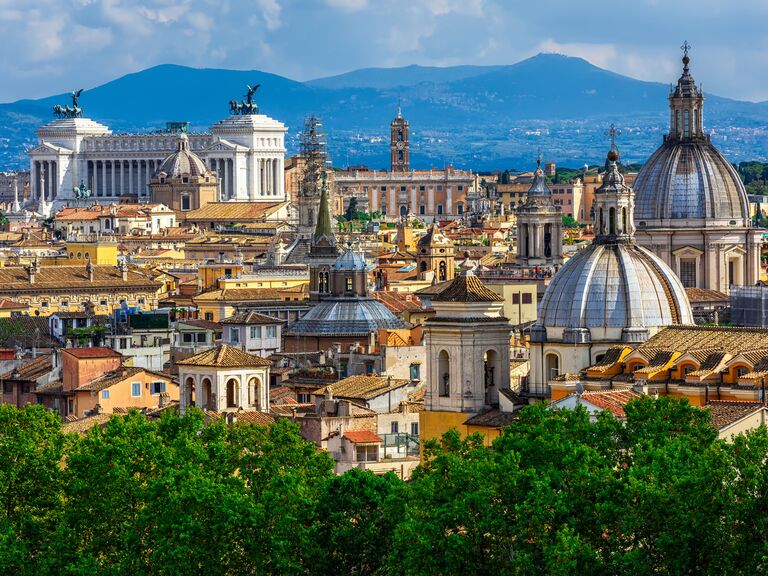 In one of Rome's most exclusive neighborhoods, this 98-room hotel includes personal butler service. Under the Dorchester Collection, Hotel Eden comes with unique and original programming to entertain couples after a day of sightseeing.
Atop the Spanish Steps, this 18th-century palazzo-turned-boutique hotel also offers an on-site spa with five treatment rooms, an ice fountain, a hydro pool and a Mediterranean-inspired salt room. The Rocco Forte property features 89 rooms and 15 suites, as well as the number one rooftop terrace in the entire city.
Just steps from the Trevi Fountain, this luxury property is located in the most centralized part of the city. It's also located close to other chic properties, including the W Rome and the Soho House.
This luxury hotel near the Spanish Steps features an on-site spa with a Turkish steam bath and an interior courtyard with a terrace and gardens.
Within walking distance of Campo de Fiori, the Hotel Indigo includes an enviable rooftop and a private spa with a hot tub and Turkish bath.
This 29-room boutique hotel near the Spanish Steps boasts contemporary art and top-notch technology, including iPod docks and espresso machines.
With just 18 rooms, this luxurious boutique property sports Art Deco and contemporary decor.
Housed in a 17th-century building, this 30-room luxury hotel was once a school of architecture. Inspired by mid-century modern design, the rooms come with minibars stocked with complimentary soft drinks and snacks, iPod docks and free WiFi.
This beautiful five-star hotel near the Trevi Fountain is in the former headquarters of Singer sewing machines. Couples will experience true and refined luxury after a day of exciting sightseeing.
What to Pack for a Rome Honeymoon
The number one rule for a Roman holiday is to bring comfortable walking shoes, advise Grazia and Mencarelli. Not only is the historic center large—the narrow streets are paved with cobblestones making heels rather uncomfortable. Harnal also suggests toting clothing that covers your knees, midriffs, and shoulders for modesty at religious sites. As far as general fashion goes, think smart casual. Instead of shorts, choose linen pants and sundresses or skirts. Plan on dressing up for evenings, especially when dining at swanky restaurants. Romans are impeccably dressed for such occasions.