10 Wedding Planning Rules for Every Couple
Commit to these stay-sane moves to make wedding planning stress free.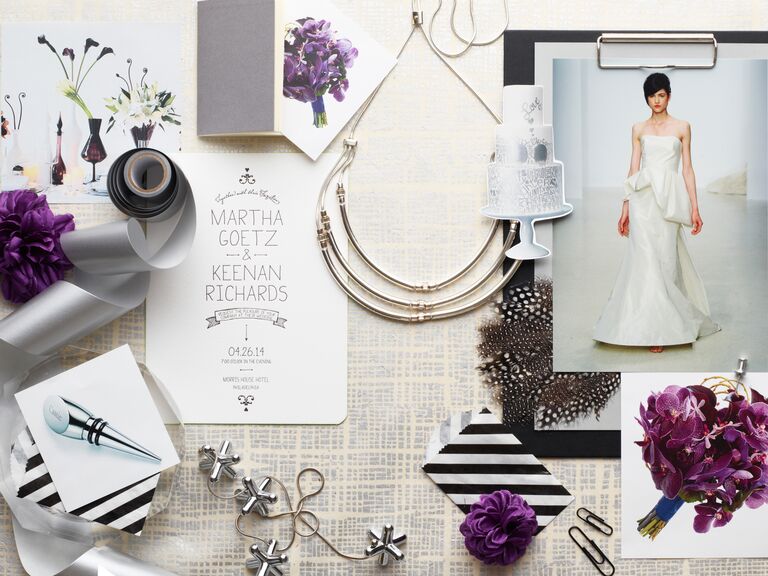 Tara Donne
You're engaged! So now you can indulge your every emotion and whim, right? Not so fast. It's most definitely your moment to be pampered and reign supreme, so maintaining perspective will make the whole planning process more fun and less mentally exhausting. We suggest you follow these sanity-preserving wedding planning rules:
I can live without orchids and other exotic wedding flowers.
As you've discovered, there's a big world of amazing, over-the-top wedding options, from caviar tastings to three-color origami letterpress invitations, and many of them are jaw-droppingly expensive. If you find that you're being attracted to things that will have your budget bursting at the seams, it's time for a reality check. Ask yourself: What will those fragile flowers (or whatever your expensive obsession is) truly add to my wedding? If the answer is just "impressed glances from five in-the-know guests," then you're better off spending that dough on something more people will appreciate—a killer band maybe?—or, better yet, splurging more on your honeymoon.

I won't make my bridesmaids look like clones.
Every good friend knows that along with the honor of being a bridesmaid comes the obligation to wear a dress in a color and style that's not of her choosing. So your girls accept that, but it doesn't mean they'll submit happily if you force them to wear identical shoes, jewelry, wraps and hairstyles. In order to have a great time at your wedding, your bridesmaids need to feel attractive too—something that's impossible if you've micromanaged their looks down to the lipstick hue. (Plus, buying a bunch of matching accessories they may never wear again gets expensive.) And your bridesmaids will look even better if you give them leeway to let their individual styles shine through the  gowns you've chosen (even if they are all the same). So let them choose their hair and makeup styles, and let them choose their own accessories, like shoes and jewelry—with maybe a few guidelines.
I won't invite my second cousin's fling.
When you're putting your list together, a spirit of irrationally warm hospitality might take over, making you inclined to invite all of your single guests' guys/girls-of-the-moment. We know you're thinking: "What if they get married one day? I'll feel terrible if my cousin by marriage wasn't at our wedding." But remember, aside from the (big) expense of inviting every single person with a date, you don't want to celebrate the most important event of your life thus far with a bunch of people you'll likely never see again. Trust us, if you invite cousin Bill's arm candy, she'll somehow wind up front and center in half of the photographs—and then he'll dump her before you return from your honeymoon, and you won't remember her name in a year. So make a rule about plus ones (maybe it's "only couples who've been dating for more than a year" or "only members of the wedding party get to invite random dates") and stick to it.
I won't obsess over my wedding registry.
Once you delve into the world of fine stemware, charger plates and exotic kitchen gadgets, it's only natural that you'll want to get even more immersed in it—and start second- and third-guessing every registry decision. And online options make it all too easy to review and revise what you've asked for at every whim. So give yourself a deadline after which you're not allowed to tinker with your registry—say, six months before the wedding—so you can stop fixating on "bone china versus Limoges" and start obsessing over seating charts instead.
I'll loosen up about the wedding rehearsal dinner.
We know—it's pretty much your inalienable right to micromanage every aspect of the wedding if you choose to. The rehearsal dinner, not so much. If you're lucky enough to have the night-before celebration thrown for you by your fiancé's family or someone else, everything will go most smoothly if you offer your input only when asked and on a few issues that are super-important to you. If your future mother-in-law sends out invitations you find unbearably tacky or fills the centerpieces with your least favorite flower, keep in mind that everybody in attendance will understand that the rehearsal isn't reflective of your style.
I'll write thank-you notes as the wedding gifts come in.
Yes, you're busy, but you can always carve out 10 minutes from your schedule to write a thank-you note. So place your stationery box and a big sheet of stamps in the center of your desk and sit down to express your gratitude within 48 hours of a gift coming in. If you wait, your note-writing list will quickly grow to a frightening length, and it'll become that much more intimidating to tackle it. And if you let too much time pass before writing your notes, the gift-giver might wonder if you received the present.
I won't stress out about my fiancé's bachelor/bachelorette party.
Do not, we repeat, do not sit at home watching the clock and wondering what they're doing. Make plans of your own, get out of the house and go have a good time. Your fiancé  wouldn't be marrying you if they didn't vastly prefer being by your side instead of being surrounded by 10 intoxicated buddies and paid for entertainment. 'Nuff said.
I won't have unrealistic weight expectations.
Choose a dress you look gorgeous in at your regular weight. Sure, you may shed a couple of pounds in the weeks before the wedding due to a packed schedule and jitters, but don't strive to lose any more than that at the last minute. Crash dieting will make you exhausted and bitchy, and no number on the scale will compensate if you're too weak to handle the demands and savor the excitement of your wedding celebrations.
I won't let downers dampen my enthusiasm.
As you've no doubt already noticed, there are people out there who seem determined to make you feel bad about your wedding planning excitement. Maybe they're single and jealous, or not-so-happily married and bitter, or just the types who can't bear to witness other people's joy without trying to chip away at it. It can be hard to ID these people because their negativity is often backhanded and disguised as advice ("Don't stress about the details so much—it's just a party that will be over in five hours!"), or because they might ask you lots of questions about your wedding day details only to teasingly call you "Bridezilla" when you answer. But once you've noticed that discussing your plans with certain people leaves you feeling defensive or deflated, cross them off your list of conversation partners. You have plenty of others in your life who are genuinely excited for you and eager to hear about (almost) every aspect of the planning process.
I'll make my photo album within one year of the wedding.
When you come back from your honeymoon, putting together your wedding album may seem like a daunting task. There will be so many beautiful and funny photos to choose from, and after months of daily wedding-related decisions, you may decide to take a break and do the album later. Not to mention the fact that a nice album doesn't come cheap, so it'll be tempting to wait until your funds have been replenished before shelling out for it. But as many of your married friends who had similar plans will tell you, the years slip by quickly, and it's all too easy to wind up with nothing but a proof book and some Snapfish albums on your fifth anniversary. So bite the bullet and order your album while the memories are fresh and you still have a little wedding planning momentum driving you forward.