Easy Ways to Save on Your Photos and Video
Unlike your flowers or food, your wedding photographs will last a lifetime, whether in an album on your coffee table or on social media. So hire a pro -- even if it's tempting to accept a generous offer from a friend to take your pics. We've found much better ways to save.
by Simone Hill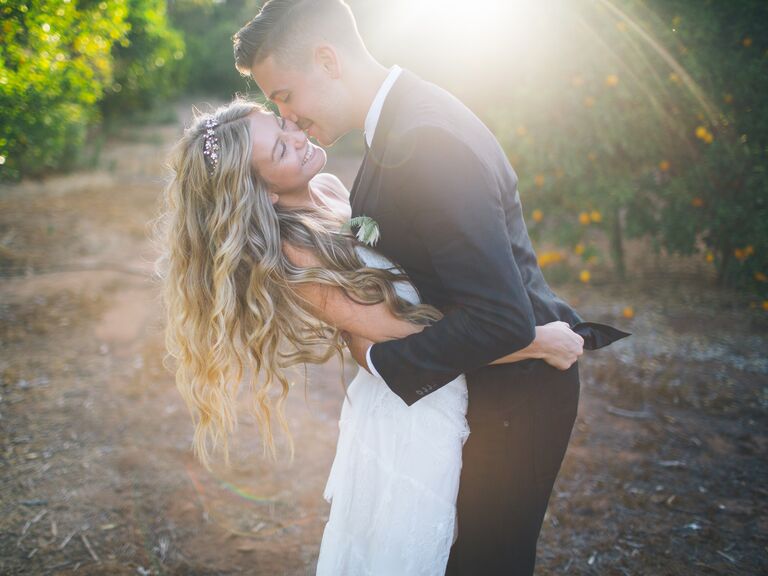 Look for packages you can customize.
If your budget is tight, this allows you to pay for exactly what you need, whether that's hours of coverage, extra sessions or access to digital photo files. "The build-your-own package system helps clients use their budget in the most efficient way possible," says photographer Jenna Henderson, who is based Nashville, Tennessee. So how do you figure out what to prioritize without getting overwhelmed with options? Talk about it with your pros. They can help walk you through things like whether you can realistically fit all your must-have shots in the minimum amount of coverage they offer or how many assistants make the most sense for the size of your guest list.
Wait to buy prints, albums and DVDs.
Don't worry about spending money on your album right now -- you should be focusing on hiring a photographer who will get great shots, says Sara Allen of onelove photography in California. Think of it this way: A fine art album is the perfect gift to give each other as a twist on the paper theme for your first anniversary. Some photographers, like Cory Ryan of Cory Ryan Photography in Austin, Texas, will even lock in the package price of an album for up to a year after your wedding. You can still enjoy and share your wedding photos the moment they're ready -- you'll get at least a portion of the digital files as soon as they're done editing and may even get access to an online gallery you can share too. The same goes for videography -- many will upload your highlight reel to an online platform like Vimeo, so you can email, tweet or post the link.
Have your ceremony and reception at the same place.
By hosting your ceremony and reception at the same spot, you'll have more time to take portraits and family photos, and shoot the footage you want in your album or video, since you won't be traveling to several locations. If you follow this advice, you'll actually end up saving in a few other ways too, like transportation, rentals and venue charges (it's true!).
Get a referral from a photographer you love.
If you've crunched the numbers again and again and still can't make the photographer or videographer you really want work for your budget, don't give up just yet. They may still be able to help in other ways, like giving you a referral to someone within your budget who has a similar style. "I'm happy to suggest someone who's more affordable if my packages are out of a client's range. In the photography community, we're constantly referring to other people we admire," Ryan says. They may give you a few names of other pros they've tag teamed with before (often called associate or second shooters) who aren't as established yet, but charge less because they're just not as well known. Before you sign any contracts, meet with the shooter in person first -- you want to be sure you're comfortable with him or her because they'll be your wedding day shadow.