The Knot Tells All: The Biggest Wedding Regrets That Haunt Our Editors
Our staff spills the tea.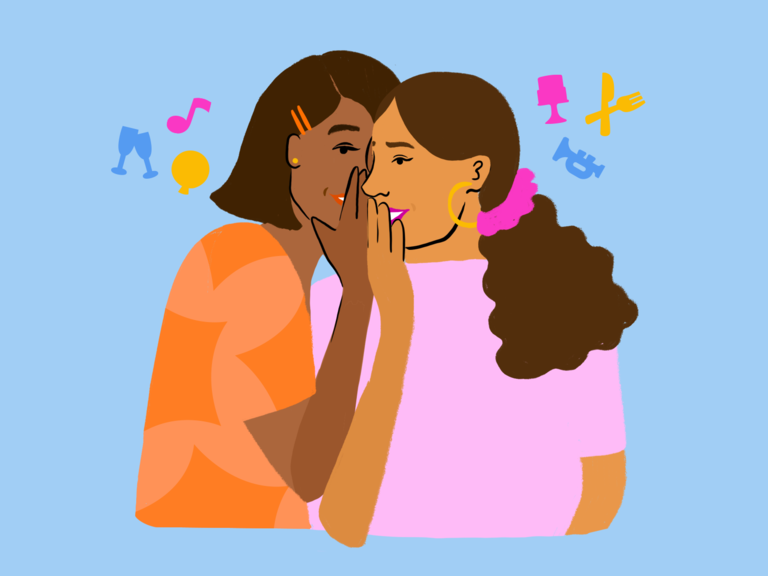 Illustration by Tiana Crispino for The Knot
The wedding is over and you're feeling ecstatic! Scratch that…you're feeling a little weird. Maybe even filled with wedding regrets. Is it normal to have regrets after the wedding? Should I be ashamed that I feel weird after the wedding? What if I wish I could redo my wedding?
If your wedding has you feeling some kind of way (Got the ick?), or you're engaged and terrified of being left with regret, I am here to welcome you and let you know it'll be ok. And even if it isn't, The Knot insiders are divulging their secrets to remind you that you're not alone. So listen up, you can stop repeating "Hi. It's me. I'm the problem. It's me," over and over in your head (no matter how big of a Swiftie you are). Our own The Knot wedding experts, who live and breathe all things nuptials and celebrations, are spilling the tea about their biggest wedding regrets. Spoiler: Some of these might surprise you. Get ready to say "I don't" to these big-day missteps.
Hiring the Wrong Photographer
Kori Mirsberger is a Senior Manager of CRM at The Knot Worldwide where she uses smart email marketing and communications to help couples navigate life's biggest moments together with ease. On October 26th, 2013, she married her partner Andrew in Austin, Texas. While you won't hear this wedding expert saying "I regret my wedding," there is one detail from the big day that she wishes she's planned differently. Mirsberger regrets "Hiring a 'part-time' photographer. He didn't know how to follow the wedding photo shot list and we missed a lot of important pictures. We also only hired him for the ceremony, which resulted in only having amateur camera and phone photos from the reception. It took months to get friends and relatives to send their pictures from the reception. Unfortunately, most of the photos were not very good."
Wedding Editor's Advice: It breaks my heart anytime I hear of a newlywed whose biggest wedding regret is not hiring the right team of pros for the big day. As trite as it is, a picture really is worth a thousand words—and your wedding of all days is a memory you don't want to forget anytime soon. Wedding vendors, especially wedding photographers, can make (or break) your wedding. To avoid sharing in Mirsberger's regret, the key is to do your research and hire an experienced photography pro you trust.
Not Hiring a Wedding Videographer
Listen up: Even Vice Presidents at The Knot Worldwide aren't immune to wedding regrets. It's a bummer, but it's true. Kiara Kempski is the VP of Consumer and Vendor Marketing at The Knot Worldwide. Her motivation to equip engaged couples with the resources they need to plan a wedding that feels authentic to them is rooted in her own experience and subsequent wedding regret. On January 14th, 2018, Kempski married her partner Arles in San Francisco.
The California wedding was beautiful, but sadly not captured on video and Kempski shares that she regrets "that I didn't hire a professional videographer. I also regret that I didn't have a discussion in advance with my photographer about what I wanted to capture, or rather the people and moments I wanted to capture. I really wish I had more footage of my friends and family moments from the wedding and fewer couple-only wedding photos. A wedding to me is so much about a family moment in time when everyone drops everything to join you, it's a rare moment where we can create a time capsule for those we hold dear and I wish I had more of it on film."
Wedding Editor's Advice: I love what Kempski had to say about a wedding being about a moment in time that you share with your nearest and dearest. It's a moment in time that's about more than just you and your partner—it's the coming together of a core group of loved ones who may not see each other very often. It's also a chance to honor your heritage and celebrate the generations of relationships that paved the way for your love story. While all this is true whether or not there's a wedding video to show for it, I can confidently say that a video memento is 100% worth it. Your reunion of loved ones gives you a chance to reminisce and connect, and a wedding video helps that connection endure—it's something you can keep looking back on (and pass on to younger generations). TL;DR: do it, book a wedding videographer.
Not Leaving Enough Time in the Schedule for Photography
Rumela Sen has many years of wedding experience as the Lead Editor of WeddingWire India where she oversees a team of editors committed to bringing the best content possible to engaged couples in India. Sen recently went through the wedding planning process herself as she prepared for her March 9th, 2023, wedding to her partner Abhinav in Delhi, India. After planning a wedding first-hand she understands the importance of having a well-built wedding timeline that leaves enough time for photography.
"We should have given more time to wedding photography," says Sen. "I think it's important to block time slots for wedding makeup and getting dressed, as well as dedicated time for portrait and couple shots. As an editor, I admire thousands of wedding photos every month and I had so many ideas for our wedding videos and couple poses. However, we have multiple rituals and ceremonies in Indian weddings and there are specific auspicious time slots given by the priests. If I had more time I would have taken lots of pictures with Abhinav. For my prewedding cocktail event, I wore a Cinderella-inspired blue gown and I would have loved to take some fun ballroom shots in the dress. Missing out on this is my only wedding regret (so much that I might start a postwedding first-anniversary photo shoot trend). I'd strongly advise all couples to have dedicated time for photoshoots and also keep their inspiration boards handy."
Wedding Editor's Advice: Step 1: Hire an amazing photographer. Step 2: Give them enough time to make magic amid the mayhem of the wedding day. You invested in a great photographer but no one can be expected to do their job well without being set up for success. Part of that is crafting a balanced wedding timeline that leaves room for photos, ranging from dedicated couple portraits to extended family pics. When in doubt, add in extra buffer time to combat Murphy's Law.
Hiring the Wrong Makeup Artist
Are you starting to see a trend? Hiring the right pros is the key to an epic wedding, and not doing so can be detrimental to the big day. Brianne Velardi is the B2B Marketing Designer at The Knot Worldwide and understands how proper marketing and positioning can impact a business's ability to connect with the right audience. Unfortunately, that perfect connection didn't happen for her and her makeup artist when Velardi married her partner Dave on October 21st, 2021, in Doylestown, Pennsylvania. Velardi shares that she regrets hiring a makeup artist from another digital marketplace, instead of The Knot, and making payments informally via a money-sharing app. "I had my in-person trial and everything was great. But then she never showed up to the wedding and took the money and ran. Unfortunately, we're still seeking legal action."
Wedding Editor's Advice: Ugh, being ghosted is never good, especially if it's a wedding vendor and they simply don't show up on the day of the celebration. When you're looking to hire a hair and makeup artist, check reviews and also dig into their contract to ensure they're a reputable and trustworthy business.
Skipping a Hair and Makeup Trial
Hiring the right beauty pros is only the first step. Next up, you need to do a hair and makeup trial as Nic Taliaferro will attest. Taliaferro is the Fashion Content Strategist at The Knot Worldwide where they oversee the strategy for the site's fashion, beauty and jewelry content to ensure it is packed with the best advice possible for to-be-weds. When a fashion and beauty insider has their own beauty regret you better believe it's time to listen up and take note. On December 17th, 2019, Taliaferro married their partner Bud in New Orleans, Louisiana. Sadly, Taliaferro's biggest wedding regret is "not having a hair and makeup trial with the actual professionals who were present on my big day. I am based in Austin and hired a super-talented pro who has associates in New Orleans, where I eloped. The vibes were high during my hair and makeup trial in Austin and I felt confident about the vision she executed."
Taliaferro goes on to explain that, "the plan was for her to pass along all the details to her associates to recreate the morning of my elopement, but the associate professionals weren't on the same page and decided to go a different direction. I ultimately took my hair and makeup into my own hands and everything worked out, but looking back I wish I had scheduled trials with the NOLA-based vendors before the wedding day. TL;DR: Be sure to touch base with your day-of vendors to set expectations and work out any kinks before your big day!"
Wedding Editor's Advice: There shouldn't be any vendor surprises on the wedding day. With your caterer you'll have a prewedding tasting to confirm the menu, you'll do an engagement session with your photographer to get comfortable and, importantly, you need to do a trial run with your hair and makeup pros. So say no to Taliaferro's biggest wedding day regrets and do a trial with the same people who will be present on your wedding day.
Not Having a Rain Backup Plan
When it rains, it pours…but a proper rain backup plan will save you, assuming you make one. Samantha Hochstein is a Senior Manager of CRM at The Knot Worldwide and has more than 7 years of experience helping couples with wedding planning through thoughtful email content. If only Hochstein had received an email before her September 6th, 2021, wedding to her partner Matthew telling her to make a rain plan for the Stewart Manor, New York, event.
Hochstein explains that her biggest wedding regret is "not having a rain plan for an outdoor wedding! The thought of rain hadn't even occurred to me and checking the weather hadn't crossed my mind with all of the craziness going on the week of my wedding. Lo and behold, it rained and ruined our outdoor ceremony. It wasn't even the indoor ceremony that I regret, it was the chaos that came with all of the last-minute planning."
Hochstein explains that the rain "ruined my grand entrance because, instead of being outside, everyone was inside where cocktail hour was supposed to be while waiting for the ceremony to start. I had to walk through that room to get up to my getting-ready suite so everyone already saw me in my dress and guests were trying to make small talk. Then, because things were rushed and hectic, and all of my photos had to be moved indoors, we didn't follow the photo list I made. (Another regret, not warning family members who we expected to be in photos and not designating a bridesmaid to be in charge of the photo list ahead of time). We ended up running around looking for people, and I didn't get half of the photos I wanted."
Wedding Editor's Advice: Thankfully, Hochstein and her guests were able to find dry shelter inside, but the last-minute nature of the change was the real culprit for the chaos. Since they hadn't anticipated the rain, all the adjustments were made on the fly in a less-than-optimal manner. No couple wants to have to deal with a sudden weather emergency, but planning for the worst while hoping for the best is the key here. Having a backup plan you like as much as your original concept will save you stress no matter what Mother Nature brings as her wedding guest.
Doing a Sparkler Exit
Here's the thing: Fire and intoxicated guests are a risky combo. Especially when it's dark outside and everyone is cramped into a small space with pyrotechnics that really deserve a wide berth. Catherine Muffler is the Senior Director of Product Marketing at The Knot Worldwide where she is just as concerned with products working correctly as she is with ensuring everyone understands how to properly work said products. If only sparklers could hire Muffler for their own marketing needs—if they had they would've emphasized the need for space, and lots of it. On October 4, 2014, Muffler married her partner Joey in Stevensville, Maryland, and planned to cap off the night with a festive sparkler getaway.
But the pyrotechnic goodbye, unfortunately, didn't go off without a hitch. While sparklers themselves can be fun, they need to be handled in a safe way as Muffler's biggest wedding day regret, and singed hair reminds us. Muffler shares that she regrets not "making sure our guests were spread far enough apart during our sparkler exit….thankfully most of what caught on fire was hairspray and I had a friend notice quickly enough to pat it out of my hair very quickly. But beware, end of the night, over-served guests and fire can be as dangerous as that sounds!"
Wedding Editor's Advice: You want to look fire on your wedding day, but you certainly don't want to BE on fire. Sparklers are fun, but chances are, the end of your wedding reception is going to be hectic and filled with semi-drunk wedding guests which makes for a less-than-ideal sparkler scenario. Thankfully, there are plenty of alternative wedding exit ideas that pack the wow-factor of sparklers without the fire risk. Consider bidding your loved ones adieu amid a cascade of confetti or bubbles.
Mistakes Are Inevitable and Recoverable
We've armed you with advice to avoid some of the biggest and most common wedding missteps, but the truth is that mistakes are inevitable. They're also recoverable and don't have to mean the entire day is ruined.
Did you hear that? Mistakes are inevitable, regrets don't have to be (with proper planning and the right attitude). Lauren Kay is the Executive Editor of The Knot and is sought out by some of the biggest news and television outlets in the US for her wedding expertise. In short: She knows her stuff and you should jot down any and all wedding advice she is dishing out. On November 16, 2013, Kay married her partner Adam in Sarasota, Florida. The day didn't go perfectly and mistakes happened, but Kay still emerged without any wedding regrets.
"I don't have wedding regrets—stay with me," says Kay. "Lots of things went wrong on my wedding day: it rained, I cut into the styrofoam layer of my cake, our champagne toasting flutes broke... but not of it mattered. Perhaps I believe too much in fate and that everything happens for a reason, (or maybe it's the nearly 10-year rear-view) but I don't look back with regrets. Would I have done some things differently, maybe? But at the end of the day, I got married and despite the hiccups, it was magic."
Wedding Editor's Advice: Despite the hiccups, it was magic. Let that soak in. No matter how much you research, prep, practice and plan, there is still a chance that something may go awry on your wedding day. But, you're at a celebration with your partner and all the loved ones you care most deeply about—is there anything more beautiful than that?