The Complete Sedona Bachelorette Party Guide and Itinerary
Stunning views, artistic flair and Barbie-esque pink Jeeps make this a truly one-of-a-kind destination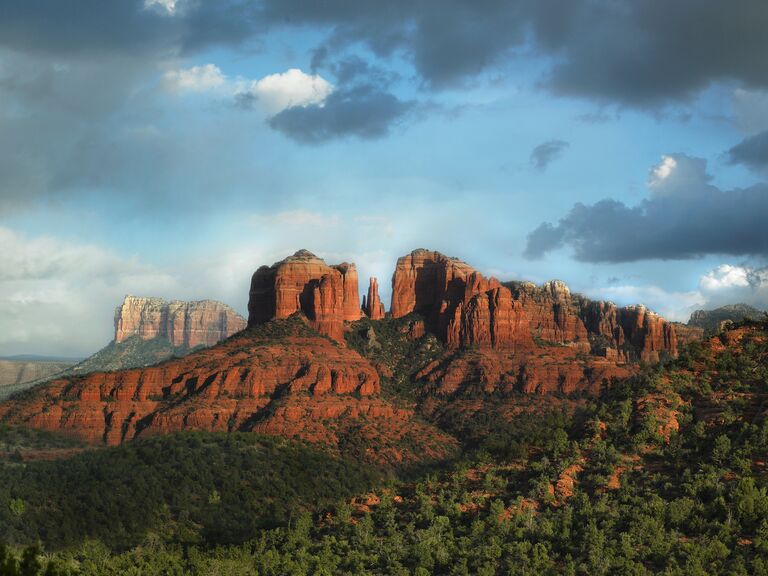 Photo: Ryan McVay / Getty
We have included third party products to help you navigate and enjoy life's biggest moments. Purchases made through links on this page may earn us a commission.
A Sedona bachelorette party truly offers the best of (almost) any kind of world. It's not a white-sand destination—it's a red-rock one. Sedona is full of offerings for friends looking to celebrate upcoming nuptials with a laid-back weekend by the pool (intermixed with spa treatments) or those who prefer sun-soaked days full of thrill-seeking, adventure and pink Jeeps. The ample opportunities for a diverse itinerary make Sedona a fantastic spot for pals seeking an alternative to Scottsdale, a popular bachelorette party destination that's a two-hour drive away.
From otherworldly massages to views that need to be seen to be believed, these are the top ideas for a Sedona bachelorette party.
Sedona Party Planning in This Article:
Sedona Bachelorette Party Ideas and Themes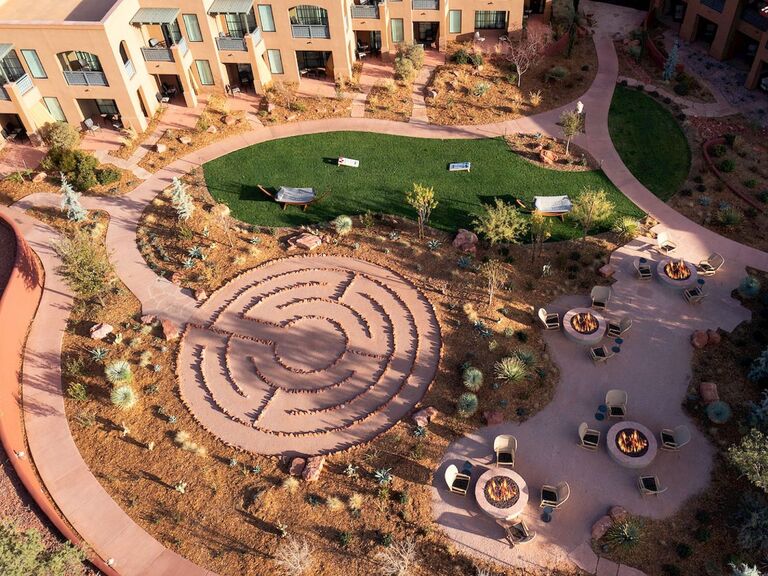 One of the best parts of a Sedona bachelorette party is that there are options aplenty. The desert city encompassed by red-rock buttes is full of things to do and places to see. Think art galleries, canyon walls and resort spas you'll never want to leave.
For the Art Enthusiast
Sedona is a hub of culture designed for artsy types. Though galleries are open throughout the week and on weekends, being in Sedona on the first Friday of the month is something special. Several locations participate in First Friday in the Galleries, a free opportunity for the general public to take in openings, artist receptions and more. The Tlaquepaque Arts and Shopping Village is one of the locations. If you won't be in Sedona for the First Friday affairs, this spot set on idyllic cobblestone walkways is full of handcrafted decor and jewelry that doubles as art.
For Hikers
Sedona is a dream for outdoor enthusiasts who consider hiking their favorite form of exercise. Explore a few of the 286 acres at Red Rock State Park, where some of the winding trails take you to the Oak Creek banks. Bring good hiking shoes and trek up the 700-foot elevation to the top of Cathedral Rock, where the sunset views are worth the challenge.
For the Adrenaline-Seekers
Sedona isn't meant to be explored just on foot. You can take in views from above, through a Jeep window, or even on horseback. Hot air balloon rides complete with a Champagne brunch, zipline tours that give party-goers a bird's-eye view of wine country, and Jeep-horseback riding hybrid tours offer unique ways to make memories with your best friends.
For the Oenophiles
Toast to the end of one era and the start of a new one. The Verde Valley Wine Trail is less than a half hour from Sedona. It's considerably smaller than, say, Napa, but the dozen or so wineries and tasting rooms are worth checking out. Chardonnay, Cabernet Sauvignon, Syrah and Viognier are among the popular pours in these parts.
For Those Craving Pampering
If your kind of adventure involves moving from a massage bed to a pedicure chair, consider Sedona a strong contender for a bachelorette party destination. The city is packed with resort spas with breathtaking views and spa treatments designed to give everyone some pre-wedding TLC. Some, like the Wilde Resort and Spa, offer wellness retreats with all kinds of self-care, from spa treatments and yoga to rope climbing, should you want to mix luxurious relaxation with a good challenge.
Sedona Bachelorette Party Itinerary and Activities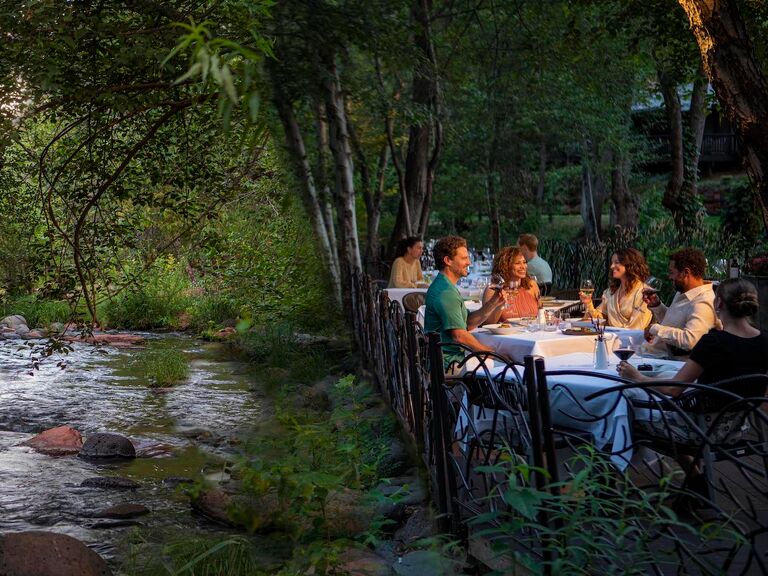 Because Sedona has so many things to do, it can be difficult to narrow down your schedule. Concrete examples can help. Consider this sample three-day itinerary full of Sedona bachelorette party activities meant to entertain you and your favorites from sunup to sundown.
Day 1
Ease into day one with breakfast at 89Agave Cantina. The low-key Mexican cantina serves daily breakfast from 7 a.m. to 10 a.m. in a casual setting, complete with rainbow-colored seating inspired by Mexico. The fiesta breakfast with scrambled eggs and pico de gallo will help you start day one off right.
Snag a takeaway meal from ChocolaTree Organic Eatery, a vegetarian spot serving up homemade organic goodness like salads and vegan bean burritos. Then, set out to hike Oak Creek Canyon, known as the Grand Canyon's "smaller cousin," for an ample fix of red rocks. Alternatively, Vortex Yoga Hiking in Sedona offers a unique, serene way to become one with nature, integrating yoga, visualization, meditation and breathing exercises with the beauty of outdoor adventure.
Southwest fare is par for the course in Sedona. Elote Cafe has made a name for itself through its lively ambiance, tequila-focused cocktail menu and next-level guacamole.
Day 2
The white tablecloth setting and cozy fireplace at Casa Sedona Inn's restaurant make for an inviting interior. The charming garden and stunning mountain vistas almost steal the show from the food, which is delicious in and of itself. The inn only serves breakfast and brunch, featuring dishes like Sedona-style Eggs Benedict and fan-favorite lemon ricotta pancakes. This spot is best for smaller parties (maximum of four), though takeout is available for larger bashes.
Clink glasses to new beginnings and old friends on the Verde Valley Wine Trail. Parties can sip and savor wines on kayak and all-inclusive tours, many of which include food. If your arrangements don't include bites, take a breather at Up the Creek Bistro Wine Bar, which pours local wine and serves New American cuisine in rustic digs with wood-exposed beams. Not taking a tour? Allow your a la carte adventures to take you to Page Springs Cellars and DA Ranch, two wineries that are known for vistas almost as good as their wine.
Keep the views coming with dinner at Cress on Oak Creek, situated in L'Auberge de Sedona. In these parts, the soft ripples of the creek and lush greenery offer an alternative to the beautiful red rock scenes Sedona is known for. As for the menu, it boasts a seasonal selection of American-infused French dishes. A chef's tasting dinner includes wine pairings and a five-course menu that may feature poached lobster and a piña colada-flavored sponge cake, depending on when you go.
Day 3
Slow down and begin your last full day in Sedona with some poolside fun. Arroyo Pinion Hotel is a scenic escape with red rock views that can be enjoyed from a lounge chair. A day pass gains you access to lounge chairs, a firepit and water, and parties can upgrade to a cabana. GreenTree Inn also offers pool day passes with luscious surroundings and plush seating.
If you can pull yourself out of a lounge chair, do so because adventure awaits. Embrace Barbiecore in a pink Jeep Wrangler and get an up-close view of Sedona's sprawling rock formations. The stylish, bachelorette-ready Jeep takes you along dirt roads and is guided by an area expert. Pro tip: Consider doing this later in the day and closer to sunset when the sunlight plays oh-so-nicely with the red rocks.
Lean into relaxation with a late, private dinner catered by Sedona Catering Co. The intimate setting of a home-cooked meal gives you and your pals a chance to reminisce and laugh loudly about the adventures you've shared. Bonus: Having your last dinner close to bedtime gives people with red-eye flights a chance to truly kick back and enjoy themselves one last time.
Places to Stay in Sedona for a Bachelorette Party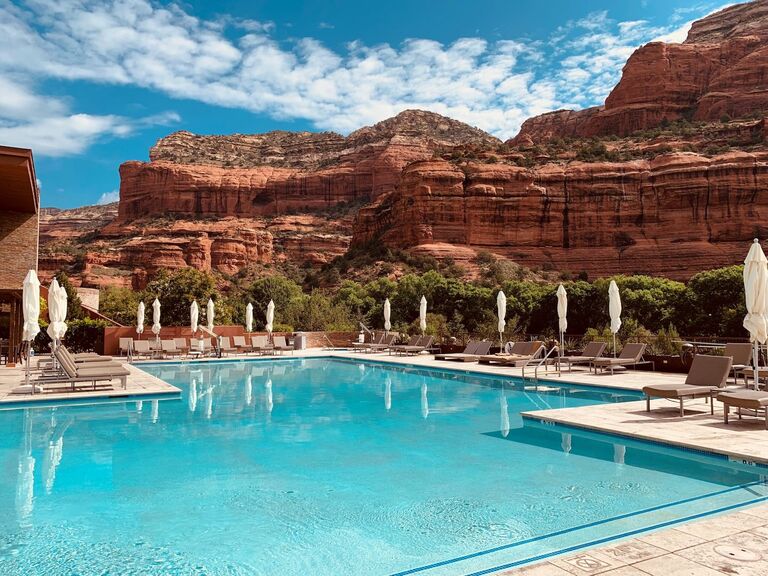 After days spent hiking, ziplining and wine tasting, sinking into a cozy bed is in order. Sedona is full of accommodations with plenty of that and then some. Some of the following spots even offer Sedona bachelorette party packages to cut costs and streamline planning.
Best Sedona Bachelorette Party Hotels
Many hotels and resorts in Sedona provide far more than the basics. Think on-site spas ready to rejuvenate weary legs and yoga and meditation designed to give everyone in your crew peace of mind. Spoiler alert: Many also offer stunning views.
Amara Resort and Spa: Situated five miles from Cathedral Rock and right on Oak Creek, Amara Resort and Spa has a Girls' Getaway package that comes with a spa credit, daily breakfast and a welcome glass of bubbly. Toast and sip the prosecco on the balcony or patio of your room. There's also a complimentary wine hour whether you book the package or not.
Enchantment Resort: This sprawling luxury resort spans 70 acres in Boyton Canyon and naturally offers stunning red rock views. The resort fee gives guests access to a spa, a fitness center, and indoor and outdoor pools. Upgraded suites have private pools and hot tubs. Experiences like hiking, biking and stargazing can be booked with help from the resort.
L'Auberge de Sedona: A stunning escape along the banks of Oak Creek, L'Auberge de Sedona is perfect for spare-no-expense party-goers craving pampering, luxury and delectable eats. Accommodations include a lodge and four types of cottages ideal for larger parties. Yoga, evening stargazing, a pool and spa treatments are just some of the ways you and your crew can hang out without ever leaving the grounds.
Courtyard by Marriott Sedona: There's no shortage of majestic mountain views at this hotel near Red Rock State Park. Numerous trails are within walking distance, though parking is free if you're driving or renting a car. A private meditation area is ideal for setting an intention in the morning or for quiet nighttime reflection after a fun-filled day.
Pro tip: The Knot has partnered with Hotel Planner to help you secure the best group hotel rate and get free hotel advice from an expert travel planner.
Best Sedona Bachelorette Party Home Rentals
There are plenty of housing options for a Sedona bachelorette party, so check out TripAdvisor, VRBO, Airbnb, Expedia and Hopper Homes. If you're looking to supplement your vacation rental stay with some hotel amenities such as a swimming pool or a fitness facility, you can also secure Sedona hotel day passes on ResortPass.
Sedona Grand Private Pool and Spa: This five-bedroom, five-bathroom spot has stunning red rock views and comfortably sleeps 14. The property boasts a hot tub and pool, and is a short drive to Rock State Park and Tlaquepaque Arts and Crafts Village.
Sedona Soar: Another spot ideal for people rolling deep, this red-rock-facing property in West Sedona is situated on a sloping bluff that gives way to Instagrammable views of Standing Eagle Rock. It sleeps 14 and has eight beds and four bedrooms.
Modern W. Sedona Home: Smaller parties will love sitting on the patio at this intimate three-bedroom home that sleeps up to six. The fully equipped kitchen is ideal for any home-cooked meals you have planned.
Sedona Nightlife for a Bachelorette Party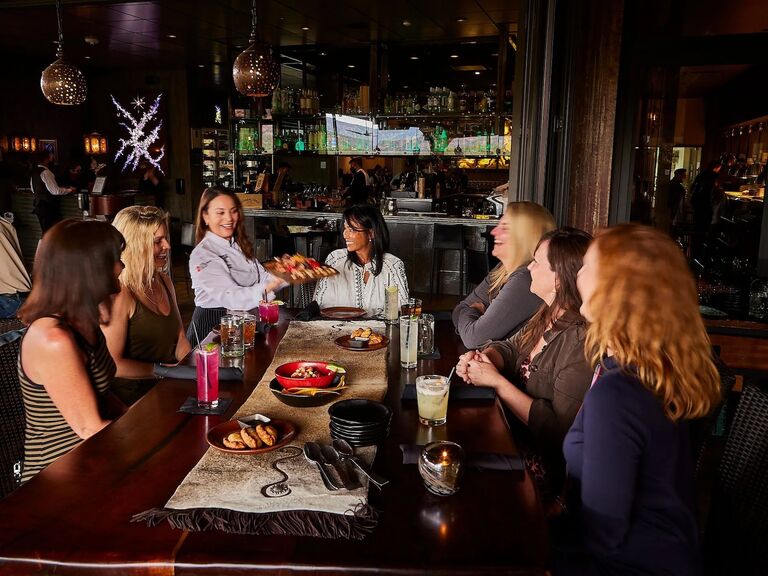 Sedona is full of beauty and adventure by day. But after one of the city's legendary sunsets, the party can really kick off. Grab some dancing sandals and something with Southwestern flair—the fun rolls in after dark.
Best Sedona Bachelorette Party Restaurants
Mariposa: This upscale restaurant offers a departure from the Southwestern fare typically found in Sedona. Instead, indulge in Latin American-inspired food—like the paradisal wood-roasted pollo rustico and delectable yuca fries—on an expansive patio with 360-degree views.
The Hudson: This sleek restaurant serves New American cuisine in Southwestern-style digs. Perched on a hillside, the spot specializes in comfort food like burgers, steaks and homemade desserts. Grab a seat on the patio for a stunning side of red rock vantage points.
Cowboy Club Grille and Spirits: This fun Southwestern joint is known for casual vibes, steaks cooked to perfection and the noteworthy prickly cactus fries. Boots are not required, but they're highly recommended.
Best Sedona Bachelorette Party Bars
Mooney's Irish Pub and Burger Bar: This laid-back, well-known bar has darts, karaoke and spirits to get your gang in the mood for a good time.
Sound Bites Showroom: The boisterous live music scene, dancing, fresh fish and juicy steaks make this joint a favorite of party people in Sedona.
The Art of Wine: For a more intimate but still elevated experience, consider this wine bar located within the Shops at Pinon Pointe. Sample from a list of more than 45 wines, craft beers and meads, and return to your rental or hotel with your favorite bottle.
Expert Sedona Travel Tips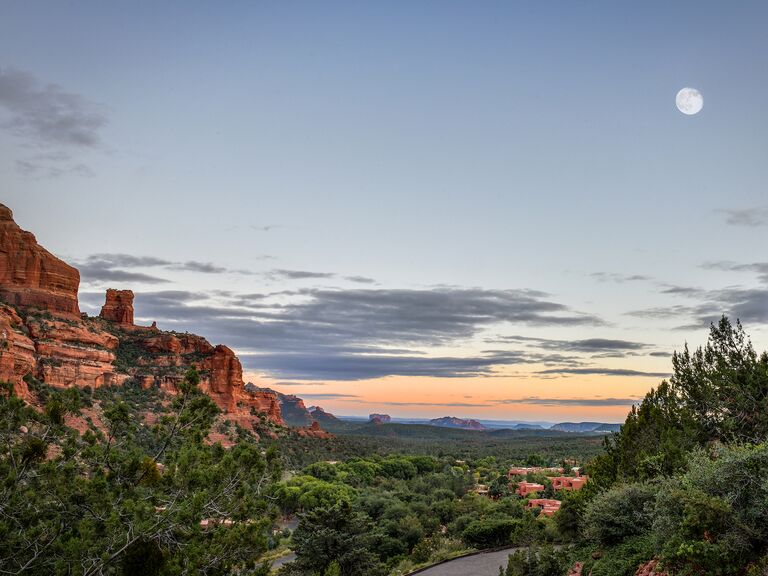 Sedona is a popular city, but not a major one like Phoenix. It makes navigating transportation a bit more challenging. These tips will help you get all your fun in without transportation snags.
Best Airlines Flying to Sedona
Ideally, you'll fly into Phoenix and take a connecting flight to Flagstaff. American Airlines serves the small airport, so consider booking a flight with them. You can also fly into Phoenix and take a scenic two-hour drive in a rental car or shuttle to Sedona. With this game plan, you'll have numerous options for airlines at your disposal, including Delta and Southwest.
How to Get Around
Hotels and resorts may provide airport shuttles. Inquire when booking. Uber and Lyft also offer on-demand rides. Travel in style for a night out in a limo. Some, like Jet Limousines, provide options for bachelorette parties.
Sedona Trolley is an easy way to see many sights in one trip. The Verde Shuttle connects central Cottonwood, where you'll find numerous wineries.