Glam Up Your Gown Display with this Sequin Hanger DIY
We've got the perfect DIY for your pre-wedding glam shots.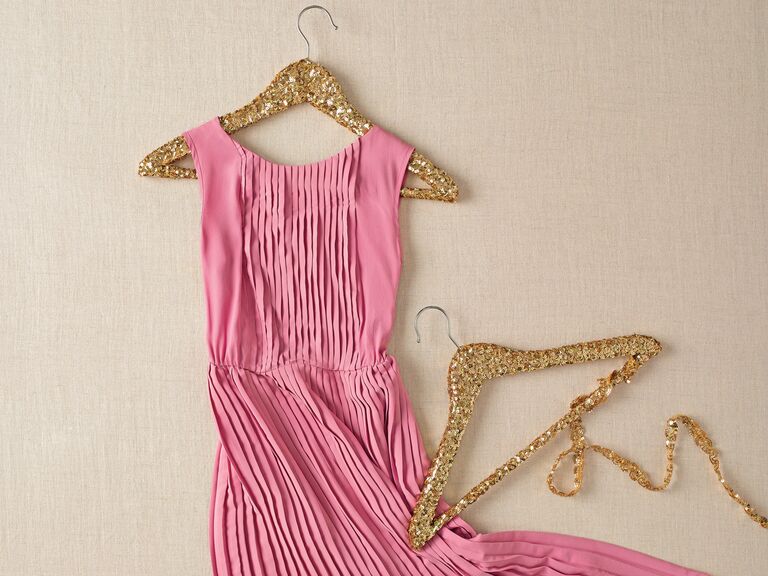 Devon Jarvis
A sequin-wrapped hanger is a festive (and inexpensive!) way to add a little embellishment to your getting-ready photos. Whether it's used to put the wedding gown on display, or as a little extra day-of gift for your bridesmaids, this DIY can live in your closet long after the celebration is over. It's a win-win!

Show us yours by tagging #theknotDIY on Instagram or Twitter.

hot glue gun
wooden hanger
170 inches of gold sequin trim
scissors


1. Measure and cut 65 inches of trim for each side and 40 inches for the bottom of the hanger.
2. Dab a bit of hot glue on the top of the hanger next to the hook where you'll begin wrapping the 65-inch trim. Place trim and hold until dry.
3. Apply hot glue as needed and wrap the trim tightly around the hanger as you go.
4. Dab glue on the bottom rung of the hanger and wrap the 40-inch trim until covered.
5. For the final side of the hanger, pull the trim through the hook, wrap toward the corner and secure with glue.
6. Tightly overlap the trim with the already done portion and wrap down the remaining side.
7. Wrap the trim at the edge of the hanger until it's completely covered and secure with glue.