18 Simple Wedding Invitations That Make a Big Impression
With clean lines and a sleek aesthetic, these options are anything but basic.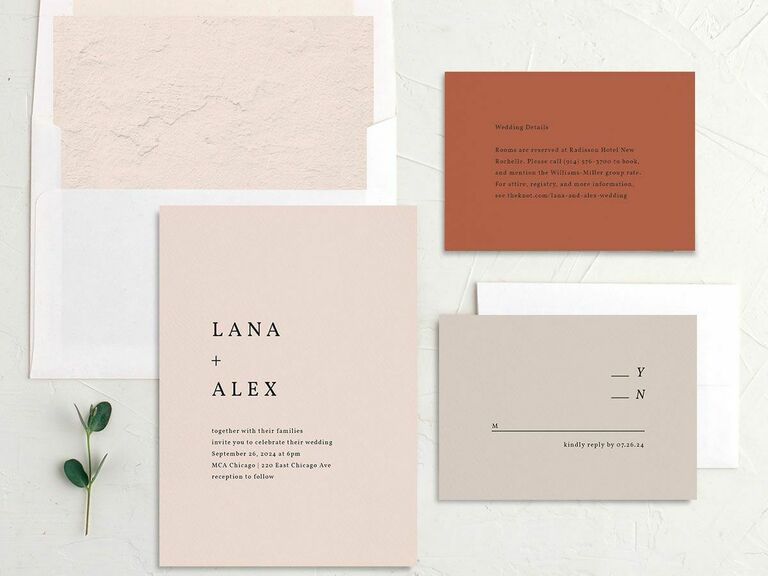 We have included third party products to help you navigate and enjoy life's biggest moments. Purchases made through links on this page may earn us a commission.
Wedding announcements and invitations have gotten all the more complex over the last century, but when they first came into style in the 1900s, simple wedding invitations were the way to go. There were no all-inclusive suites or supporting party details: It was just a single piece of correspondence from the hosts of the event, noting the occasion and the most important information surrounding the celebration (read: date, start time and locale). Nowadays, wedding invitation suites are stacked, both literally and figuratively, with information and aesthetic bells and whistles that offer a hint of the event to come.
However, if you prefer something more streamlined, there are plenty of high-quality designs that still feel special and celebratory enough for your big day. Keep scrolling to see 18 of the best minimalist wedding invitations - including a selection of our own, in-house templates available to shop right now at The Knot Invitations.
The Knot We Do Wedding Invitations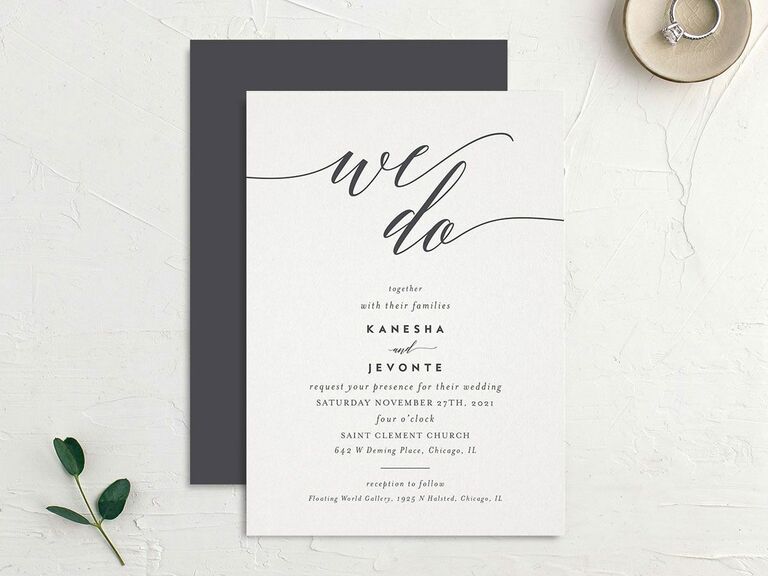 A crisp grey, navy blue or black motif is the epitome of a clean and simple wedding invitation design. Just add a mix of script and sans serif for a look that's luxe, yet clean.
The Knot Minimal Leaves Wedding Invitations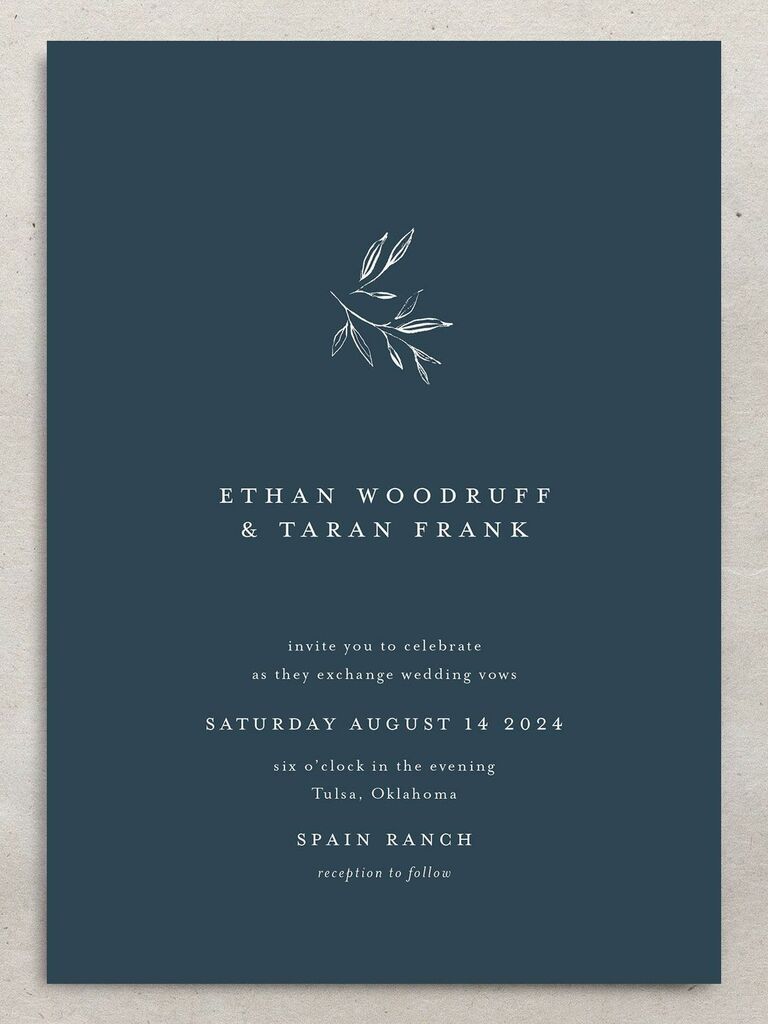 Color doesn't mean complexity, in fact, going tone-on-tone offers simplicity and cohesion. Available in eight different hues, this beautiful minimalist invitation features a charming eucalyptus leaf illustration that can be customized to your color scheme.
The Knot Natural Palette Wedding Invitations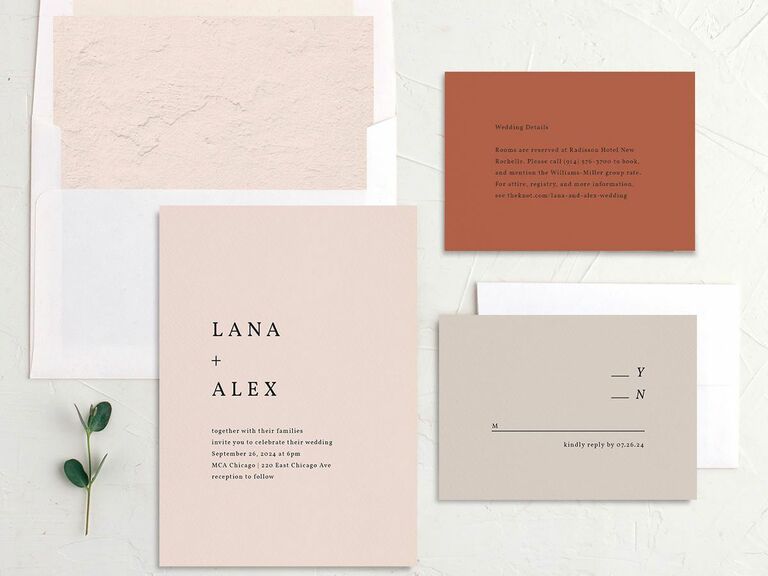 The serif fonts epitomize simplicity, as do the pared-down details—your names, connected by a plus sign, and a short and sweet suggestion for your guests to join you as you take this next big step.
Customize My Wedding Minimal Terracotta Wedding Invitations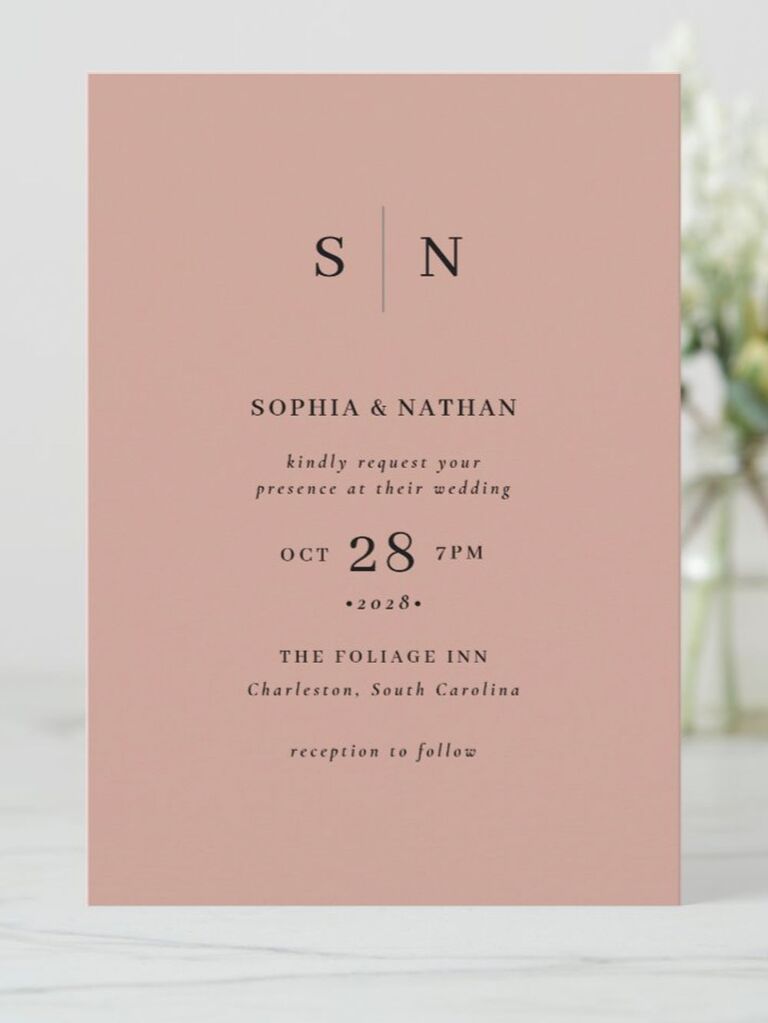 Simple doesn't just apply to just your main invitation card—your supplemental wedding cards and envelopes play a major part, too! We're big fans of choosing a pure, stark white envelope to reveal a gorgeously-bold invitation inside.
The Knot Minimal Chic Wedding Invitations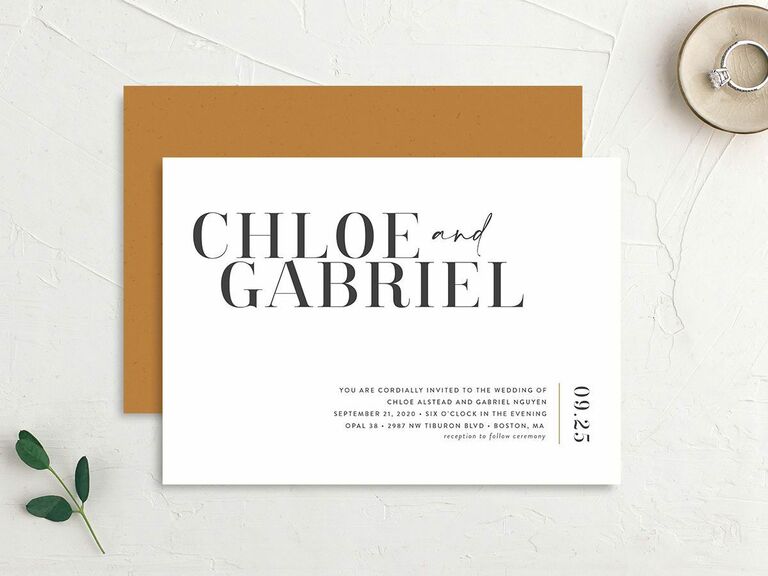 A wedding in the Northeast doesn't always call for coastal colors or preppy prints. Here, mustard marigolds and pastel pinks team up with a bold white canvas to create a wedding stationery look that's at once abstract and iconic.
The Knot Simply Striking Wedding Invitations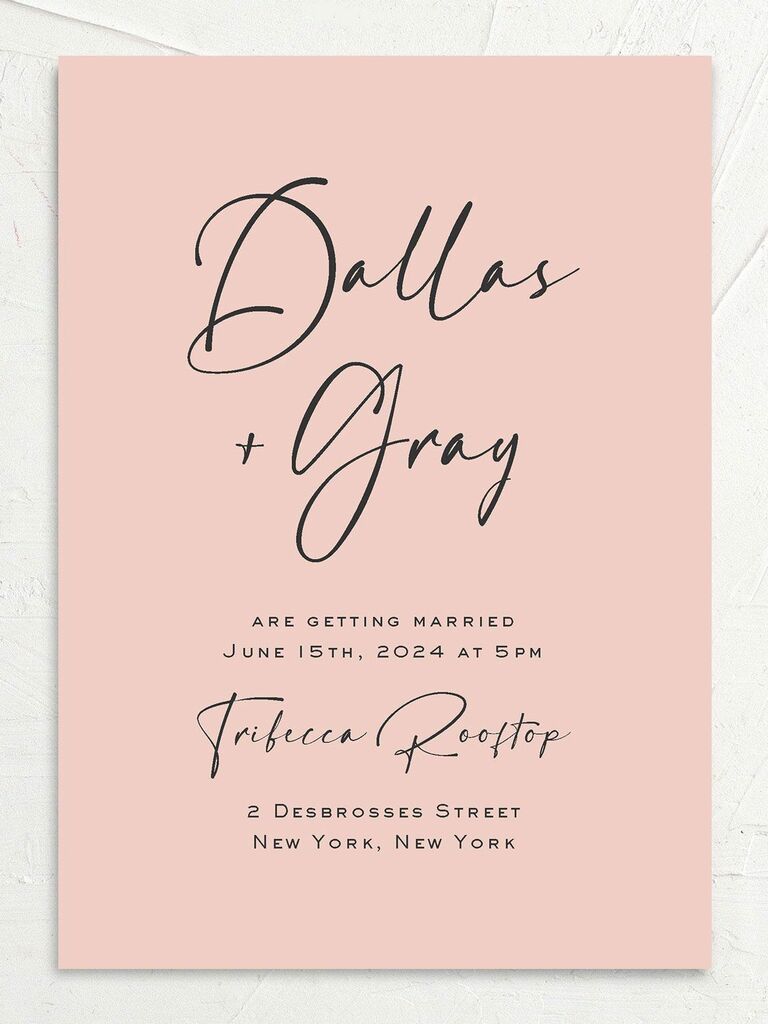 Not all wedding invitation wording needs to be extra. This one showcases your two names in a striking, script-style font, with short-and-sweet wedding details presented below.
The Knot Botanical Initials Wedding Invitations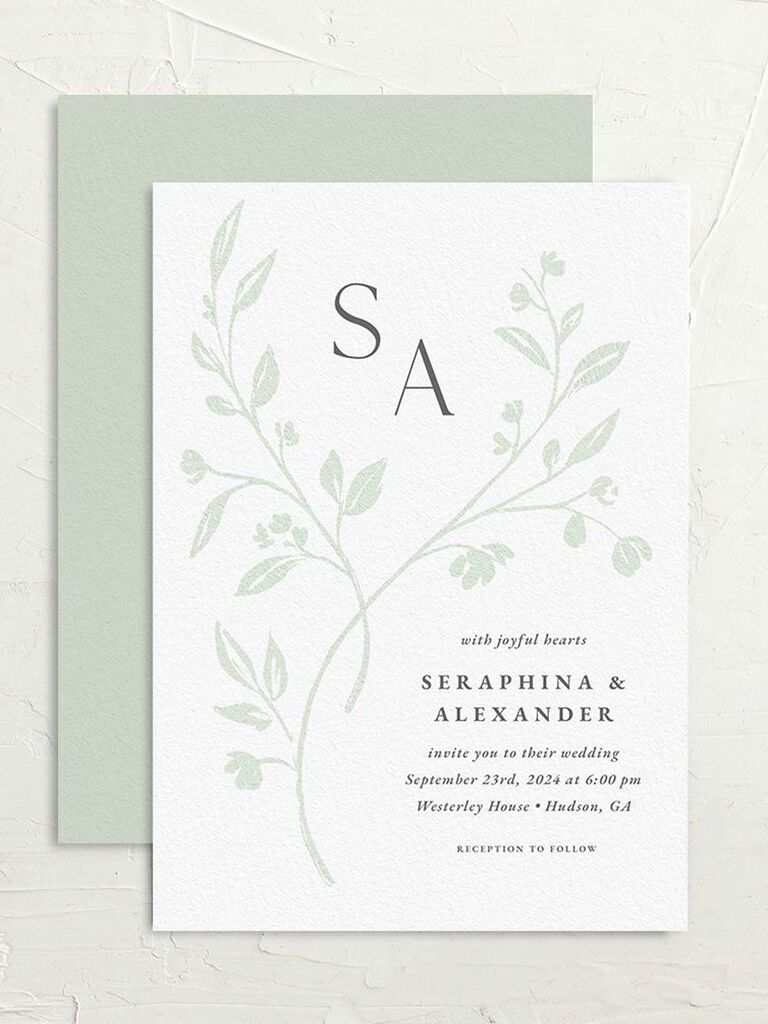 Even though the botanical motif flows from top to bottom, it's not overwhelming. We love the white, textured background with the botanical color coming through in the delightful envelope liner. And those staggered initials offer such a clean and quiet touch of the contemporary.
Maria Hilas-Louie Simply Stated Wedding Invitations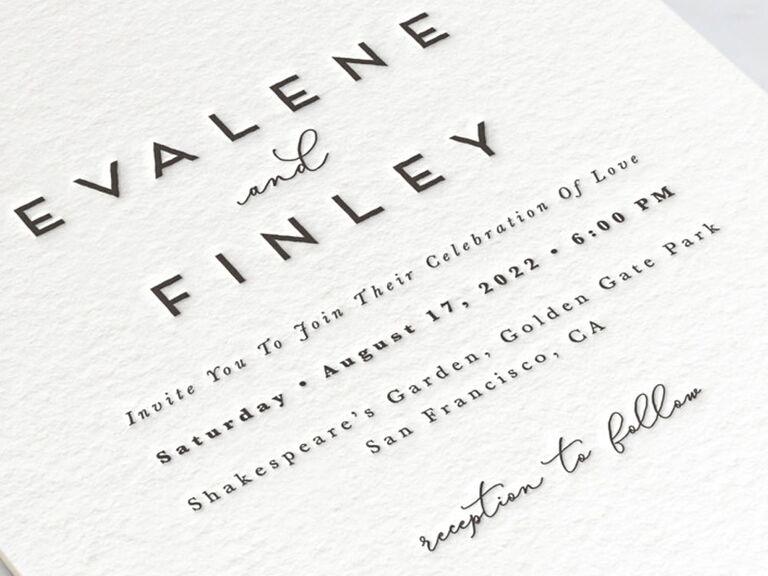 Letterpress is synonymous with simple—and we love everything about it! With this luxe modern typography, you can get your guests up to speed on your wedding, without going overboard with endless embellishments.
The Knot Orange Citrus Wedding Invitations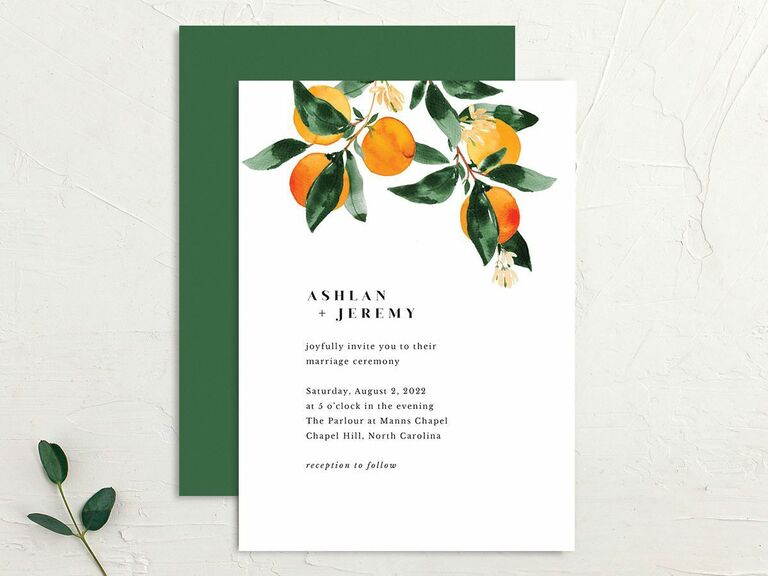 Vibrant pops of color on a wedding invitation suite can also qualify for simple. The crisp, white background and mix of bold, staggered and san serif fonts keeps the design looking clean and timeless, while the imagery up top hints at a larger theme.
Phrosne Ras Very Plain Wedding Invitations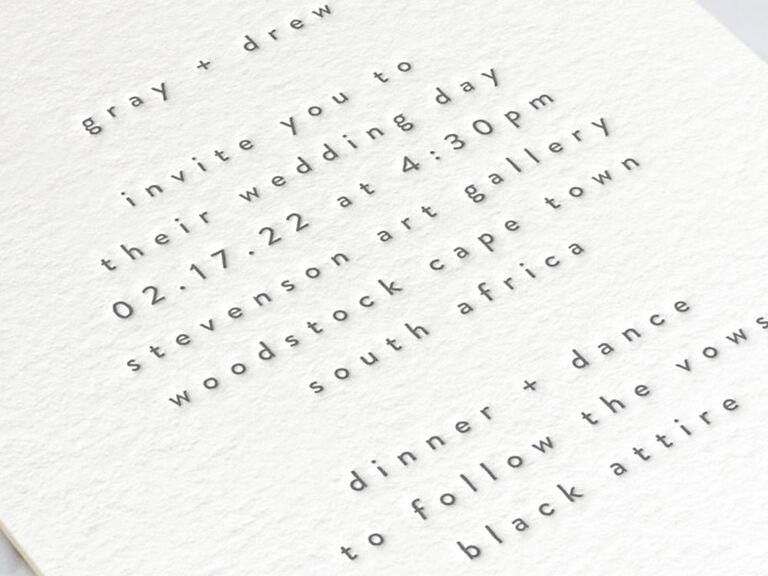 There's no shame in this ''very plain'' game. This modern, gray-only letterpress text feels cool and unexpected, while the hint of texture offers interest that's not overwhelming.
Artifact Uprising Hand-Lettered Wedding Invitations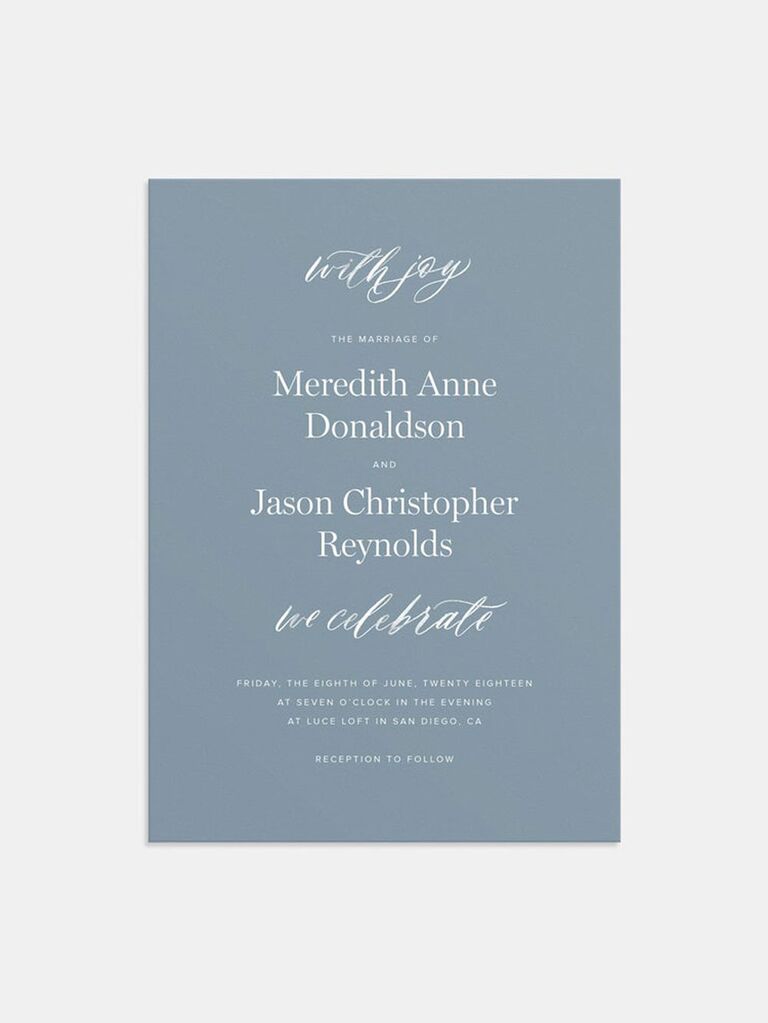 Available in three different color combos, this sleek invite with a touch of calligraphy is a minimalist dream. The black on white colorway is crisp and intentional, while the white on pale blue or coral is soft and sublime.
Artifact Uprising Bold Beginnings Wedding Invitations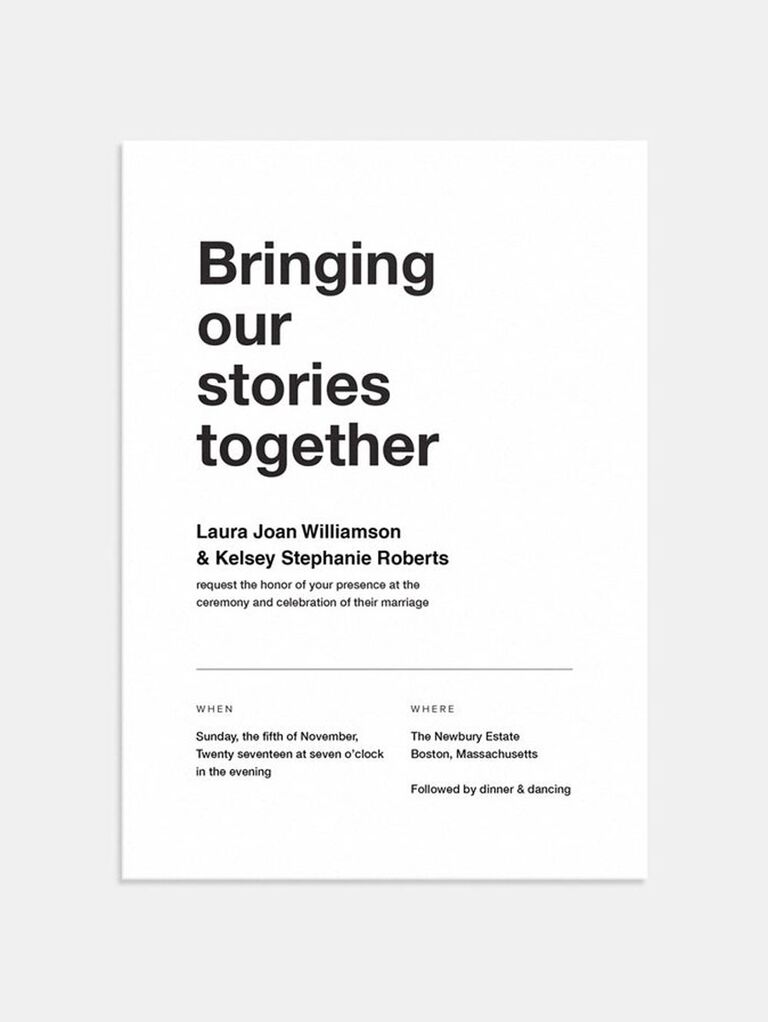 The straightforward format reads almost like a newspaper headline in this modern wedding invitation. Choose from four colorways for the invites and three envelope options to custommize a look that brings your story to life.
Papier Speckle Foiled Wedding Invitations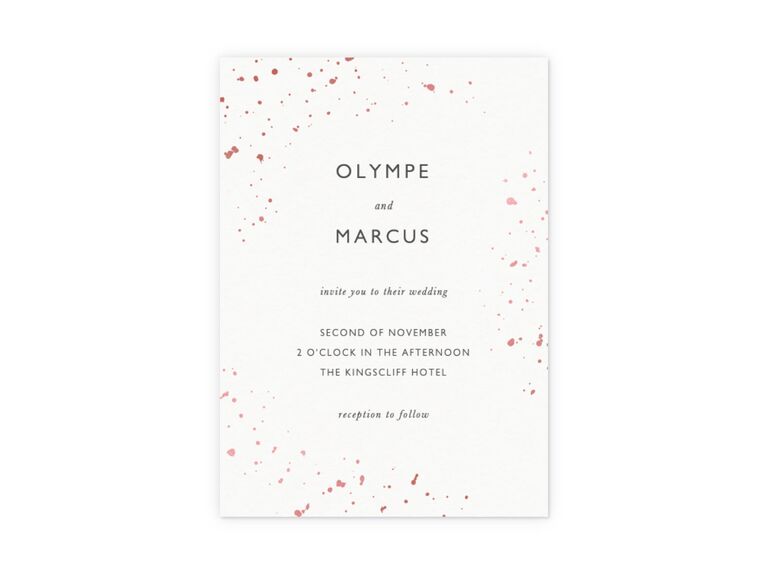 Sure, it's simple, but by no means is it basic. The addition of the gold or rose gold foil elevates the grey on white aesthetic with a hint of shimmer and could allude to all of the metallic motifs to come on your wedding day.
Papier Wildflower Monogram Wedding Invitations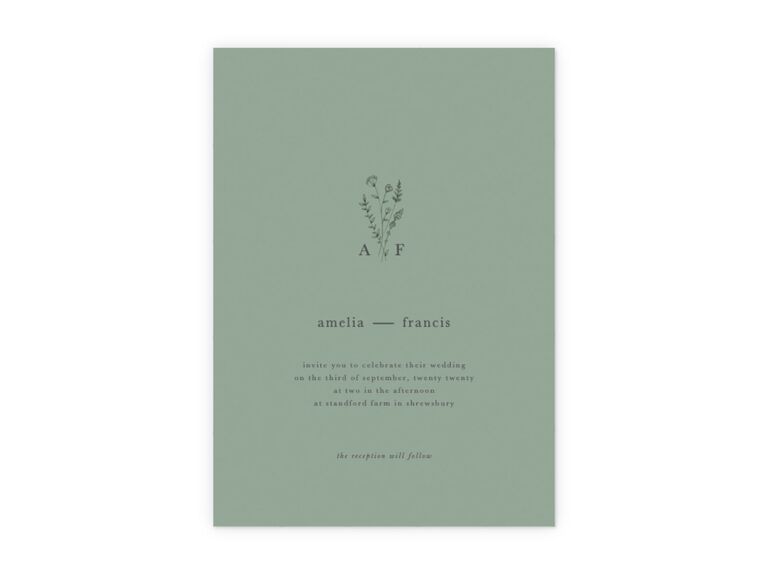 Another wonderful thing about simple wedding invites is that there's one for almost every vibe. This wildflower monogram motif sets the stage for a rustic wedding that's sweet yet sophisticated.
Paper Culture Foil Perfect Union Wedding Invitations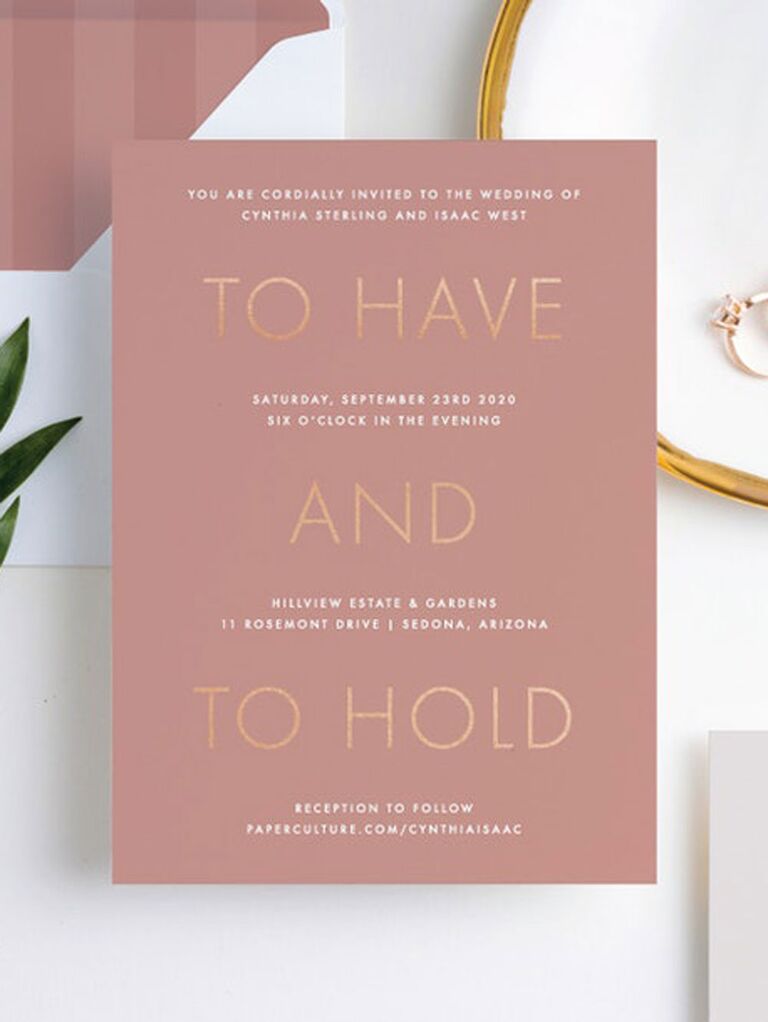 The graphic block lettering and hint of shimmer take these minimalist wedding invitations up a notch. Choose between three color combinations that offer different hits of metallic foil: rose gold, gold and silver.
The Knot Simple Script Wedding Invitations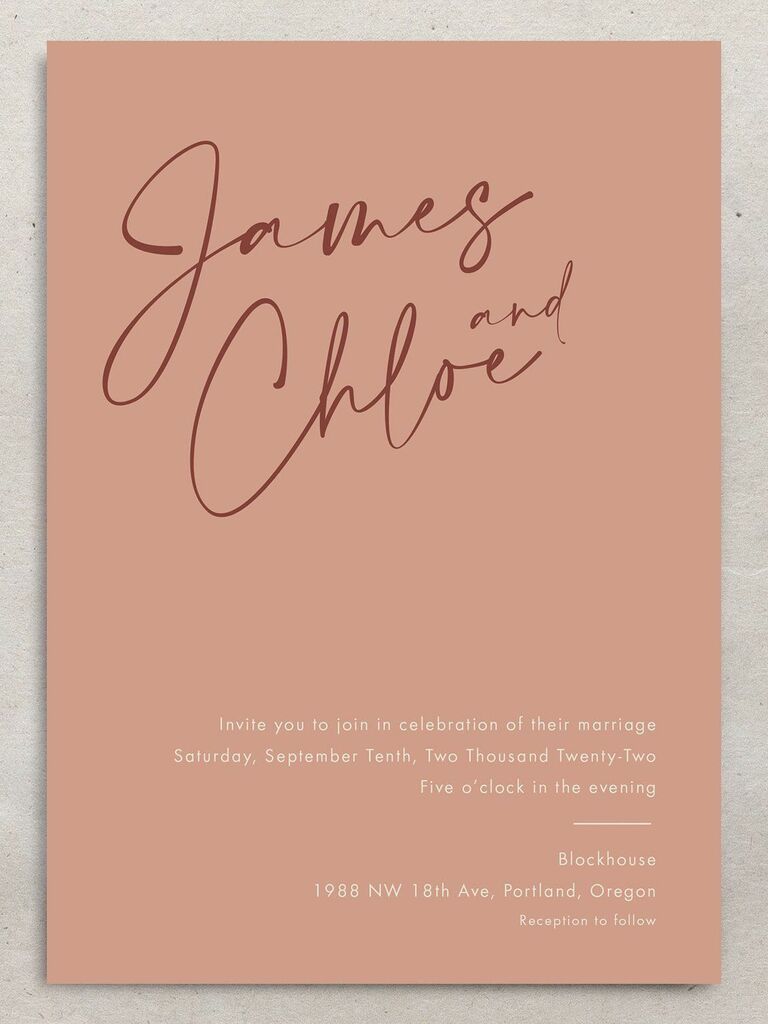 The delicate sans serif type feels as simple, while the off-centered handwritten script brings a bit of intrigue. The light juxtaposition of the light and dark colors also adds interest to not only the wedding invite, but the rsvp card, too
The Knot Simply Us Wedding Invitations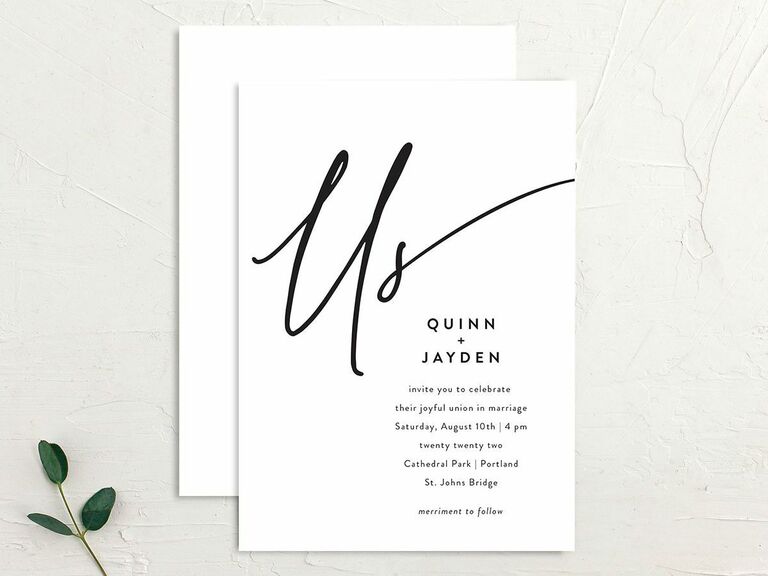 Black and white is one of the simplest, yet most striking color matchups for a wedding invitation design. The scripted "Us" provides a focal point in lieu of an illustration for an invite that's simple, yet luxe.
Kelly Schmidt Waldorf Wedding Invitations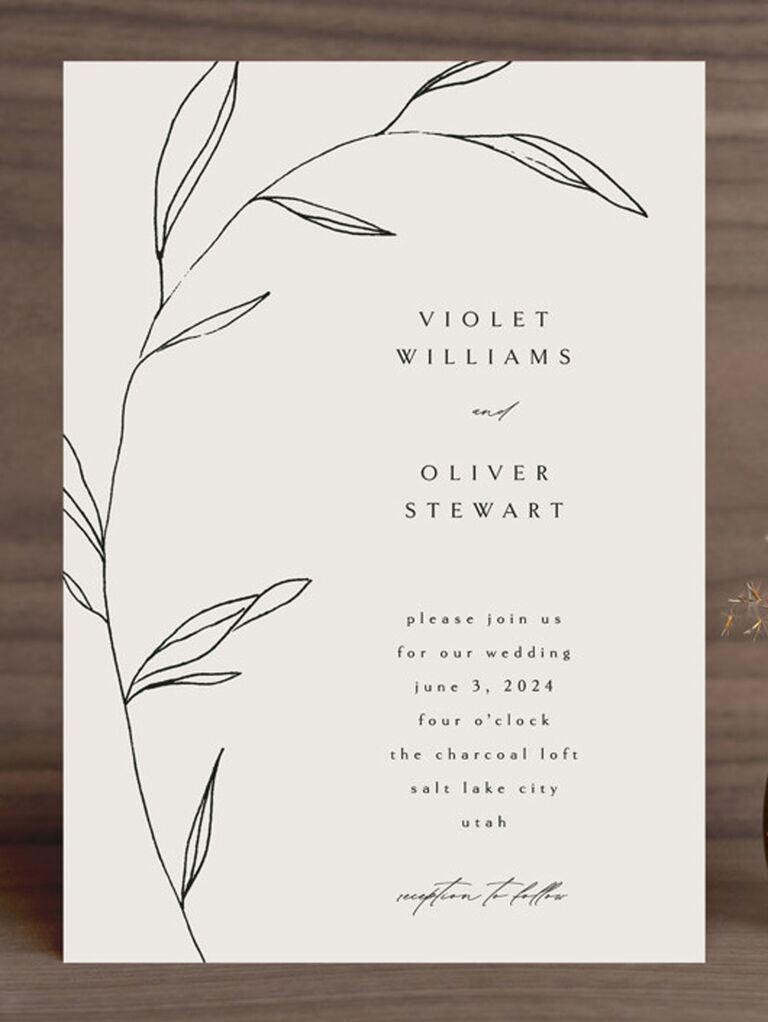 We honestly don't know what we love more, the subtle script sprinkled throughout or the hand drawn botanical illustration. Available in a variety of hues, this cardstock invite can be customized for any event.