28 Spring Wedding Invitations Filled With Florals and Fun
These seasonal invites—ranging from retro to Regency—will surely put a spring in your step.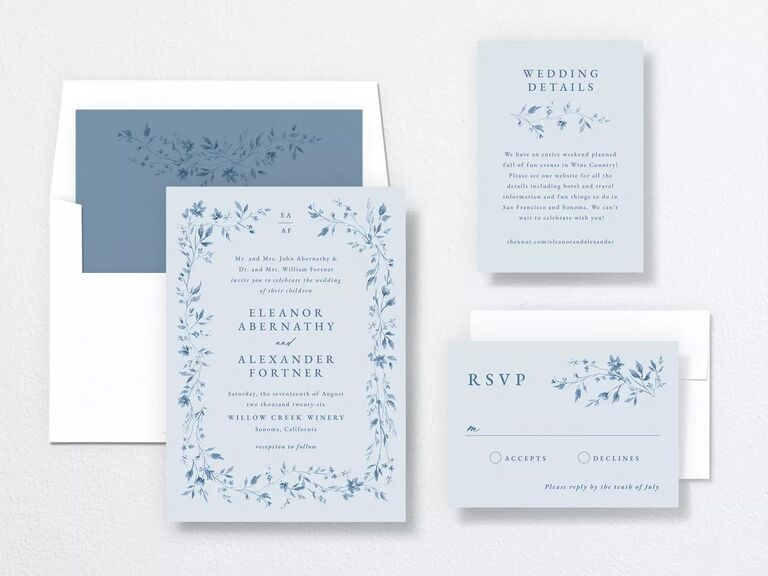 Petals and pastels are a given when it comes to spring wedding invitations, but there are so many more ways you can set the tone for your seasonal soiree. Whether you're planning a garden affair straight out of the Regency era perfumed with blooms and drenched in sunshine or a retro bash celebrating the joy of the season with bright colors and a disco ball or two, your spring wedding invitations should feel evocative of the season and aptly capture your unique energy as a couple.
Below, we've curated a selection of our favorite spring invites from the latest The Knot Invitations drop. The designs range from classic, to maximalist, to modern to eclectic—all categorized by some of our favorite aesthetics we're seeing on the spring wedding front this year. And if you're looking for even more spring-themed wedding invitations, you're in luck, because the collection includes even more stunning options. No matter which you choose, you'll be one of the first to show off one of these new styles to your ever-excited guests.
Themes in this article:
Dopamine Dream
If you and your partner are definitely the "fun" couple in your friend group, then these bold and bright invitations are perfect for your wedding (because we know it's going to really be a party). These invites are super celebratory, with playful phrasing and funky fonts that feel like spring sunshine. And with punchy colors like creamsicle orange and mystic purple, these are so staying on each of your guests-to-be's fridges.
The Knot Retro Sunburst Wedding Invitations
Don't these stellar sunbursts just make you smile? The bold shapes and early-sunset-like color palette (just one of many vibrant options) perfectly captures the joy and celebratory energy of spring. This invite showcases all of your big-day details as well as your names in cheery all-caps. Seriously, this stationery is a ray of sunshine.
The Knot Tropical Glamour Wedding Invitations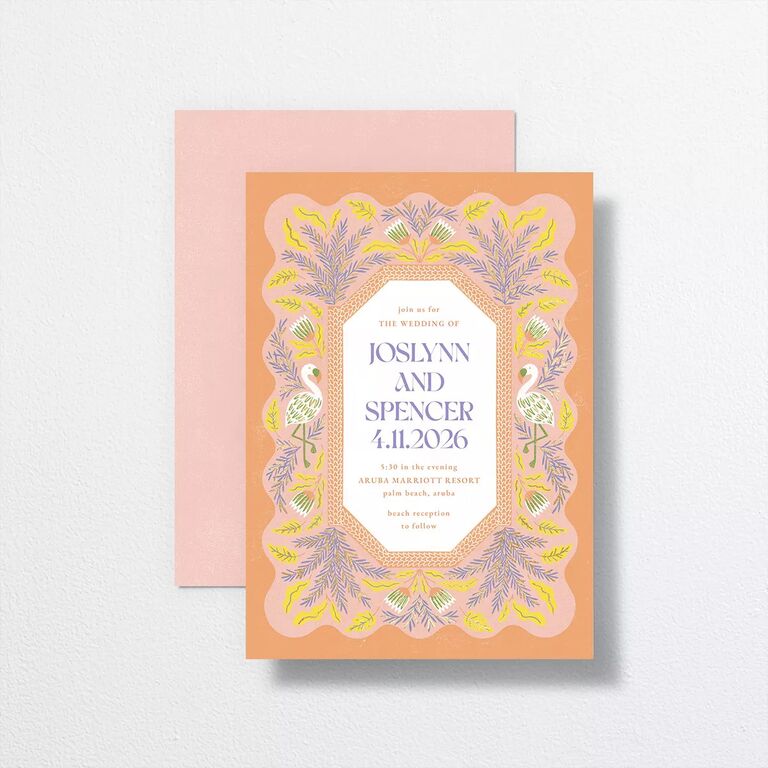 If you've got a tropical destination wedding on the books sometime this March through June, these unique spring wedding invitations will let your guests know what to expect in a super-bold and stylish way. The highlight of the invite is the softly scalloped illustrated border, which features colorful palm fronds and leaves along with sweet flamingoes—the pattern feels so luxurious it would be right at home on a designer swimsuit. The bold contemporary fonts are the perfect complement to the ornate details, which include splashes of metallic foil.
The Knot Wedding of the Century Wedding Invitations
Let your guests know exactly what they're in for ahead of your big day, which is the wedding of the century, of course. We love how bold and clean these spring wedding invites are, with a sans-serif font at the center paired with contrasting script spelling out your names. The script's handwritten style totally reminds us of penning our spring crush's name in school notebooks back in the day, too.
The Knot Screen Print Wedding Invitations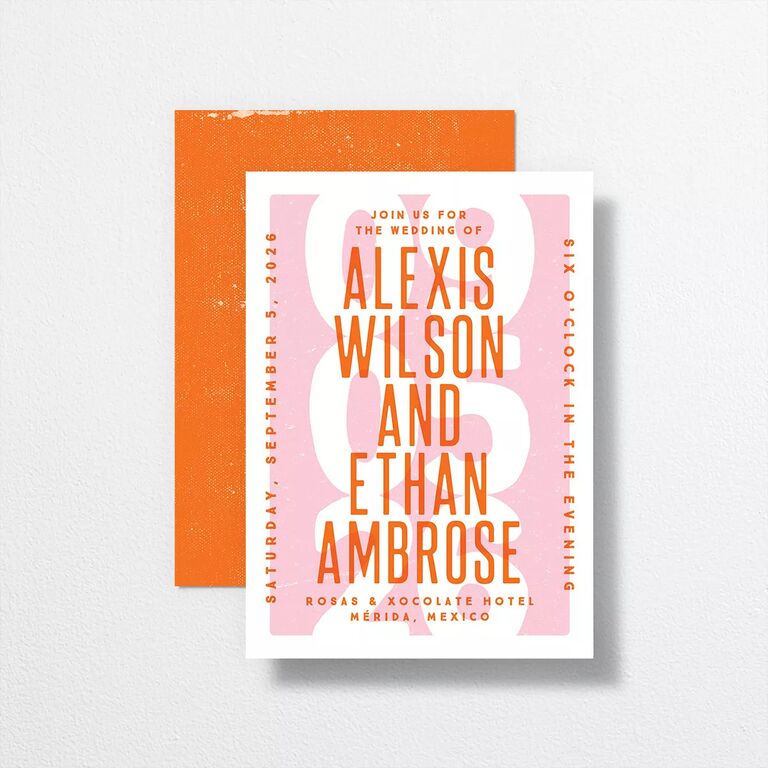 If you're the kind of couple that's all about the fun and not about the fuss, we love this simple, yet bold invite for a spring wedding invitation idea for you. It's a vibrant explosion of color and text and showcases all of the important day-of deets front and center. The colorways are super punchy and perfect for a springtime bash, and we love the extra textured pop on the back of each card.
Earthy Nouveau
The Earthy Nouveau style has the whimsy of a garden party, but offers an extra touch of spring sophistication with neutral, natural hues. These invitations are the epitome of earthy elegance, adorned with rustic wreaths of wildflowers, vintage-y Art Nouveau-inspired fonts and illustrated vines evocative of fairy tales. The deep greens and gilded touches offer subtle nods to the season's golden sunshine, verdant tones and sparkling dew drops.
The Knot Wildflower Nouveau Wedding Invitations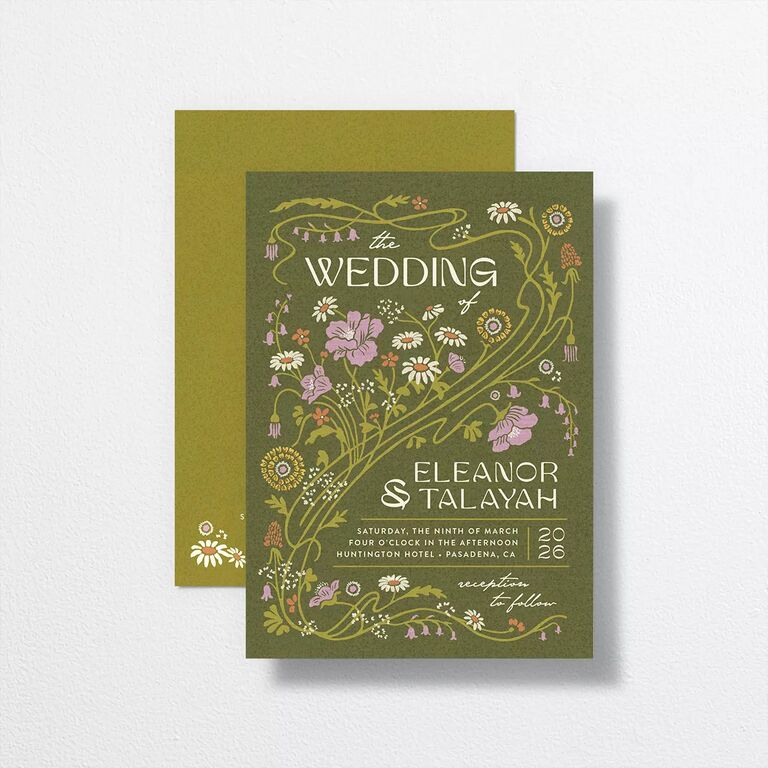 These whimsical invites feel plucked from a fairy tale. The winding wildflowers bring to mind meandering meadows and magical tree hollows where woodland creatures reside. The placement of every bloom feels so organic and thoughtful, while the Art Nouveau font adds an old-world vibe that makes these invites timeless.
The Knot Tulip Corners Wedding Invitations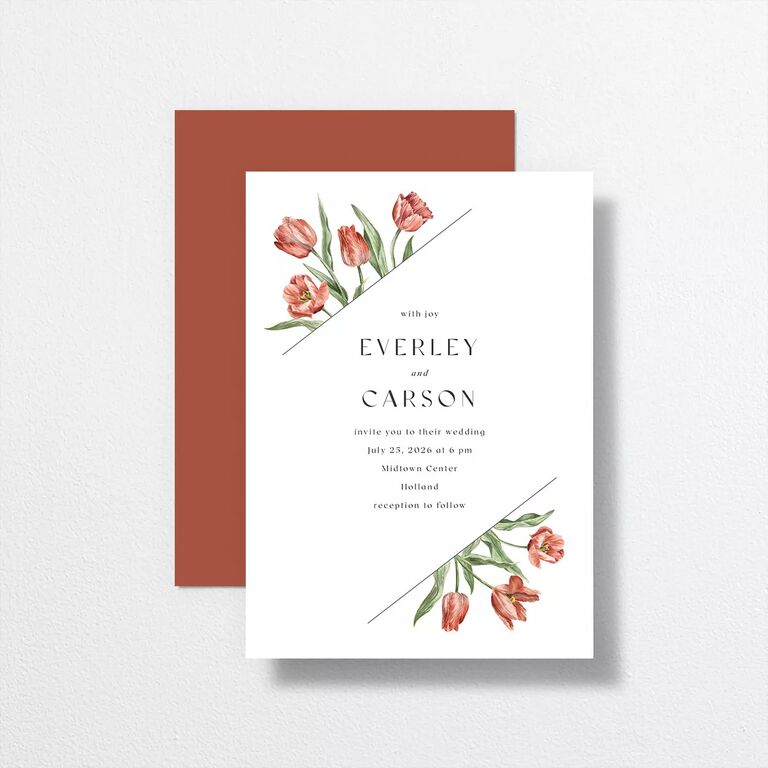 Tulip bulbs coming up in the garden is one of the first signs of spring, so naturally we had to include this minimalist botanical invite. Two corners of soft tulips in various stages of blooming frame your wedding day details, with fonts that offer a little classic-vintage flair. Choose from numerous colors of blooms—the warm reddish-orange hue especially has our hearts.
The Knot Crafted Garden Wedding Invitations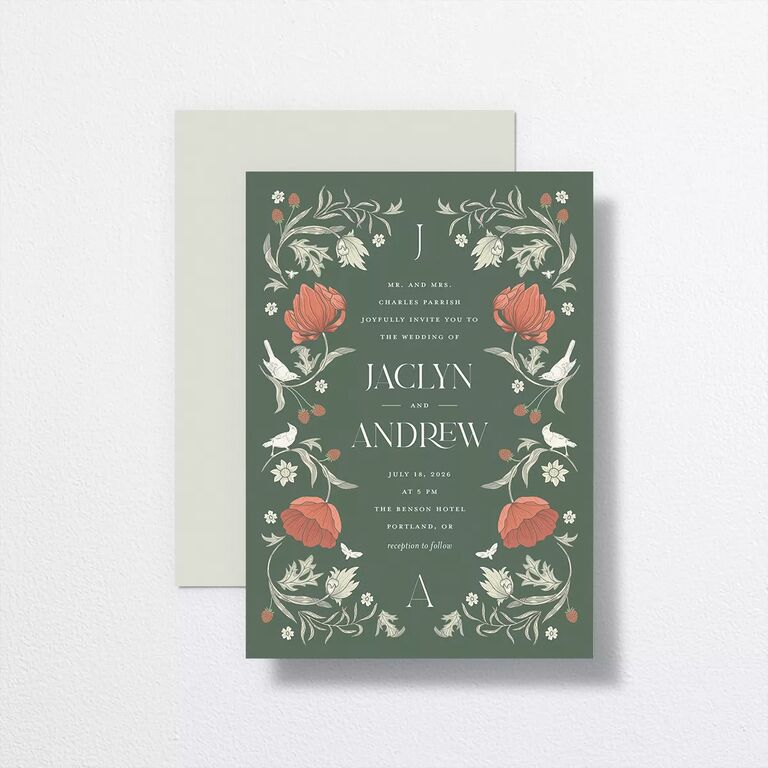 Romantic florals and antique-like text are a match made in heaven. The beautiful touches of nature make this invitation all the more special (and so lovely for springtime nuptials). Feathery leaves, poppy-like blooms and sweet little birds perched on their stems frame the center space and are an apt nod to the organic motifs that are hallmarks of the Art Nouveau style. These are the most perfect spring garden wedding invitations.
The Knot Nouveau Frame Wedding Invitations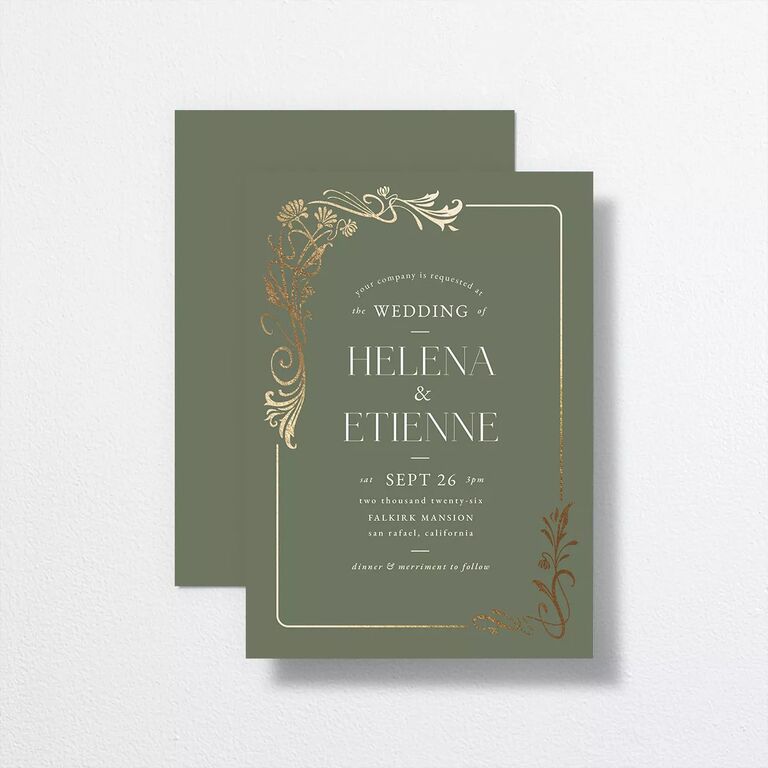 The design of this invitation is pure vintage sophistication. It features an eye-catching foil frame with corners adorned with the sweeping strokes and botanical motifs that are so intrinsic to Art Nouveau. And the array of contemporary fonts are so thoughtfully chosen and arranged: An arch of text crowns your names and wedding information, while capitalization and italics add layers of nuance.
Enchanted Boho
The softness and nature-forward feel of a Bohemian wedding is ideal for spring—just imagine walking barefoot down an aisle made of soft grass while holding a bouquet spilling over with greenery and wildflowers. These boho invitations feature shades of rustic beige, green and apricot that evoke spring serenity, along with pampas grass, delicate daisy arches (reminiscent of flower crowns) and mandala-like geometric touches.
The Knot Wild Daisies Wedding Invitations
A single sprig of daisies climbs up one side of this charming invite. The wispy and wild flowers feel so carefree and lighthearted, perfect for your boho bash. While all of the colorways are stunning, there's something about the cream-hued blooms against the gray background that's especially enchanting.
The Knot Ethereal Pampas Wedding Invitations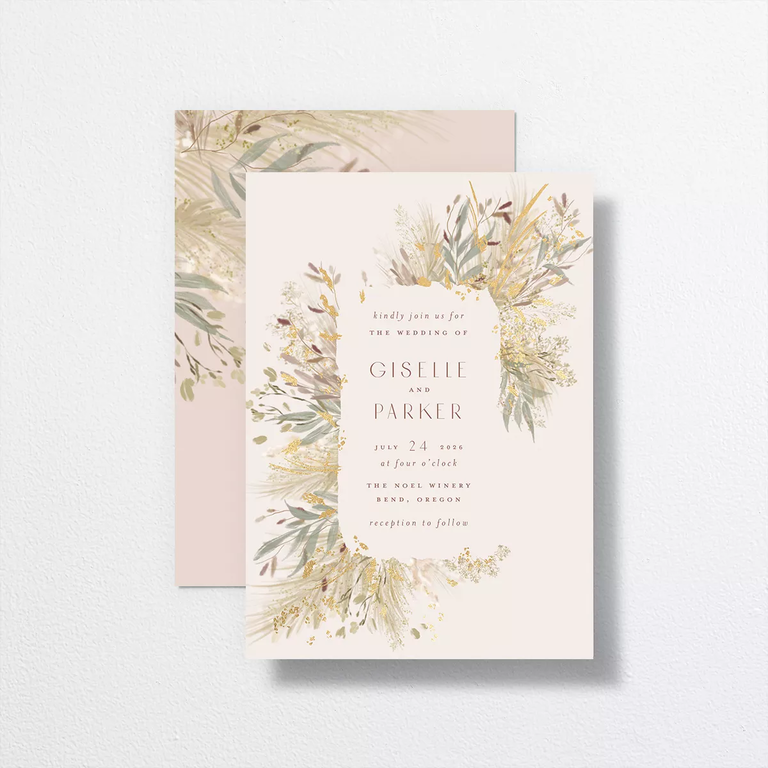 If your aisle will be lined with pampas grass dancing in the breeze, this invite will mirror that detail of your big day. A frame of grass, florals and foiled leaves surrounds your wedding information in a way that looks both organic and intentional. We can't get enough of the soft hues (something different for a spring wedding, but still not too far astray from the classic pastels)—most of all the sandy pink. They're the perfect bohemian rustic spring wedding invitations.
The Knot Painted Henna Wedding Invitations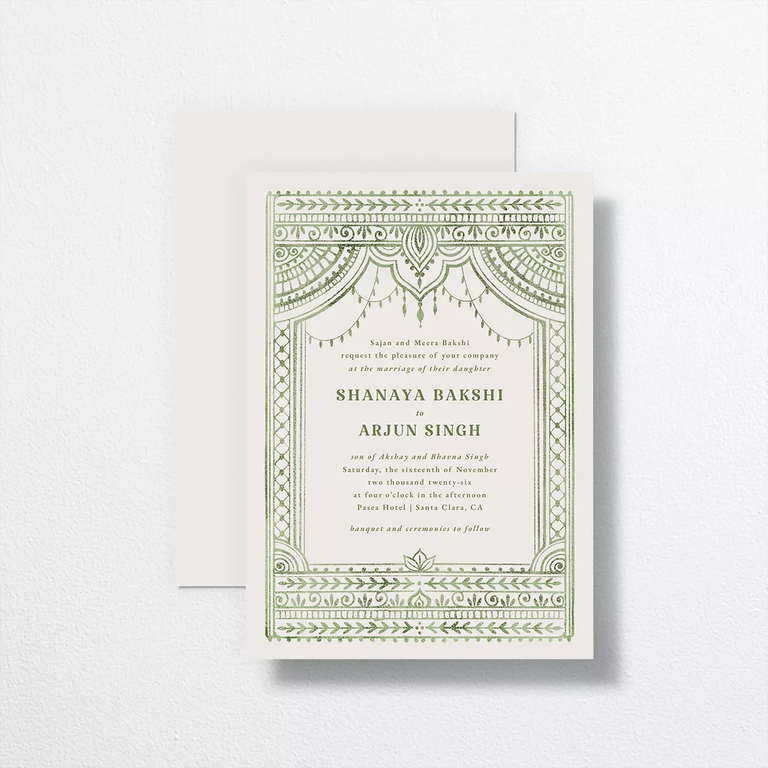 If your wedding involves a prewedding henna ceremony, this invitation's ornate pattern is a nod to that beautiful and meaningful cultural tradition. Fine lines, swirls and draped strands of beads frame your names and event information in a bold and captivating way. Choose the spring green hue for an extra touch of seasonality.
The Knot Block Print Wedding Invitations
These simple floral stamped invites remind us of hand-painted boho fabric. Swirling monochromatic vines and spring blooms cover the background, while a bare rectangle frames your text perfectly. It's decorated with a tiny, special detail, too: a sweet monogram in the upper right corner showcasing your initials.
Neutral Glam
Spring weddings are known to be elegant, with the timelessness of pale colors and classic in-season blooms. These Neutral Glam wedding invitations capture that elegance in a different, more modern way—through organic shapes, glittering gold accents and grays that bring to mind the softness of spring rain. A few feature a glamorous combination of swirling calligraphy script and simple serif text that's as delicate as the wings of a butterfly.
The Knot Timeless Frame Wedding Invitations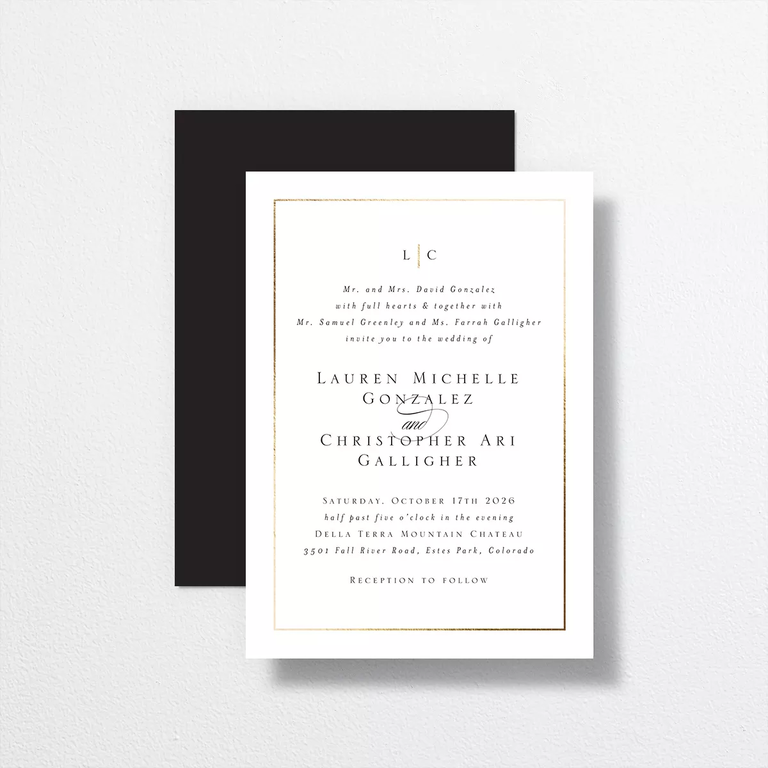 A spring wedding is all about simple elegance—these classic invites capture that energy beautifully. The understated design features all-caps serif and delicate italic fonts, with a touch of cursive to give visual dimension to your event details. It's crowned with your and your soon-to-be spouse's first initials and frames your names, wedding date and day-of info with a minimalist foil border. While you can select many colorways and foils, we love the chic combination of the black font and gold foil.
The Knot Monogram Slant Wedding Invitations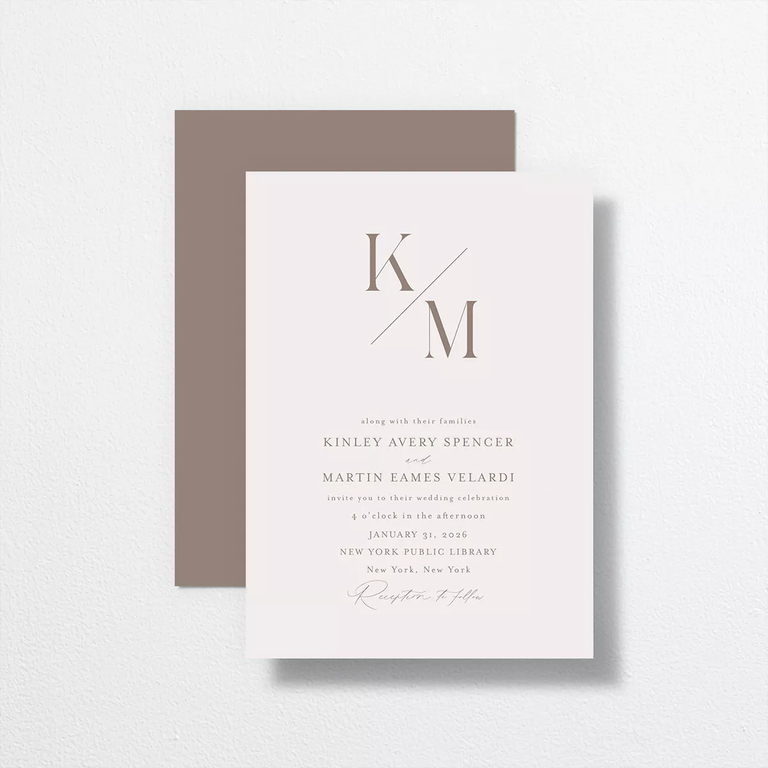 We love how this modern invite keeps the most important things front and center (you and your fiancé) with an eye-catching minimalist monogram at the top. The boldness of that design detail is offset by the wafer-thin fonts used below to spell out your day-of details. A kiss of script offers a touch of tradition on an otherwise modern piece of stationery.
The Knot Monochrome Blooms Wedding Invitations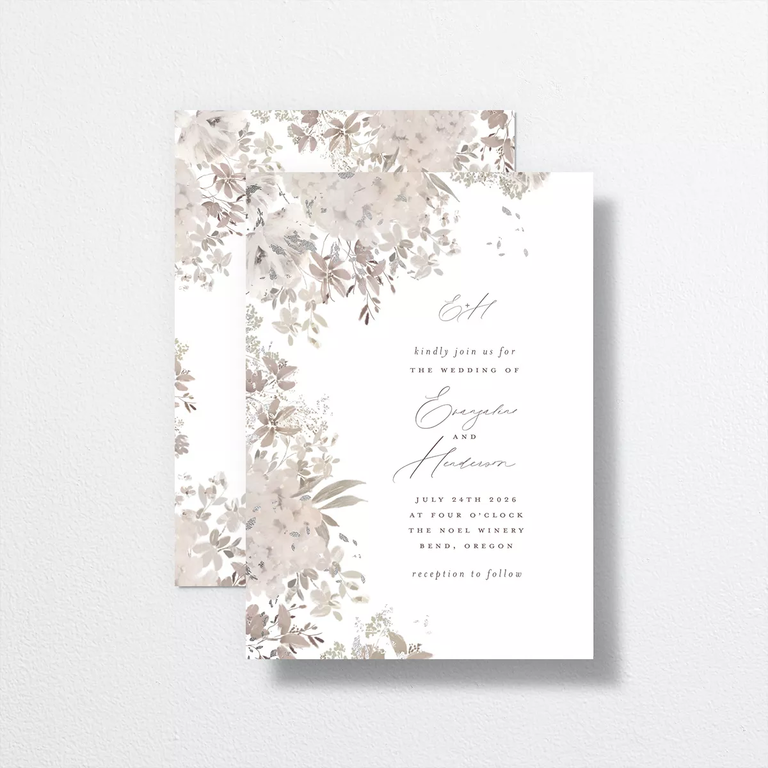 Classic spring florals, but with a timeless twist. We love the painterly taupe blooms that line the top and left side of these spring flower wedding invitations—they guide the eye in a natural way so that it loops down, up and around, landing on your wedding information spelled out in lovely type. Even the back is framed in flowers. And selecting the silver foil accents brings the perfect amount of dew drop-like sparkle.
The Knot Nouveau Vines Wedding Invitations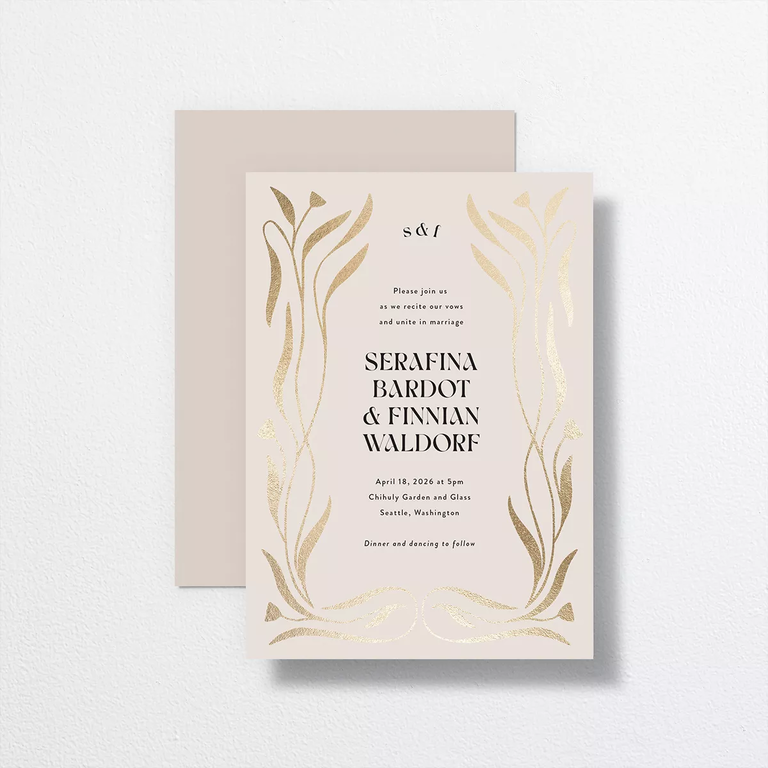 Simple glamour is the name of the game when it comes to these sparkling invites. We adore the Nouveau feel of the central font and how the silhouetted wreath of leaves and vines offers a minimalist and modern take on spring flora. The fact that they're gilded in your choice of foils makes them all the more eye-catching. We love how well the gold option plays with the creamy beige background.
Pastel Party
Spring weddings are synonymous with pastels for sure, but these cool colorways take the tradition to a place that's fresh and modern. The palettes feature colors that are true eye candy—cotton candy blue, dreamy lavender, mint green and kisses of sweet peach—paired with punchy florals and joyful fonts. All together, these invitations feel like an eclectic nod to a spring rainbow.
The Knot Scattered Blossoms Wedding Invitations
Nothing says spring like a delicate smattering of candy-colored blooms. These petals look like they're hand-painted in watercolors and surround your event details in such a graceful way. And the foiled touches bring it beyond just a classic pastel floral option—we love how the gold adds dimension to each petal.
The Knot Modern Magic Wedding Invitations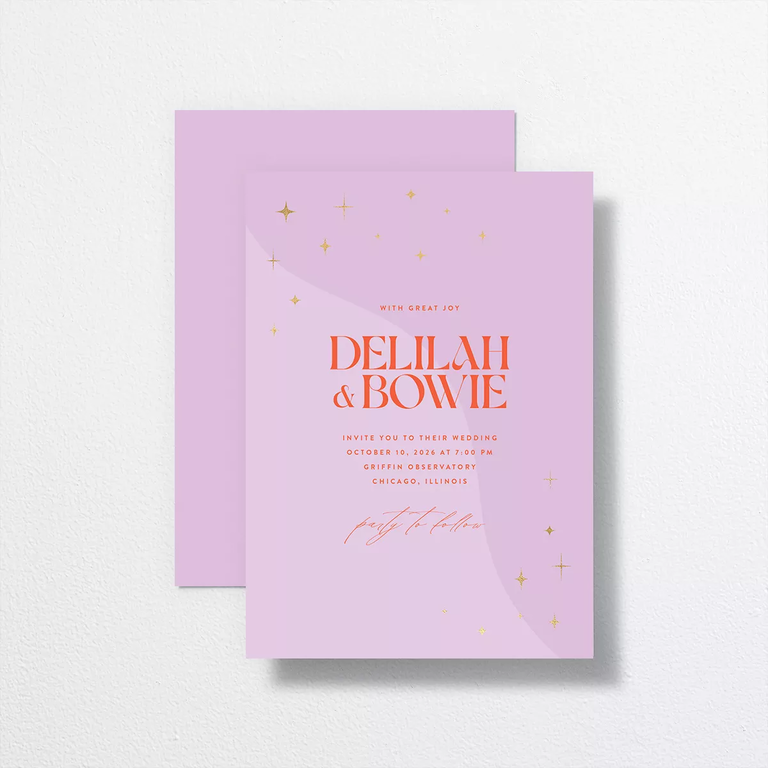 These enchanting celestial invites make our hearts flutter—just like stargazing at the spring night sky. A subtle two-toned pastel background is adorned with punchy text in a contrasting color and the most delicate sparkling stars at two opposing corners. The best part might just be on the back, though, where an unexpected message reads, "It was written in the stars."
The Knot Ethereal Blur Wedding Invitations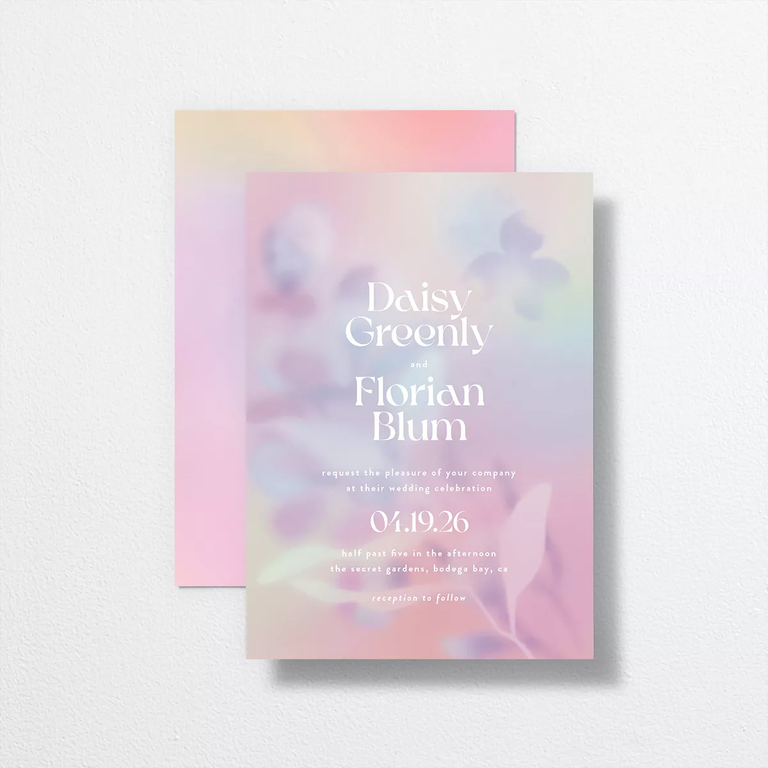 We've never quite seen a pastel invite like this one. The hues are nearly holographic as they blur together to form a unicorn-like colorway. Softened silhouettes of flowers add interest to the background, while the white font doesn't compete with all of the dreamy shades. Your guests won't be able to look away from this mesmerizing invite (so they definitely won't forget any important details).
The Knot Ethereal Sunset Wedding Invitations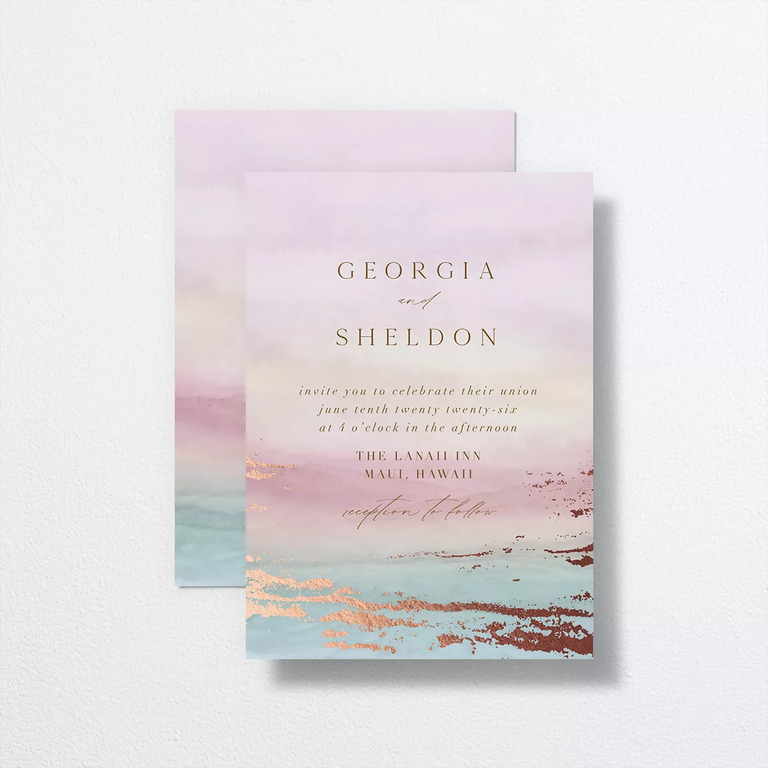 If your love makes you feel like you have your head in the clouds (cotton candy-colored sunset clouds, that is) this artistic invitation is fitting for your springtime nuptials. The background looks like a watercolor painting, with dashes of color softly blending into each other, and swaths of sparkling foil (try rose gold) add even more magic. Romantic fonts adorn the front, while the beautiful background extends to the reverse.
Regency Romance
Daphne Bridgerton would swoon over these romantic invitations that evoke the opulence and elegance of the Regency era. Request your honored guests to attend your celebration with invitations adorned with delicate ribbons, intricate florals, royal gold touches and decorative details reminiscent of jewels strung from a ballroom chandelier. Not only are the motifs lovely for a springtime affair, but the focus on blue across this assortment reminds us of the spring sky (and feels unique in a season so often associated with pink and green).
The Knot Timeless Floral Wedding Invitations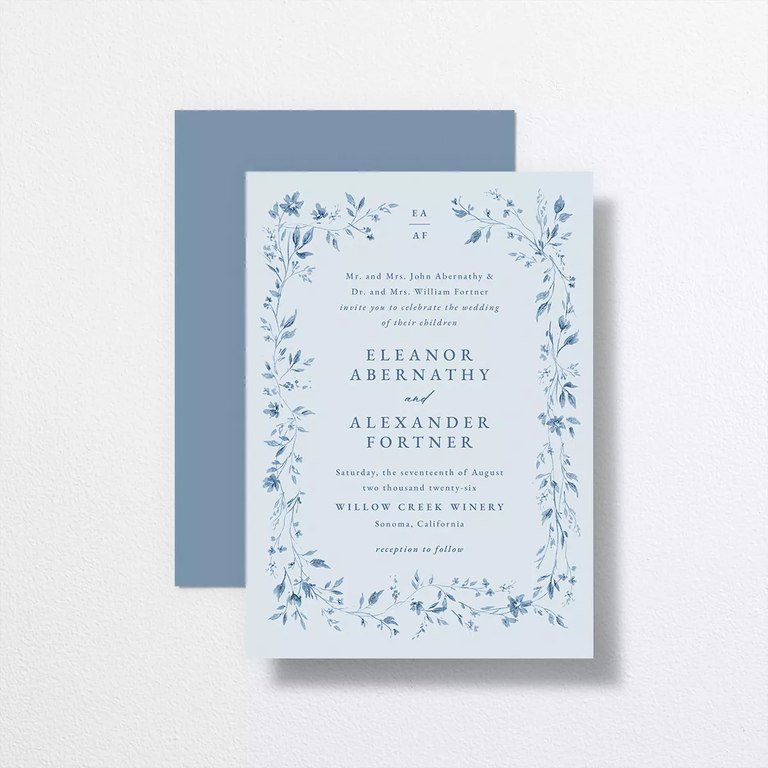 The delicate inky florals that encircle this invitation feel effortlessly romantic as they meet at the top around an understated monogram. The ultra-thin linework feels antique—like delicate embroidery on a ball gown—as does the array of soft shades you can choose from. (We're partial to the Bridgerton blue, of course.)
The Knot Gilded Wildflower Wedding Invitations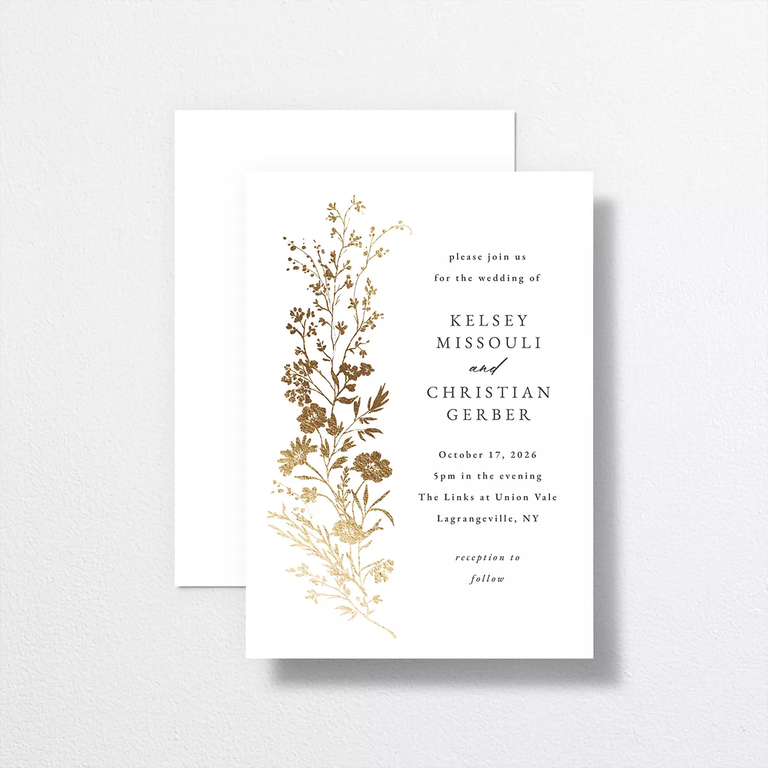 The gilded wildflowers that flank one side of this invitation seem to sparkle and glow like the spring sunshine. They add the perfect amount of adornment to this classic design, which features soft italics and accent calligraphy. Pick from a range of elevated colorways and gold, silver or rose gold foil.
The Knot Enchanted Evening Wedding Invitations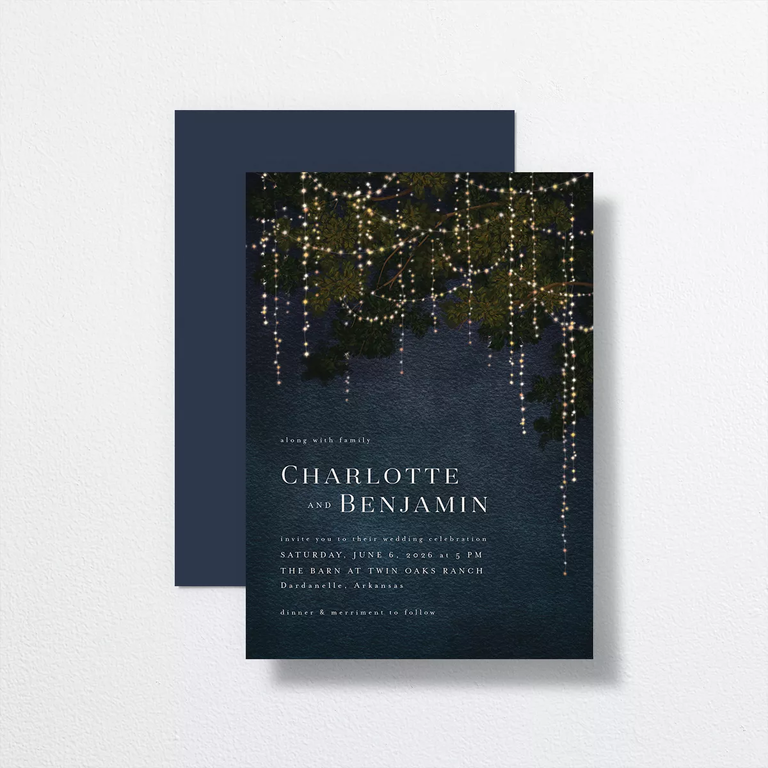 Whether you feel it evokes the crystal strands on a Regency chandelier or mimics the twinkling fairy lights strung throughout the trees at your al fresco spring affair, this luminous design is so enchanting. Delicate firefly-like lights and branches adorn the top of the invitation, while your details are simply spelled out below. We love the blue colorway, which makes us feel like we're spinning across the dance floor until the wee hours, as well as the sunset-like multicolor option.
The Knot Vintage Toile Wedding Invitations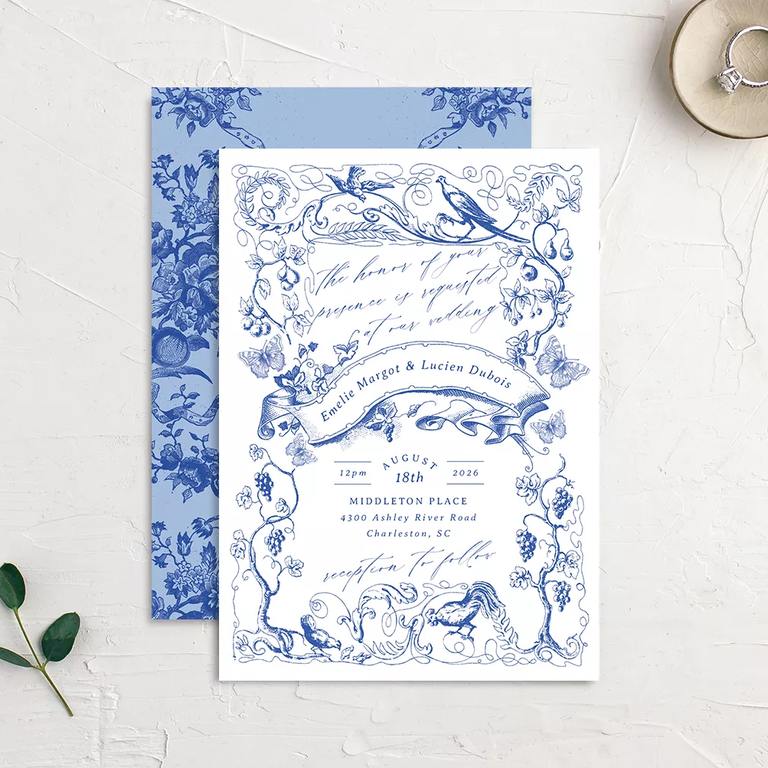 These delicate illustrated invitations will truly make your guests feel as if they're being invited to the most lavish of balls (and if your wedding is at a French chateau or English country manor, they very well could be). The linework is romantic, with touches like birds, butterflies and winding grape vines that embody old-word romance. A rippling banner with ribbon-like edges displays your names at the center and an antique-like script conveys important notes to your guests. We're truly in awe of these vintage spring wedding invitations.
Retro Joy
We love a retro vibe for a springtime wedding. Reason being: The earthy, yet bright colors and ultra-groovy florals make us smile just as much as when we see the first flowers poking up from the ground. The bubblegum, olive and mustard hues used across these invites make for super-joyful and unique wedding colors; plus, we can't get enough of the '60s- and '70s-inspired fonts.
The Knot Groovy Blooms Wedding Invitations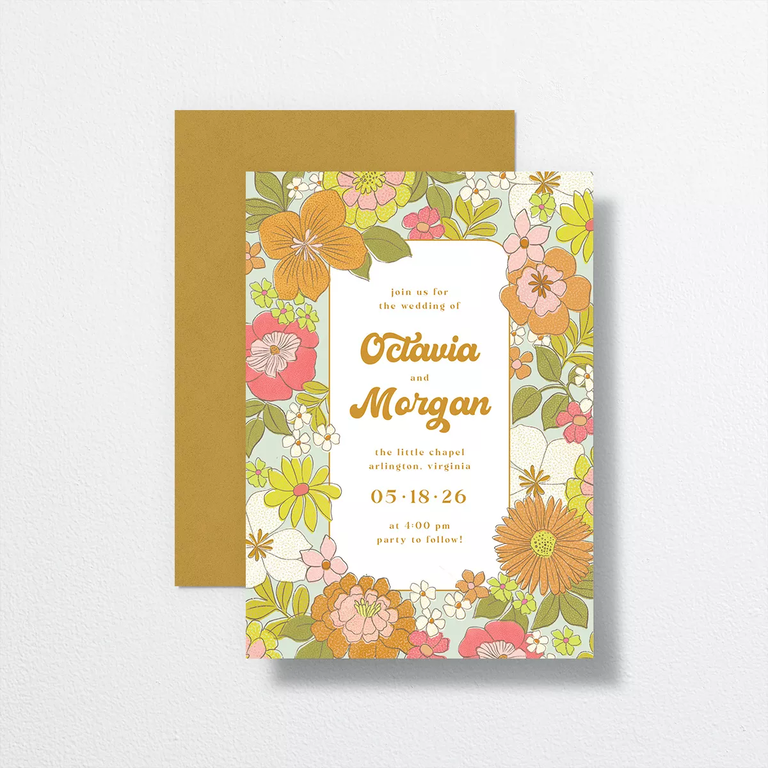 Flower power is the vibe with these adorable retro invites, featuring a punchy border of blooms that reminds us of the coolest '60s wallpaper. They feel oh-so joyful, from the vintage poppy color palette to the groovy font spelling out your names. We also enjoy the wording at the end ("party to follow" over a more formal "reception to follow"), so your guests know they're in for a toe-tapping good time.
The Knot Retro Stack Wedding Invitations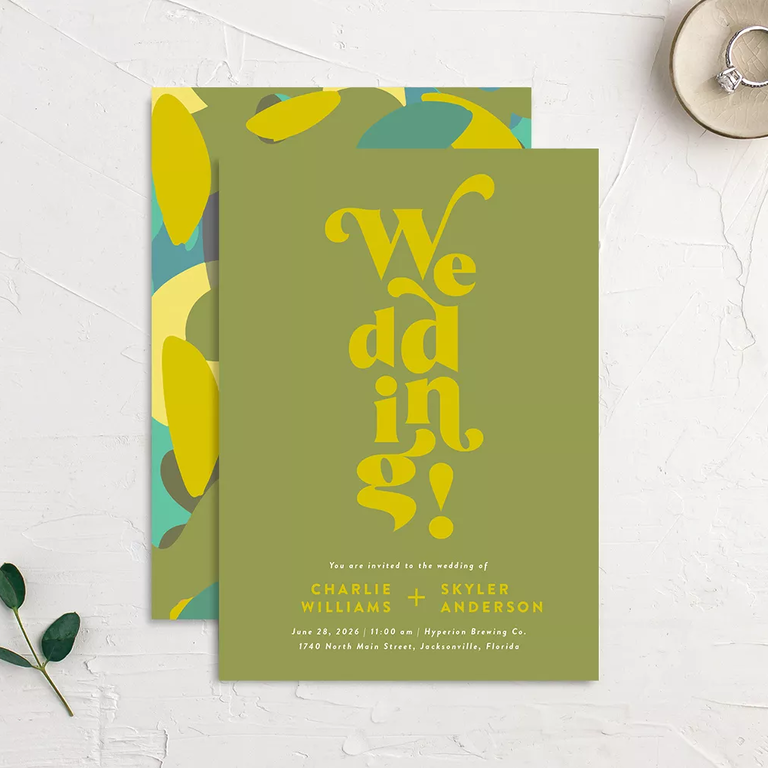 Short and sweet, these flower child-inspired invitations get right to the point—spelling out "Wedding!" in ultra-retro stacked typography. The color options are vintage perfection, from pea green to tie-dye-like rainbow, and the reverse side features a mesmerizing pattern that could be from a lava lamp. They feel super '60s, but definitely let your guests know your love is timeless.
The Knot Disco Love Wedding Invitations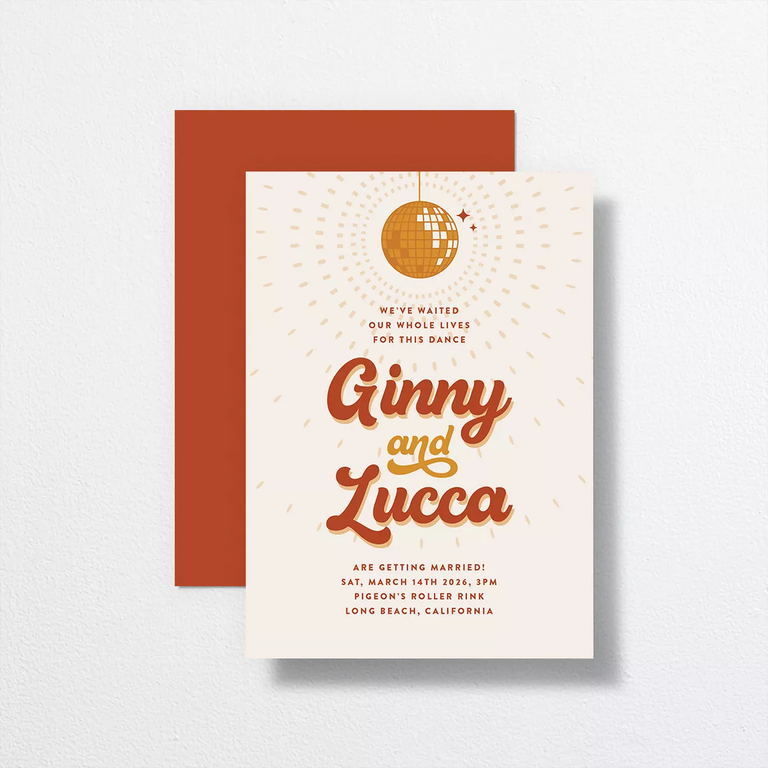 Got disco fever? These invites are '70s perfection—featuring chunky retro typography, cheeky phrasing and a sparkling disco ball casting a glow across the whole thing. Every colorway is ultra-dreamy, but we can't resist the classic brown, which reminds us of our dad's old bell bottoms in the best way.
The Knot Retro Bloom Wedding Invitations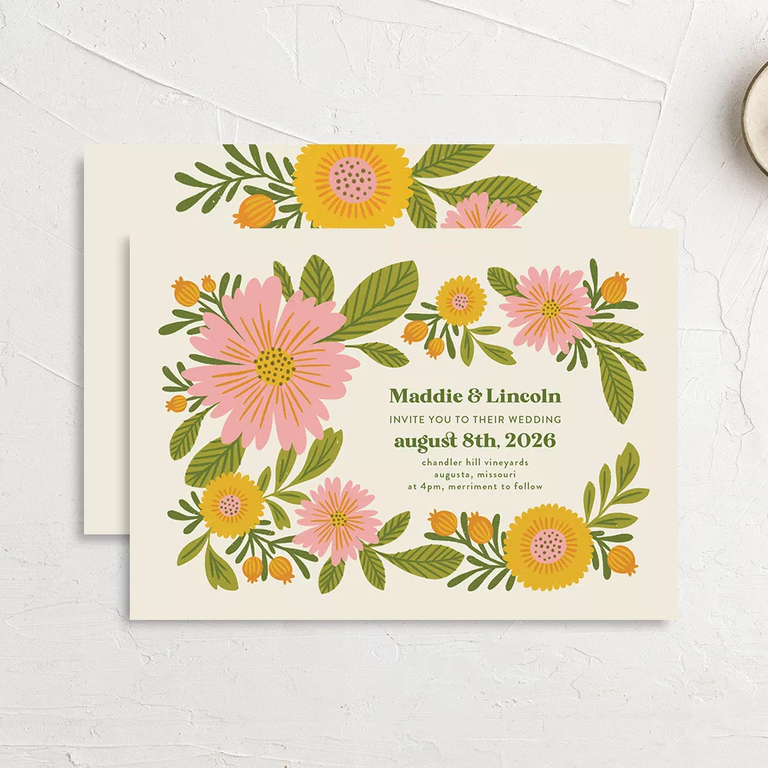 We love the horizontal layout of these floral invitations that are totally giving Summer of Love energy. The illustrated daisy-inspired flowers are the star here, framing your day-of deets that are laid out in a perfectly vintage font. The monogram and extra blooms on the back make it extra awesome.