The Real Meaning Behind "Speak Now or Forever Hold Your Peace"
And does your officiant actually have to say it?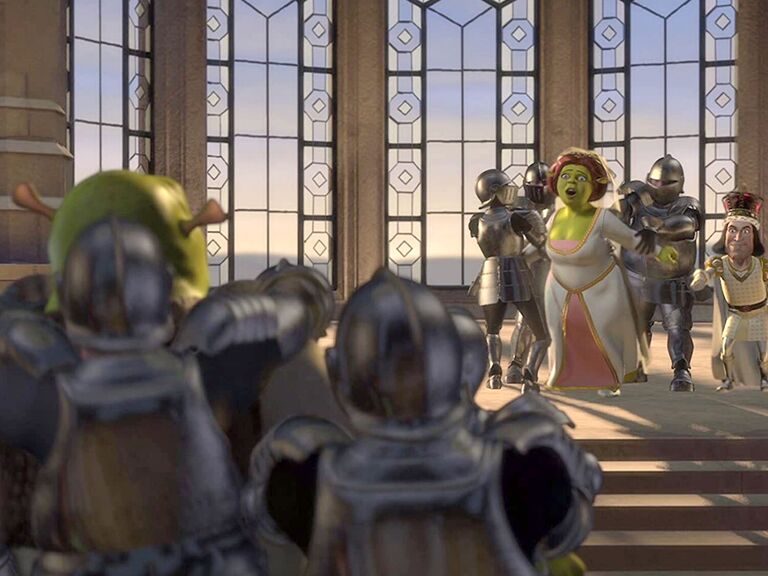 Dreamworks
If there's a love triangle in a romantic comedy that leads to a wedding ceremony, you can almost hear the 'speak now or forever hold your peace' line before it happens. It's dramatic, thoroughly embarrassing, and makes for a great movie—but is it realistic? Outdated? Still traditional? Does anyone actually stand up in real life and confess their love for the bride or groom to make a last-ditch effort to gain their heart? From the origins of this wedding day speech to its use today, here's everything you need to know about this infamous proposition:
What Are the Origins of 'Speak Now or Forever Hold Your Peace'?
Though TV shows and movies would have us believe it's this all-powerful proclamation of love from a former flame, wedding expert Kristin Wilson says the origins of this statement is less dramatic. As she explains, in Medieval times, communication between areas was slow and complicated, and record-keeping was anything but organized. This led the Christian church to establish the phrase as a way to give time for any legal issues in the marriage to come to light. These include hiccups like the bride or groom who were already married, or the couple was (gulp) related. "News of the wedding was posted publicly for a few weeks to give word time to travel to outlying areas, she explains. "Saying 'speak now or forever hold your peace' during the wedding day was like giving one last chance before this new marriage was legally binding."
So, where can you find the official text? Wedding planner Kristen Gosselin says along with the wording of the vows (including the classic 'until death do us part'), these scripts are found in the marriage liturgy section of the Christian Book of Common Prayers. These were created out of a need to legitimize marital unions hundreds of years ago, but today, modern couples take and leave what they want out of the traditions.
What Does 'Speak Now or Forever Hold Your Peace' Mean?
If you want to get technical, the full sentence is a variation of: "Should anyone present know of any reason that this couple should not be joined in holy matrimony, speak now or forever hold your peace."
Wedding expert Heather Jones explains the phrasing translates to a question posed toward the audience. More or less, it's asking if anyone is opposed to the couple's marriage. "In tradition, this would be the time to speak your mind if you disagreed with the relationship, but 'holding your peace' would mean that you're choosing to accept the couple's future together," she explains.
Why is 'Speak Now or Forever Hold Your Peace' Said at Weddings?
Wilson puts it best when she says humans are creatures of habit, and we thrive with tradition. Since historically, weddings have taken place in religious institutions, most couples follow what rules set forth from previous generations. In fact, Wilson says up until recently, most couples chose to honor their parents and grandparents by holding their wedding ceremony at a church. With input from a best friend, an uncle, an expert, and even the internet, most duos decide to do what's best for them instead. This makes the phrase less prominent. Also, when the congregation is encouraged to 'speak now or forever hold their peace' — it's not taken literally, according to wedding expert Kevin Dennis.
"Now, when planning their own wedding, more modern couples choose to step away from tradition and do something different that reflects who they are, like asking their guests to verbally give their blessing, or having their ceremony at a venue rather than a church," Wilson adds.
Is It Required to Say 'Speak Now or Forever Hold Your Peace' at Your Wedding Ceremony?
What if you don't want to give others the option to object to the person you've selected for a lifetime? Do you have to include this ceremony script? Most of the time, it's optional, according to Wilson. To be sure, though, it's crucial to have a candid conversation with your minister, religious leader, or officiant. There are ways to work the same concept into your wedding vows, without leaving the door open for a dramatic interlude. "Many couples today are opting for a positive spin on this dated phrase, and will ask their guests to offer their love and support for their new marriage," Wilson continues. "Some couples choose to pass their wedding rings throughout their loved ones so that each guest has a moment to hold the rings and wish the couple well." The only time it might be required is if your officiant or church is Episcopal, then they may require the traditional wording.
Another way to spin it, recommended by Jones, is to ask for a 'Declaration of Consent.' This encourages your guests to stand up in celebration of your new marriage, rather than to wave a hand in protest.
Can You Still Get Married If Someone Objects?
When you open up the stage for guests to say anything, you never expect someone will speak up. But what happens if they do through a big 'ole surprise into your marriage ceremony? Most of the time, of course, you can still say 'I do.' The only real circumstance where it would be illegal to get married is if your spouse-to-be is already married to someone else. Or, in some states, if they are a close relative (which hey, you probably wouldn't want to be with them anyway!). Even so, Dennis says it's important to note that if you have a strict or conservative religious community, any objection may impact the approval of your peers. "Be prepared to deal with the result of an objection, and understand your options for editing the ceremony script," he adds.
And on that note, a smart way to work through any potential threats to the success of your wedding day is to have premarital couples counseling. As Wilson explains, this provides the open opportunity to put all of your potential issues on the table, work through them as a team, and begin your marriage on a happy, healthy note.
Does Anyone Actually Object?
Dennis says it's become an unspoken rule that if anyone has any grievances with the couple's decision to marry, that there should be a private conversation rather than an announcement during their ceremony.
Is it likely to happen? Probably not. In fact, in her ten-year career in the wedding industry, she's never witnessed an objection. "With so many opportunities for an objection to being brought up before then, aside from an ill-placed joke, I don't think objections really happen," she continues. "So if you fear your new cousin-in-law may try something, it may be best to just leave it out of your wedding day and stick with something that represents your new life together much better."