The Pros and Cons of Living Together Before Marriage
Get on the same page before signing that lease.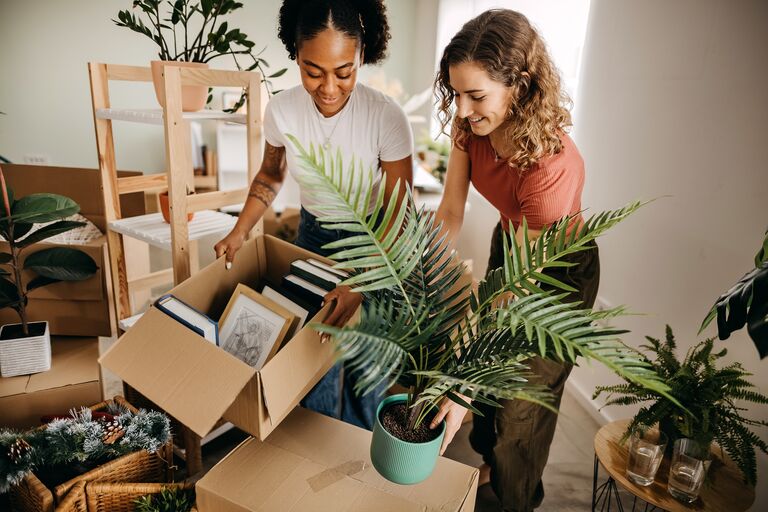 Getty Images | StefaNikolic
Let's set the scene: You and your partner have been dating for a while, and have been planning for a future together. The end of your lease is coming up. And now the question arises: Is it time to take your relationship to the next level living together before marriage? It's an age-old question. And, depending on your background, the answers to this question can be pretty diverse.
What works for one couple doesn't necessarily work for every couple, and there are a lot of factors that can impact your thinking on whether or not to move in together. First, be sure to square away what each of you is ultimately after in the relationship. It could be marriage; it could be a monogamous, long-term commitment without marriage; it could be something else entirely. Whatever the goal, clarify it and get it on the table. Do see yourselves living together for now or a lifetime?
After discussing what it is you want for your futures, it's time to explore the pros and cons of living together before marriage. For insights, we spoke with two experts: Susan Heitler, Ph.D. is a clinical psychologist, marriage therapist and author of The Power of Two. Paige Bond is a relationship coach and a licensed marriage and family therapist at Couples Counseling of Central Florida.
Below, here's what you need to consider when thinking about living together before marriage.
Pros And Cons of Living Together Before Marriage
While shacking up before tying the knot used to be out-of-the-ordinary, it can seem like the opposite nowadays. But whether taking the step is the right step depends on the individual couple. Here's a look at the pros and cons of living together before marriage.
Pro: You'll reduce expenses
One of the biggest living together before marriage benefits is financial. Combining households will cut living costs—a particularly compelling perk especially now, thanks to inflation. Think: shared rent, utilities and groceries. It's no wonder this factor often drives this move, shares Dr. Heitler. As a bonus, you'll learn whether you and your partner are financially compatible, adds Bond.
Pro: Your relationship may deepen
By living together, you'll face more strife and stress head-on. Since this will require problem-solving, you'll likely build communication skills and trust and understanding with your partner. Plus, sharing a home should give you more opportunities to rack up relationship milestones, like shopping for your first couch or hosting your first holiday gathering.
Pro: You'll get a preview of marriage with your partner
"Living together is a really great way to learn about each other," says Bond. "You'll discover each other's quirks and daily routine in a shared living space." Data such as how messy they are, how willing they are to pitch in with chores and whether they listen to you respectfully should offer you more insight into what a lifetime with your partner would look like, adds Dr. Heitler.
Con: You might never take the next step
"The biggest danger with living together is inertia," observes Dr. Heitler. If both partners aren't intentional, they could cohabit for years with no wedding in sight—if marriage and a traditional wedding is what both partners are after. To prevent stagnation, both she and Bond recommend couples impose a time cap (such as six months) on cohabitation and commit upfront to discussing next steps when it ends. "People who want to marry don't want to waste time, and three years is a big waste of time if you're not getting married," adds Bond.
Con: You and your partner might put in less effort
When experiencing the normalcy of every day, you and your partner may become complacent and put in less effort into your relationship. "Every couple, no matter how excited they are about each other initially, will experience a gradual downward slope in the frequency and intensity of their sexual interest in each other," Dr. Heitler explains. When a relationship loses its shine and excitement, couples might become confused, think they chose the wrong partner and call it quits. Some muse that if this occurs after marriage, you'll be more likely to persevere through these challenges.
Ultimately: "It's a matter of putting in the same effort they did during the dating period," stresses Bond.
Con: You might experience confusion
When moving in before marriage, there's the added pressure of figuring out what the commitment means, shares Bond. For instance: one partner might see this move as a test for the relationship, while the other views it as the first step in a progression leading to marriage and children. That's why she urges being intentional with your partner about what this step signifies before you take it.
Your FAQs About Living Together Before Marriage
Living together is becoming more common. In 2019, 59% of American adults ages 18 to 44 had lived with an unmarried partner—more than the share that had ever been married (50%), according to a Pew Research Center analysis of the National Survey of Family Growth. Should you become one of them?
Should you live with your partner before marriage?
"There's no one-size-fits-all answer to this question," says Dr. Heitler, who admits she generally favors spending a lot of time together instead (unless that's impossible financially).
While Bond is more optimistic about living together, she urges making the decision intentionally, ensuring that both partners on the same page. After living together with two of her former partners, she (and her current partner) decided to get engaged before they take that step in the future. It's very different to move in together to see how it goes, versus with the intention of marriage, she explains.
Does living together before marriage lead to divorce?
It's a misconception that living together leads to divorce, says Bond. Studies have shown a correlation between cohabiting and a higher risk of divorce, but many factors contribute to this, she explains. For instance, is the couple fresh out of college and in their first long-term partnership (and thus lacking relationship skills)?
"Living together by itself does not lead to divorce; it's what you do with that time and the intention behind it that could lead to divorce," summarizes Bond. If you're sliding into a decision instead of being intentional, you're likely going to end up breaking up or in an unsatisfying marriage.
Why is living together before marriage frowned upon?
Cohabiting hasn't been common in the U.S. for very long—partly because some Americans perceive the practice as out of line with their religious or cultural values, explains Bond. "It depends on the generation you talk to," she says. Many in Gen-X or older generations might frown upon it; while Millennials and Gen-Zers might have no choice because of the rising cost of living, she adds.
Contributions by Bryan Forbes