This Is How Many Date Nights You Need for a Successful Marriage
How many date nights are too many date nights?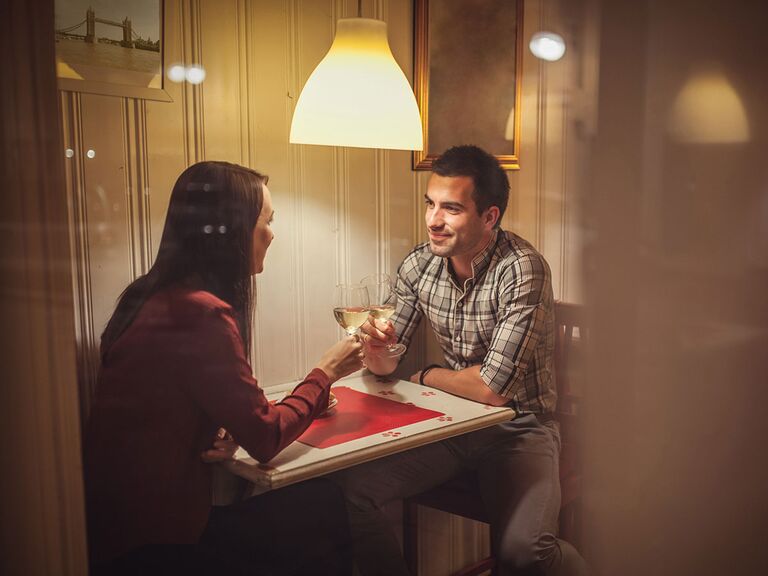 Redrockschool/ Getty Images
Aren't studies great? They tell you which college major you should marry, which names you're attracted to and now they give insights into how exactly to foster a successful relationship.
Harry Benson from the Marriage Foundation and Steve McKay from the University of Lincoln studied a group of almost 10,000 couples with a young child to find out what date-night habits the most successful couples had in common. Here's how the frequency of date nights broke down:
once a week or more: 11 percent
once a month: 30 percent
less often than once a month: 23 percent
hardly ever: 36 percent
The groups were monitored over the next 10 years, and turns out, the couples who had date nights once a month had the highest odds of staying together compared with the other groups. But that was only true for married couples, not couples who simply lived together (cohabiting couples).
Couples who went out weekly, rather than monthly, were as likely to succeed as couples who never went out at all. What does that mean? Just one night out a month is the magic number, implying that too many nights out may result in too much planning stress, too much budget going toward a babysitter, or not enough time at home to get personal or household tasks done. "In other words, the relationship between how often couples go out and their likelihood of staying together is not linear. Going out more often does not help couples stay together," the study concluded.
There you have it! If you're planning too many nights out, scale it back. And if you consider your partner a passing ship in the night, it's time to put a fancy dinner or movie theater date on the calendar.
If you're looking for more ways to build a healthier relationship, check out Lasting. The science-based app backed by The Knot gets to know your relationship and then creates a customized program just for you and your significant to help you to shape a better marriage or relationship.