Your Complete Timeline For Getting Ready For Your Wedding
Because nobody wants to rush the morning of their nuptials.
Nailed down your wedding day timeline? There's still one aspect of your big day that'll require extra planning. Wedding prep takes longer than you think, but planning ahead can save you some major stress. To help, we put together a getting-ready timeline for any wedding so you can actually enjoy the day (instead of rush through it). Whether you're juggling glam sessions for a big wedding party or a smaller crew, our getting-ready timeline has you covered.
Our biggest tip? Talk to your hair stylists and makeup artists ahead of time to fully understand how much time they need. If you have a larger wedding party, they might bring in an assistant to ensure everyone is ready by the start of your ceremony (just be sure to discuss total costs ahead of time). If you're traveling to a salon, we recommend doubling your expected travel time. You don't want to run the risk of hitting traffic and running behind. If your wedding party is doing their own glam, build that time into your plan so there's no rushing around. Once you have all of that information, you can build out the rest of your getting ready timeline for your wedding using our sample one, below.
How long before your wedding should you get ready?
There's no correct time to start getting ready for your wedding—it all depends on how many people are getting hair and makeup done. Plan for your bridesmaids hair and makeup to take 30 to 45 minutes each (so an hour to an hour and a half total each). For the guest of honor, reserve 60 to 90 minutes for both hair and makeup (meaning two hours to three hours total). We recommend getting ready at least six hours hours before the ceremony start time (however you can always start earlier or later if you feel it's necessary). We know—it sounds like a lot of time. But there's a lot that need to happen. You'll need to have breakfast, get your hair done, get your makeup done, take pictures and get dressed. And, on top of all that, you want to have time to chat with your friends and family members.
How long do getting ready photos take?
This is something to discuss with your wedding photographer. Some couples might want more time with the photographer before their nuptials while others might want the opposite. A standard amount of time for getting ready photos is 30 minutes, but it can vary by photographer. Talk to your pro ahead of time to decide how much time you want to spend on these pictures and when exactly you want them taken. Psst: We recommend shooting for later in the process, as everyone's hair and makeup will likely be done at that point.
Does the to-be-wed get ready first or last?
As the guest of honor, your primping session will take longer than your attendants'. That's why planning is so important. We recommend the to-be-wed gets their makeup done first while wedding party members get their hair done. If that's not possible, the guest of honor should go last so that their hair and makeup is the freshest. Since you'll be going towards the end of the timeframe, it's important to stick to your getting ready timeline the morning of your wedding.
Sample Getting Ready Timeline for a Wedding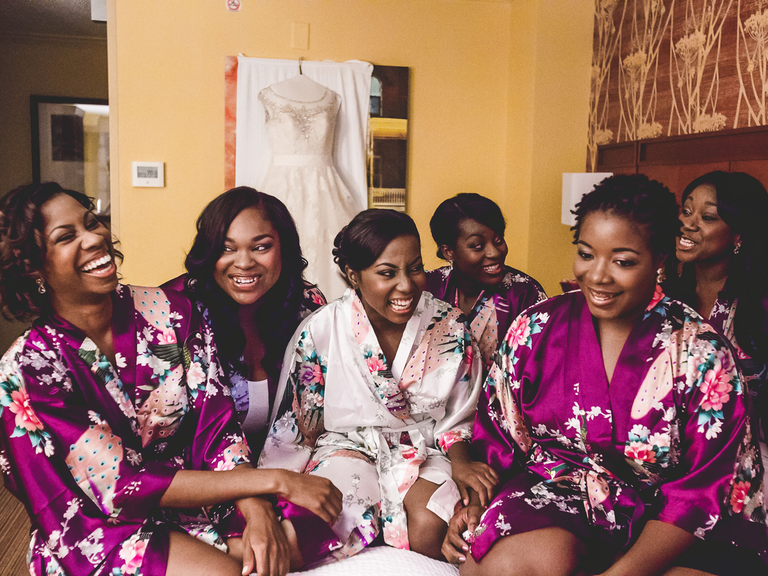 Ready to get planning? We put together a sample getting ready timeline for weddings based on a 5 p.m. start time and four wedding attendants. Remember: This is simply a starting point. Feel free to adjust wherever you see fit—especially if you have a different number of wedding party members.
11 a.m.: Bride's makeup and bridesmaid #1 hair (make sure food is there for everyone to snack on)
11:30 a.m.: Bridesmaid #2 hair
12 p.m.: Bridesmaid #3 hair and bridesmaid #1 makeup
12:30 p.m.: Bridesmaid #4 hair and bridesmaid #2 makeup
1:00 p.m.: Bride's hair and bridesmaid #3 makeup (this would be a great time for the photographer to arrive for getting ready pictures)
1:30 p.m.: Bridesmaid #4 makeup
2:30 p.m.: All hair and makeup done, bride and bridesmaids get dressed
3:00 p.m.: Wedding party photos taken