Your Most Common Wedding Website Questions, Answered
Do you really need one? Find out here.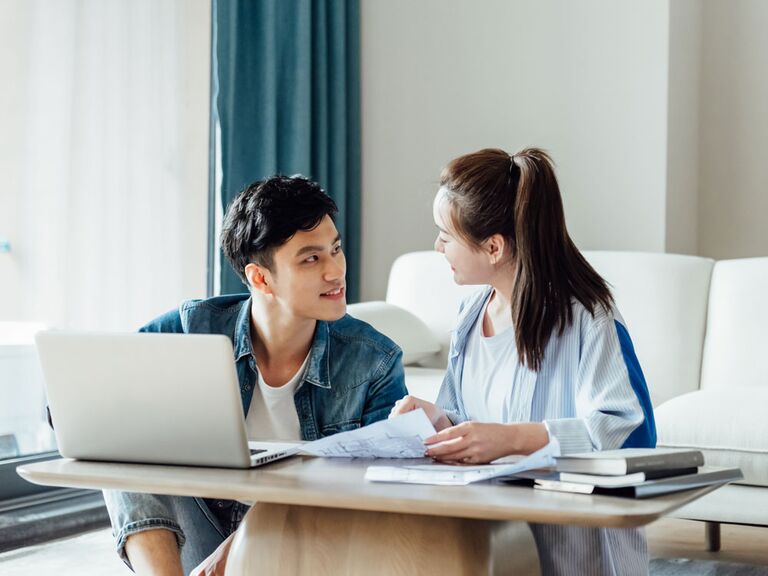 zhanghaoran/Shutterstock.com
As you begin planning your big day, you might wonder why a wedding website is necessary. If you've referenced any wedding planning guide, you're well aware that setting a budget, hiring vendors and making your registry are all important tasks to complete early on—but what about making a wedding website? If you're feeling overwhelmed by your to-do list, you might wonder if you really need to spend the time making a website, or how it'll help your wedding guests. As a leader in the wedding website space, we tend to get a lot of questions about why they're helpful for couples. That's why we've answered the most common wedding website FAQs here.
We know you're excited to pick your wedding dress or tuxedo, research signature cocktail recipes, or make your social media hashtag. And while these are all crucial tasks to complete, making your wedding website is something that should be finished early in your planning process. And since we know you have questions, we're here to help. Below, brush up on the most common FAQs about wedding websites. We break down everything you need to know about making a wedding website, like what should be included, how to customize your design, and how you should share it with guests. Once you're a certified wedding website expert, you'll be ready to create your custom site on The Knot—we promise it'll make your planning experience so much better.
Do I need to make a wedding website? Why?
It's the most common wedding website FAQ: Why do I need a wedding website? We always say that making a custom site is one of the first (and most important) wedding planning tasks to complete. Your wedding website houses all of the important details guests need to know about your big day, from the location and start time to the requested dress code and details about additional wedding events.
As soon as guests receive your save-the-dates in the mail, they'll have questions about your big day. And, since you'll be busy with planning logistics in the days leading up to the wedding, you won't have free time to individually respond to their questions. A wedding website will make your life exponentially easier because it answers all of your guests' questions in one spot. (This will be especially helpful when you need to focus on planning details instead of explaining the dress code or giving venue directions.) By including your wedding website on the invitations, you'll minimize the number of guests texting and calling you with questions, because they'll be able to find the answers on your webpage. Amazing, right?
Is The Knot's wedding website tool free?
Yes, The Knot offers a free wedding website service. You can use all of our website builder tools free of charge, though you do have the option to purchase your site's domain for an added fee. If it fits in your budget, we do recommend buying and customizing your wedding website URL with your names or your wedding hashtag. Not only is this a cute way to personalize your wedding website, it'll be easier for guests to type your names into a search bar instead of a jumble of letters and numbers. But, generally speaking, you can create a wedding website on The Knot for no charge at all.
When should I make my wedding website?
Ideally, you should make your wedding website after the important details (like the wedding date, time, location and guest list) are confirmed. Aim to have your wedding website complete before you send out save-the-dates, that way you can include the URL so guests have a reference point for immediate questions (thus saving your phone from repetitive messages from well-meaning loved ones). Instead of answering FAQs individually, you can easily direct them to your wedding website, saving time and energy.
What should I put on my wedding website?
Think of your wedding website as an FAQ page for your guests. Essentially, your website is an extension of your wedding invitations with more details. Any important question your loved ones might have about the wedding day should be answered on your site, like the ceremony start time, what accommodations you'll be providing (such as travel to and from the wedding venue or if you reserved hotel room blocks), and if there will be any additional events (like a welcome cocktail hour or a day-after brunch). You can also share specific requests on your site too, like if you want guests to wear a certain color or if phones should be put away for an unplugged wedding. Your wedding website is also the best place to share your gift registry and RSVP details as well.
To make sure you've included the most important information, we break down everything to put on your wedding website here.
How can I customize my wedding website on The Knot?
If you browse The Knot wedding website designs, you'll see that some coordinate with our invitation templates to help you create a cohesive look for your wedding. Use our editing tools on the left side of your wedding website dashboard to customize to your heart's desire.
Beyond the design, you can also customize your wedding website by adding delightful bonus features, like wedding party introductions, engagement photos, details about your love story, or even a scavenger hunt for out-of-town guests to explore the location where you'll say "I do." Check out our roundup of the most creative wedding website ideas to create a one-of-a-kind site guests will enjoy using.
How should I share my wedding website with guests?
The best way to share your wedding website with guests is to put it on your save-the-dates and on an insert card in your formal invitations. You can also send the link directly to guests if they reach out, or put your bridesmaids or groomsmen in charge of fielding guest questions by sharing the URL via email or text.
Can I edit my wedding website after I publish it?
One of the best parts of creating your wedding website on The Knot is that you have the ability to edit it as much as you want, even after you publish it. While we encourage you to create your site as early as possible, you might not have every single detail ironed out—and that's okay. It's better to create your website early and update it as you finalize more information rather than wait too long so that guests start reaching out to you directly.
Your wedding website is also the best way to communicate last-minute changes with your guests. If you've extended the reception end time, finalized details for an after-party, or decided to postpone your wedding, your wedding website is the most convenient way to share these updates with guests. (The alternative would be to contact each person directly, which would be time-consuming and tedious.) We know that details are subject to change, which is why we make it easy to update your site at any time leading up to your wedding date.
Can guests RSVP through my website?
Of all the wedding website FAQs, this is one of the most popular. While guests traditionally use a physical RSVP card to mark their attendance, our wedding website tool has an RSVP function that allows all correspondence to be done virtually. This is a great way to keep your guest list organized because all of the information will be collected online through our tool.
Despite this, we still recommend sending physical RSVPs too (and not just because we have plenty of stunning designs available through The Knot Invitations.) Some guests may feel more comfortable using a traditional method to send in their response, so having two options will help them RSVP in a timely manner.
Can I make my wedding website private?
You're not alone if this wedding website FAQ is on your mind. While some may prefer to leave their wedding website public (and accessible by a Google search), other couples may want added privacy around sensitive information published online. Luckily, you can easily make your wedding website private if you'd like. On your wedding website dashboard, click the pencil icon next to "Privacy Settings." You can stop your wedding website from appearing in search engines, and you can also require a password. (Just be sure to include it on your wedding invitations so your guests can still access your site.) While this isn't a necessary step, it can give you peace of mind if you don't want your wedding details on the internet.
Do I need a wedding website for my destination wedding?
A wedding website is important for any kind of celebration, but especially for a destination wedding. Since more logistics go into planning (and attending) a destination wedding, a custom site will be crucial to help guests plan their travels. In addition to the details we mentioned above, your destination wedding website should also include lodging recommendations, directions to all events (like the rehearsal dinner or welcome happy hour, wedding ceremony, reception, and any additional parties), and airline information, among other details. If you're hosting far-flung soirée, read up on everything that should go on your destination wedding website here.