26 Tasty Wedding Pie Ideas You'll Want at Your Big Day
Take Pi-Day to the next level.
It doesn't matter if you want to completely opt out of having a traditional cake or have another delicious treat on your dessert table, a wedding pie is a great option since it's one of the most seasonal foods around. You can go the sweet or savory route and don't have to worry about anyone being unsatisfied. And for couples getting married on Pi Day, March 14th, serving pie on this mathematical holiday is the perfect way to celebrate. Get inspired by one of the 26 ways real couples have added a little golden-brown goodness to their wedding day.
In this article:
How Many Pies Do You Need for a Wedding Based on Guest Count?
You should plan for about 70% to 75% of your guests (since most likely not every guest will eat a piece) to have one slice of wedding pie during the reception. An average size pie typically has eight slices, so multiply your guest count times 70% to 75% and divide that number by eight––this will give you an estimate of how many pies you'll need. For mini individual-sized pies, one per guest works. The number of wedding pies you'll need will depend on if you're offering multiple flavors and if you're serving other desserts, so speak with your baker before making your final order to ensure you get the right amount for your event.
How to Display Pies at a Wedding
There's no need to stress about your wedding pie display. You can present your pies just like you would for any other dessert. Dessert tables or bars are popular among couples who plan on having numerous flavors of one or multiple sweets. Place individual pies or slices at each guest's place setting as a welcome favor. The options are endless––check out some ways you can serve and display your delicious wedding pies below.
Mini Wedding Pie Ideas
Smaller portions mean guests can try as many flavors as their hearts desire. Consider serving one of these mini treats at your reception.
1. Small Cherry Pies
At this romantic Southern wedding, the happy couple had cherry pies as one of their many desserts. We love how each pie looks different and has a tasty cherry filling dripping out of it for a charming homemade feel.
2. Mini Shepherd's Pies
Just because it's a pie doesn't mean it has to be sweet. Offer savory flavors like shepherd's pie, chicken pot pie or spanakopita.
3. Tiny Heart Apple Pies
Neither the bride nor the groom loved the idea of having a wedding cake, so they asked the bride's grandmother to make mini apple pies for their celebration. Our favorite part of this dessert are the hearts made of dough on each pie.
4. Individual Mason Jar Peach Pies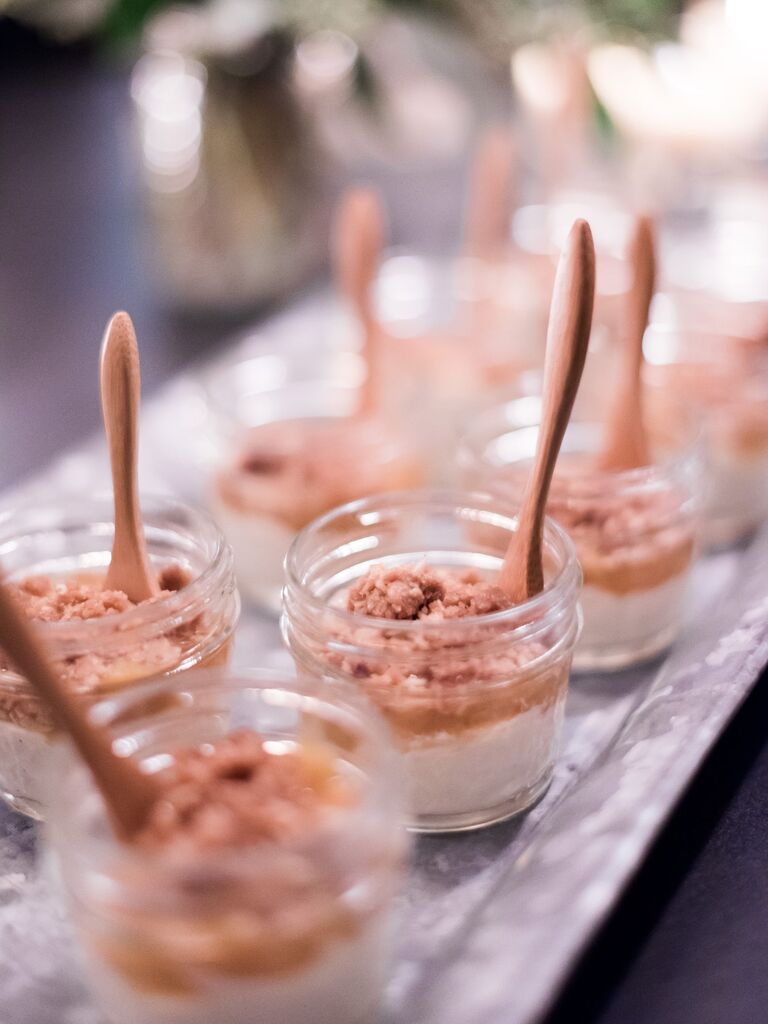 Planning a rustic-themed wedding? Then serve mason jar pies at your reception. Just don't forget to add small utensils for your guests to eat with––we love the wooden spoons this couple used.
Fun Wedding Pie Ideas
Be creative with your wedding pie, as you should for all aspects of your wedding. Check out these six ways real couples thought outside the box for their special day.
5. New York-Themed Wedding Pie
Use your wedding pie to highlight your hometown or your honeymoon destination. You can even ask your baker to make the pie filling fit with the location, like an apple for the Big Apple.
6. Whoopie Pies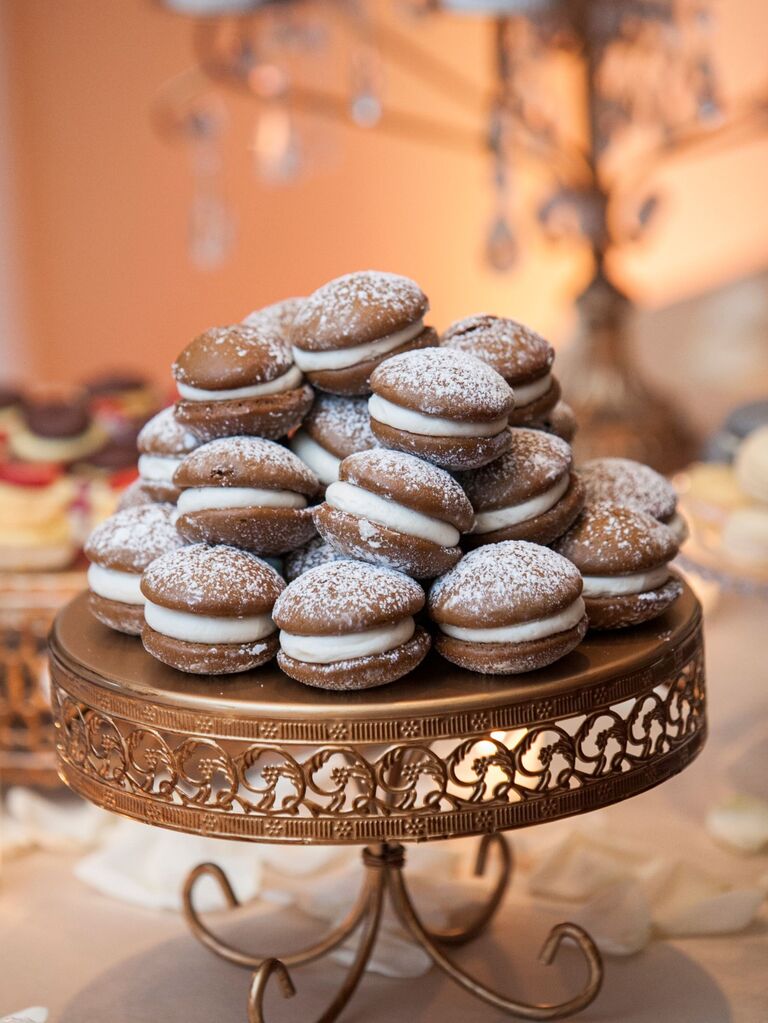 Treat your guests to a childhood classic at your wedding. We've seen couples serve tiramisu, red velvet and peanut butter whoopie pies, so don't be afraid of being creative.
7. Moon Pie Wedding Favors
The groom's nickname for the bride was "Moonbeam," which inspired the wedding's celestial theme. Each wedding favor bag had "Over the Moon" written on it and a tasty vanilla moon pie inside.
8. Boozy Assorted Wedding Pies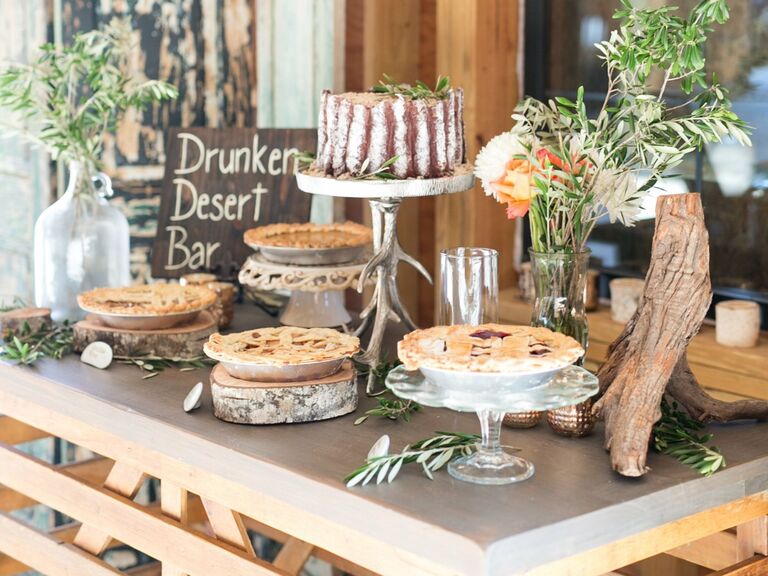 The adults at your wedding will love it if you have alcohol-infused pies at your dessert table. Just ensure the pies are labeled so no one who doesn't want alcohol or kids accidentally gets a slice.
9. Homemade Pocket Pies
The couple's parents made a variety of homemade pocket pies to replace a traditional wedding cake. The paper wrapped around each pie has a handwritten note that reads, "Love is Sweet."
10. Pie Pop Wedding Favor
You've probably seen every dessert made into a small lollipop size, so why not do the same to your wedding pie? Since the bride and groom were married on Pi Day, they gave each guest a peach or apple pie pop wedding favor.
Wedding Pies With Cute Toppers
Every wedding sweet deserves the topper treatment. Look at these cute wedding pie toppers couples used to personalize their confection.
11. Key Lime Pie With Beach Chair Pie Toppers
At this beach wedding, the bride and groom had multiple key lime pies to feed the masses. To make their sweetheart wedding pie special, they added mini beach chairs with small "Mr." and "Mrs." signs.
12. Wedding Pie With Paper-Cut "Just Married" Topper
The happy couple commissioned a custom paper-cut wedding pie topper. We love how the floral design on the topper that complements the natural garden wedding theme.
13. Raccoon and Beaver Wedding Pie Toppers
Are you an animal lover and want a quirky wedding pie topper? Then consider having your favorite animal(s) on the top of your dessert. We think this beaver bride and bow tie-wearing raccoon are absolutely adorable.
14. Wedding Pie With "Happily Ever After" Topper
Wedding pie instead of cake was the way to go for this couple. They chose apple pie because it was a favorite of the bride and her grandfather, who cut the pie with the bride and groom to honor his 70th wedding anniversary.
Unique Wedding Pie Ideas
For couples who want to surprise their guests with a nontraditional wedding dessert while making it unique at the same time, this list is for you. We guarantee you'll love these special but mouthwatering pies.
15. Wedding Pie With Chocolate-Covered Strawberries
Have your heart set on pies, but love the look of a tall cake? Stack 'em and have a tiered wedding pie. You may need to get creative with cutting and serving, but for something this extraordinary, it's worth it.
16. Key Lime Pie Shooters
An easy-to-eat shooter means guests can nosh and get their groove on at the same time. We're all about guests having as much fun as possible during the reception.
17. Wedding Pie Welcome Favor
Who says pie can't be as elegant as its cake counterpart? Packed in a quaint to-go box, this favor is just as beautiful as a fondant-adorned personal pastry. You definitely won't have any guests leaving these favors behind.
18. Gluten-Free Wedding Pie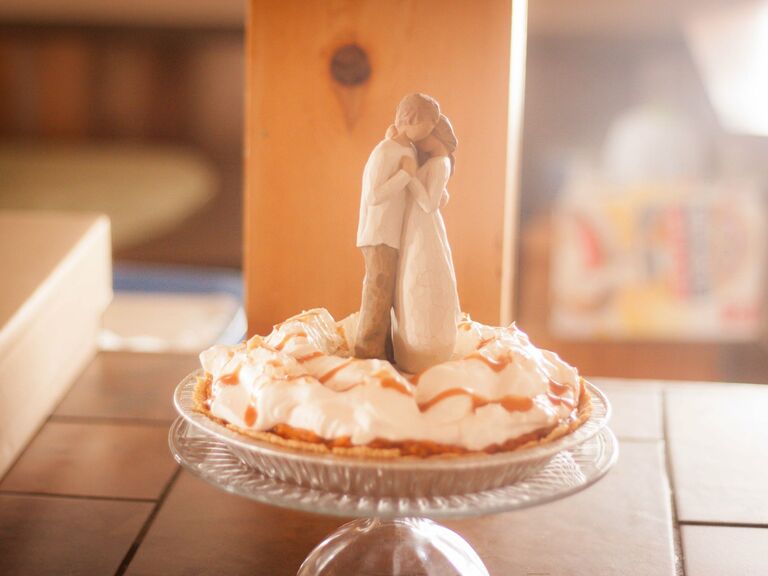 The bride was gluten intolerant so instead of cake, they had a gluten-free wedding pie. Even if you and your partner don't have a food allergy, we suggest having one or two allergen-free dessert options so everyone can enjoy a tasty treat.
19. Pecan Pie With A Couple's Initials
We love discovering new ways couples are personalizing their wedding. This pecan pie with sugary pie crust shaped into the couple's initials on top is truly precious.
20. Savory Quiche at Minimony
The happy couple eloped at home and had a few foods to snack on, which included a homemade quiche. If you're having a small celebration like a minimony, don't hesitate to make some of your food if you love cooking and have the time.
21. Wedding Pie With Floral Decorations
If you love the flowers you might often see adorning wedding cakes, incorporate your favorite blooms onto your wedding pie. The white roses and other flowers make this pie look elegant and delicate.
Wedding Pie Table Ideas
Instead of one tiered cake, a display of multiple pies works just as well. By opting for separate pies, you can pick numerous flavors that don't have to live together in one confection, and guests can select their favorites.
22. Wedding Pies on a White Rustic Table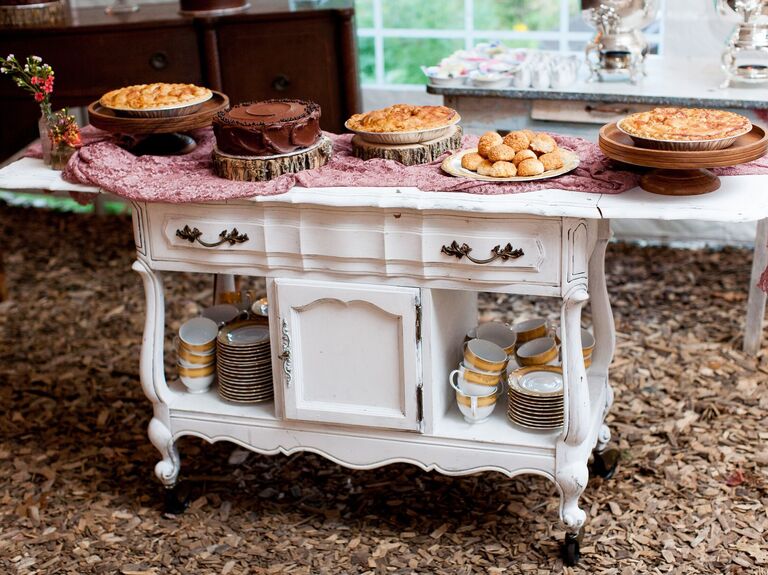 For couples having a rustic wedding, try to find a vintage-looking table, as this couple did. We love how the wooden pie stands fit with the wedding theme too.
23. Preppy-Themed Wedding Pie Table
At this preppy wedding, the couple offered individual wedding pies at the reception. The pie dishes were the bride's favorite colors, and the tablecloth had a playful leaf motif printed on it.
24. Bohemian Wedding Pie Table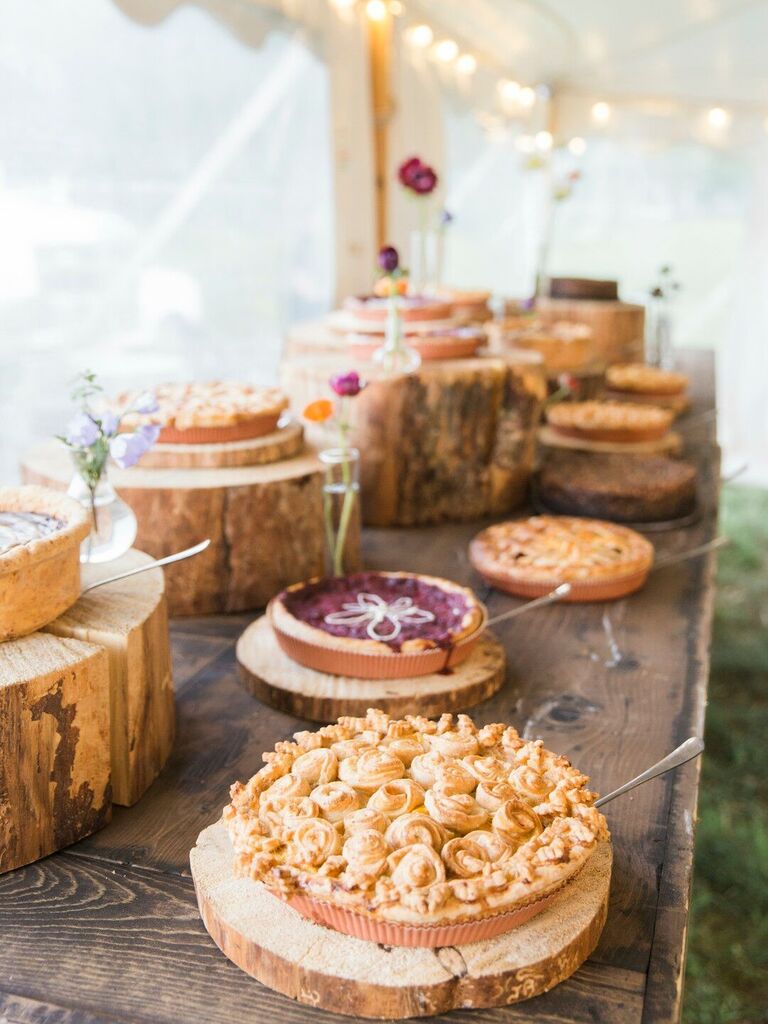 Held in the scenic Colorado mountains, the couple perfectly executed the bohemian-rustic vibe they wanted for their wedding. Instead of cake, they had a wedding pie table decorated with wood stands and mismatched blooms.
25. Nature-Themed Wedding Pie Table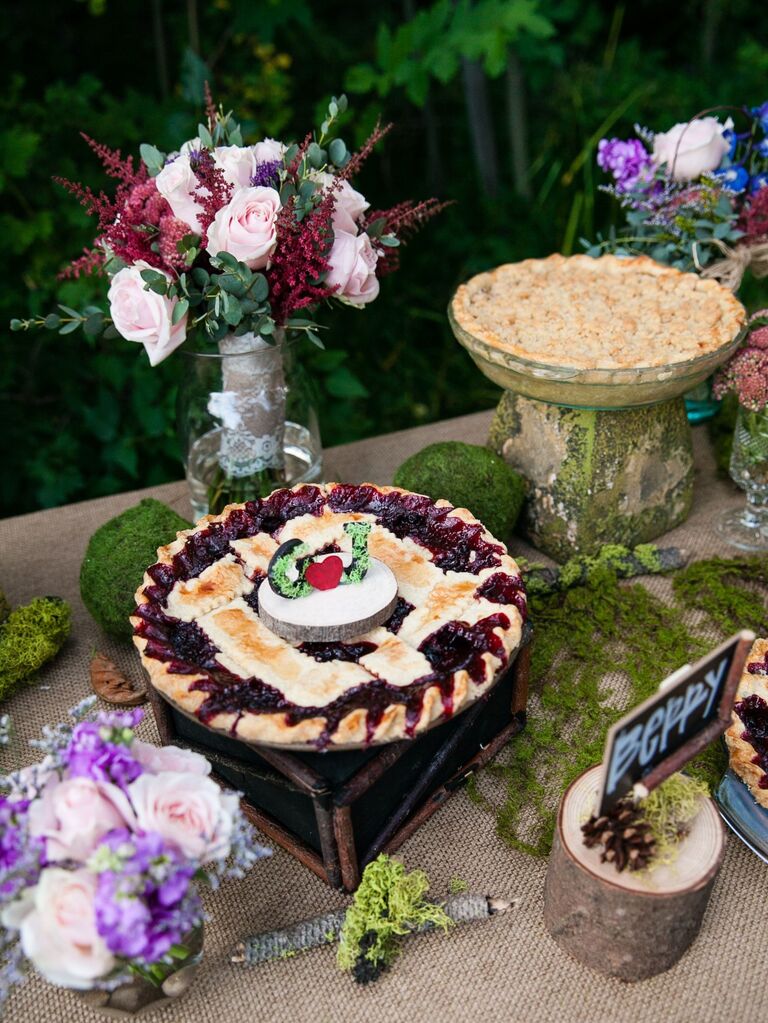 To adhere to the nature theme, the couple had their wedding pie table decorated with rocks, flowers, pinecones, moss and wood. They had four different types of pie: turtle, lemon, Dutch apple and berry.
26. Vintage Style Wedding Pie Table
The bride and groom incorporated charming vintage touches into their spring wedding. Wooden crates, old food tins and antique scales were used as stands for their wedding pies, freshly baked by the bride and her family.