The Best Wedding Makeup For Every Eye Color
Looks for brown, blue, green and hazel eyes.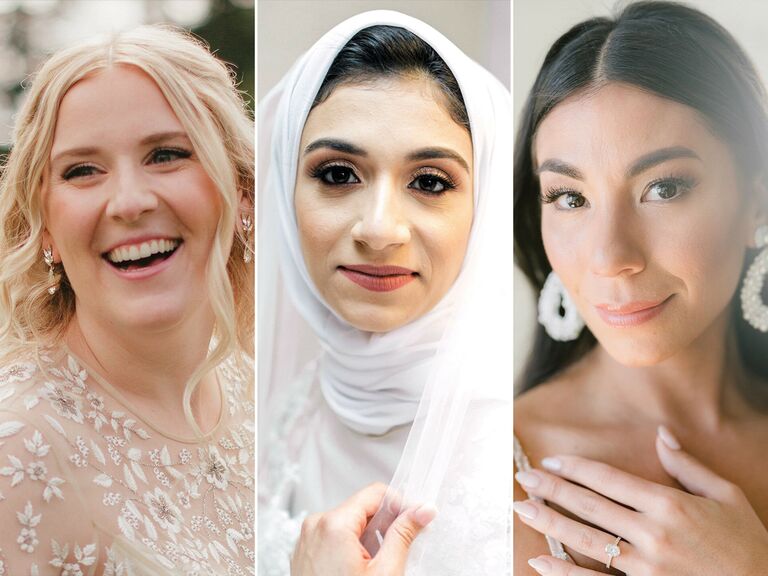 The eyes are the windows to the soul, so you want to make sure your eye makeup is on point for the big day. But there are so many different styles, how do you choose just one? If you're struggling to choose a wedding eye makeup look, one of the best ways to narrow down options is to pick based on your eye color. Certain colors of eyeshadow and eyeliner, as well as different eye makeup techniques, will intensify or complement the hue of your eyes, making them pop in pictures and IRL.
To help spark inspiration, we put together a guide of wedding eye makeup looks based on eye color. For example: Brown-eyed beauties can enhance their gaze with purple, bronze and black while to-be-weds with green eyes can accentuate their smolder with red, pink and rose gold. Not into bright colors? Not a problem. Neutral colors (like brown and black) look amazing with every eye color, so they're always an option for your big day.
If you're unsure about what wedding makeup to rock, tap a professional makeup artist. They'll give you their expert opinion, and they'll be able to flawlessly execute your dream look. Ready to get inspired? See our favorite wedding makeup looks based on your eye color, below.
In this article:
Wedding Makeup For Brown Eyes
If you're a brown-eyed nearlywed, your wedding day makeup options are endless. Given the neutral quality of brown eyes, you can use any color under the sun—even bright pink. But if you want to accentuate your lovely eyes, use colors like purple, bronze and (you guessed it) brown.
Golden Glow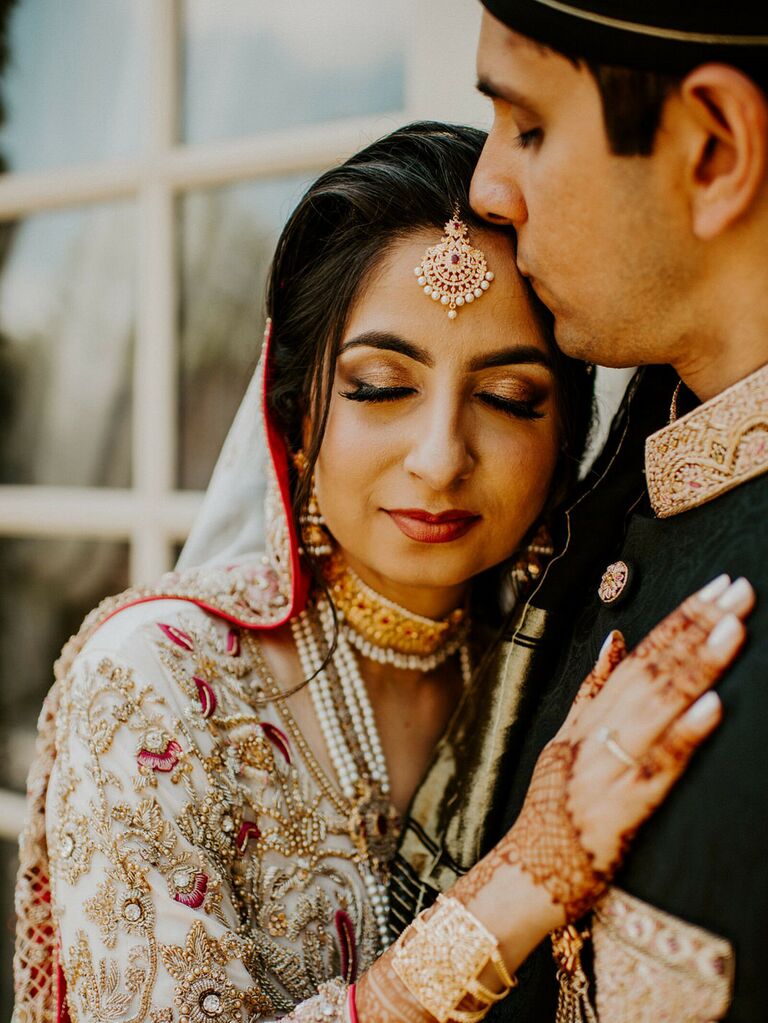 Complement the golden flecks in your brown eyes with this wedding eye makeup look. Create a brown smokey eye and then pack a glittery gold eyeshadow across your eyelid. Add winged eyeliner to the outer corner to help open up your eyes, and then top it all off with a pair of false eyelashes.
Bronzed Brown Eyes
Accentuate the warmth in your eyes with a bronze smokey eye. This hue will bring out all the lovely tones of your eyes and give you a sun-kissed glow. As a final touch, add winged eyeliner and mascara.
Rose Gold Eyeshadow
Bring out the warmth in your eyes with a sheer wash of rose gold eyeshadow. Add winged eyeliner and false lashes to help open up your eyes.
Subtle Sparkle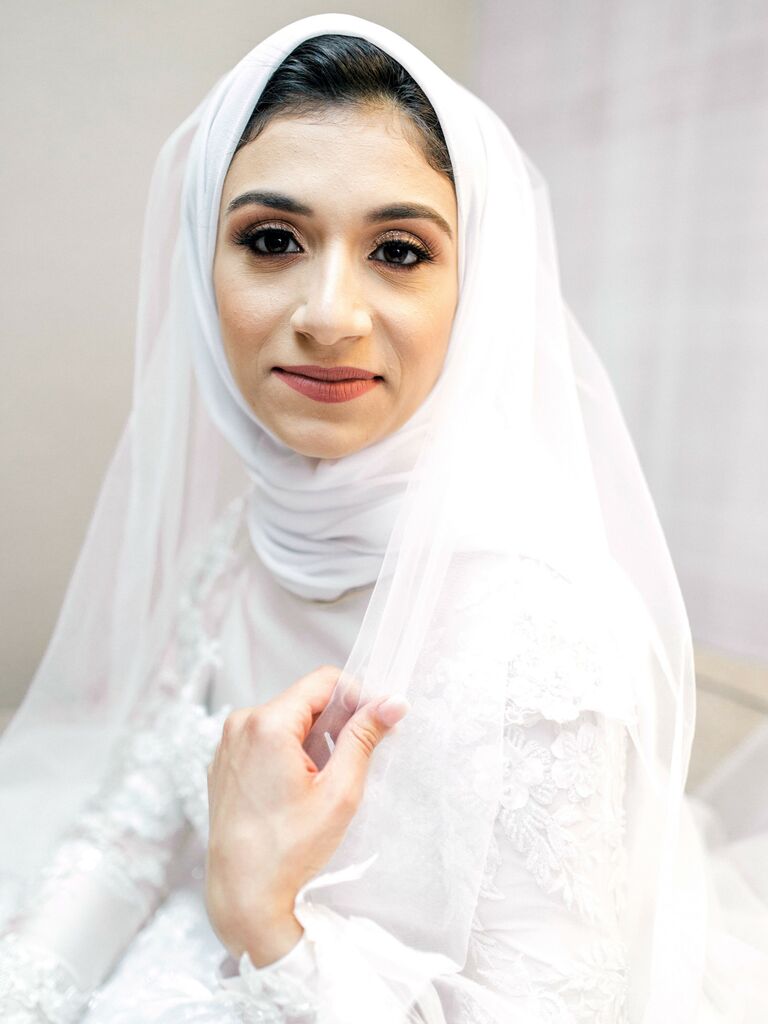 Create a neutral smokey eye (complete with liner and lashes), and then pop a shimmery shade into the inner corner of your eyelid. It'll open up your eyes and add a glamorous vibe to your wedding eye makeup.
Purple Ombre
Purple is a contrasting color to brown on the color wheel, so it will make your eyes pop.Use a mix of different shades to create a smokey effect. As a final touch, place a light shimmery lavender tone in the middle of your eyelid to brighten everything up.
Eggplant Eyeshadow
Intimidated by the idea of wearing purple eyeshadow? Consider using a deep eggplant color instead. It's the perfect combination of playful and sophisticated, and it complements the brown tones in your eyes. Add eggplant eyeliner on the top and bottom lash lines for extra drama.
Lavender Sparkle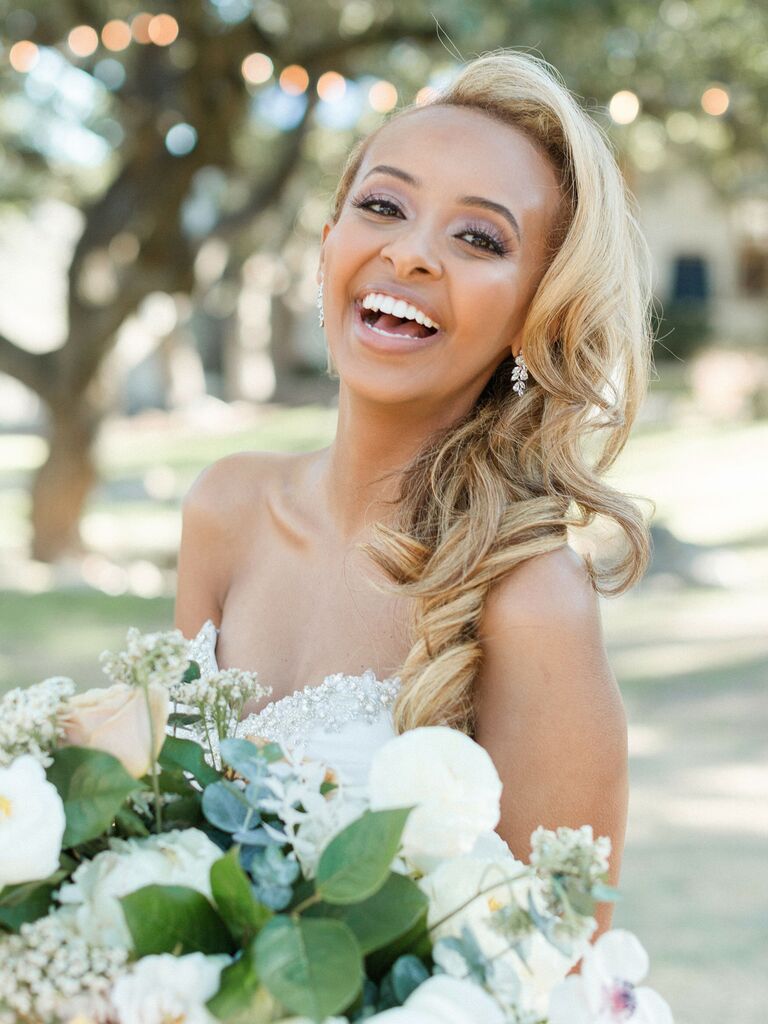 Pastel eyeshadow is a '90s trend we can't get enough of right now. Get the look by using a lavender hue all over your lid. Add dimension by topping the look with light purple glitter and extra mascara.
Neutral Smokey Eye
Use different shades of brown to draw attention to your gorgeous eyes. Focus the darker shades on the outer corner of your eyes to open them up. This will make your eyes appear bigger and brighter.
Simple Shadow
Let your natural beauty shine through by simply accenting your eyes. Swipe a sheer wash of color into your eye socket, carefully line your eyes with brown eyeliner and a vibrant lip color like berry or bright red.
Natural Eye Makeup
Do you prefer a natural look? Lightly apply a shimmery brown eyeshadow across your eyelid and draw a straight line across your lash line with eyeliner. Finish the look off with mascara on both the top and bottom.
No-Makeup Makeup
Maybe you're a fan of the no-makeup makeup look. (We don't blame you—we're still obsessing over Daphne's natural makeup in Bridgerton.) Contour your eyes by sweeping a matte brown shade into your eye socket, and then apply a thin line of eyeliner to your lash line. Flick it out slightly at the end in the same direction of your lashes to give them a natural flutter. Apply one to two coats of mascara, and you're done.
Bold & Bright
A major perk of brown eyes? They can go with any hue. For a bold look, use two neon eyeshadows. It'll make your eye color really pop.
Fluttery Lashes
Nothing draws attention to the eyes quite like long, fluttery lashes. Create a base for the look by sweeping a neutral bronze eyeshadow across your eyelid. Then, brush liquid eyeliner across the entirety of your lid (extending slightly out and up for a wing effect). Then, have your makeup pro expertly apply false eyelashes for a show-stopping stare.
Dramatic Cat Eye
This glamorous look will draw everyone's attention to your lovely gaze. Create a brown smokey eye and add gold glitter onto the middle of your lid to help open them up. Finish off the look with dramatic cat-eye liner and falsies. Pair it with a nude lip to keep the focus on your eye makeup.
Bold Eyeliner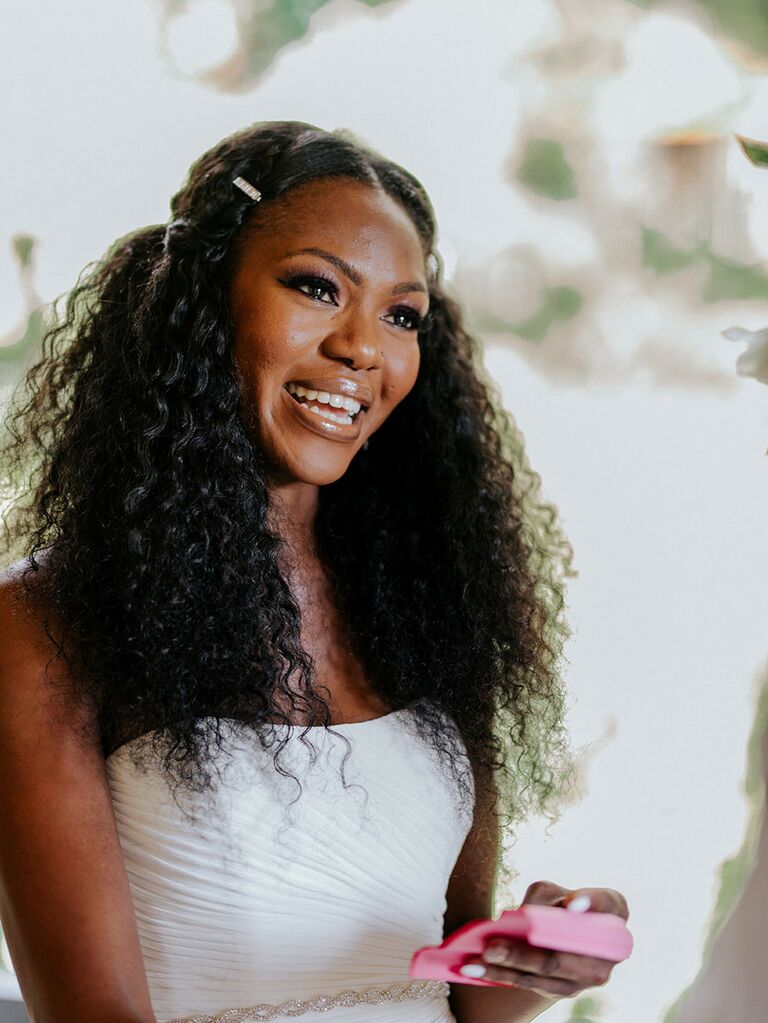 Another way to make your gorgeous brown eyes pop? Eyeliner. Use a dark shade (black, brown or eggplant) on your waterline. Then, tightline your upper lash line (read: draw the eyeliner on the inside of your lash line). Psst: This can be difficult to do on your own, which is why we advise leaving it to the pros! Then, add extra eyeliner on top for a bold, defined look.
Long, Dark Lashes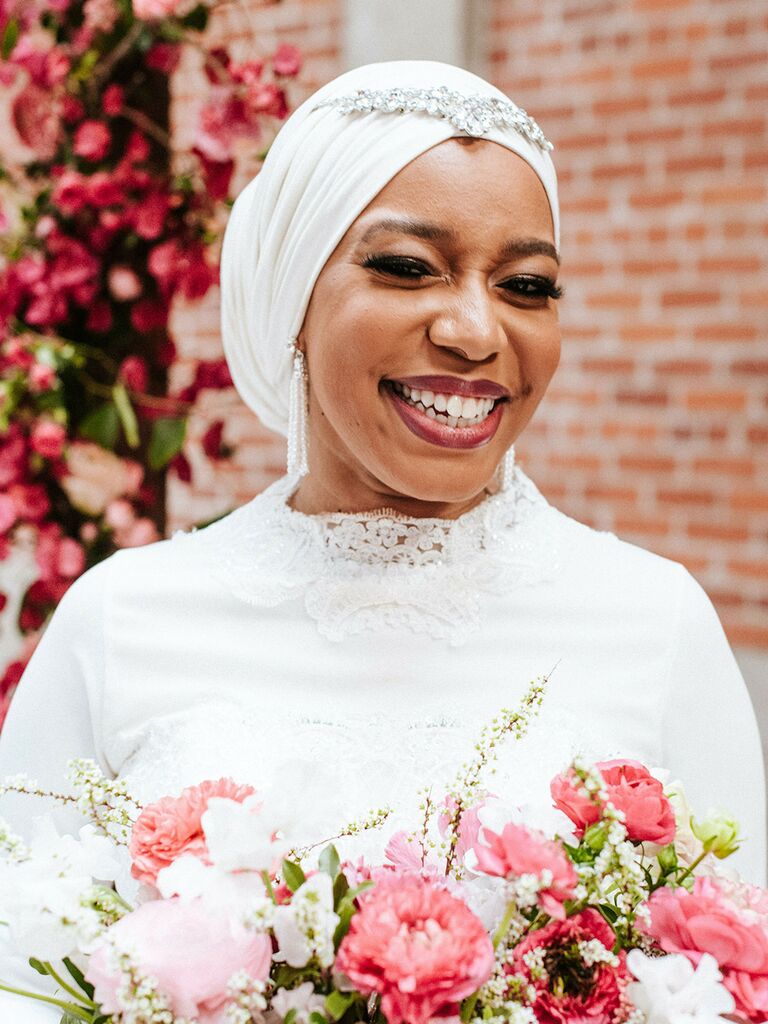 Thick, long lashes will frame your brown eyes beautifully. Draw eyeliner across the top eyelid and in your waterline to help them appear thicker. Then, layer a few coats of mascara (curl them and use a primer for maximum impact) or add on a pair of false eyelashes.
Old-Hollywood Glamor
Look red carpet-ready with this gorgeous look. Create a defined wing with eyeliner and use fluttery false lashes for a stunning wedding eye makeup look. Complete the vintage aesthetic with a bold lip and extra shimmer on your cheekbones.
Minimal Mascara
Your brown eyes are already naturally gorgeous, so let them shine. Apply a couple coats of mascara for a barely-there look. Add concealer underneath and highlighter on your brow bone to make your eyes stand out.
Lightly Lined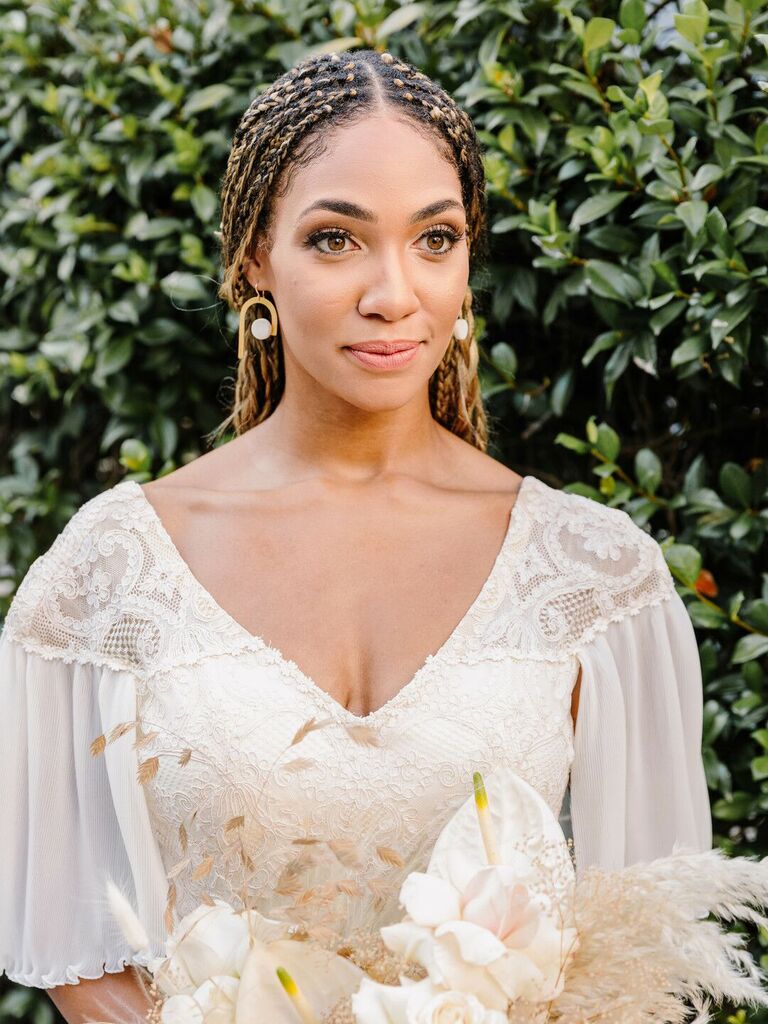 Accentuate your eyes with a light touch of liner. Apply a dark shade to the outer corners of your eyes to define and open them up.
Wedding Makeup For Blue Eyes
If you've got stunning baby blues, you have tons of wedding eye makeup options. Subtly enhance them with a neutral brown hue or intensify them with a similar shade (like blue, turquoise or silver). Want to make your blue eyes stand out even more? Complement them with a warm-toned orange-y shade, like copper, rose gold or bronze.
Golden Glow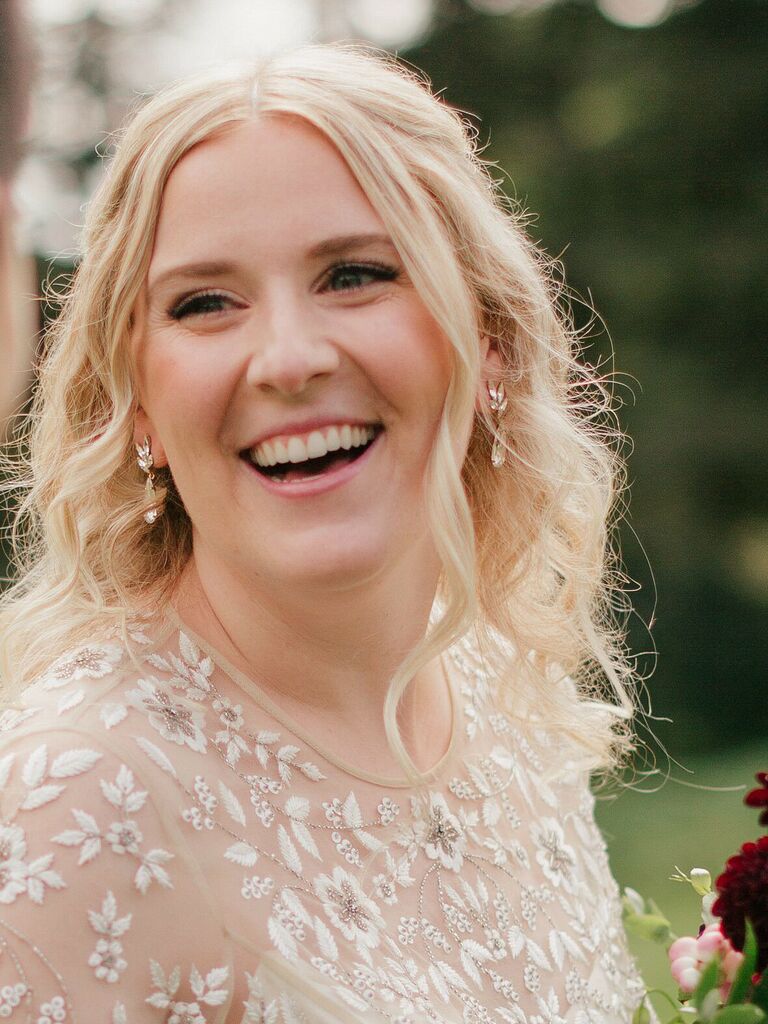 Swipe a shimmery golden shade across your eyelid to complement your pretty blue eyes. Add liner and lashes for maximum impact.
Baby Blues
Intensify your gorgeous eyes with a powder-blue eyeshadow. It'll make your gaze appear brighter and bolder.
Icy Eyes With Liner
Shine bright like a diamond. Let your blue eyes shine with a shimmery, icy blue eyeshadow and bold liner.
Dramatic Smokey Eye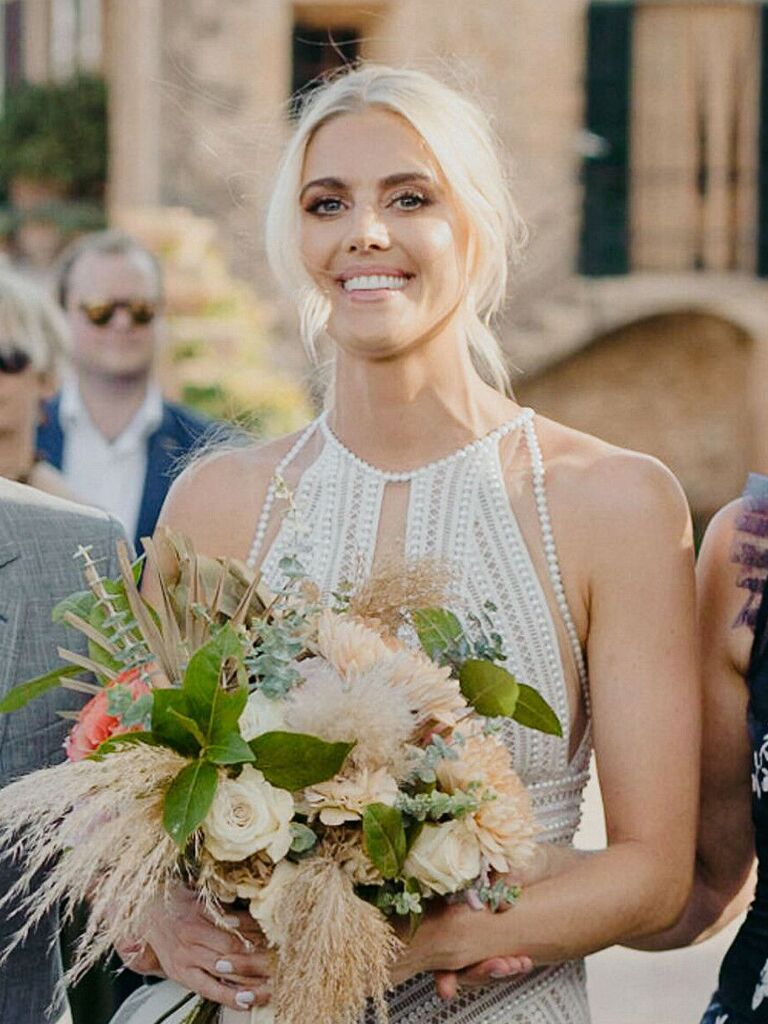 Use an orange-toned eyeshadow to complement the blue hue of your eyes. It'll add warmth to your face and create a stunning contrast.
Neutral Smokey Eye
Let your natural beauty shine through. Use shades of brown to create a natural smokey eye that will accentuate your blue eyes without stealing focus from them. Finish the look off with a hint of eyeliner and a few coats of mascara.
Natural Definition
Show off those baby blues. Open up your eyes by contouring them with a brown shade in your eye socket area. Then, line your lashes with black liner and add mascara.
Long Lashes
Draw attention to your gorgeous blue eyes with long, dark lashes. Line your eyes lightly along your top lash line, curl your lashes and then apply several coats of mascara. For even more drama, add false lashes. Pro tip: Balance out the look by adding mascara to your bottom lashes too.
Navy Blue Liner
Take a cue from the style icons of the'80s (think: Princess Diana) and accentuate your blue eyes with dark liner. Enhance their natural color by using a navy blue-colored liner instead of a black one.
Wedding Makeup For Green Eyes
Got green eyes? Bring out their vibrant color with hues like rose gold, pink and red (all of which are complementary colors). Or, bring out the earthy tones in your eyes with colors like brown, green and black.
Rose Gold Glow
If you want to complement your green eyes but are intimidated by the idea of red eyeshadow, try rose gold. It'll make your eyes pop without feeling too bright or bold. Plus, it'll add extra sparkle to your wedding eye makeup.
Pretty in Pink
Use a light pink shade to brighten up your gaze (and complement the gorgeous green color). Then, use a darker shade at the outer corners to open up your eyes and finish the look with liner and lashes. Accent the look with a berry or red lip.
Olive Smokey Eye
Go with a tonal color palette and intensify your green gaze with an olive-toned smokey eye look. Make it even more dramatic with eyeliner and mascara.
Natural Smokey Eye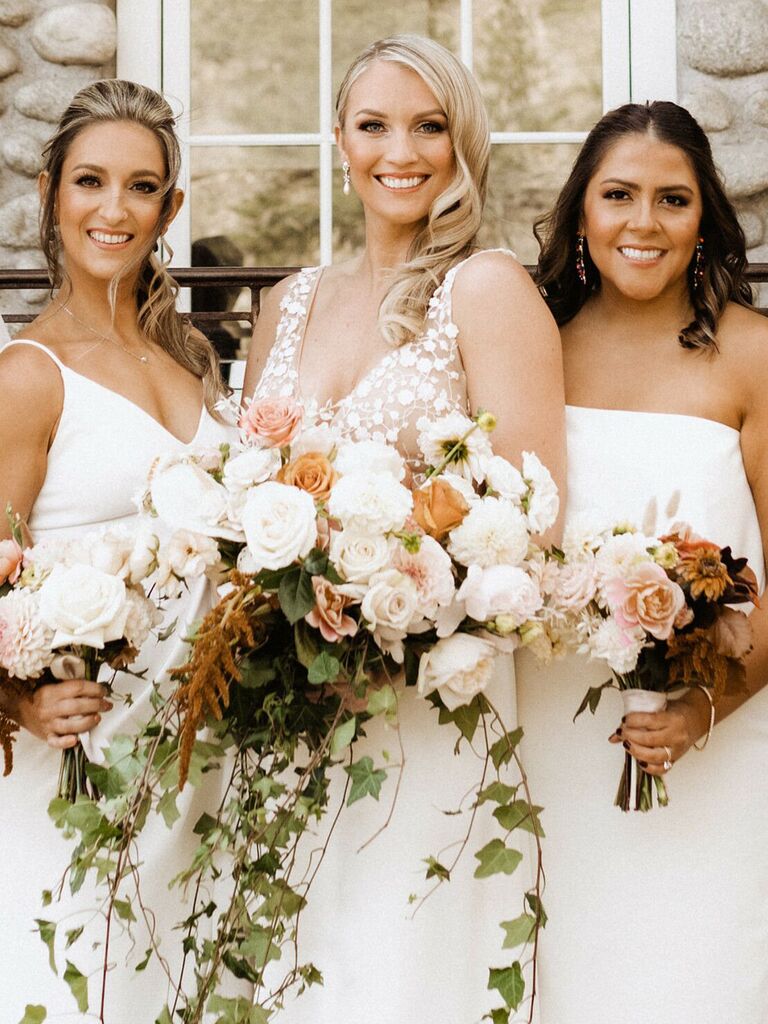 You can't go wrong with a brown smokey eye. It's clean, classic and will pair beautifully with any eye color—including pretty green ones.
Moody Mauve
Add dimension and warmth to your eyes with mauve eyeshadow. Blend it into your eye socket (focusing on the outer corner) for a monochromatic wedding eye makeup look.
Dramatic Cat Eye
Show off your gorgeous eyes with a bold cat eye. It naturally draws attention to your eyes, and the black liner will make your green eyes even more piercing.
No-Makeup Makeup
Your dazzling green eyes don't need makeup to shine. If you'd prefer not to wear much eyeshadow or eyeliner, focus on your lashes. Apply extra coats of mascara for fluttery eyelashes that will frame your eyes perfectly.
Wedding Makeup for Hazel Eyes
Given hazel is a mixture of brown and green, your options for wedding eye makeup are truly limitless. Play into the green with red tones or amp up the brown shades with a pop of purple. Or, highlight both with neutral tones like brown, black and silver. With hazel eyes, you get the best of both worlds.
Silver Sparkle
Bring out the light green in your hazel eyes with a metallic shadow. Silver will accentuate the lighter tones in your eyes to give you a bright, beautiful gaze.
Golden Cat Eye
You're so golden. Gold eyeshadow will complement both the brown and green in your eyes, which makes it perfect for your wedding day. Swipe a glittery eyeshadow across your eyelid and accent it with a simple cat eye.
Rose Gold Glitter
If your hazel eyes lean more on the brown side, bring out the green in them with a rose gold eyeshadow. It'll complement the green tones and add warmth to your wedding eye makeup look.
Simple Sophistication
A smokey eye and toned down cat eye will instantly draw attention to gaze. Use a matte brown shade to keep the focus on the pretty hazel color of your eyes.
Brown Smokey Eye
A neutral smokey eye is a foolproof wedding eye makeup look. Focus a dark brown shadow on your eye socket and outer corner to help open up your eyes and let their hazel color shine.
Dark & Stormy
Looking for edgy wedding makeup for hazel eyes? Create a smokey eye with dark brown eyeshadow and then line the top and bottom of your eyes. Finish if off with extra mascara for a simple, sultry look.
Minimal Makeup
Your hazel eyes are so beautifully unique, they don't even need makeup to shine. Enhance them subtly with a touch of liner and mascara.