27 Wedding Makeup Looks to Inspire Your Day-Of Glam
Get ready to take some screenshots.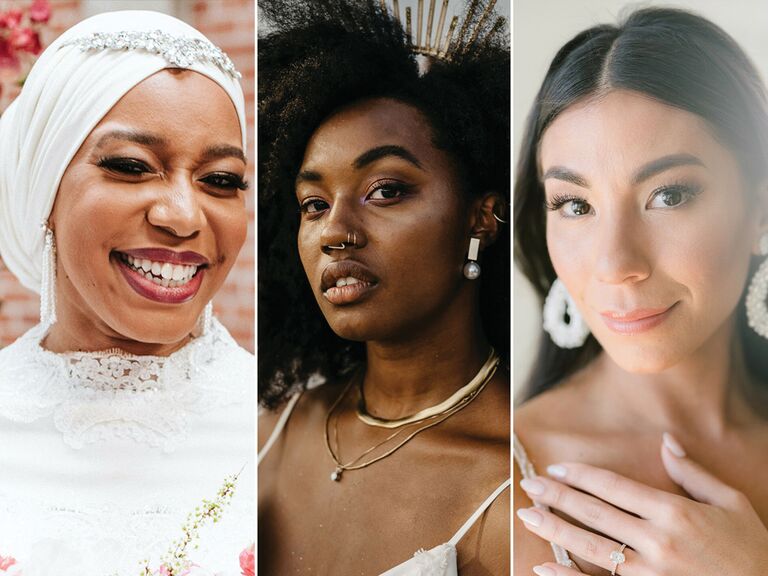 Of all the choices to make for your nuptials, your day-of glam can be one of the more overwhelming ones. You're going to be taking lots of pictures (which you'll look back on for years to come), which is why you want your wedding makeup to be on point. But considering all of the different looks out there, it can be difficult to pick the perfect one. To help, we rounded up 27 of our favorite looks that will work for anyone. Whether you're searching for a natural wedding makeup look for your boho celebration or you want a glam wedding makeup look for your black-tie event, we have something for you.
We also answered some of the most frequently asked questions about wedding makeup so you'll be fully prepared to choose and commit to your day-of look. Pro tip: No matter what kind of look you choose, we highly recommend booking a wedding makeup trial with your makeup artist. That way, you'll be able to see exactly what it looks like ahead of time (and make any necessary adjustments before the big day). You can find talented makeup pros in your area and who will bring your vision to life over on The Knot. But before you book anything, you'll want to gather inspiration—which is where we come in. Check out our favorite wedding makeup looks, below.
Can I do my own wedding makeup?
You can absolutely do your own wedding makeup. However, we strongly recommend booking a professional makeup artist for the occasion for several reasons. The first is that they're absolute pros at what they do. Even if you're a whiz with liquid eyeliner, these pros will be able to expertly apply every single product for a flawless finish. Additionally, they'll bring high-performance products suited for your skin tone that will last throughout the ceremony, reception and after party (if you're having one). Plus, having a pro there means you don't have to worry about rushing on your wedding day or making a mistake and having to start all over again.
Where can I find a wedding makeup artist?
The easiest way to find a wedding makeup artist is to use The Knot. You can quickly search for beauty pros in your area (or in the area of your chosen venue) and use our filters to tailor the search to vendors who charge rates within your budget. If supporting certain businesses is important to you, you can use our DE&I filters to find minority-owned businesses. After all, spending your money thoughtfully is another special way to personalize your wedding day.
What makeup should I buy for my wedding day?
If you're working with a wedding makeup artist, you likely won't need to bring any makeup at all. Typically, they bring their own kit of expert-approved makeup. However, if there's a product you can't live without, bring it for your wedding day! If you want to bring a full lineup of your own own products, make sure you speak with your makeup artist about it beforehand. Two products we definitely recommend keeping on hand are powder and your chosen lip product for any touch-ups. If you need inspiration for products to purchase, check out our shopping guide to Sephora or our Beauty Awards, which feature our editor's favorite beauty picks.
How to Choose Wedding Makeup Look
Given the endless options for your wedding makeup look, it can be overwhelming to choose one. To help, we put together a few ways you can narrow down your choices.
Eye Color
We're huge fans of choosing your wedding day makeup based on your eye color. Certain colors of eyeshadow and eyeliner will intensify or complement the hue of your eyes, making them pop in pictures (and IRL). For example, purple and bronze will accentuate brown eyes while turquoise, silver and copper will intensify any blue-eyed beauties.
Hair Color
You can also use your hair color to help guide your wedding makeup look. To-be-weds with dark hair can more easily rock natural wedding makeup because their dark tresses naturally frame their faces. However, you can also play with the dark hue of your hair and go for a dramatic look with smokey eyes and a bold lip. If you have blonde hair, complement it with warm tones (think: gold, copper and rose gold). Red-haired nearlyweds will shine the brightest with neutral or pink tones in their wedding makeup. If you have colored hair, we recommend consulting your makeup artist to get their expert opinion. And remember: These are just suggestions. You should rock whatever makeup look you want regardless of your hair color.
Venue
Put the wedding planning you've done thus far to use. Your chosen venue can help steer the direction of your wedding makeup. For example, a waterfront site may call for more natural wedding makeup (think: no-makeup makeup looks). On the other hand, an elegant ballroom may lend itself better to a more glamourous cat eye.
Personal Style
The most effective way to decide on your wedding makeup is to go based on your personal preferences. Do you typically rock a red lip when you go out? Consider wearing one on your wedding day. If you love colorful eye makeup, don't be afraid to use it on your big day. On the flip side, if you don't feel comfortable wearing a lot of makeup on your wedding day, there are plenty of no-makeup makeup, natural wedding looks you can rock. The most important thing is feeling comfortable and confident.
Our Favorite Wedding Makeup Looks
Ready to get inspired? See our favorite wedding makeup looks here.
Natural Wedding Makeup Looks
Keep it simple. Swipe on a shimmery rose gold eyeshadow, lightly line your eyes and then apply a few coats of mascara.
Show off your inner light. Use a gold eyeshadow and accent it with a subtle cat eye and mascara.
Is there anything more romantic than long, fluttery lashes? Keep the rest of your makeup clean and simple (think: light foundation and a neutral lip), and then layer your mascara.
Get that lit-from-within glow by swiping bronzer across the high points of your face and adding a highlighter to your cheekbones. Finish off the look by lining your eyes, applying a few coats of mascara, and swiping on a pink lip gloss.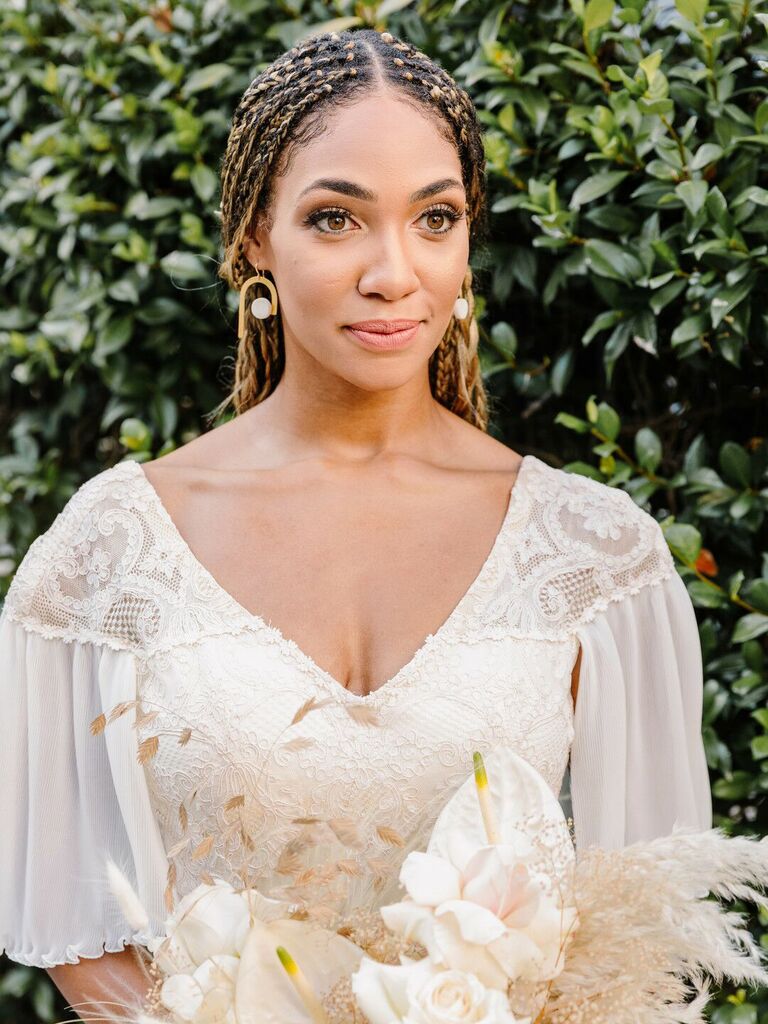 Open up your eyes by lining just the outer half of your eyelids. Top the look off with a medium-coverage foundation, concealer and a matte, nude lip.
Radiate warmth with this gold-inspired wedding makeup. Sweep a sparkly gold eyeshadow across your lids, lightly fill in your eyebrows, and then add a few coats of mascara. Finish the look off with your favorite lip balm. (Psst: This wedding makeup look is particularly stunning on to-be-weds with blue eyes).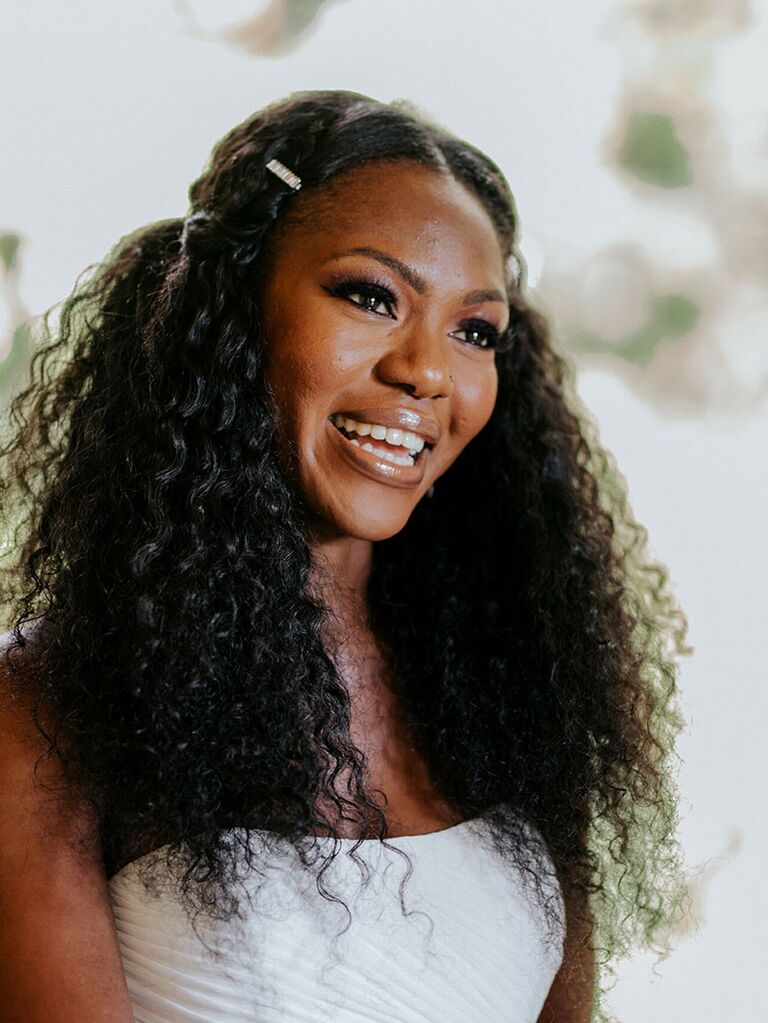 Make your eyes pop. Line the top and bottom of your eyes and add mascara. Keep the rest of your wedding makeup minimal to draw focus to your gorgeous gaze.
Dreaming of a natural wedding makeup look? Enhance your eyes with neutral eyeshadow and subtle winged eyeliner.
Swap neutral brown eyeshadow for a deep purple one instead. This look will look particularly stunning on to-be-weds with brown eyes, as the violet hue will complement your lovely eyes. Add liner, mascara and nude lipstick to bring it together.
This wedding makeup look is all about enhancing your lovely features. Use an illuminator to show off your gorgeous complexion, and then create a subtle smokey eye to draw attention to your lovely eyes. Finish it off with a lip color that's one to two shades darker than your natural pout.
Play up your gorgeous eyes. Swipe a pretty neutral eyeshadow across your lids and extend your eyeliner out to create a pretty wing.
Romantic Wedding Makeup Looks
What's more romantic than a wash of pink eyeshadow? Pair it with mascara and a berry-colored lip for extra sweetness.
Winged eyeliner doesn't have to be dramatic. Case in point: This pretty mini wing. It defines your eyes in a sweet and subtle way. Pair with your favorite lip liner and lipstick for the full look.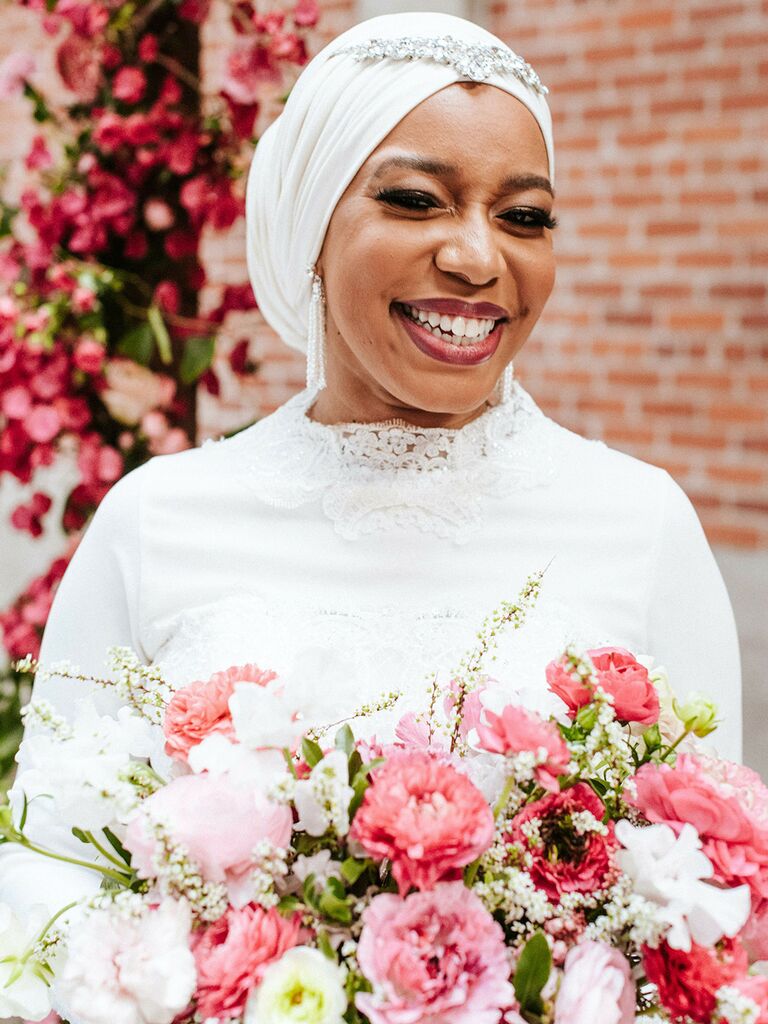 Make a red lip instantly more romantic by opting for a brick-colored shade instead of the classic blue-toned red.
Make your brown eyes the star of the show by creating a dreamy purple smokey eye. Top with liner and mascara for an ultra-romantic wedding makeup look.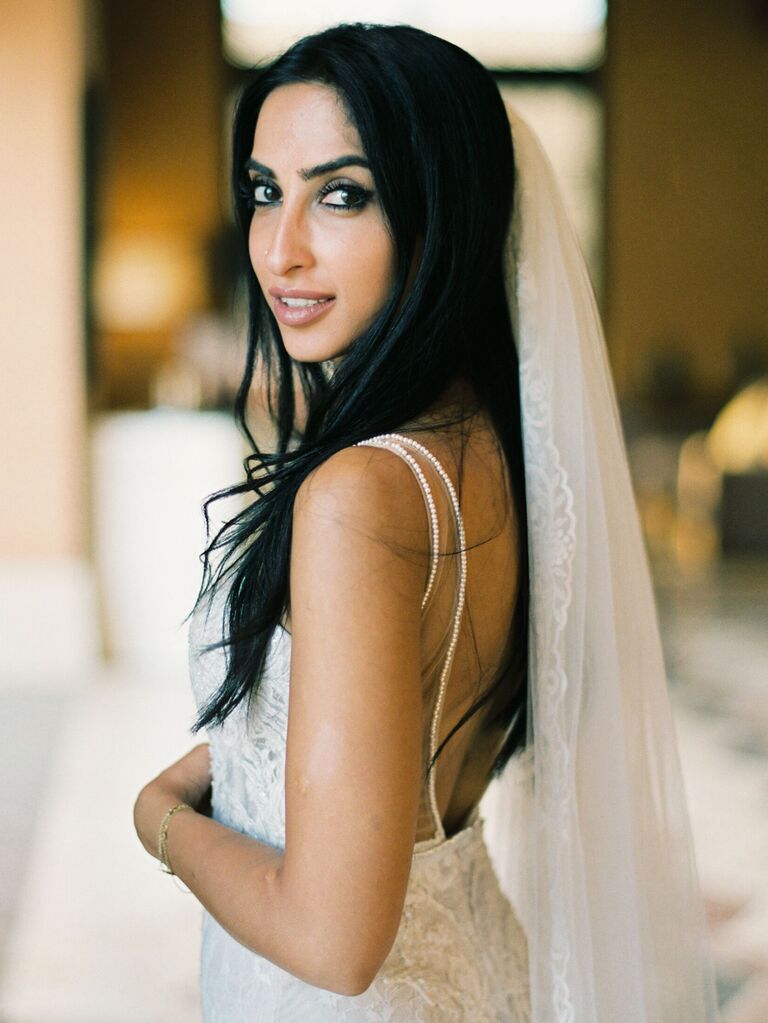 Searching for a sultry wedding makeup look? Smudge eyeliner on both lash lines, and top it off with mascara and bold brows. Keep your lips neutral for a dramatic contrast.
If you love the look of long lashes, this wedding makeup look is for you. Add eyeliner to your upper and lower lids to create the illusion of thicker, longer lashes.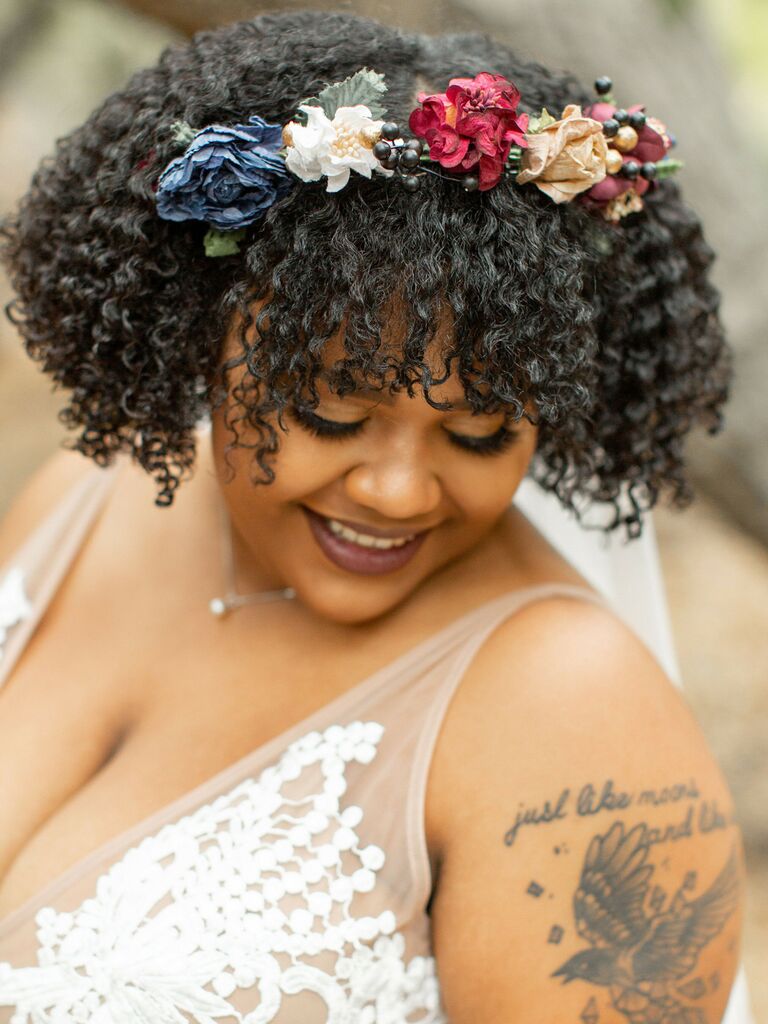 A deep mauve lipstick is great for to-be-weds who want to wear a colorful lip but want something a little more understated. Plus, the color is so pretty.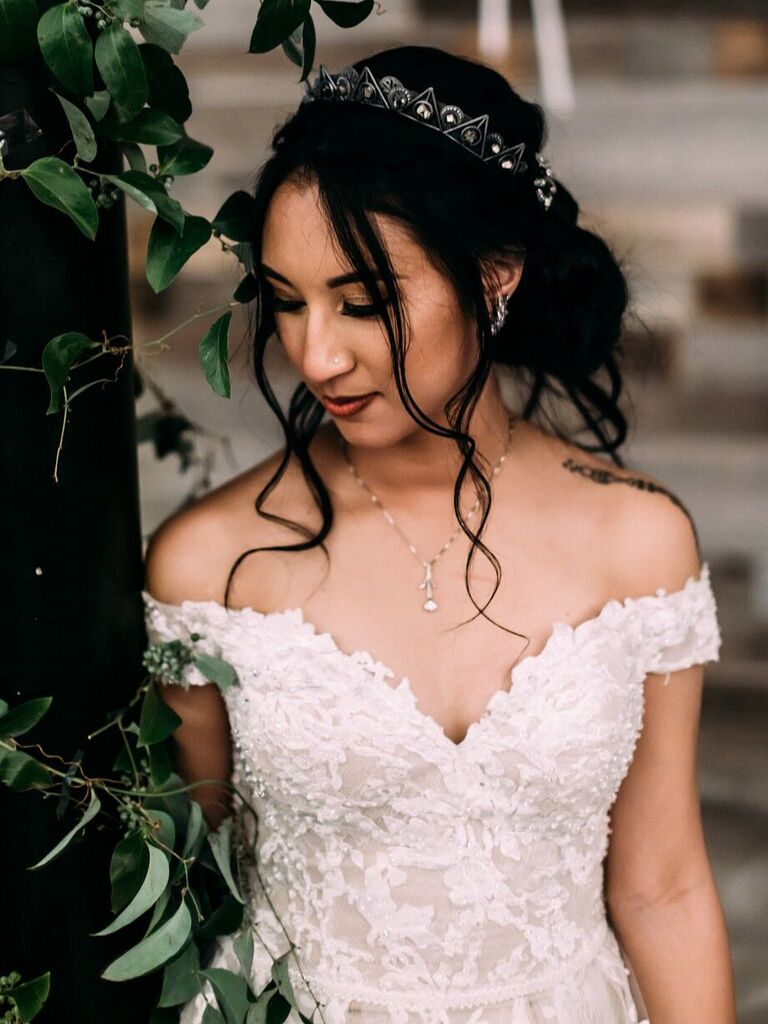 Dreaming of a fairytale-inspired look? Pair a dark smokey eye with a deep red lip.
Long, dark lashes perfectly balance a bright red lip for a wedding makeup look that's straight out of a movie.
Glam Wedding Makeup Looks
Go full-on glam. A dramatic cat eye (complete with glittery eyeshadow and false lashes) will draw everyone's attention to your gorgeous face.
Rock a makeup look that reflects your personality. Go for a bold, colorful eyeshadow, and accent the look with sparkly glitter.
Nothing looks more classic than winged eyeliner paired with a red lip.
A golden cat eye and a pink lip pair perfectly for a fresh, playful wedding makeup look.
What's a party without a pop of color? Add a bright-colored eyeshadow (like purple) into your inner corner for a fun surprise.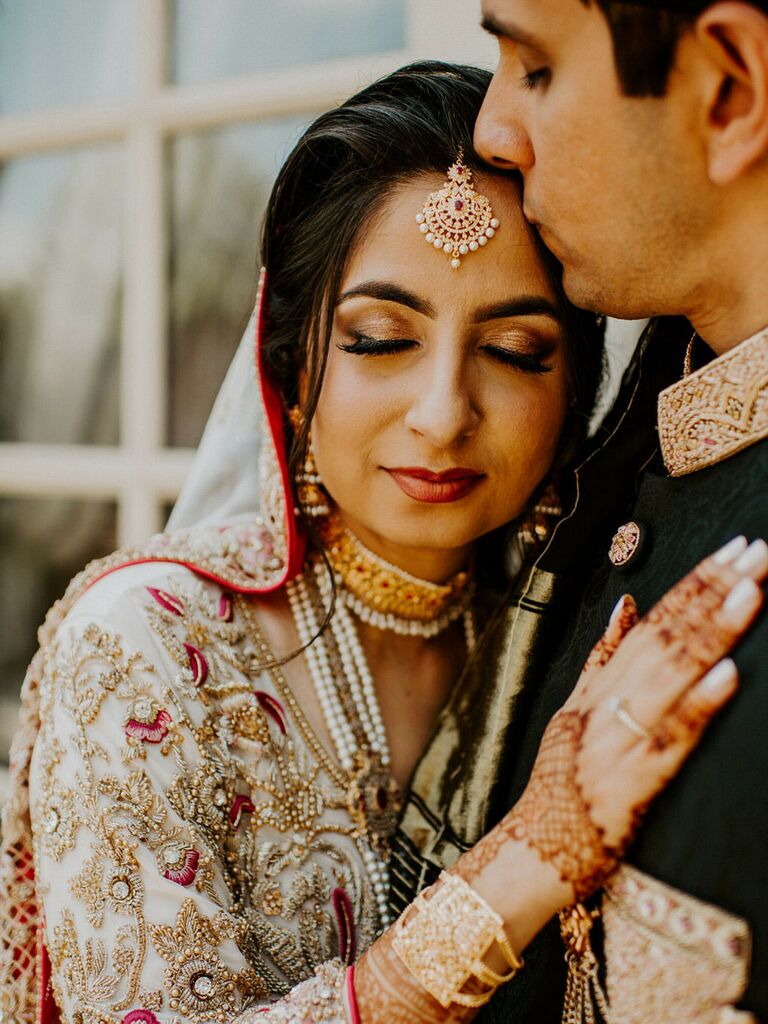 Calling all beauty maximalists: this wedding makeup look is for you. Create a stunning golden smokey eye, and then add a wing and false lashes. Finish the look off with a bold red lip.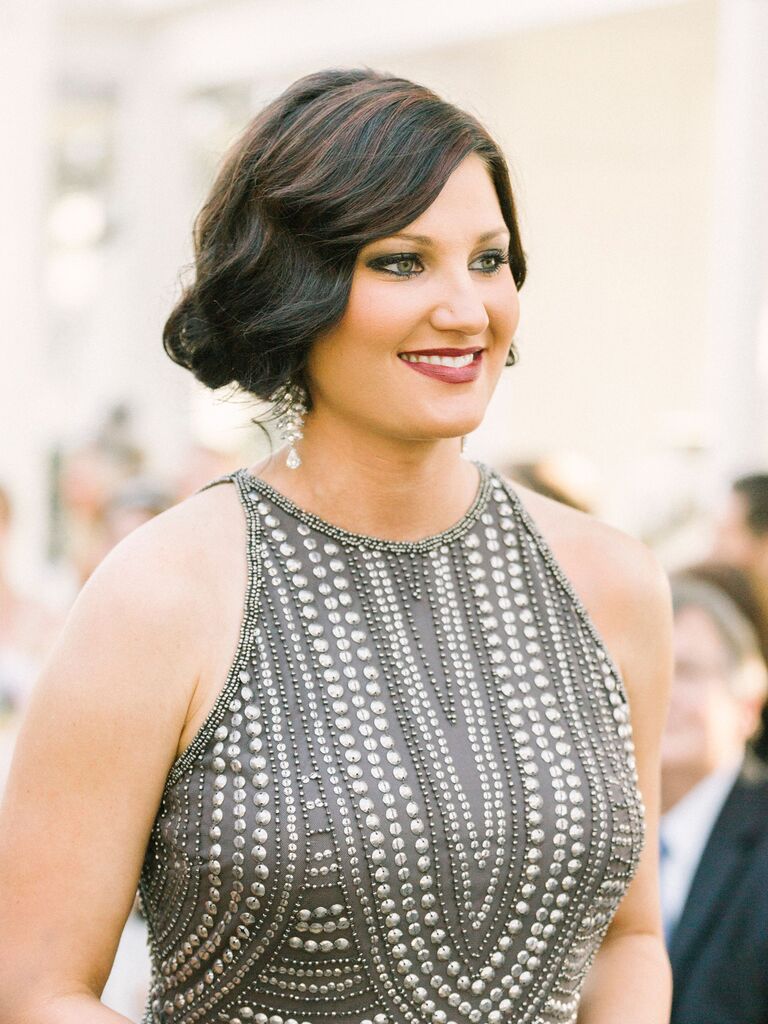 Looking for retro wedding makeup ideas? Line your eyes all the way around, and then apply a deep red lipstick. You'll look like you're ready to party at Gatsby's.