16 Bow Ties to Complete Your Wedding-Day Look
Level up your 'fit with a stylish bow tie.
We have included third party products to help you navigate and enjoy life's biggest moments. Purchases made through links on this page may earn us a commission.
No matter your role in the big day, topping off your attire with a wedding tie, particularly a bow tie, will take your formal look to the next level. While there are no strict rules that dictate whether you should don a wedding bow tie or tie to most events, bow ties are a distinguished choice that instantly upgrades a suit or tux for every type of ceremony.
Bow ties are available in a range of different materials, shapes and every color under the sun. From the traditional shiny and voluminous types to the contemporary thin and textured designs, there are so many styles of wedding bow ties to choose from.
To help you find the right bow tie for your next wedding, we've listed our top 15 recommendations for each level of formality, color scheme, budget, shape and personal preference.
In this article:
Bow Tie vs. Tie – Which Should I Wear?
Weddings are a great opportunity to rock a bold neck accessory. If you're doubting whether you should wear a bow tie or a typical tie to your next occasion, start by checking your invitation for the specified level of formality. While ties are a great choice for semi-formal or casual ceremonies, bow ties are mandatory for white-tie, black tie, and an appropriate accessory for black tie-optional and formal dress codes. Otherwise, you'll risk looking less dressed up compared to the other guests.
The Best Wedding Bow Tie Options for Grooms & To-Be-Weds
If you're the one getting married, we suggest opting for an elevated bow tie, in a distinguished shape. If you want to go the conventional route, try a butterfly bow tie, which has wide wings and a narrow knot in the middle. For a more modern appearance, try a batwing bow tie, with straight narrow ends, or a slimline bow tie, which is similar to the butterfly style but with a slimmer profile. Both modern options work for formal and semi-formal occasions. When it comes to color, select a timeless tone, like black, white, or navy to match suits in the same neutral palette. Regardless of the color combination, your look will never go out of style.
Hugo Boss Italian-Made Bow Tie in Silk Jacquard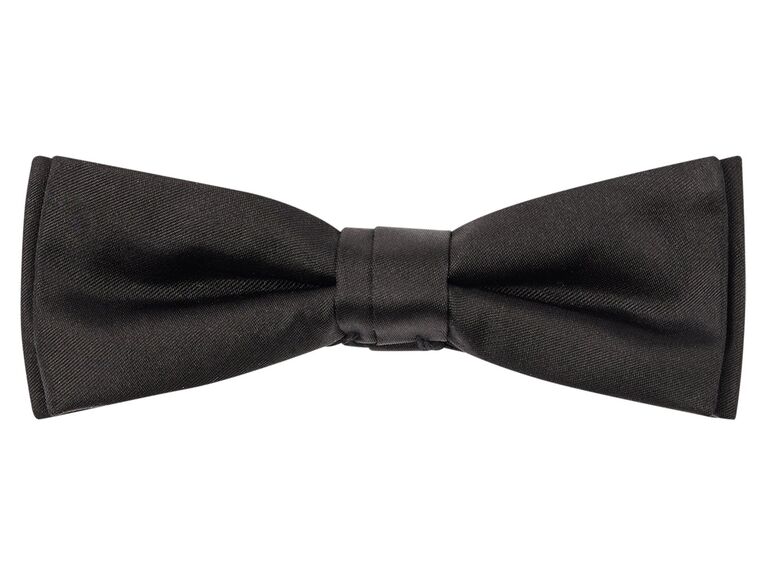 Crafted from silk jacquard, this slim, sophisticated (and pre-tied!) bow tie is a refined option for ultra-fancy dress codes. The dapper design is equipped with an adjustable strap for the perfect fit.
Enzo Custom Satin Bowtie T292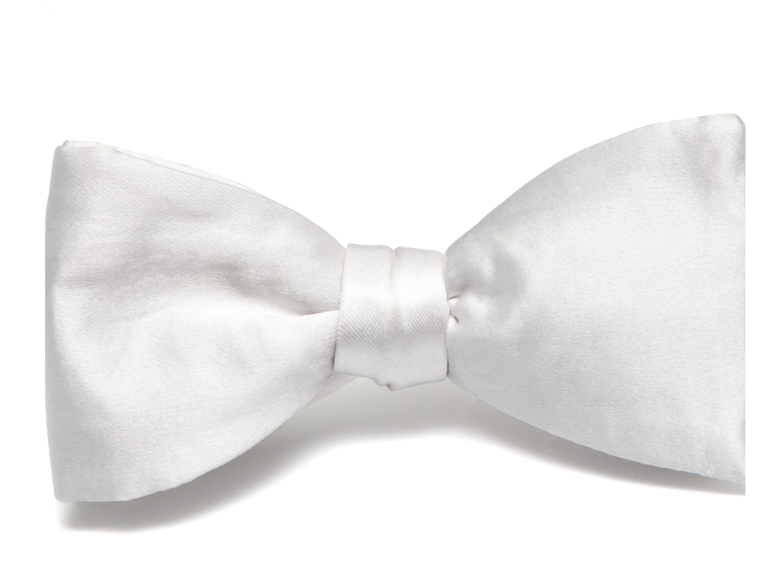 This bespoke menswear brand creates custom bow ties for grooms who prefer distinct items that are tailored to their exact measurements and individual taste. When layered over a crisp white shirt, this ivory satin accessory is appropriate for white-tie occasions.
The Tie Bar Formal Velvet Black Bow Tie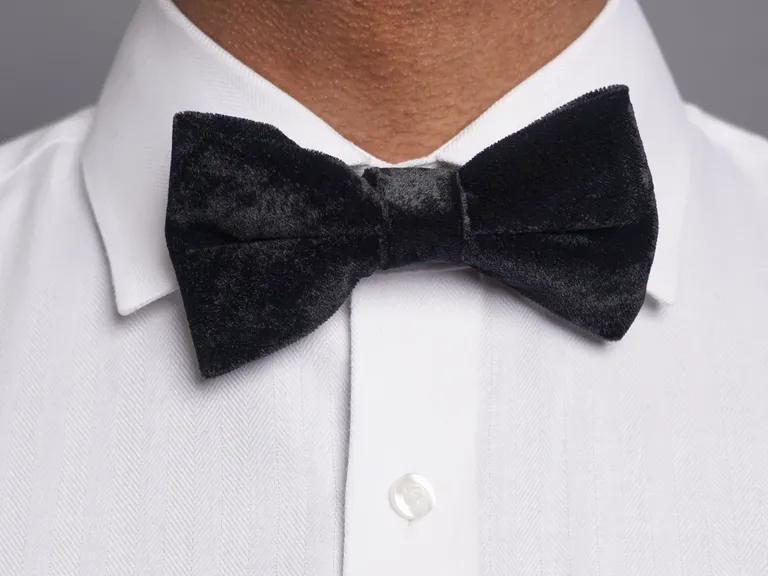 Winter or holiday weddings call for a plush velvet bow tie that will add dimension to a sleek tux. Dressing to impress, during the snowier seasons, just got a whole lot easier.
Tom Ford Honeycomb Viscose Bowtie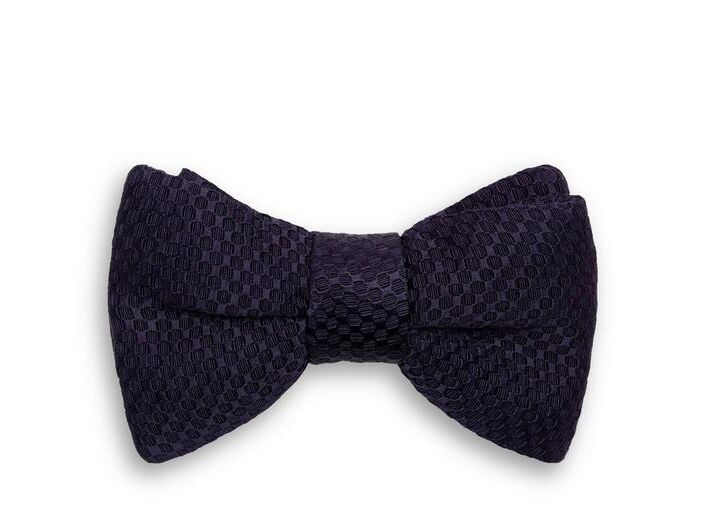 Made from honeycomb viscose, this textured bow tie is a stylish yet subtle unexpected choice. It comes in two colors: Classic black or a rich, navy pattern which adds modern flair to a standard tux.
Allegra K Pre-Tied Solid Adjustable Bow Tie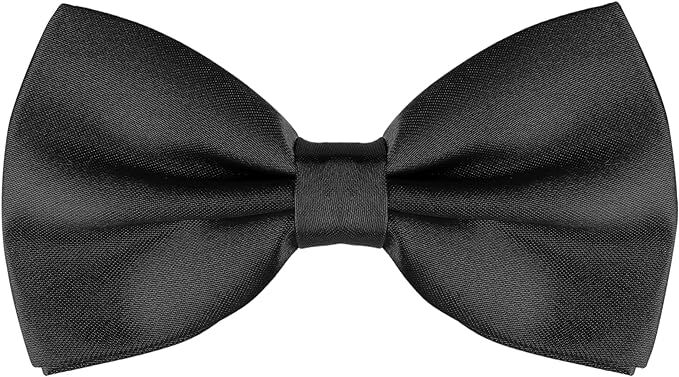 It doesn't get any more traditional than this voluminous, high-shine option, in the popular "butterfly" shape. The affordable design is pre-tied with adjustable straps, so you can slide it on in seconds.
Wedding Bow Ties for Groomsmen and Wedding Party Members
When dressing your groomsmen, choose a color or pattern that coordinates with the bridal party's palette and the overall wedding color scheme. This will enhance your photos and display your attention to detail. Always go with lighter colors if the bridesmaids are wearing pastels and go darker if they are wearing deep or jewel-tone hues. Some brands, like The Tie Bar, offer bow ties that match perfectly with bridesmaid dresses from popular brands, like Azazie. To make getting ready as easy as possible, select a pre-tied bow tie, so they're guaranteed to get dressed quickly and have symmetrical, same-sized bow ties.
Charles Tyrwhitt Silk Knotted Bow Tie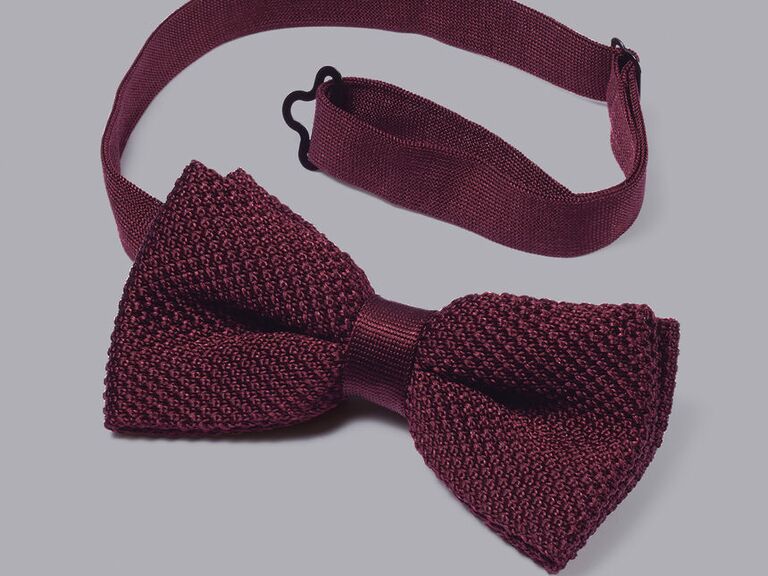 Make your groomsmen stand out with this knitted, burgundy version that will instantly upgrade the simplest of suits. The unique bow tie is woven from pure silk, displaying the finest of craftsmanship.
J.Crew English Satin Point Bow Tie
This diamond point bow tie has a modern shape, with noticeably pointed ends, that will set your groomsmen apart from wedding guests. This sleek model is fabricated using a bespoke English satin.
Gucci Silk Bow Tie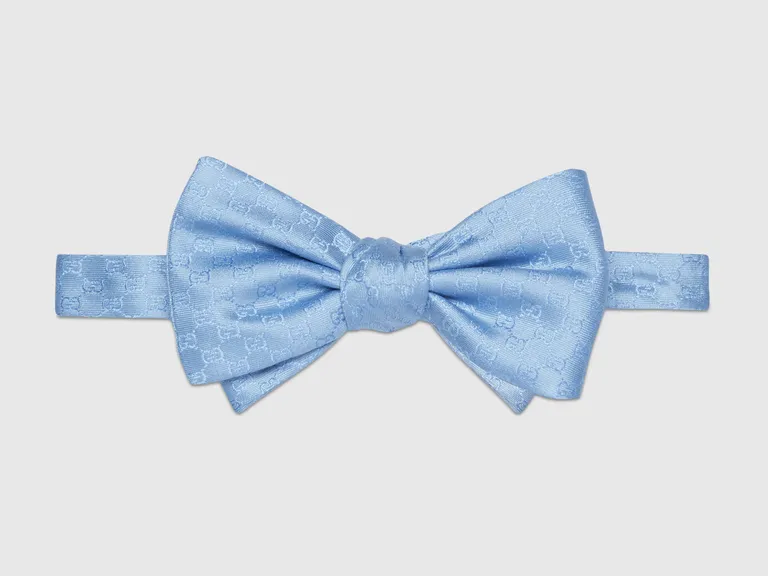 Crafted from light blue silk using classic tailoring elements, this premium bow tie is perfect for a fashion-forward wedding. Between the signature Gucci logo prints and striking double bow, your bridesmaids may have some stiff competition for "best-dressed".
Paul Smith Silk Floral Bow Tie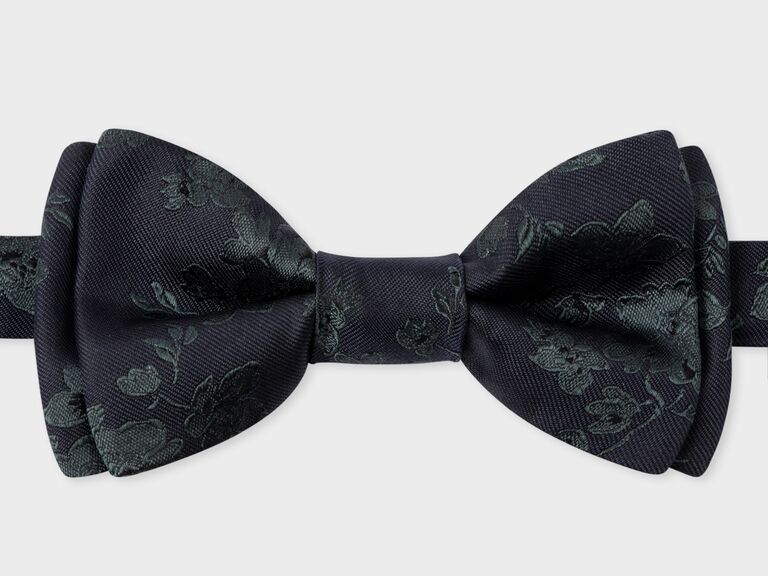 If you're looking to mix in a pattern, try a brocade bow tie with understated accents. It will unite the overall look of your wedding party and make pared-back suits more interesting.
The Tie Bar Linen Row Bow Tie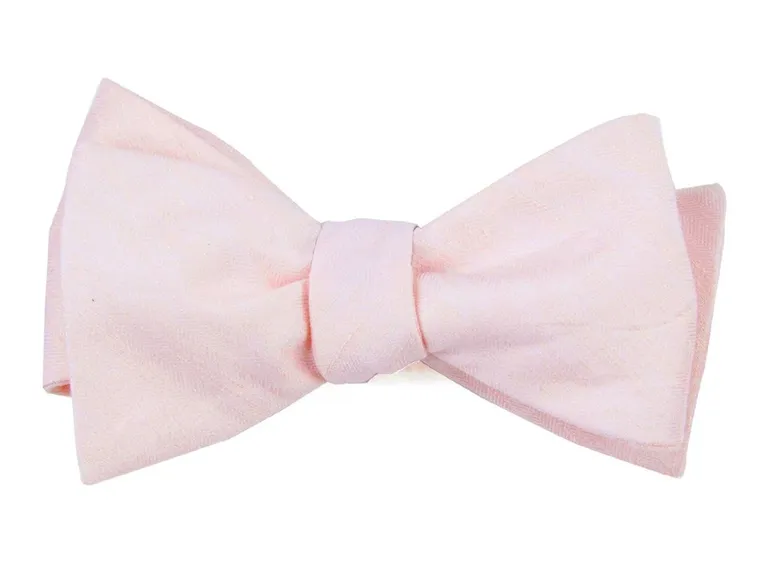 With sizing options available for both boys and men, this linen bow tie makes for a cute groomsmen and ring bearer matching moment. Plus, the breathable linen fabric pairs seamlessly with summery suits.
Bow Ties for Wedding Guests
As a wedding guest, you can never go wrong with a standard black bow tie, especially for black or white-tie weddings. With less strict dress codes, you have the most flexibility to choose a bow tie in a unique color, texture, or size. So don't be afraid to add some flair and show off your personality. Just remember, opt for lighter fabrics, like linen or cotton for warmer seasons and thicker ones, like wool or velvet for winter. If you go with an eye-catching option, wear a simple suit or tux in a neutral color. Lastly, avoid loud or neon color palettes and obnoxious patterns that will demote the formality of your look. Instead, try stripes, polka dots, paisley, or subtle floral prints in muted tones.
Trendhim Accessories Polka Dot Silk Pre-Tied Bow Tie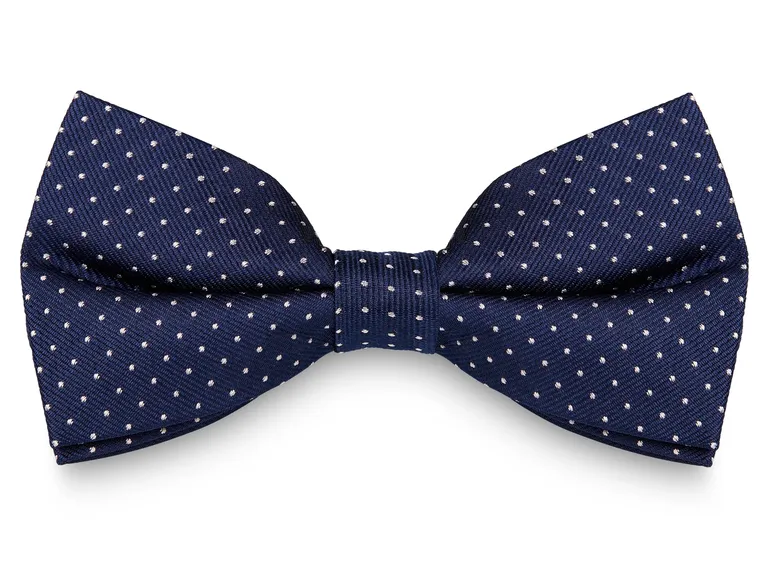 For a subtle punch of style, don a fun polka dot style that speaks to your personal aesthetic. Look for one with smaller dots, like this hand-tied silk bow tie, for an understated vintage appeal that features just the right amount of pattern.
John Henric Bow Tie Wool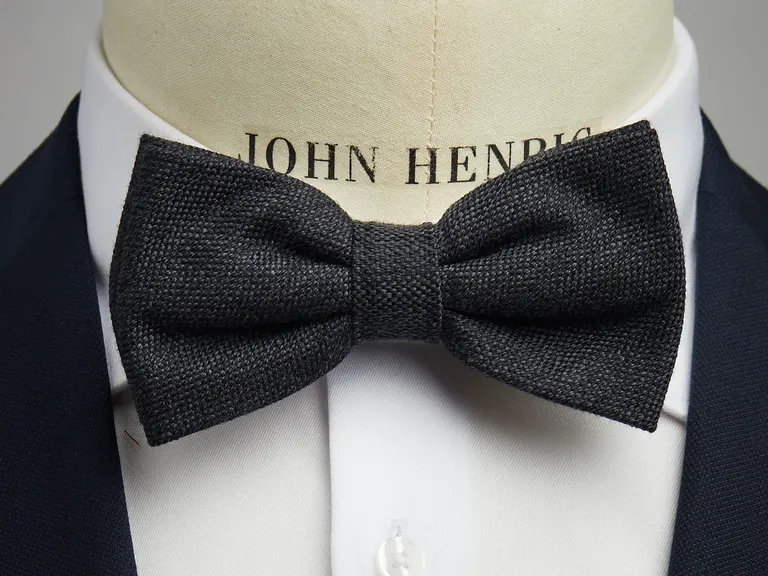 Looking for a quirky bow tie during the fall or winter? Try a thicker alternative fabric, like a wool bow tie in a jewel-toned hue. The rich fabric blends perfectly with colorful foliage or frosty winter backdrops.
The Tie Bar Corduroy Freesia Floral Charcoal Bow Tie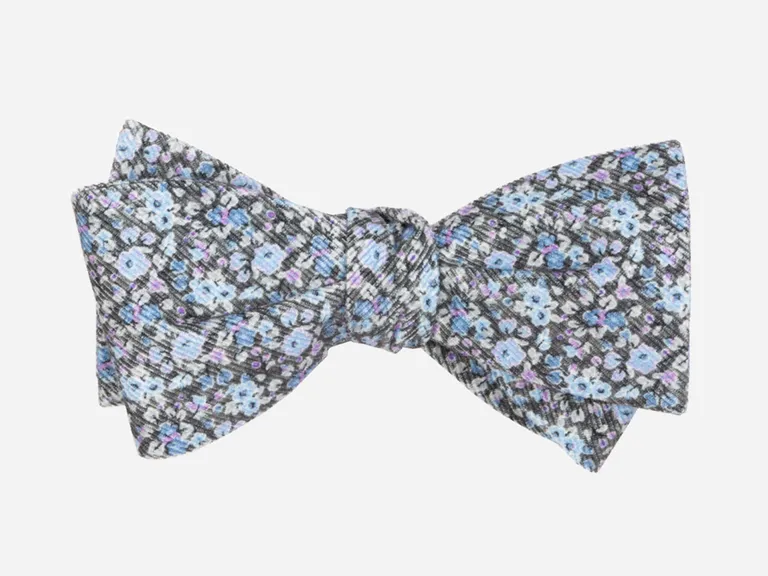 If you're a guest at a more relaxed wedding, you can feel free to have a little fun with the color and pattern of your bow tie. This floral style will look just right at a variety of settings and in any season.
Suit Supply Black Self-Tied Bow Tie
Heading to a swanky black-tie affair? Complete your evening ensemble with this luxe, self-tied bow tie, made from 100% pure silk.
Gucci Silk Bow Tie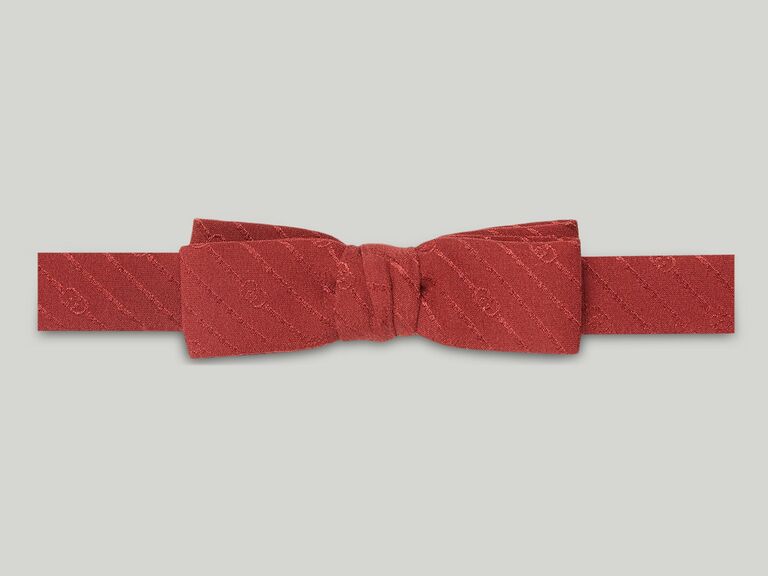 If you want to incorporate a vibrant color into your formal look, go for a muted version of your favorite hue in a modern shape. This cherry red silk bow tie has noticeable tailoring elements that make it both bold and polished.
The Black Tux Champagne Linen/Silk Bow Tie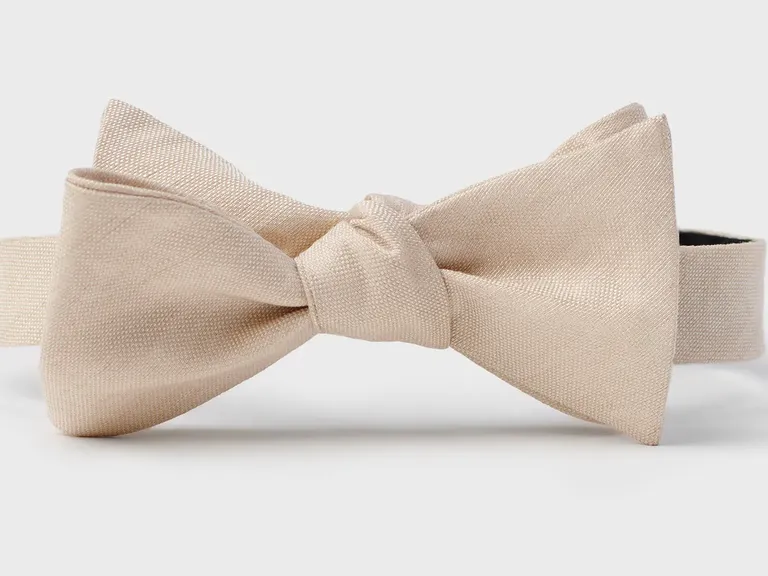 Ideal for warm weather occasions, linen bow ties are a popular choice for casual beach or rustic weddings. Pair it with an equally lightweight fabric or linen suit, in softer colors, as the perfect combination for laid-back ceremonies.