Wedding Dress Style Dos and Don'ts
You've decided on your wedding style, but now you're having trouble finding the perfect gown. Follow these basic dos and don'ts to make sure the most important dress you'll ever wear reflects your personal style.
by Kristen Hawley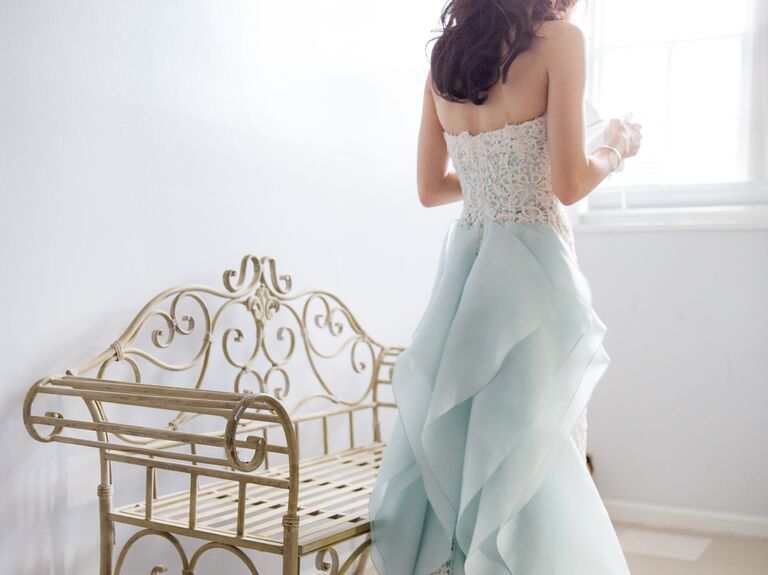 Do: Tie your look to your wedding location. If you're having a traditional ceremony with a formal reception, opt for a classic, timeless gown style (like an A-line or ball gown with a square neckline). Getting married outdoors in an afternoon garden ceremony? Consider a strapless sheath made of a light material like silk gazar. If you're marrying in the sand on an exotic island, a flirty tea-length gown with festive shoes (or even barefoot!) is the ultimate nontraditional wedding attire.

Don't: Let your wedding style dash your dreams of the perfect gown. If you have your heart set on a fun, sexy gown but you're worried it's not appropriate for your ceremony site, consider wearing a coverup for a more demure look during your ceremony.
Do: Think about wearing fun footwear. Getting married in the middle of July? Consider sporting flip-flops under your gown. If you're all cowgirl, try a pair of boots. And for a slope-side winter wedding, you've got the perfect opportunity to don a pair of furry white snow boots.
Don't: Dress more casual than your guests. If you choose to have a black-tie, formal affair and expect your guests to dress up, make sure you follow suit! Any floor-length gown is appropriate, whether decorated with intricate beading, or just accessorized with beautiful jewelry.
Do: Dare to defy tradition. If you don't want to don the traditional white A-line gown, explore your options. Just be sure to consult your officiant first to make sure she will be comfortable with (or, more importantly, will allow) your choice of attire.
Don't: Wear a long train for a beach wedding. Delicate fabric and sand just don't mix.
Do: Choose the right white for your skin tone, no matter what style you pick.
Do: Let your personality show through your accessories. Give a traditional gown a fun twist with a colorful sash or large, flashy earrings, or keep your style poised and polished with a simple pearl necklace and earrings.
Don't: Let your jewelry overpower your ensemble. If your dress has lots of intricate details already, opt for simple pieces, or even just your engagement ring.
Do: Keep an open mind when it comes to shape. Try on many different types of gown— you never know how they'll fit until you take them off the hanger.
Do: Pick the right undergarments. Many bridal salons recommend choosing pieces that closely match your skin tone, and there are many varieties of body-shaping products that will perfect your silhouette no matter how slinky the gown.
Ready to shop for your wedding dress? Find bridal salons in your area here. 
Browse tons of wedding dresses here.