Here's Why You Should Consider Wedding Dress Shopping Alone
We break down why it could benefit you the most.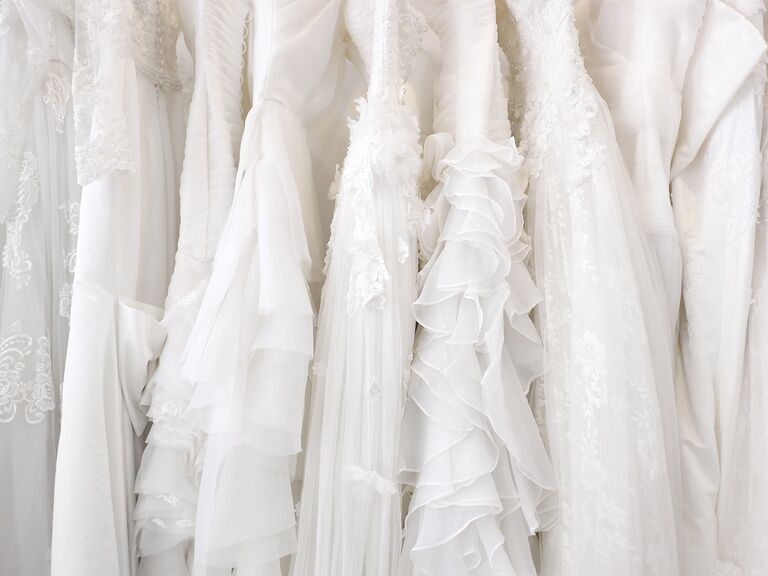 Pitchaya_T/Shutterstock.com
Shopping for a wedding dress is something many brides dream of long before they get engaged. While some are accompanied by a large entourage of friends and family for the experience, others choose to go by themselves. Going wedding dress shopping alone is something most brides might not even consider—but there are numerous benefits to going this route. Finding your wedding dress is a personal experience, and it shouldn't have to be compromised by opinions of others (even if they do mean well). And with plenty of ways to involve your loved ones in other aspects of the wedding, going wedding dress shopping alone can give you the clarity you need to find the gown of your dreams.
You might wonder if it's acceptable to go wedding dress shopping alone—and we're here to respond with a resounding "yes." Here, we break down all the perks of shopping solo. Plus, one bride shares why going alone was the best option for her.
You'll Get One-on-One Time With a Stylist
Some bridal salons specialize in giving clients one-on-one time with designers. Not only does this ensure privacy, it provides a completely customized shopping experience. "All our appointments are private, meaning the bride has the entire salon to herself and can comfortably browse, try on dresses, and work with our staff without strangers or prying eyes around," says Steven Birnbaum, a New York-based designer who works individually with clients or with small groups. "We try our best to really get to know the bride, their wedding and their style to provide a catered, tailored experience. We want the process to feel personal, and for the bride to be as involved in the process as we are."
By going wedding dress shopping alone, you'll get to talk freely with your stylist about what you want. You'll also get to experiment with different dress styles, silhouettes and colors—all without the added pressure of your loved ones watching and giving their opinions. This is ideal for those who aren't totally comfortable with having attention on them. Or, shopping alone can be a great alternative for brides who simply want to enjoy this experience on their own.
You Won't Feel Unnecessary Pressure
Let's face it: Your loved ones have opinions. They want the best for you, so bringing them along to your dress shopping appointments means they won't shy away from sharing their thoughts. If you've got an opinionated group, consider allowing them to help with other aspects of the wedding. Since you'll be the one wearing the wedding dress, you shouldn't feel pressured to accommodate other people's preferences.
Christina Fish Fee, a bride who worked with Birnbaum to find her gown, chose to go wedding dress shopping by herself to savor the experience. "It wasn't a choice I made to exclude anyone," she says. "But for me, my wedding gown was a reflection of who I am and what makes me feel like the best version of myself. The team gave me the space and the confidence to express those things, and together, we created something really beautiful that made me feel like me. The result was that on my wedding day, I was wearing something that made me feel relaxed, happy and proud."
Wedding dress shopping alone will give you a unique experience to find your dream gown, your way. Planning a wedding can be stressful enough, so going shopping by yourself is one way to ease the process. "When we get to work one-on-one with the client, we get to take the proper time and pace to get to know our bride on a personal level," says Birnbaum. "Successful design is all about finding a perfect complement between the garment and the person inside it. Beyond that, coming to a first appointment alone can be a great lesson for brides to get to know themselves, their bodies, the kind of silhouettes they might like, and perhaps what their fiancé might like to see them in, rather than making a choice geared to making their entourage happy."
Your Priorities Won't Be Compromised
Whether you have a strict budget or you're shopping for a specific style, it can be difficult to stick to what you want when you're fielding suggestions from an entourage. Being able to talk and ideate openly with your consultant will give you the freedom to find a look you love. You'll be able to browse within your price range and try on styles you love without trying to please your future mother-in-law or maid of honor.
"More often than not, brides seem conflicted by outside opinions and trying to make everyone happy with their dress choice," Birnbaum says. "Ultimately, this is the bride's day, and they should pick something that they feel good in."
You'll Still Involve Your Loved Ones in Other Ways
There are a variety of ways to involve your loved ones in your planning process beyond wedding dress shopping. "We included family and friends in other very fun parts of the wedding planning process so there were no hard feelings at all," Fee says. "My husband and I really had fun planning our wedding together and we enjoyed sharing other aspects of our planning details [with guests], like sending pictures of flower options and including them in our cake tasting. For us, the joy came in striking a balance between the things we shared and the things we kept to ourselves until the big day."
Your Loved Ones Will Enjoy the Surprise
Another perk of going wedding dress shopping alone is getting to watch your loved ones see your gown for the first time on the big day. "I really enjoyed the reactions I got from my loved ones and my husband when they saw the gown for the first time," Fee recalls. "When it came to my wedding gown, everyone was actually happy for me that I was able to thoroughly enjoy the process and surprise all of them with the beautiful end result."
Fee's experience was made even more special when she showed her loved ones how she incorporated them in her gown. "Steven created an exquisitely beaded edge on my veil, which was echoed with beading along the neckline of the dress," she explains. "The beads were little tiny pearls and clear glass, that almost looked like sea glass. Being near the ocean and sailing is something that I share with my family and friends, and Steven had found a way for me to include them in the gown themselves."
Her dress also paid homage to the beginning of her love story. "In high school, I wore a white grosgrain ribbon in my hair every day," she shares. "My husband and I met when we were freshmen, and he still remembers that those silly bows were one of the first things he noticed about me. Steven designed a tight little bow around the waist of my gown as a fun throwback nod to my style, and my husband immediately recognized it when he finally saw the back of my dress."
With so many ways to personalize your wedding look, going shopping alone will let you work with your designer to give your loved ones a thoughtful surprise. No matter what you choose to wear, the most important thing is to find a gown that makes you feel your best.
Ultimately, this experience should be a bright memory in your planning experience. "This process should bring you joy," Fee adds. "My wish for all brides is that they have the chance to work on their dress and look with someone that supports and empowers them to feel strong and beautiful on their wedding day."