What to Know About Wedding Address Labels, Plus Cool Alternatives
Bad penmanship crew: This one's for you.
We have included third party products to help you navigate and enjoy life's biggest moments. Purchases made through links on this page may earn us a commission.
If you're thinking of hand-addressing every one of your wedding invitations, we salute you. Your dedication and drive are truly unmatched. However, if your penmanship isn't exactly stellar (and you want to save yourself some serious hand cramps), wedding address labels are the way to go. Think about it: You won't have to worry about your invites going AWOL because the post office can't read the addy (neither your guest's address nor your return address)—you'll just have to focus on how to properly address your wedding invitations and making sure each sticker is straight. Plus, there are some really gorgeous address labels for wedding invitations out there that'll make your correspondence feel that much more special from the outside, like a wedding invitation wax seal or pretty wedding postage stamps would.
Stick with us to see some of our favorite spots to scoop up wedding invitation labels (and our favorite designs). And, if you're still down to explore your options outside of handwriting every address, we're also digging into a few of our fave alternatives to wedding envelope labels below.
In this article:
What are wedding invitation address labels?
Wedding invitation address labels are simply stickers displaying names and addresses to make mailing your wedding invitations easier, since you won't have to write out each one by hand. You can find both wedding return address labels printed with you and your future spouse's address as well as wedding guest address labels printed with the mailing info of your eager invitees. Address stickers for wedding invitations will give your envelopes a streamlined, sophisticated look, plus save you some writing time as you nail down how to mail your wedding invitations.
Where can you buy wedding address labels?
You can buy wedding address labels at numerous online retailers and stationery stores (more on our faves below). Before you get shopping, figure out if you'd like just wedding guest address labels, just return address labels or both. If you'd like both, consider if you want your return address labels and guest address labels to be in the same font/design style, or if you're cool with just choosing two coordinating designs that look pretty when paired together on your envelope.
Ordering just return address labels is easy—just write out your names as a couple and address and voila, instant envelope jewelry. You'll have a few more style options, too, since technically these don't have to be designed specifically for weddings (but they'll definitely make mailing holiday cards and all manner of thank-you notes in your newlywed life so much easier, too). For wedding guest address labels, you'll either be able to fill out the addresses directly on the website or you'll likely need to include a doc of all of the guests that you want to invite to your wedding day and their mailing info. Once you have a spreadsheet or document, all you'll need to do is include it with the order of your sticker label of choice. Don't forget to triple check everyone's name and address before you click "buy."
Read on to check out our top shops for ordering wedding invite address labels (or save-the-date address labels, if you're earlier on in the planning process).
Etsy
Etsy is an absolute treasure trove of unique stationery accessories, given all are made by independent artisans. The options are endless here for wedding address labels, from maximalist to minimalist. There are even digital downloads you can print yourself to save a little cash. Oftentimes, each Etsy seller offers a range of designs, all of which are available in a few different fonts, so you can pick your favorite. Go for a simple white label or opt for something fancier, like a clear label with the text printed in gold foil. Keep in mind: Since every artist is independent, shipping times can vary, so order a little more in advance if you have your heart set on an Etsy design.
Foil Wedding Guest Address Labels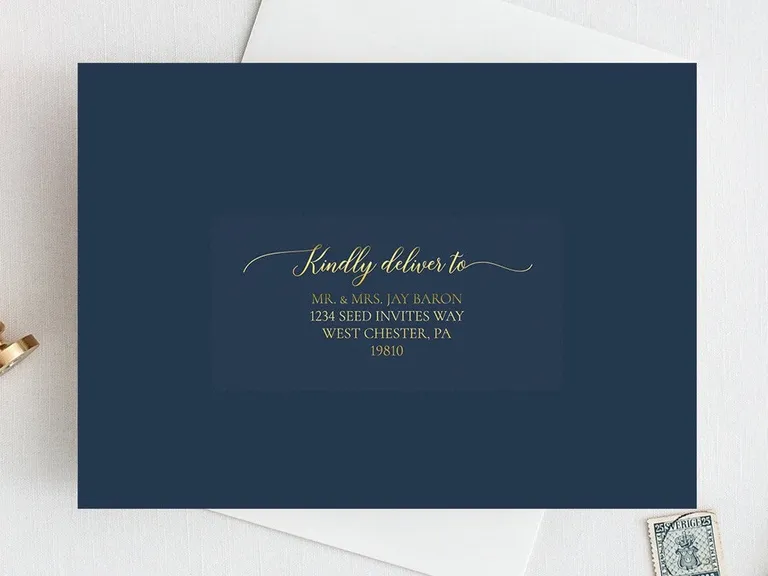 These wedding guest address labels are so classic they can easily blend into any wedding aesthetic. The clear background lets your envelope hue shine through, while the foil text adds some welcome sparkle (the foil is available in 10 colors, but you can also grab these in black or dark blue ink, if you'd like something simple). Choose between 18 designs—we're partial to the one reading "kindly deliver to" above the recipient names.
Printable Sticker Guest and Return Address Label Combo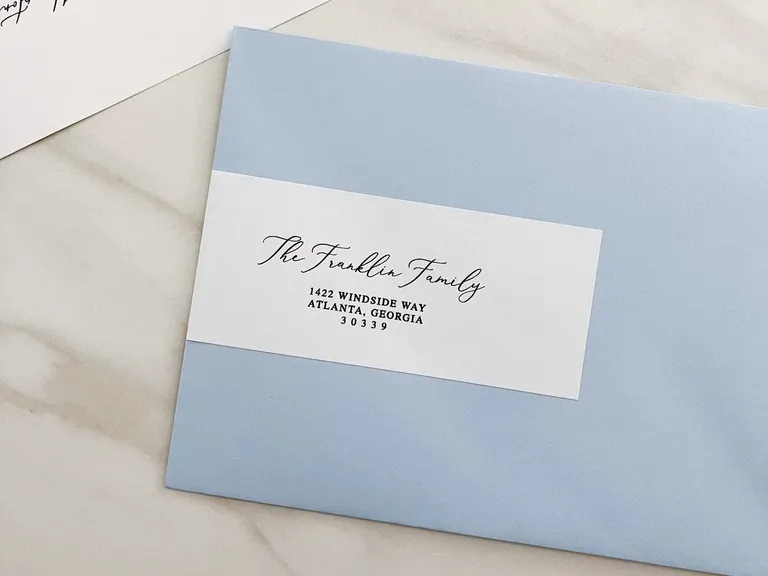 If you're short on time, a digital download wedding address label is the move. You'll receive the file instantly upon purchase and you can edit both the font and the text, so you'll be ready to mail in a jiff after you print these at home or send them to your local print shop. We love the pictured sleek modern design in serif font (and that super-chic label shape that wraps around the envelope's edge).
Modern Script Wedding Address Label
Each of these labels features the most delicate script relaying the recipient names at the top with an all-caps address below. These feel sophisticated without looking too stuffy or overly formal. And we love how the cursive text feels like a better version of lovely, loopy handwriting.
Zazzle
If you're looking for wedding address labels with sweet design elements and some good customization leeway, Zazzle is the place. Depending on the design you choose, you can edit elements like the font, background color, font color and font size as well as select between matte or glossy transparent vinyl. Standard shipping takes approximately two weeks, while the express shipping option cuts that time in half.
Modern Minimalist Wedding Guest Address Labels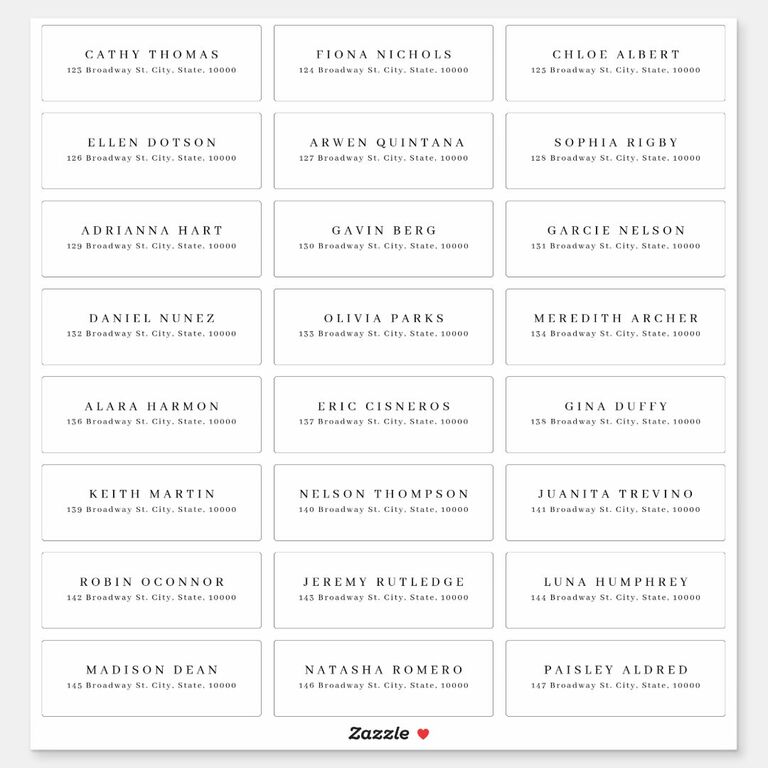 The font choice here is so *chef's kiss* that you don't need much else. The guest name(s) are displayed in all caps, while the address is spelled out underneath in smaller text. The spacing is perfect and the overall feel is effortlessly elegant—what more could you want?
Script and Serif Colored Background Wedding Address Labels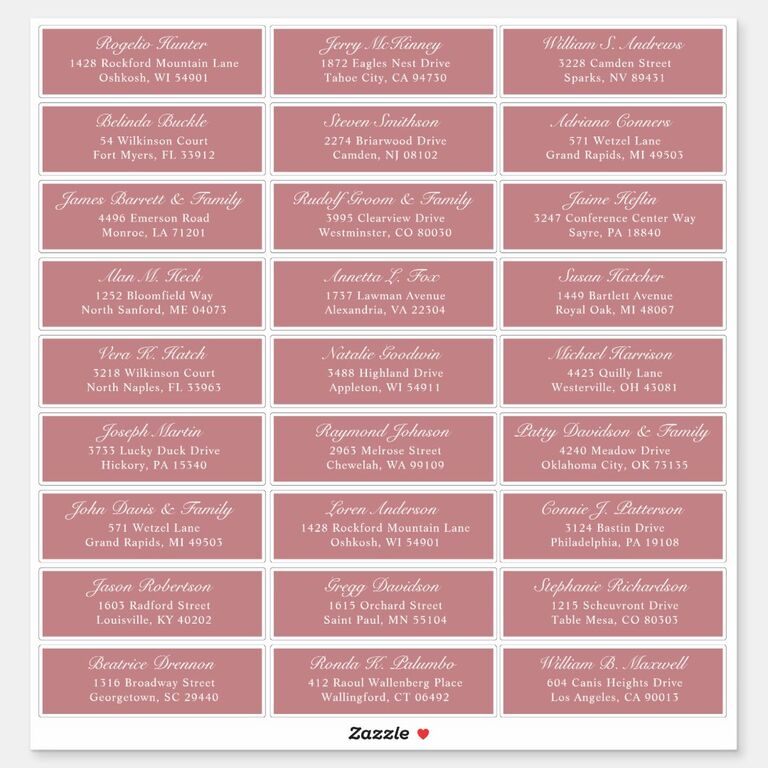 A classic choice, these wedding address labels feature a simple colored background and two pretty fonts. The recipient names are spelled out in script, while the address below is typed in a simple serif font. Choose a background color that goes with your wedding-day scheme.
Rustic Greenery Wedding Guest Address Labels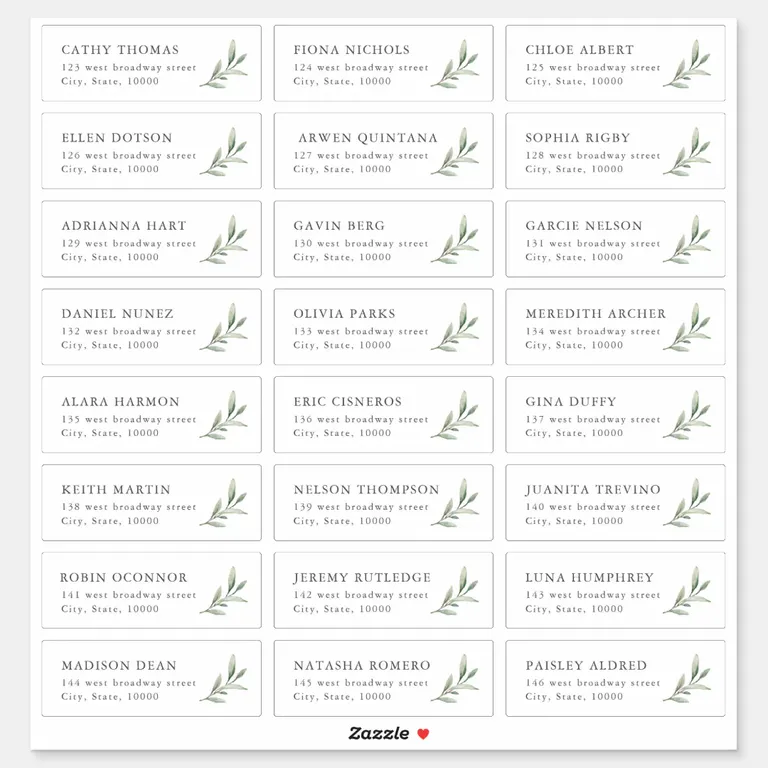 A simple sprig of greenery adds a soft touch to these labels. It's rendered in a watercolor-like style on the right of the label, with the mailing information shown on the left in a delicate font. We love these for a spring or summer wedding.
What are some wedding address label alternatives?
By now, you probably get why sticker labels are a quick and clean way to address your wedding correspondence, but there are a handful of alternatives you should feel free to explore either instead of or in addition to wedding address labels. We've listed a few options below. And don't worry—none of them require you touching a pen.
Wedding Invitation Envelope Printing
Wedding envelope address printing is a lovely option if you're not a fan of the sticker aspect of a wedding address label. The guest and return addresses can be preprinted on your envelopes, which would save you writing time or sticking time. If you choose a stationery style from The Knot Invitations, then grabbing a bundle of these is super easy: Once you've settled on your final wedding invite design, you'll be prompted to select your envelopes. A corresponding style will pop up and you'll select "choose envelopes." Then, simply choose if you'd like them to come with guest addressing, return addressing or both. You can add your return address personalization right then and there, and send over a guest address spreadsheet via our handy template later on or sync with The Knot Guest List tool.
Wedding Invitation Envelope Calligraphy
Okay, so this envelope addressing option does involve some handwriting. But luckily, you're not the one wielding the pen. Personalizing your envelopes with custom calligraphy is an ultra-elegant way to send them off. A professional calligrapher will work with you to determine your preferred penmanship style (ask for samples to see their skills), then they'll write directly on each envelope for a personal touch. Since calligraphy is a true art form, your fee per envelope will reflect that careful work and long-learned skill. Many calligraphers price their work based on a few factors, including how detailed the overall style is, the turnaround time and if they need to acquire any special materials (metallic inks and so on), so be sure to check in with your chosen artist about a pricing estimate. And if you're looking for a talented pro in your area, visit The Knot Vendor Marketplace to uncover some true gems.