Everything to Know About Using Vintage Wedding Stamps for Your Invitations
Pretty postage on your wedding invitations really does push the envelope…
We have included third party products to help you navigate and enjoy life's biggest moments. Purchases made through links on this page may earn us a commission.
Wedding traditions change all the time, but certain truths continue to stick around. One being that your wedding invitation offers guests the very first impression of your big day. While that's absolutely true, we'd venture to say that your stamps—vintage wedding stamps included—are what provide the earliest hints about your event to come, even before the envelope is opened. That's why putting thought into your wedding postage is so important, and not something you should leave until the last minute. (If you've ever cried at the post office in the middle of December, after realizing they were out of festive stamp designs to match your holiday cards, then just imagine how you'd feel if your wedding stamps weren't just right).
When considering vintage stamps for your wedding stationery, try not to get too hung up on that vintage preface. This type of retro postage doesn't require you actually have a vintage wedding—rather, it's just another way to infuse character and personalization into your custom wedding invitations. The now-discontinued personalized postage stamps and modern wedding postage can do it, too, with imagery like corsages, hearts and bold l-o-v-e references; however, it speaks more to universal wedding associations and less to your unique wedding celebration and style overall.
"In planning a wedding, every decision, from the flowers to the linens, is intentional," says Loly Orozco, Founder and Lead Designer at Little Postage House. "For postage, couples are limited to the options available at the post office at any given time and those options don't always make sense for many couples. That's why curating a postage collection to match your love story is powerful, and vintage stamps make the experience and effect even more special."
We spoke with a total titan of industry, Little Postage House's Loly Orozco, and she helped us put together a fail-proof process for finding, sourcing, applying and sending your vintage-wedding-stamped invitations out into the world. So, if you have your eye on vintage stamps to seal the deal on your dynamic invitation suite, keep on reading!
In this article:
Best Places to Find Vintage Stamps
Before starting your research on vintage stamps or double-tapping all the vintage stamp flat lays on your favorite stationery feeds, you should have a basic knowledge of what you're looking for and why they're so rare and valuable. Unlike modern stamps, vintage postage has been carefully preserved and maintained in unused condition for years and years. They were printed on antique printing presses that are no longer in commercial operation, so the aesthetic and tactile feel of the stamps is noticeably different from that of the contemporary stamps you can purchase online or through USPS today.
As you begin putting a stamp-sourcing plan in place, lean on your wedding vendors for support. "Stationers can help you with your postage needs; if they can't field your specific vintage stamp questions on their own, they'll connect you with the specialized vendors they trust (stamp collectors, curators and philatelists—stamp aficionados, if you will), and they should be able to point you in the right direction," reassures Orozco, one of the very vendors who stationers consult for curation advice and refer clients to regularly.
At Little Postage House, Orozco sells vintage postage (individual stamps and pre-curated collections) and provides curation services to couples and stationers who are after a very meaningful and tailored look to make their wedding correspondence shine. Her process is simple and straightforward, too—all you need to do is fill out a questionnaire on her website. Your responses will aid her in curating a stamp configuration that compliments your future wedding and pays tribute to your life together. Not only that, but she'll also design a stamp story that meets the required postage rate (how much it'll cost to send your invitation based on its unique weight, size and thickness) for your wedding invites. If you choose to go at it alone, the best places to look for stamps worthy of your wedding stationery are Etsy or eBay.
Etsy
On Etsy, you literally have access to hundreds (if not thousands) of antique and vintage shops that sell and curate modern and vintage stamps for special mailings. We recommend doing some digging to find the shops with the best customer reviews and ratings, high praise for their diverse stamp collections and the most aesthetically pleasing product photography. Being able to see the kinds of stamps you love "in the wild" is huge, and for a number of shop owners—who may also be wedding planners, calligraphers or stationers—curating styled shoots and perfecting wedding detail snaps is like second nature to them. On Etsy, you also have the freedom to search the vintage stamps by color palette, wedding theme or meaningful motifs.
eBay
On the other hand, eBay is a great place to go if you really want to explore the intrinsic value of vintage postage, learn more about the history of the stamp-collecting hobby or have your sights on stamps from a particular country or year of original mint (where and when it was printed). Here, you might connect with avid stamp collectors or stamp dealers who have large collections or inventory, but who aren't as focused on the curation as they are on the thrill or chase of the collectible.
Tips to Keep in Mind When Using Vintage Wedding Stamps
Gather more than you think you'll need.
"'You need a lot of [vintage] stamps to send out typical wedding invitations," says Orozco. "For 100 invitations, you could require over 400 stamps (and that's just for the outer envelopes alone, not even including the RSVP cards), and you have to make sure that each envelope is prepared with the correct amount of postage."
The logistics alone are a significant benefit of working with a vendor or stationer who offers postage curation. They can walk you through all of the nuances of sending out invitations and make your life easier with their envelope-finessing authority. Orozco shares that she keeps thousands and thousands of vintage and modern unused postage (this is a very important qualifier; stamps must be verified as unused, otherwise they can be deemed invalid and will be worth nothing on your envelope), and she has worked on 200-plus wedding invitations without a problem. In other words, you don't need to worry about having enough postage—she'll ensure every envelope has what it needs to get mailed (with your preferred stamp aesthetic) and arrive safely in your guests' mailboxes.
Consider the stamps' value.
Forever Stamps maintain their first-class postage rate (58 cents as of August 2021) even if that rate rises in the future, but vintage stamps don't abide by the same rules. You can have a stamp that is worth 30 cents and another worth over a dollar. Values fluctuate based on the year and time each stamp was minted, so you can't assume that all of yours will be equal. On top of that, since vintage stamps are coveted collectibles, stamp dealers can charge much more—sometimes up to six or seven times their face value.
Regardless of whether you are using modern or vintage postage (and yes, you could mix up your mediums to keep costs down and create a varied, dynamic look), "The stamps that you put on the envelope need to add up to the correct postage amount that the USPS requires for your mailing," reiterates Orozco.
This, too, is variable when you think about wedding invitations and all of the details and modifications that make them stand out: their shape (rectangular or square), their texture and details (wax seals and belly bands, vellum wraps and ribbon ties), their weight (inclusive of the invitation, enclosure and response cards) and the thickness of the invitation, plus its envelope.
"A normal letter that is standard size, weighs under one ounce and is being mailed within the United States, requires a Forever Stamp. While oversized, square or unusually shaped envelopes usually necessitate more postage," explains Orozco. "The exact postage amount really depends on the dimensions of the envelope and the mailing category it falls into (whether it is a standard letter versus large envelope or flat versus parcel package)."
Once you have your invitation suite assembled, make sure you bring it to the post office to be weighed and assessed for postage amount. Knowing the value of the stamps you need will provide a blueprint for your curation—there's nothing worse than figuring out your signature envelope vibe and then being told that your invitations are insufficient in postage.
"Checking in with your local post office prior to mailing is always advised, as charges can vary from country, state, province and even to individual post offices," Orozco tells us.
Nail the application
Another thing you might not know is that the overwhelming majority of vintage stamps aren't like their modern stamp counterparts: The application isn't just about peeling and sticking—it's a wet and rub rendition. "Instead of being self-adhering, most vintage postage stamps have a gum on the backside that becomes sticky when moist," offers Orozco. While it might sound a little confusing, Orozco gives us four steps to get your stamps to stick.
You could go old-fashioned and lick each stamp before applying—this method has no tools required, but it may get tedious and tiresome if you are working with a large number of envelopes (not to mention the ick factor of these being old stamps). Alternatively, you can tap the back side of each stamp onto a moist sponge to activate the glue on the stamp. If you are skeptical that the leftover glue on the backside of your vintage stamps is actually viable, you can use a traditional craft glue stick to attach the stamps to your envelopes.
Nix the risk of damage.
Don't discount the need for mitigating risk with your VIM (very important mail). Once your invitations are assembled and stamped, you'll entrust the postal service with your stunning stack. So, to keep your invitations looking their best, ask about hand-canceling.
"A bit of extra postage will be required to treat your invitations as 'non-machinable' mail, but it's worth it to ensure your envelopes are kept out of the processing machines and protected from any inadvertent damage," encourages Orozco.
Our Favorite Vintage Wedding Stamps
Because of course you're thinking about making vintage stamps work for your own wedding now. We've got you! Check out some of our favorite vintage stamp designs below, and see how else you can personalize your wedding invitations (calligraphy, for starters!).
Postage Stamp Studio Unused Vintage Christmas US Postage Stamps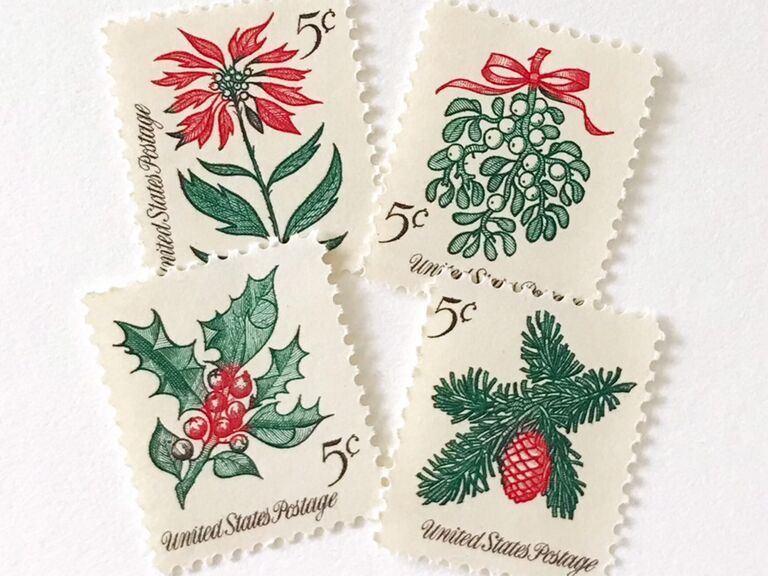 We can't think of a better way to kick off a winter wedding than with festive green and red stamps. Featuring five each of the holly, poinsettia, mistletoe and evergreen Christmas postage, these 1960s beauties would look perfect on an emerald green or gold metallic envelope.
Little Postage House Project Mercury Stamps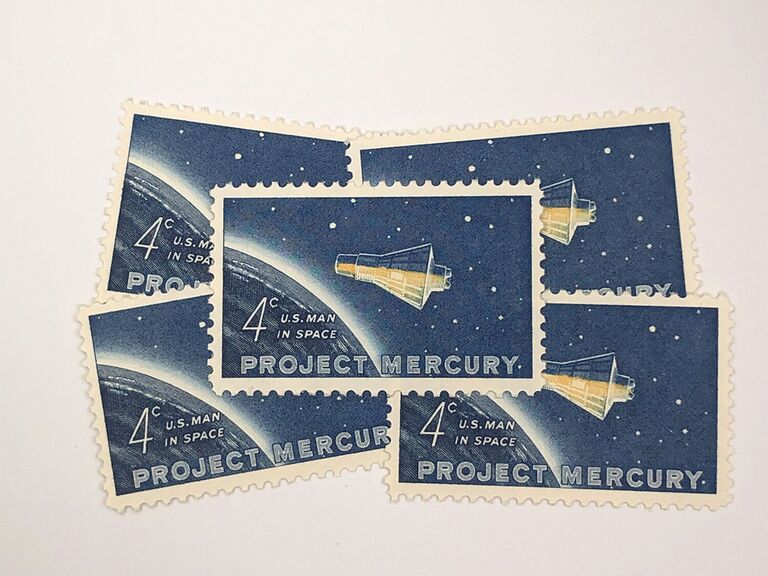 Vintage wedding stamps allow you to channel your hobbies, interests and loves —as individuals and as a couple—so, if you met at Space Camp when you were kids and then found each other again later in life, this would be an adorable nod to your humble beginnings. Not to mention, a fantastic way to hint at a potential space museum or planetarium wedding to come.
Enfield Post Vintage 1980s Cactus Postage Stamps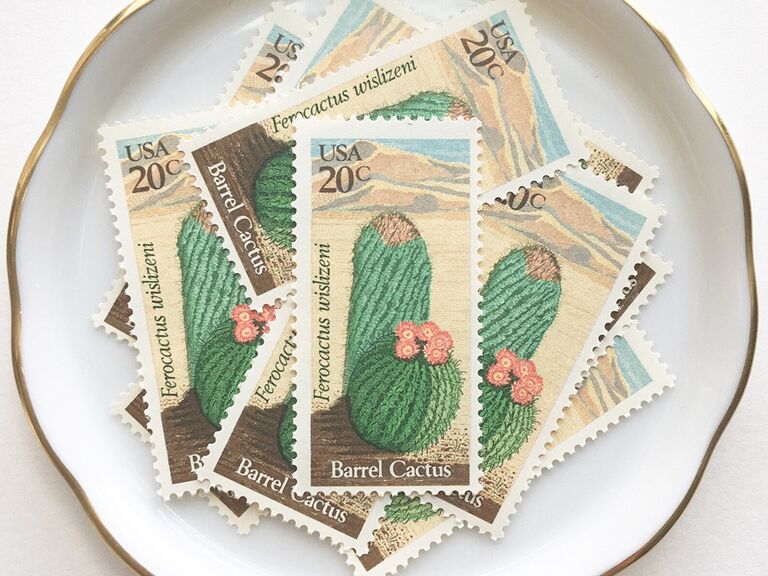 Your desert destination wedding would succ(-ulent) without these fun barrel cactus stamps (sorry, we just had to). Available in a book of 10, the barrel cactus stamp is actually part of a larger Desert Plant series, which pays tribute to all the species of plants that have survived the harsh conditions of the desert. Another thing we love about vintage stamps? They all have their own stories.
Little Postage House Orchid Stamps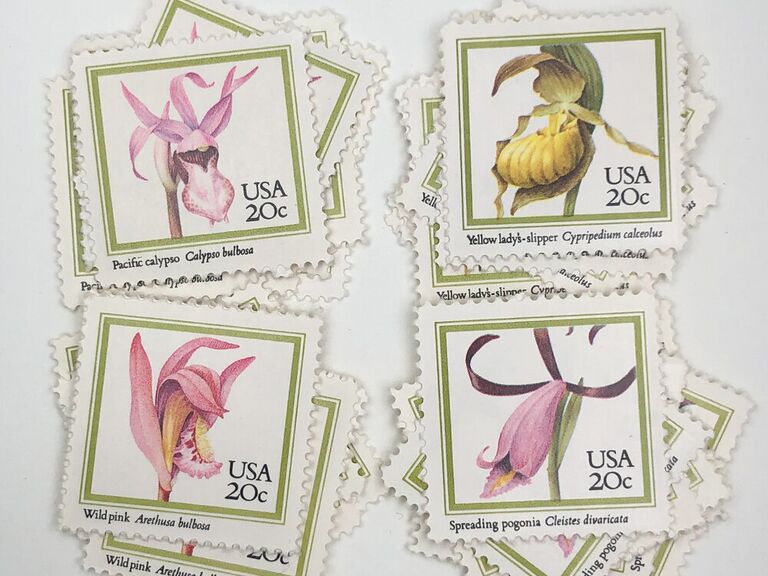 Will orchids star in your big day (in your bouquet, in your centerpieces, etc.)? These pretty little stamps commemorate four orchid species native to North America. The listing is for 12 total vintage postage stamps, and you will receive three of each of the four stamps in the set. They're great for a bridal shower invitation, as well—just add a colored envelope and you're done!