"What My Wedding Jewelry Means to Me"
Find out the stories behind 7 brides' "something old" jewelry.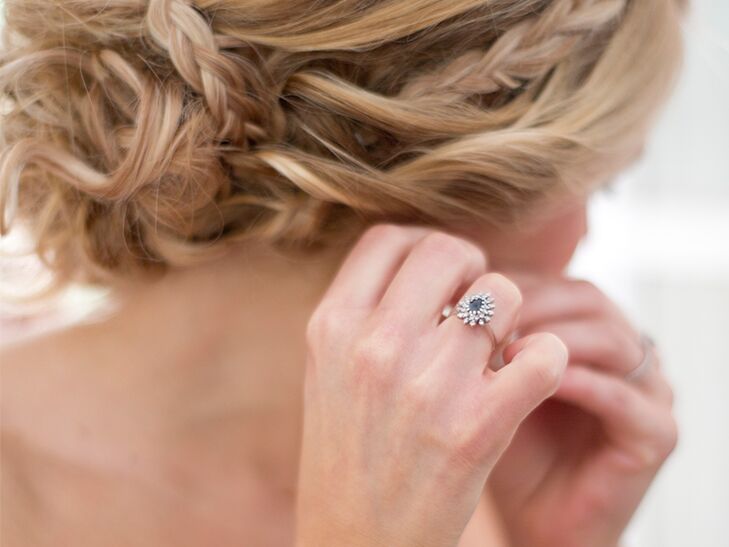 Kelly Anne Photography
Did you know that the "something old" tradition comes from an Old English rhyme detailing what a bride should wear on her wedding day for good luck? For many women, it's often a piece of jewelry that has extra sentimental meaning, whether it's a reminder of someone she loves, a family heirloom or something else completely. Below, find out what some brides wore—and what it meant to them.
"My sister and I got married six months apart. We're very close to our grandma and wanted to wear something of hers as our 'something borrowed.' She actually came up with the idea of having us both wear the same ring of hers, which featured a blue stone, so it ended up being a 'something borrowed,' 'something old' and 'something blue' all in one. It was so special we could share this beautiful piece of jewelry, and I hope as it's handed down that it will become a new tradition for the girls in our family."
—Kristen G.
"I asked my closest friend and former college roommate if she'd lend me a 'something borrowed' for my wedding. Since we had been in a sorority together, I'd suggested her old sorority pin which fittingly featured a blue gemstone. But her choice was so much better: a gold bracelet that her mother, Lynda, had given her. Lynda had worn that bracelet at her own wedding 40 years ago, so it was both my 'something borrowed' and 'something old.' "
—Jessica M.
"My 'something old' was an edelweiss flower encased in glass and turned into a necklace. It was passed down from my great-great-grandmother who had picked the flower in Austria prior to World War II. It was a connection to the generations of strong women who had to fight for the freedoms I take for granted every day."
—Cori M.
"My mom gave me a brooch she made with fabric from her old wedding glove, pearl pieces from her wedding headband and a token with a note from both of my parents that read, 'Our little girl yesterday, our friend today, our daughter forever.' I was so grateful not only for their support, which was embodied in the brooch, but also for how lucky I am to have a devoted family who helped me plan my wedding."
—Murissa S.


"On my wedding day, I wore my grandmother's right-hand ring—a band with small diamonds all in a cluster—from the early '60s. The diamond in my engagement ring is from my grandmother's engagement ring too, so technically I had two pieces of 'something old' jewelry. It definitely made the day even more special, since my grandparents had passed away before we were married."
—Jordan B.
"I'll be wearing a ring my fiancé gave me on what I consider our first date. He's a gemologist and came across a vintage ring and had it refurbished. Clearly, it was love at first sight. We were long-distance at the beginning of our relationship and he told me that ring symbolized that 'even if we can't always be together, I'm always thinking of you."
—Nicole B.


"For 'my something old' I wore my grandmother's engagement ring and a purple amethyst butterfly brooch I gave to her many years ago for her birthday. I pinned the the brooch to the left hand side of my bra so she was right next to my heart."
—Amy M.