17 Fun Wedding Socks for Groomsmen and Grooms
There'll be no cold feet at your event.
We have included third party products to help you navigate and enjoy life's biggest moments. Purchases made through links on this page may earn us a commission.
With so many groomsmen gift ideas to choose from, groomsmen socks might not be on the top of your list. But buying fun dress socks for your wedding crew is actually a great opportunity to add some personality to each groomsman's outfit. Everyone can coordinate with matching socks or wear a unique pair. And yes, you can join in too! Whether you're shopping for funny groomsmen socks, personalized groom socks or both, we've found a few wedding-worthy styles that are sure to score you and your groomsmen some cool points. From custom socks printed with your partner's face to colorful floral dress socks, these are our top picks.
1. Groomsmen Proposal Socks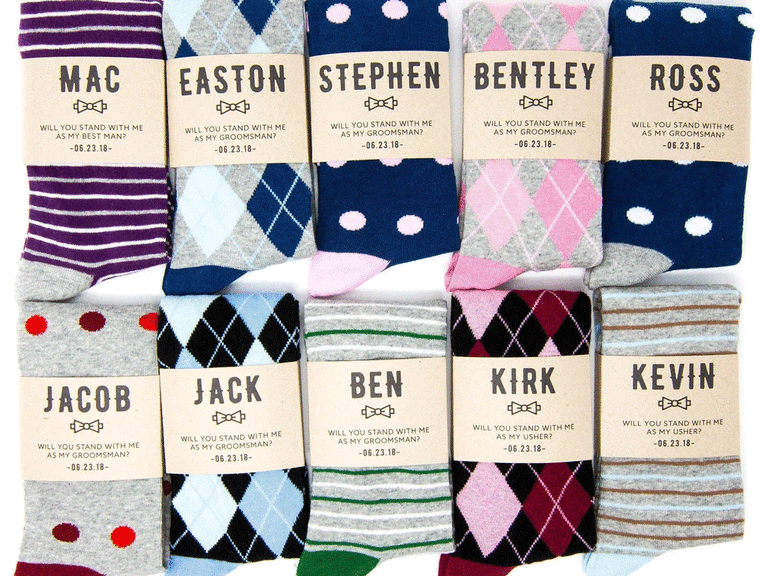 Searching for a genius groomsmen proposal gift? Present your pals with these patterned socks from No Cold Feet Co.—their labels ask, "Will you stand with me as my groomsman?" There are multiple colors and patterns available, from red polka dots to blue argyle prints. Plus, you can request custom text if you'd like to word your proposal differently.
2. Boozy Wedding Socks
Celebrate the finer things with Hot Sox's booze-themed groomsmen and groom socks. This pair features old-fashioned cocktails, but you can find socks that honor just about any drink of choice, whether that's a martini or a glass of champagne.
3. Labeled Wedding Party Socks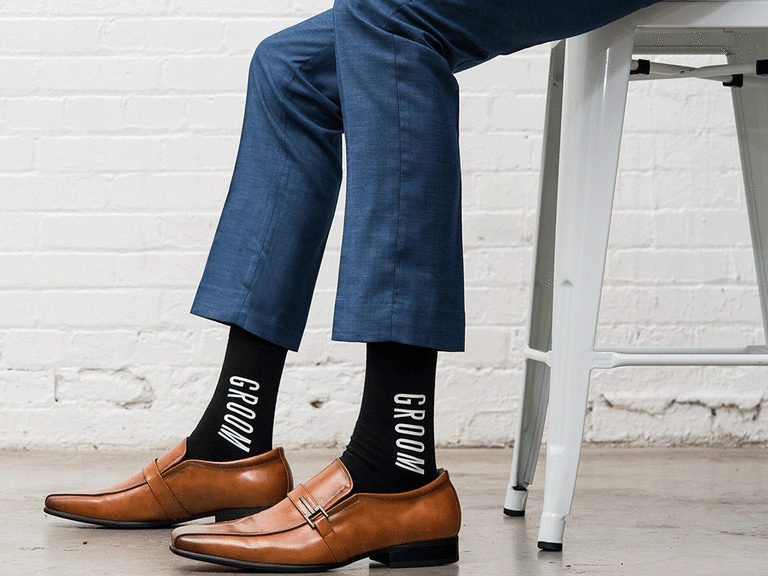 These black novelty groom socks from The Knot Shop are simple but have a nice personal touch with "Groom" written in white on the calf. There are also matching socks available for your groomsmen and best man.
4. Trendy Wedding Socks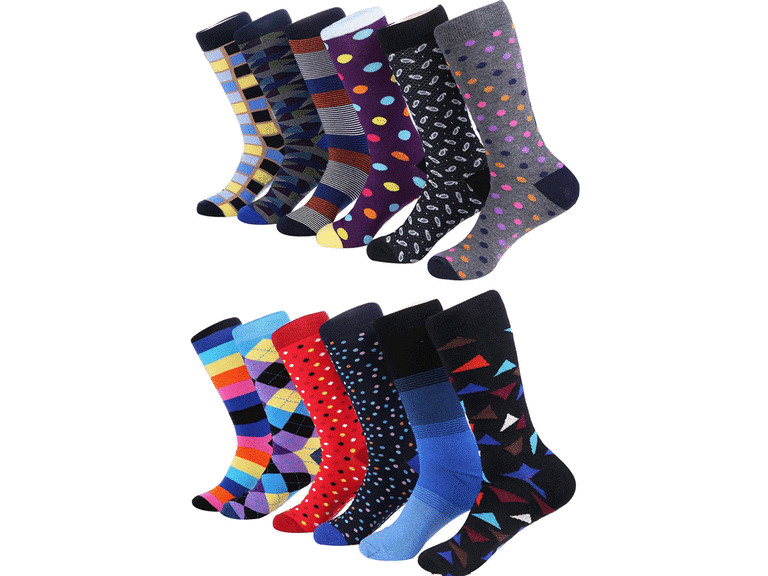 Mio Marino's Trendy Collection comes with 12 pairs of awesome patterns, so you and your groomsmen have plenty of wedding socks to choose from. Options include bold stripes, colorful dots and a stylish paisley print. (Psst: There's a Fun Collection, as well as a Cool Collection, too.)
5. Pizza Groomsmen Socks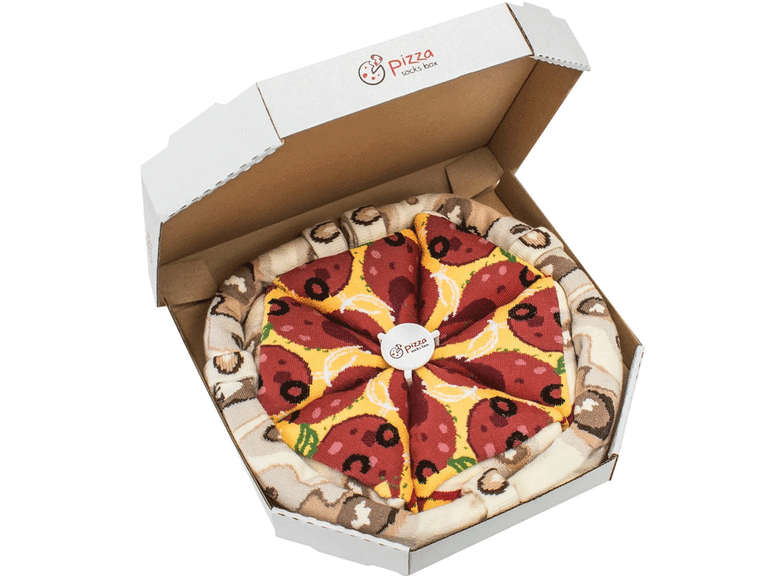 Tell everyone they've got a pizza your heart with this seriously amazing sock set, which includes four pairs of printed socks folded like pizza slices in a cardboard box. The pepperoni print is a classic option, but the Etsy shop sells "pizzas" with other toppings too. Pizza Socks Box also sells socks by the "slice" if that's more convenient.
6. Hot Sauce Groom Socks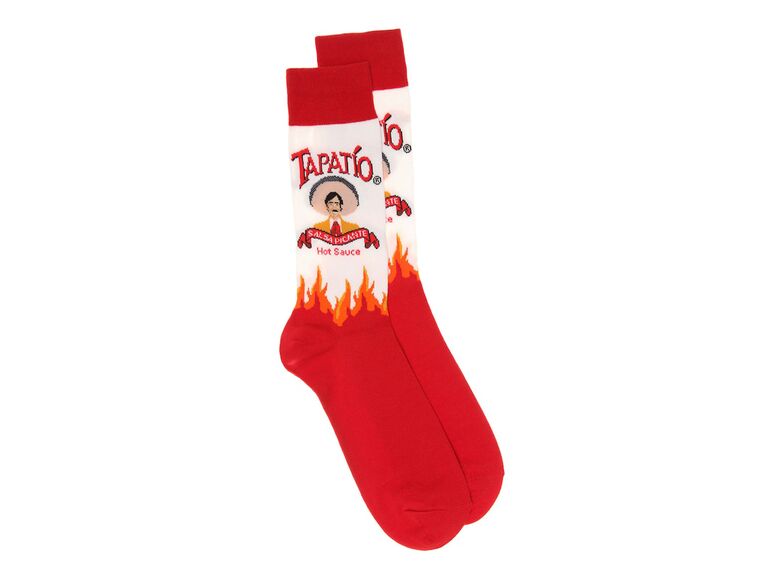 Spice up your wedding outfit with these Tapatío dress socks from Socksmith. You won't have cold feet on your wedding day with these funny socks bringing the heat.
7. Striped Wedding Socks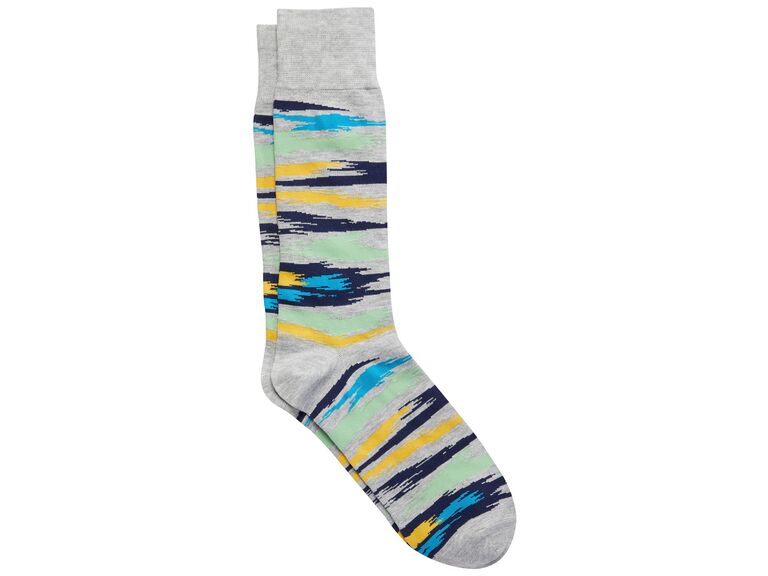 If you feel like showing you and your crew's wild side, this pair is the perfect choice. These bright-colored and tiger stripe-esque socks by Egara will add a bold flair to your wedding day looks. Get them in gray or black—both colors are equally cool.
8. Personalized Wedding Socks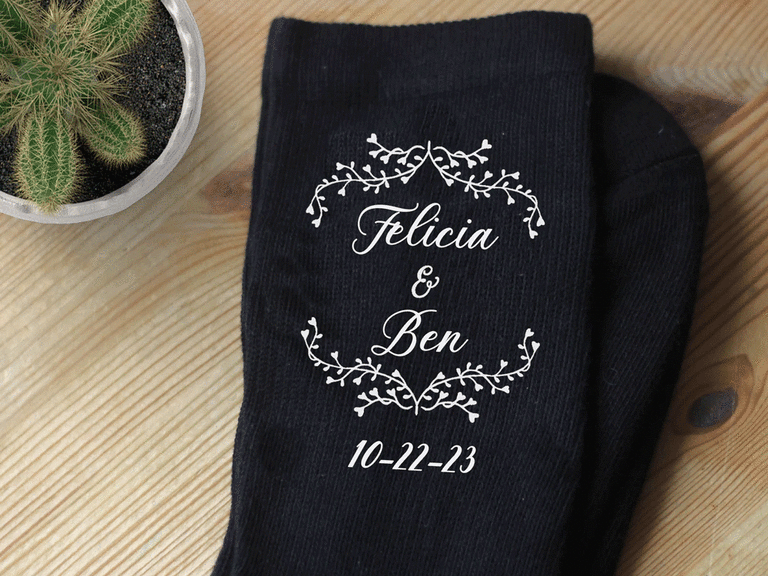 With sockprints, you can customize groom and groomsmen socks with something personal to each wearer, or you can tie everybody's looks together with socks displaying the event's logo. This pair comes personalized with the couple's names and the wedding date.
9. Avocado Wedding Socks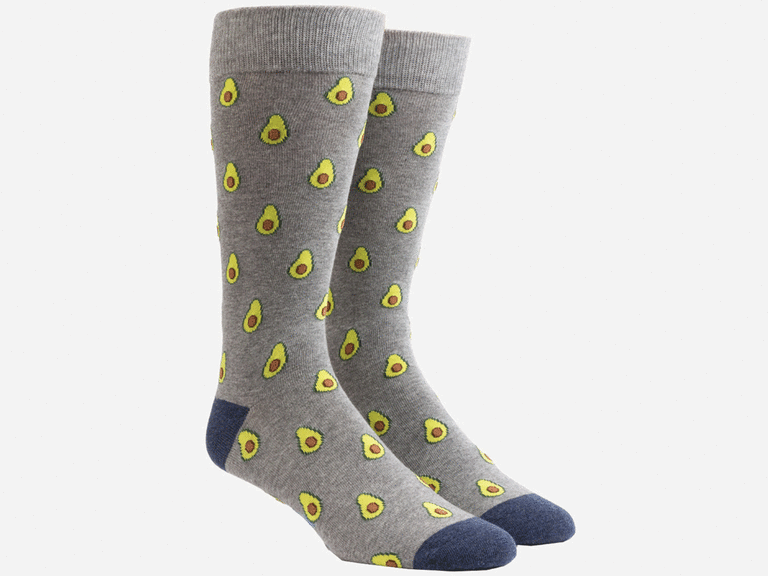 We know you'll love this pair of guac-tastic socks from one of our favorite men's accessory shops, The Tie Bar. With their playful avocado print, they'll be the perfect side dish to your wedding day.
10. Superhero Groomsmen Socks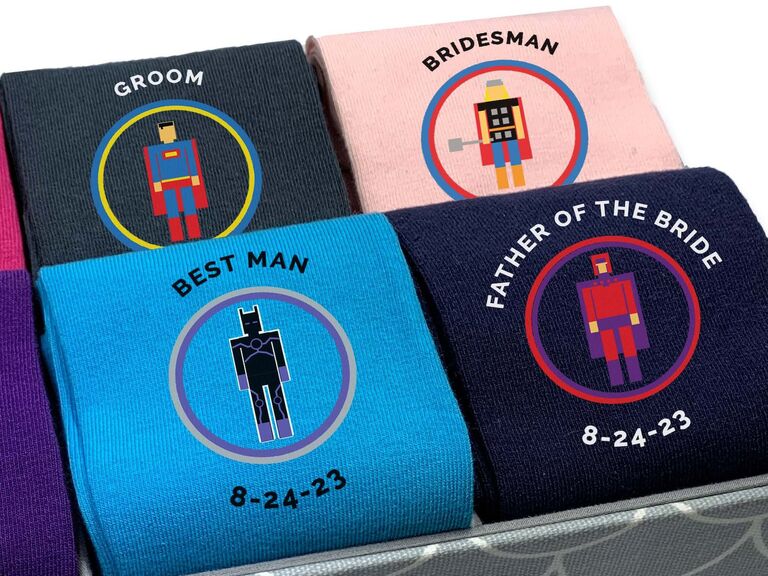 How about superhero socks that play up each person's special strength? These custom groomsmen socks from sockprints have unique and colorful superhero graphics that you can surround with personalized text. Better yet, the Etsy shop offers options for fathers of the bride, fathers of the groom and bridesmen too.
11. Beach Groomsmen Socks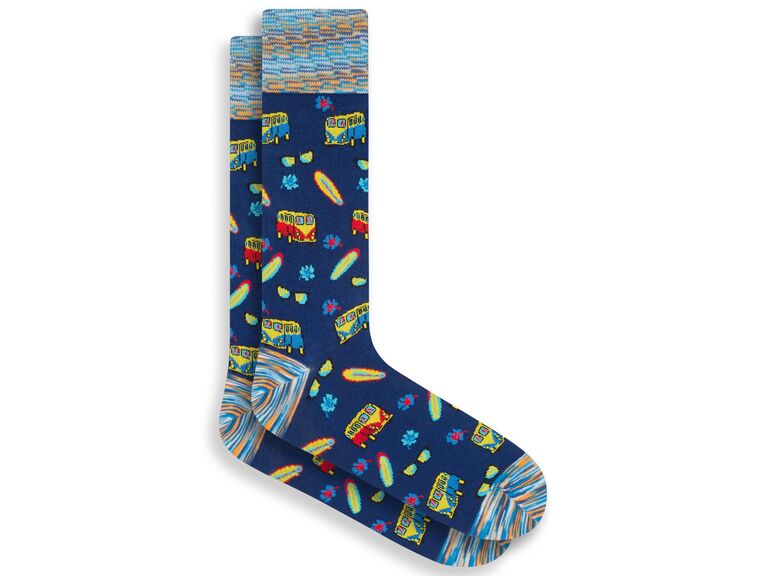 This pair of vibrant socks by Bugatchi is a great way to bring fun and sunshine to your beach wedding ceremony. Surf's up in these navy blue crew socks with sunglasses, surfboards, flowers and retro buses printed all over.
12. Funky Groomsmen Socks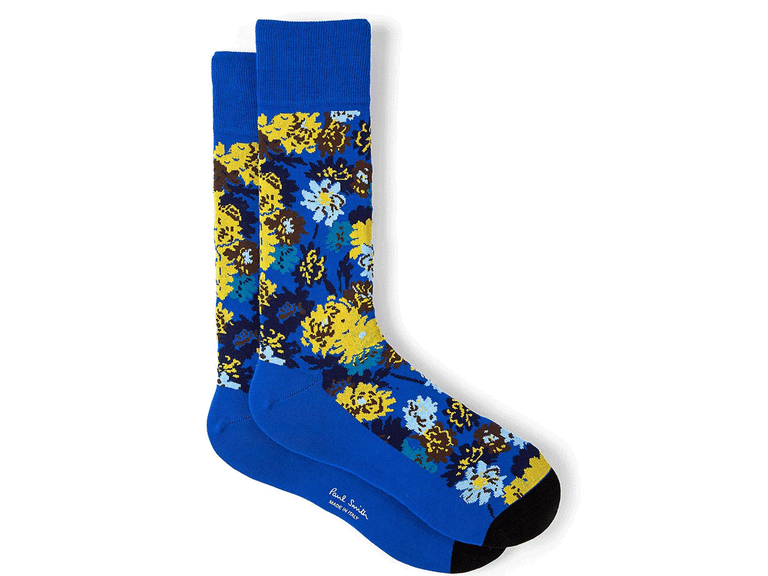 If you want some socks with a little bit of edge, choose these eccentric socks by Paul Smith for your groomsmen. We love the electric blue details and abstract floral print for a modern wedding.
13. Pet Wedding Socks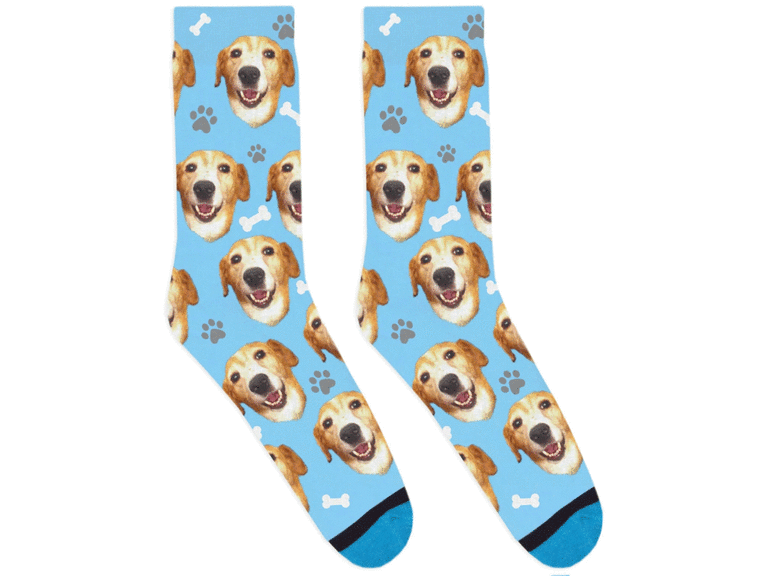 Feel free to really go above and beyond when it comes to custom groomsmen socks and groom socks. We're obsessed with the idea of putting your (or each groomsman's) pet on the accessories. Send Divvyup Socks a photo and they'll do the rest!
14. Face Wedding Socks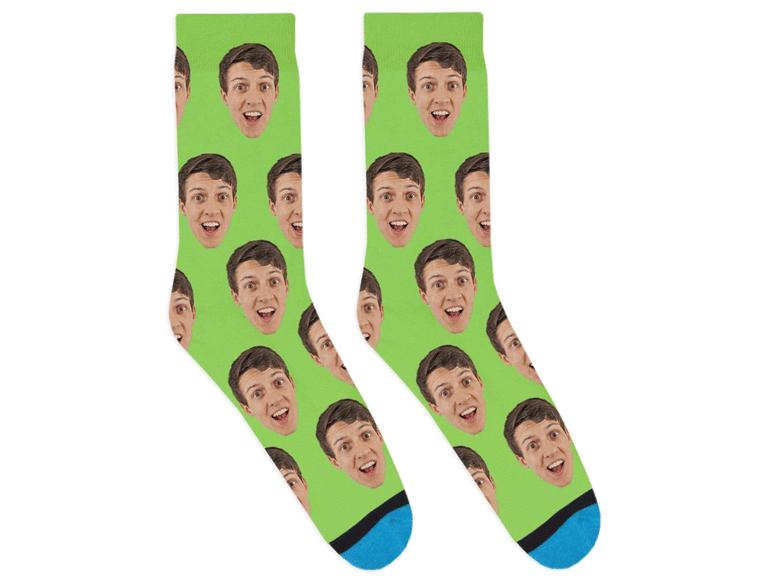 Want to show your love by putting your partner's face on your wedding socks? Well, you're in luck! Divvyup Socks has numerous colorful backgrounds to choose from—all you have to do is send in your favorite photo. It's a funny way to surprise your S.O. on your wedding day.
15. Floral Wedding Socks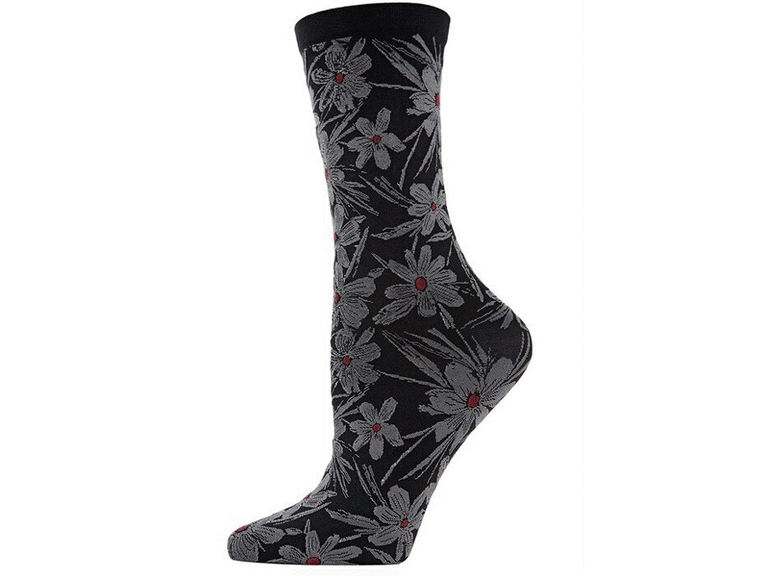 Want patterned wedding socks for yourself (or your groomsmen) that are still a little dressy? Say hello to these cascading floral dress socks from Natori. The gray and black color palette can match with just about any wedding theme.
16. Suit Groom Socks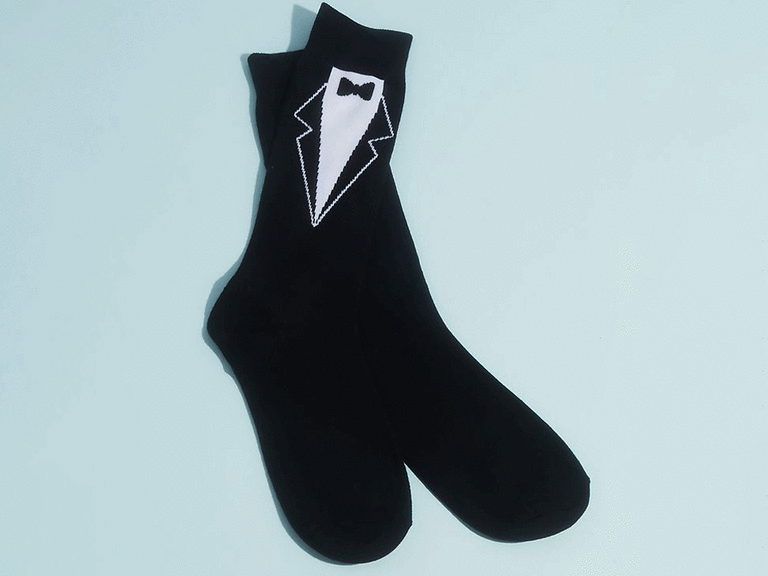 If you truly want to match from head to toe, wear these fun dress socks from David's Bridal at your wedding. The black socks have a suit and bow tie design that'll help you dress to impress.
17. Rainbow Groomsmen Socks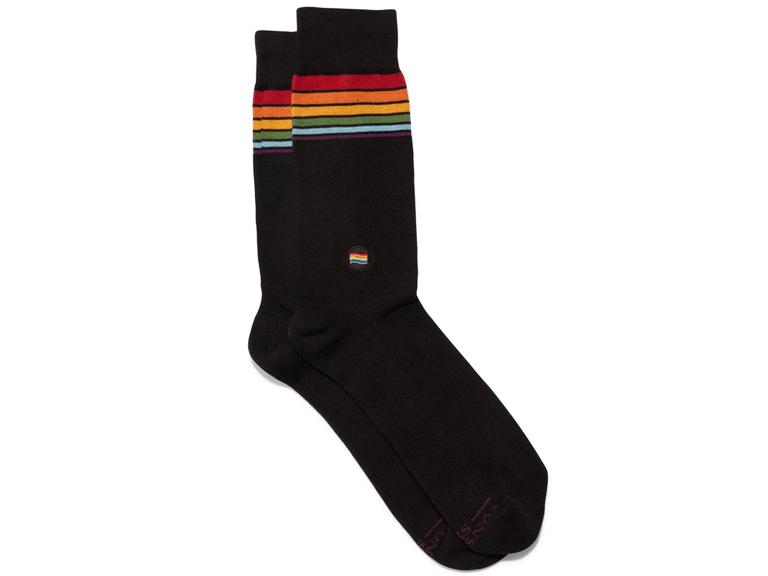 If you'd like your groomsmen socks to support a good cause, shopping with Conscious Step is the right choice for you. With Conscious Step, every purchase supports one of 17 causes (building homes, restoring oceans and supporting mental health, just to name a few) with the help of amazing partner organizations. By buying this pair of black socks with rainbow stripes and rainbow flag embroidery, you'll support The Trevor Project, an organization that helps LGBTQ+ youth.