The 16 Best Groomsmen Socks From Customizable to Funny
Help your wedding party accessorize and give them a gift to remember while you're at it. These are some of our favorite groomsmen socks available now.
We have included third party products to help you navigate and enjoy life's biggest moments. Purchases made through links on this page may earn us a commission.
Groomsmen socks are a fun, simple way to show appreciation for your friends and also add some personality to your groomsmen suits. They're truly a groomsmen gift you can't go wrong with. The right pair of socks can provide a cool, fashion-forward finishing touch to a killer lineup of groomsmen suits or give you and your friends a chance to add a fun twist to your fits with loud prints or inside jokes. They're even an opportunity for a personalized accessory, the sort that would go over great as a display of your appreciation for not only the time and help your friends have provided for your big day but also the lifetime of friendship you've shared together. Whether you're aiming for prime bit commitment or something a little bit more reserved, here are some of our favorite groomsmen socks for your wedding party.
Custom Groomsmen Socks
For a personal touch, custom groomsmen socks are a great gift to your wedding party on the big day. They can range from fashionable to funny and make for an accessory your friends will want to keep in their drawer for years and years to come.
Pop The Question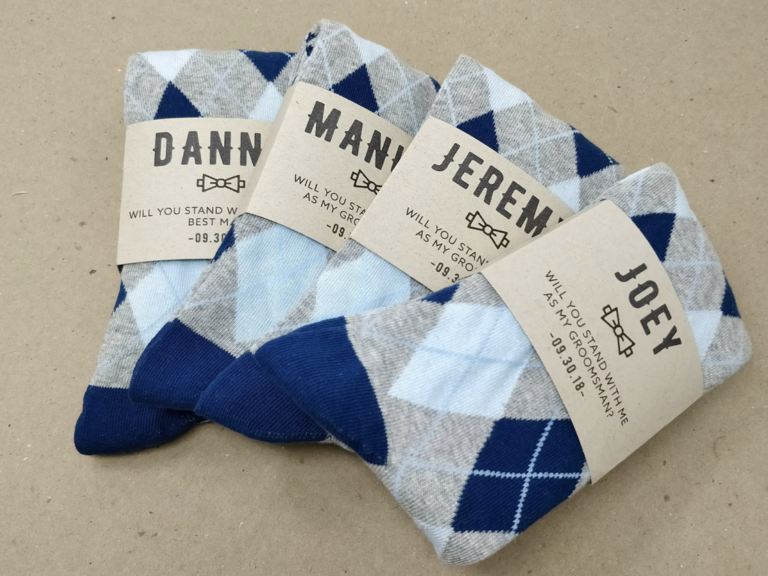 If you're looking for a creative way to ask your friends to join your wedding party, these socks can get the job done. The custom element comes in the label, which can bear the name of the recipient as well as details like their position in the wedding party and the date.
Monogram Magic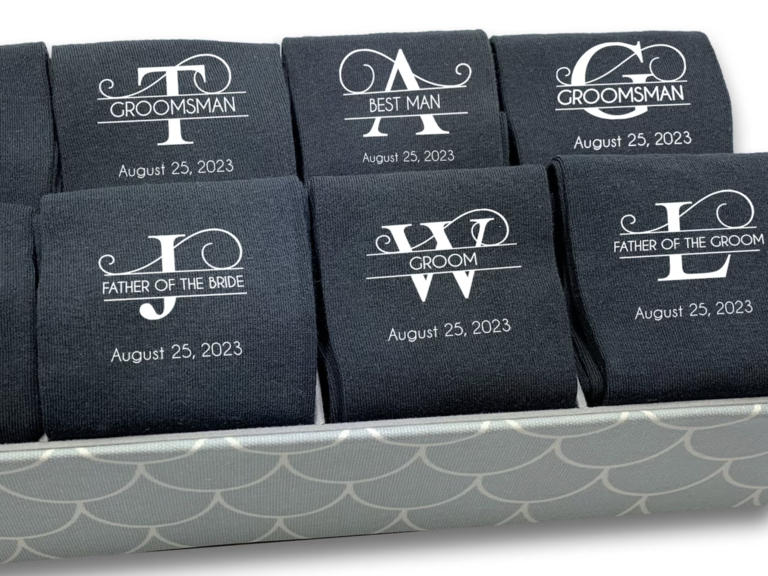 These custom socks come with simple monograms and a space for your friends' designated roles in your wedding party. They're a simple, elegant groomsmen gift that are a great option for black-tie weddings.
Face The Music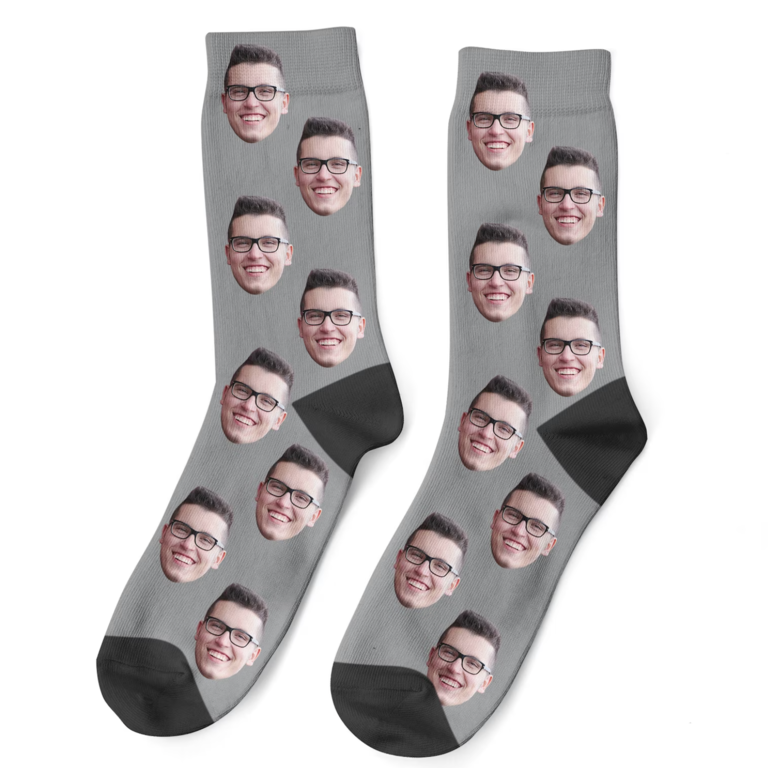 Want to get a laugh out of your buds? Gift them these wild-as-hell socks with their faces printed on them. Weddings don't have to be all serious business–set the tone for yours with these.
Dress For The Job You Want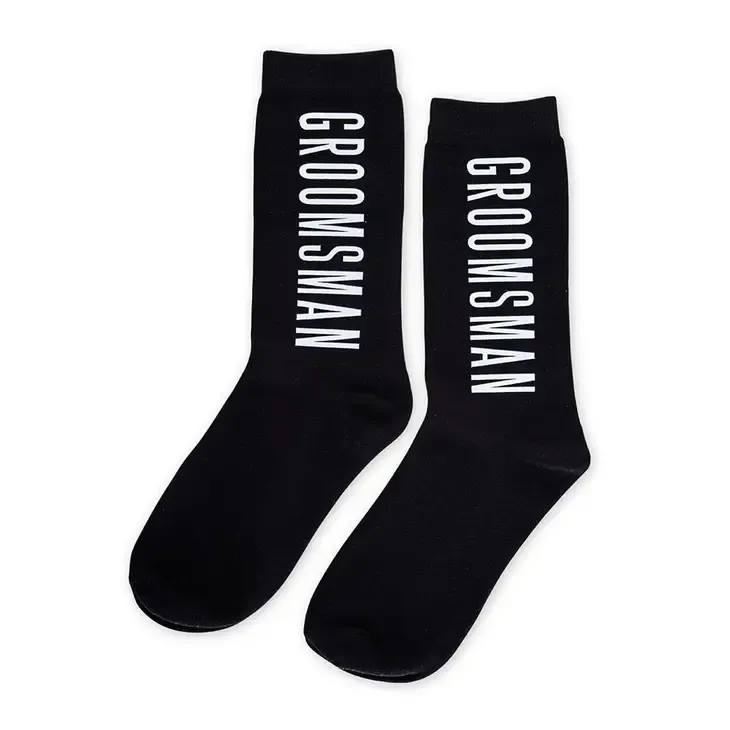 Our Wedding Party Dress Socks come in a simple black and white color scheme and feature your wedding party roles (groom, groomsmen, best man) emblazoned on the ankle.
Cool Groomsmen Socks
Looking for a fashionable finish to your groomsmen suits? Look no further. These are some of the coolest groomsmen socks for your wedding party to take the stage in.
Retro Vibes
American Trench makes some of the comfiest and sturdiest socks in the fashion game. They bring a vintage vibe with these retro stripe socks that your wedding party would look great in, plus they're sturdy as hell and will stand up to spin cycle after spin cycle for years to come.
Keep It Simple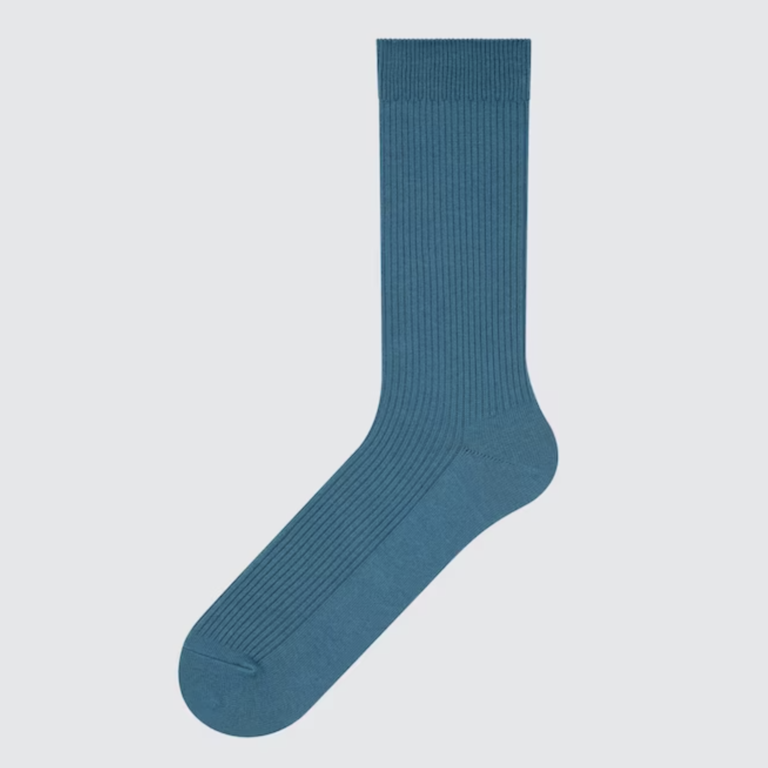 Want to skip the prints and customization and just outfit your friends in the same simple socks? Uniqlo is the move–their Colorful 50 socks are available in a wide array of colors and won't set you back too much. There's bound to be a color in their store that makes your groomsmen's suits pop.
Splurge Socks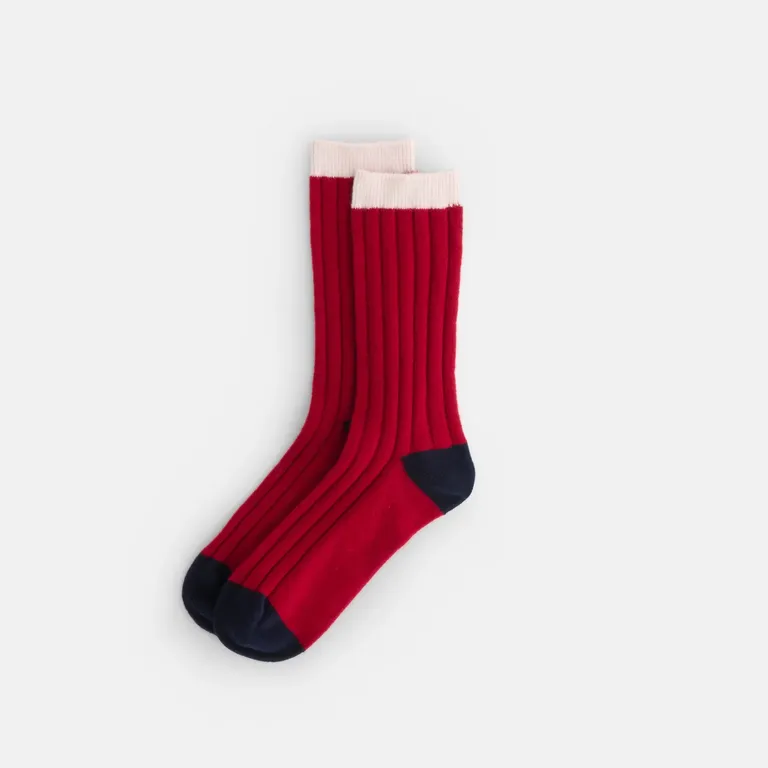 Send your groomsmen home with the sort of gift they'll love but would probably never think to buy for themselves with these cashmere beauties from Alex Mill. They're comfy as heck and will really help the right suit pop, but they'll also become an immediate wardrobe staple in the long term for your wedding party.
Peace, Man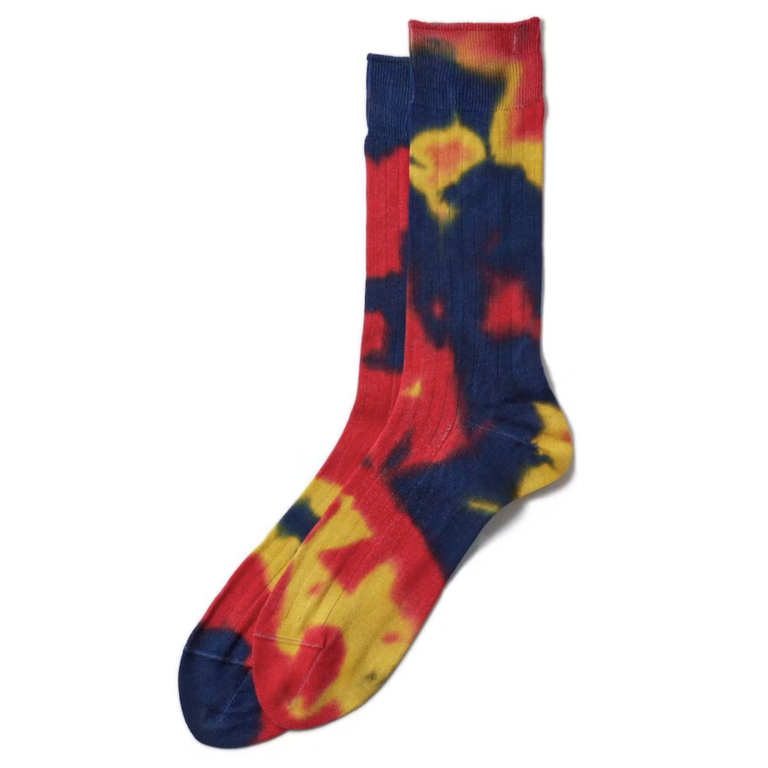 Tie-dye socks are a groovy twist to a groomsmen suit. Bring it to your wedding–get your friends fitted out in these fun dress socks from Rototo.
Go Designer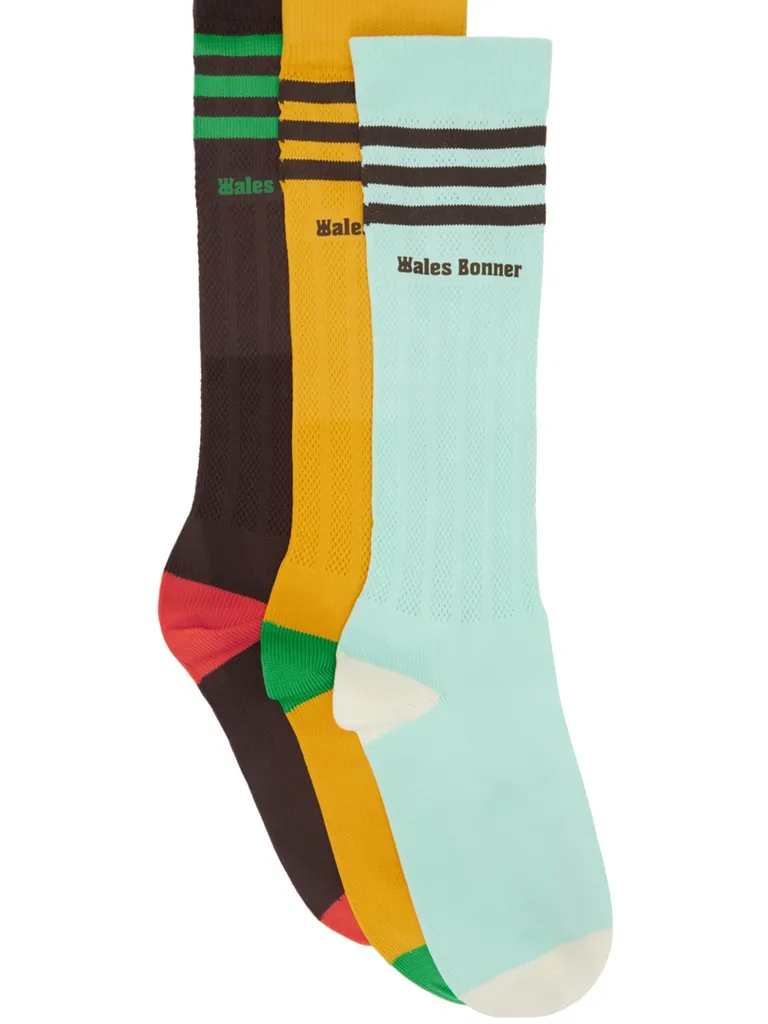 Designer socks? Hey, if anybody is worth it it's your groomsmen. Have them wear these killer socks from adidas and British designer Wales Bonner under their dress shoes for an incredibly of-the-moment vintage vibe. These come in three-packs so you can split them up amidst the party or give each groomsman a pack and let them choose which ones they wear for the wedding themselves.
An Artsy Twist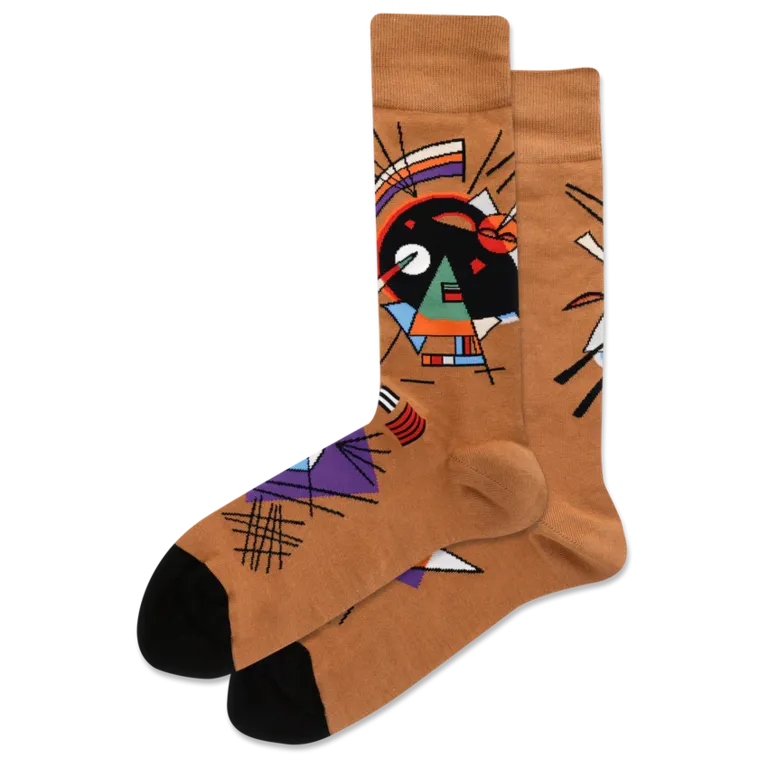 HOTSOX is a (sorry) hotbed of cool socks in a variety of vibrant prints. For those looking to add an artistic touch to their groomsmen suits, these Kandinsky socks pay homage to the artist and provide an incredibly unique look. You can also order these wrapped up in special gift boxes for your groomsmen.
Snuggly Socks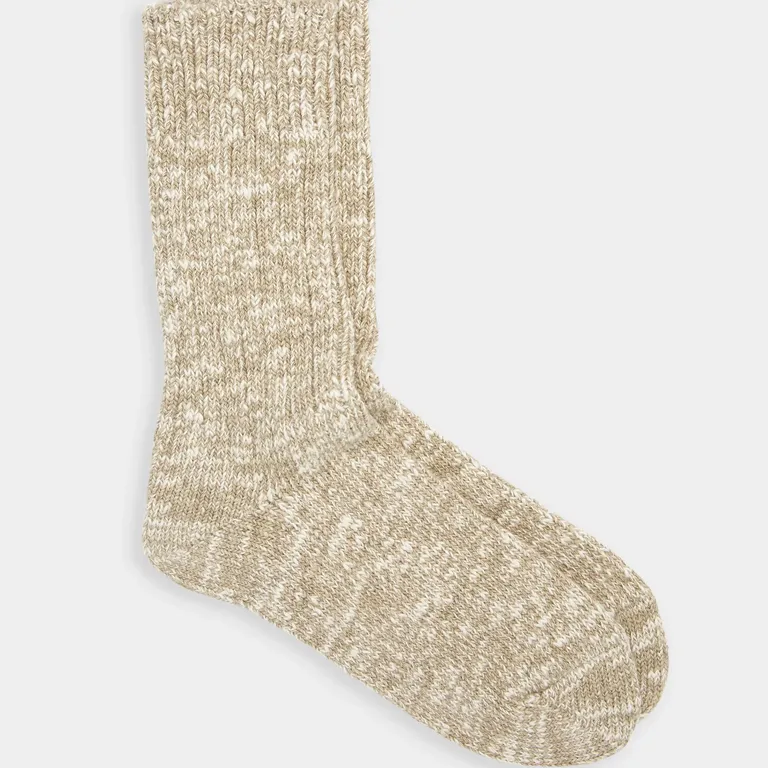 Getting married during one of the colder months of the year? Help your groomsmen keep their feet toasty with these cozy knit socks from menswear mastermind Todd Snyder.
Funny Groomsmen Socks
Socks are a great opportunity to work some fun into your wedding party's look. Lighten the mood with these sillier groomsmen socks.
It's Morphin' Time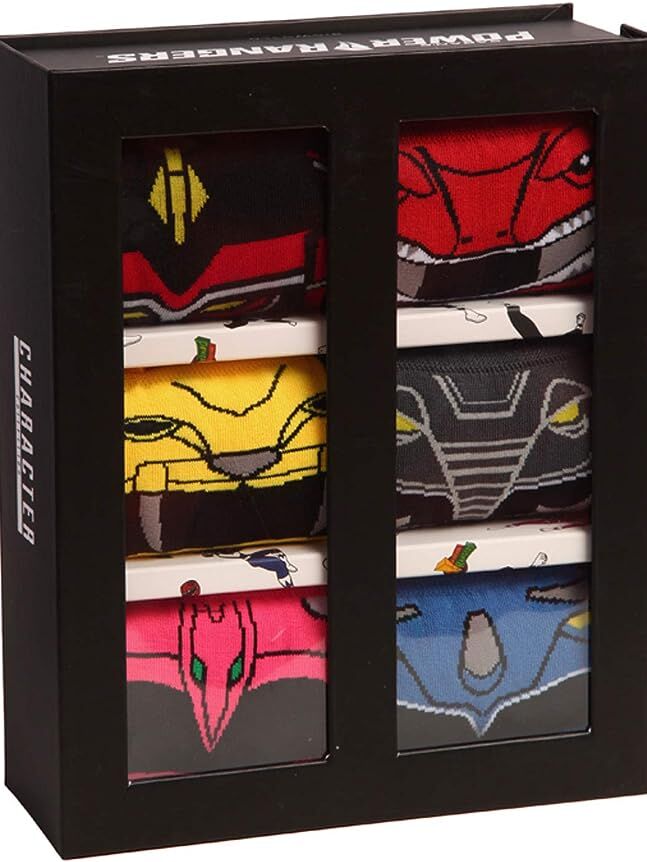 Take things back to the days of the playground with this six-pack of Mighty Morphin' Power Rangers socks. Just be careful you don't assign someone the wrong pair–there's nothing worse than having to wear Blue Ranger socks when you know in your heart and soul you're more of a Black Ranger.
Don't Be Afraid of Pink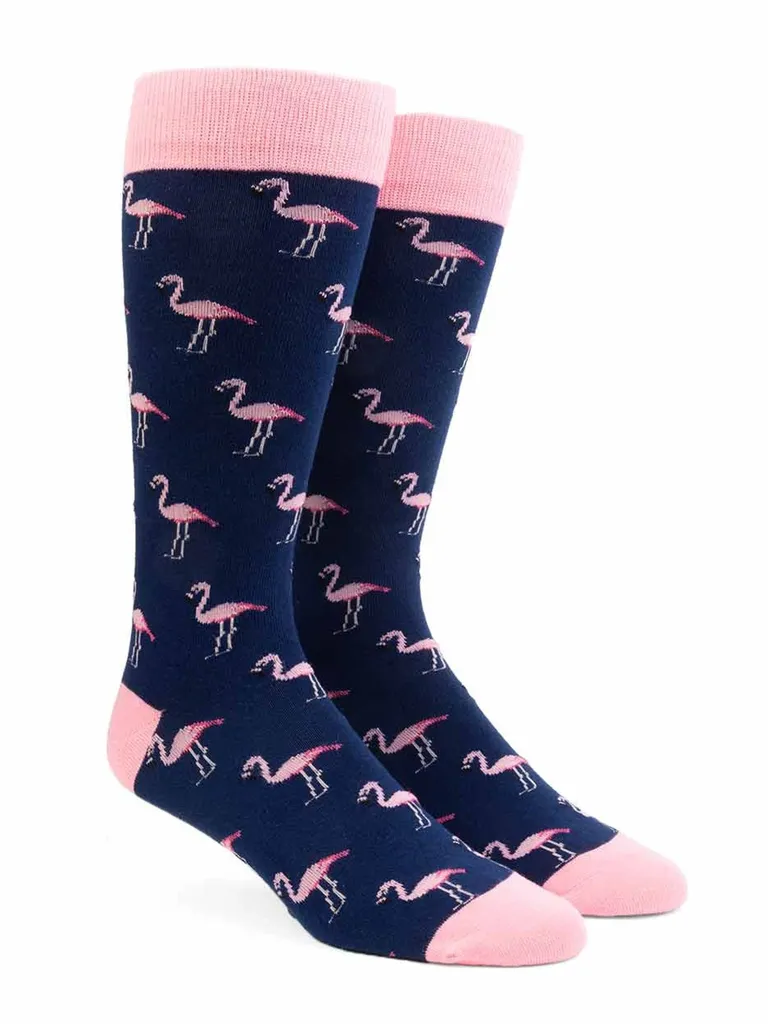 Bring a pop of color and character to your groomsmen suits with these silly socks from The Tie Bar. Flamingoes–they're funny! I don't know if I can explain why (their legs are so weird!) but they are.
Heat Things Up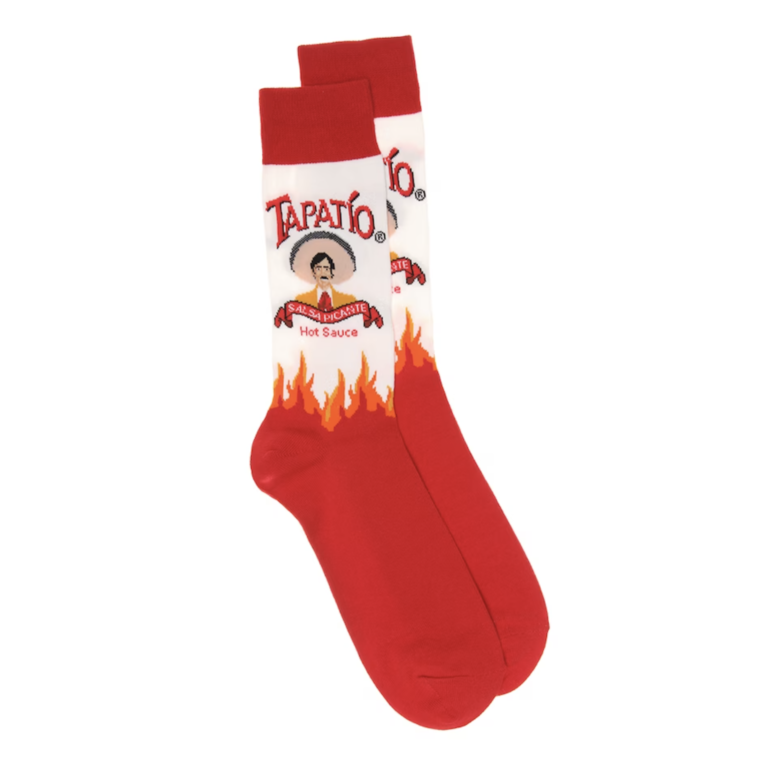 Add a dash of spice to your wedding party. Outfit your groomsmen in these super funny Tapatio hot sauce socks and their feet will be toasty even during the coldest of winter weddings.
Cool Things Down
If you're aiming to avoid spice–or the hot sauce socks get things too steamy–these Topo Chico sparkling mineral water socks are a good alternative or antidote. Better yet, have your groomsmen mix and match these with the Tapatio socks. There are few better culinary combinations.
Happy Accidents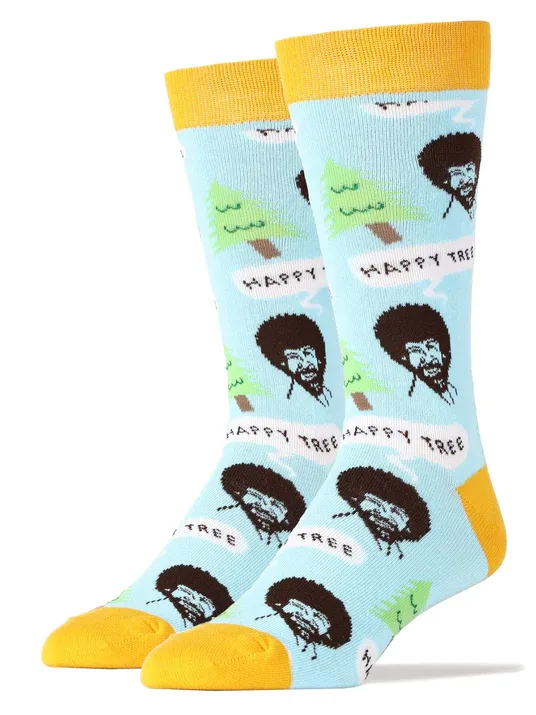 Bring the master Bob Ross's tranquil vibes to your wedding with these cute Happy Tree socks. And if things get stressful, just remember, there are no mistakes, only happy accidents.
Where to Buy Wedding Socks for Groomsmen
For those looking to find groomsmen socks and buy them in bulk or simply find some inspiration for which ones their wedding party wears on the big day, here are some of the best places to buy wedding socks for grooms, best men, and groomsmen alike.
HOTSOX
HOTSOX definitely has the most bang for your buck when it comes to picking out socks. Their selections range from simple prints to wild pop-culture homages, offering a little something for everyone. As an added bonus, their socks are affordable and high-quality.
J. Crew
For fashion-forward socks and wardrobe staples, J. Crew's sock selection is among the best out there. This is a good place to pick up socks with simple patterns and quirky (but classy) prints like nautical anchors or hearts.
The Tie Bar
Don't let the name fool you–The Tie Bar is way more than just ties. This brand is your one-stop shop for all things wedding accessories, including socks. They've got wedding-ready socks in solids, stripes, and patterns plus a few more off-kilter designs like flamingo-print dress socks.
Conscious Step
Want to pick up a wild pair of socks and help a great cause? Conscious Step is exactly what you're looking for. Their socks are loud, silly, and often pop culture-centric (they've got some great collabs with Nickelodeon). However, the real draw with Conscious Step is how much of their sales go towards nonprofits dedicated to everything from clean water to LGBTQ+ causes.